As many times as I have tried, making donuts at home just isn't as good as getting one from your favorite shop. But this Apple Cider Donut Cake has all the flavor and nostalgia of the donut, in a far more enjoyable home bake! From simmering the cider on the stove to it baking in a warm oven, your home will be filled with all the aromas of fall.
Jump to:
Ingredients
I like to take a few extra steps to ensure that this cake is full of flavor and as decadent as possible. From browning the butter to adding a little nutmeg and salt to the cinnamon sugar. It's these little things that make just make the cake GREAT!
Another note I like to make on this cake is that you want to ensure everything is at room temperature. Especially the eggs and the greek yogurt. Just take a minute to take them out a little before you start making your cake, 30 minutes to an hour, just to take the chill off them.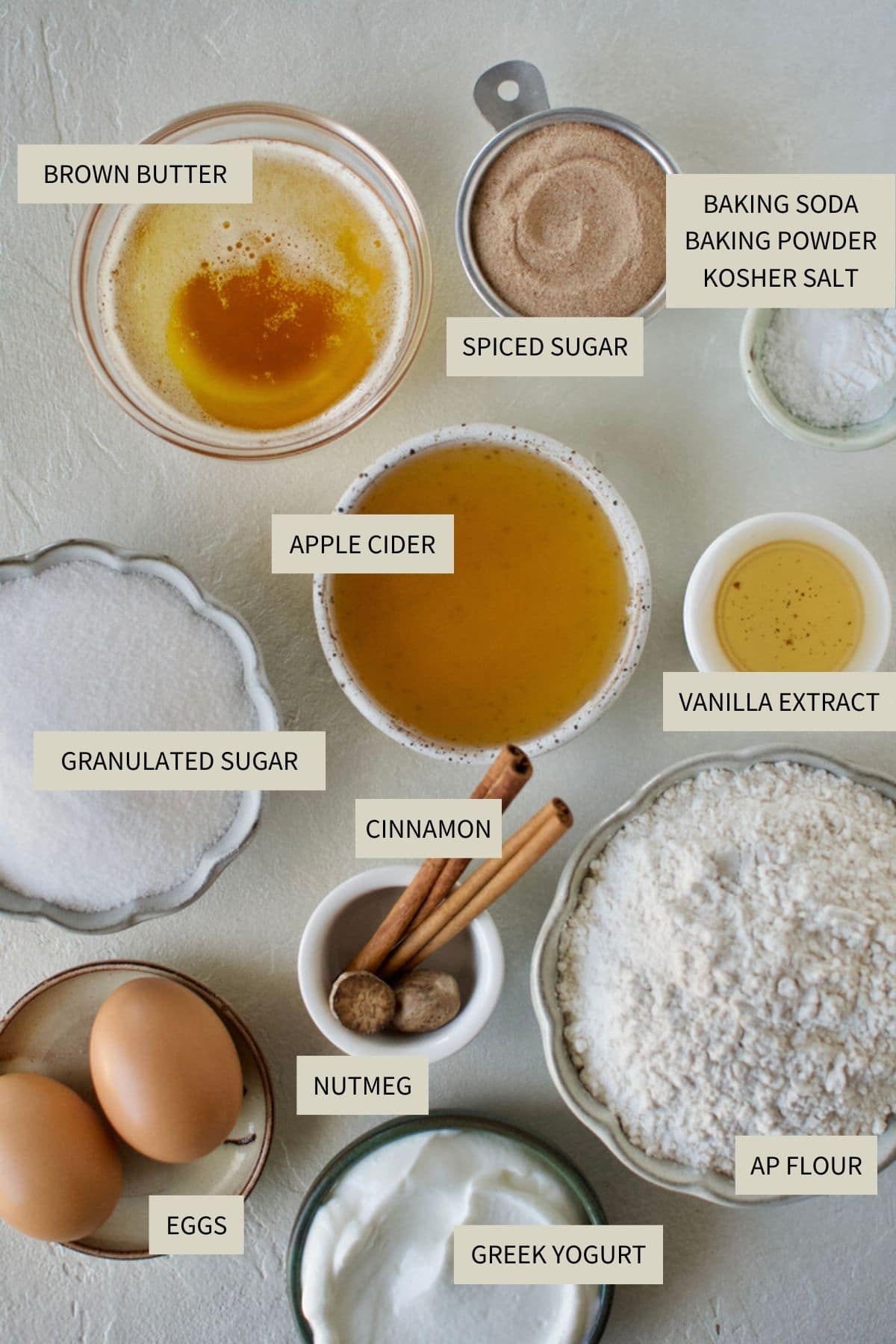 One thing you can make ahead and store for later use is the apple cider reduction. It takes a little time to reduce, so I usually do a big batch, because I make this cake a few times in the season. I will reduce a whole carton of cider once and store it in the fridge for use all fall.
Use the JUMP TO RECIPE button at the top of the post, or scroll to the bottom of the post to see the full recipe card with ingredient measurements and instructions.
Method
The first thing you will do is to make an apple cider syrup or reduction. Place some apple cider and a few cinnamon sticks in a saucepan, and bring it to a boil. Then reduce the heat and simmer the cider until it is reduced by half. This creates a strong, extra flavorful cider, that gives the cake tons of flavor!
To make the cake, first, you want to whip the eggs and sugar together in a large bowl until they become super light and fluffy. The eggs will get pale and have lots of bubbles in them. When you feel the mixture get thick you have whipped them enough.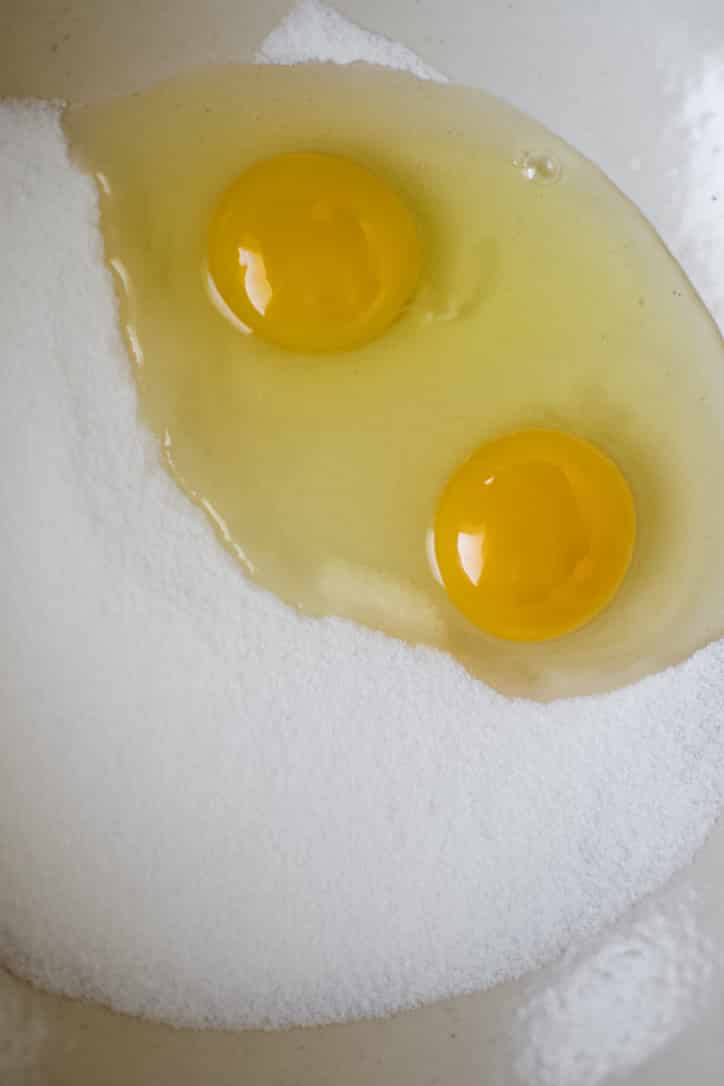 Next, drizzle in the brown butter and mix until it is fully incorporated. Then add the dry ingredients and combine them until no lumps remain.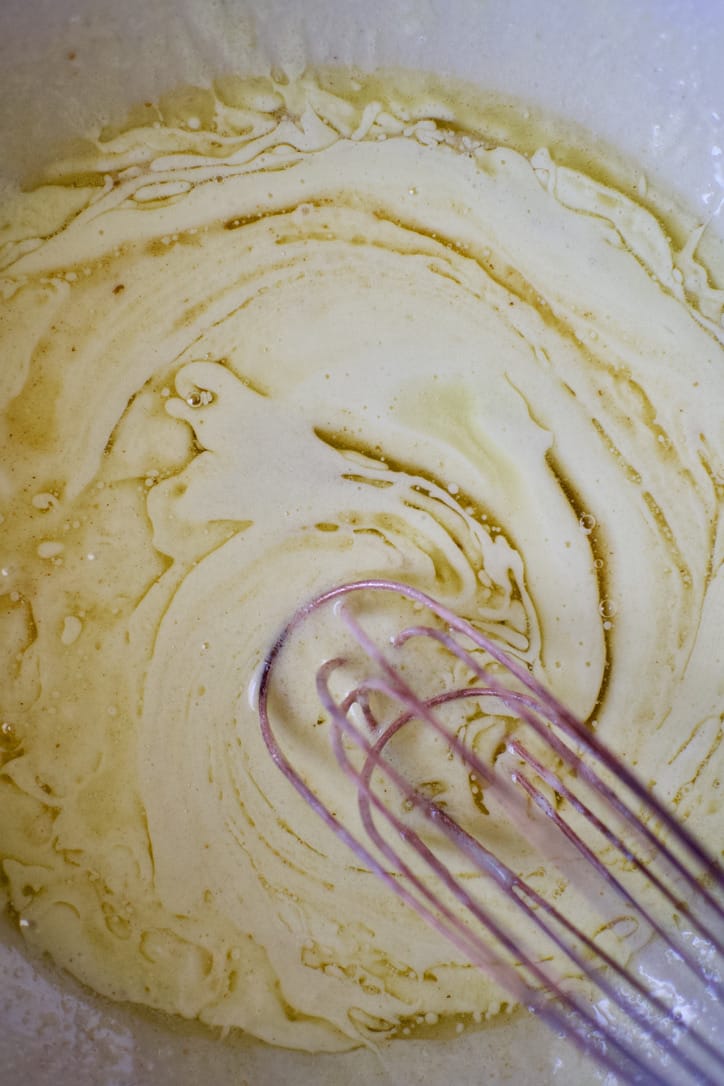 Pour the mixture into a buttered 6-cup bundt pan, that you have also dusted with some of the spiced sugar. Bake until set, 40-45 minutes. When the cake is done baking, let it rest in the pan for about 10 minutes, then turn it out onto a cooling rack.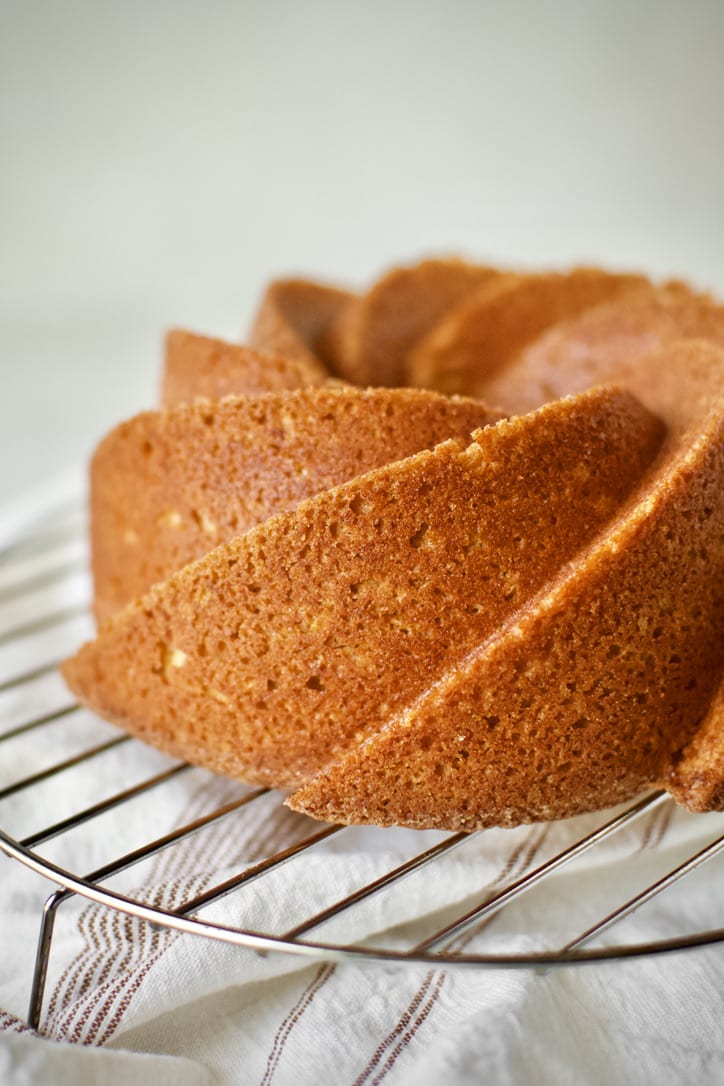 While the cake is still warm, brush it with some of the cider reduction and dust it with the spiced sugar. This gives the cake the feel of an apple cider donut that has been dusted in cinnamon sugar. It also makes it look really pretty. I toss the sugar at the cake from a measuring cup, to get some to stick to the sides as well as the top.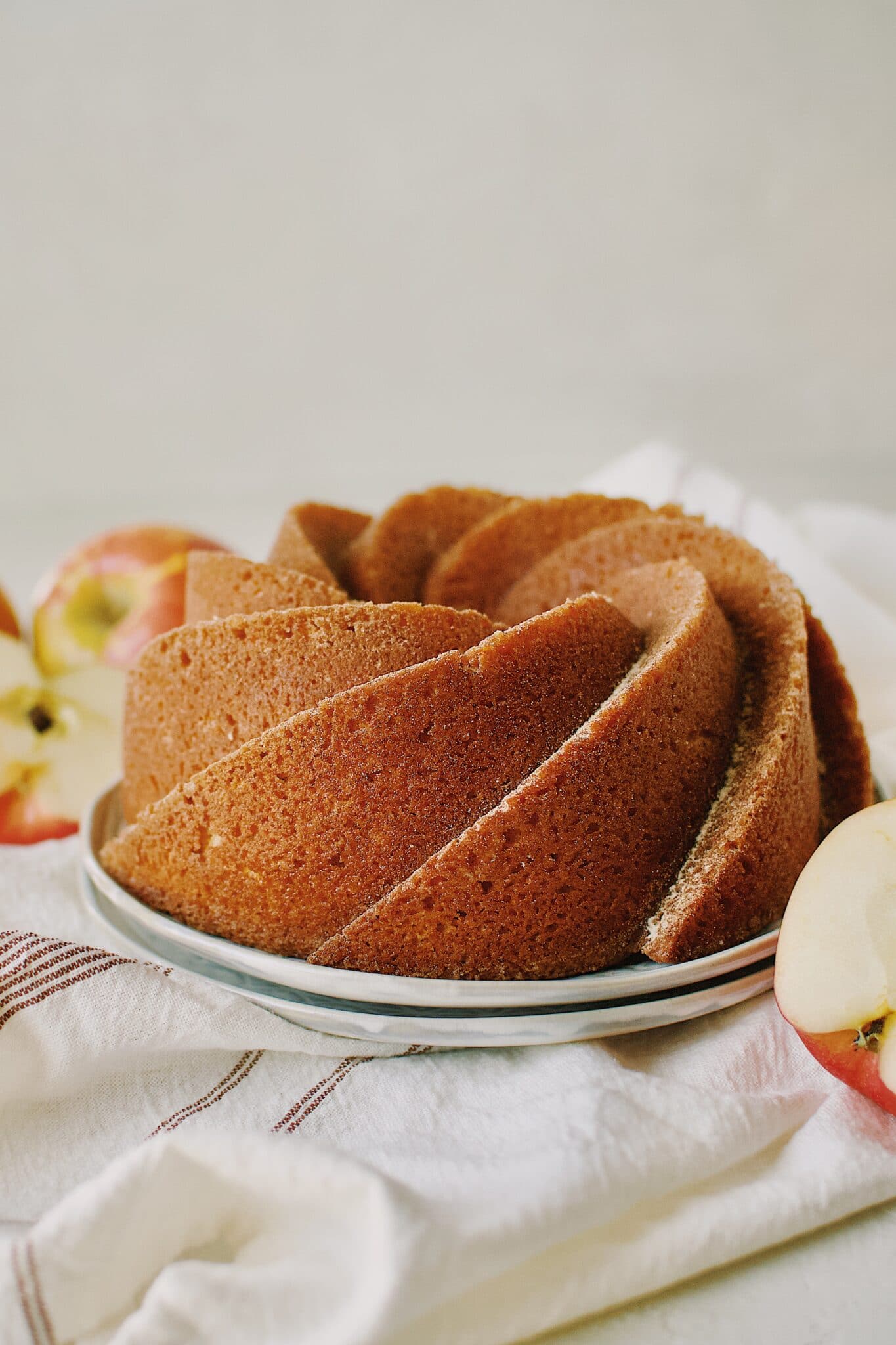 Notes & Tips
I promise you will want to make this cake a few times during the fall. Take the time when reducing the apple cider and do a whole just of it once. This will save you time later and you can store the reduction in the fridge for up to a month.
If using a bundt pan, be sure to brush it with butter, and then dust the butter with some of the spiced cinnamon sugar. This adds a crisp outer layer to the cake and will ensure it falls right out of the pan with no sticking.
Store any extra spiced cinnamon sugar in an airtight container in your spice cabinet for future use. It is great used for French Toast or rimming the glass of your Sparkling Pumpkin Juice.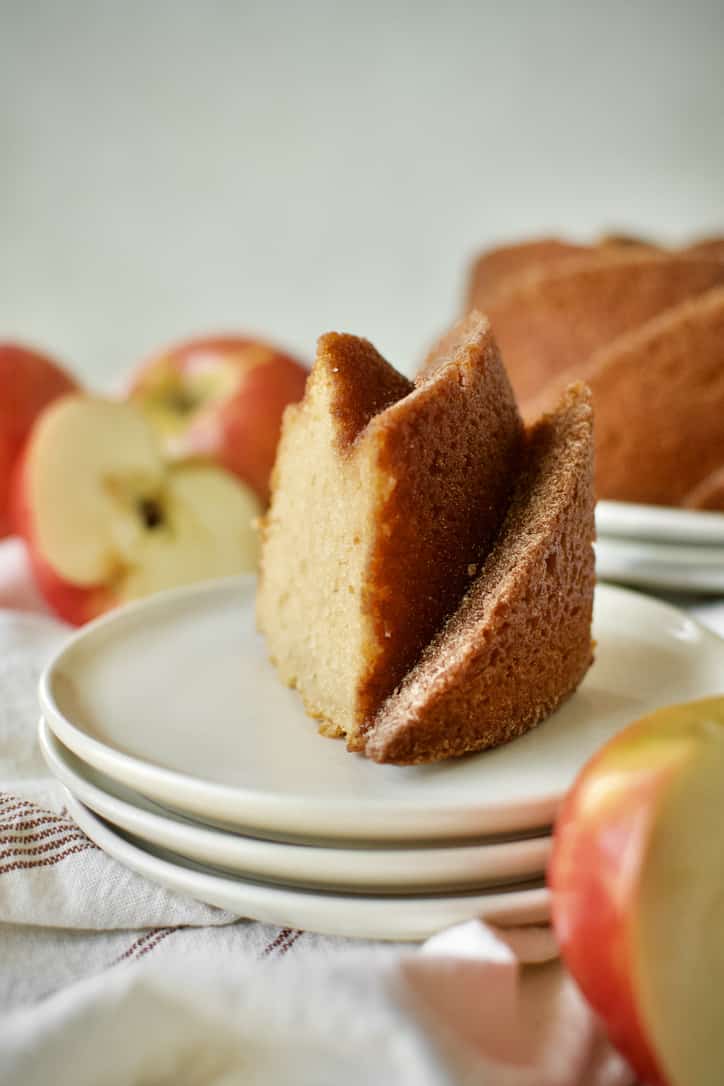 Substitutions
I come across Honeycrisp apple cider at many grocery stores, and it is my favorite apple. But you can use any cider you desire. I would love to make this with the Pumpkin Spice Apple Cider I found recently.
I enjoy cooking with greek yogurt because I usually have it on hand in my kitchen, you could swap it for sour cream if you'd like.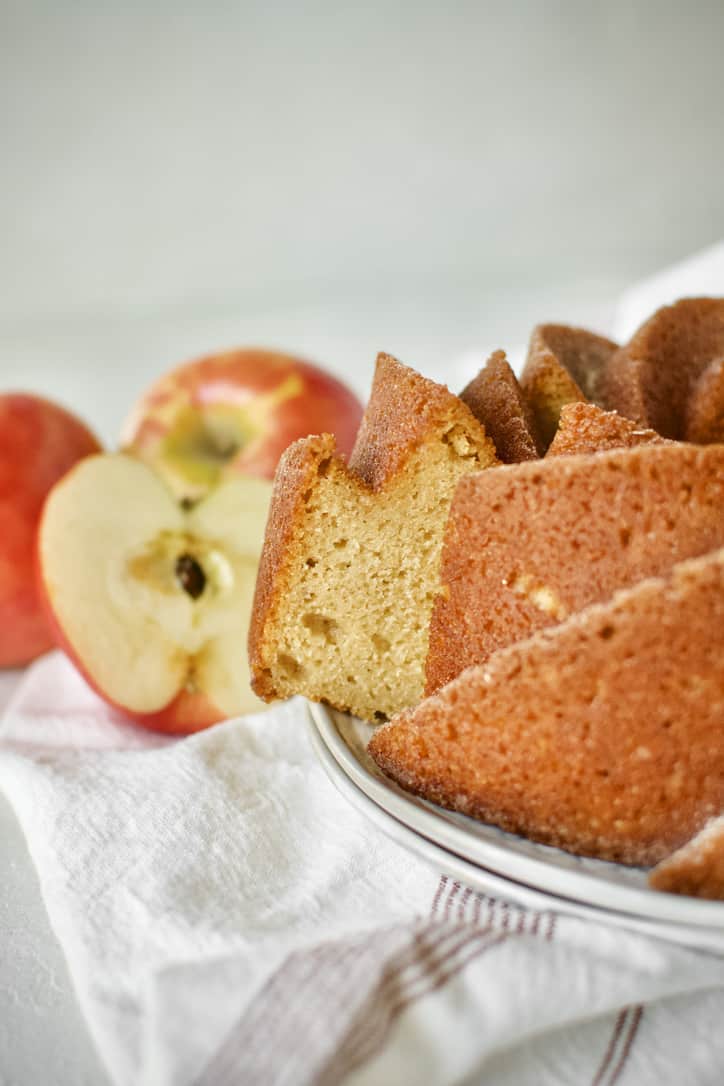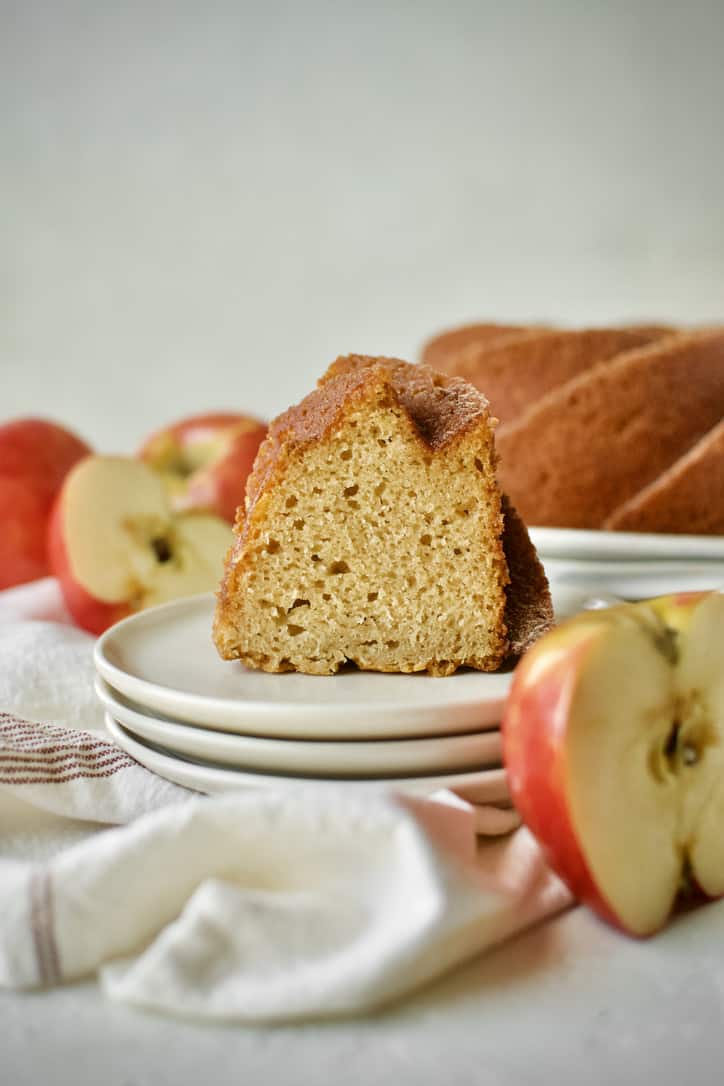 Did you make this recipe? Let me know by leaving a review or comment! And be sure to sign up for my newsletter, and follow along on Instagram, Pinterest, and Facebook!