This recipe for Pineapple Peanut Chicken Skewers screams summer to me! Perfectly refreshing and something you will love to throw on the grill every weekend. And don't dare skimp on the peanut sauce, it's so stinking delicious. Serve it with my Pineapple Coconut Rice to make it a beautiful meal!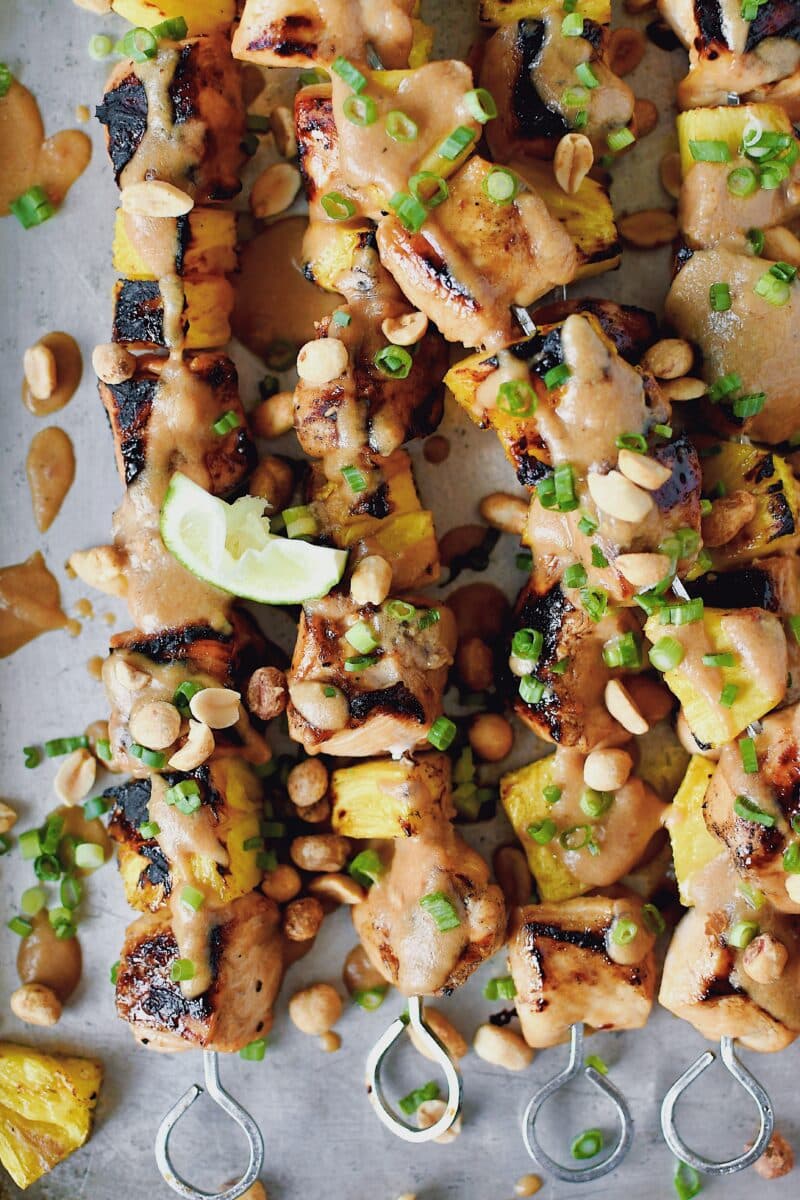 These skewers are made with chicken that is soaked in an Asian-inspired pineapple marinade. It only needs a short time to infuse some flavor, but it can marinate overnight if you have the time, and then the marinade turns into the sauce.
Jump to:
Ingredients
This recipe strays a little bit from my normal short ingredient list, but not everything is out of the ordinary. I enjoy experimenting with Asian foods and flavors, so I keep a fairly well-stocked ingredient pantry in that area. And with the popularity of sriracha as a condiment, you just might have everything you need to make this, give or take the fish sauce.
Needless to say, you could probably find most of these things in my kitchen at any given moment.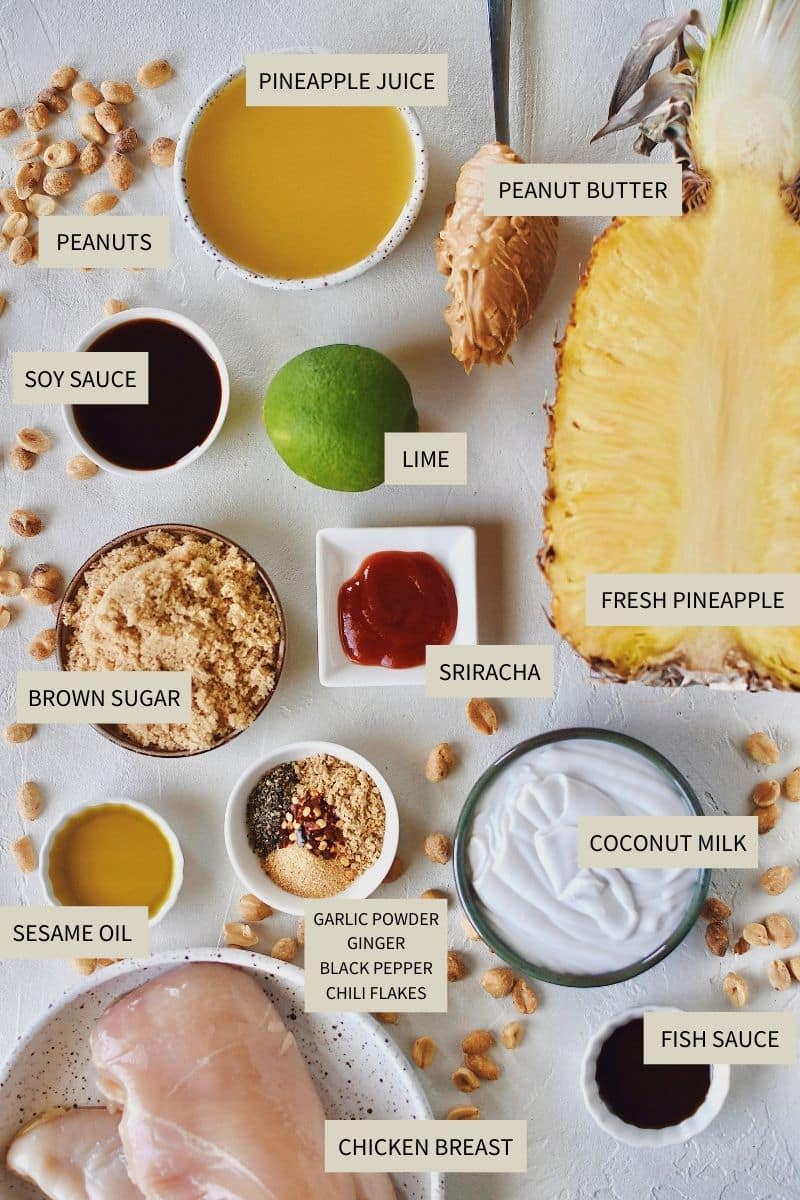 Use the JUMP TO RECIPE button at the top of the post, or scroll to the bottom of the post to see the full recipe card with ingredient measurements and instructions.
Method
Begin by dicing the chicken and mixing up the marinade. It will suffice to let the chicken marinate for about an hour, but if you have the time, let it rest in the fridge overnight for some extra flavor.
When you are ready to cook your skewers, alternate pieces of chicken and pineapple onto the skewers until they are full. If you are using wood skewers, be sure to soak them for a few hours before using them so they don't catch on fire in the grill.
I then brush the chicken and pineapple with the sesame oil just before grilling to help prevent sticking to the grill.
While the skewers cook, combine the leftover marinade in a saucepan with some coconut milk and peanut butter. Bring it to a boil to create the sauce for topping the Pineapple Peanut Chicken Skewers after they cook.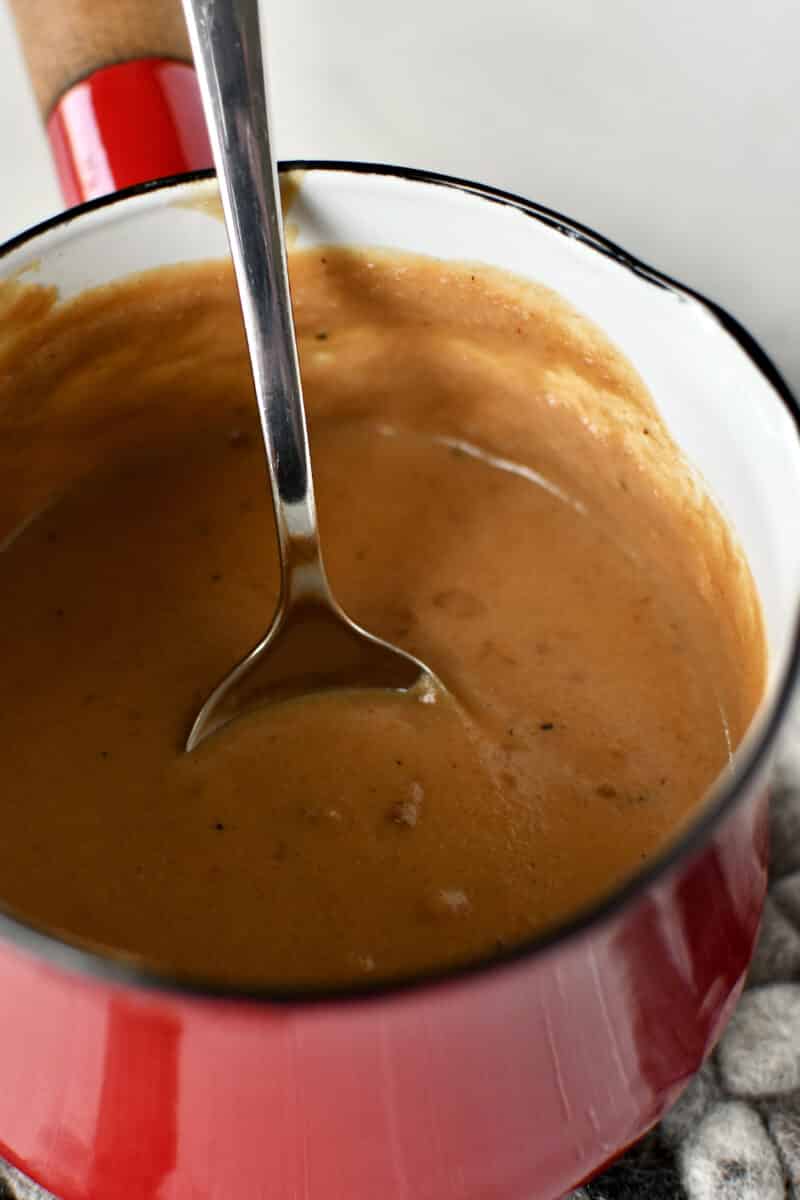 Notes & Tips
If you can let the chicken marinate overnight, do it! But a quick marinade for an hour or two will do just fine.
Be sure to use canned or bottled pineapple juice. Using fresh juice can leave your chicken mushy due to the enzymes in it. Canned and bottled juice has this enzyme removed.
I do not call for salt in the recipe because the soy sauce, fish sauce, and peanut butter will be salty. That said, taste the sauce and give it a pinch of salt if needed to balance the sweetness of the pineapple and peanut butter.
Substitutions
The brown sugar can be substituted for regular granulated sugar, palm sugar to make it more traditionally Asian, or coconut sugar.
Fish sauce can be omitted or substituted for more soy sauce, tamari, or oyster sauce. Vegan fish sauce or coconut aminos are also great options.
I love to use roasted garlic powder, but if all you have is regular garlic powder, feel free to use that.
More great grilling recipes
Grilled Shrimp Skewers + Lemon Garlic Butter
Grilled Chicken Wings with Alabama BBQ Sauce
Did you make this recipe? Let me know by leaving a review or comment! And be sure to sign up for my newsletter, and follow along on Instagram, Pinterest, and Facebook!