When you need your kitchen to smell like fall by baking something decadent and scrumptious, make these Pumpkin Spice Sticky Buns.
I usually reserve this recipe for Thanksgiving morning, as it does take some time. It is not overly laborious, but it has a few steps and the dough needs to rise a few times, so it takes a while to get to the final product.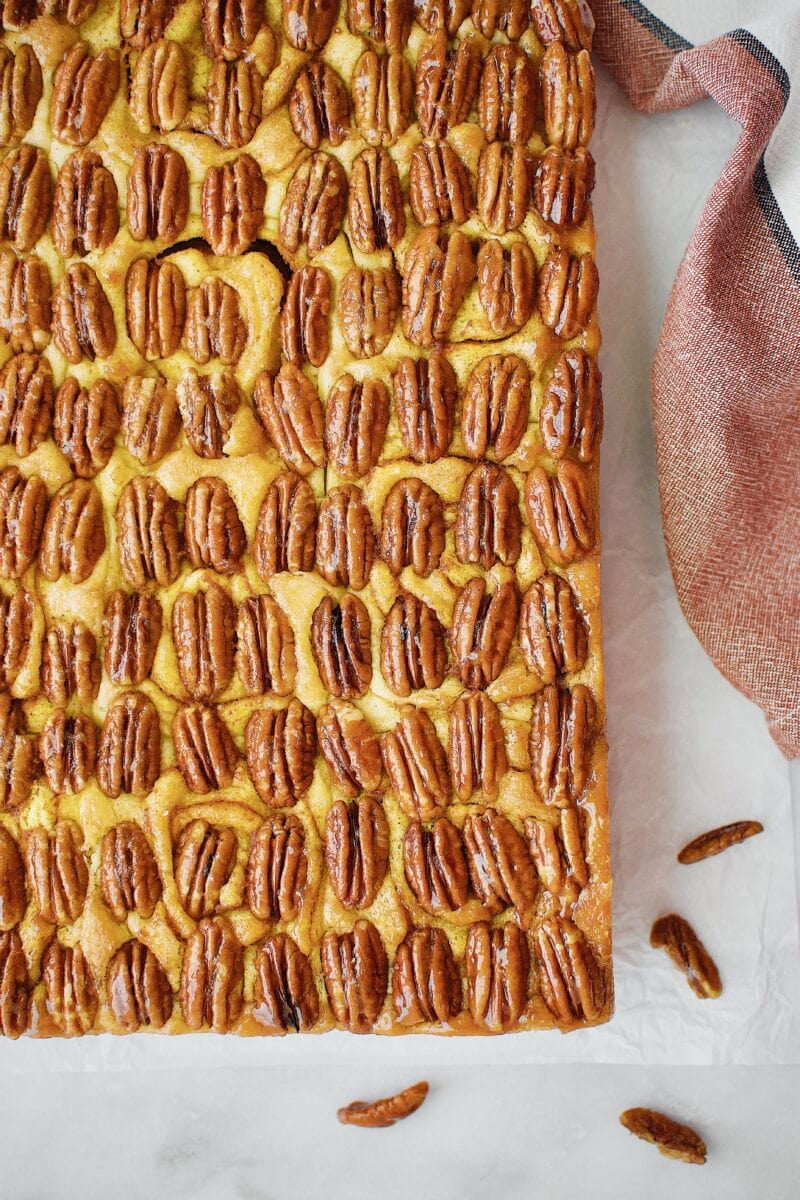 That said, they are worth every moment that you have to wait, and that's all it really is, a waiting game. The recipe time is mostly inactive, so don't be scared off by that!
Jump to:
This post was originally published on August 12, 2020, and was updated on September 16, 2023.
Ingredients
This Pumpkin Spice Sticky Buns recipe starts with the dough which features cooked potato and shortening, making it a really rich dough that gets pillowy soft, and delicious!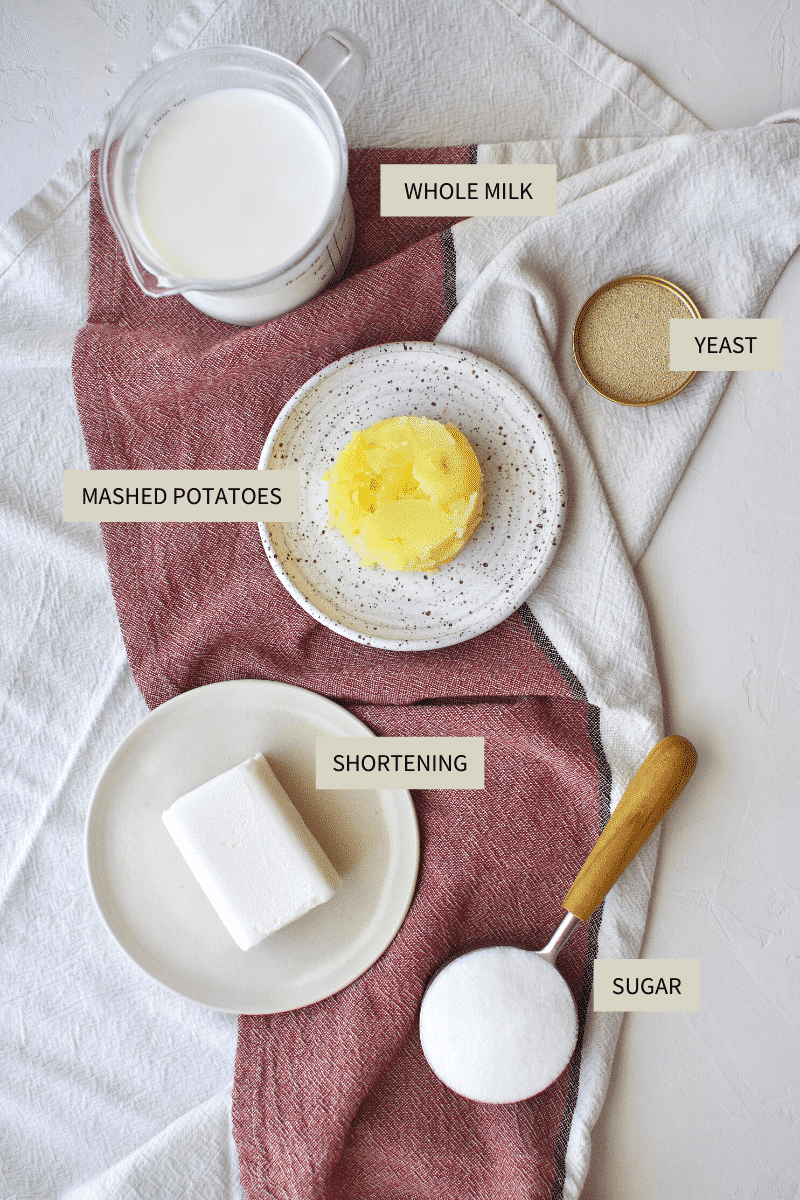 What you need:
For the dough:
Whole Milk
Granulated Sugar
Vegetable Shortening
Potatoes, steamed and mashed
Active Dry Yeast
All Purpose Flour
Baking Powder
Baking Soda
Kosher Salt
For the filling:
Pumpkin Puree
Unsalted Butter, soft
Pumpkin Pie Spice
Ginger, ground
Nutmeg, ground
Brown Sugar
Honey
For the sticky topping:
Light Brown Sugar
Granulated Sugar
Kosher Salt
Unsalted Butter
Water
Pecans
Find full ingredient quantities in the recipe below.
Method
This is where your patience comes in. The dough takes some time but really isn't difficult to make. It is mostly a waiting game.
It starts with ½ a cup of mashed potatoes, cook and mash them, then blend together scalded milk, shortening, the potatoes, and sugar. Whisk all of that together, but be sure it isn't too hot for your yeast, don't add the yeast till the mixture cools to between 100˚F and 110˚F.
Let the yeast work in the mixture till it becomes very bubbly and active, 5-10 minutes. Then whisk in enough flour to make the mixture look like a pancake batter. Let it rest in a warm place for 2-4 hours until it has doubled in size.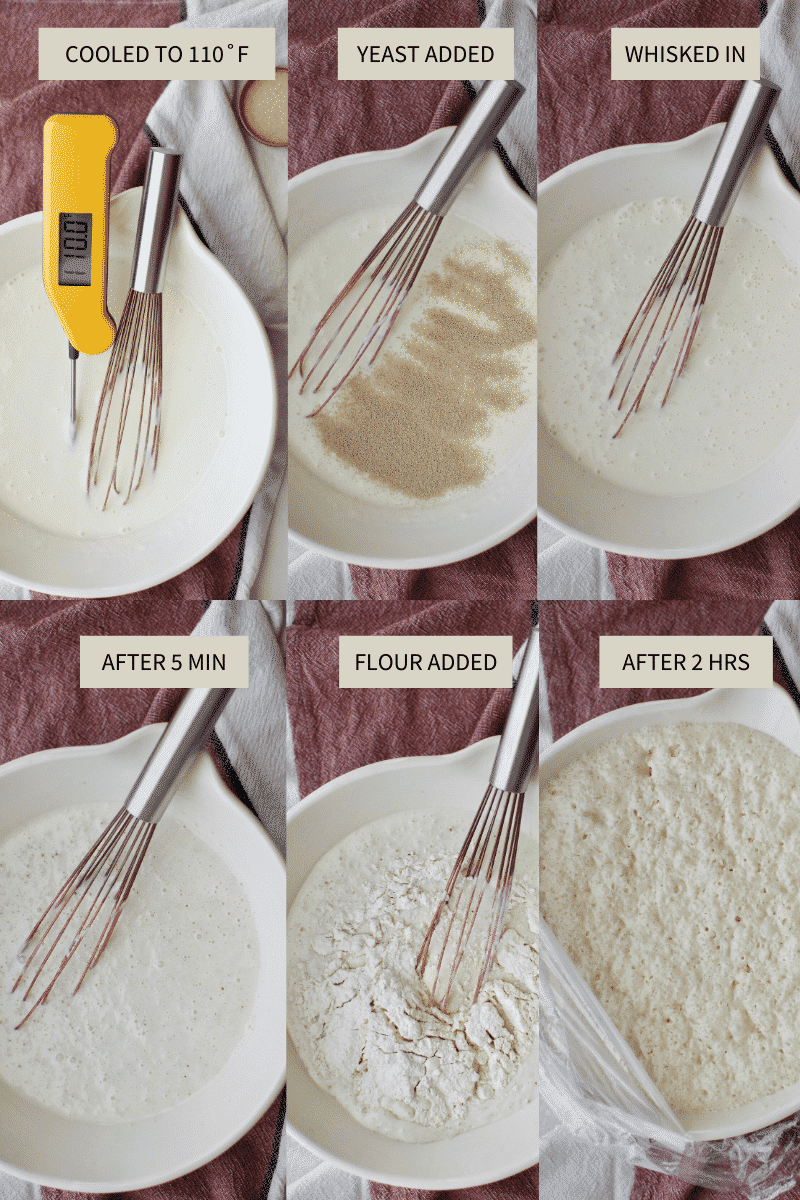 Next place the sponge mixture into a stand mixer and knead in more flour and leavening agents to form the dough. You know you have added enough flour when the dough releases from the sides of the bowl cleanly but is still soft and supple.
This mixture then needs to rise twice until doubled, this can take 2-4 hours depending on the temperature of your kitchen. You can also stick it in the fridge after the first rise, for the second rise, overnight. This develops a deeper flavor in the dough.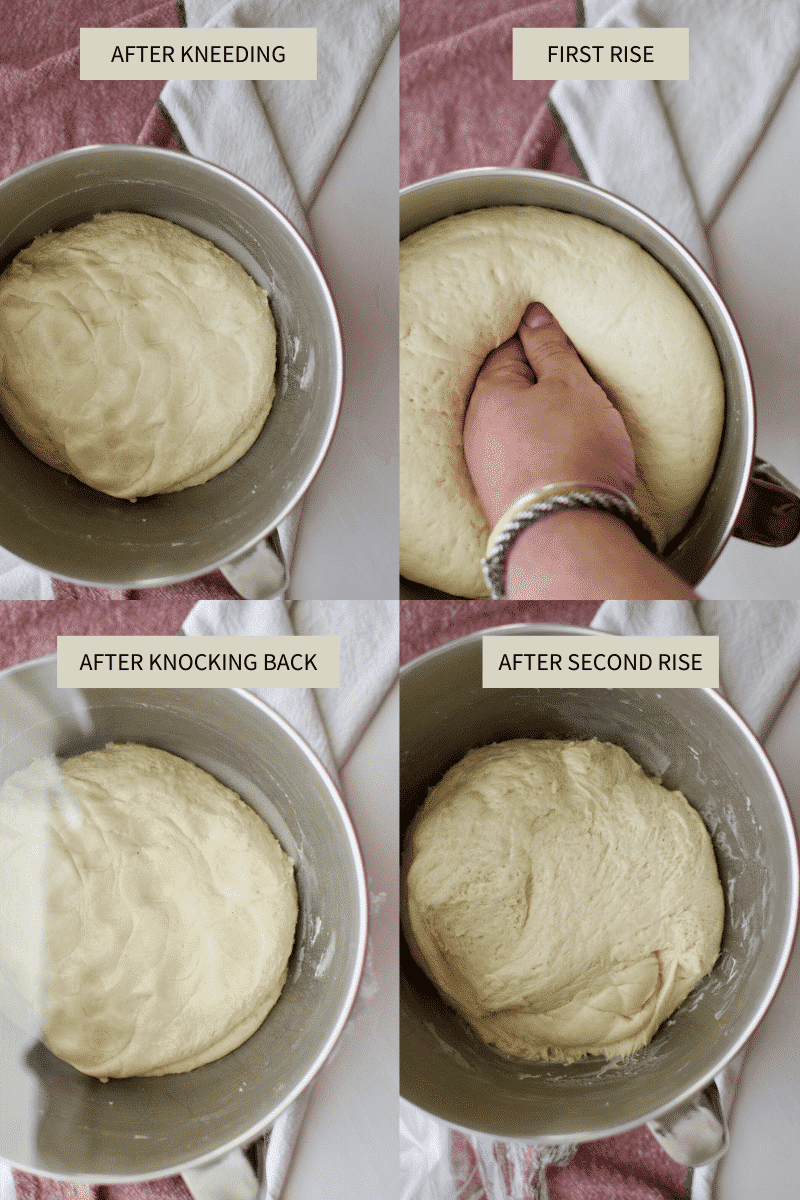 Time to Fill the Dough
To make the filling I simply blend some pumpkin puree into softened butter with some of my Homemade Pumpkin Pie Spice. This can be done by hand or in a stand mixer.
Roll out your dough after it has proved twice, add the spiced pumpkin butter, and roll into a log. Cut into 12 equal pieces and arrange in a pan over the sticky bun filling and pecans.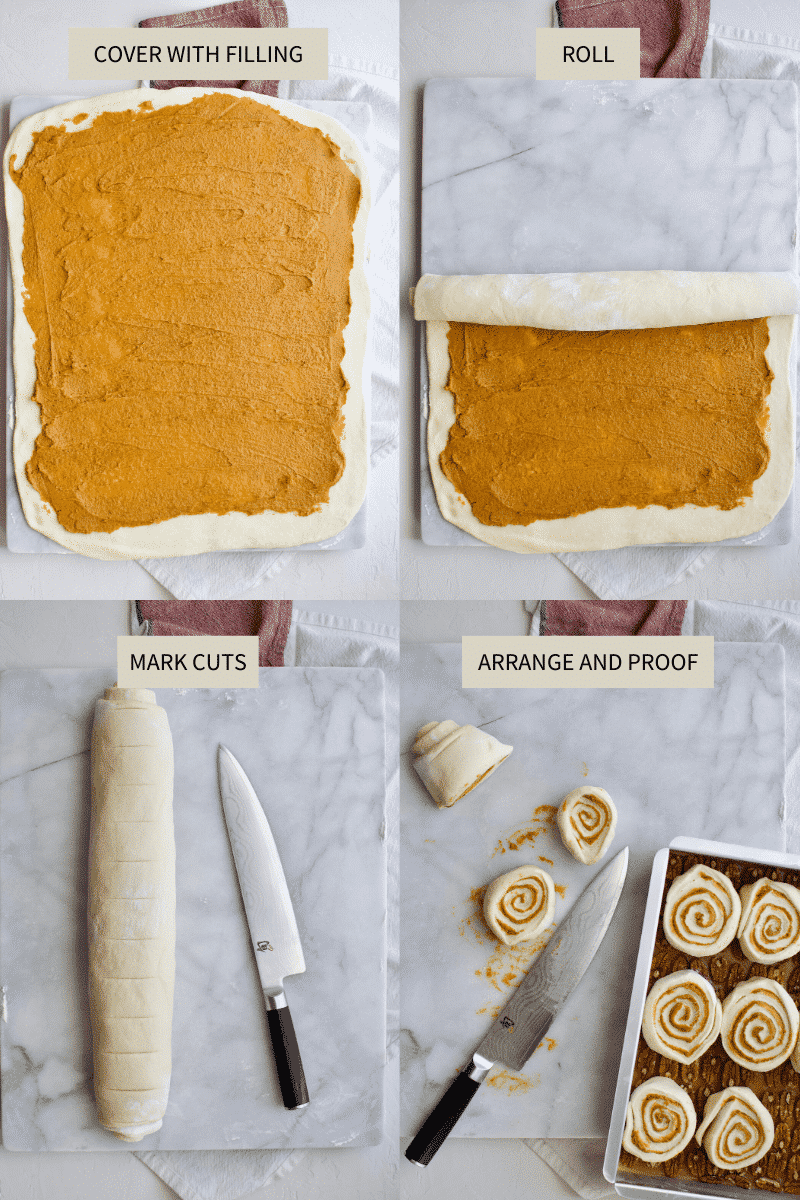 Let the buns proof again until doubled in size, 1.5-2 hours. You could also work to this stage and then place the formed rolls in the pan, in the fridge, overnight, then bake in the morning after they come to room temp for 1 hour.
When the buns have risen and are now fully filling the pan, bake them till golden, about 30-35 minutes.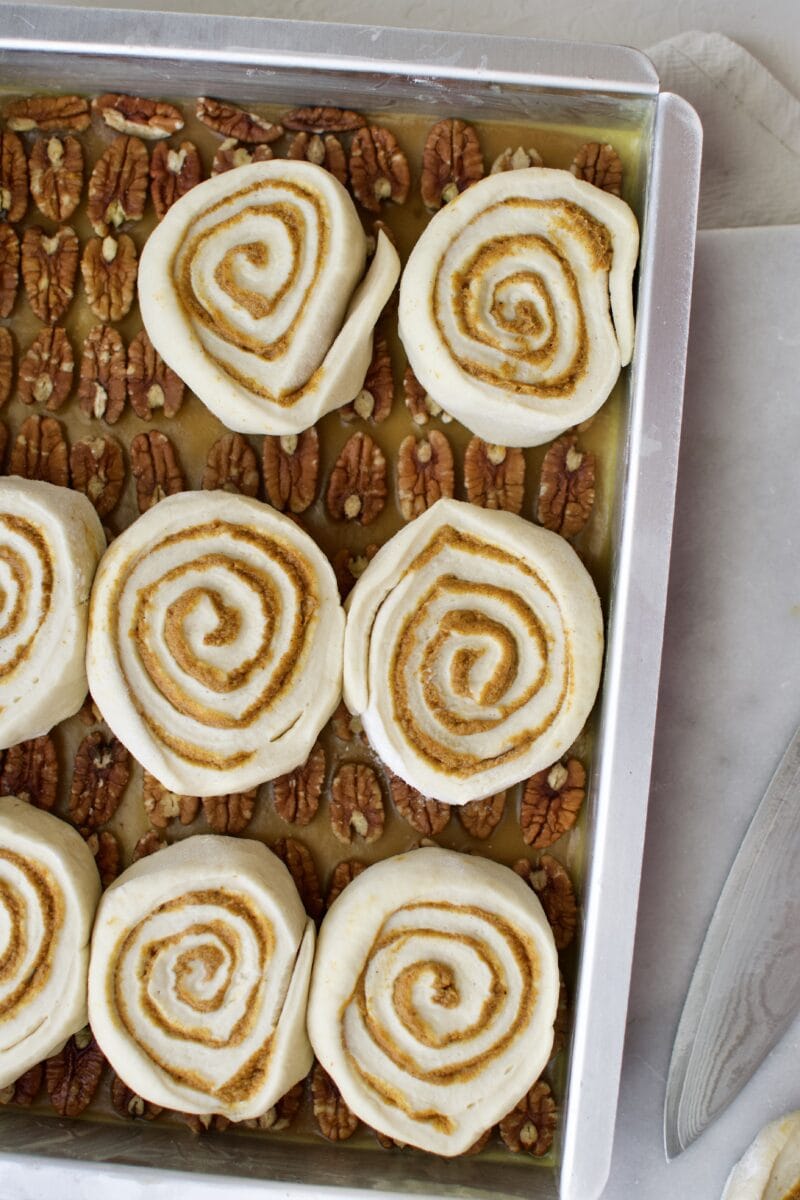 When they are done, let them rest in the pan for only 5 minutes (longer and they won't release), then flip the pan over onto a large platter or cutting board lined with parchment paper.
Remove the pan and let the sticky bun sauce drip all over them and reveal the beautiful pecans that the pan was lined with. You are left with the most beautiful and delicious Pumpkin Spice Sticky Buns you've ever seen, or made!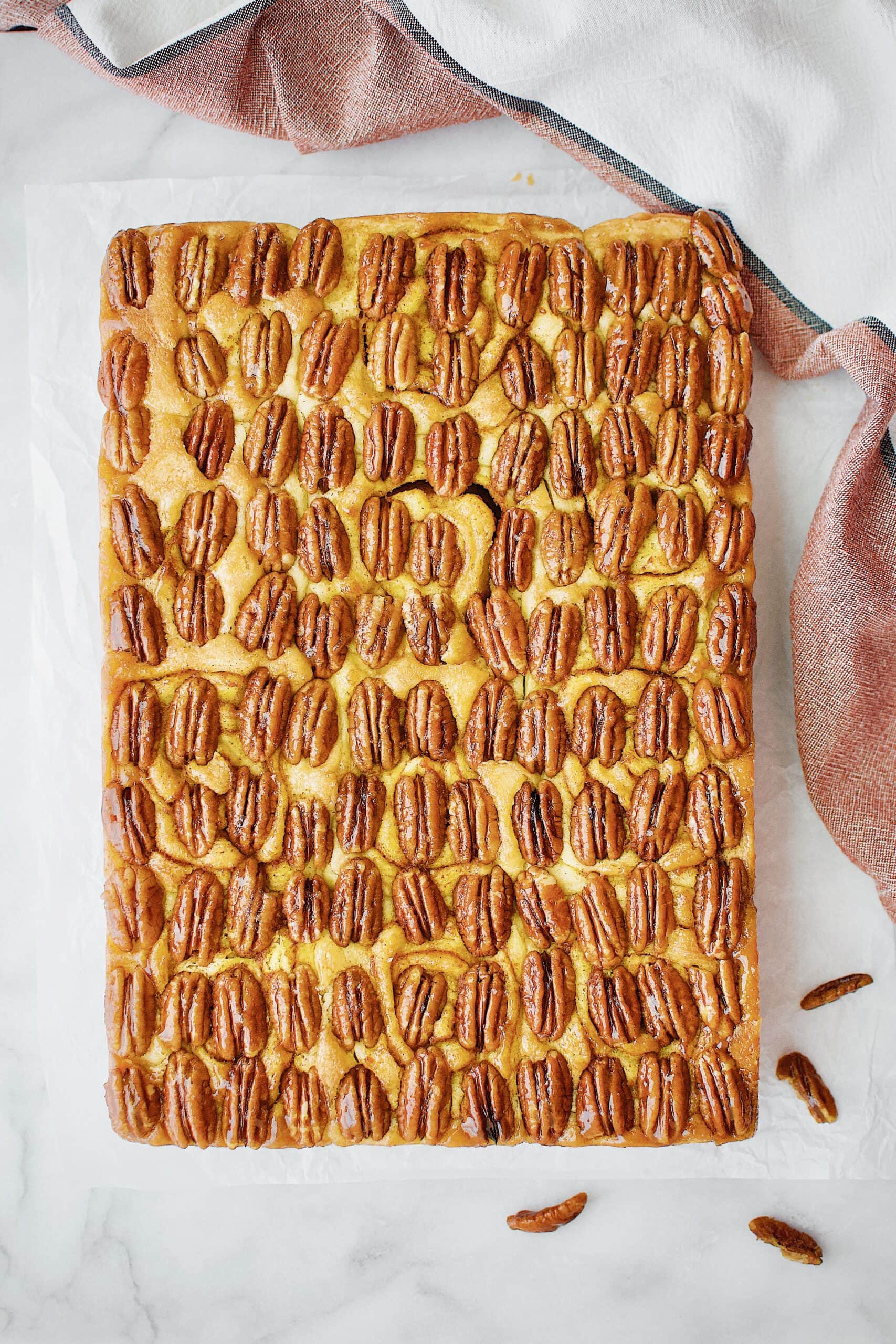 Notes and Tips
If you would like to double this recipe, you can. The potato dough makes incredible Parker house rolls, you can use half of it for that if you are cooking for Thanksgiving or Christmas.
If you have a nut allergy, you can leave the nuts out and still make the sticky topping. The buns will just end up with a beautiful glaze and no nuts, which is still super yummy!
This works BEST in a metal pan, you can use glass but the filling may stick a bit. Grab THIS ONE, it is the best!
Substitutions
If you don't want to make this pumpkin, maybe you are making them for Christmas, drop the pumpkin in the filling and replace the pumpkin spice with cinnamon. Keep the rest for a simplified version.
If you would like to eliminate the sticky, nutty topping, you could toast and chop some pecans to just add in with the filling. Then top the buns with a powdered sugar drizzle after they cool.
As far as additional substitutions on the dough go, unless you are a master baker, I wouldn't attempt any. This recipe isn't an exact science as far as the amount of flour it needs, but it does only work if you follow this tutorial.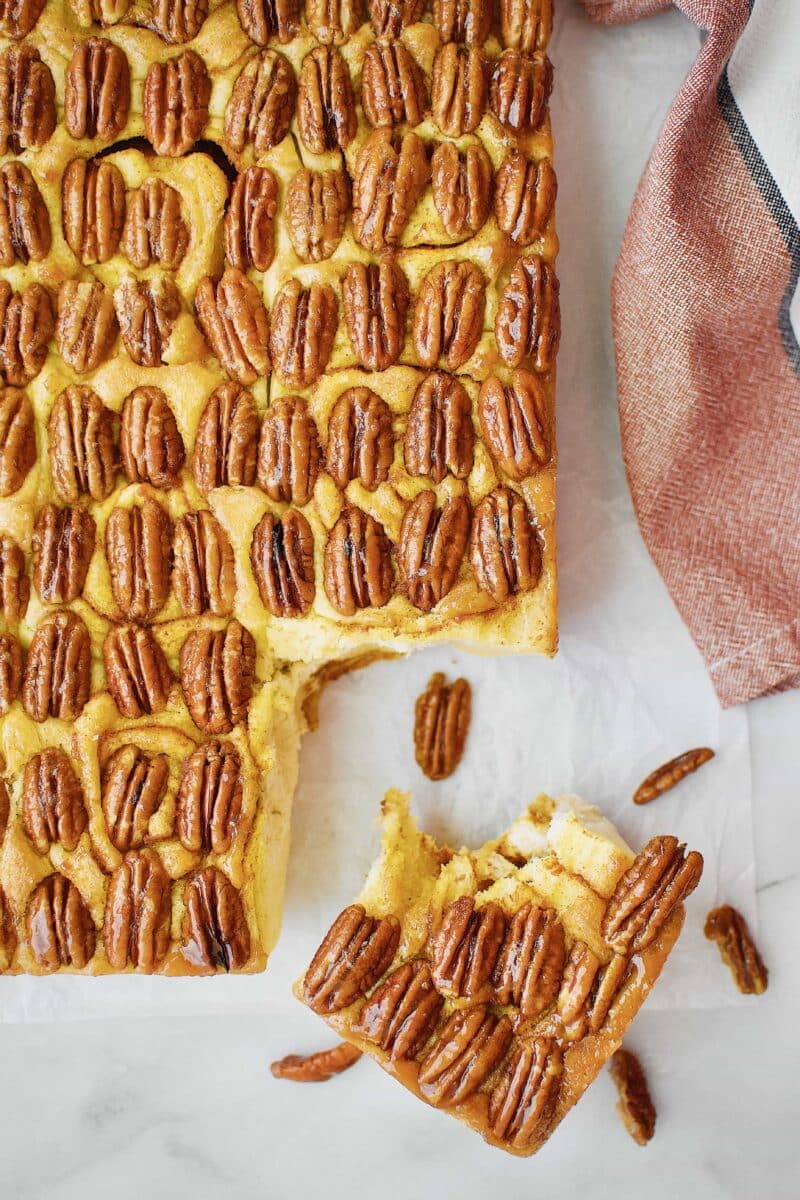 More Great Pumpkin Recipes
If you love the pumpkin loaf at Starbucks, my Pumpkin Spice Bread is a dead ringer for it at home and you can make a whole loaf for the price of a slice!
Scones might be more your thing, but if you love them as much as my family, try my festive Pumpkin Scones to add a little extra fall flair to your home.
When it comes time to carve pumpkins, save the seeds and give them the royal treatment by roasting them into my Soy Sauce Pumpkin Seeds, they are the best ever!
My friend shares her recipe for Pumpkin Scones with Miso Glaze if you like something with a bit of fusion to it.
Did you make this recipe? Let me know by leaving a review or comment! And be sure to sign up for my newsletter, and follow along on Instagram, Pinterest, and Facebook!