Big or small, however you make this Apricot Pie, know it will be delectable. It is a little bit sweet, tart, and buttery. Everything a pie should be! And I will even share the secret to getting your pie crust to flake in the oven, it's easier than you think!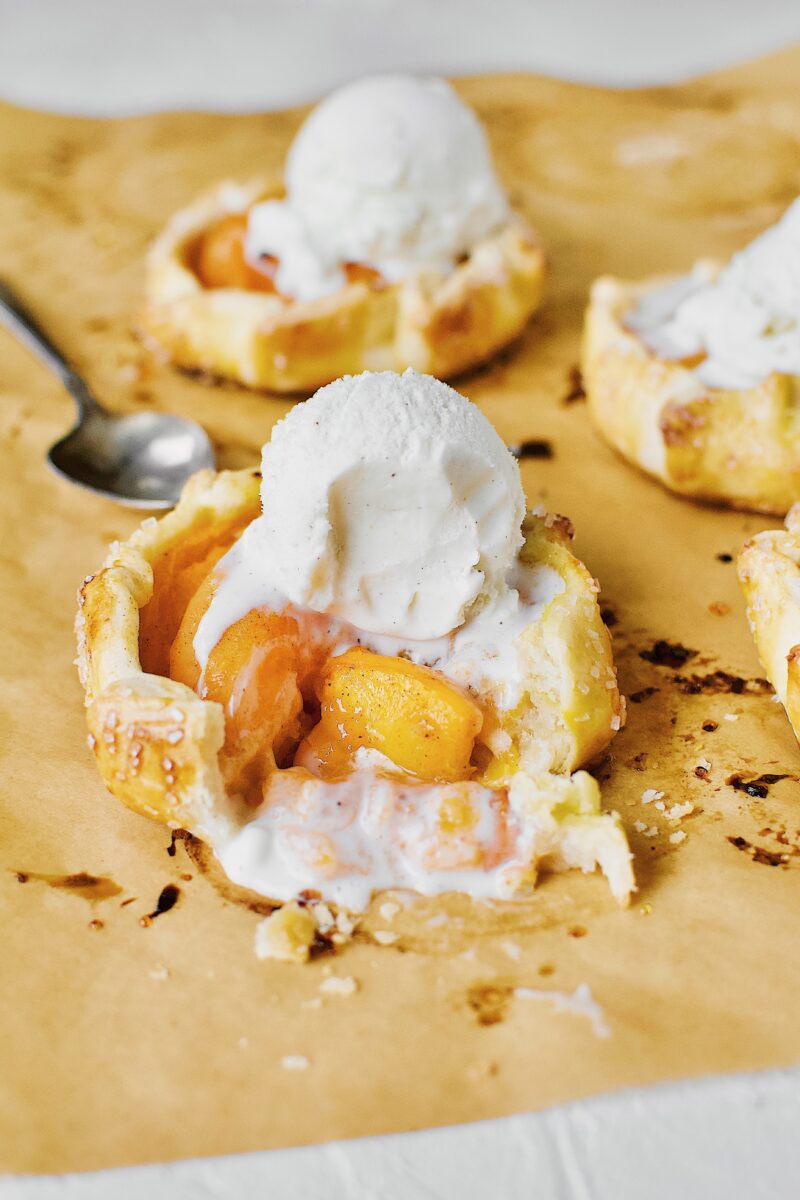 Jump to:
Ingredients
The ingredients needed to make this Apricot Pie includes the usual suspects. First off you need a pie crust. You could use a storebought one, but it is one of THE simplest things to make, and it just tastes better when you make it at home. I share my method of making it in a stand mixer in the recipe that will have you running away from storebought in an instant!
I also always love including some spices in my pie. They bring warmth and depth, and here I add some ginger, nutmeg, and cinnamon. I especially love the addition of the ginger to the tart apricots, it just adds a little something extra!
One ingredient that you might find interesting is the semolina flour. I do not use it in the pie crust but in a very interesting way. I picked up a little nugget of wisdom from the great British baking show, and it WORKS! Keep reading to find out how it is used.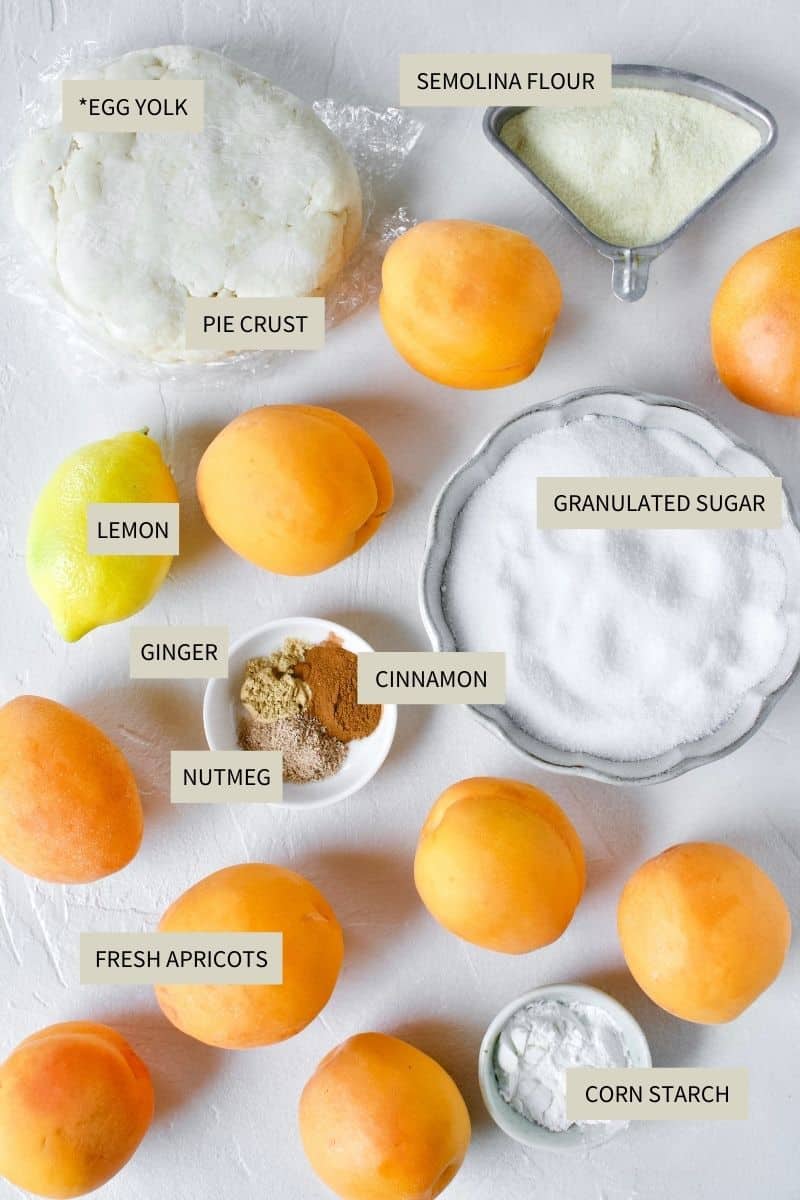 Use the JUMP TO RECIPE button at the top of the post, or scroll to the bottom of the post to see the full recipe card with ingredient measurements and instructions.
The way I am showing to make this Apricot Pie to you today is actually in the form of mini pies that I shape free form. Call them hand pies, or mini galettes, nonetheless, they are Apricot Pie perfect for picking up and indulging in!
Method
The first thing I do is remove the pit from the apricots and slice them. Then place them in a bowl and add the spices, sugar, and cornstarch to them. Then gently toss to evenly coat the fruit. Allow them to rest and macerate while you prepare the crust.
Then roll out my pie crust and cut it into 5-inch circles. I was able to get 6 perfect crusts and one extra more free-formed crust using the scraps, out of one recipe of pie dough.
Here is where the semolina comes in. Dust the top of each pie crust round with semolina. This will help absorb any juices released from the fruit, preventing a soggy bottom. It doesn't change the flavor of anything, and it disappears when cooked.
To form the pie, If you are feeling fancy, select some slices of similar sizes and neatly layer them on top of each pie crust. Then gently stretch and lift the pie crust up and around the apricot slices, folding and crimping as needed. Brush the crust with a touch of egg yolk mixed with water and sprinkle a little sanding sugar over top for some sparkle and crunch.
To get a crisp crust you must start your pies in an EXTRA hot oven. I begin my bake at 425˚F for the first 10 minutes, to crisp the crust on the bottom and set the top so they don't pop open. Then lower the oven to 350˚F for about 20-25 more minutes until the pie is fully baked and set. You know the pie is done when and juices that are released begin to boil in the pie crust.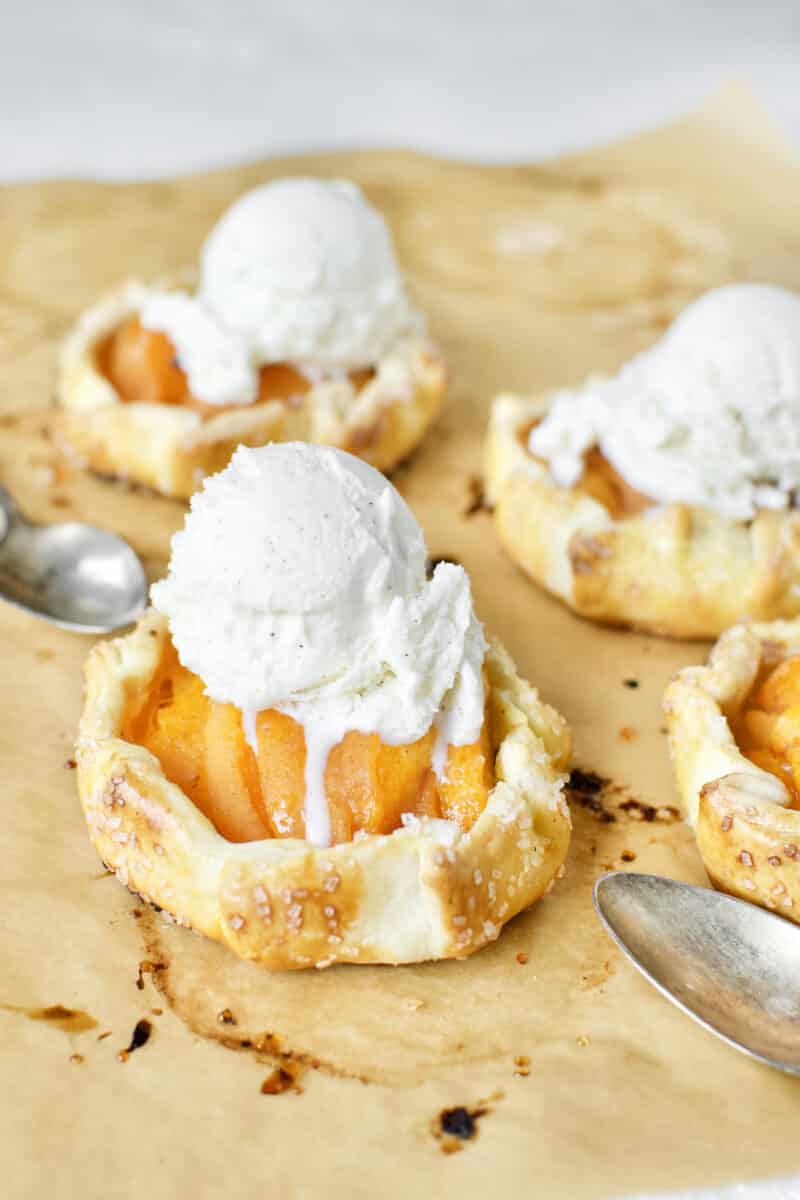 Notes & Tips
The best note I ever learned and put to use for making fruit pies is to use semolina in the base of the crust. I heard it mentioned on the Great British Baking Show. A little semolina in the bottom of the pie soaks up all the extra juices allowing for a crisp, no soggy bottom pie crust. And it works!
Allowing the apricots to macerate for about 10 minutes is a vital part of this recipe. Doing so leaches out the excess moisture from the fruit. Leave that moisture behind when adding the fruit to the pie crust. Lift it out of the syrup that forms, opposed to dumping the fruit in.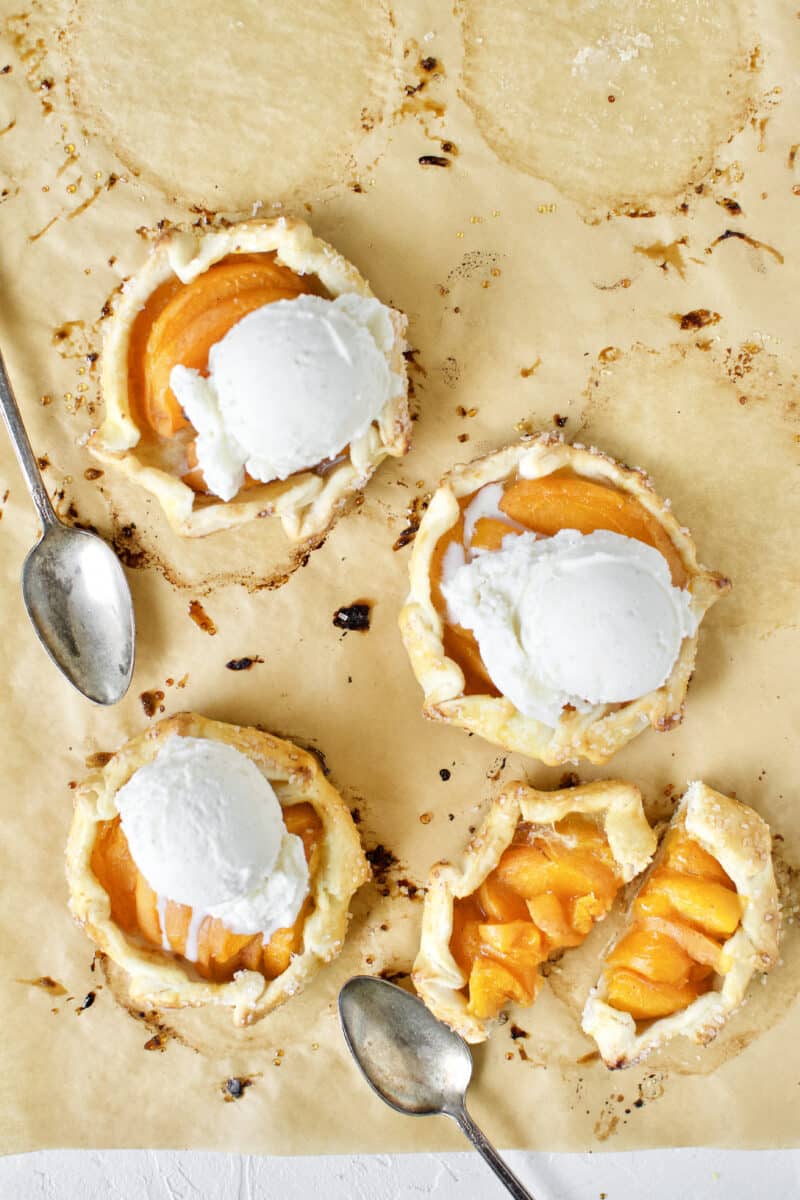 Substitutions
If you would like to use a storebought pie crust, you absolutely can. You may need to use the 2 crusts that typically come in a pack at stores to accommodate all the apricots called for in this recipe. Alternatively, you could fill the crusts as they stand and make 2 large apricot pies.
I call for Apricots in this recipe, the real beauty of it is that you could use any stone fruit you love here. Peaches, Nectarines, Plums, or Cherries could also be used in place of or combined with the apricots for a multi-fruit pie.
I chose to use Cinnamon, Ginger, and Nutmeg in my pie. You could easily swap one, or use only one of them. Don't be limited by what's in your pantry right this second. You can even leave them out if you prefer. Just be sure to taste for the sugar content on the fruit, you might want a little more if you don't have these flavors added.
The granulated sugar could be swapped for brown sugar for a deeper flavor, coconut sugar for a lower glycemic index, or even stevia. Those would all be great options.
The lemon is optional. Taste your fruit, if it is super sweet, add the lemon. If it is tart, leave the lemon out. The pie will be slightly tart anyway, the lemon may send it over the top. Taste and adjust as needed. You can also add more sugar to balance if needed.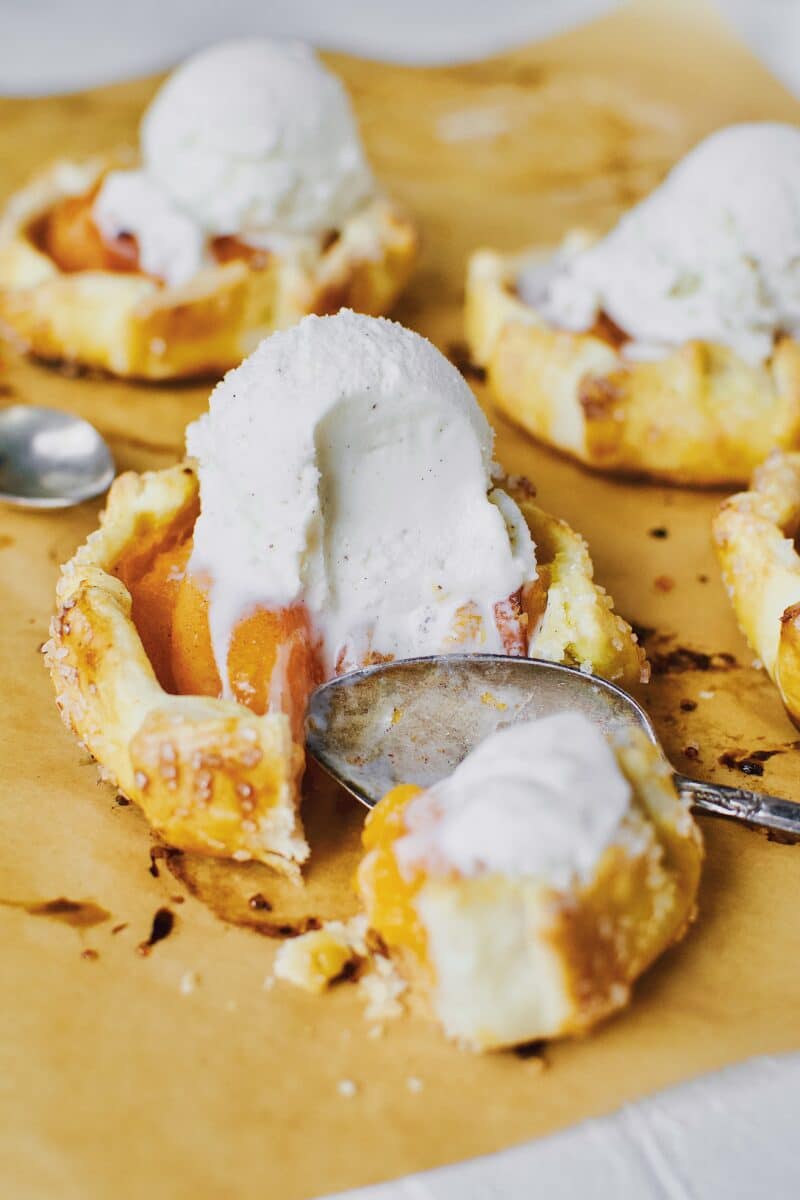 More stone fruit favoirites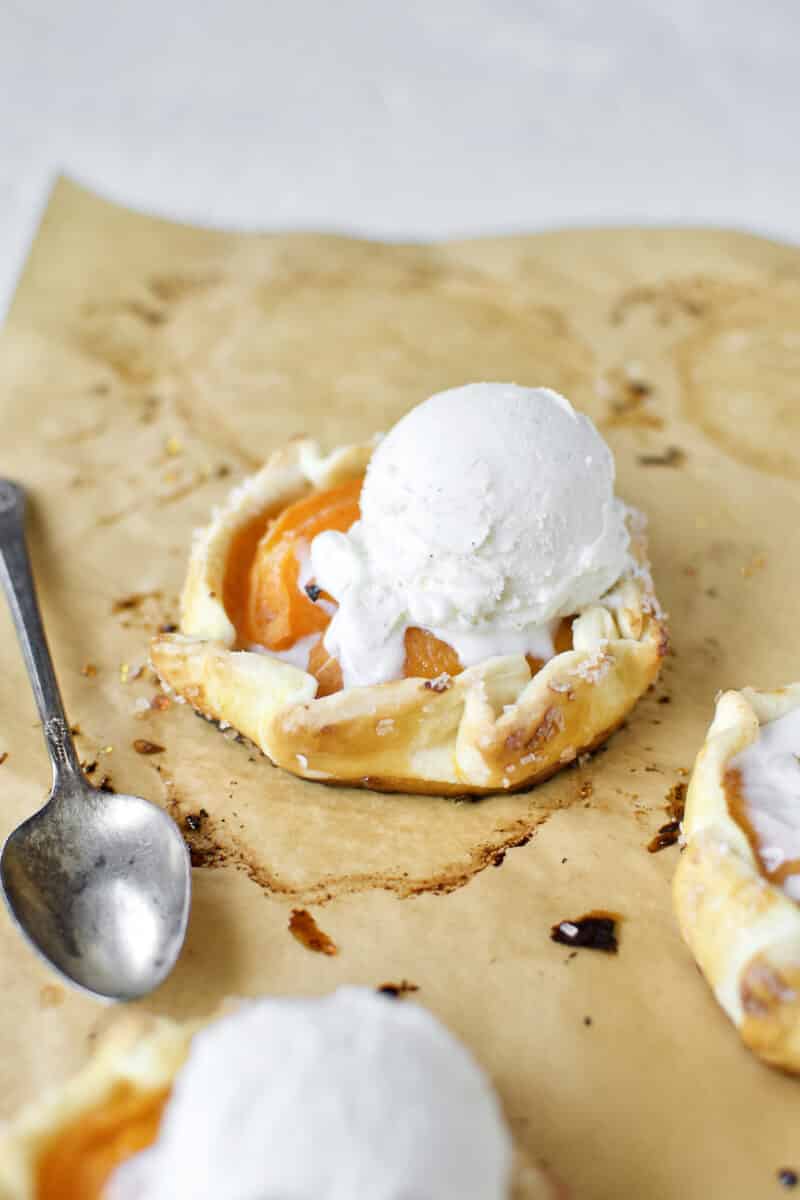 Did you make this recipe? Let me know by leaving a review or comment! And be sure to sign up for my newsletter, and follow along on Instagram, Pinterest, and Facebook!