I love to make these Strawberry Scones as a tasty treat for Valentine's Day Brunch. The fresh berries and chocolate chips bring the flavor of a chocolate-covered strawberry in a baked treat.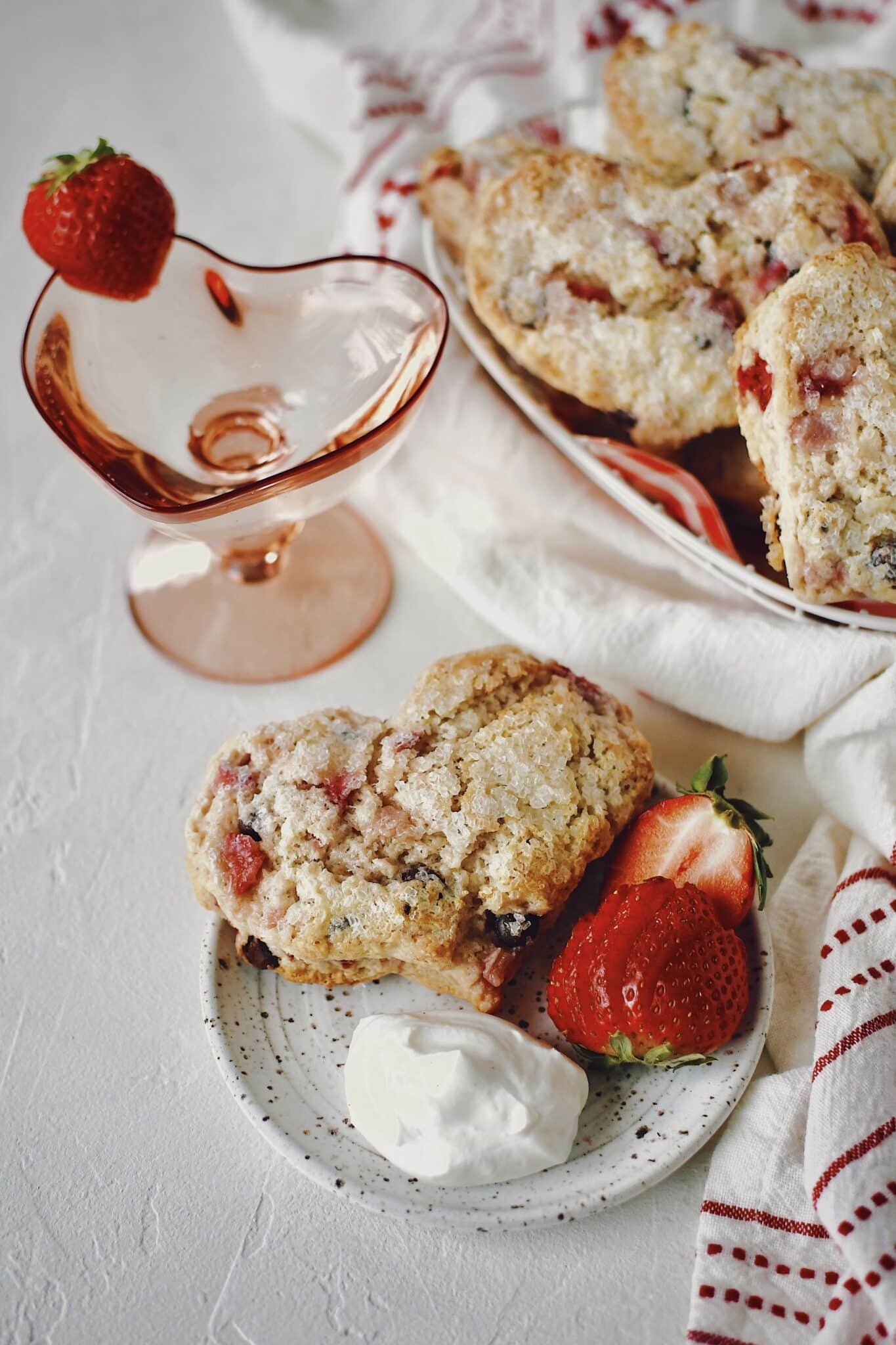 And they have the perfect pillowy soft center with a nice crisp exterior. The extra chunky sanding sugar also adds a nice crunch and is a must in my opinion.
Jump to:
Ingredients
These Strawberry Scones start the way the best bakes do, with butter, flour, and sugar. All typical ingredients. The important one here is the sour cream. It helps to keep the final product super supple and tender and is a key ingredient to making THE BEST scones.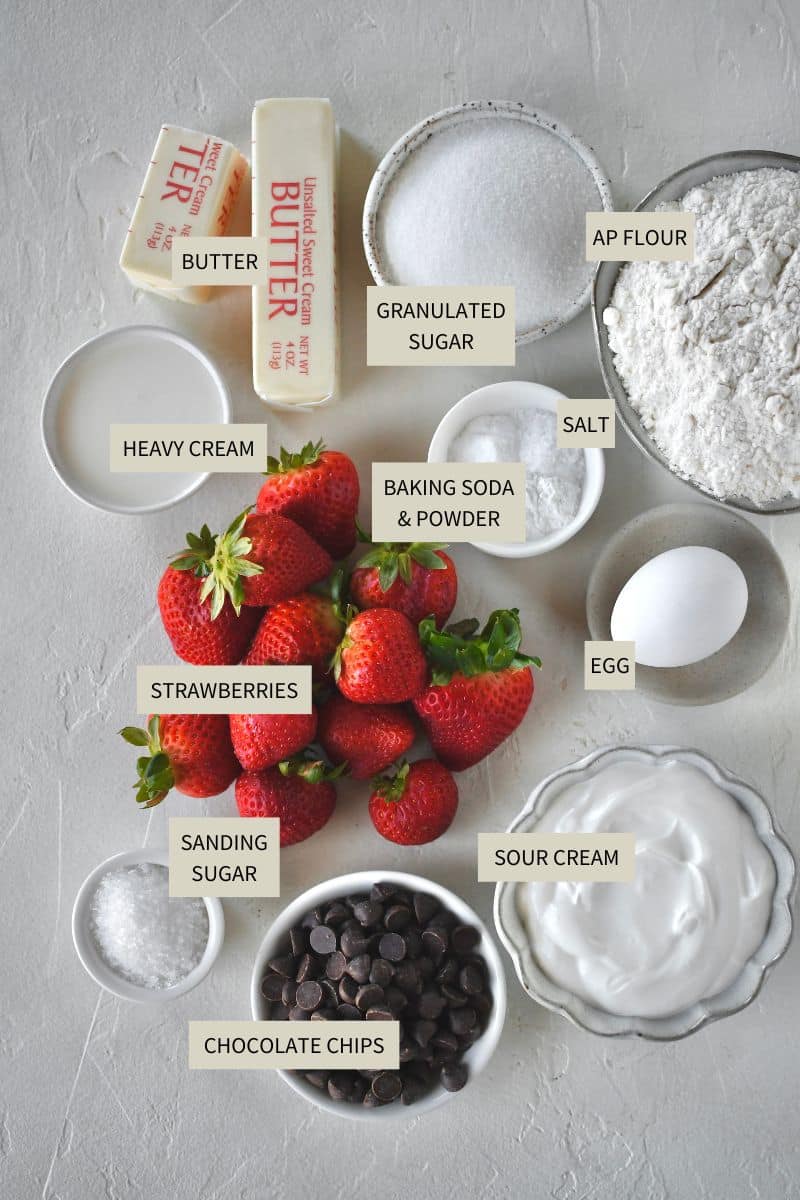 Sour cream acts like a tenderizer to flour and helps the gluten not overdevelop when worked into a dough. This is great for things like scones, so you can fold the dough a few times to create layers, but not get a tough dough.
Use the JUMP TO RECIPE button at the top of the post, or scroll to the bottom of the post to see the full recipe card with ingredient measurements and instructions.
Method
First, form the basic scone dough. Place all the dry ingredients into the bowl of a stand mixer and stir together the sour cream and egg. Blend the butter into the dry ingredients until it clumps in your hand, then add the wet ingredients and mix just until it begins to form a shaggy dough.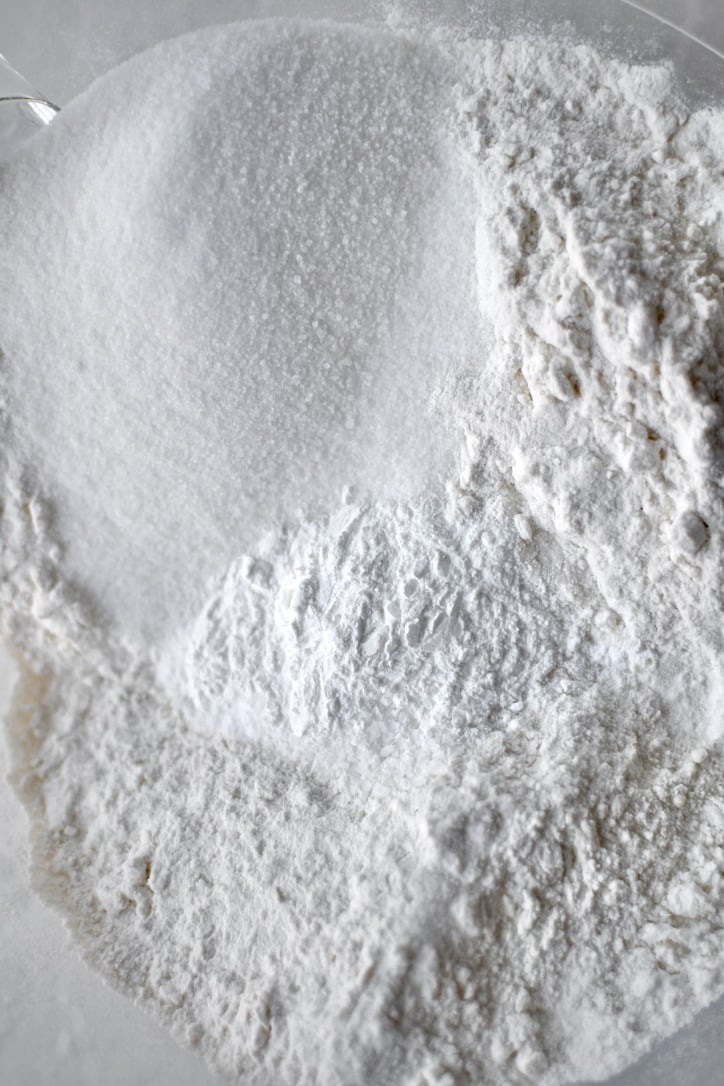 Then add the strawberries and chocolate chips and only mix for 10 seconds. No more or the strawberries will release too much liquid. Turn the dough out onto a well-floured surface and fold it 3-4 times to create some layers.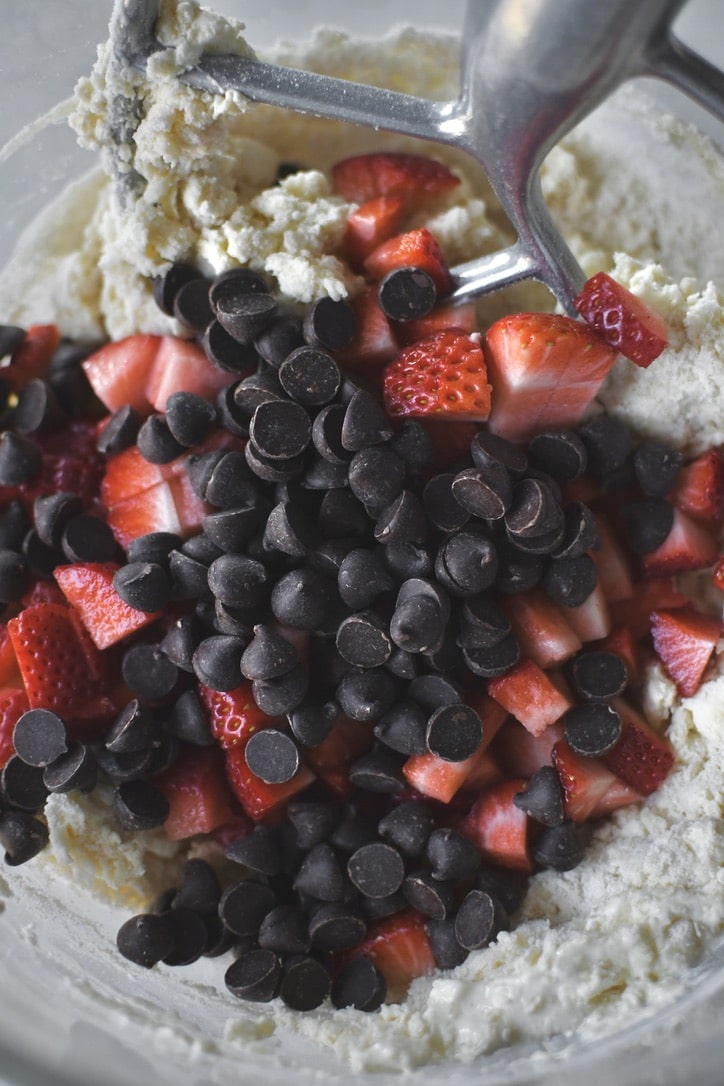 After you have folded the dough, press it out to about 1-1 ¼ inch thick if you would like to cut shapes out with cutters. If you would just like to cut triangles, separate the dough into two circles and cut each into 6 pieces. Then place them on a tray and chill them for 30 minutes in the freezer.
Just before baking, brush them with some heavy cream and dust them with chunky sanding sugar or sugar in the raw. This gives the cooked scones an extra crunch.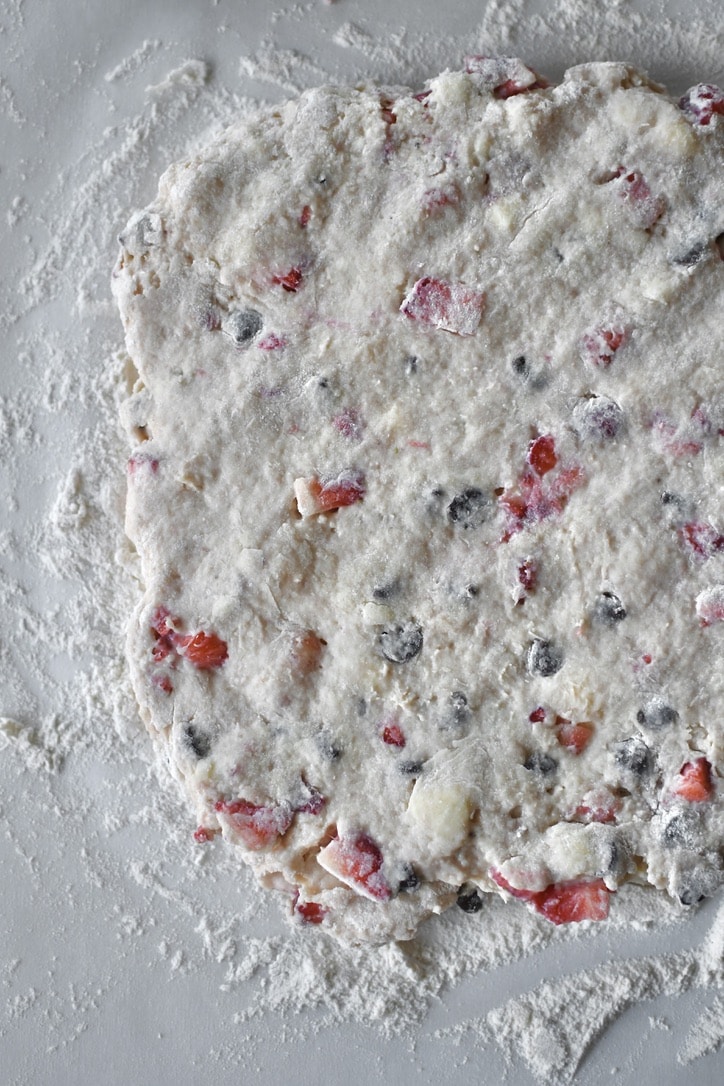 Bake till golden brown around the edges and the middles have no giggle to them. And if you are serving them for brunch, why not have some bubbly with them, it's a perfect compliment.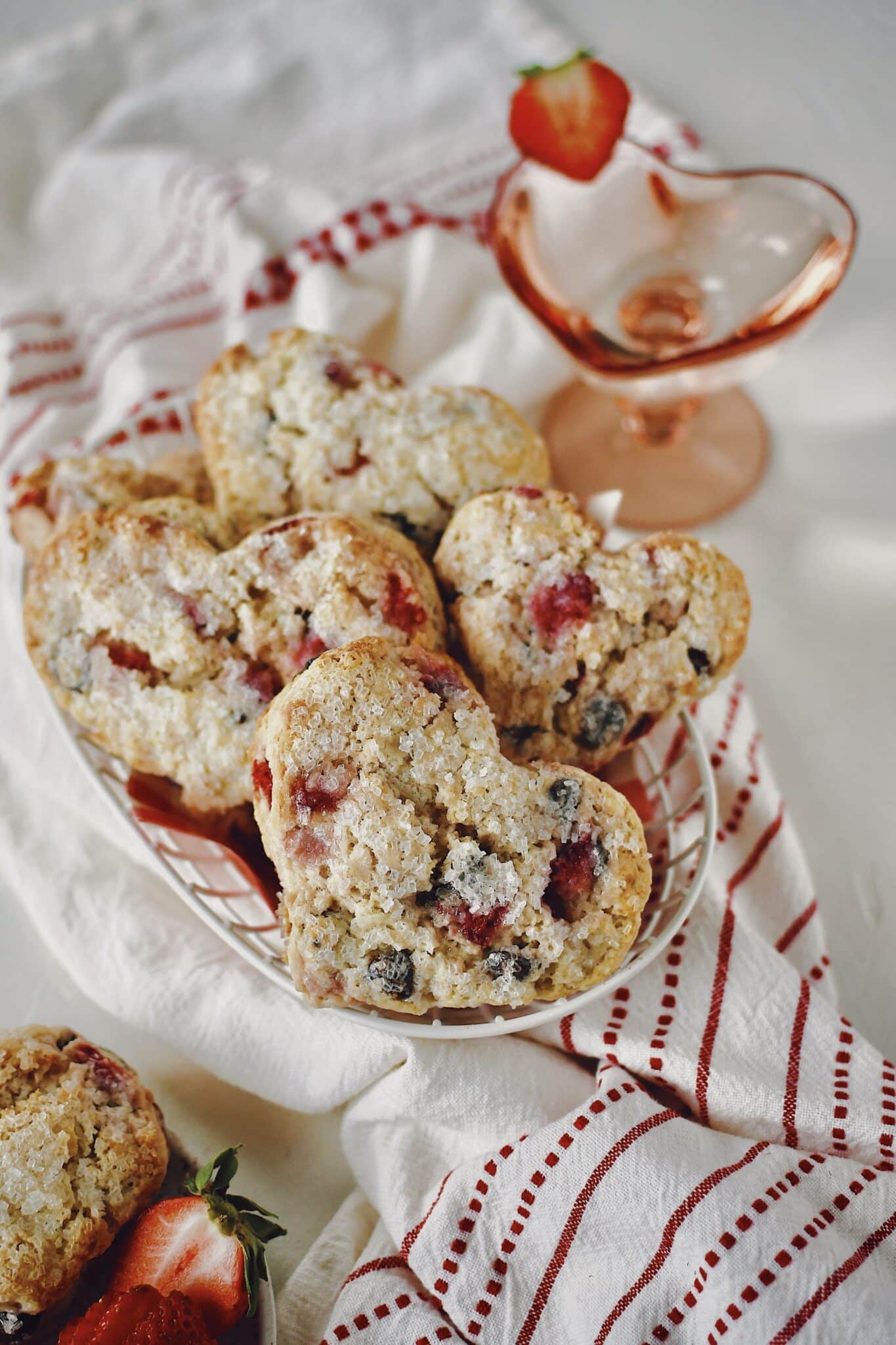 Notes & Tips
If you gather and prep all of your ingredients before you start to make this recipe, it should only take about 5 minutes to mix together. And while you could make it totally by hand, this mixer just speeds up the process so greatly, it's worth it. I mean, you'll have to wash a bowl either way.
You can quickly overwork the dough once the wet ingredients are combined and the strawberries so tread lightly. It should only take 30 seconds to blend in the egg/sour cream, and 10 seconds once the strawberries have been added.
Once you have turned the dough out of the bowl, press it out and fold it in half, 3-4 times. This is why you don't want to overwork the dough in the bowl, and it creates fluffy layers in the scones too.
I like to cut this particular recipe into hearts because I tend to really only make them to celebrate valentines day.
But you can make them any time and still cut hearts for loved ones, or simply cut the dough into two balls. Press them out into rounds, and cut the circle in 6, giving you 6 triangles. You can then bake them in the round, or separated, whichever you prefer.
Once baked, these scones are really best the day they are cooked and the next day. But after 24 hours, because of the fresh berries, they should be stored in the fridge. Reheat them in a toaster oven or 350˚F oven for about 5 minutes to make them like fresh from the oven.
If you will not eat 12 scones before they are no longer at their peak, after the 30-minute chill in the freezer, you can place the cut scones in a zip-top bag and freeze until ready to eat. Follow the same baking instructions, but know they may take 2-3 more minutes to bake.
Substitutions
If you would like to make these scones gluten-free, I like this alternative flour best for baking.
While sour cream is the best option for making scones, the best substitution if needed is to use plain yogurt. Not Greek yogurt, but just plain yogurt.
If you'd like to leave the fruit out of this recipe and make plain, or just chocolate chip scones, add ¼ cup of sour cream to the recipe. The recipe is also great perfumed with any citrus zest you like.
I use clear sanding sugar for the topping because I bought a big container of it and always have it around. But you could also use sugar in the raw that has a bit of a brown color to it if you have it around. The large-grain sugar is all that is important.
Did you make this recipe? Let me know by leaving a review or comment! And be sure to sign up for my newsletter, and follow along on Instagram, Pinterest, and Facebook!