This Homemade Trinidad Truffles recipe is inspired by a family favorite that if I got one as a child it was a pretty big deal, and was usually only a half! If you grew up in Chicagoland and surrounding areas you may know what this is inspired by. The company closed many of their stores years ago, but you can still get these truffles at a hefty price from them, let's save some coin and make them at home.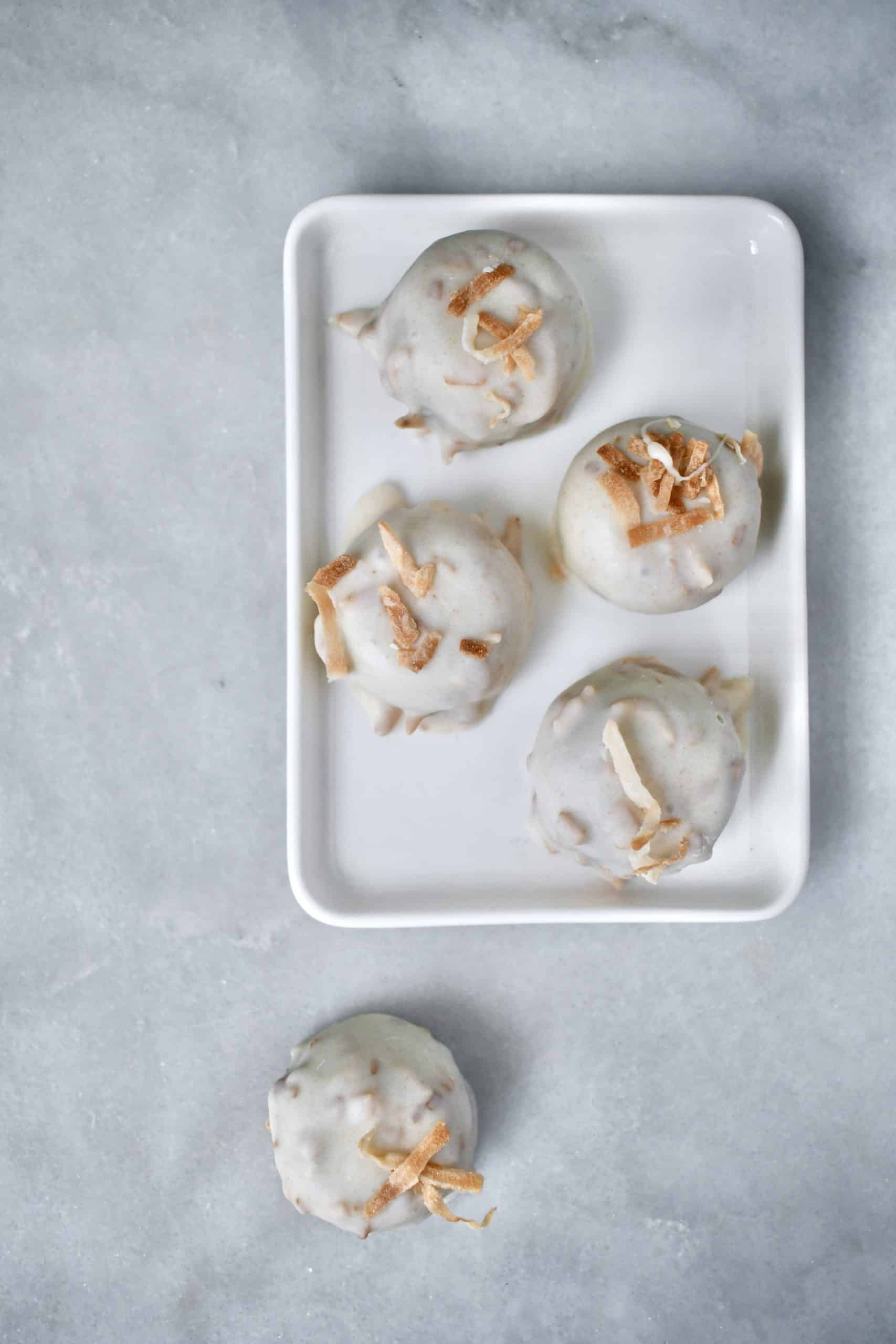 Now I don't work with chocolate that often, so when I say that these are really easy to make, I mean it! I really hate making a big mess that I have to clean up in the kitchen, so as long as you work slowly and methodically there will be little to no mess and you will be left with a beautiful chocolate creation.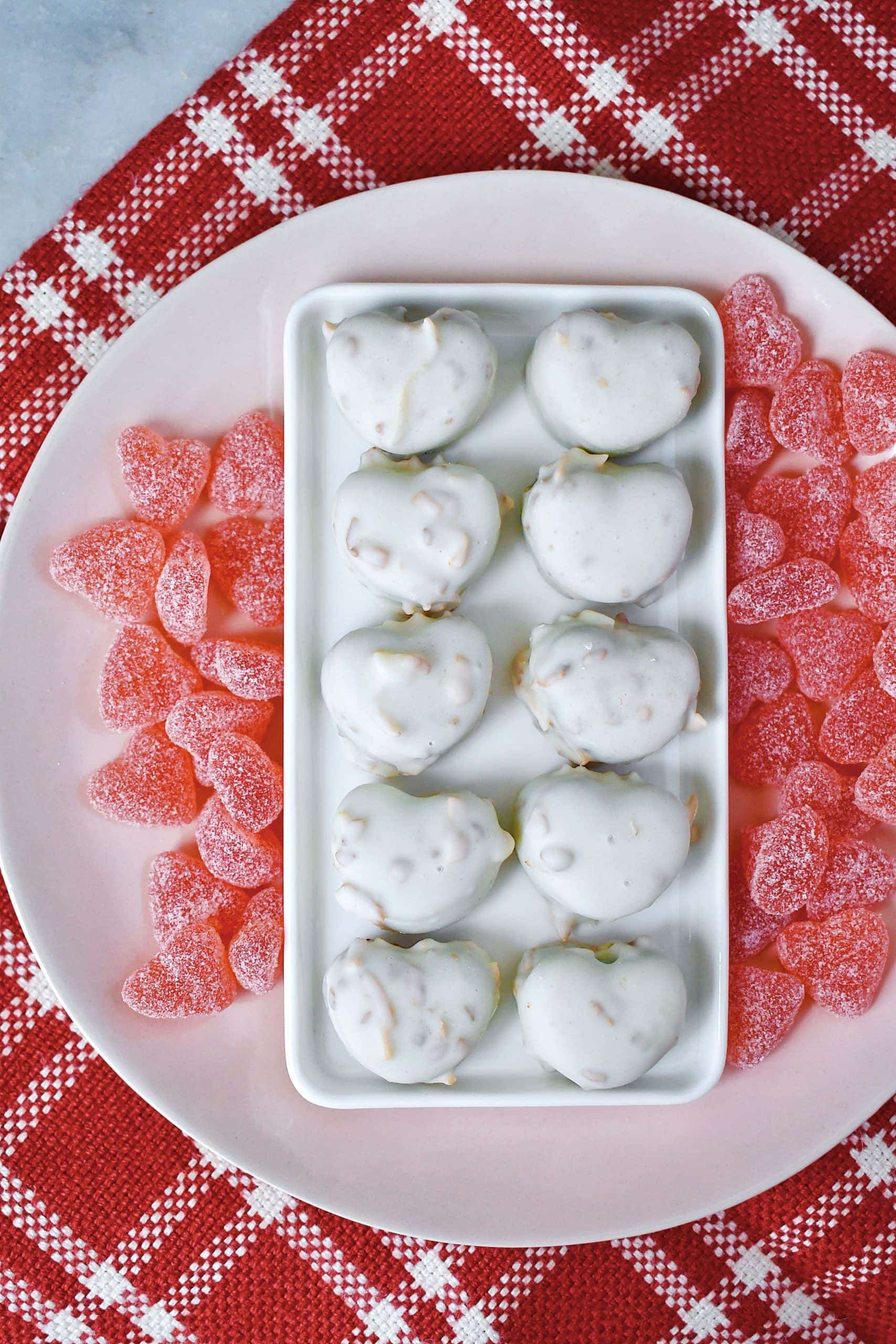 I made these as a special treat for Valentine's day for my mom. She used to work at the candy shop that sold these and she talks about them literally ALL THE TIME! But we never order them cause they are so much more expensive than they used to be, and the one time we did, they were old and just didn't taste the same anymore.
She even tells the story of my grandfather buying a box of Trinidad truffles, keeping them in the freezer and cutting 1 in half and savoring them over time. He didn't share, and they were like GOLD to him!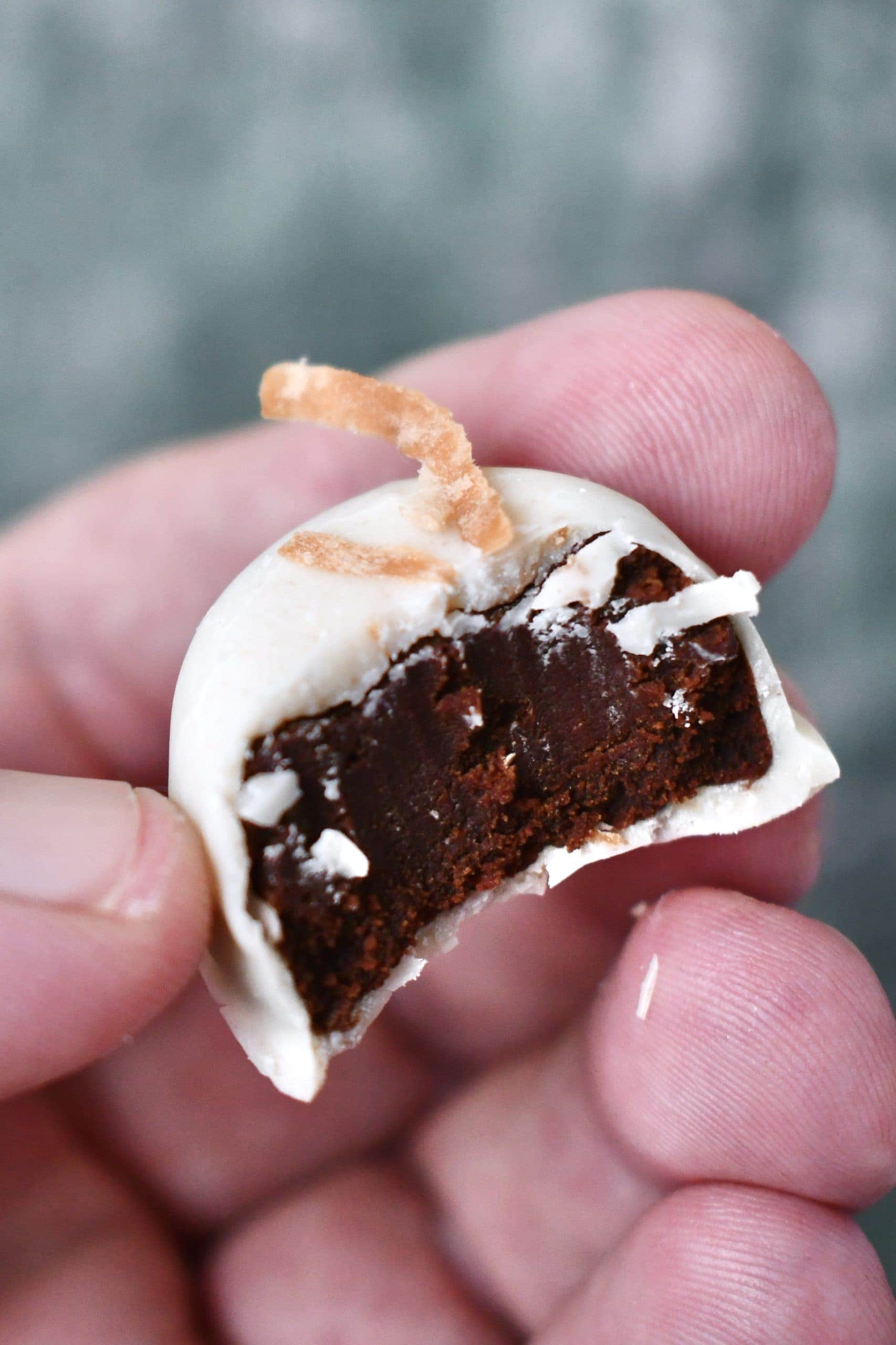 What makes these truffles amazing?
They have only a few steps to greatness
The flavor combo is just a dream come true if you are a coconut lover like I am
They make a great giftable
Uhhh, it's chocolate
Homemade is always better than store-bought
No chocolate tempering needed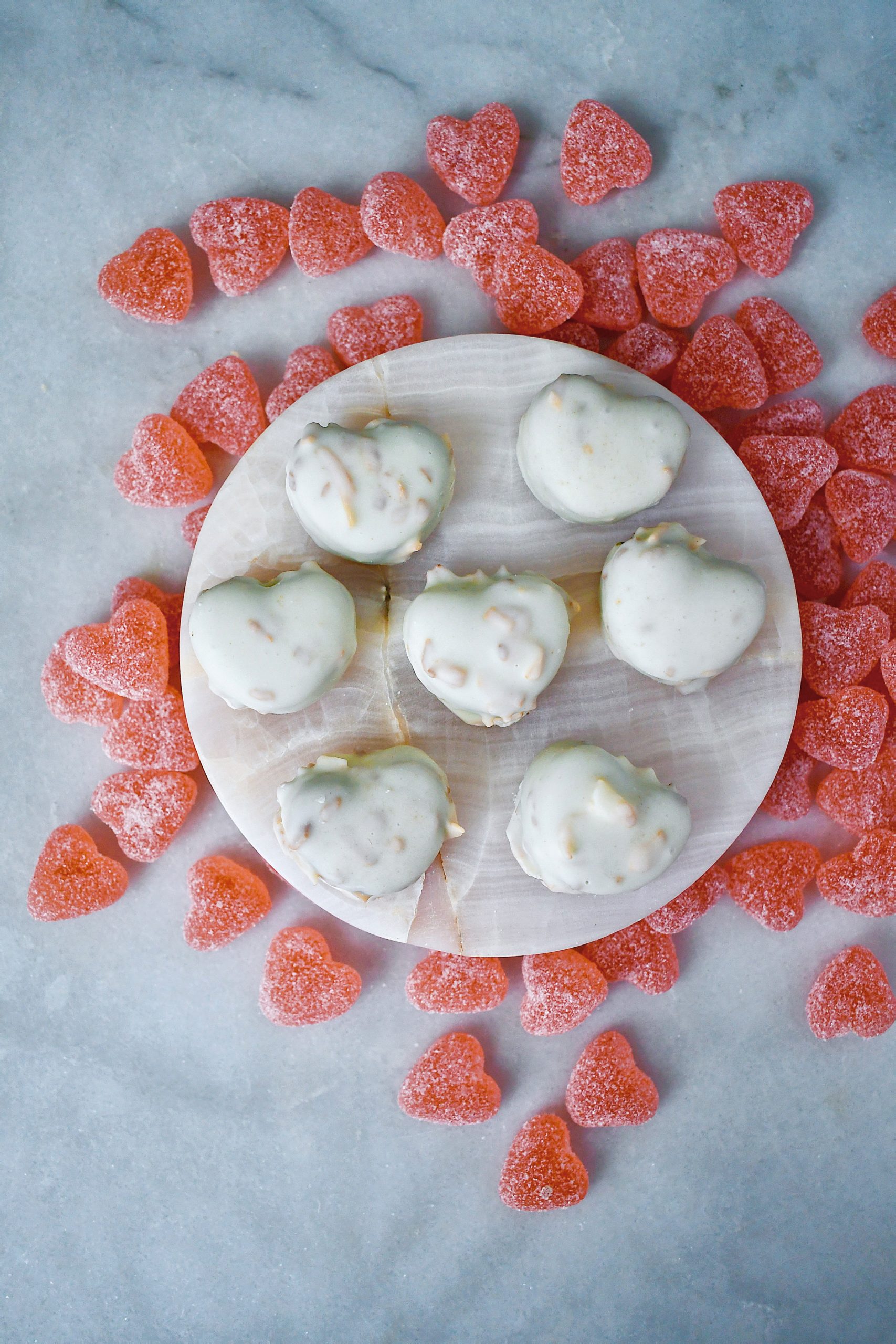 Now go get after it and make a beautiful batch of these tasty truffles fit for your favorite valentine or even just because! I used THIS MOLD to make the heart-shaped ones, but you can also make these with no special equipment at all.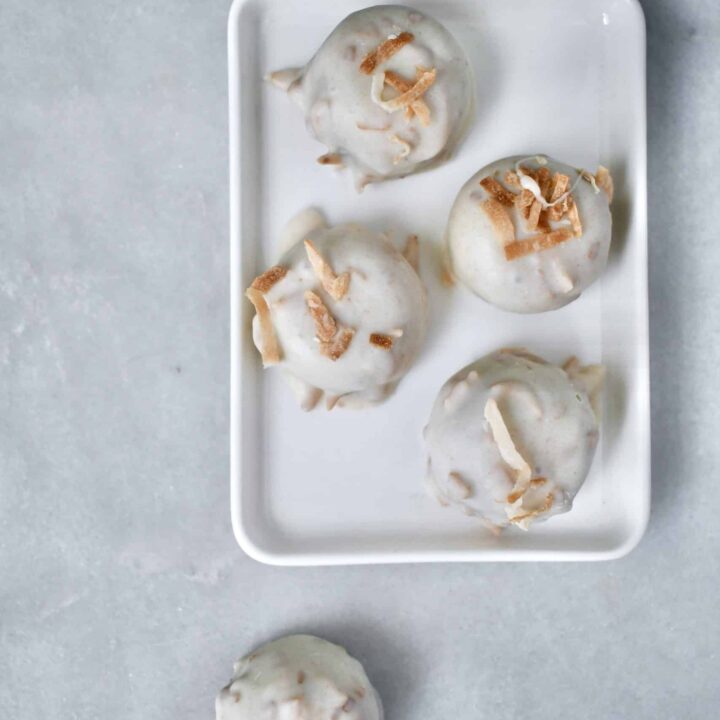 Homemade Trinidad Truffles
These chocolate truffles are inspired by a candy shop family favorite that has skyrocketed in price over the years so making them at home to keep them fresh resulted in what might be better than the real thing these days.
Ingredients
½ cup Heavy Cream
8oz Semisweet Chocolate
¼ cup Unsweetened Coconut, toasted
8oz White Chocolate
2 teaspoons Coconut Oil
Instructions
In a small saucepan heat the cream until warm, but not boiling. Pour the cream over the semisweet chocolate and let it sit 3-4 minutes. Stir the chocolate and cream until they become fully incorporated and no white streaks in the chocolate remain. This is your ganache center for your truffles, allow it to cool in the refrigerator until firm, about 4 hours or overnight.
Take the cooled ganache and using a small ice cream scoop or simply dividing it equally by slicing into equal pieces. Quickly roll each piece into a ball, place on a tray and freeze for 30 minutes. It is very important to keep the ganache as cold as possible so work quickly.
While the ganache balls are chilling toast your coconut in a skillet over medium heat until golden brown. Keep an eye on it and keep it moving the entire time to ensure it doesn't burn.
Using a double boiler, melt the white chocolate and coconut oil together. When the chocolate is melted, add the toasted coconut and mix to combine. Save a little for topping if you'd like. Let cool for about 5 minutes.
To coat the ganache balls in the white chocolate, drop one at a time into the white chocolate cover the top quickly with a spoon and using a small fork, lift the truffle from the bowl and gently tap the side to release some excess chocolate and place on a wax paper lined tray. Because the ganache balls were cold the white chocolate should form a solid shell quickly. Allow them to cool until firm at room temperature.
Store in an airtight container for up to 2 weeks.
Nutrition Information:
Serving Size:

1 grams
Amount Per Serving:
Unsaturated Fat:

0g
If you need any more Valentines or just plain special day inspo, take a look at my Chocolate Wafer Cake, or my Double Chocolate Almond Cookies.
If you make this recipe, please let me know by leaving a review at the bottom of this page!
And make sure to sign up for my newsletter and follow along on Instagram, Pinterest, and Facebook for more KendellKreations!
MY LATEST RECIPES!
Get my NEW e-Cookbook here!! ⬇️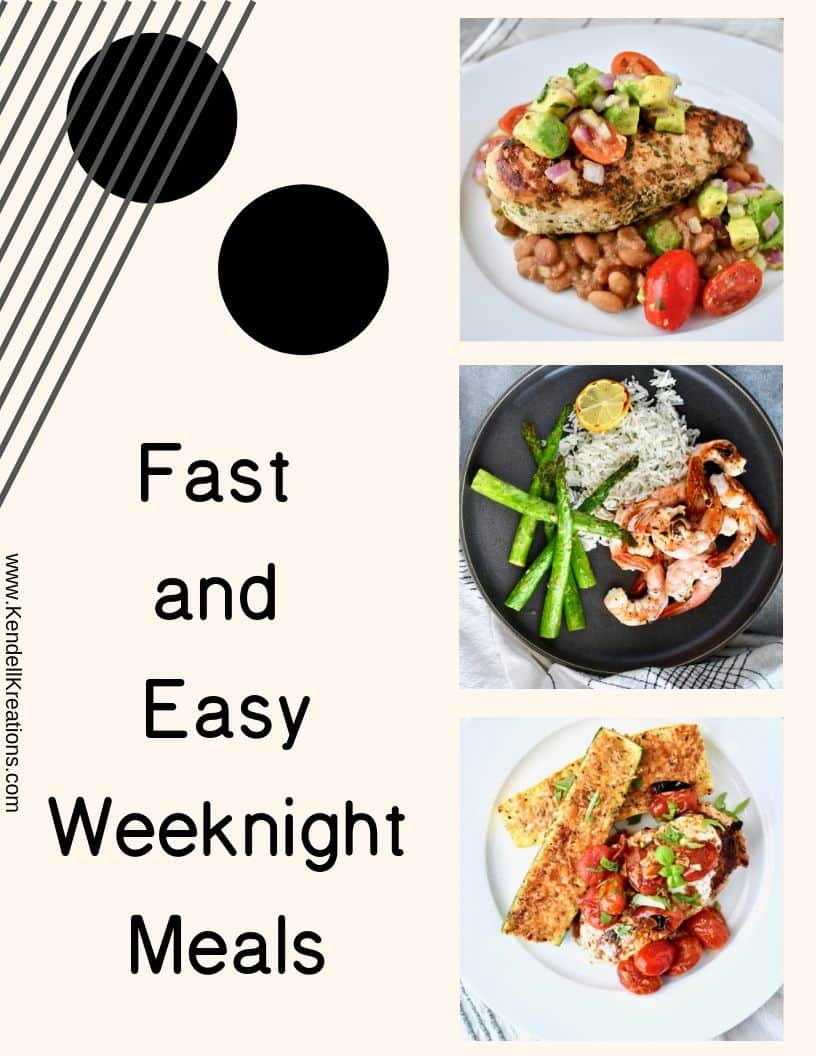 MY FAVORITE KITCHEN TOOLS!
Here are a few links to some of my favorite kitchen tools! You get a car, YOu get a car, YOU ALL GET A CAR…in my best Oprah voice
These Rösle Silicone Tongs are a little pricey but they will last you the rest of your life and are the softest in your hand. This is important for someone like m that cooks so much. It reduces strain, I have 4 sets in my kitchen!
These are my FAVE Nordic Ware Sheet Pans, every kitchen should have at least 2 sets of these! I think I have at least 4 of each of these.
This is my favorite pressure cooker, the Fagor is the same concept as the "Instant Pot" but easier to use in my opinion, if you don't have one you NEED one, it will be your best friend in the kitchen!
A sharp knife is the most important tool in the kitchen, these Japanese steel "Shun" knives are my favorite! And this is a great starter set to build on. Once you try them you will be in love so use this as a foundation you can build on for years to come.
This Scanpan 11″ skillet is just the right size for almost anything you will need to cook and my best friend and a real workhorse in my kitchen, it's also a great deal at $99. Scanpan is the best in the world for healthy cooking. It is coated with a proprietary ceramic-titanium coating that is durable while allowing you to use fewer fats and oils when cooking. It is a coating only they use. I could talk all day about my love for these pans, message me if you want more info. Here are some other sizes that are available if you are looking to outfit your kitchen with some new goodies. 8″ & 10″ Skillet set or 8″ Skillet, I still need this one for my kitchen Also, I don't really know how to cook small so the 12.5″ is my other fave!
This giant vat of olive oil is my favorite, I decant it into a smaller bottle for my counter. Or put this spigot on top of a wine bottle!
My favorite baking dish that is so easy to clean even burnt on cheese slides right off!
This Tovolo jar scraper has to be my single favorite kitchen tool, it is definitely the most used tool in my kitchen. If you are NOT a gadget person, this is the only necessity I say is a MUST beyond the wooden spoon.
A great wood spoon is essential, this Olive Wood one is my favorite, I have more than I can count. But can you really ever have too many?
A food scale can be a very important tool in your kitchen, this one is the one I use every day!
If you love Joanna Gaines as much as I do then the 'Magnolia Table Cookbook' is a must in your kitchen, get a copy HERE!