All of the color in these Pink Hot Chocolate Bombs is natural! I used Ruby Chocolate for the shells and make my own pink hot chocolate by blending some dehydrated strawberries into the white hot chocolate mix. It is always a goal of mine to keep things as natural as possible, minus the boxed cocoa mix, but these bombs make for THE most decadent cup of cocoa you have ever enjoyed!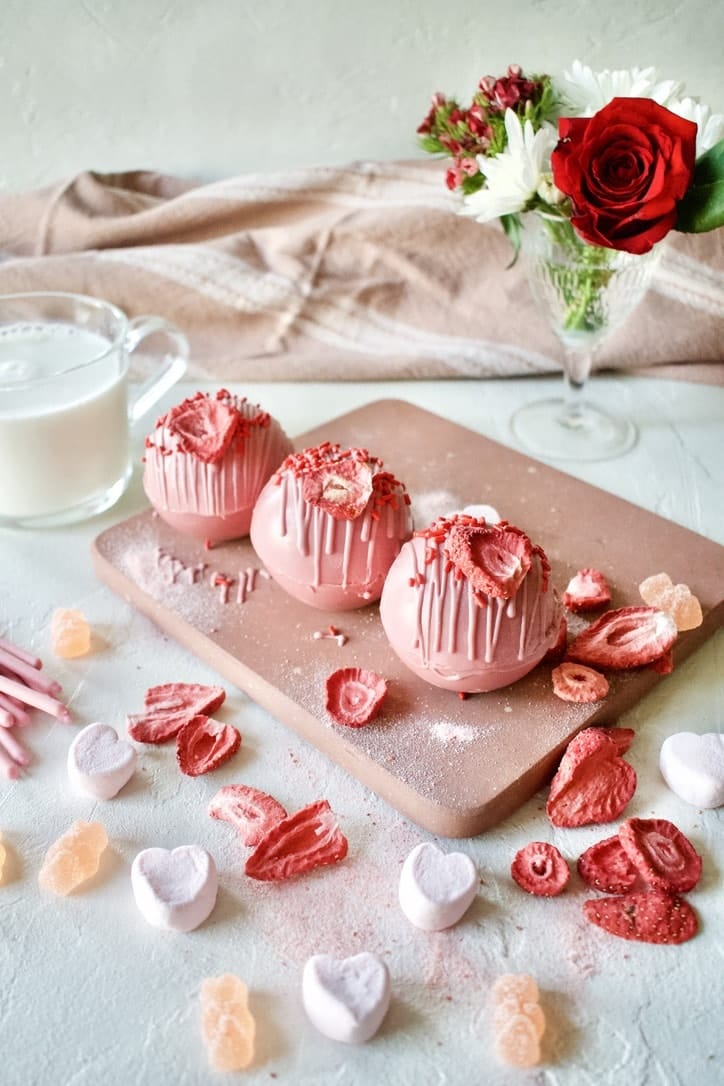 What you need:
The joy of making hot cocoa bombs is that you get to customize them and put whatever you like in them. For the Pink Hot Chocolate Bombs I am sharing with you today, I sought out ALL THINGS pink and strawberry.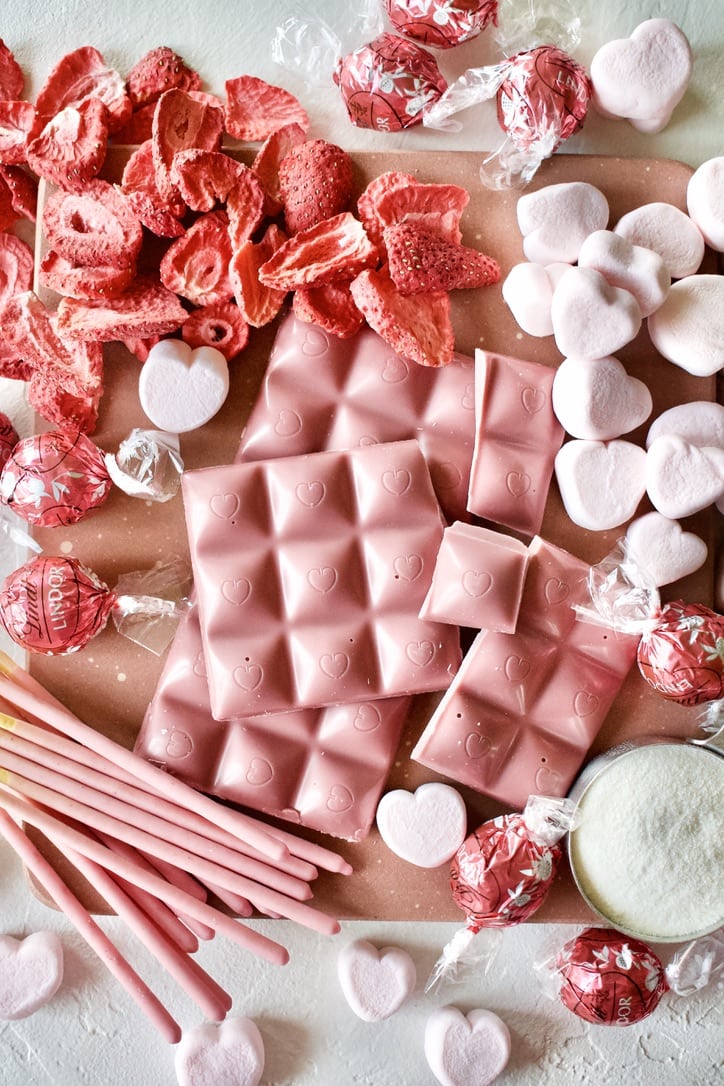 My sister got me on the hot chocolate bomb train at Christmas when she requested ALL WHITE hot cocoa with peppermint. I used the same method I do to make this I just didn't blend in the strawberries and used white Lindt truffles in the middle. I then sprinkled candy cane pieces on top and it was AMAZING! The perfect peppermint hot chocolate, she even said it was tasty used to make a homemade peppermint white mocha like she gets at Starbucks.
For these pink ones, that I think will be PERFECT for Valentine's Day, or any day if you are as much as a strawberry and drinking chocolate lover as my dad is, I used strawberry heart-shaped marshmallows, strawberry cream Lindt truffles and as mentioned above, strawberries blended into the actual cocoa powder.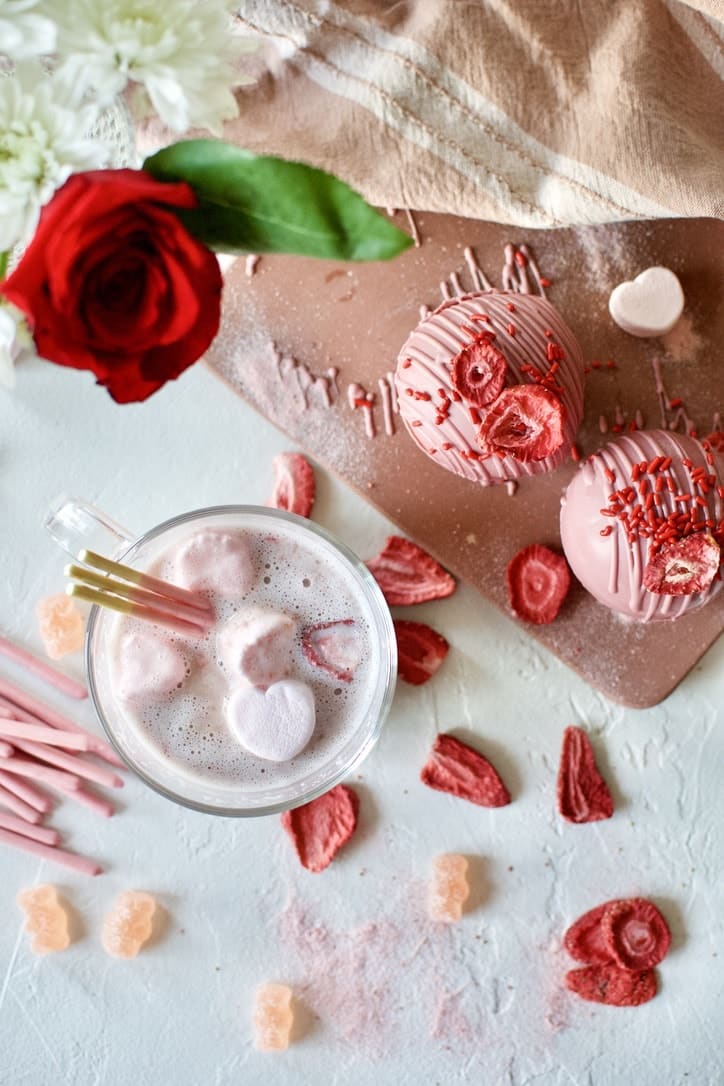 What is Ruby Chocolate?
Ruby is the fourth type of chocolate after dark, milk, and white. It's a completely new taste and experience. Ruby chocolate is made from the ruby cacao bean, which goes through a unique process to unlock the flavor and color. Ruby offers an intense sensorial delight, a totally new taste experience: neither bitter, milky, or overly sweet, but a tension of fresh berry fruitiness and luscious smoothness.
The color is completely natural and lends tons of flavor as well as color to this recipe. It has a fruity berry flavor naturally and has not added ingredients to give it that flavor. Ruby Chocolate is just becoming more widely available in the united states. Natural Grocery stores as well as World Market carry a bar made by Chocolove bar that I used here.
Ruby Chocolate is quickly becoming my favorite chocolate, but it can be SUPER SWEET sometimes, so I reserve it for when my sweet tooth is kicking in hardcore! It also makes it the most beautiful chocolate to using in your Valentine's Day baking and confectionery.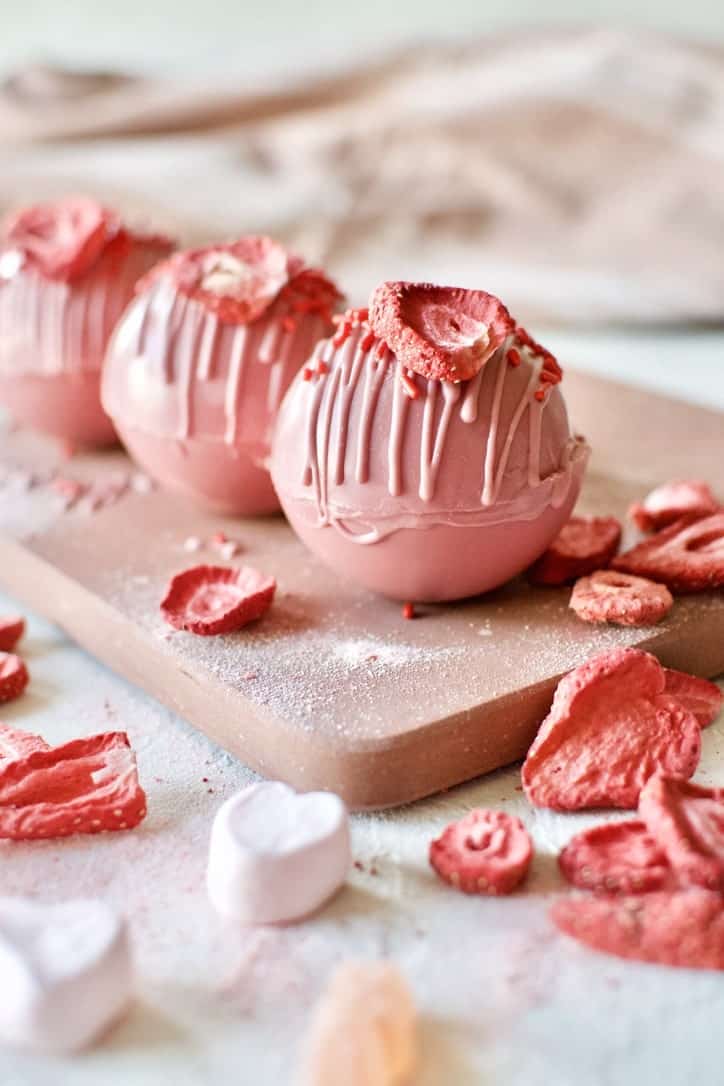 Assembling Hot Cocoa Bombs
You need this fancy little mold to make hot cocoa bombs. Rest assured in the purchase, you can bake cute little cakes in the molds, make chocolate cups to put mousse in, or make sugar domes with it. Channel your inner Great British Bake Off contestant and let the sky be the limit.
Assembly is a little bit tricky so be sure to watch the video I made for you for a little guidance. They are not hard to make, but they do take a little patience. My biggest chef tip I can give you, put just a drop of vegetable or other flavorless oil into the melted chocolate, it makes it a little more forgiving and keeps the chocolate shiny.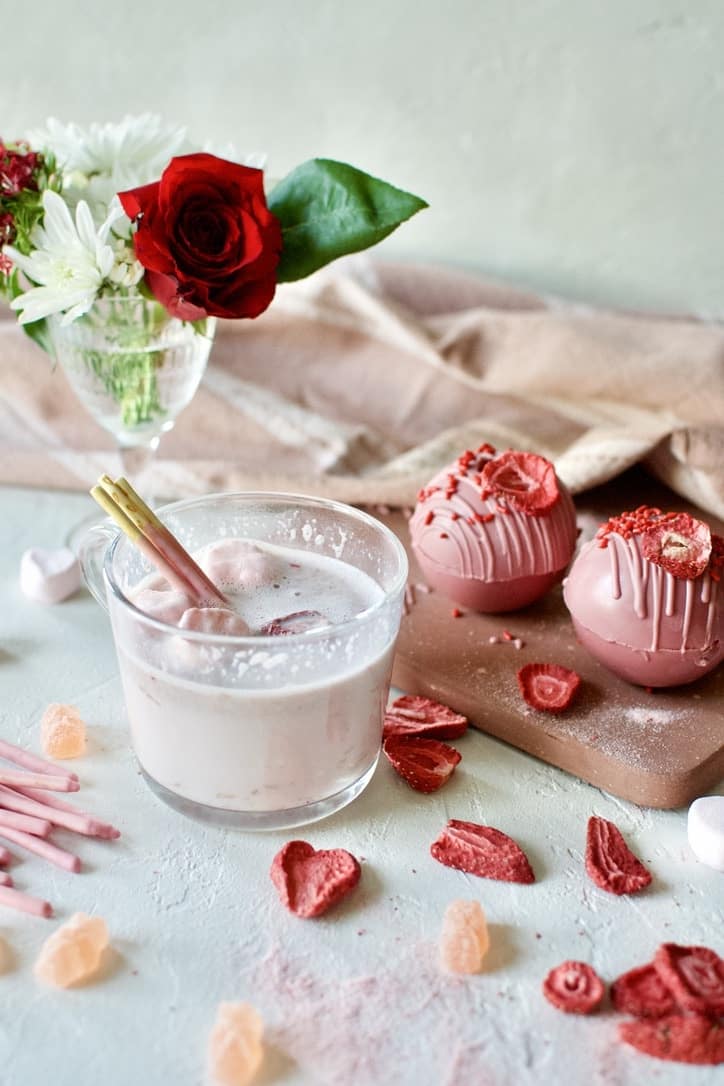 If you can't find all the pink stuff, you can easily turn these into Chocolate Covered Strawberry Hot Chocolate Bombs and use all dark chocolate and still blend in the strawberries into the cocoa mix. And to eliminate a little of the sugar you can use my Sugar-Free Hot Cocoa Mix. I would be perfect used this way!
If you make this recipe, please let me know by leaving a review at the bottom of this page!
And make sure to sign up for my newsletter and follow along on Instagram, Pinterest, and Facebook for more KendellKreations!
MY LATEST RECIPES!
Get my NEW e-Cookbook here!! ⬇️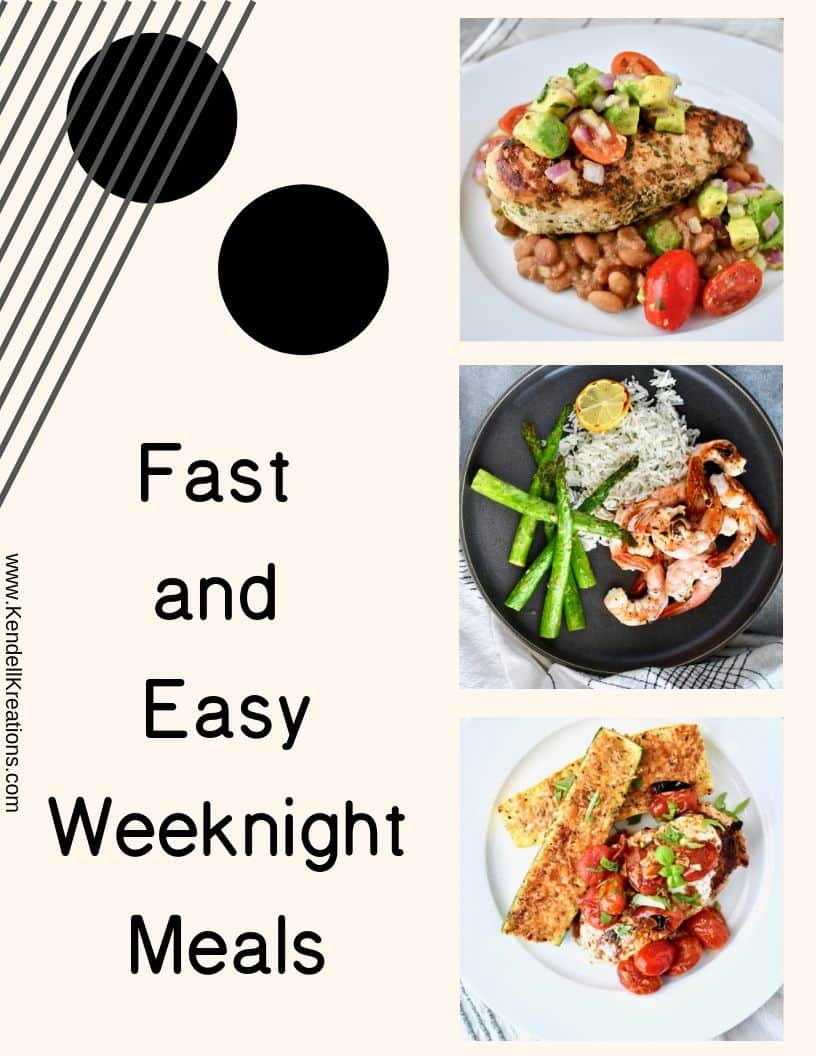 MY FAVORITE KITCHEN TOOLS!
Here are a few links to some of my favorite kitchen tools! You get a car, YOu get a car, YOU ALL GET A CAR…in my best Oprah voice
These Rösle Silicone Tongs are a little pricey but they will last you the rest of your life and are the softest in your hand. This is important for someone like m that cooks so much. It reduces strain, I have 4 sets in my kitchen!
These are my FAVE Nordic Ware Sheet Pans, every kitchen should have at least 2 sets of these! I think I have at least 4 of each of these.
This is my favorite pressure cooker, the Fagor is the same concept as the "Instant Pot" but easier to use in my opinion, if you don't have one you NEED one, it will be your best friend in the kitchen!
A sharp knife is the most important tool in the kitchen, these Japanese steel "Shun" knives are my favorite! And this is a great starter set to build on. Once you try them you will be in love so use this as a foundation you can build on for years to come.
This Scanpan 11″ skillet is just the right size for almost anything you will need to cook and my best friend and a real workhorse in my kitchen, it's also a great deal at $99. Scanpan is the best in the world for healthy cooking. It is coated with a proprietary ceramic-titanium coating that is durable while allowing you to use fewer fats and oils when cooking. It is a coating only they use. I could talk all day about my love for these pans, message me if you want more info. Here are some other sizes that are available if you are looking to outfit your kitchen with some new goodies. 8″ & 10″ Skillet set or 8″ Skillet, I still need this one for my kitchen  Also, I don't really know how to cook small so the 12.5″ is my other fave!
This giant vat of olive oil is my favorite, I decant it into a smaller bottle for my counter. Or put this spigot on top of a wine bottle!
My favorite baking dish that is so easy to clean even burnt on cheese slides right off!
This Tovolo jar scraper has to be my single favorite kitchen tool, it is definitely the most used tool in my kitchen. If you are NOT a gadget person, this is the only necessity I say is a MUST beyond the wooden spoon.
A great wood spoon is essential, this Olive Wood one is my favorite, I have more than I can count. But can you really ever have too many?
A food scale can be a very important tool in your kitchen, this one is the one I use every day!
If you love Joanna Gaines as much as I do then the 'Magnolia Table Cookbook' is a must in your kitchen, get a copy HERE!