This recipe for Stuffed Butternut Squash adds a nice little interest to dinner time. With a super tasty, creamy filling, with the savory roasted squash, it's a match made in heaven.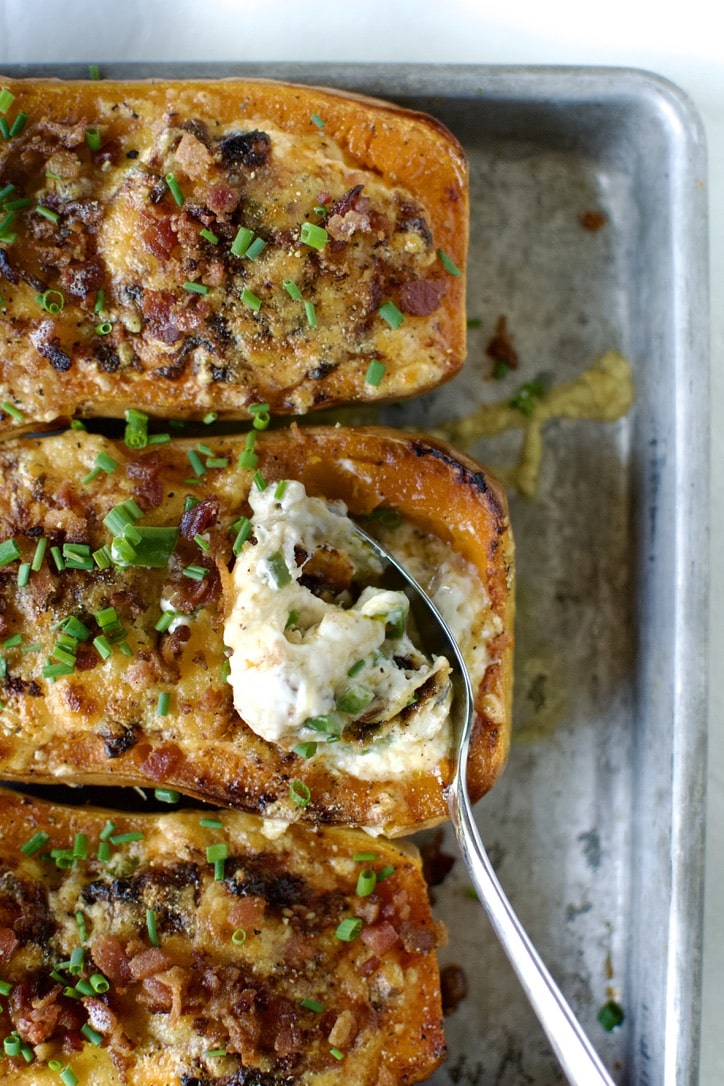 Jump to:
Ingredients
The ingredient list is small and humble for this recipe. Just a handful of goods is all you need to make this super tasty dish. A couple of squash, cream and cheddar cheese, some bacon, and jalapeno are all you need.
The one ingredient that is somewhat optional, but needed in my opinion, is the almonds. I use Marcona almonds cause that is what I had on hand, but I would suggest slivered almonds or blanched, for the hearty crunch they offer. Just like the jalapeno poppers dad used to make.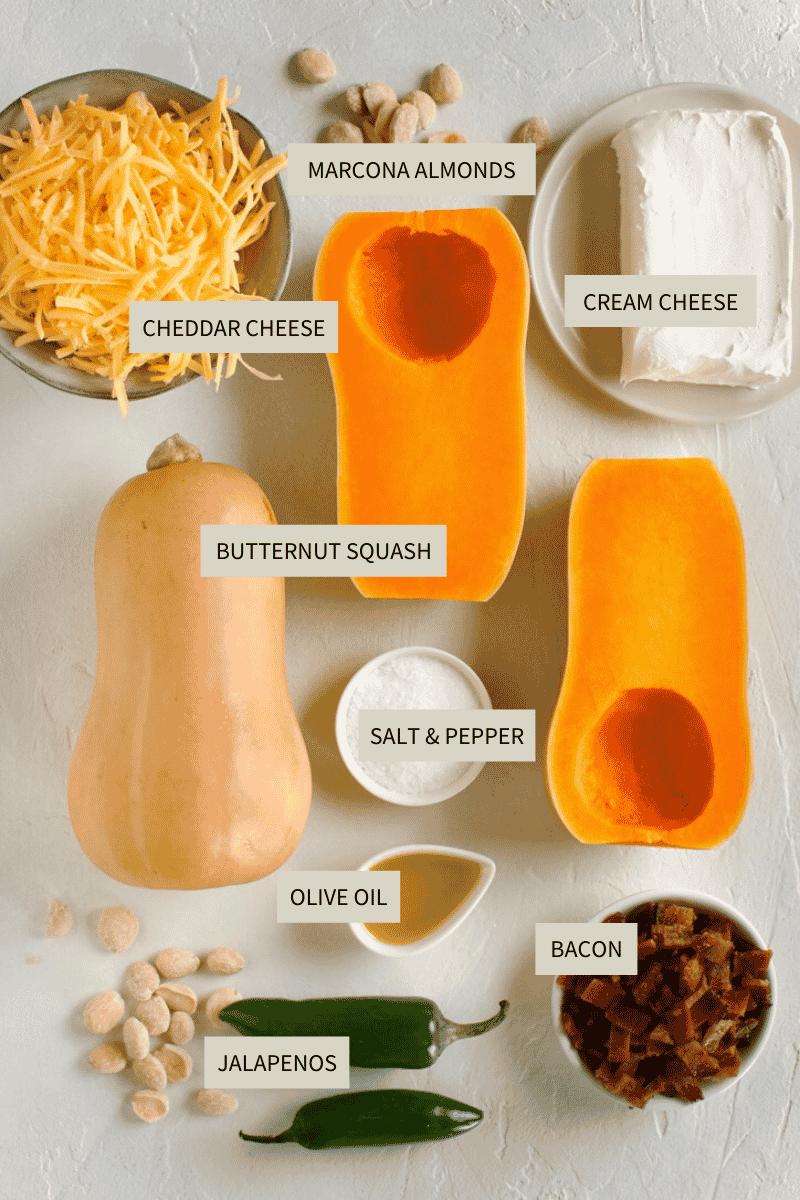 I love getting creative with veggies, and I always need a new way to surprise the family with them. This recipe is a great change-up to the usual and gets them to eat them with no complaints.
Use the JUMP TO RECIPE button at the top of the post, or scroll to the bottom of the post to see the full recipe card with ingredient measurements and instructions.
Method
The first thing to do is cut the squash in half, and season with some olive oil, salt, and pepper. Then roast in a hot oven for about 40 minutes.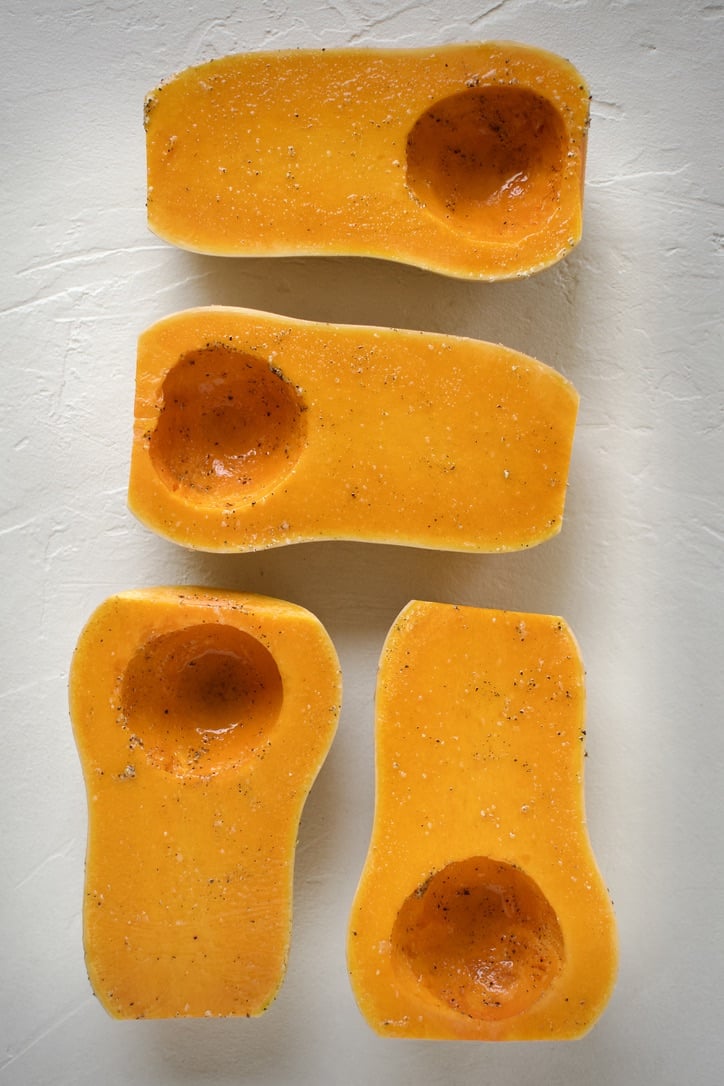 After roasting, remove some of the flesh of the squash, so there is room to add the stuffing across the whole squash.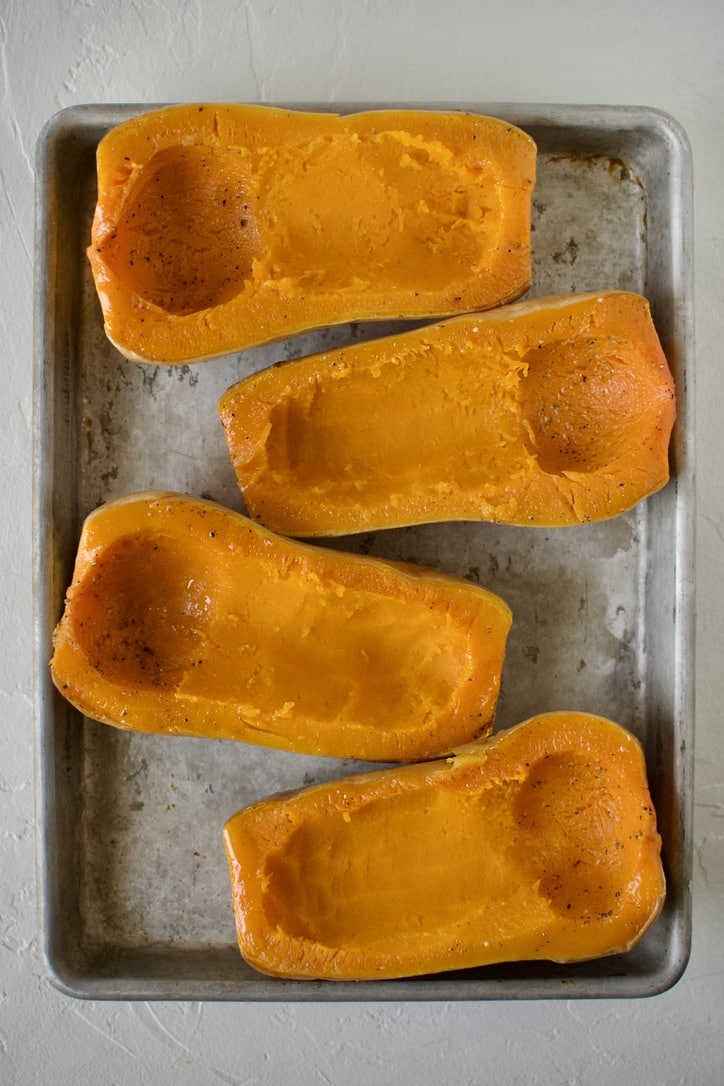 Then mix up the filling and stuff it into the squash. Then place the Stuffed Butternut Squash under the broiler until the filling is warmed and the cheese is melted. Top with a little extra bacon, and some chives and they are ready to serve.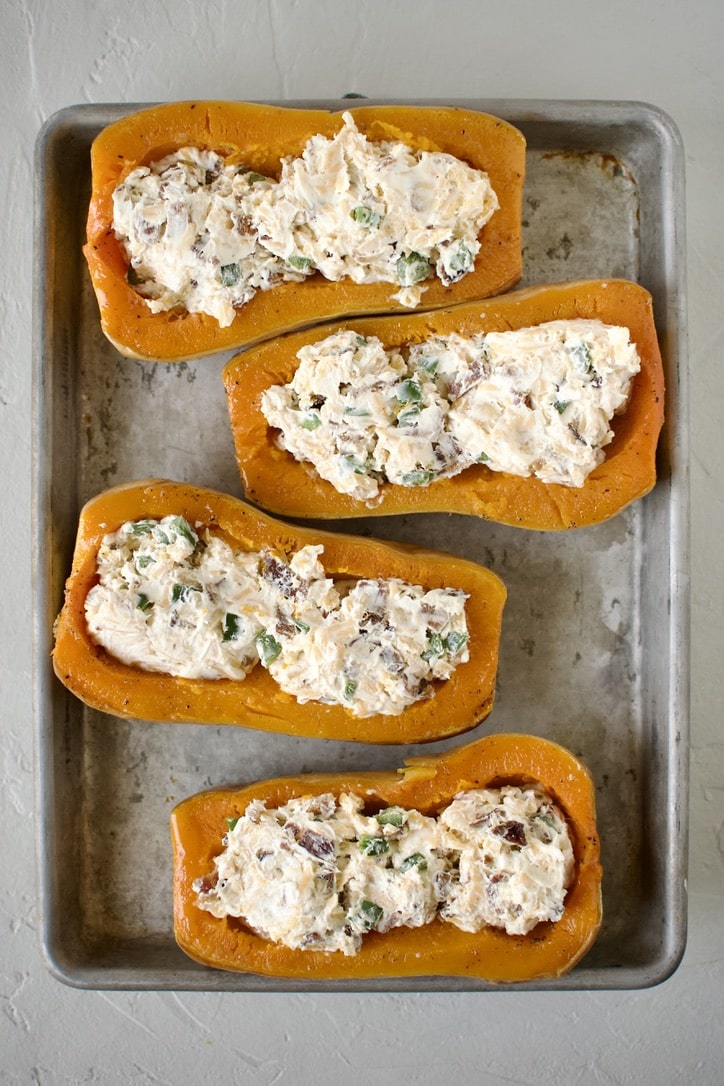 Notes & Tips
Reserve a little bit of bacon, and have some extra cheddar to top the squash with after stuffing.
I saved the scooped out filling to use as baby food for my nephew, it is also great to feed to your pups who like pumpkin.
Another great way to use the leftover squash scooping is to mash it up and mix it with some additional seasoning, or parm for a nice side dish to any meal. Or wipe off the salt and pepper, and use it in smoothies or any recipe that calls for pumpkin after mashing it up.
The cooked and filled squash will keep for up to 5 days in the fridge. To reheat it, warm for 20-30 minutes in a 350˚F oven, until warmed through. It reheats perfectly making for GREAT leftovers!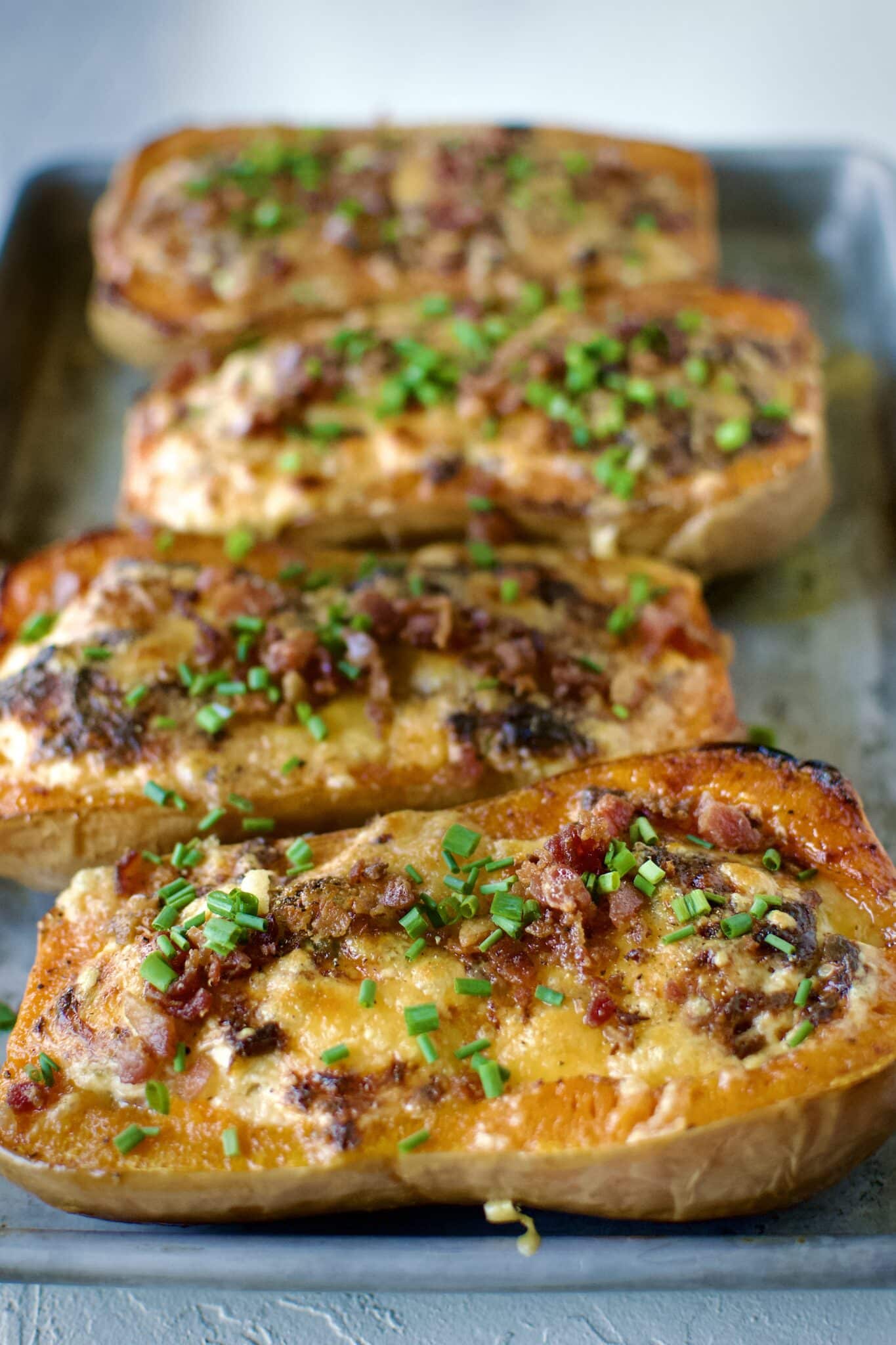 Substitutions
I call for Marcona almonds in the recipe, you could also use balanced or slivered almonds. Just something to offer a nice crunch.
The beauty of this is you can stuff it with just about anything. If you'd like to keep this a Vegan Stuffed Butternut Squash, replace the cream cheese with a vegan cream cheese. Then use your favorite add-ins to fill it.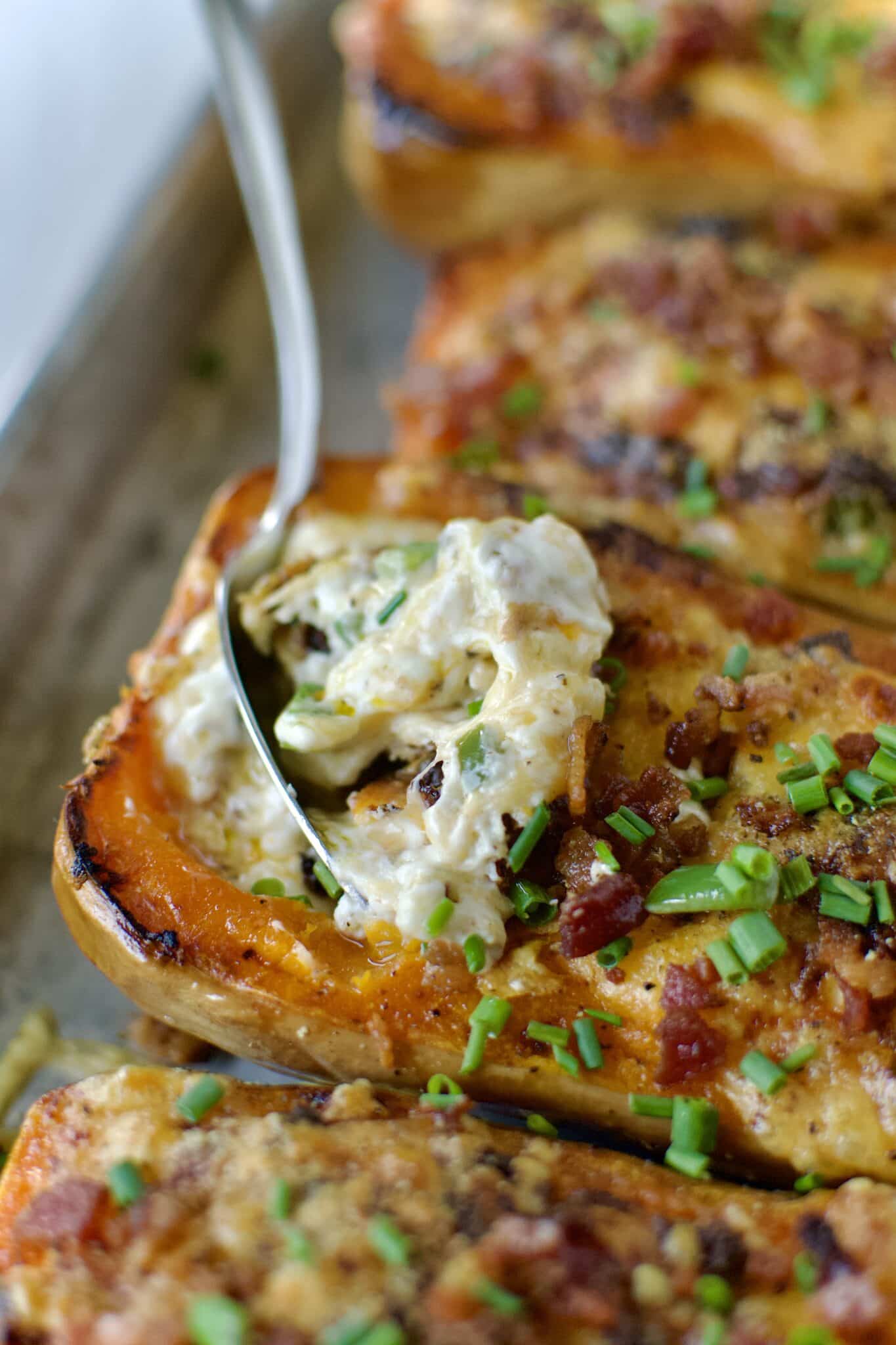 Did you make this recipe? Let me know by leaving a review or comment! And be sure to sign up for my newsletter, and follow along on Instagram, Pinterest, and Facebook!