This recipe for Stuffed Chicken Breast with Cheese is also packed with jalapeno, bacon, and cheddar. All inside a perfectly well-seasoned chicken breast and topped with more cheese. It is easier to make than it might seem, and every bite is bursting with flavor.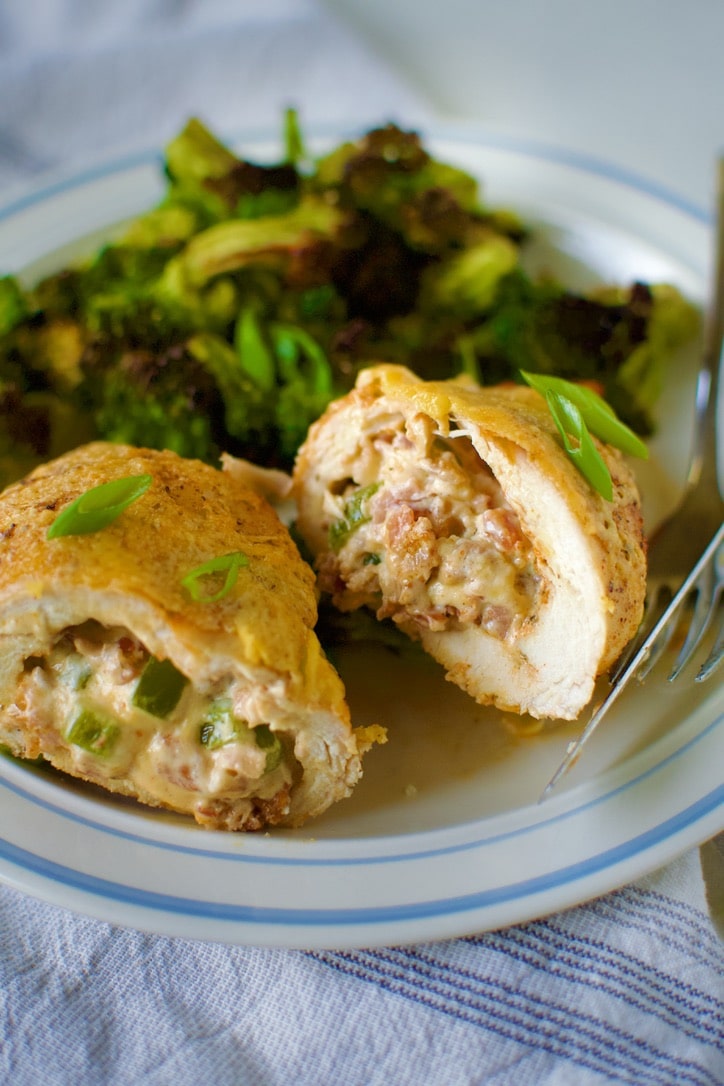 Jump to:
Ingredients
This recipe really gives you bang for your buck in the flavor department. And it is made with things that I typically keep on hand anyway. Give or take the jalapeno, but I could always use a can of diced peppers or some hot sauce or salsa if I was in a pinch.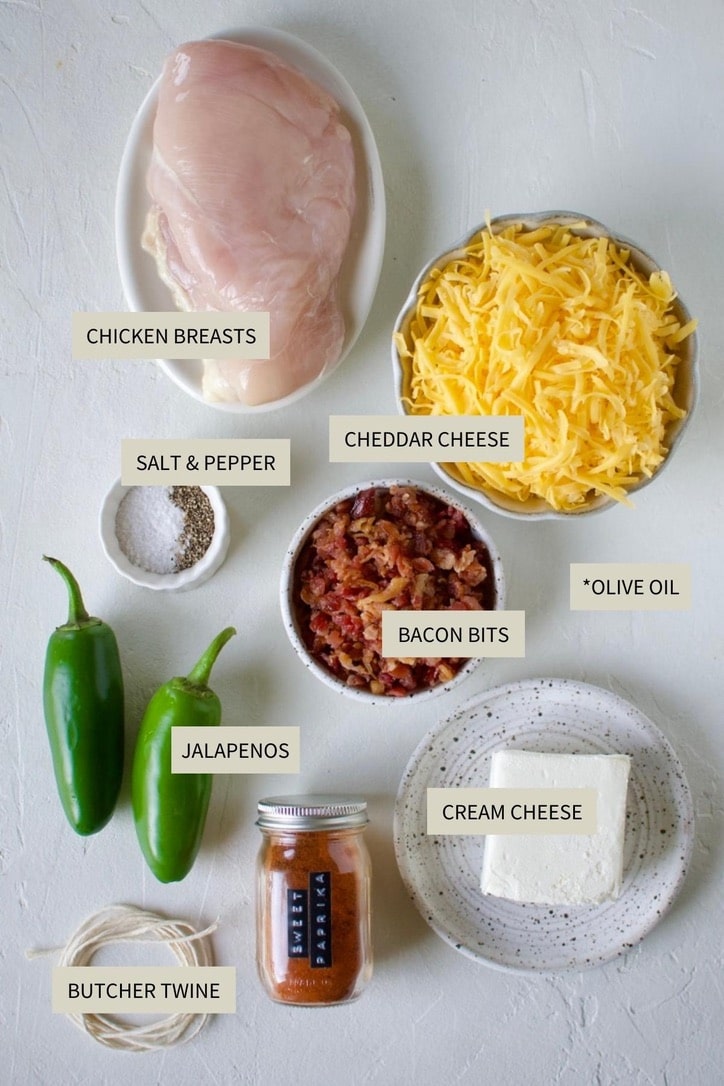 You will notice nothing really out of the ordinary. These should all be easy to find and use ingredients. You will want to get your hands on some butcher twine if you don't have it. It really is the best way to hold the chicken together, though you could use toothpicks if you had to.
Use the JUMP TO RECIPE button at the top of the post, or scroll to the bottom of the post to see the full recipe card with ingredient measurements and instructions.
Method
First mix up the filling.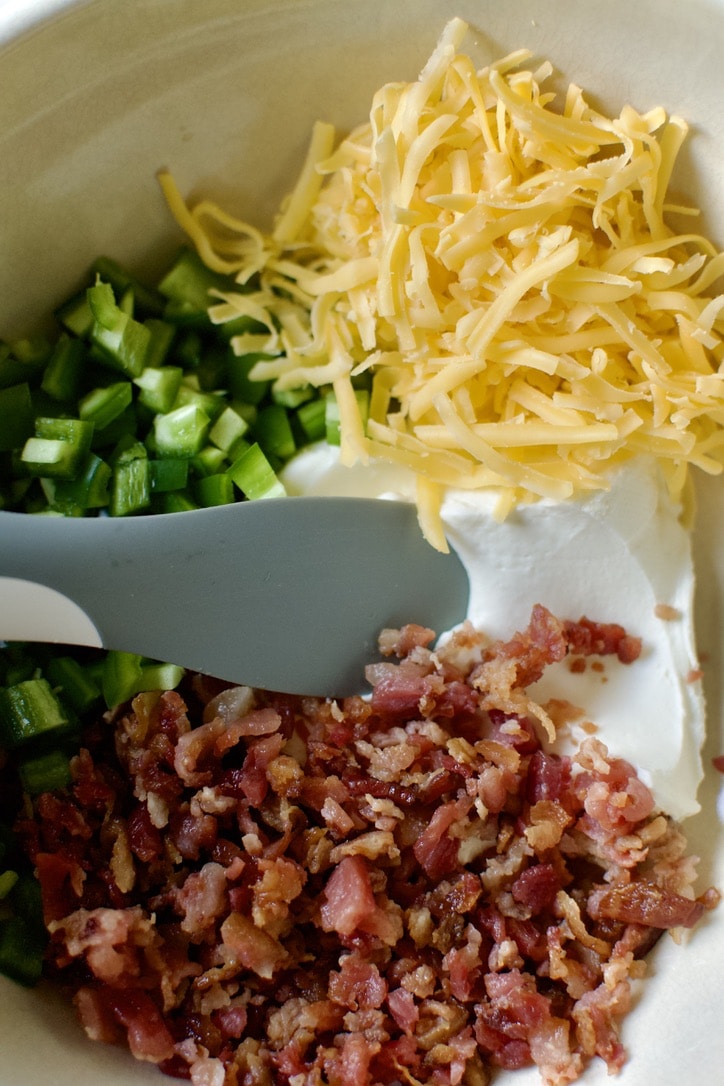 Then, split the chicken breasts open, being careful not to cut all the way through, and flatten them between two pieces of parchment paper with a tenderizer.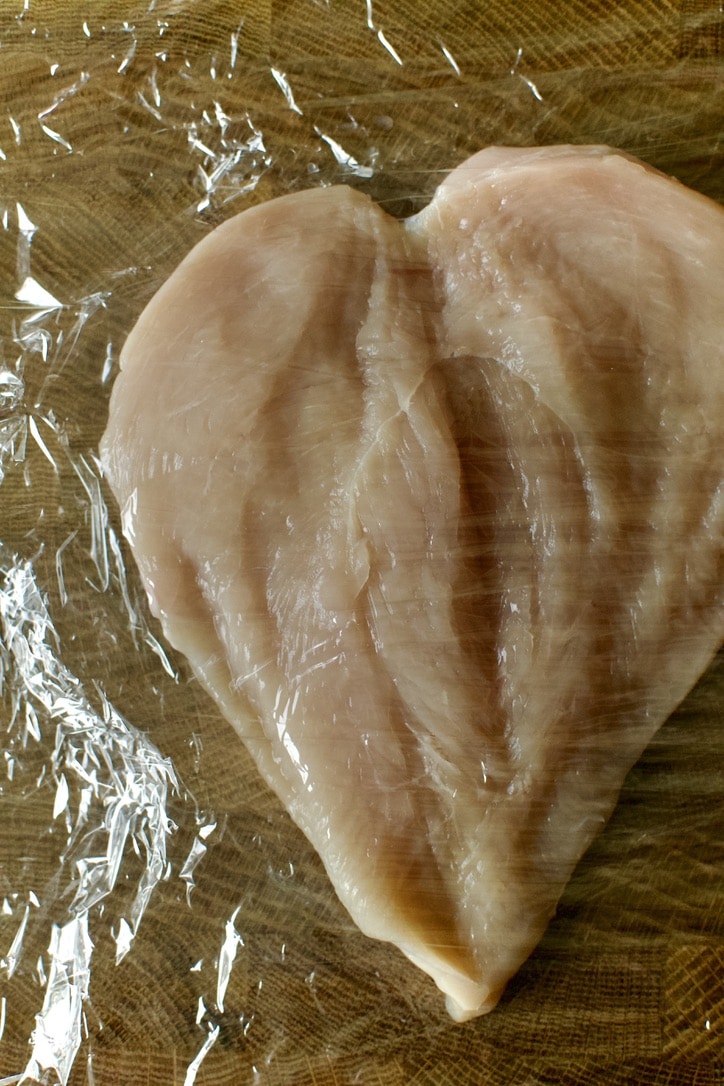 Season both sides of the tenderized chicken and fill with a couple of tablespoons of the filling mixture. Then roll and tie up each chicken breast.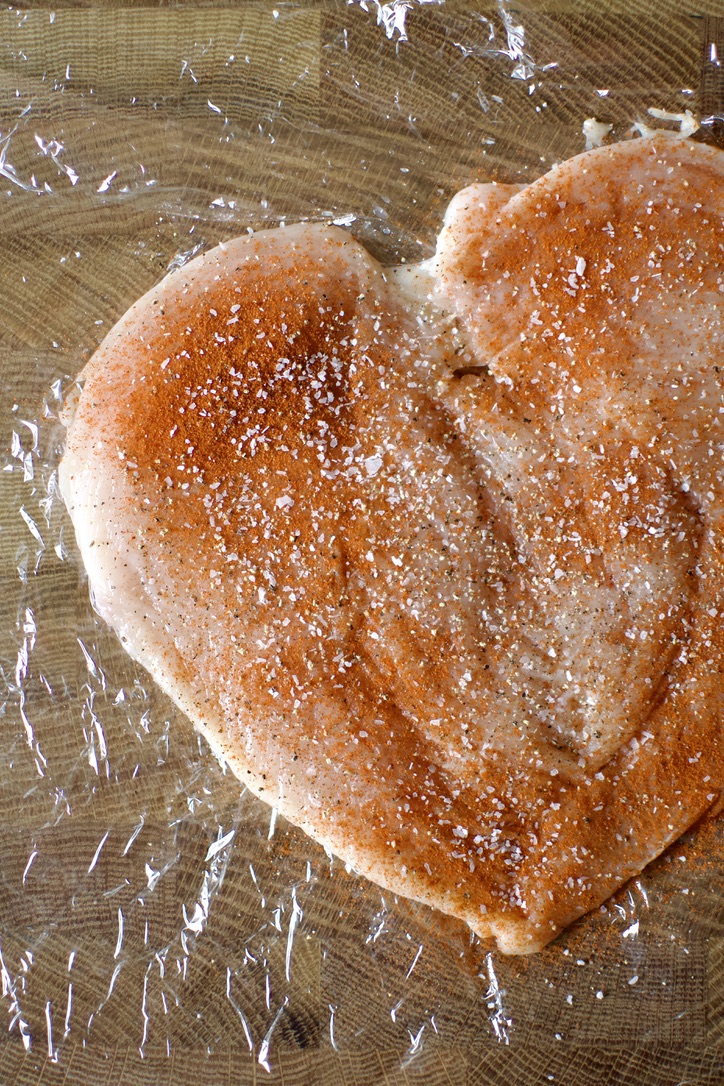 When the chicken has cooked fully and a thermometer reads 165˚F, remove the chicken from the oven and remove the ties. Top the chicken with some more cheddar cheese and place it under the broiler to melt and crisp the cheese.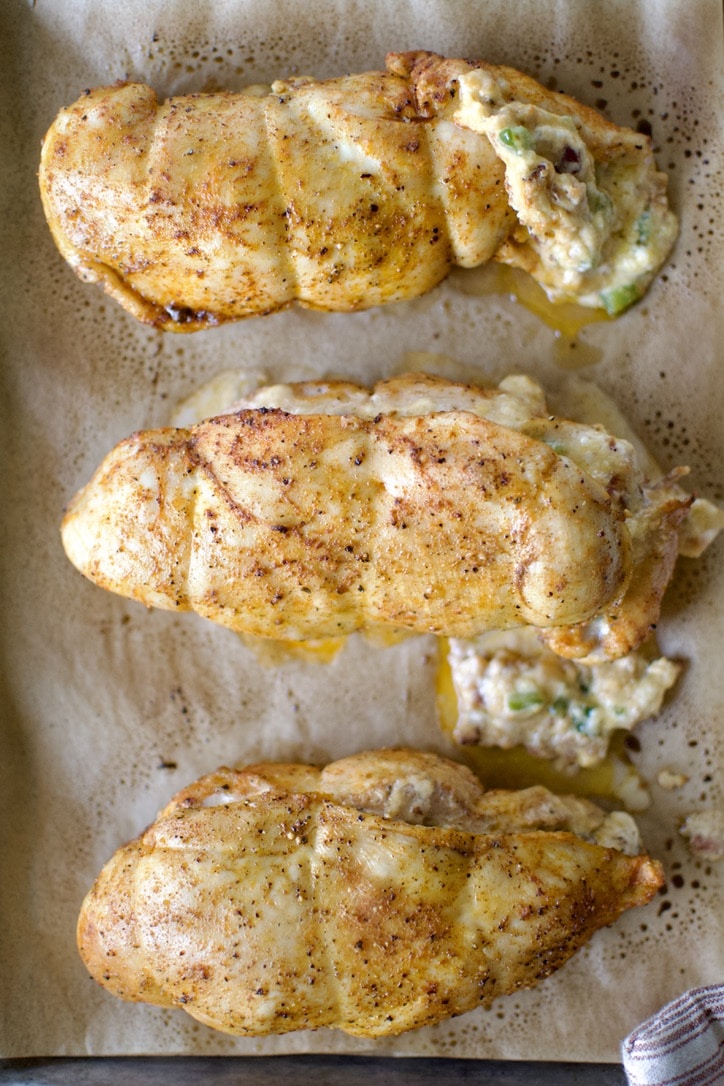 The crispy crunchy cheese on top just makes it the best! And the filling is perfectly balanced with sweetness from the cream cheese and spice from the jalapeno.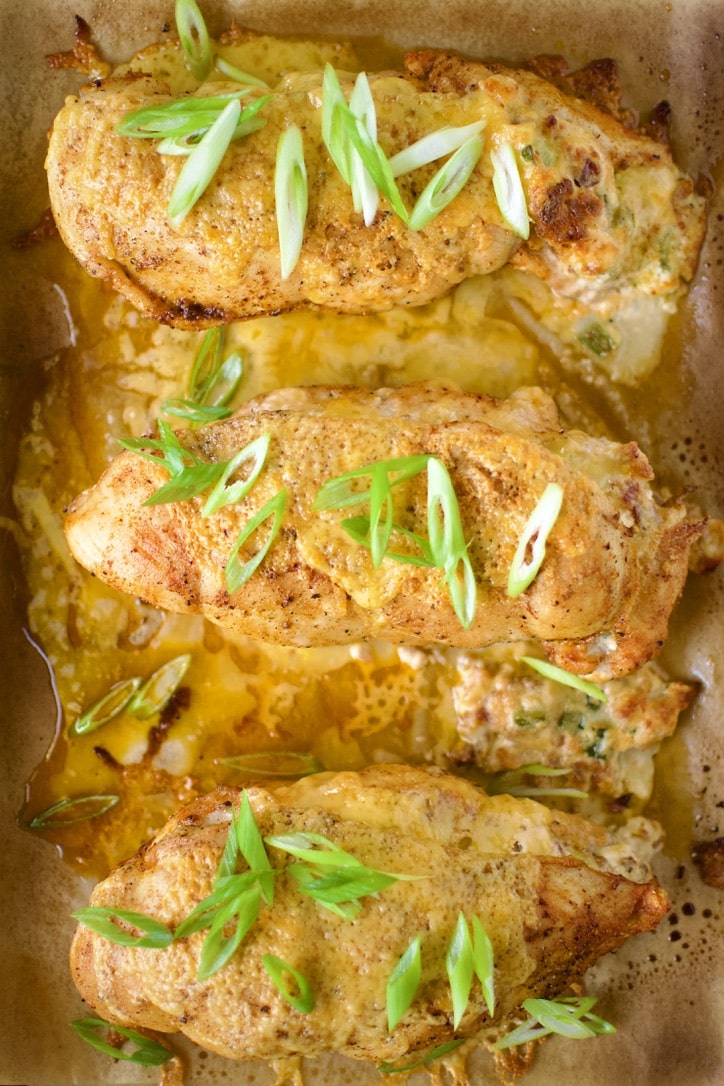 Notes & Tips
When splitting open the chicken breasts, work in smooth short strokes. This will help ensure you don't cut all the way through. You want to keep the backside intact.
If you do split a hole in the chicken, don't get too worried. Just press it closed after wrapping and tying up the chicken. Some cheese may leak out, but not much. It will all be ok.
If your cream cheese isn't at room temp, pop it in the microwave in 15-second increments until spreadable.
Tenderizing the chicken between two pieces of parchment keeps your kitchen and workspace clean, making sure chicken bits don't go flying. Season on the plastic too, then wrap it up and throw it away.
Substitutions
I love classic cheddar for this mixture, but white cheddar or extra sharp would also hold up well.
While this recipe is so basic, there really aren't any swaps to be made, there are a few other great combos.
Try, blue cheese in place of the cheddar, and drop the jalapeno. Or just drop the jalapeno if you don't like spicy, cheddar bacon is perfect on its own.
Ham and Swiss would give this recipe a Chicken Cordon Bleu flavor if you like that. Gruyere would be a great swiss choice.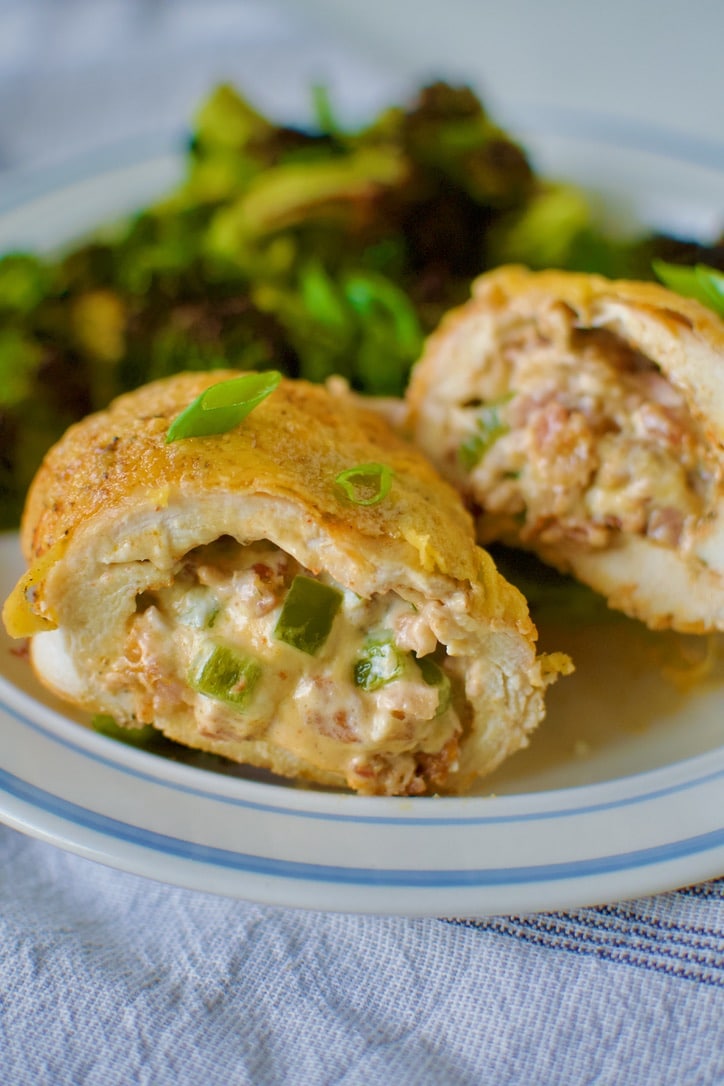 Did you make this recipe? Let me know by leaving a review or comment! And be sure to sign up for my newsletter, and follow along on Instagram, Pinterest, and Facebook!