On a hot, steamy, summer day there isn't much better than a tall glass of ice-cold lemonade. And why not take a few extra moments to make it just a little extra special by turning it into Watermelon Lemonade. I am a sucker for all things Watermelon, and while I am usually disappointed by artificial flavors, this is the real deal ready to quench your thirst.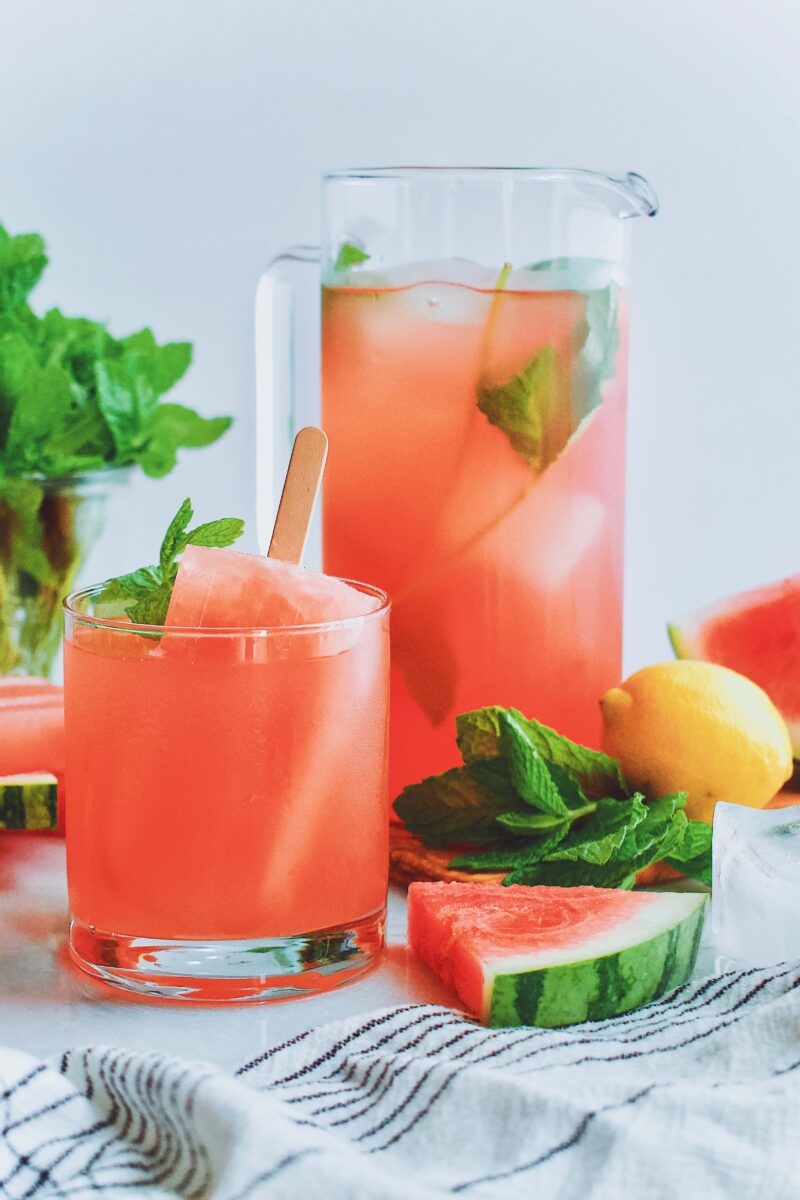 A Watermelon and some Lemons
Two of the seasons freshest ingredients and a little added sweetness bring together a quick recipe that is sure to instill memories of summer for years to come. In this day in age even I don't often take the time to make lemonade from scratch, but I hope to start a new tradition of keeping this in the fridge as often as possible in the summer.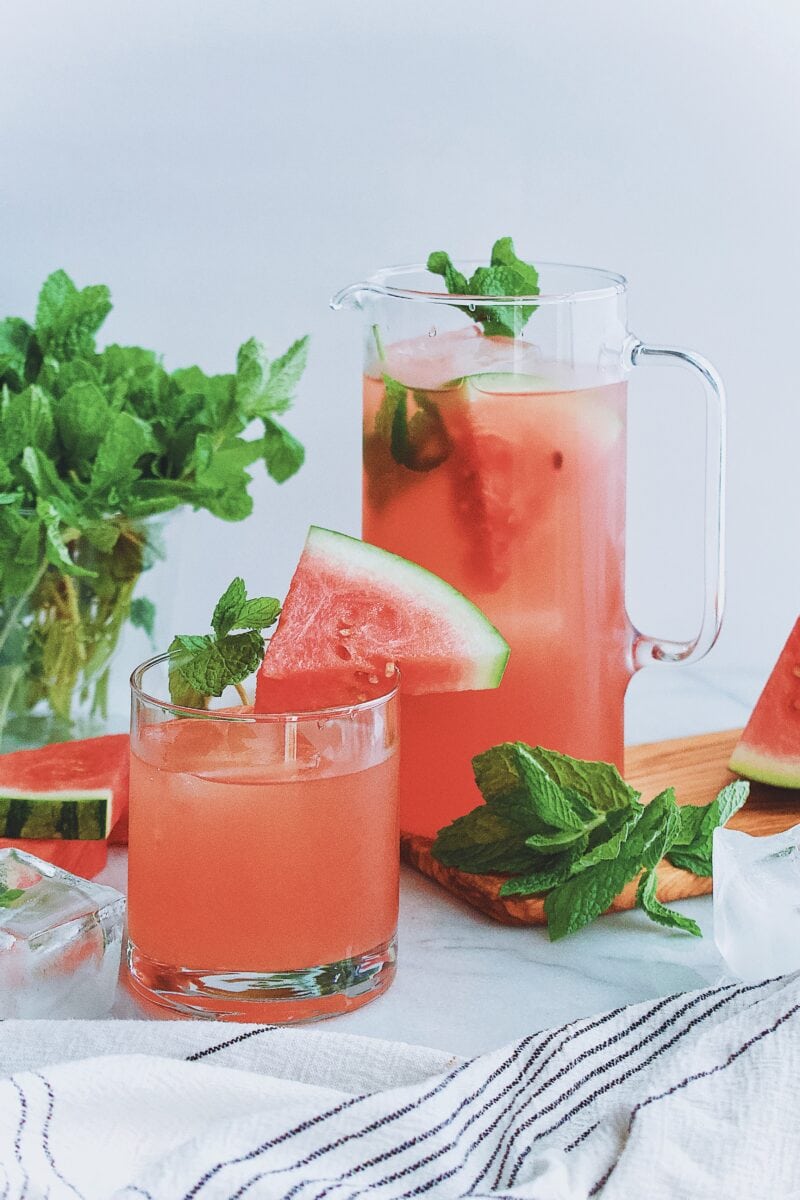 Take a look at my post on "How to break down a Watermelon like a Pro" HERE if you need a guide on quickly and safely open one up. You'll need half a large watermelon (or a whole personal watermelon), ¾ cups of lemon juice, and ½ a cup of sugar for this Watermelon Lemonade recipe.
Simple and short ingredient lists are my favorite. While long ingredient lists have their place short ones usually yield the best end result. The lemonade sure lives up to the shortlist standard and I can't wait to get another batch in the works.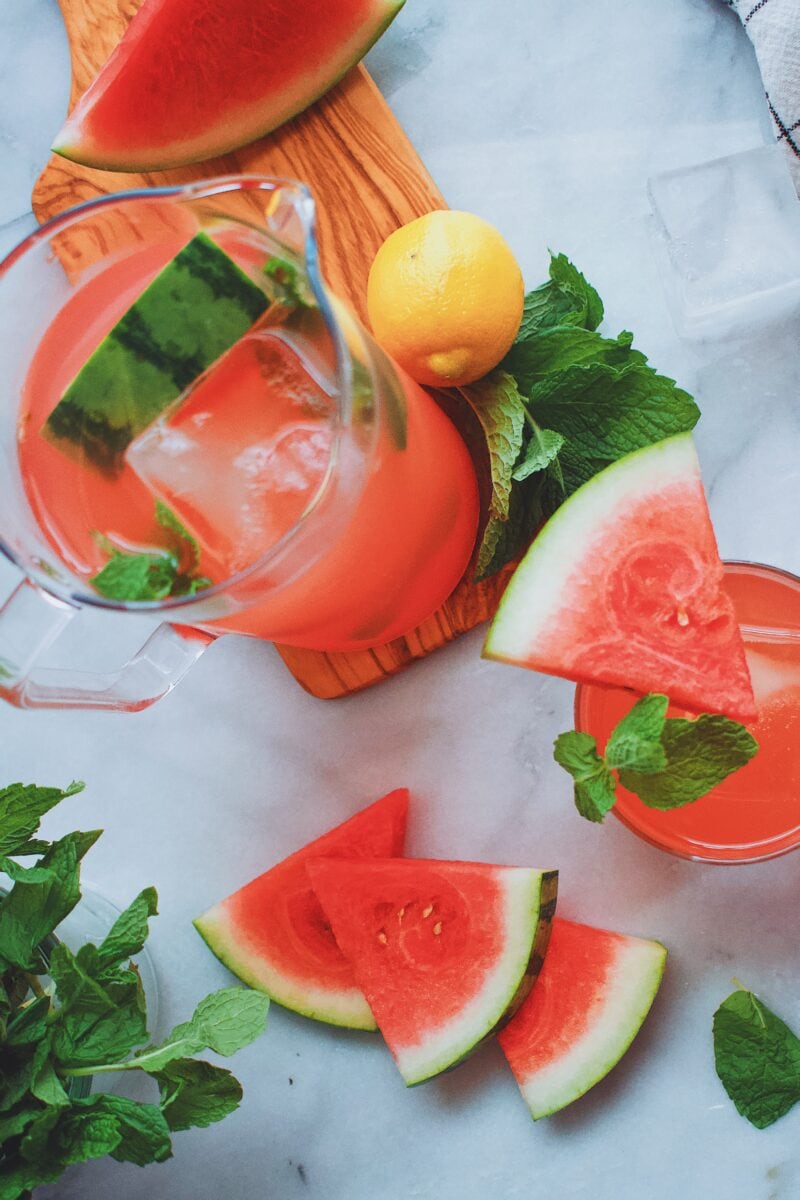 Homemade Watermelon Lemonade
After breaking down the watermelon, puree half of it in a high powered blender or in a pitcher using a stick blender. Pulse or blend until completely liquified. Strain through a fine-mesh sieve and continue until you have about 6 cups of fresh watermelon juice.
After straining the watermelon juice add it back to the blender with the lemon juice and sugar and blend on low until the sugar is dissolved, 60-90 seconds. If you plan to use the lemonade soon, pop the blender container in the fridge to allow it to chill. I do this because watermelon juice will naturally separate and I give it a quick blend before serving to bring it back together.
Of course, a spoon will do, but why dirty another utensil if you don't have too?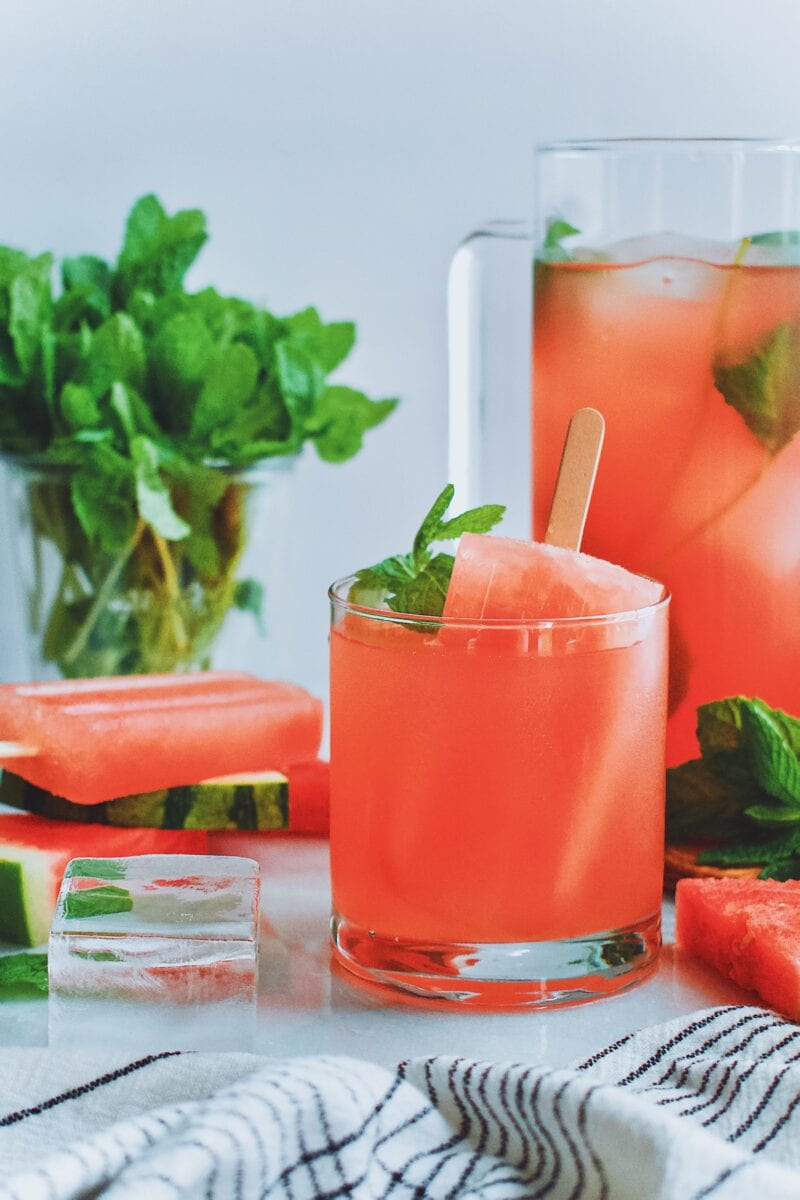 Turning it into Popsicles!!
To turn this lemonade into popsicles be sure to first chill the lemonade and the stir before molding. It helps to have the mixture cold first, watermelon juice will separate so if it is cold with will freeze faster with less separation. This isn't a big deal, but I like the popsicles to have even distribution, they just look prettier.
I keep a set of pop molds around for playing around with flavors in the hot summer from time to time. That said, you could also make popsicles in an ice cube mold, especially if you have some of those large square ones for cocktails. Or just make Watermelon Lemonade ice for your cocktails.These popsicle molds, in my opinion, are the best to use. I like them because they're the easiest to get out of their mold with a classic style. I tried a few different sets and I liked these best of all. Get my favorite popsicle molds HERE.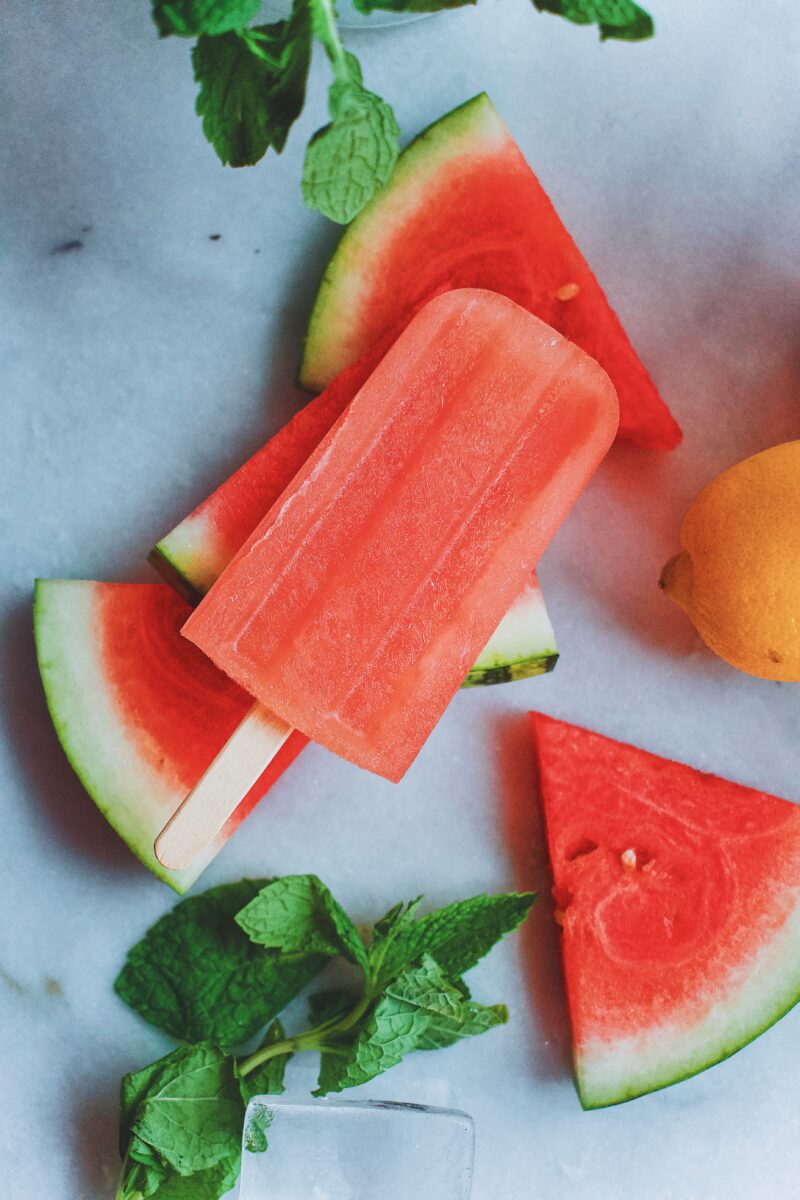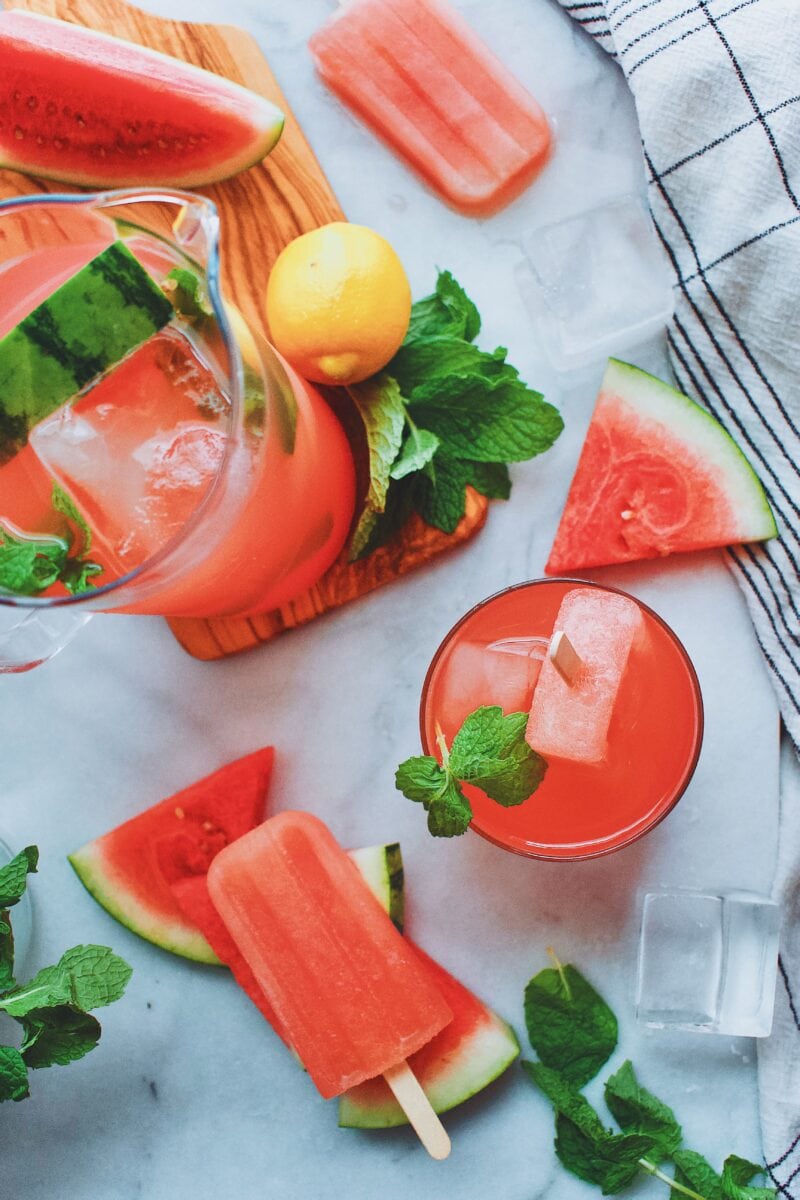 MORE OF MY RECIPES HERE!
Get my NEW e-Cookbook here!! ⬇️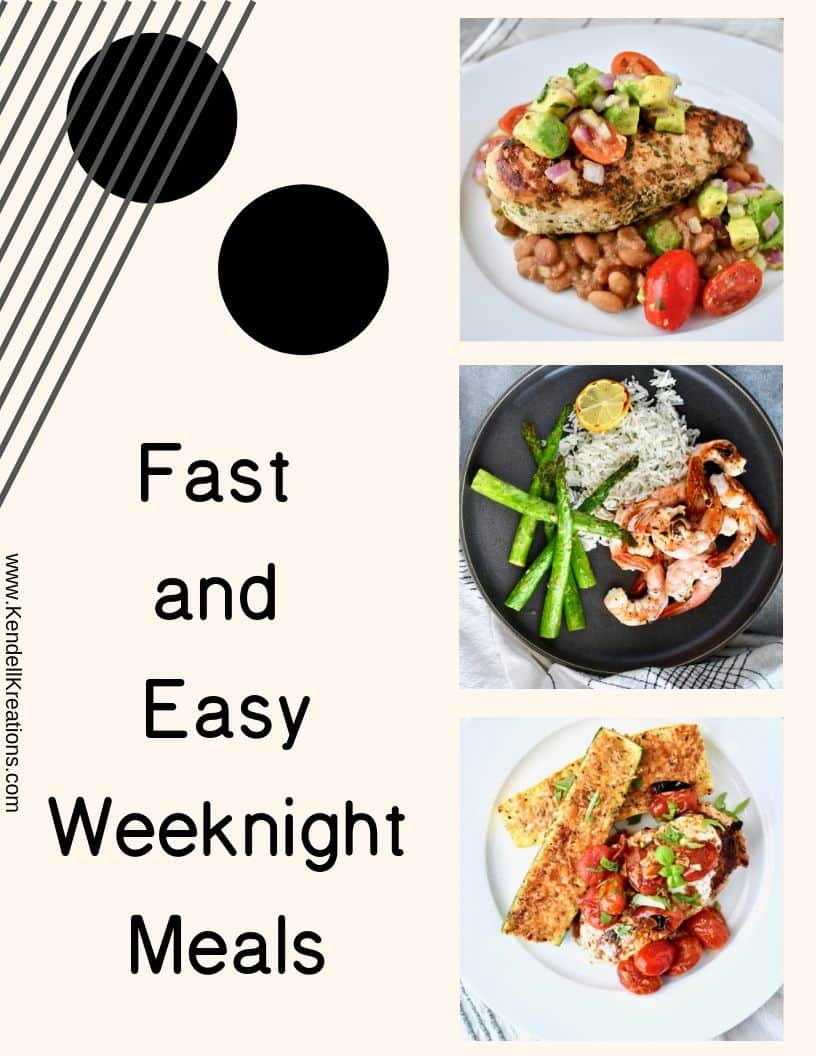 _
MY FAVORITE KITCHEN TOOLS!
Here are a few links to some of my favorite kitchen tools! You get a car, YOu get a car, YOU ALL GET A CAR…in my best Oprah voice
These Rösle Silicone Tongs are a little pricey but they will last you the rest of your life and are the softest in your hand. This is important for someone like m that cooks so much. It reduces strain, I have 4 sets in my kitchen!
These are my FAV Nordic Ware Sheet Pans, every kitchen should have at least 2 sets of these! I think I have at least 4 of each of these.
This is my favorite pressure cooker, the Fagor is the same concept as the "Instant Pot" but easier to use in my opinion, if you don't have one you NEED one, it will be your best friend in the kitchen!
A sharp knife is the most important tool in the kitchen, these Japanese steel "Shun" knives are my favorite! And this is a great starter set to build on. Once you try them you will be in love so use this as a foundation you can build on for years to come.
This Scanpan 11″ skillet is just the right size for almost anything you will need to cook and my best friend and a real workhorse in my kitchen, it's also a great deal at $99. Scanpan is the best in the world for healthy cooking. It is coated with a proprietary ceramic titanium coating that is durable while allowing you to use fewer fats and oils when cooking. It is a coating only they use. I could talk all day about my love for these pans, message me if you want more info. Here are some other sizes that are available if you are looking to outfit your kitchen with some new goodies. 8″ & 10″ Skillet setor 8″ Skillet, I still need this one for my kitchen Also, I don't really know how to cook small so the 12.5″ is my other fave!
This giant vat of olive oil is my favorite, I decant it into a smaller bottle for my counter. Or put this spigot on top of a wine bottle!
This Tovolo jar scraper has to be my single favorite kitchen tool, it is definitely the most used tool in my kitchen. If you are NOT a gadget person, this is the only necessity I say is a MUST beyond the wooden spoon.
A great wood spoon is essential, this Olive Wood one is my favorite, I have more than I can count. But can you really ever have too many?
A food scale can be a very important tool in your kitchen, this one is the one I use every day!
If you love Joanna Gaines as much as I do then the 'Magnolia Table Cookbook' is a must in your kitchen, get a copy HERE!
Check out this great product for your mason jar, the Ergo Spout lets you turn any jar into a pourable pitcher. Get yours here! I love making my homemade salad dressing and keeping them this way in the refrigerator.