It's become tradition for my nephew and I to make pancakes on Sunday mornings, and these Apple Cinnamon Pancakes are our new favorite! I whipped this one up with an old apple that was still good enough to cook, and some leftover homemade caramel I had in the fridge.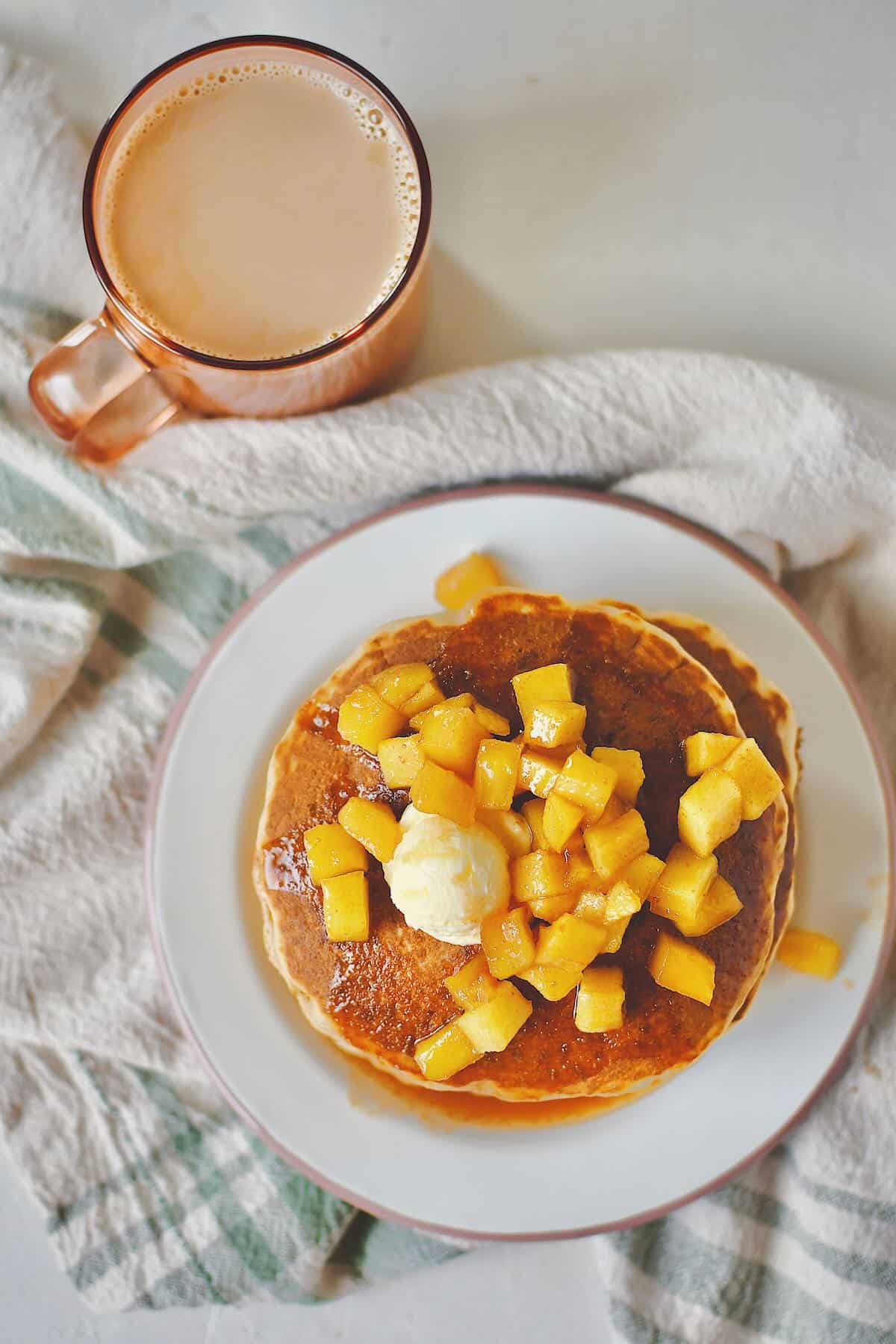 When the apples and caramel cook, they let out just enough liquid to make caramel syrup. It is all you need to top the pancakes with. It will leave you asking...maple who?
Jump to:
Ingredients
I whip up a quick and simple pancake batter of flour, baking soda and powder, salt, milk, butter, eggs, and a little cinnamon to complement the apple topping.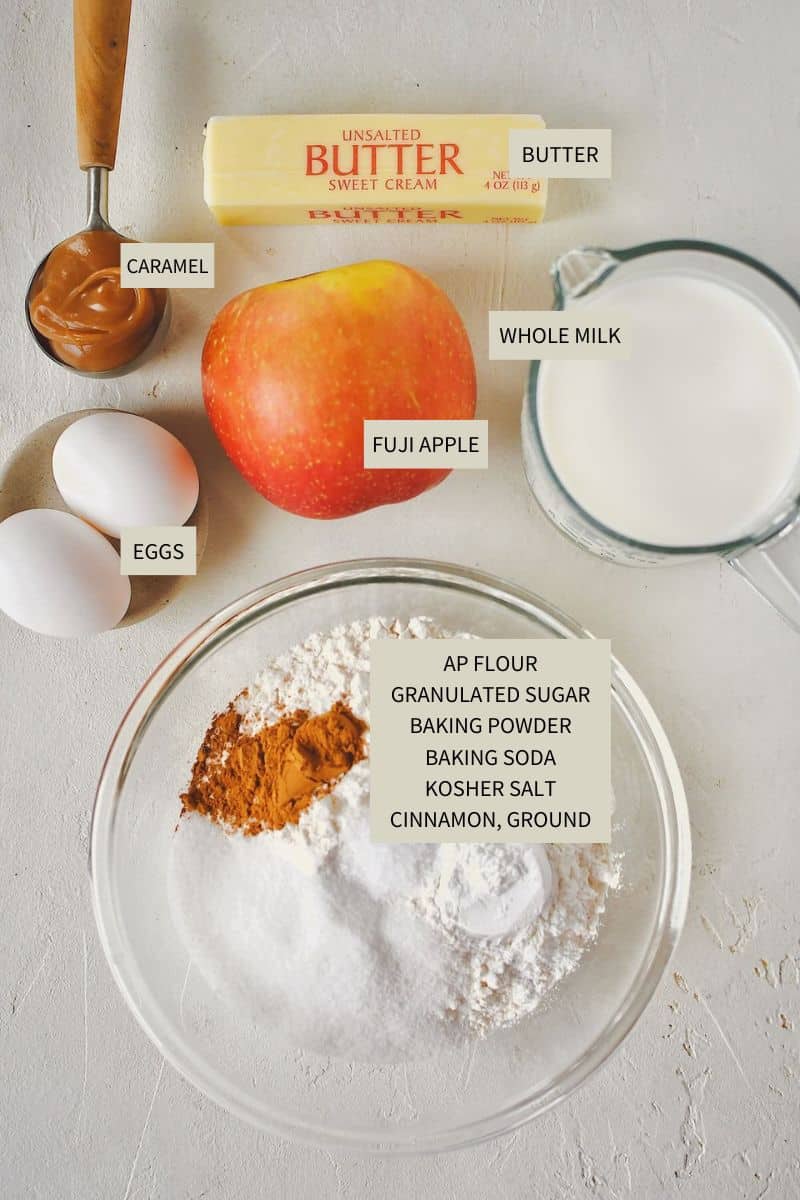 I like a fuji apple for this or a Honeycrisp, that is what I usually have around. You could use pretty much any apple, but a tart and crisp one is best. It holds up well to cooking and won't get mushy, and the tartness balances the sweet caramel really well.
Use the JUMP TO RECIPE button at the top of the post, or scroll to the bottom of the post to see the full recipe card with ingredient measurements and instructions.
Method
Combine the dry ingredients and the egg in a large bowl. Drizzle in the milk and butter and whisk until just combined. For the fluffiest pancakes, let the batter rest for 10 minutes.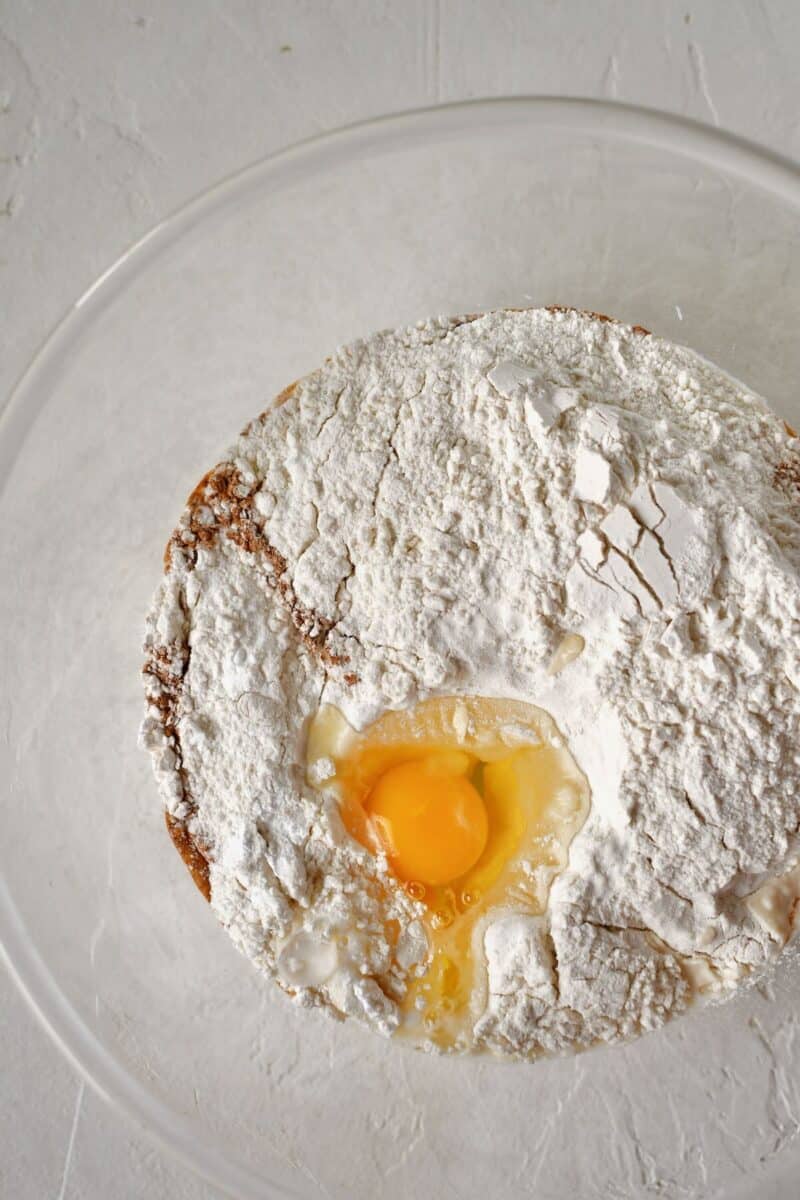 While the pancake batter is resting, dice the apple and place it in a skillet with the caramel and a little cinnamon. Cook over medium heat just till the caramel melts and it comes to a boil. Reduce the heat and simmer for 5 minutes, then remove from the heat.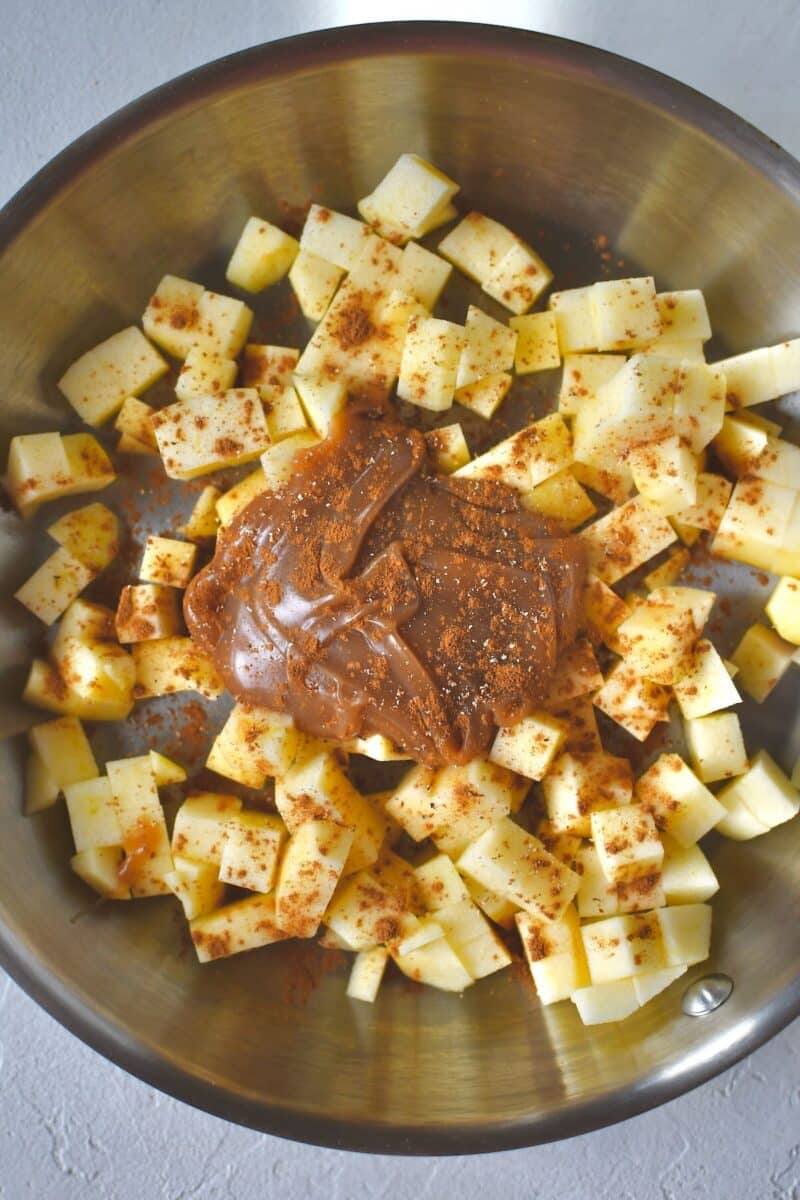 Cook the pancakes on a griddle, I don't use butter on my griddle because the pancakes have plenty in the batter. But if you like crispy-edged pancakes, by all means, butter your griddle. Top the cooked pancakes with a dollop of butter and some caramel apples. Drizzle over some of the liquid from the pan as your "syrup" and enjoy!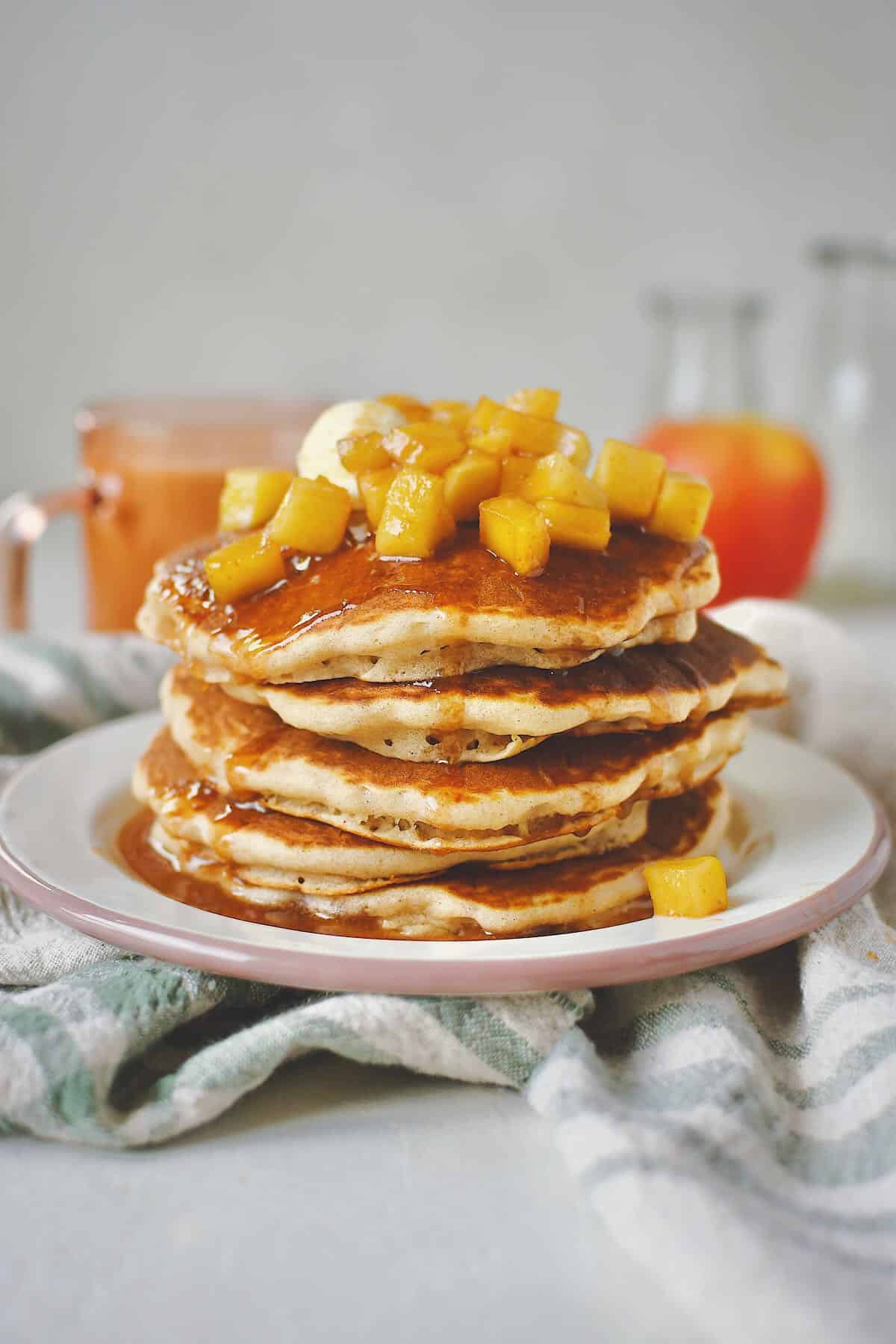 Notes & Tips
After you mix up the pancake batter, be sure to let it rest for at least 10 minutes before you start cooking pancakes. The flapjacks will get really fluffy and thick when they hit the pan if you let them rest.
This really can be whipped up all at once on a weekend morning. Just after you mix the pancake batter, set a timer for it to rest, and peel and dice the apple. Add the caramel to the pan with the cinnamon and let it cook, even if it is still going while you start cooking your pancakes. The apples should be done about halfway through cooking pancakes.
Substitutions
If you need a dairy-free recipe, this is not the one for you. I have tried to make it with veg oil and almond milk and they just don't cook the same. I wouldn't swap those things.
You can however make these gluten-free, use this King Arthur cup-for-cup and it works perfectly as a flour swap.
You can really use any apple for this. But I would suggest using Honeycrisp, granny smith, or Gala at a minimum. Red or Gold apples would be too soft and get mushy when you cook them.
A great swap for the caramel would be Dulce de Leche. You want one that is really creamy and buttery, not just caramel syrup or sauce.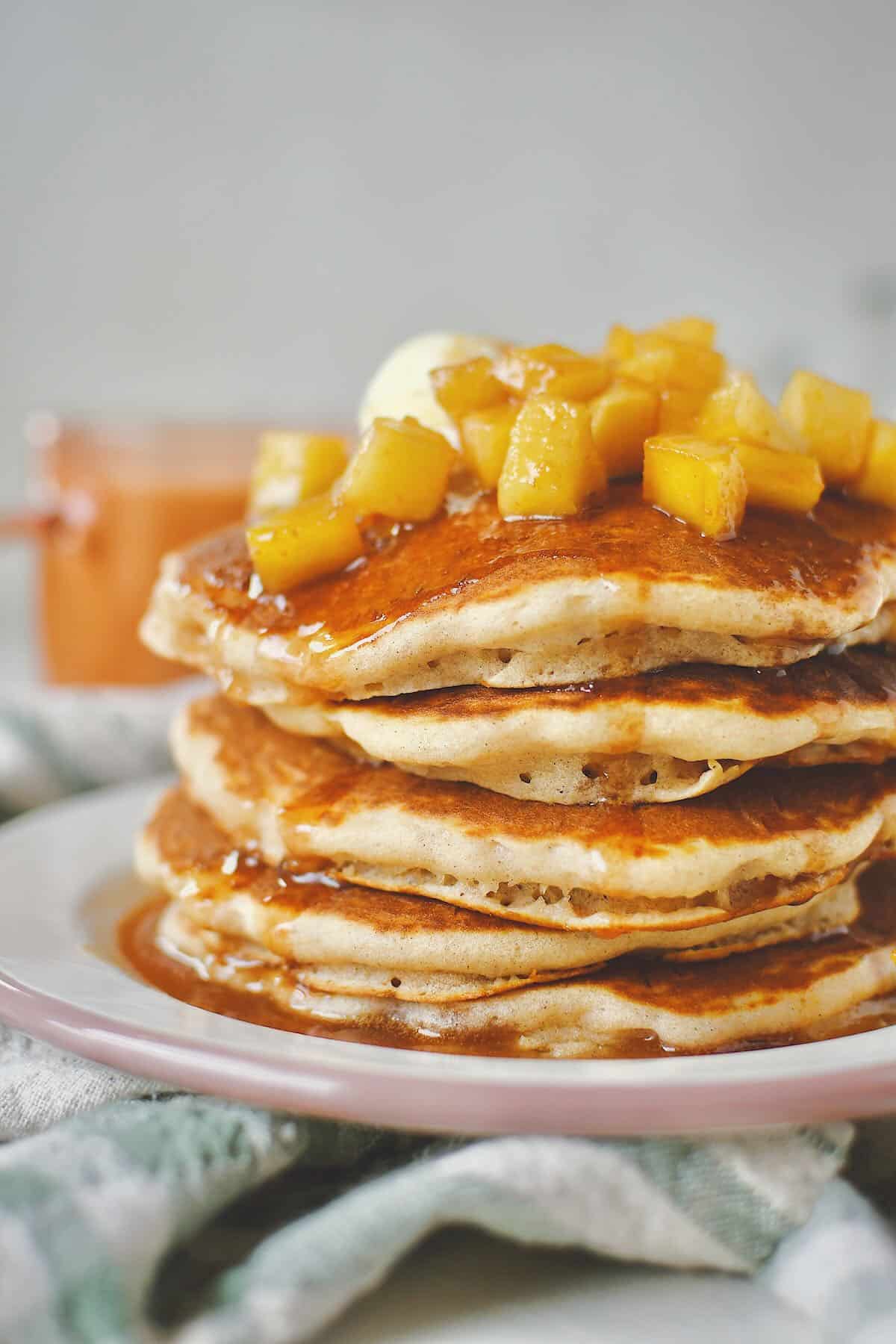 Did you make this recipe? Let me know by leaving a review or comment! And be sure to sign up for my newsletter, and follow along on Instagram, Pinterest, and Facebook!