This Asian Chicken Salad with Mandarin Peanut Vinaigrette combines some of my very favorite flavors in one neat little package. I could eat Chinese food EVERY DAY if you let me. It just makes me happy and this gives me one more (healthyish!?) excuse to enjoy it.
The best thing about this Asian Chicken Salad is that it comes together in about 30 minutes. I also make the dressing in a mason jar to make it super easy to store leftovers and dispense.
Asian Chicken Salad Assembly
I start by mixing shredded lettuce, broccoli slaw, and finely shredded cabbage. This blend gives balance while providing essentials like carrots, and red cabbage. It also adds visual appeal and balanced flavors, while taking advantage of prepared salads from the grocery store.
I just grab a bag each of finely shredded lettuce, angle shredded cabbage and broccoli slaw. You could just use coleslaw if thats what you like. I add the lettuce to give it some lightness.
I layer in my salad ingredients. All my favorites like crispy chow mein, green onions, mandarin oranges, water chestnuts, and bean sprouts. The real stunner is this chicken recipe, it's pretty fantastic if I do say so!
Now when you read the recipe you may think that some of the spices are a little bit out of place. But I like the extra layer and depth of flavor the Ras el Hanout brings to the dish. Adding a squeeze of lime brightens everything up and keeps it feeling fresh!
Mandarine Peanut Vinaigrette
This vinaigrette really brings this Asian Chicken Salad together. I never like to waste anything in my kitchen so I created this dressing using the liquid from the canned mandarins. With the addition of some other Asian essentials and my favorite thing ever...PEANUT BUTTER we get a beautiful dressing.
The easiest way to mix up your dressing is to throw everything into a mason jar. I literally throw everything in and give it a shake.
Now don't be discouraged by the length of this ingredient list. It is a list of basics that you can outfit your kitchen with, and that will allow you to add Asian inspiration to any dish from here on out. The other option is to eliminate the vinaigrette and just purchase an Asian dressing, there are a lot of great options ready made in the grocery store.
Ingredients needed
Chicken
Chicken Breast
Ras al Hanout
Ground Ginger
Roasted Garlic Powder
Salt
Pepper
Vinaigrette
Peanut Butter
Crushed Red Pepper
Soy Sauce
Sesame Oil
Olive Oil
Mandarine Orange Juice
Rice Wine Vinegar
Garlic
Dijon
Honey
Sriracha
Salad
Shredded Lettuce
Broccoli Slaw
Shredded Cabbage
Mandarine Oranges, canned
Crispy Chow Mein Noodles
Water Chestnuts
Bean Sprouts
Cashews
For more Asian inspired dishes...
Take a look at my homemade Ahi Tuna Tower recipe, it is something I worked on a recreated at home during quarantine 2020 and is one that I think I will make again and again!
My General Tso's Chicken is a dish I would eat every day, and at a minimum, I cook every week at home.
A good soy sauce turns this fall favorite into a dream, try my friend Kristi's mom's recipe for Soy Sauce Pumpkin Seeds.
Bao is another one of those things that just makes me happy in the tummy. Try my homemade version of Bao Buns, and fill them with my Crispy Pork Belly.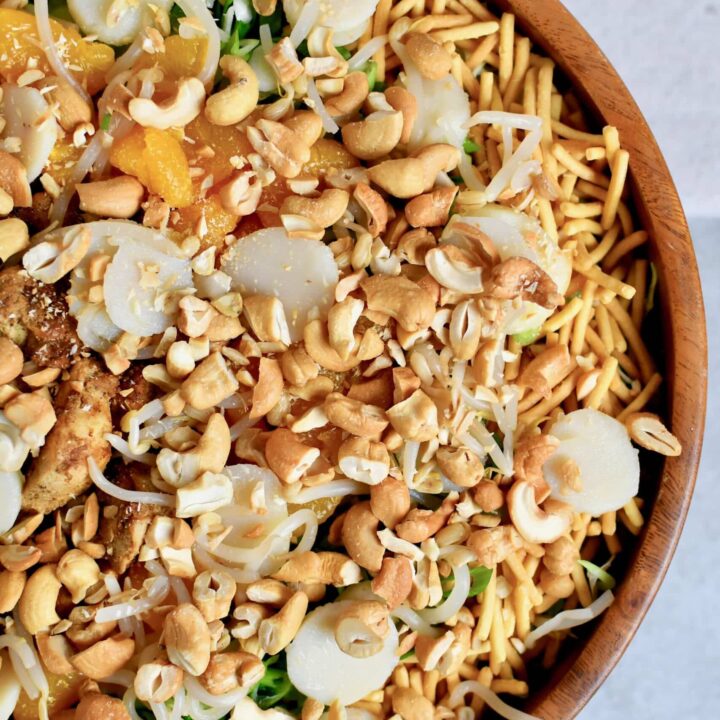 Asian Chicken Salad
I love exploring new cuisines and this gives me another excuse to enjoy Chinese food yet another day of the week.
Ingredients
Chicken
4, 6 oz Chicken Breast
1 tablespoon Olive Oil
2 teaspoon Ras el Hanout
1 teaspoon Ground Ginger
½ teaspoon Roasted Garlic Powder
1 Lime, juiced
1 teaspoon Kosher Salt
½ teaspoon Fresh Cracked Black Pepper
Vinaigrette
½ cup Peanut Butter
¼ teaspoon Crushed Red Pepper
2 tablespoons Soy Sauce
2 teaspoon Sesame Oil
4 tablespoons Olive Oil
½ cup Mandarin Orange Juice
½ cup Rice Wine Vinegar
4 cloves Garlic, minced
2 tablespoons Dijon
3 tablespoons Honey
2 teaspoon Sriracha, optional
Salad
1 bag Shredded Lettuce
1 bag Broccoli Slaw
1 bag Shredded Cabbage
1 15oz can Mandarine Oranges, drained, liquid reserved
1 bag Crispy Chow Mein Noodles
1 can Sliced Water Chestnuts
1 15oz can Bean Sprouts, optional, use fresh if available
1-2 cups Cashews, toasted
Instructions
Chicken
Dice chicken into bite-sized pieces.
Combine all seasoning ingredients in a bowl or zip-top bag. Add chicken and allow to marinate for 30 minutes minimum or overnight.
Heat a large skillet over medium-high heat. Coat with pan spray or olive oil.
Working in two batches sear and cook the chicken, turning each piece until well browned on each side. When it is browned all around, it should be completely cooked. To be sure, use an instant-read thermometer, it should read 165 degrees.
Let cool slightly while you prepare your Vinaigrette. Serve at room temp on top of your salad.
Vinaigrette
Combine all ingredients in a mason jar, top with the lid, and shake well for about 2 minutes to combine all ingredients very well. If there is still room in your mason jar, add more peanut butter to fill and shake, shake, shake.
Top your salad with the chicken and about half the vinaigrette and toss to combine, serve the remaining vinaigrette on the side with your ergo spout for easy pouring.
Salad
In a large bowl, mix the salad greens to combine. Layer on the remaining ingredients. Top with chicken and vinaigrette. Toss to combine.
Notes
You can leave the sriracha out altogether if you don't like it spicy. Serve it on the side so each person can customize it to their liking.
Nutrition Information:
Serving Size:

1 grams
Amount Per Serving:
Unsaturated Fat:

0g
If you make this recipe, please let me know by leaving a review at the bottom of this page!
And make sure to sign up for my newsletter and follow along on Instagram, Pinterest, and Facebook for more KendellKreations!
MY LATEST RECIPES!
Get my NEW e-Cookbook here!! ⬇️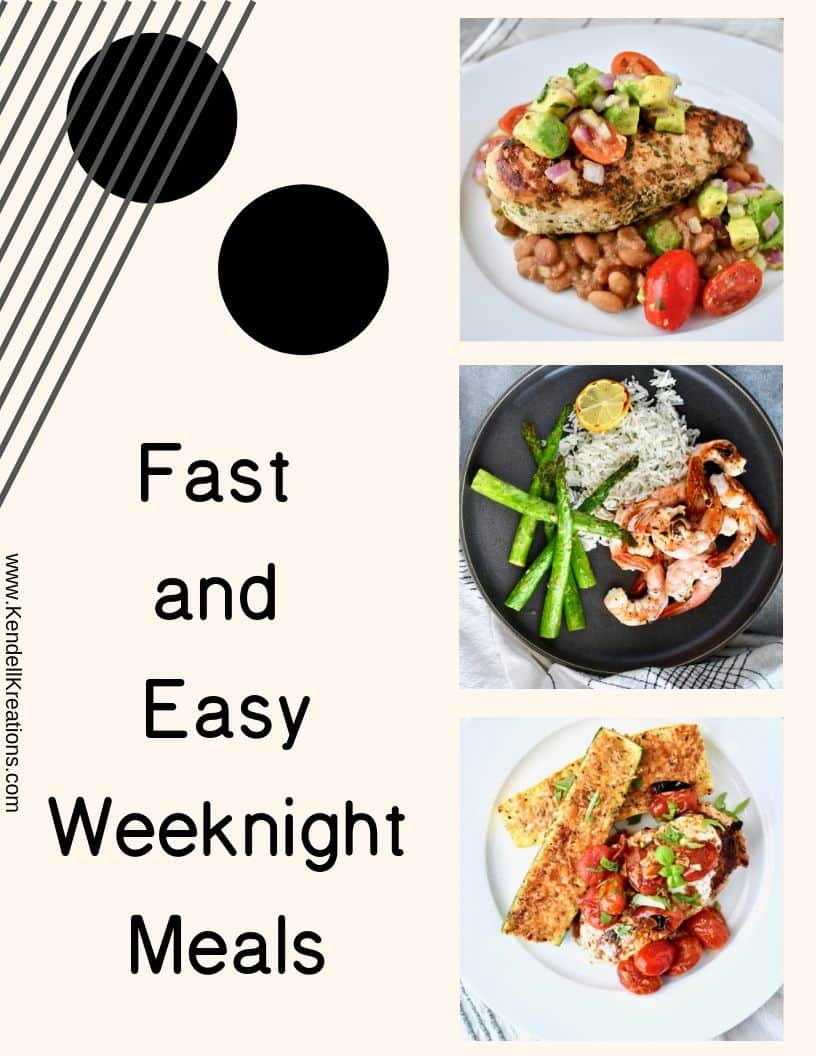 MY FAVORITE KITCHEN TOOLS!
Here are a few links to some of my favorite kitchen tools! You get a car, YOu get a car, YOU ALL GET A CAR…in my best Oprah voice
These Rösle Silicone Tongs are a little pricey but they will last you the rest of your life and are the softest in your hand. This is important for someone like m that cooks so much. It reduces strain, I have 4 sets in my kitchen!
These are my FAVE Nordic Ware Sheet Pans, every kitchen should have at least 2 sets of these! I think I have at least 4 of each of these.
This is my favorite pressure cooker, the Fagor is the same concept as the "Instant Pot" but easier to use in my opinion, if you don't have one you NEED one, it will be your best friend in the kitchen!
A sharp knife is the most important tool in the kitchen, these Japanese steel "Shun" knives are my favorite! And this is a great starter set to build on. Once you try them you will be in love so use this as a foundation you can build on for years to come.
This Scanpan 11″ skillet is just the right size for almost anything you will need to cook and my best friend and a real workhorse in my kitchen, it's also a great deal at $99. Scanpan is the best in the world for healthy cooking. It is coated with a proprietary ceramic-titanium coating that is durable while allowing you to use fewer fats and oils when cooking. It is a coating only they use. I could talk all day about my love for these pans, message me if you want more info. Here are some other sizes that are available if you are looking to outfit your kitchen with some new goodies. 8″ & 10″ Skillet set or 8″ Skillet, I still need this one for my kitchen Also, I don't really know how to cook small so the 12.5″ is my other fave!
This giant vat of olive oil is my favorite, I decant it into a smaller bottle for my counter. Or put this spigot on top of a wine bottle!
My favorite baking dish that is so easy to clean even burnt on cheese slides right off!
This Tovolo jar scraper has to be my single favorite kitchen tool, it is definitely the most used tool in my kitchen. If you are NOT a gadget person, this is the only necessity I say is a MUST beyond the wooden spoon.
A great wood spoon is essential, this Olive Wood one is my favorite, I have more than I can count. But can you really ever have too many?
A food scale can be a very important tool in your kitchen, this one is the one I use every day!
If you love Joanna Gaines as much as I do then the 'Magnolia Table Cookbook' is a must in your kitchen, get a copy HERE!