I experimented with pork belly for the first time last summer. Even though I am a Chef, I had never worked with it before and was a little intimidated because I didn't know how to work with it. But I did a little research, went out and gave it a try at some restaurants, and this recipe for Crispy Pork Belly was born.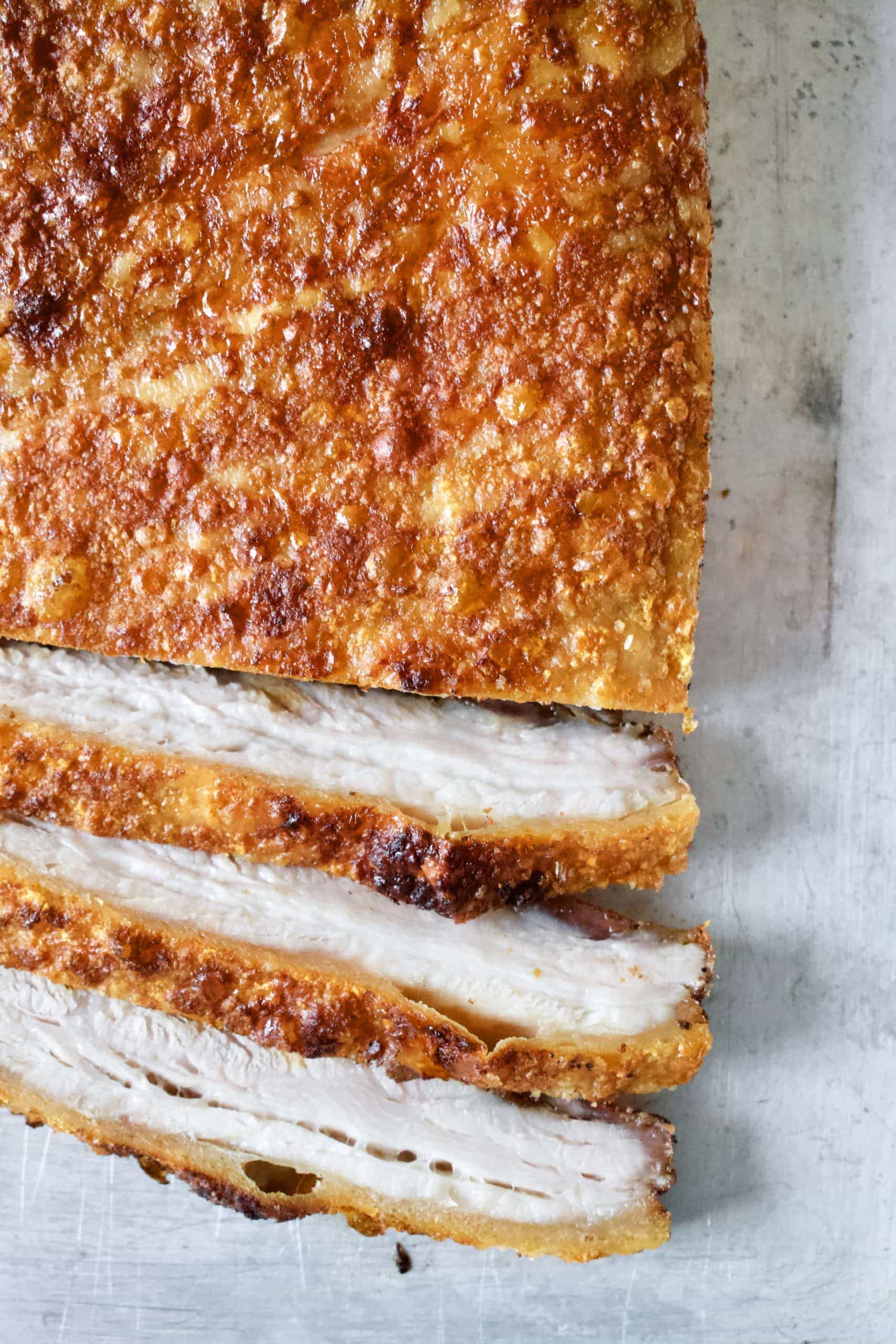 The key to a crisp Pork Belly!
The #1 thing you need to make a crisp pork belly is...a dry pork belly! Any moisture on the surface will prevent it from getting the crust that makes it oh so delicious.
There are a few different ways to go about this, but my favorite is letting it air dry overnight and then heavily salting the top before it cooks. The best way to think about pork belly is to remember that it is the cut of meat that bacon is made from. It is just uncured, meaning that it doesn't have any salt on it and it hasn't been cured.
You also want to be sure to roast the belly on a rack or a broiler pan. Line the pan with tin foil and enough water to coat the bottom. This is a necessary step to ensure the fat that drips off does not catch fire while roasting.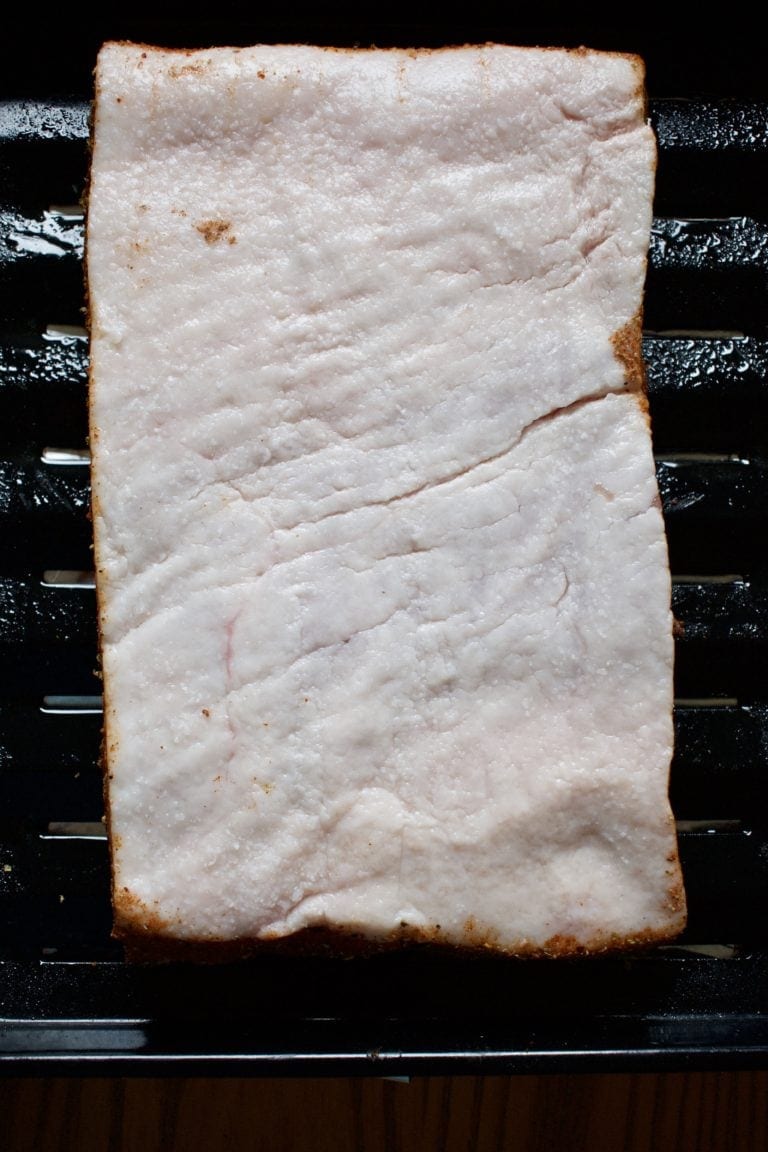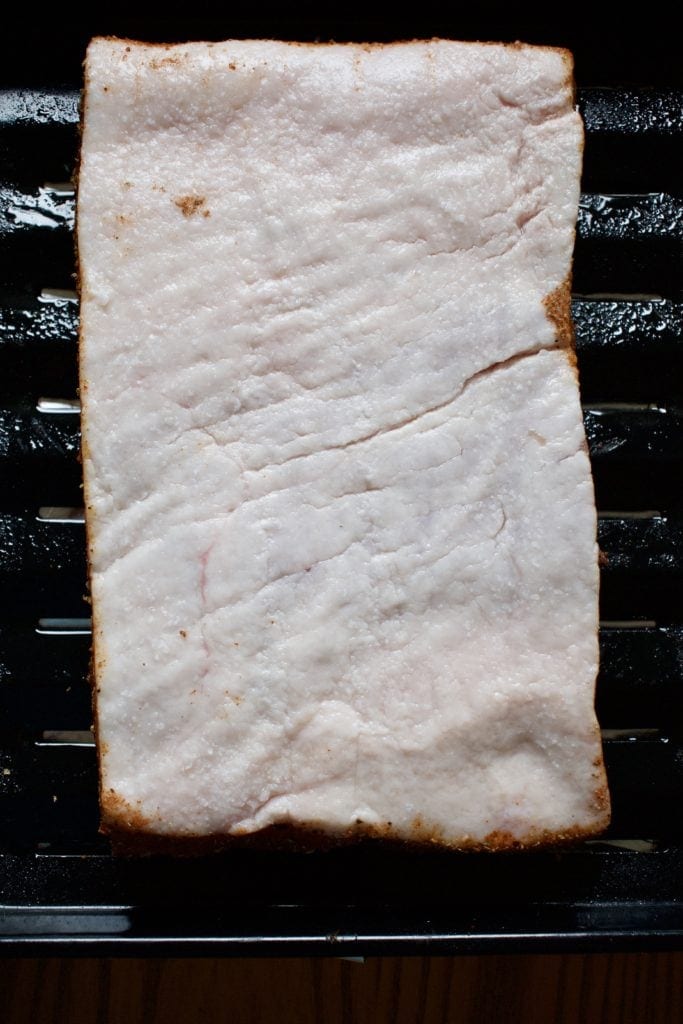 I heavily salt the top to mimic the curing of bacon and then add another dimension of flavor in a sauce or topping later. I have used pork belly inside my Bao Buns, inside a tortilla with avocado salsa, or if you are my dad, just as it is!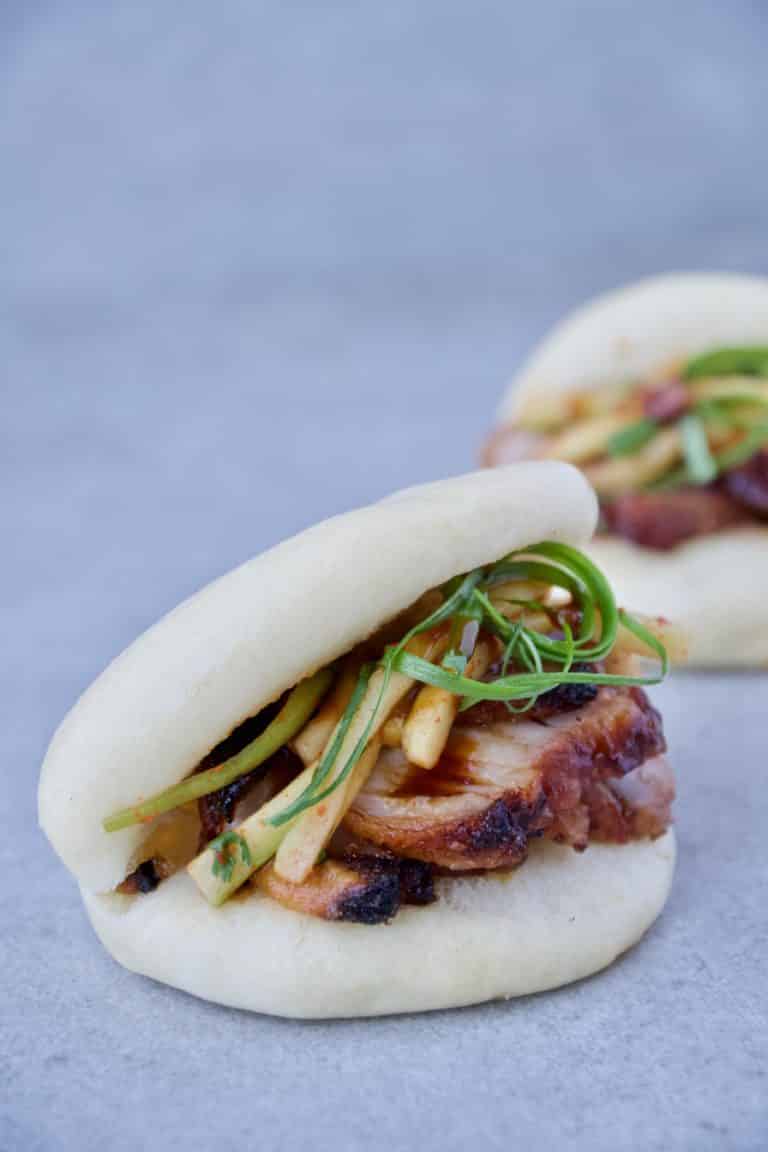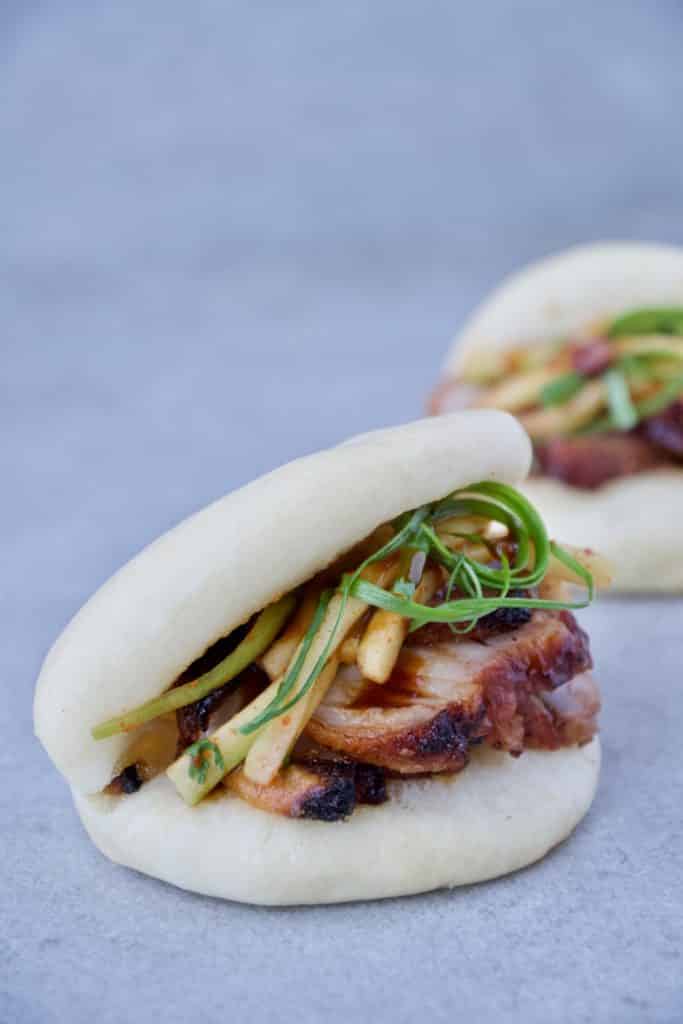 Seasoning your Pork Belly
Another option is to marinate the belly in a liquid that only covers the bottom half of the meat, keeping the fat cap dry. This option is the best of both worlds option, as you can infuse flavor while the top airs out overnight.
I have also seasoned the meaty side with a homemade taco seasoning and let that marinate at room temperature for a couple of hours with a heavily salted fat cap. Dry the fat side off with a paper towel and salt it well. The salt will draw out the moisture and allow the fat to crisp when it cooks.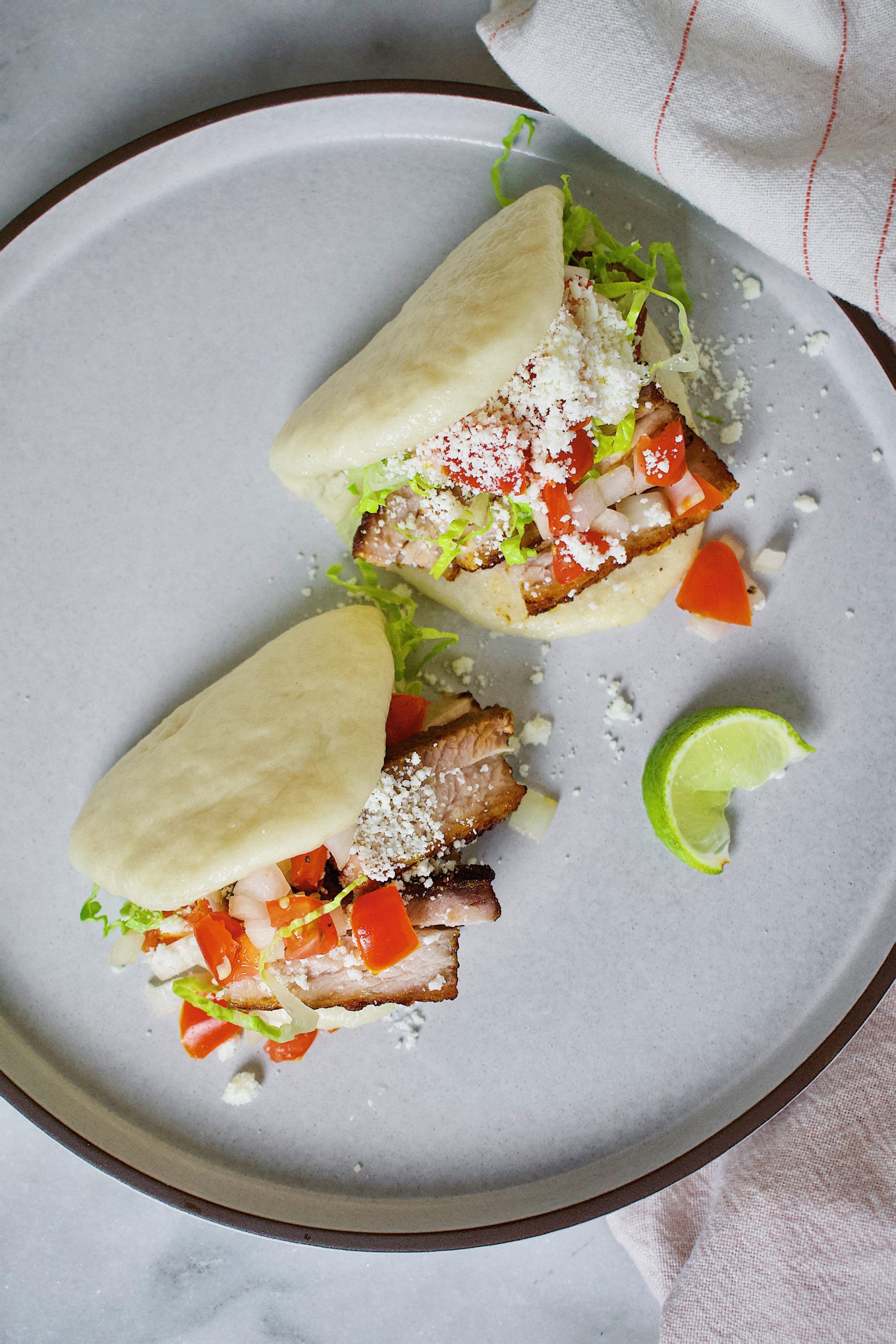 There are many ways to cook a pork belly, I have included instructions on how to roast it in the oven, and I even roast it in my Toaster Oven. You could also slow roast on the grill, just be sure not to cook it directly over a burner or the fat that drips off will catch fire. I hope you enjoy this beautifully crisp pork belly and let your imagination run wild with it!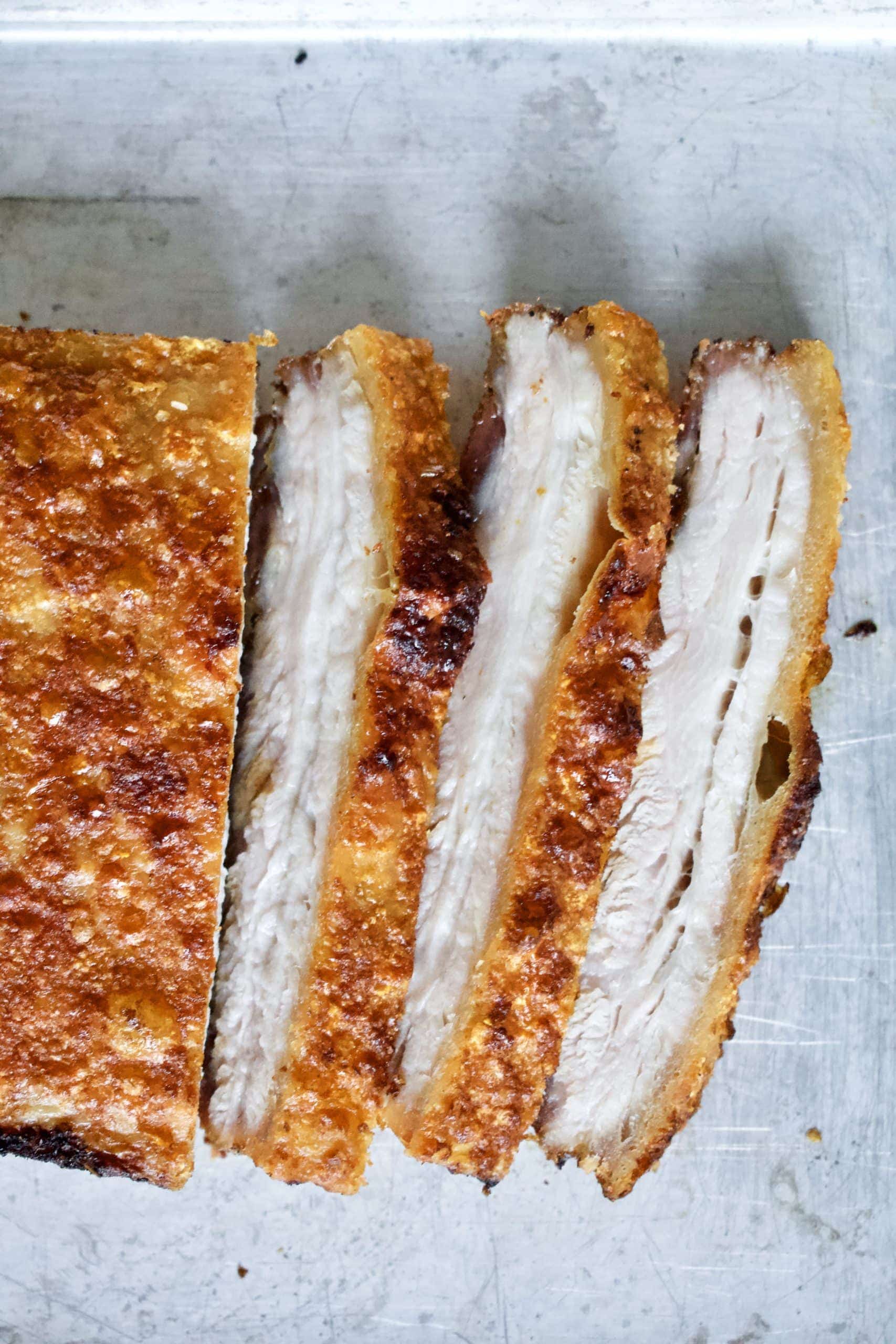 For more Asian inspired dishes...
Take a look at my homemade Ahi Tuna Tower recipe, it is something I worked on a recreated at home during quarantine 2020 and is one that I think I will make again and again!
My General Tso's Chicken is a dish I would eat every day, and at a minimum, I cook every week at home.
A good soy sauce turns this fall favorite into a dream, try my friend Kristi's mom's recipe for Soy Sauce Pumpkin Seeds.
Bao is another one of those things that just makes me happy in the tummy. Try my homemade version of Bao Buns, and fill them with my Crispy Pork Belly.
Did you make this recipe? Let me know by leaving a review or comment! And be sure to sign up for my newsletter, and follow along on Instagram, Pinterest, and Facebook!