This has been a long-time favorite of my family. I started making it shortly after leaving culinary school when I was highly interested in experimenting with bread at home. We have enjoyed Breakfast Focaccia on many holiday mornings and weekends alike!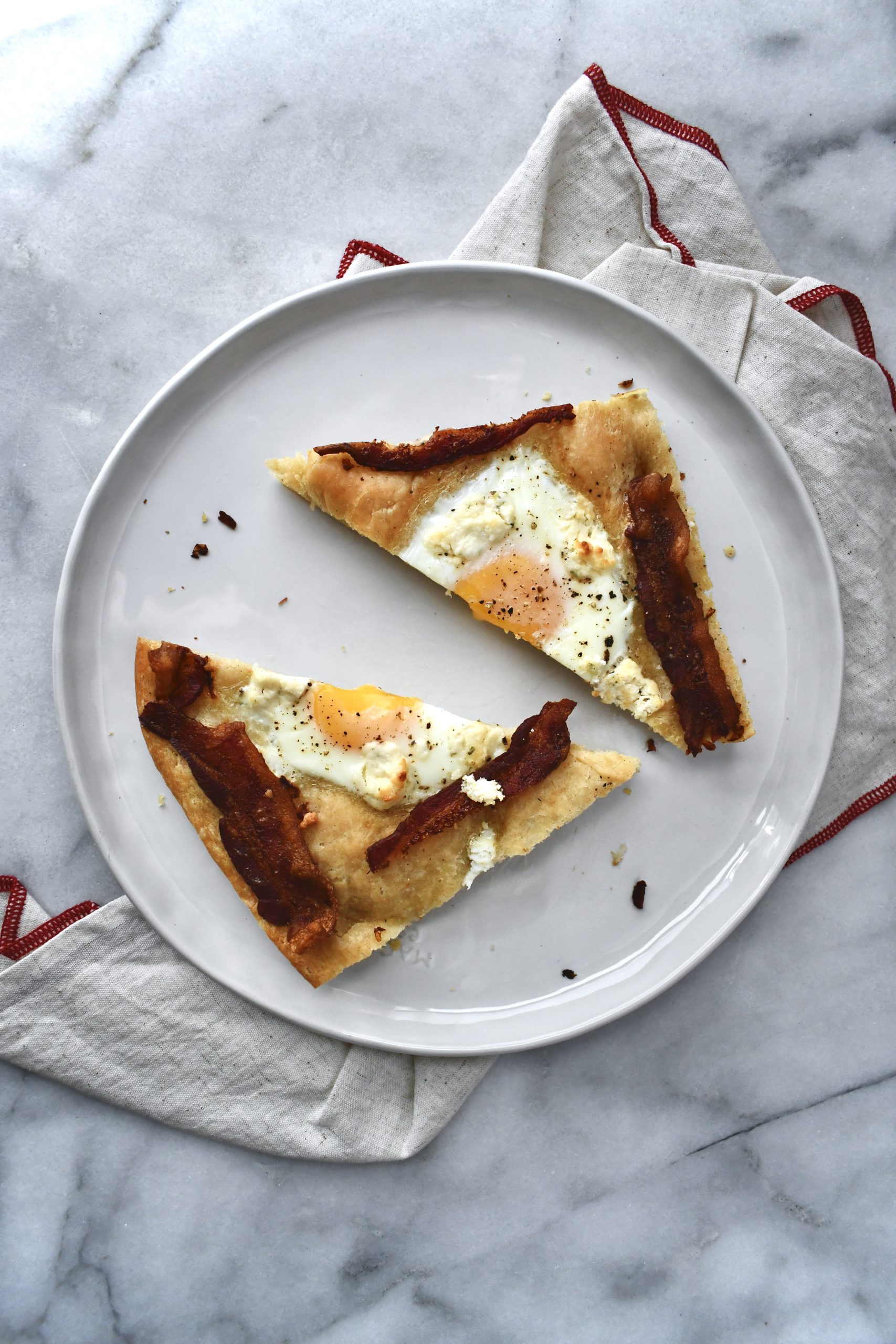 I enjoy making bread, I just haven't always been very good at it. It takes a lot of practice and patience. That said, this recipe is a straight dough method, making it one of the easiest bread recipes to master.
Making the dough
As long as your yeast is fresh it will rise with no problem. "Straight Dough" method means that you can literally throw everything into the bowl of your stand mixer and let it do the kneading for you.
Then you just have to practice your patience and let it rise for about an hour and a half, or until doubled in size. After the first rise, you roll the dough out into a rectangle roughly the size of the baking sheet. Then allow it to proof again until doubled in thickness in a heavily oiled pan.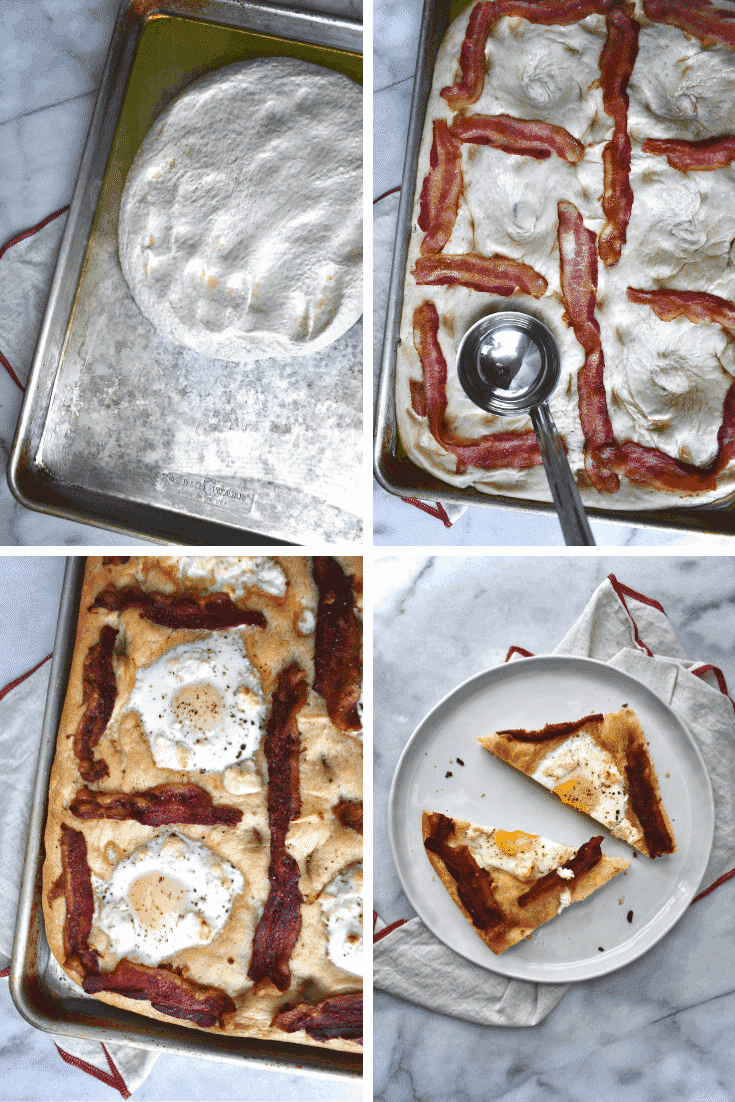 One of the great joys of focaccia is the fact that it is basically soaked in olive oil. Because of this be sure to use the best quality olive oil you can reasonably afford for this focaccia. It will lend so much flavor to the finished product that you will want it to be GOOD!
Making it Breakfast Focaccia
Now to take is from just focaccia to Breakfast Focaccia, I cook a package of bacon halfway and then place them on top for baking. I also make a couple of larger indents into the bread just before baking to make room for a fresh-cracked egg I add in the last 10 minutes of baking. I also give it a generous seasoning of salt and pepper on top when it goes into the oven.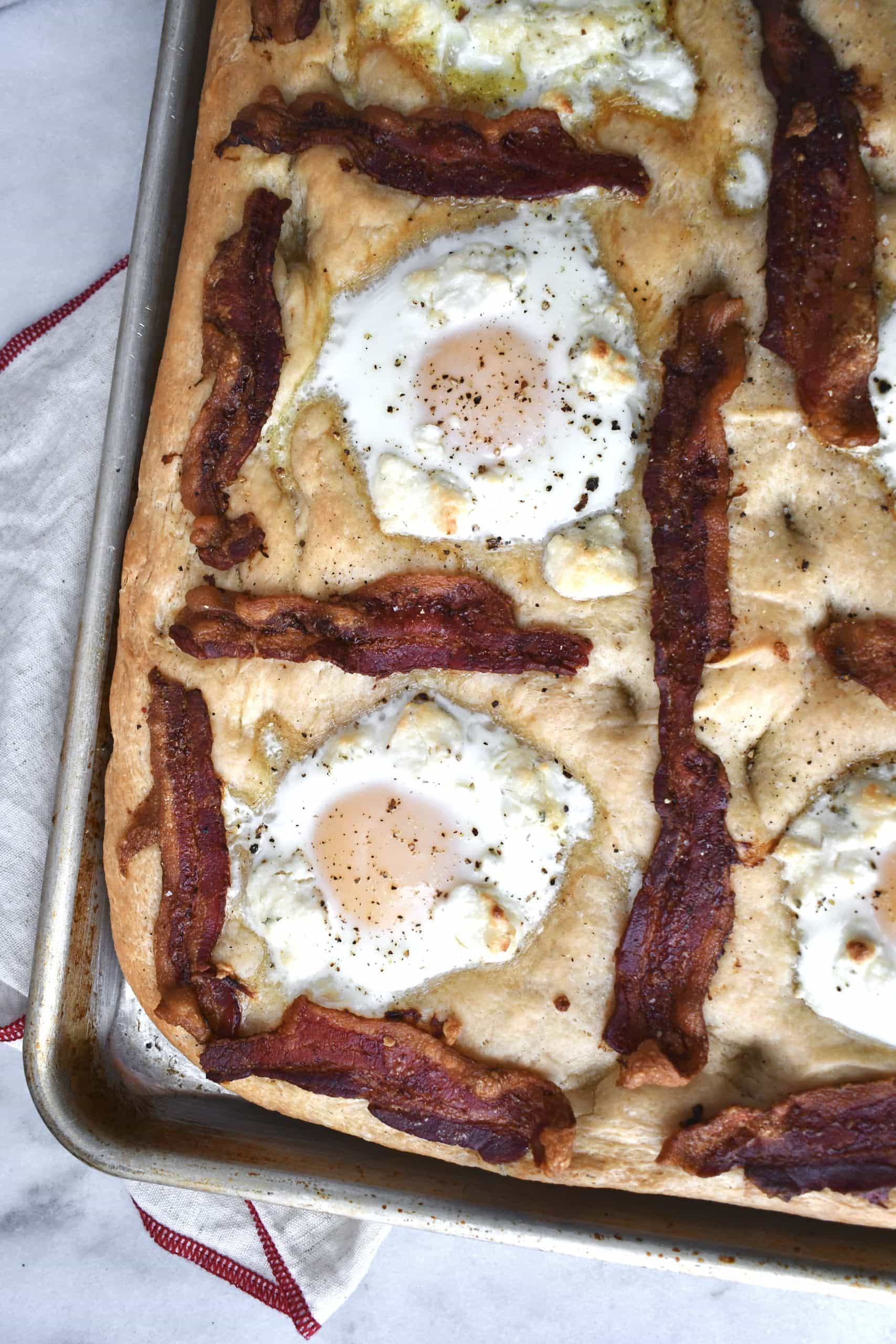 This is a perfect brunch recipe that my family requests ALL THE TIME! I usually only pull it out a few times a year so that they can really enjoy it. But it is fairly simple and something you could make any time the craving hits.
I makes the perfect Christmas morning breakfast! Or any morning for that matter!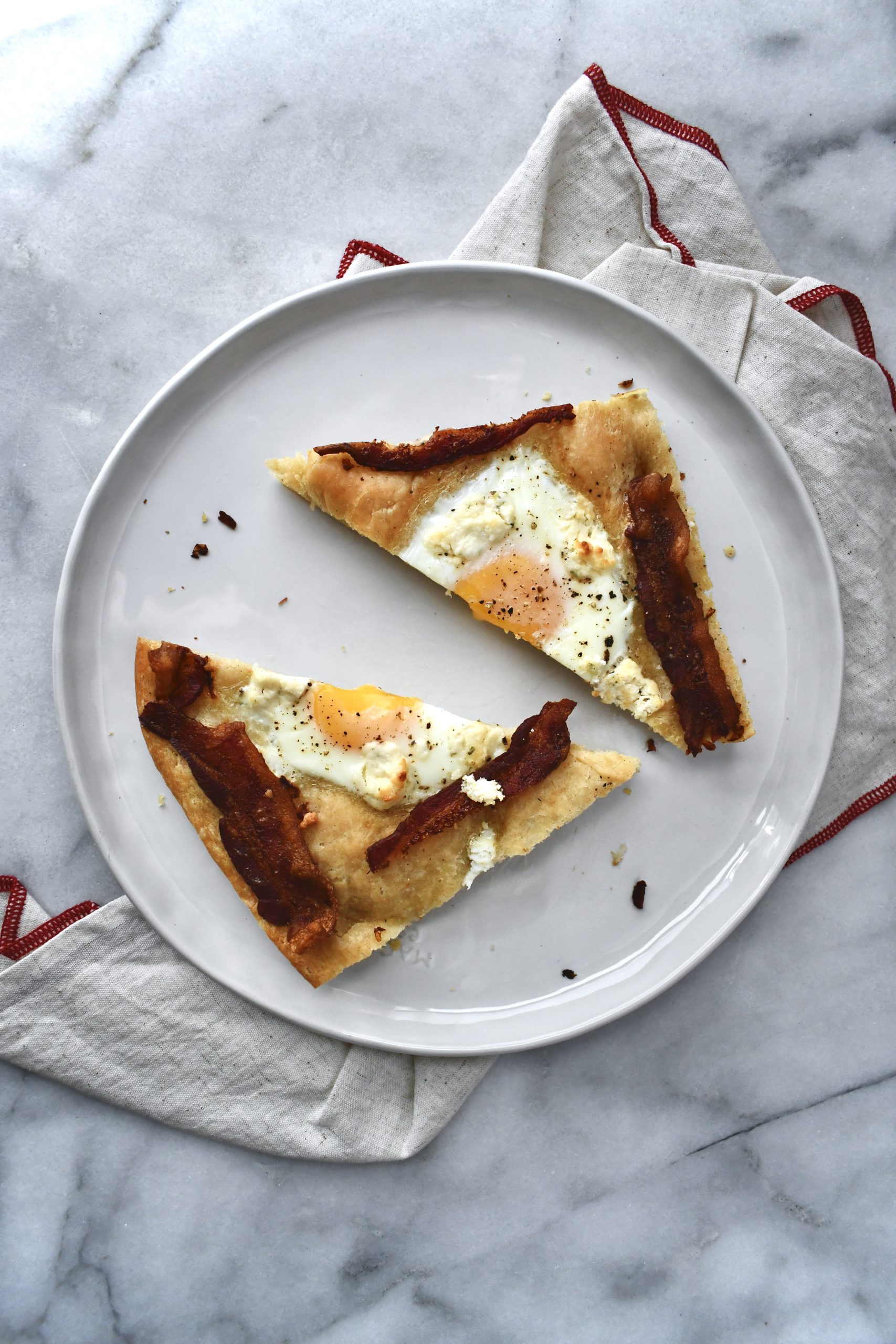 Breakfast Focaccia
I am providing the recipe in grams because it comes out PERFECT if you use precision. You will want an electric scale to measure the ingredients for ease of use.
Ingredients
450 grams warm Water, 105-110 degrees
10 grams Active Dry Yeast
750 grams Bread Flour
8 grams Kosher Salt
25 grams Olive Oil
1/2 C Olive Oil, for the pan
6 eggs
12 slices of bacon, par-cooked
Kosher Salt
Black Pepper
Instructions
Layer all ingredients in this order in the bowl of an electric stand mixer.
Mix with the dough hook on the second speed for about 12 minutes until the dough is smooth and slightly tacky.
Grease the bowl with a spray of pan spray or a little bit of olive oil and allow the dough to proof for 1.5 hours or doubled in size.
Turn the dough out onto the counter and roll into a large rectangle about the size of your baking sheet. Place about a half a cup of olive oil on the baking sheet and coat both sides of the dough in the oil. Allow the dough to rise again until doubled in thickness in the pan.
Par cook the bacon until it has released most or all of its fat but hasn't crisped yet.
Preheat the oven to 400 degrees.
Brush the dough with more olive oil. Dock the dough by poking deep holes with your fingers at regular intervals. Season the top of the dough with a generous sprinkle of salt and using a ladle make 6 larger holes to hold the eggs at the end of cooking.
Bake at 400 degrees for 15 minutes. Remove the bread from the oven and add the eggs in the designated spots, pressing them down again if needed with the ladle. Place the bacon strips around the bread and all around the 6 egg spots. Give the bread a sprinkle of black pepper and some salt on the eggs. Bake 10 minutes longer, or to your desired egg doneness.
Slice into 6 equal pieces and enjoy!
Notes
You can leave the eggs and bacon off and add some fresh herbs to the top with the salt and pepper and have perfect herbed focaccia to use as a side.
I sometimes give the eggs a little crumble of borsin cheese on them for some extra flavor. I use the Garlic and Herb flavor, but use your favorite.
Nutrition Information:
Serving Size:

1 grams
Amount Per Serving:
Unsaturated Fat:

0g
Other great breakfast recipes!
I don't usually need anything else to go with this recipe, but pairing it with my Pumpkin Spice Coffee Creamer for your coffee might be a good idea. Or if you want to pack a little extra protein in you could make Sarah's Prosciutto, Fennel and Asparagus Frittata to make it brunch!
If you make this recipe, please let me know by leaving a review at the bottom of this page!
And make sure to sign up for my newsletter and follow along on Instagram, Pinterest, and Facebook for more KendellKreations!
MY LATEST RECIPES!
Get my NEW e-Cookbook here!! ⬇️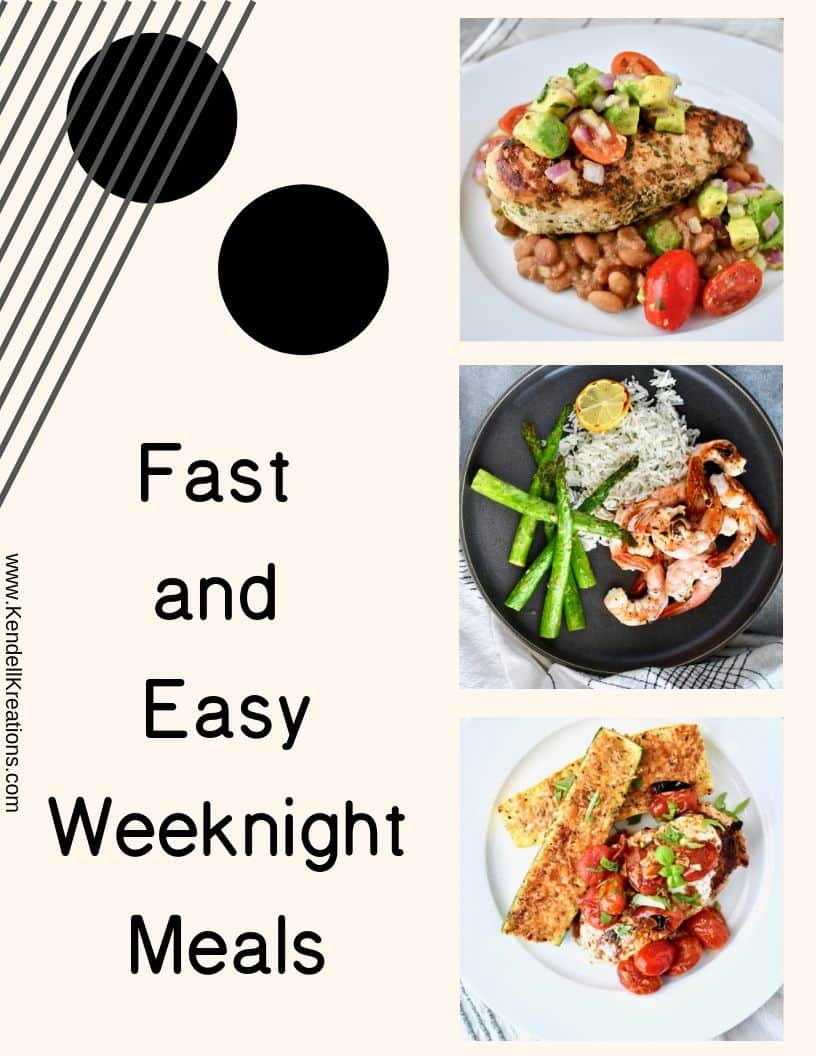 MY FAVORITE KITCHEN TOOLS!
Here are a few links to some of my favorite kitchen tools! You get a car, YOu get a car, YOU ALL GET A CAR…in my best Oprah voice
These Rösle Silicone Tongs are a little pricey but they will last you the rest of your life and are the softest in your hand. This is important for someone like m that cooks so much. It reduces strain, I have 4 sets in my kitchen!
These are my FAVE Nordic Ware Sheet Pans, every kitchen should have at least 2 sets of these! I think I have at least 4 of each of these.
This is my favorite pressure cooker, the Fagor is the same concept as the "Instant Pot" but easier to use in my opinion, if you don't have one you NEED one, it will be your best friend in the kitchen!
A sharp knife is the most important tool in the kitchen, these Japanese steel "Shun" knives are my favorite! And this is a great starter set to build on. Once you try them you will be in love so use this as a foundation you can build on for years to come.
This Scanpan 11″ skillet is just the right size for almost anything you will need to cook and my best friend and a real workhorse in my kitchen, it's also a great deal at $99. Scanpan is the best in the world for healthy cooking. It is coated with a proprietary ceramic-titanium coating that is durable while allowing you to use fewer fats and oils when cooking. It is a coating only they use. I could talk all day about my love for these pans, message me if you want more info. Here are some other sizes that are available if you are looking to outfit your kitchen with some new goodies. 8″ & 10″ Skillet set or 8″ Skillet, I still need this one for my kitchen Also, I don't really know how to cook small so the 12.5″ is my other fave!
This giant vat of olive oil is my favorite, I decant it into a smaller bottle for my counter. Or put this spigot on top of a wine bottle!
My favorite baking dish that is so easy to clean even burnt on cheese slides right off!
This Tovolo jar scraper has to be my single favorite kitchen tool, it is definitely the most used tool in my kitchen. If you are NOT a gadget person, this is the only necessity I say is a MUST beyond the wooden spoon.
A great wood spoon is essential, this Olive Wood one is my favorite, I have more than I can count. But can you really ever have too many?
A food scale can be a very important tool in your kitchen, this one is the one I use every day!
If you love Joanna Gaines as much as I do then the 'Magnolia Table Cookbook' is a must in your kitchen, get a copy HERE!