Before this year we had to wait two long years with bated breath for the return of the coveted Starbucks Pumpkin Muffins. But, I just can't live life on the edge of my seat anymore so I created this recipe so I can enjoy these AMAZING Copycat Starbucks Pumpkin Cream Cheese Muffins any time I want!
I enjoyed one muffin from Starbucks this year and then I was sparked to make my own version. I love the cheesecake-like cream cheese filling and the added crunch around the edge. And I already had my Pumpkin Seed Granola on hand so I was on my way to tasty Starbucks pumpkin muffins in my own kitchen.
They are a very simple straight method quick bread recipe. They lend themselves a little bit to the cakey side, but the Pumpkin Seed Granola makes it feel more appropriate to eat for breakfast. Besides, they match perfectly with a cup of coffee!
Get more pumpkin goodness from me with my Pumpkin Spiced Cake Donuts, or my Pumpkin Beer Cheese Lasagna. But my all-time favorite besides these muffins, of course, is my Harvest Pumpkin Crunch Pancakes. They are next-level amazing and also feature my Pumpkin Seed Granola, giving your just one more great excuse to make it!
You can also substitute freshly roasted pumpkin for canned, get my guide on "How to Roast a Pumpkin" here. It adds that extra layer of freshness that makes everyone go huh and treasure them even more!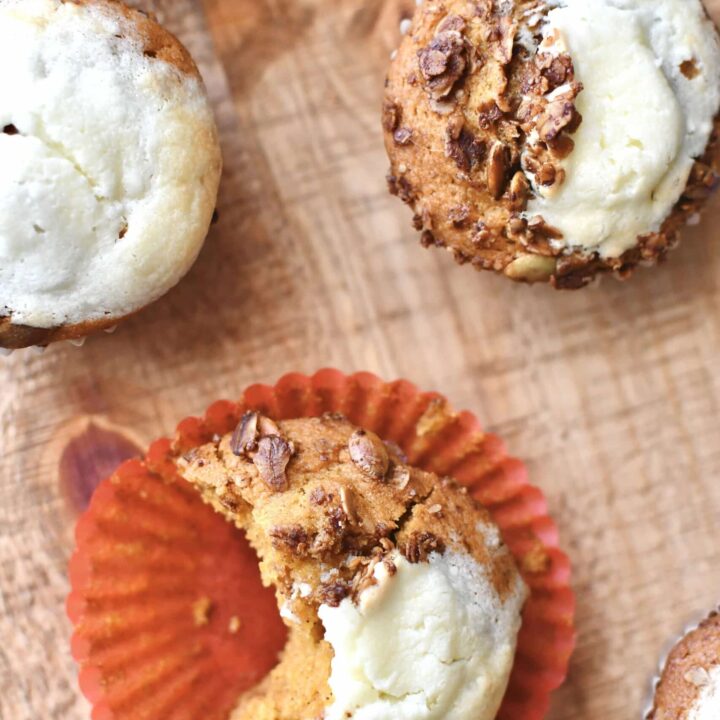 Copycat Starbucks Pumpkin Cream Cheese Muffins
Before this year we waited two long years for the return of the Starbucks Pumpkin Muffins. I can't live life on the edge anymore so I created this recipe.
Ingredients
4 oz Cream Cheese, room temp soft
1/2 of an Egg, whisked
1/2 C Powdered Sugar
2 C AP Flour
3/4 C Sugar
3/4 C Light Brown Sugar
1 1/4 C Vegetable Oil
4 lg Eggs
1 can Pumpkin Pulp, 15oz
1 t Vanilla Extract
1 T Pumpkin Pie Spice
1 1/2 t Baking Powder
1 t Baking Soda
1 t Salt
KendellKreations Pumpkin Seed Granola
Instructions
In a small bowl, combine the cream cheese, 1/2 egg, and powdered sugar to create a smooth paste-like consistency. This will form a cheesecake-like batter to top your muffins with.
In the bowl of an electric stand mixer fitted with the whisk attachment, combine the sugar, brown sugar, vegetable oil, eggs, pumpkin and vanilla and whip to combine. Add in the flour, pie spice, baking powder, and soda, and whip just until mix, being careful not to whip too long so your flour doesn't become overworked.
Preheat the oven to 400-degrees and line a cupcake pan with paper liners.
Portion the muffin batter into the pan, filling 3/4 of the way full. Top each muffin with about a teaspoon of granola and top that with a heaping teaspoon of the cheesecake batter.
Bake at 400 for the first 8 minutes, then reduce the temperature to 350-degrees and bake for an additional 12-15mintues until a toothpick inserted in the center comes out dry.
Allow the muffins to cool for about 5 minutes in the pan, then remove and allow to cool completely.
Nutrition Information:
Serving Size:

1 grams
Amount Per Serving:
Unsaturated Fat:

0g
MORE OF MY RECIPES HERE!
WHITE CHOCOLATE CHIP, HAZELNUT AND BLUEBERRY COOKIES
Get my NEW e-Cookbook here!! ⬇️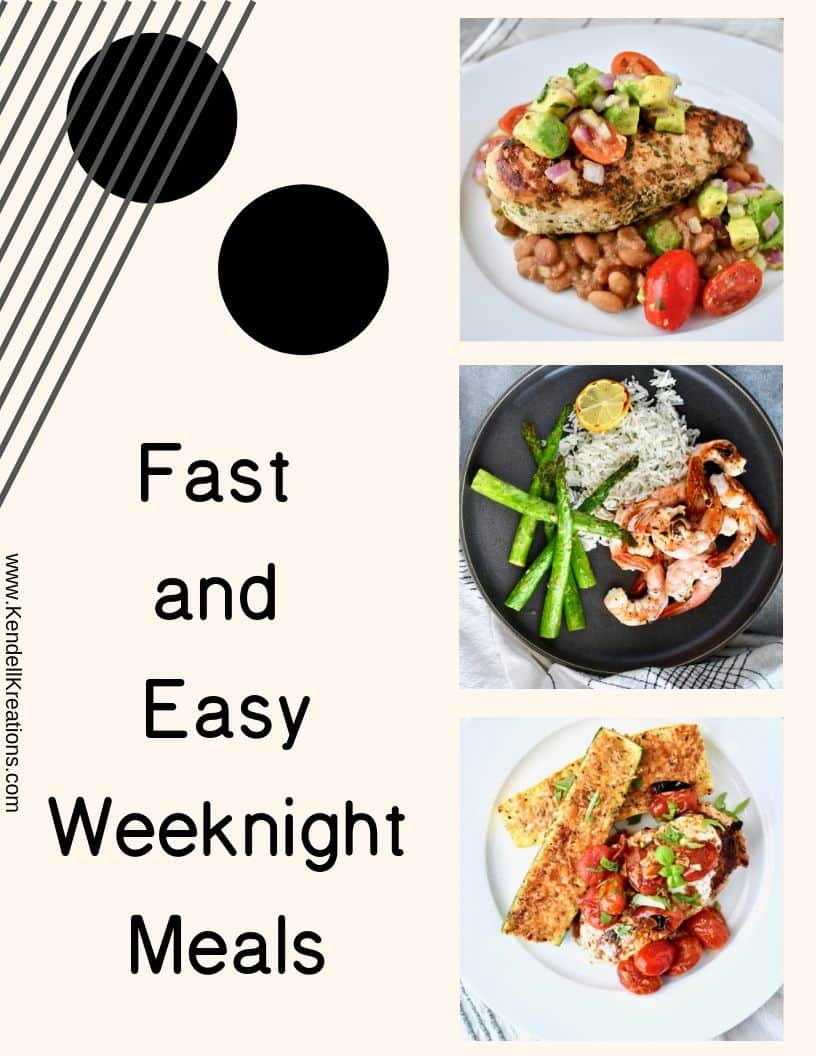 _
MY FAVORITE KITCHEN TOOLS!
Here are a few links to some of my favorite kitchen tools! You get a car, YOu get a car, YOU ALL GET A CAR…in my best Oprah voice
These Rösle Silicone Tongs are a little pricey but they will last you the rest of your life and are the softest in your hand. This is important for someone like m that cooks so much. It reduces strain, I have 4 sets in my kitchen!
These are my FAV Nordic Ware Sheet Pans, every kitchen should have at least 2 sets of these! I think I have at least 4 of each of these.
This is my favorite pressure cooker, the Fagor is the same concept as the "Instant Pot" but easier to use in my opinion, if you don't have one you NEED one, it will be your best friend in the kitchen!
A sharp knife is the most important tool in the kitchen, these Japanese steel "Shun" knives are my favorite! And this is a great starter set to build on. Once you try them you will be in love so use this as a foundation you can build on for years to come.
This Scanpan 11″ skillet is just the right size for almost anything you will need to cook and my best friend and a real workhorse in my kitchen, it's also a great deal at $99. Scanpan is the best in the world for healthy cooking. It is coated with a proprietary ceramic titanium coating that is durable while allowing you to use fewer fats and oils when cooking. It is a coating only they use. I could talk all day about my love for these pans, message me if you want more info. Here are some other sizes that are available if you are looking to outfit your kitchen with some new goodies. 8″ & 10″ Skillet setor 8″ Skillet, I still need this one for my kitchen Also, I don't really know how to cook small so the 12.5″ is my other fave!
This giant vat of olive oil is my favorite, I decant it into a smaller bottle for my counter. Or put this spigot on top of a wine bottle!
This Tovolo jar scraper has to be my single favorite kitchen tool, it is definitely the most used tool in my kitchen. If you are NOT a gadget person, this is the only necessity I say is a MUST beyond the wooden spoon.
A great wood spoon is essential, this Olive Wood one is my favorite, I have more than I can count. But can you really ever have too many?
A food scale can be a very important tool in your kitchen, this one is the one I use every day!
If you love Joanna Gaines as much as I do then the 'Magnolia Table Cookbook' is a must in your kitchen, get a copy HERE!
Check out this great product for your mason jar, the Ergo Spout lets you turn any jar into a pourable pitcher. Get yours here! I love making my homemade salad dressing and keeping them this way in the refrigerator.