This recipe is one that I learned while working as a line/prep cook in one of my very first restaurants out of culinary school. It was a star of the salad section of the menu there and was reimagined many different ways, but one thing remained consistent, this Caesar Dressing. It uses coddled eggs and requires a high powered blender to get it just right, but once you taste it you'll never want anything that comes from the grocery store again!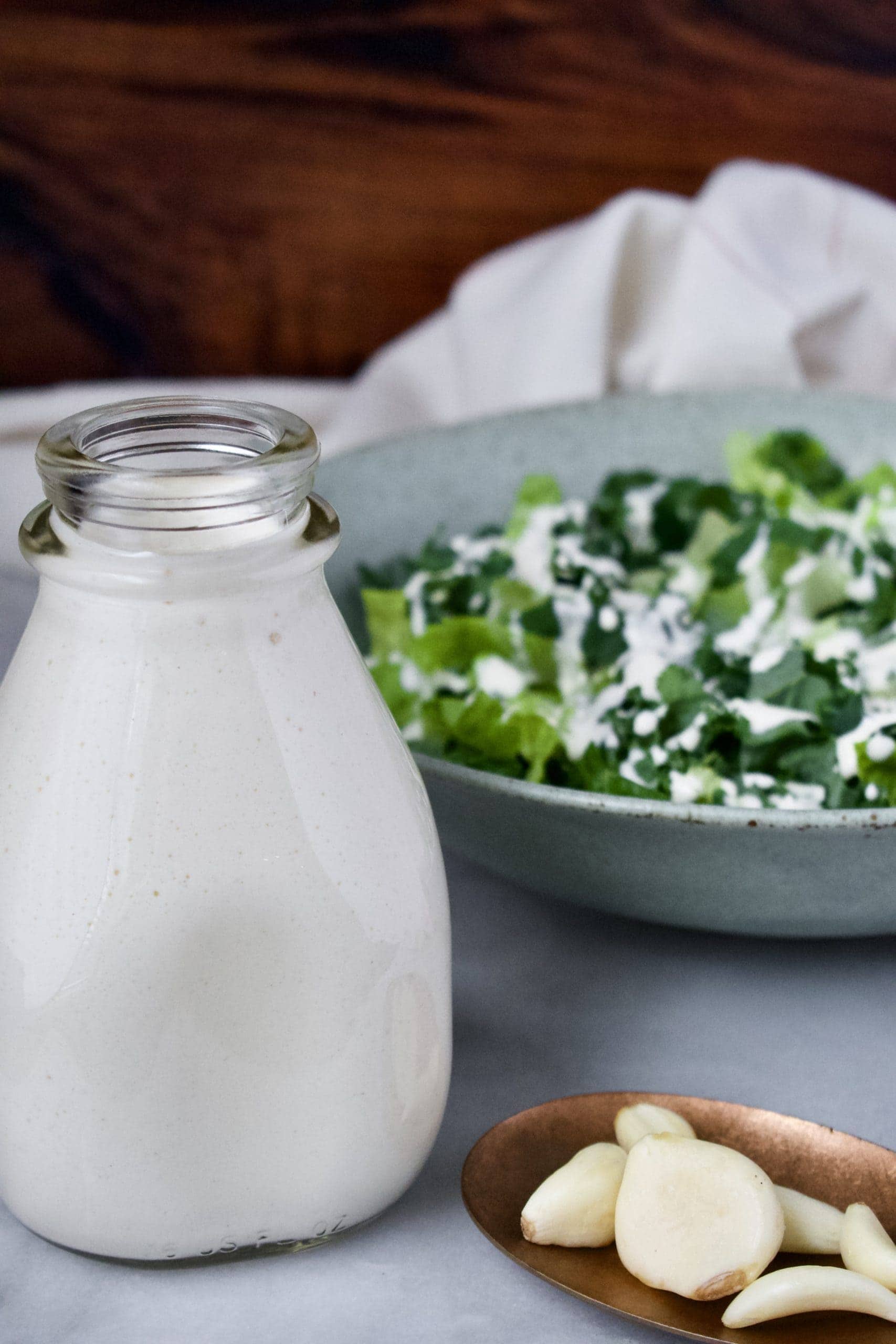 The beauty of this dressing is after you make it once you can customize it to your taste. It is very garlic forward, but you can make that more or less intense as you go. I also use a little extra ingredient in mine, I add some white balsamic vinegar to thin it out a little bit.
The coddled egg makes the dressing a little bit like a custard, and I like a touch of sharpness in my dressing, making it a bit more of vinaigrette, so I splash in some vinegar at the end.
This is an option you don't have to take, but I find that the dressing continues to thicken as it sits so I like to thin it out a bit at the beginning, you could also just give it a splash of water if you want to keep it a more pure Caesar dressing.
What is a coddled egg?
A coddled egg is an egg that has been cooked in boiling water for 1-2 minutes. For this application, we are only cooking it for 1 minute. It gently cooks the outer edge of the albumin and warms the egg just enough to eat it.
You could think of it in the form of pasteurization. It is heating the egg gently and in the case quickly, this step is what helps the dressing thicken and become a little bit custard-like. It is THE most necessary step in this recipe, but the good news is that it only takes a literal minute.
Where did Caesar Dressing originate?
The myth on this dressing is that is was born in Rome, created by the Romans and named after the Roman Emperor. This is false, it was created by Italian immigrant Caesar Cardini who came to the United States after World War 1. He lived in San Diego and operated a restaurant in Tijuana Mexico and is credited with the creation of the salad dressing.
If you want to read more on the history of Ceaser Cardini, read on here!
Caesar Salad and dressing has evolved over the years and nearly everyone has there own version these days. I am sharing mine here, this is just the way I like it, and that is what food should be, something you like. Try the recipe once, then take on some creative liberties and do with it what you like, it won't hurt my feelings, promise!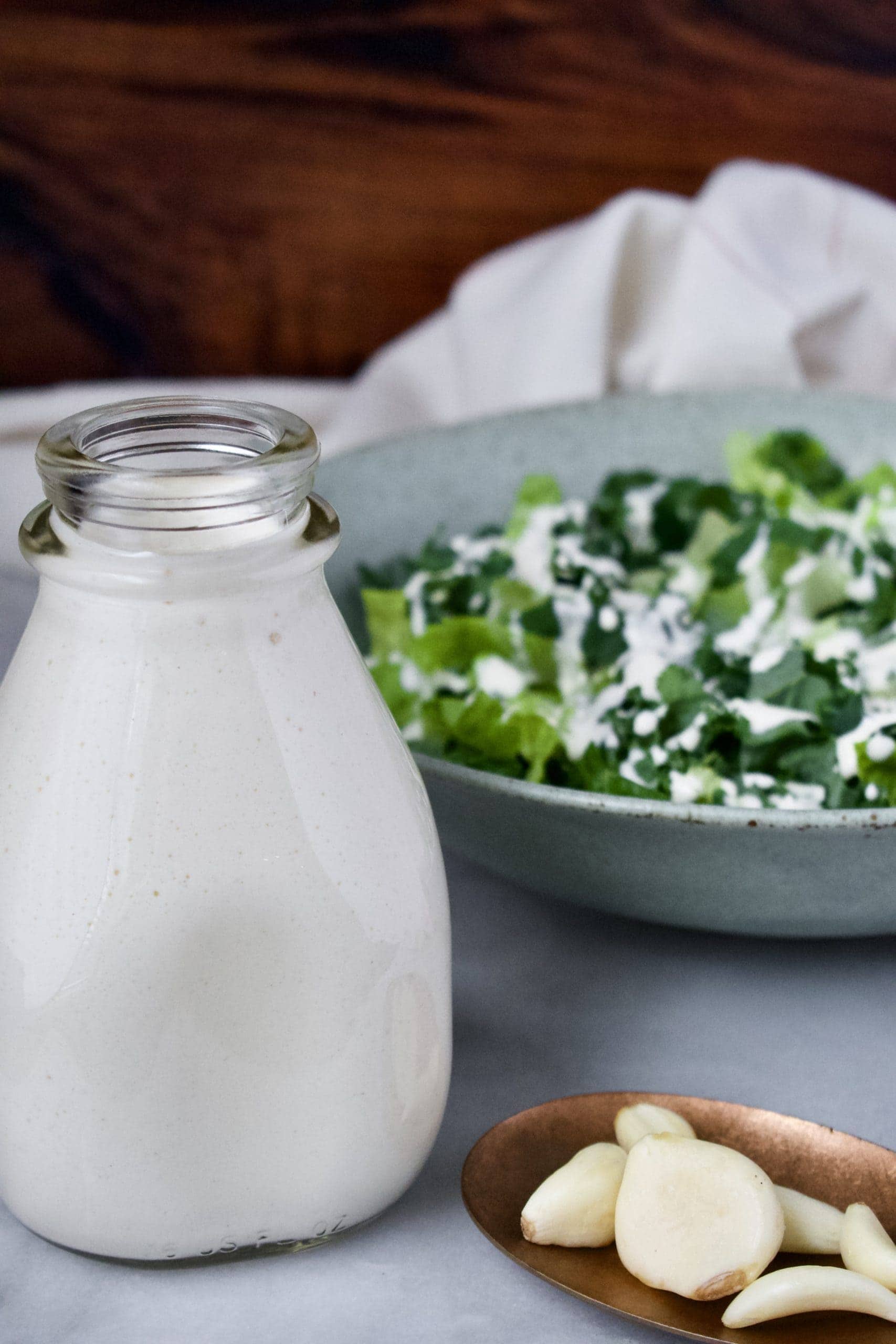 Caesar Dressing
This beautiful, thick, caesar dressing is a restaurant classic I learned years ago and still dream of. It can be used in many ways, simply dressing greens or in a pasta salad, use your imagination and make it your own.
Ingredients
4 eggs, coddled
6 cloves, Garlic
1 t Kosher Salt
1/4 t White Pepper
1 T Dijon Mustard
1 ea Lemon juiced
Dash of Tobasco
1 C Salad Oil
1/4 C White Balsamic Vinegar
Instructions
In a small saucepan over medium heat, bring 4 cups of water to a boil. Drop the eggs in and cook for 60 seconds. Remove them from the water and set aside.
In the cup of a blender, place the coddled eggs, scraping the insides out to remove all the whites, garlic cloves, salt, pepper, dijon, lemon juice, and Tobasco. Blend on high till smooth, then drizzle the salad oil in slowly, until a thick and creamy dressing begins to form. At the very end, at a lower speed, add in the white balsamic and taste the dressing. Add more salt if needed or more vinegar if still very thick.
Store in an airtight container in the fridge, up to 2 weeks.
Notes
I use the balsamic vinegar to thin the dressing and give it a little more sharpness, you could also add more lemon juice, or just a splash of water to thin the dressing out. Whatever you do, you'll want to thin it a bit, because the coddled eggs will thicken it like a custard.
Nutrition Information:
Serving Size:

1 grams
Amount Per Serving:
Unsaturated Fat:

0g
If you make this recipe, please let me know by leaving a review at the bottom of this page!
And make sure to sign up for my newsletter and follow along on Instagram, Pinterest, and Facebook for more KendellKreations!
MY LATEST RECIPES!
Get my NEW e-Cookbook here!! ⬇️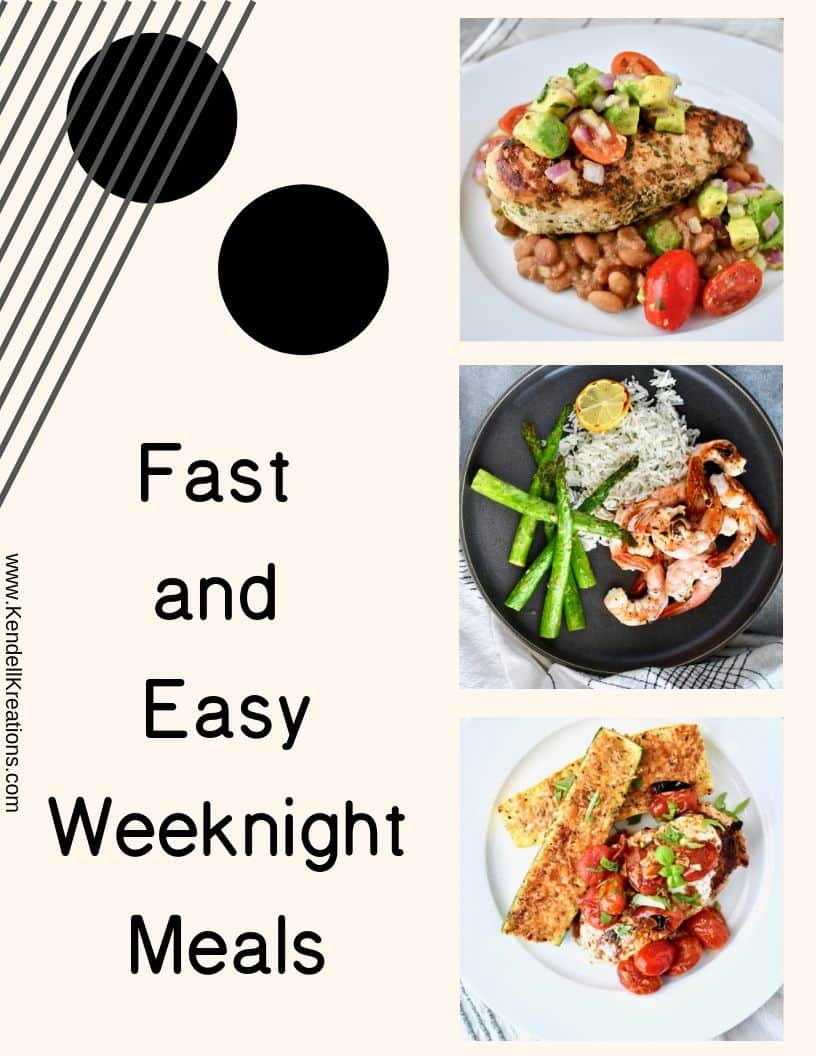 MY FAVORITE KITCHEN TOOLS!
Here are a few links to some of my favorite kitchen tools! You get a car, YOu get a car, YOU ALL GET A CAR…in my best Oprah voice
These Rösle Silicone Tongs are a little pricey but they will last you the rest of your life and are the softest in your hand. This is important for someone like m that cooks so much. It reduces strain, I have 4 sets in my kitchen!
These are my FAVE Nordic Ware Sheet Pans, every kitchen should have at least 2 sets of these! I think I have at least 4 of each of these.
This is my favorite pressure cooker, the Fagor is the same concept as the "Instant Pot" but easier to use in my opinion, if you don't have one you NEED one, it will be your best friend in the kitchen!
A sharp knife is the most important tool in the kitchen, these Japanese steel "Shun" knives are my favorite! And this is a great starter set to build on. Once you try them you will be in love so use this as a foundation you can build on for years to come.
This Scanpan 11″ skillet is just the right size for almost anything you will need to cook and my best friend and a real workhorse in my kitchen, it's also a great deal at $99. Scanpan is the best in the world for healthy cooking. It is coated with a proprietary ceramic-titanium coating that is durable while allowing you to use fewer fats and oils when cooking. It is a coating only they use. I could talk all day about my love for these pans, message me if you want more info. Here are some other sizes that are available if you are looking to outfit your kitchen with some new goodies. 8″ & 10″ Skillet set or 8″ Skillet, I still need this one for my kitchen Also, I don't really know how to cook small so the 12.5″ is my other fave!
This giant vat of olive oil is my favorite, I decant it into a smaller bottle for my counter. Or put this spigot on top of a wine bottle!
My favorite baking dish that is so easy to clean even burnt on cheese slides right off!
This Tovolo jar scraper has to be my single favorite kitchen tool, it is definitely the most used tool in my kitchen. If you are NOT a gadget person, this is the only necessity I say is a MUST beyond the wooden spoon.
A great wood spoon is essential, this Olive Wood one is my favorite, I have more than I can count. But can you really ever have too many?
A food scale can be a very important tool in your kitchen, this one is the one I use every day!
If you love Joanna Gaines as much as I do then the 'Magnolia Table Cookbook' is a must in your kitchen, get a copy HERE!