All I can hear when I start whipping up the Cinnamon Butter is the Gilmore Girls line where Luke proudly tells Lorelai he made pumpkin pancakes. And that is all the motivation to create the perfect Stars Hollow breakfast!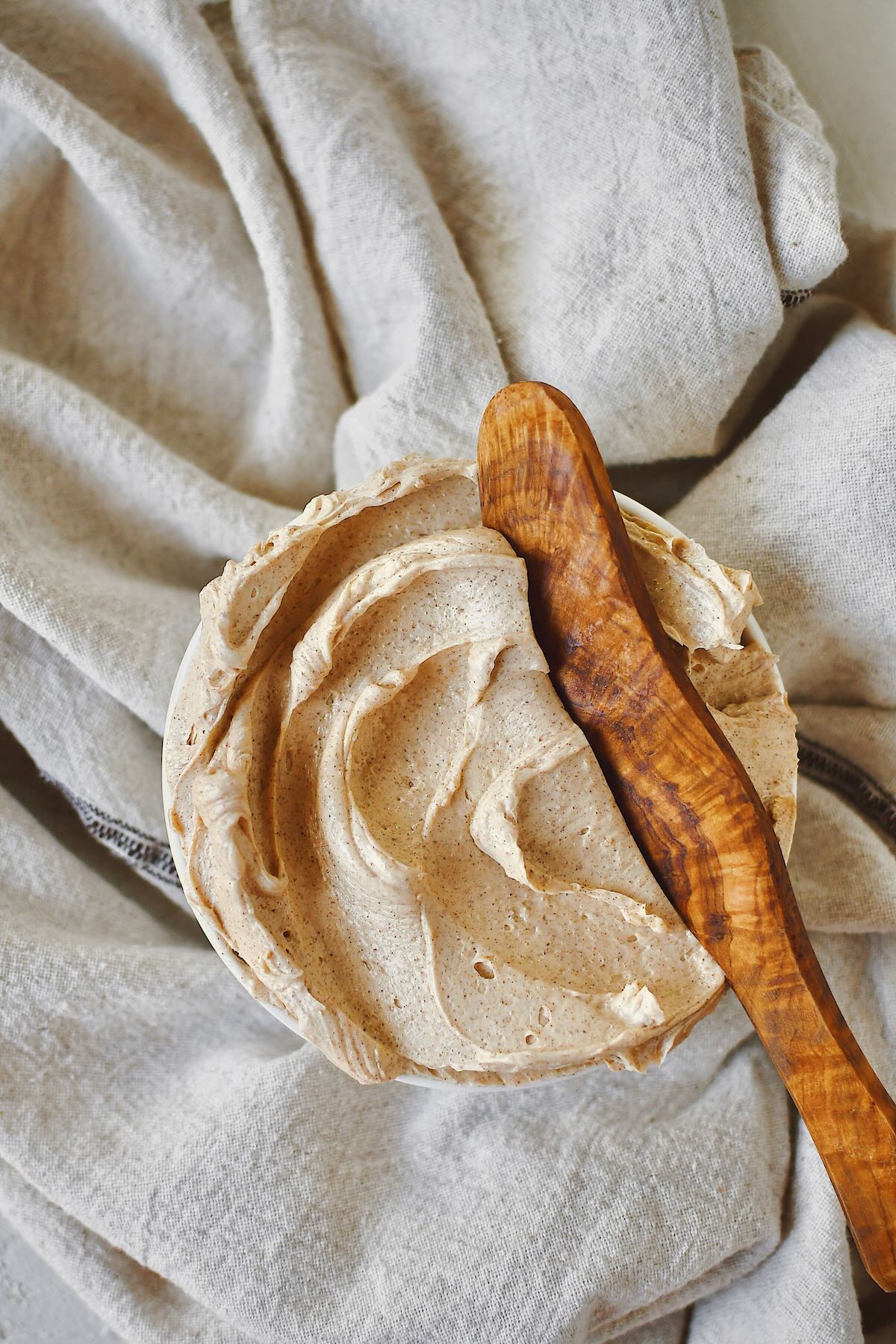 Okay, whether you know what I am talking about or not, this cinnamon butter is the perfect accompaniment, pretty much any time of year, to fresh bread, waffles, or pancakes.
Jump to:
Ingredients
You need a couple more ingredients other than the namesake cinnamon and butter. I like to add a little honey to make the butter more spreadable and decadent. The salt balances everything out as does the vanilla extract.
The brown sugar sweetens it up and adds a dark rich flavor that is brought in by its molasses content.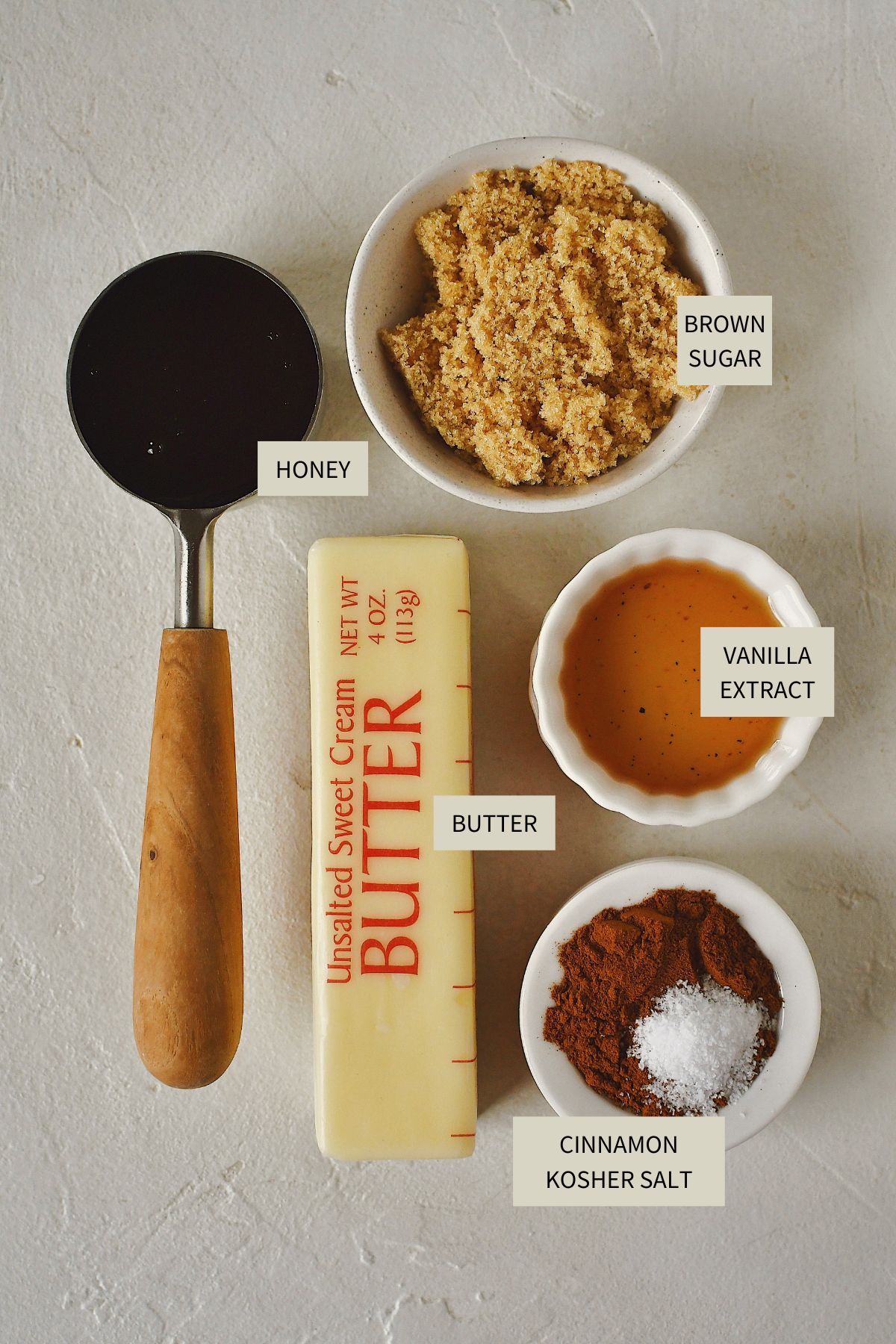 What you need:
Unsalted Butter
Honey
Cinnamon
Kosher Salt, Morton's
Brown Sugar
Vanilla Extract
See the recipe card for full quantities.
Use the JUMP TO RECIPE button at the top of the post, or scroll to the bottom of the post to see the full recipe card with ingredient measurements and instructions.
Method
First beat the butter together with the honey, cinnamon, and salt. I like to beat it for at least 2 minutes so it can cream together well and get light and fluffy. Then beat in the sugar and vanilla to finish it off.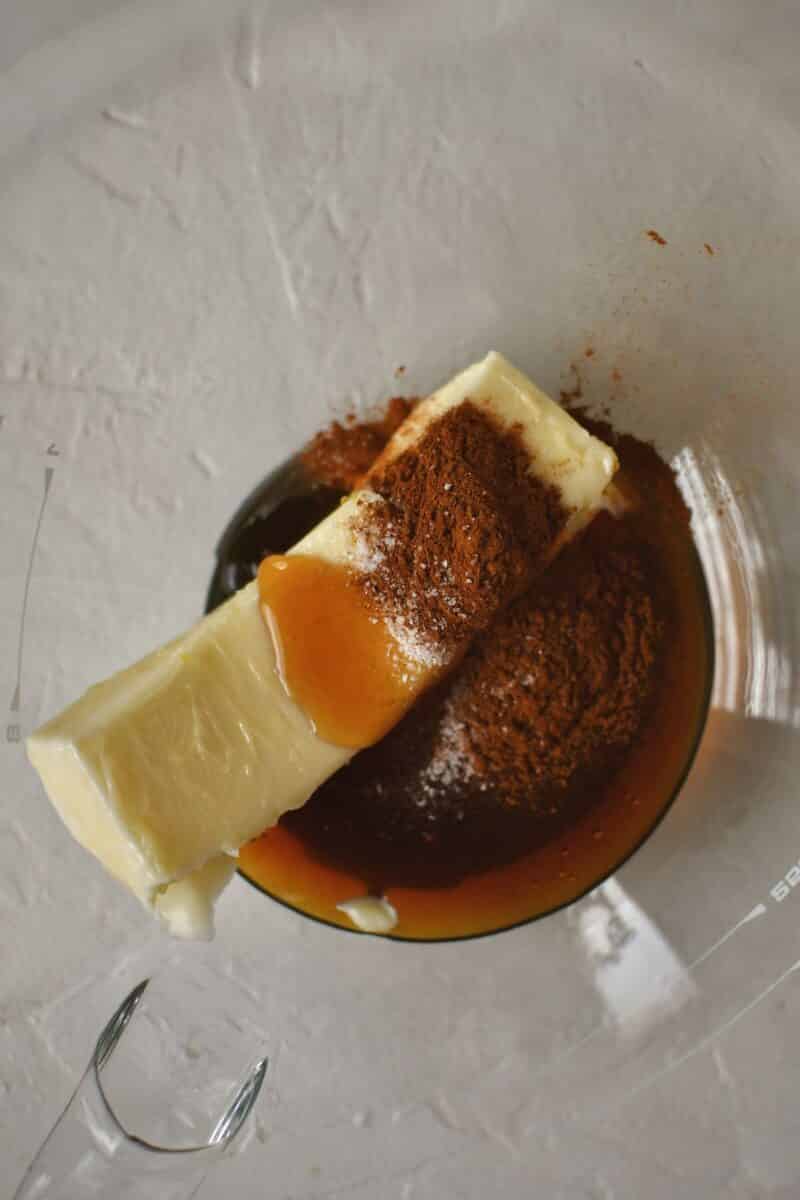 If you don't use a stand mixer, use a whisk and very soft, almost melted, but still solid butter, and whip everything together for about 3 minutes to get some air into the butter.
I then place the butter in a shallow dish and place a spreading knife on top so it is ready to serve.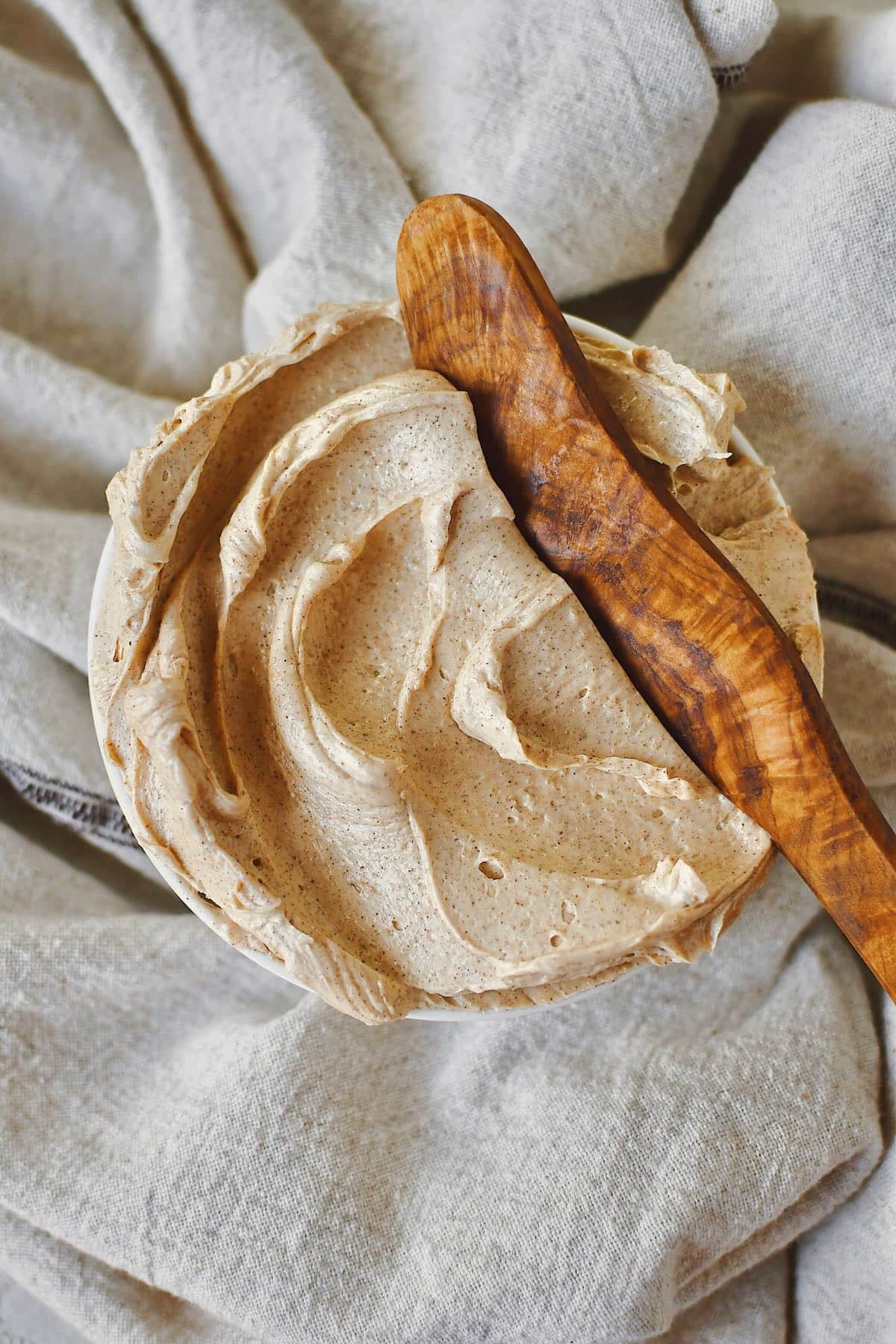 Notes & Tips
I have had many who have tasted this butter compare it to Texas Roadhouse butter, but get told it is somehow a little better than theirs. I think it is the vanilla and brown sugar that pushes mine over the top.
The whipped Cinnamon Butter can be stored are room temp for up to 2 days, or in the fridge for up to a week.
Substitutions
If you are dairy-free, this can 100% be made with a vegan or plant-based butter substitute. It comes out just as good as the real thing.
I suggest using clover or wildflower honey for this recipe. You don't want anything to be overly floral or it won't mesh with the cinnamon as well.
Just use a regular honey for this, you can also leave it out if you prefer not to use it.
I prefer to use Vietnamese cinnamon, it offers such a strong flavor and is my favorite to use in my cooking and baking. You may also find it called Saigon cinnamon.
Be aware of the type of salt you use for this recipe. Taste and adjust the salt as needed. There is a big difference between using Morton's and Diamond Crystal salt, if you use diamond, you need twice as much as the recipe calls for.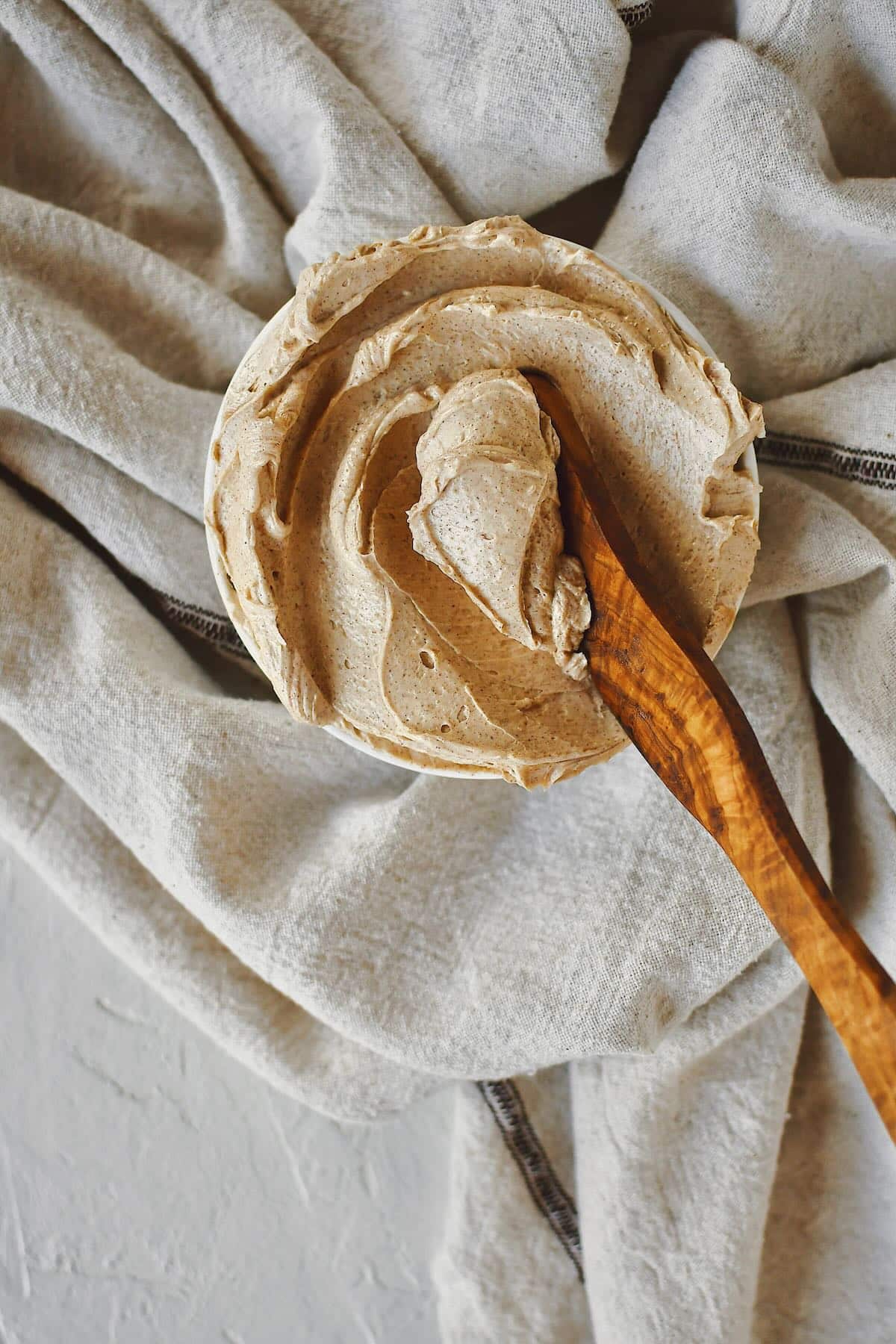 More of my Favorite Dips and Spreads
When rhubarb season arrives I immediately make a batch of this Strawberry Rhubarb Jam. It has a little butter in it that cuts the sharpness of the rhubarb and makes it ultra-decadent.
For one of my favorite savory dips, I like to make my super smooth Homemade Hummus recipe.
Perfect for spreading on steak or fresh bread, my Truffle Butter is always a winner.
In the fall, be sure to keep my homemade Caramel Sauce on repeat for dipping apples in.
When the craving for Italian hits, make my friends Bread Dip for a great appetizer.
Did you make this recipe? Let me know by leaving a review or comment! And be sure to sign up for my newsletter, and follow along on Instagram, Pinterest, and Facebook!