In my opinion, the Best Marinade for Steak is quick to make and full of flavor. That is exactly what this is, and the flavor just intensifies the moment it hits the grill.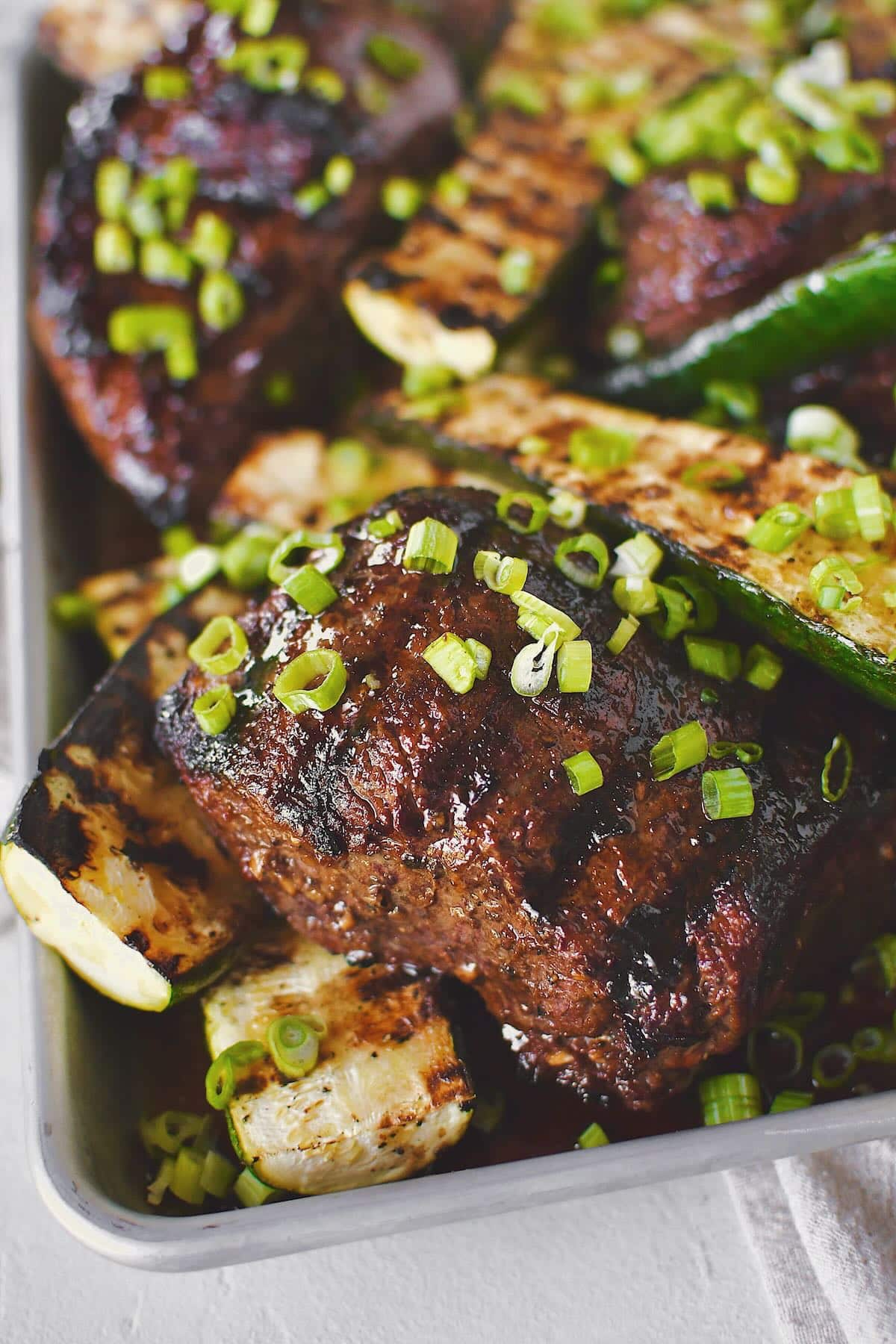 You can use this recipe to marinate and cook any cut if beef you prefer. It is especially good on sirloin or fillet. Leaner cuts that can benefit from a little extra flavor is the best place to use a marinade.
Jump to:
Ingredients
This list of ingredients is short and full of flavor. Each thing has to bring a hit of flavor. The soy and Worcestershire add salt and umami. I like to use both fresh garlic and roasted garlic powder. The powder has a depth of flavor that gives everything it is used on that extra, what is this, goodness that will have everyone hemming and hawing.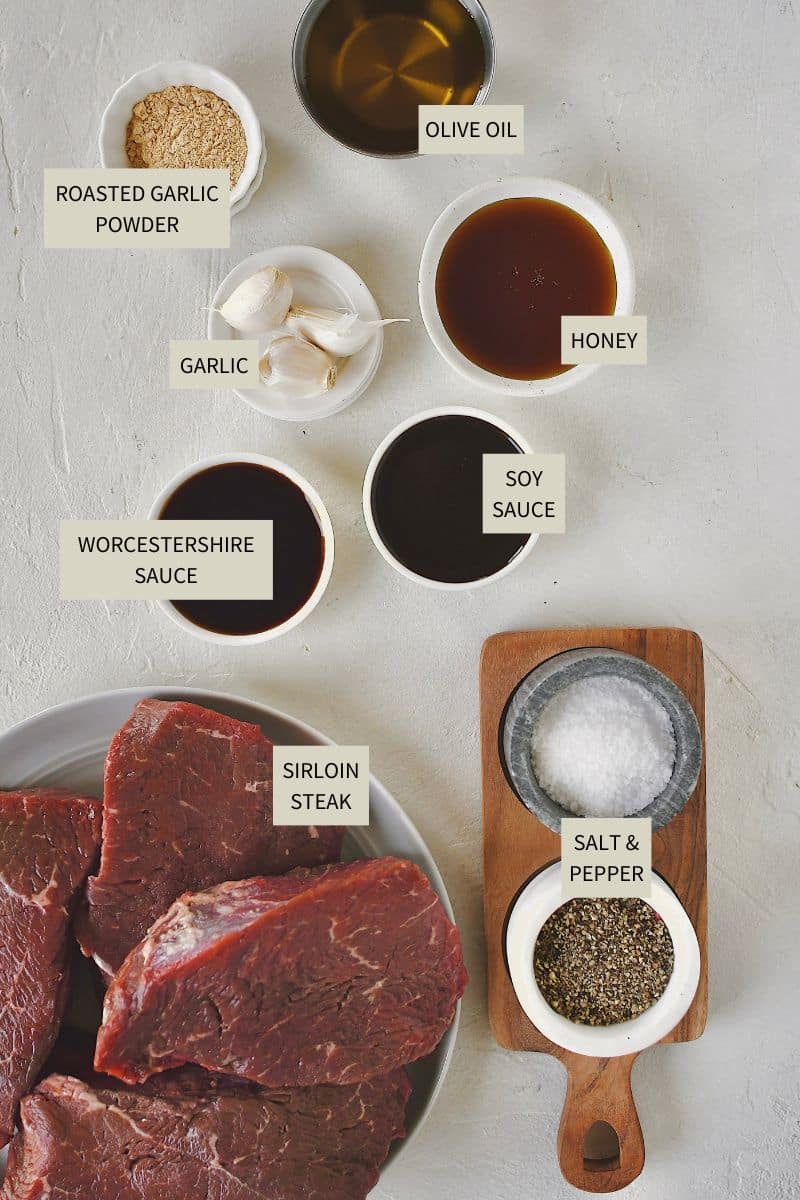 The honey and olive oil bring sweetness and balance respectively. And you do still need salt and pepper, I suggest salting the meat with a sprinkle before and after marinating to ensure deep flavor.
Use the JUMP TO RECIPE button at the top of the post, or scroll to the bottom of the post to see the full recipe card with ingredient measurements and instructions.
Method
I am highlighting cooking sirloin steak in this recipe. If using it, the first step I suggest is to tenderize the meat with a Jaccard. Besides tenderizing the meat, it also pricks little holes into it, allowing the marinade to penetrate the meat faster and more effectively.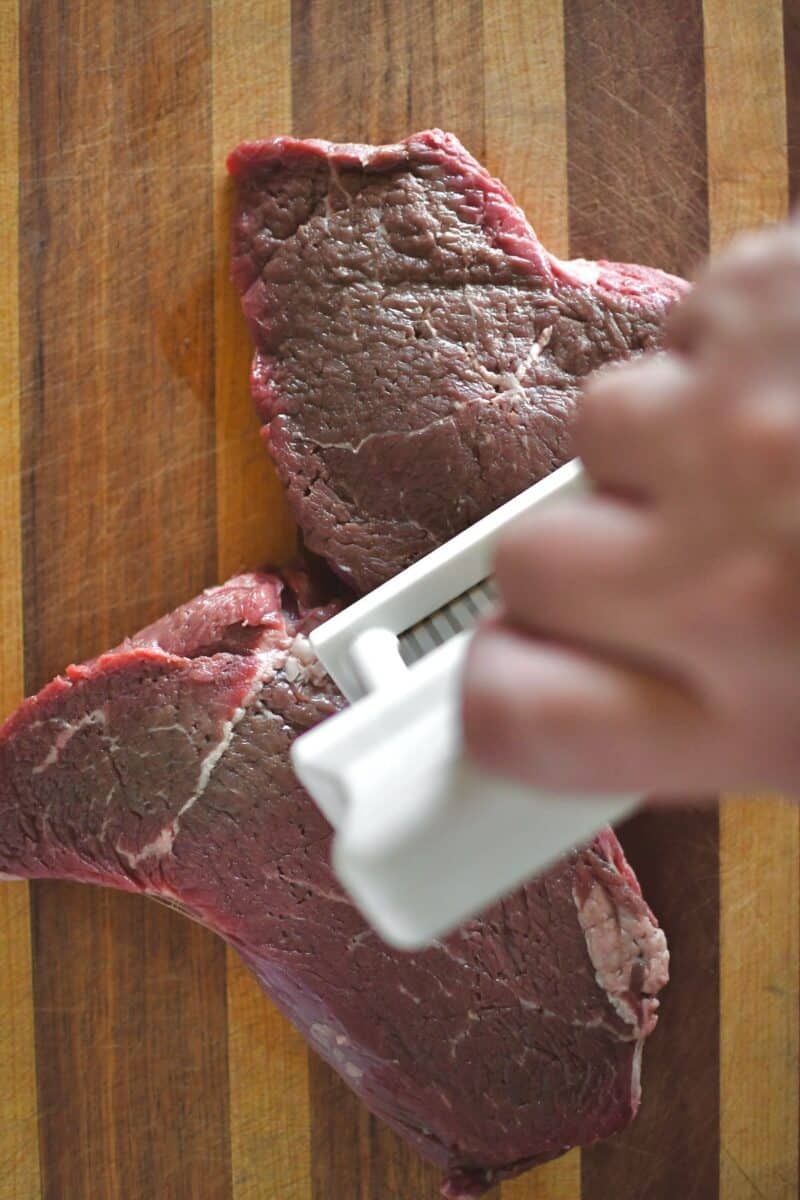 I first stir up the marinade in a bowl, then pour it over the beef in a zip-top bag. This allows me to ensure the honey is well distributed. Once everything is in the bag, seal it up and roll it around until all of the beef is coated in the marinade.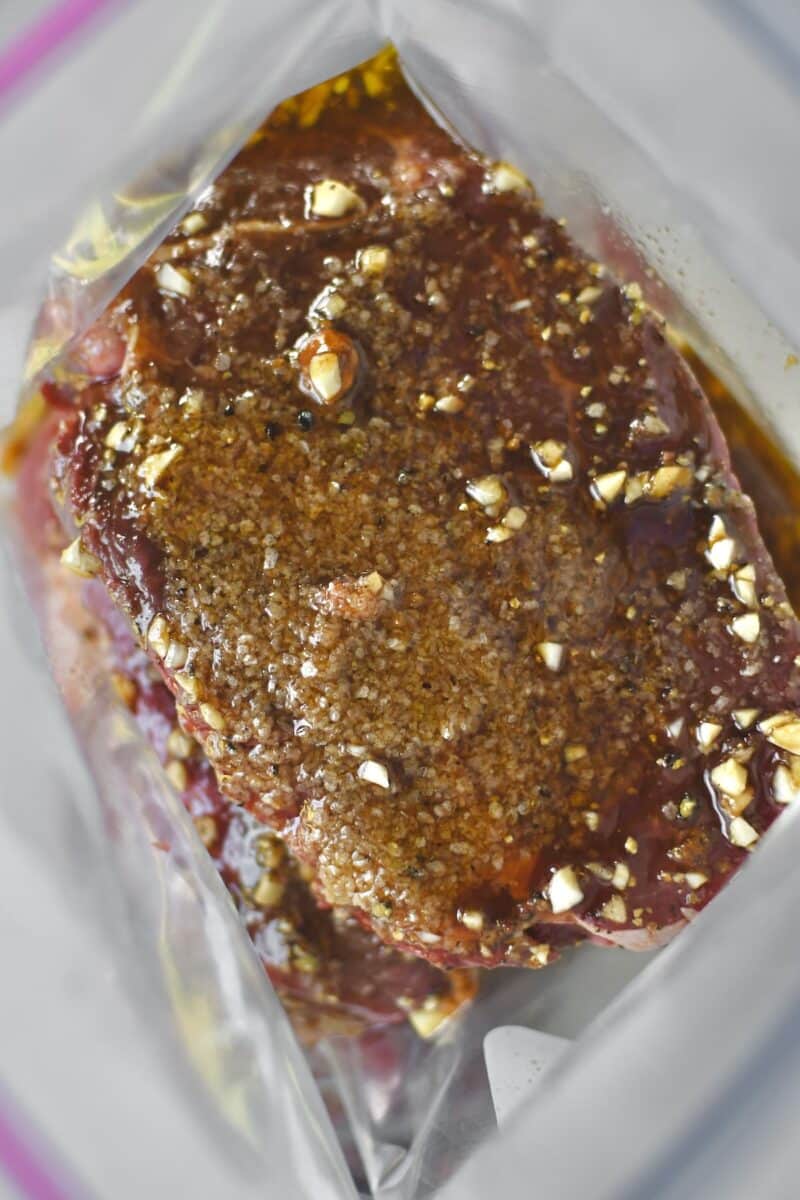 Refrigerate the beef until you are ready to cook it. This can be anywhere from a couple of hours up to overnight. And don't forget to pat the beef dry after removing it from the bag and sprinkle it with a little bit of salt and pepper too, just before cooking.
You can then sear the steaks in a cast iron pan or cook on a grill. I personally prefer the grill outside. This is a recipe I typically make in the summer, so it lends itself perfectly to being grilled.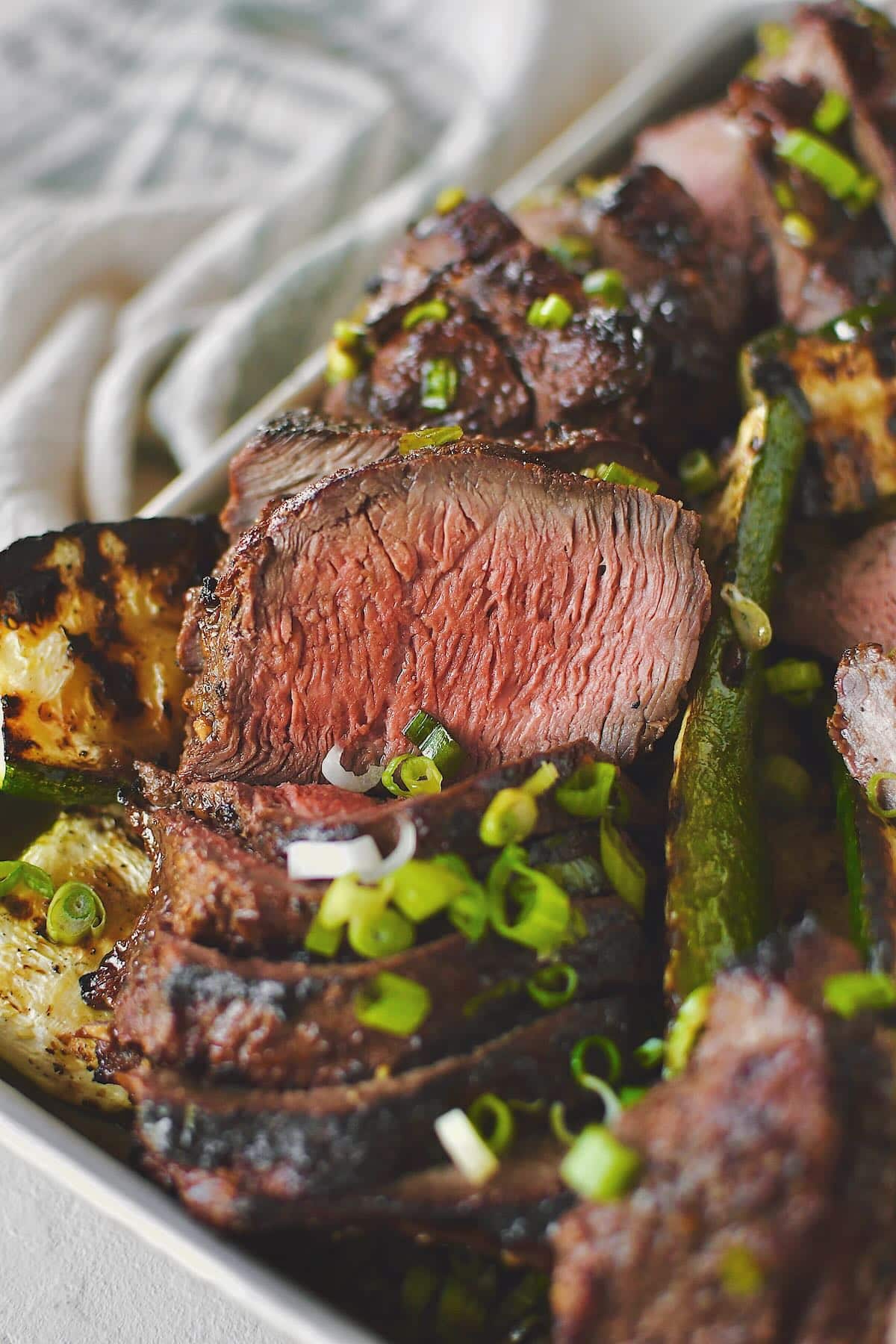 Notes & Tips
If making more than 2 pounds of steak, double the recipe. The flavor doesn't carry quite as well if you use more beef.
The longer the steak rests in the marinade the more flavor it will have. 1-2 hours are ok in a rush, but if you can make the time let it rest for at least 8. Remove the marinaded steak from the fridge 1 hour before cooking to allow the meat to temper, this will also intensify the marinade a bit just before cooking.
You can use just about any cooking method with this marinaded steak. Grilled, air-fried, or sous vide all work with this recipe.
Here is a guide, pick the perfect temperature to cook your steak.
Rare: 115 to 120°F (46-49°C)
Medium-Rare: 120 to 125°F (49-52°C)
Medium: 130 to 135°F (54-57°C)
Medium-Well: 140 to 145°F (60-63°C)
Well-Done: 150 to 155°F (66-68°C)
Substitutions
A good swap for honey is maple syrup. Be sure to use real maple if you do use that swap. Agave can also be used.
I prefer tamari because it is a little less salty than regular soy sauce, and bonus it is gluten-free for those who need it. You can use regular soy sauce though if that is all you have access to.
If you can not find roasted garlic powder, you can use regular garlic powder. Just be sure to use a fine powder and not granulated garlic. Swap for only fresh garlic if needed.
I prefer using olive oil for the extra flavor it brings to the marinade. But you could also use vegetable, avocado, or grapeseed oil if needed.
I use this marinade in this recipe to help tenderize and add flavor to the very economical cut of sirloin steak. It can also be used on a more expensive cut, but I don't suggest using it on a fattier cut of meat. Leaner cuts benefit more from the extra flavor.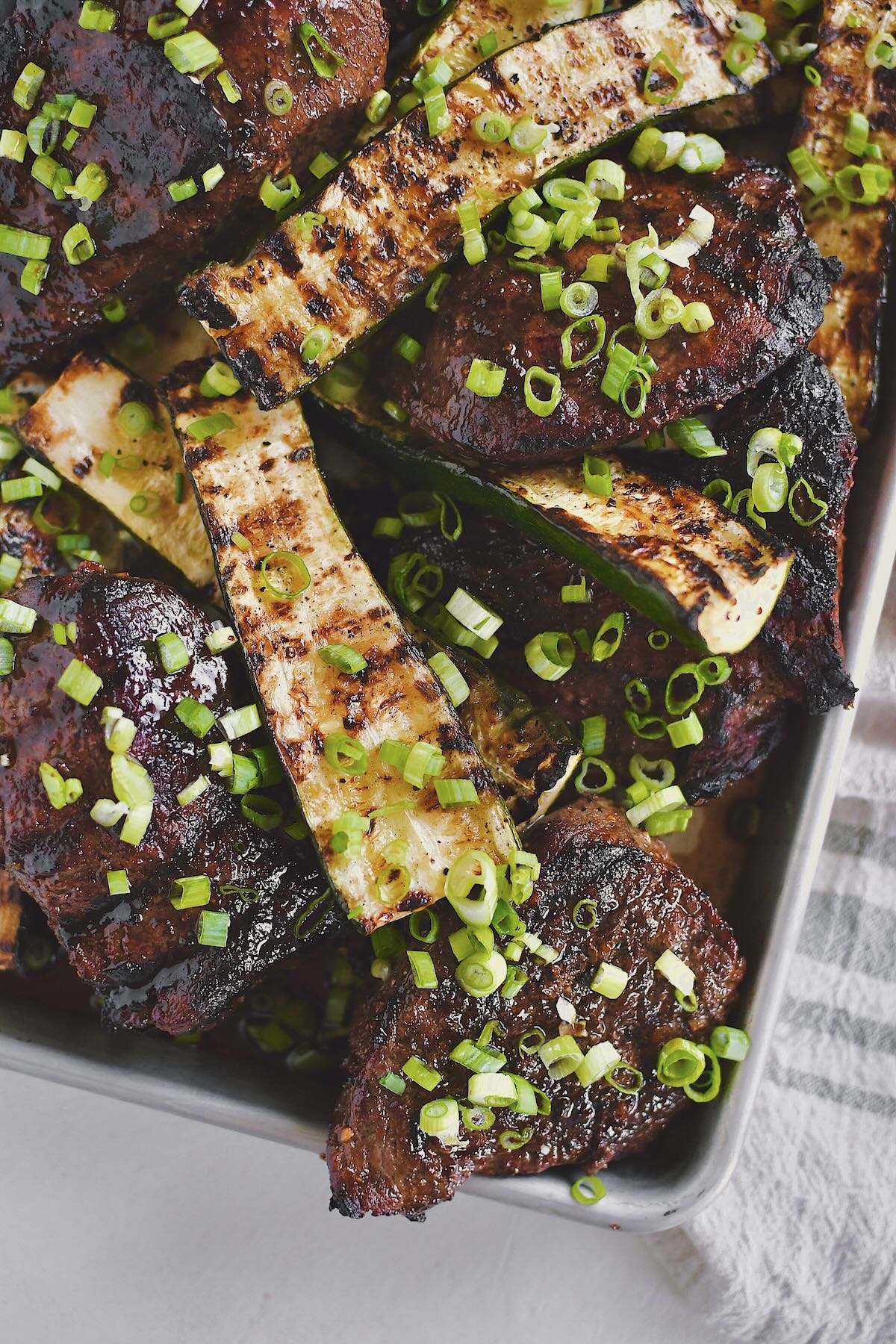 Perfect Sides for Grilled Meats
Did you make this recipe? Let me know by leaving a review or comment! And be sure to sign up for my newsletter, and follow along on Instagram, Pinterest, and Facebook!