From the research I have done, this is a very traditional Irish dish, but as with many things, it has become revised in America, and not for the better in my opinion. I have read many recipes that are called Colcannon, which would, in fact, be referred to as Champ in Ireland. So here is a more traditional version, closer to what you might get if you actually ordered it in Ireland.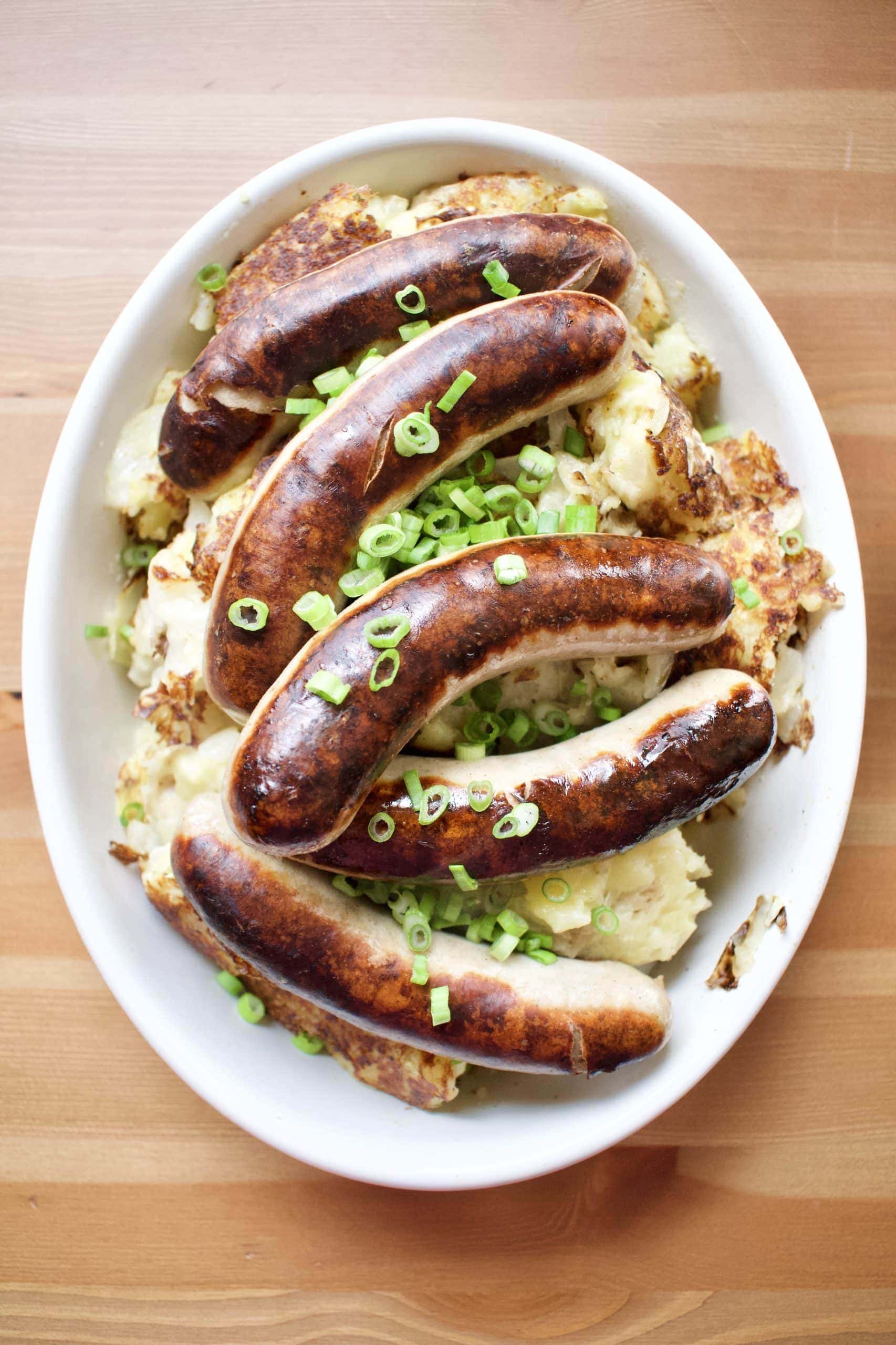 I served my Colcannon under some traditional Irish bangers that I found at Costco. They usually show up just after valentines day and seem to sell fast so I always grab a package or 2 when I see them and throw them in the freezer for St. Patricks Day.
Traditional Irish Colcannon
I have this old cookbook of traditional Irish cooking that shares this history of the food culture in Ireland and that is where I started to make this recipe from. Colcannon is a mixture of cooked mashed potatoes and cabbage, that is then cooked again by frying in butter till browned.
I kind of view this as this Irish version of a latke that used mashed vs. shredded potatoes. They mention in the cookbook that you can also make it using kale, but I have to imagine that kale wasn't something that was readily available at the origination of this dish. I choose to go with a regular ol' green cabbage but feel free to pack in the kale if you'd like.
The book also states that Colcannon would have been most traditionally associated with Hallowe'en, when it is likely to be made with curly kale and would have a ring hidden in it -- predicting marriage during the coming year for the person who found it. Just a little fun fact about it for ya!
But it would have continued to be made through the winter with green cabbage instead of kale.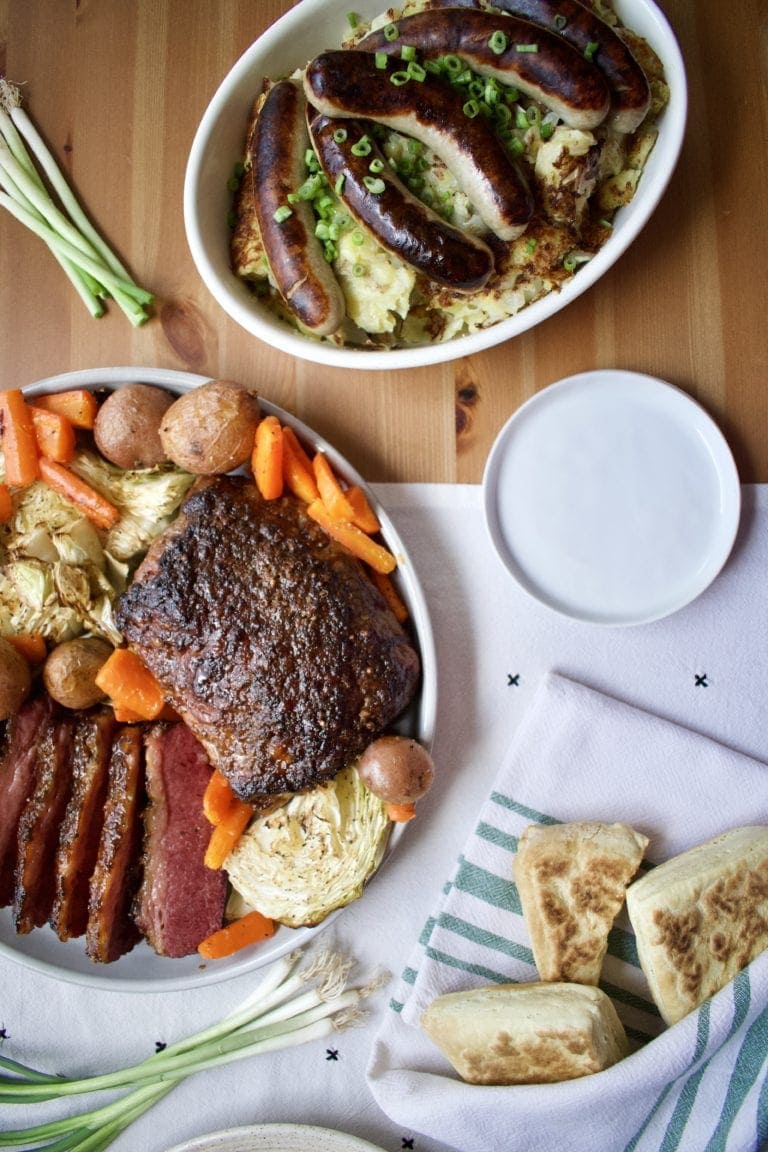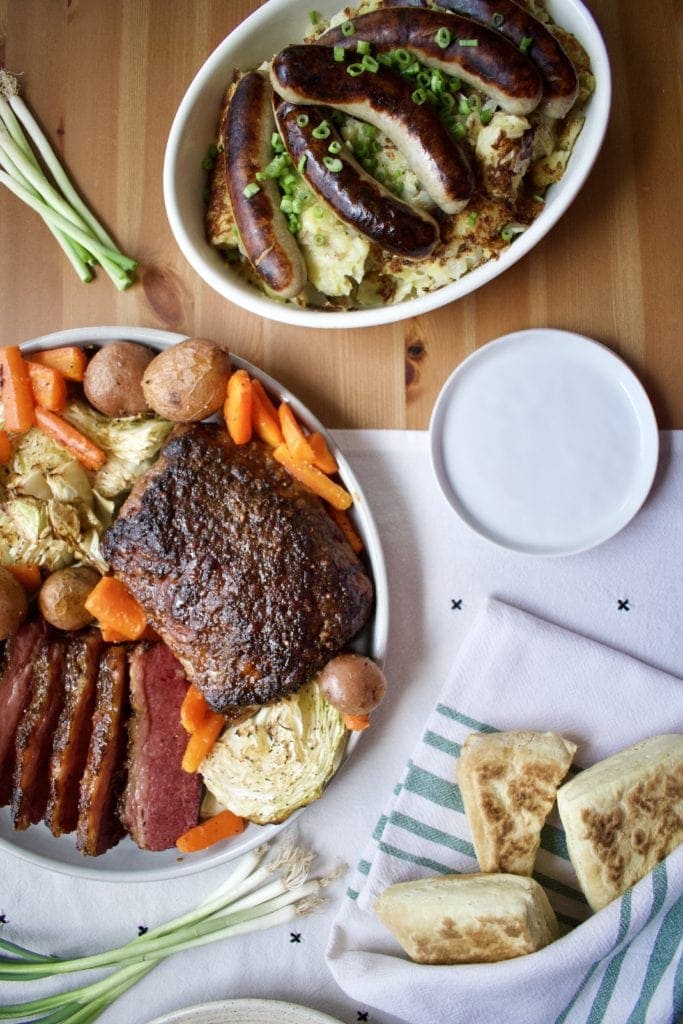 If you want the more Americanized version, something that would be more like what the refer to as "Champ" in Ireland, make a regular mashed potato with milk and butter and mix in a generous helping of green onions.
Making Colcannon
Boil and mash your potatoes, and if they are very thick, add just a splash of milk to loosen them up a little bit.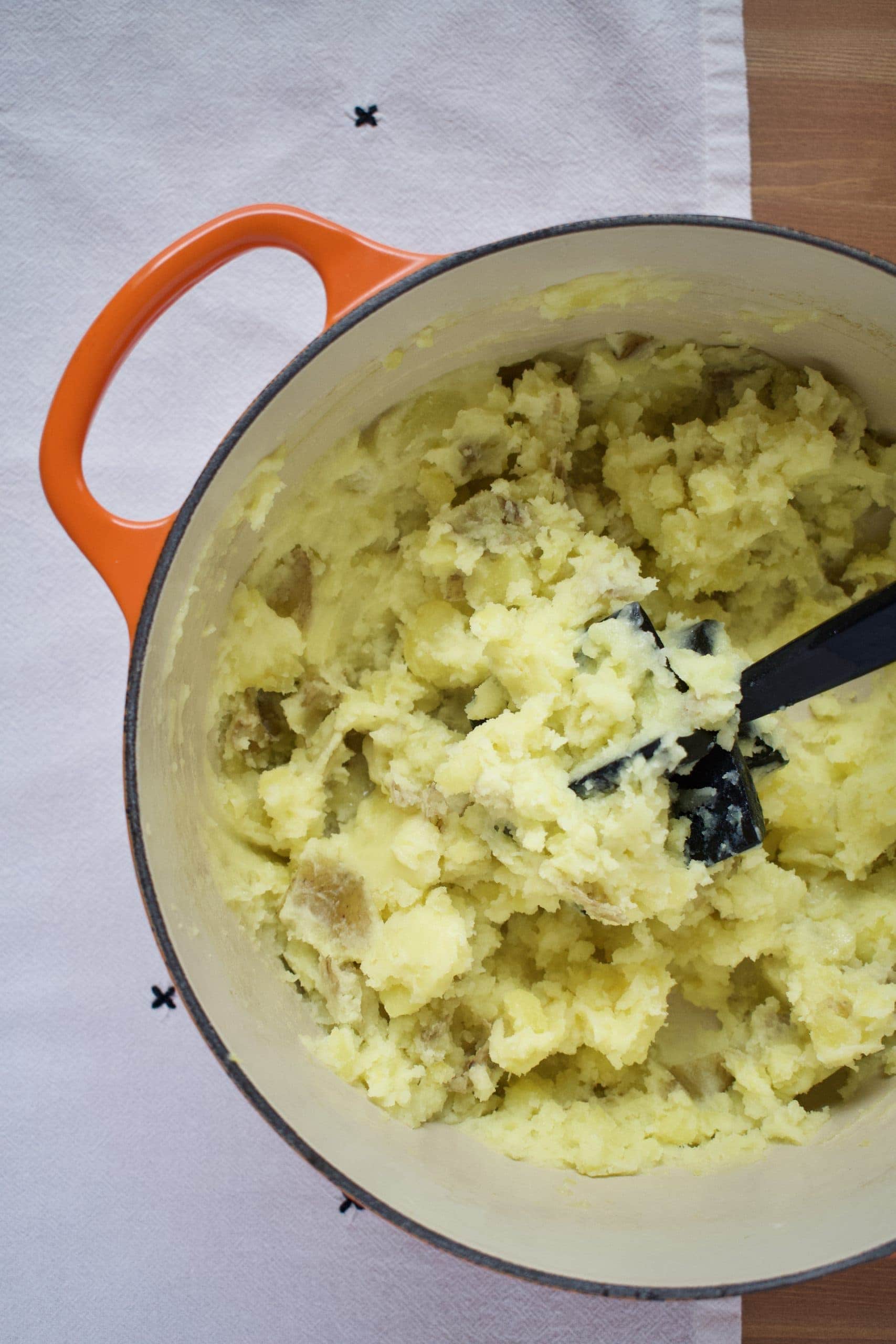 While the potatoes are boiling, roast or sautee some cabbage. Chop it up and add to the mashed potatoes.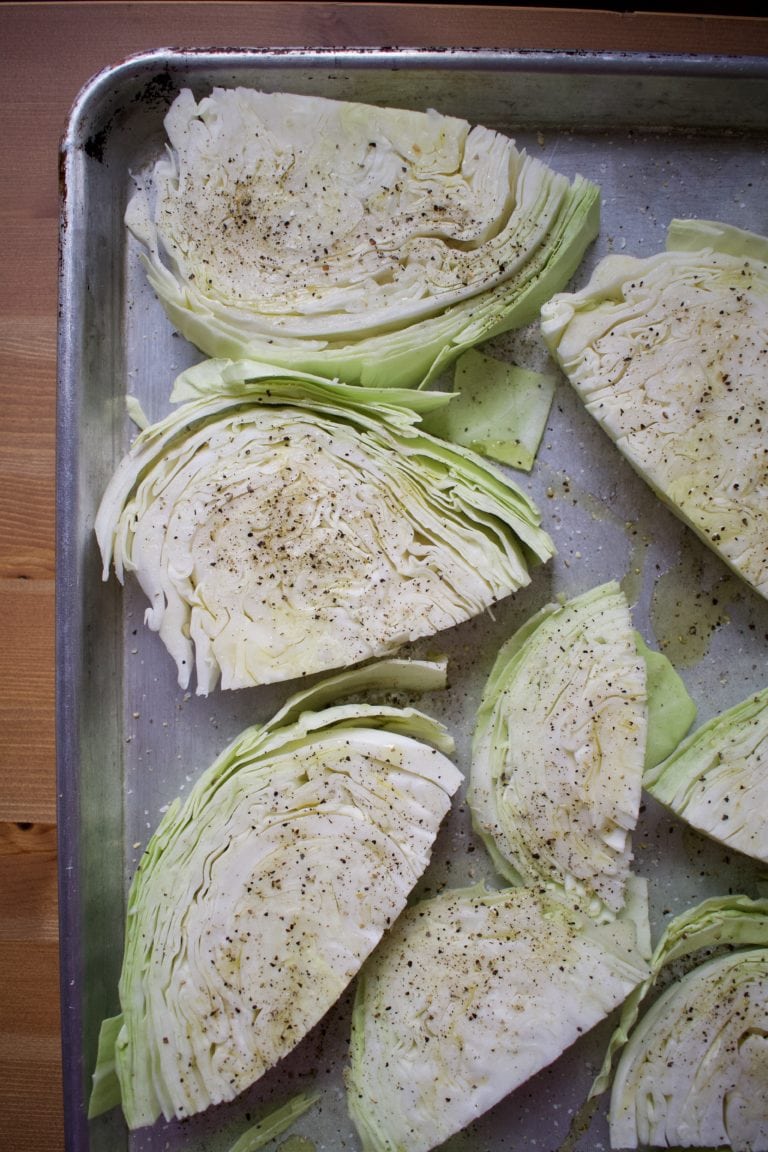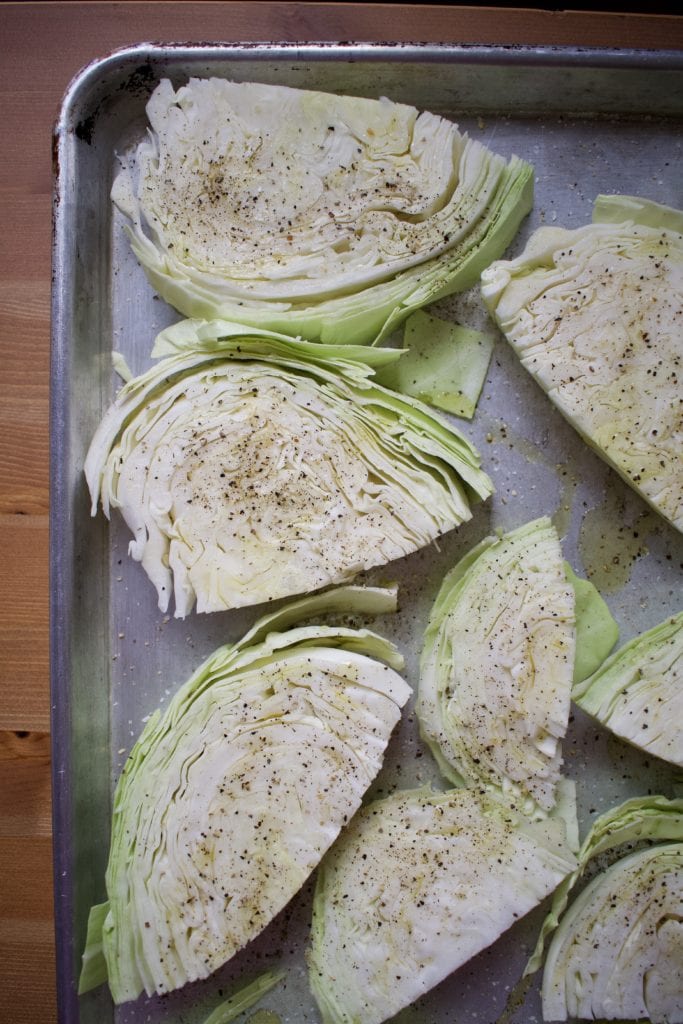 Then fry the potato and cabbage mixture in butter until browned on each side. I do this in two batches and flatten out the potatoes into big cakes about ½ inch thick. Break it into 4-5 pieces and flip.
Serve alongside some browned Irish bangers or with your Corned Beef and Cabbage on St. Patrick's Day.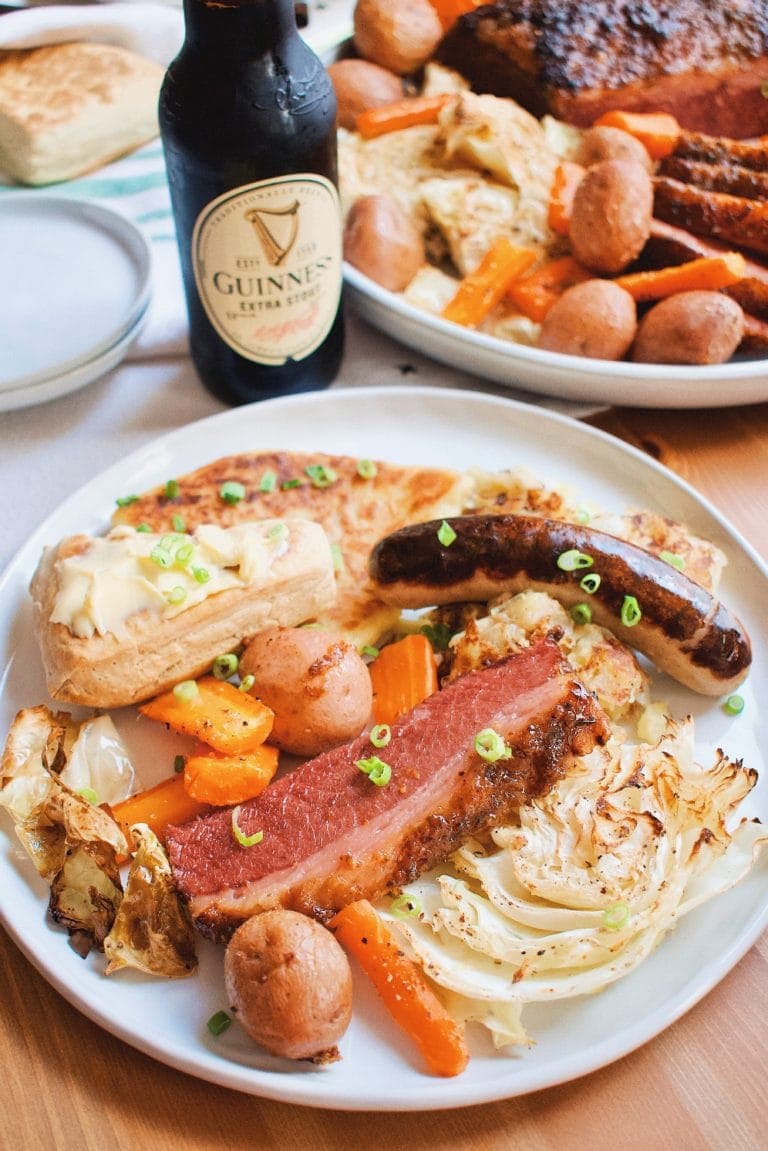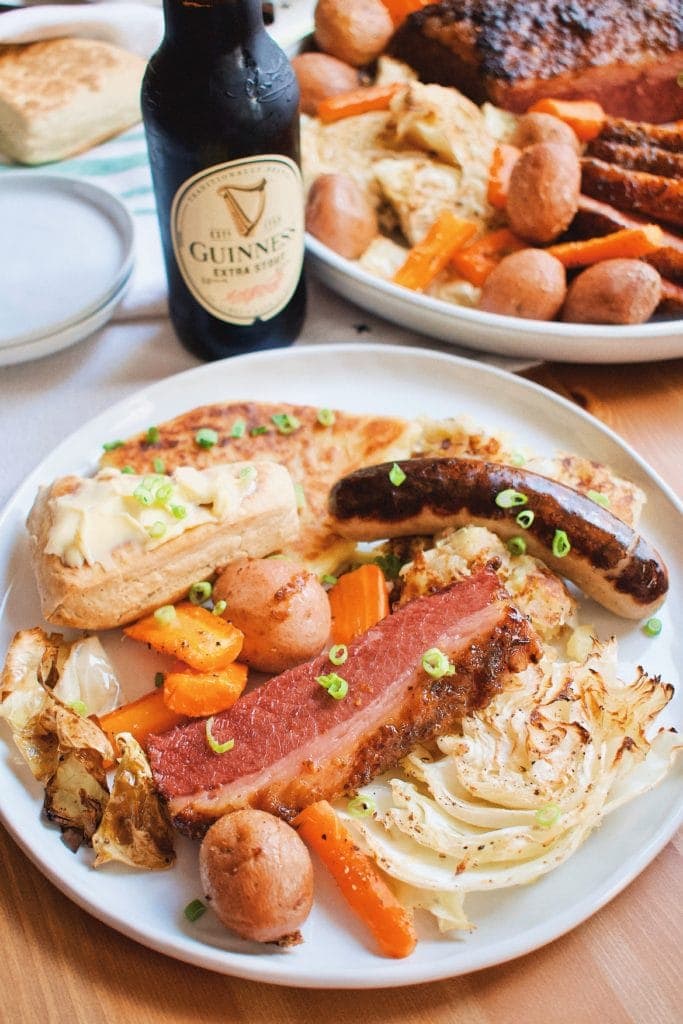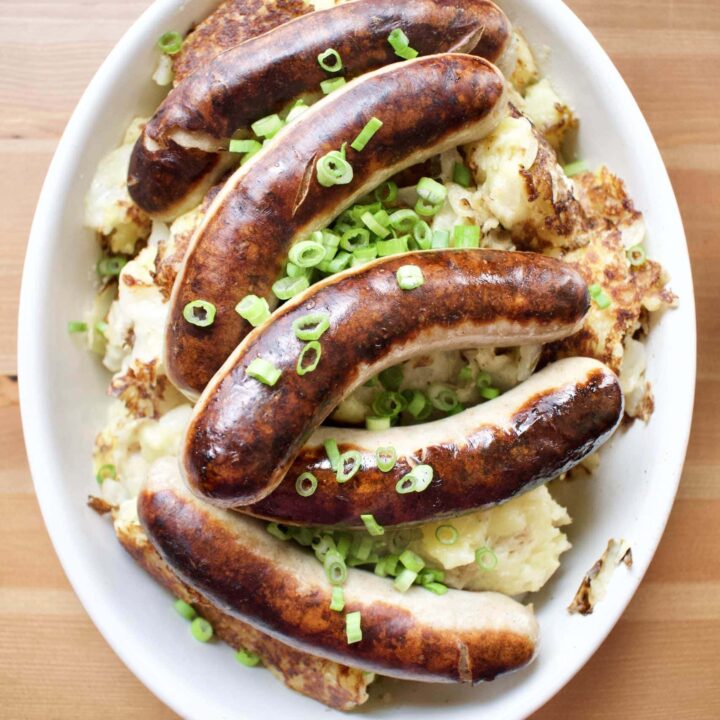 Colcannon
This traditional Irish potato dish is especially associated with Hallowe'en when it might be served with curly kale, but is most commonly served through the winter most often with green cabbage.
Ingredients
1.5 lb Yukon Gold Potatoes, peeled and boiled
Whole Milk, as needed
6 tablespoons Irish Butter
1 lg Onion, diced
Kosher Salt and Fresh Cracked Black Pepper
Instructions
Mash the cooked potatoes and add the chopped cabbage. Mix to combine and season with salt and pepper. Add a splash of milk to mixture if it is very thick.
Melt 2 tablespoons of butter in a large frying pan and cook the onions in it until translucent and soft, 2-3 min. Remove from the heat and add to the potato mixture.
Working in 2 batches, melt 2 tablespoons more butter in the pan and place half the potato mixture in the pan. Flatten it out like a pancake and cook until browned on one side. Divide the cake into 4-5 pieces and flip. Continue cooking until browned on the second side. Remove from the pan and repeat this process.
Serve as a side or as an entree with more butter, or alongside corned beef or Irish bangers.
Notes
The traditional recipe says to serve them with more butter on top, I felt they had enough and was worried my stomach wouldn't be able to handle it so I refrained, they were still absolutely fantastic with the bangers and a generous sprinkle of green onions on top!
Nutrition Information:
Serving Size:

1 grams
Amount Per Serving:
Unsaturated Fat:

0g
If you make this recipe, please let me know by leaving a review at the bottom of this page!
And make sure to sign up for my newsletter and follow along on Instagram, Pinterest, and Facebook for more KendellKreations!
MY LATEST RECIPES!
Get my NEW e-Cookbook here!! ⬇️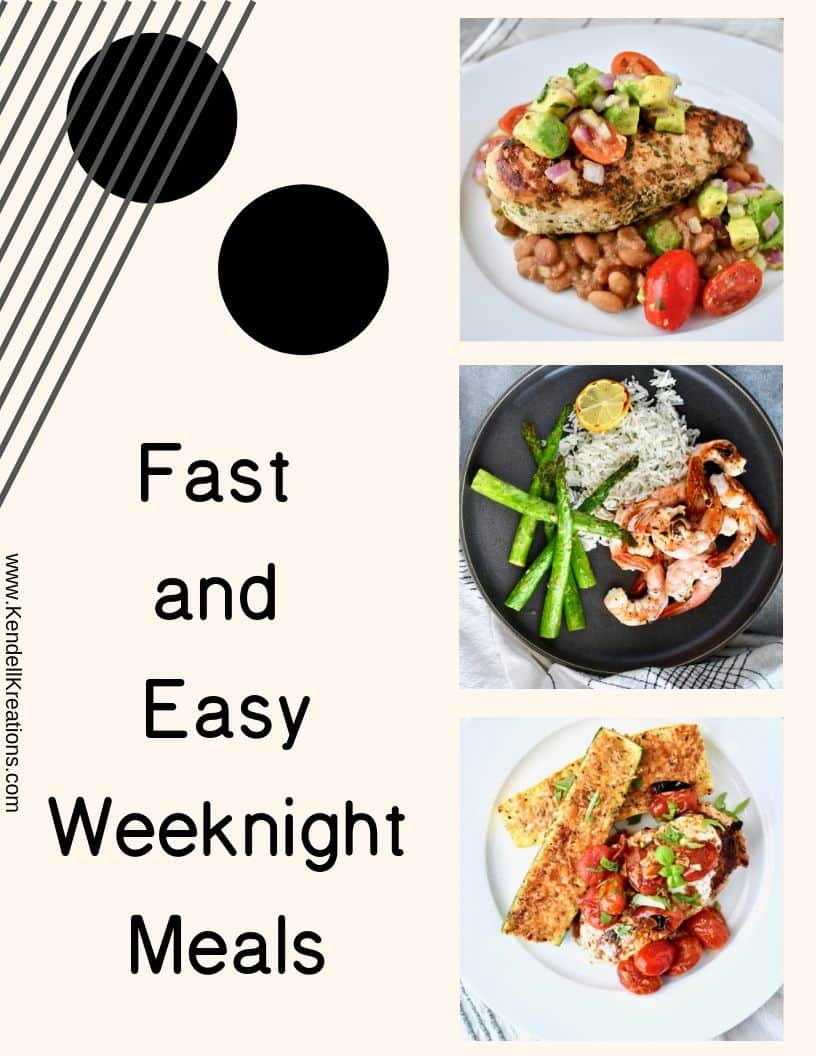 MY FAVORITE KITCHEN TOOLS!
Here are a few links to some of my favorite kitchen tools! You get a car, YOu get a car, YOU ALL GET A CAR…in my best Oprah voice
These Rösle Silicone Tongs are a little pricey but they will last you the rest of your life and are the softest in your hand. This is important for someone like m that cooks so much. It reduces strain, I have 4 sets in my kitchen!
These are my FAVE Nordic Ware Sheet Pans, every kitchen should have at least 2 sets of these! I think I have at least 4 of each of these.
This is my favorite pressure cooker, the Fagor is the same concept as the "Instant Pot" but easier to use in my opinion, if you don't have one you NEED one, it will be your best friend in the kitchen!
A sharp knife is the most important tool in the kitchen, these Japanese steel "Shun" knives are my favorite! And this is a great starter set to build on. Once you try them you will be in love so use this as a foundation you can build on for years to come.
This Scanpan 11″ skillet is just the right size for almost anything you will need to cook and my best friend and a real workhorse in my kitchen, it's also a great deal at $99. Scanpan is the best in the world for healthy cooking. It is coated with a proprietary ceramic-titanium coating that is durable while allowing you to use fewer fats and oils when cooking. It is a coating only they use. I could talk all day about my love for these pans, message me if you want more info. Here are some other sizes that are available if you are looking to outfit your kitchen with some new goodies. 8″ & 10″ Skillet set or 8″ Skillet, I still need this one for my kitchen Also, I don't really know how to cook small so the 12.5″ is my other fave!
This giant vat of olive oil is my favorite, I decant it into a smaller bottle for my counter. Or put this spigot on top of a wine bottle!
My favorite baking dish that is so easy to clean even burnt on cheese slides right off!
This Tovolo jar scraper has to be my single favorite kitchen tool, it is definitely the most used tool in my kitchen. If you are NOT a gadget person, this is the only necessity I say is a MUST beyond the wooden spoon.
A great wood spoon is essential, this Olive Wood one is my favorite, I have more than I can count. But can you really ever have too many?
A food scale can be a very important tool in your kitchen, this one is the one I use every day!
If you love Joanna Gaines as much as I do then the 'Magnolia Table Cookbook' is a must in your kitchen, get a copy HERE!