If thanksgiving is looking a little different in 2020 you might want to give these mashed potatoes a try for your feast. I whipped these up on a whim one night and they got RAVE reviews so I thought I would share the recipe so you can enjoy them too. These Loaded Baked Potato Mashers can be made small or large batch and feel free to pile on the bacon if you want to!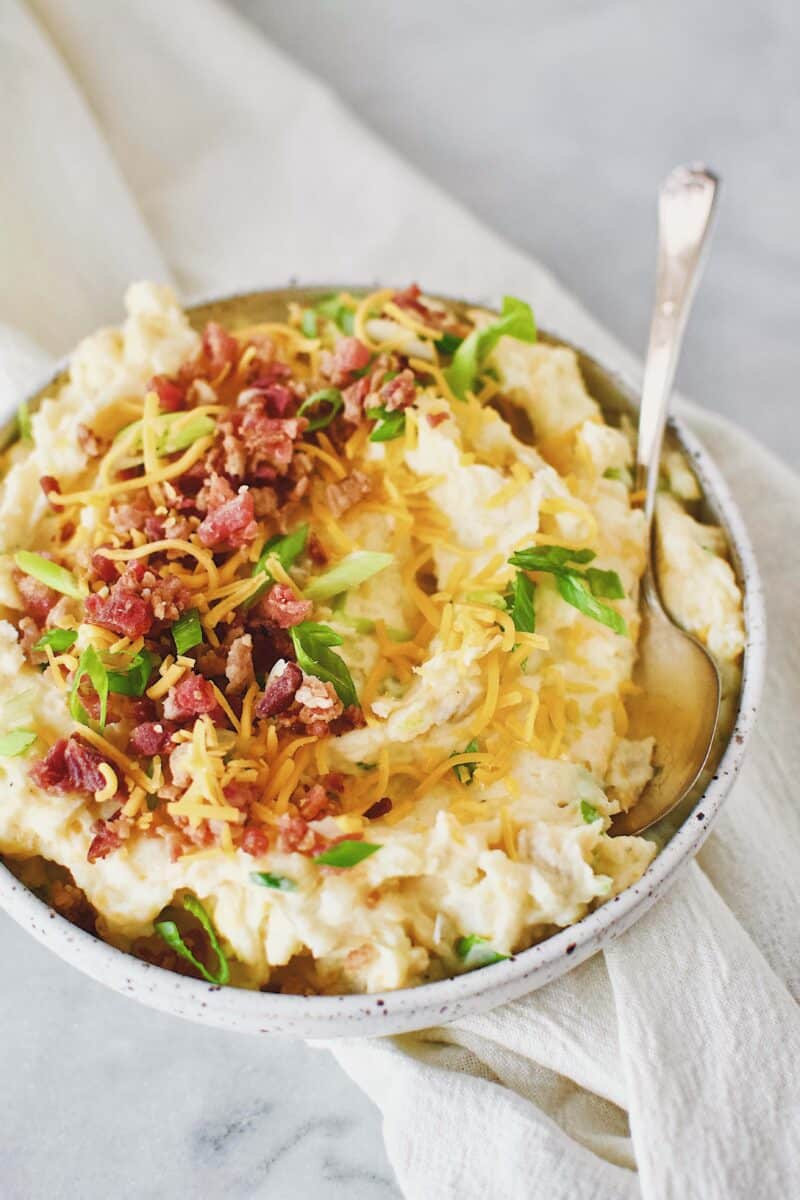 This recipe really couldn't be easier to make, but the keys are all in the process. When working in restaurants I learned from a fellow cook that creaming the hot potatoes and butter together with the salt was EVERYTHING! When you smell freshly salted popcorn wafting from the bowl, you know you have enough salt in them. You can then do anything you want to them.
Add milk or cream, or in the case, bacon, cheese, and sour cream. I even make my famous Whipped Potatoes this way and then add a wheel of Boursin cheese. It's all about the process.
How to make Loaded Baked Potato Mashers!
First, you want to gather your ingredients. Get everything ready while your potatoes are boiling cause once you get them in the bowl and whipping the process moves so fast!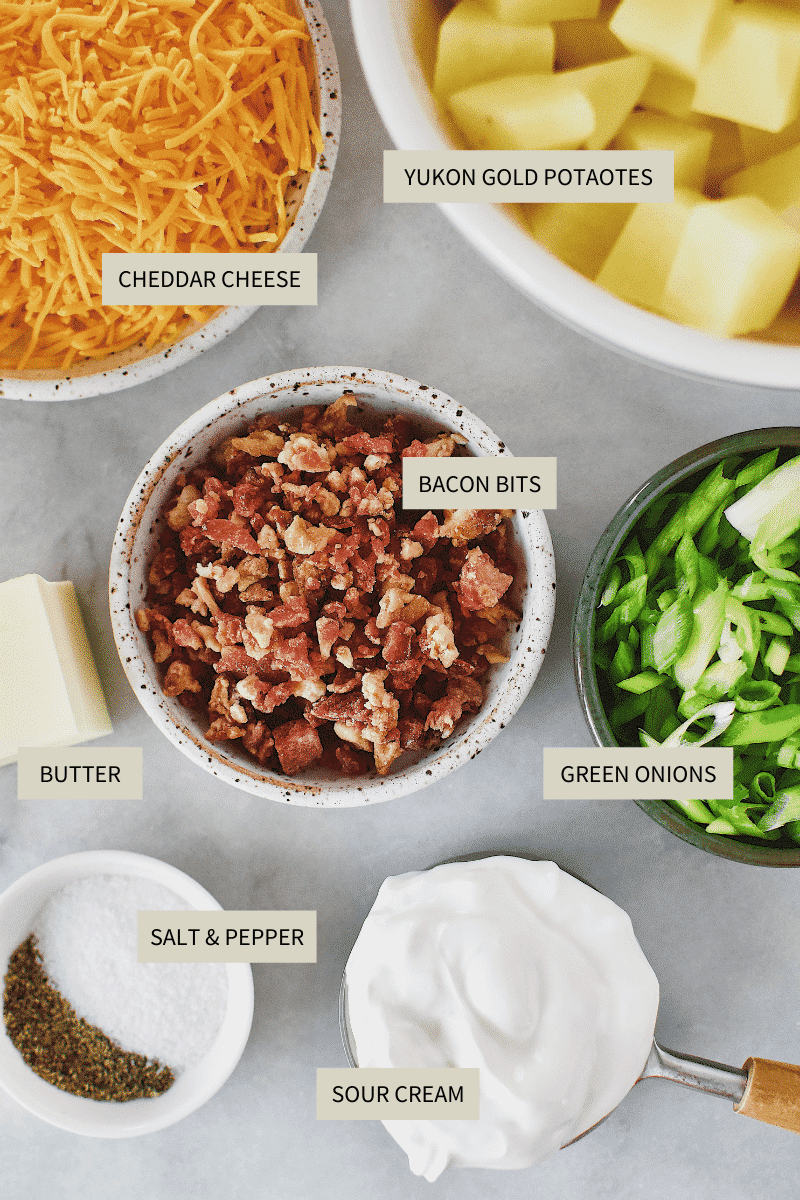 Now, as I said earlier, the success of these being AMAZING rides on the process. First place the cooked potatoes, butter, salt, and pepper in the bowl.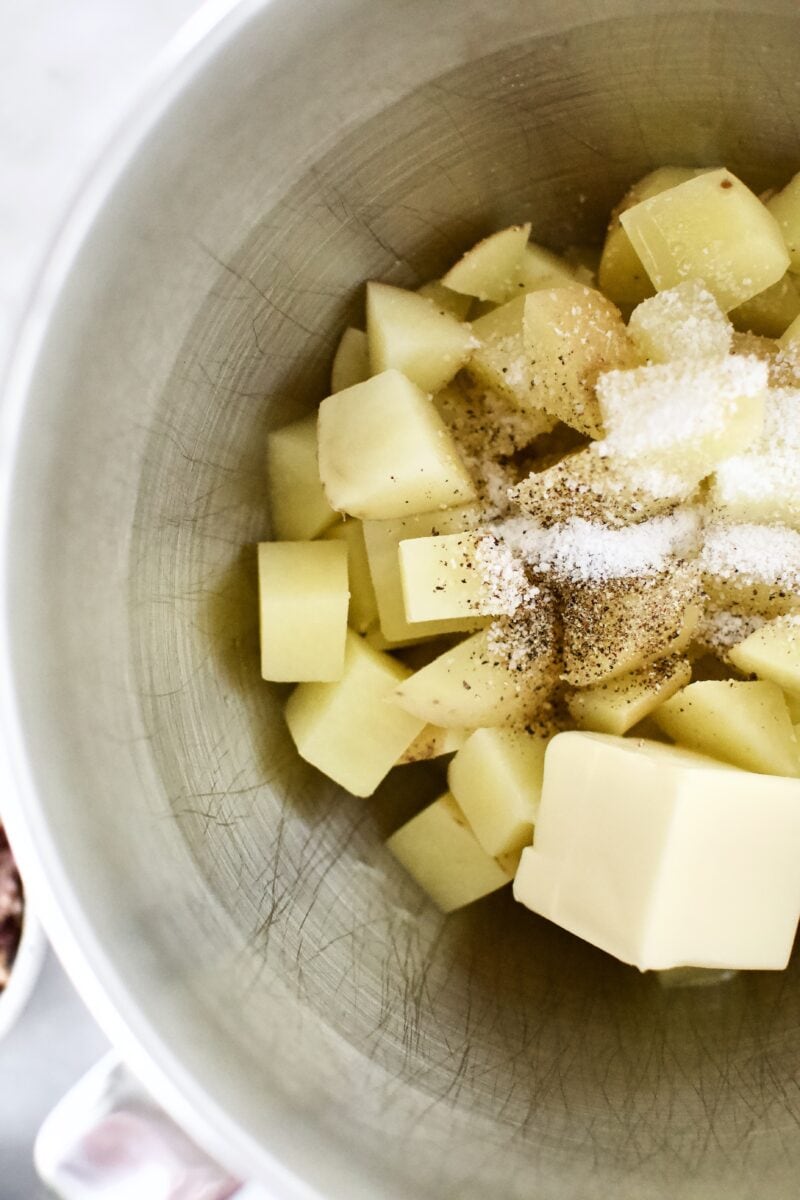 Next, whip them until they smell like buttered popcorn. When this aroma is rising from the bowl, the salt level is right, if you don't smell it, taste and adjust the salt as needed. They should be kind of "salty" because that flavor will be knocked down when you add the sour cream and cheese.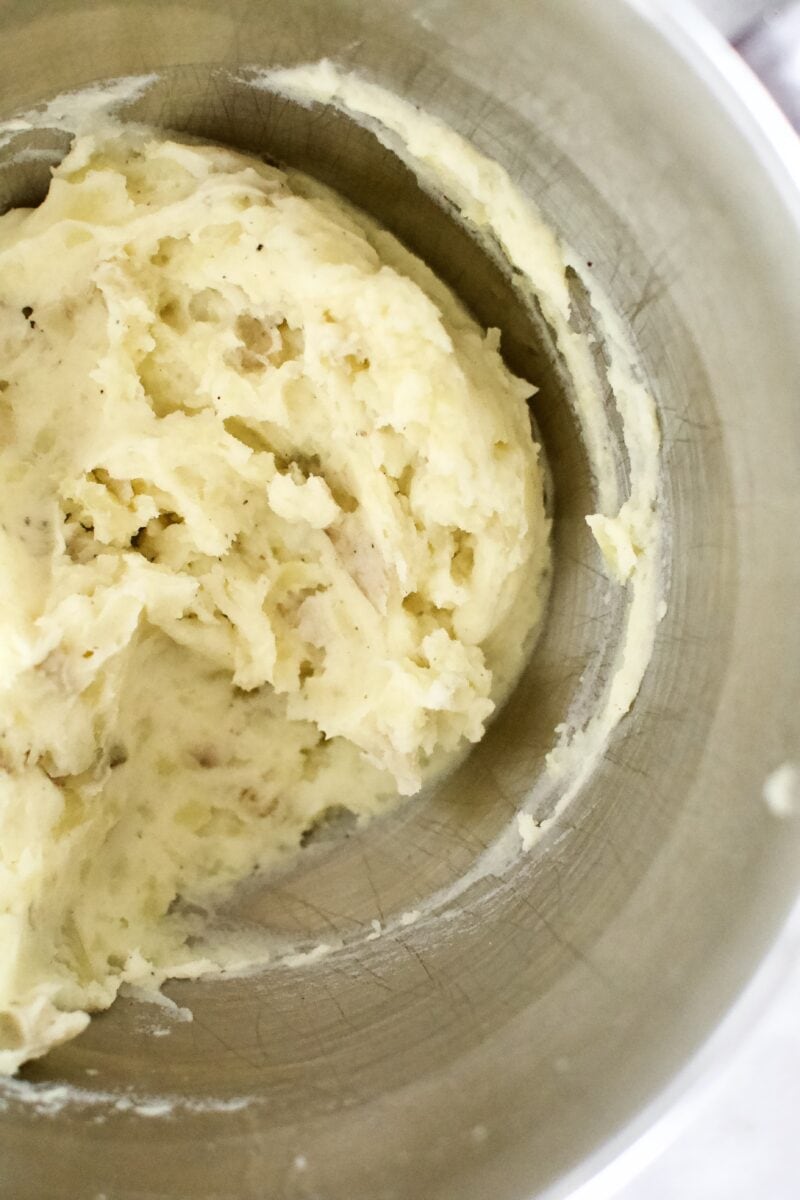 Now we can add in out flavorful mix-ins. Add the cheese, sour cream, and green onions to the bowl and whip to combine, just for about 10-15 seconds on medium speed.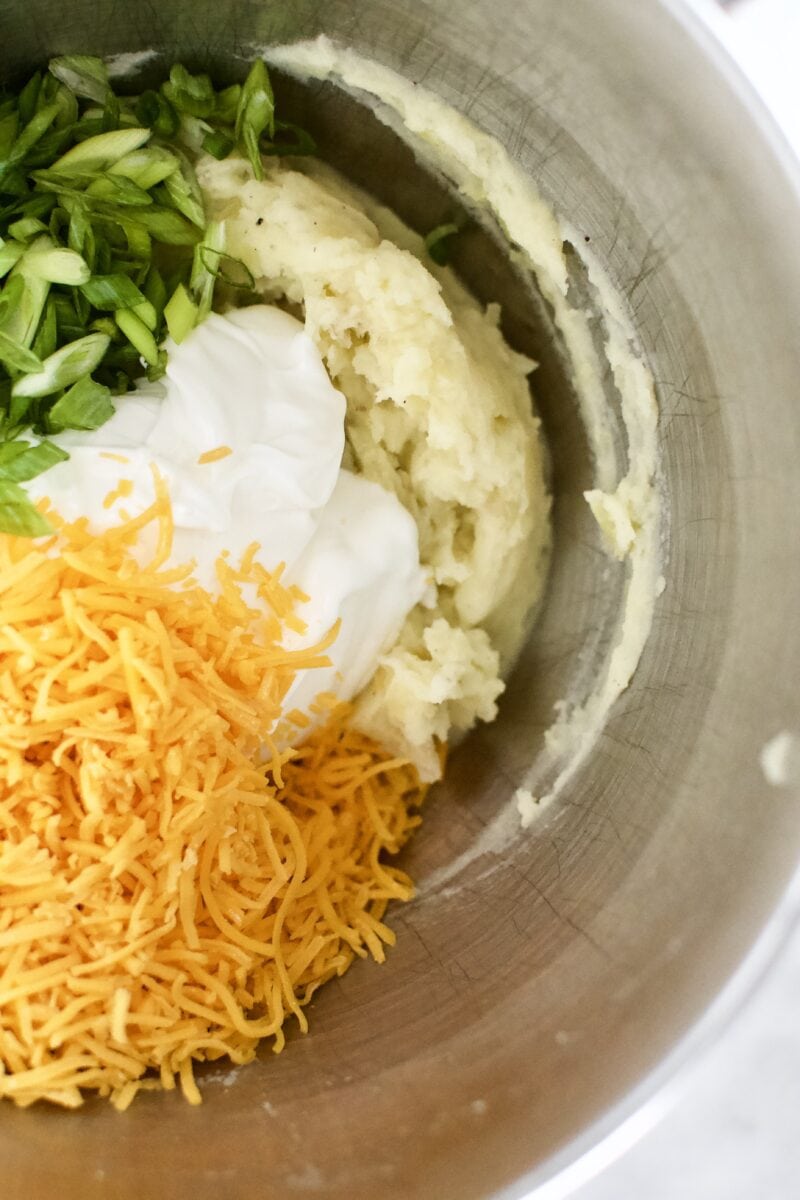 When those are mixed in add the bacon bits and fold the potatoes together. Give them one final taste and add more salt or pepper if needed. I like my potatoes salty and peppery so I usually add a pinch more at this stage.
Scoop the potatoes into a serving bowl and top with more bacon, cheese, and green onions, because WHY NOT!?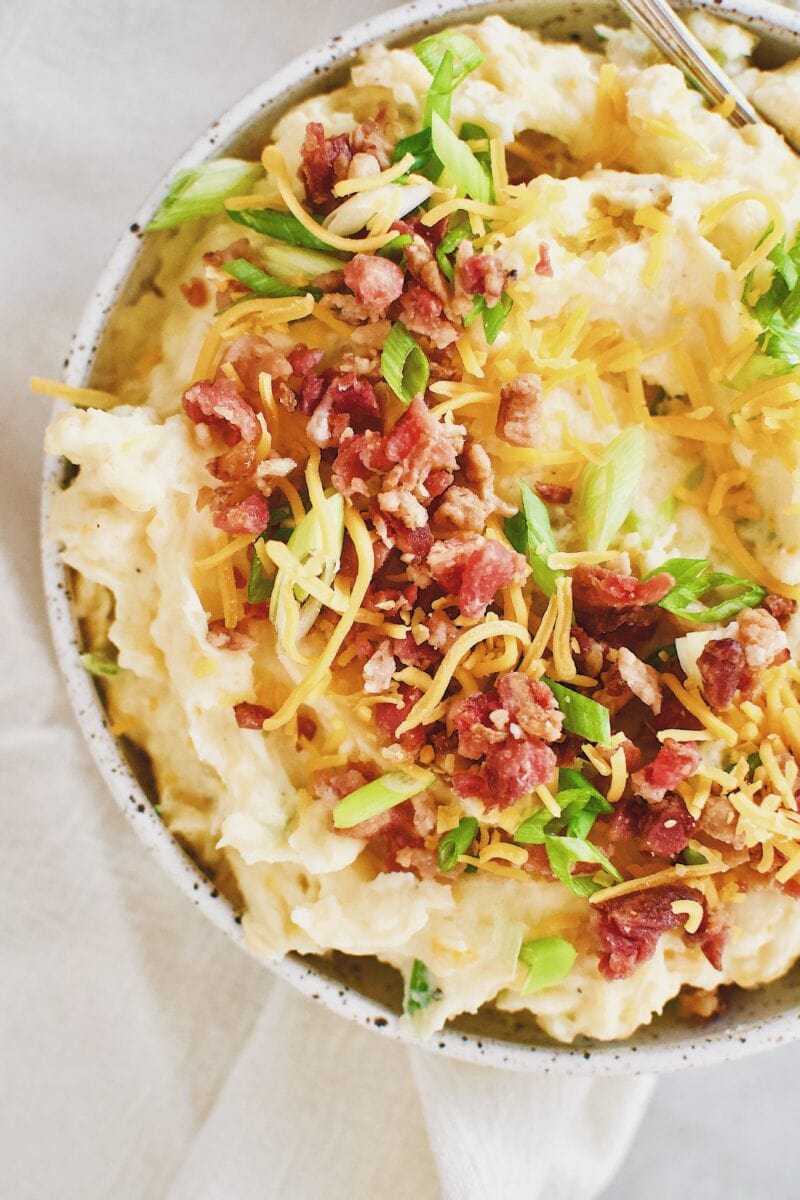 More delicious side dishes!
If you love these potatoes, you are going to love my Whipped Potatoes too! They are creamy and herby and I am world famous for them, they get asked for ALL the time. If you are a meat and potatoes fan like my family you might also love my Smashed Potatoes, I top them with a bacon, tomato, and corn salad that could also stand on its own as a side dish.
If you are looking for more Thanksgiving or Christmas side dishes for smaller gatherings take a look at my Chorizo and Brioche Stuffing or my Green Bean Salad for some fresh takes of holiday sides.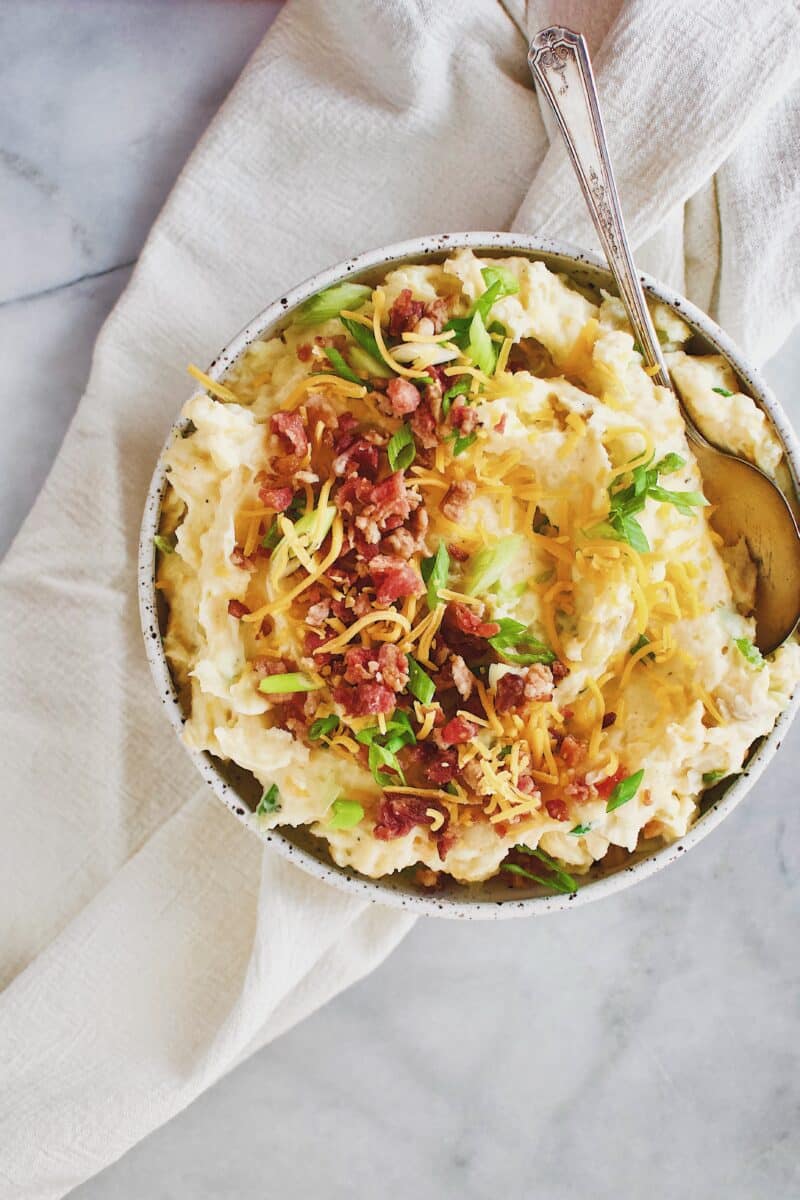 Did you make this recipe? Let me know by leaving a review or comment! And be sure to sign up for my newsletter, and follow along on Instagram, Pinterest, and Facebook.