When produce hits peak summer perfection, make this Tomato Feta Salad every chance you get. Each bite is like a burst of summer in your mouth! Pair it with a perfectly cooked steak and dinner is made.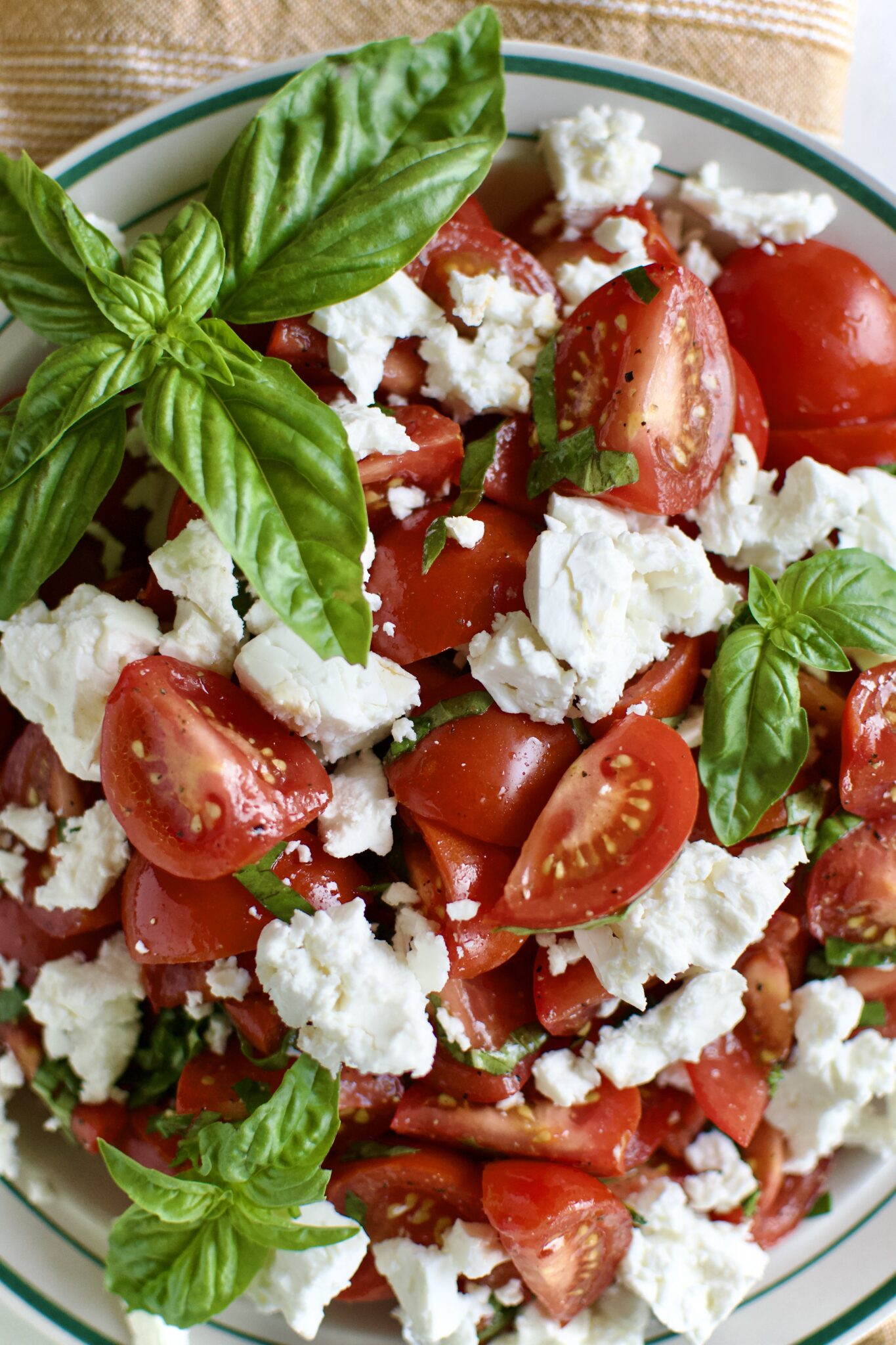 Jump to:
Ingredients
The list of ingredients needed to make this delectable salad is short and sweet. The best of summer produce, using the best tomatoes you can find, and a few pantry staples. Grab some of this Greek Seasoning, it makes for the best flavor in my opinion.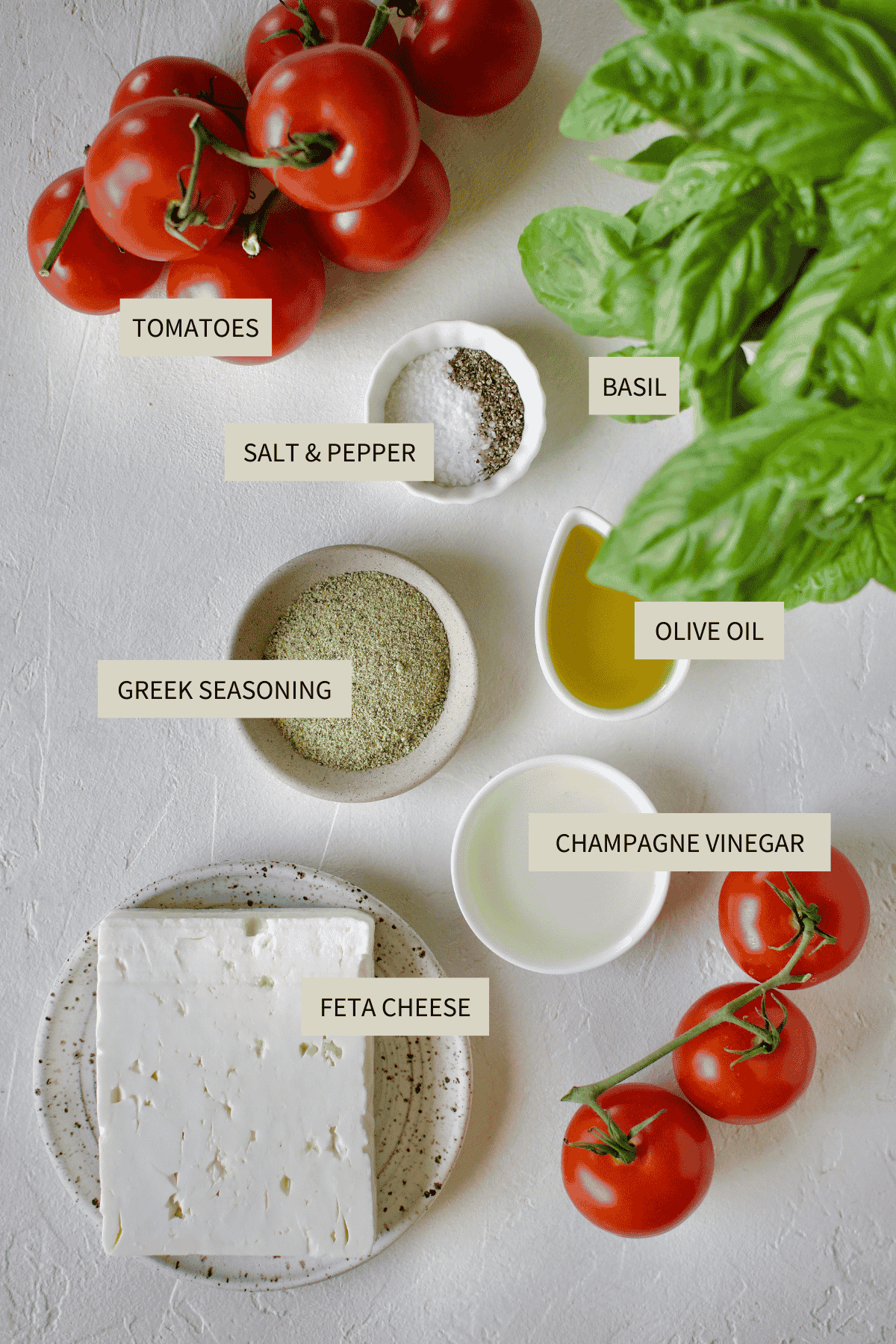 You can use any tomato you like for this salad. Buy the best-looking, freshest ones you can get your hands on. That's what makes this tomato feta salad truly great!
Use the JUMP TO RECIPE button at the top of the post, or scroll to the bottom of the post to see the full recipe card with ingredient measurements and instructions.
Method
Making this salad is simple, but following the method and allowing the tomatoes a few minutes to marinate take it from good to GREAT. First, wedge the tomatoes and place them in a bowl with the oil, vinegar, and seasonings.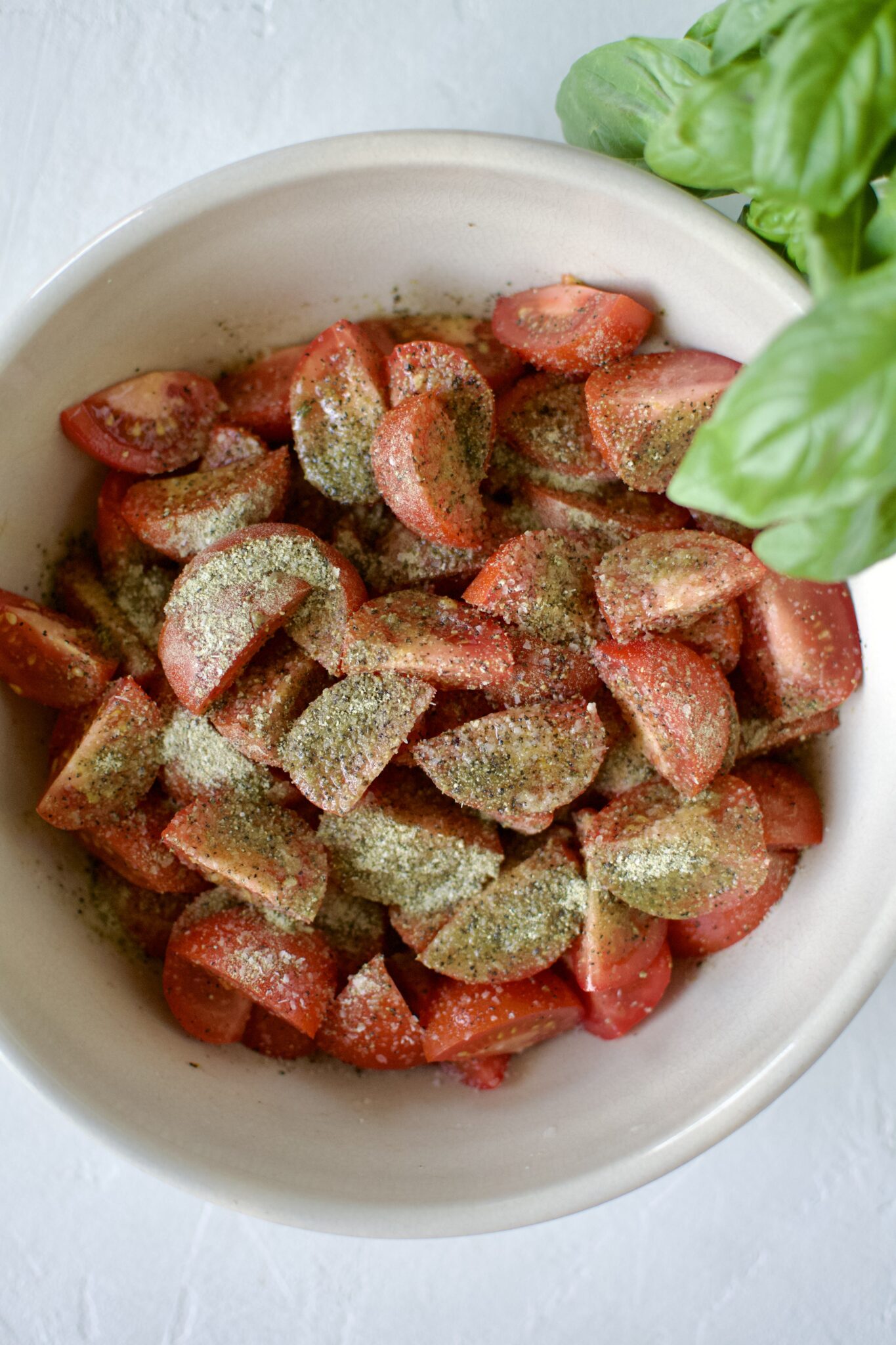 Roll up some basil leaves and slice them thin and add them to the bowl, then toss everything together, gently. Allow the tomatoes to marinate in the bowl for about 15 minutes.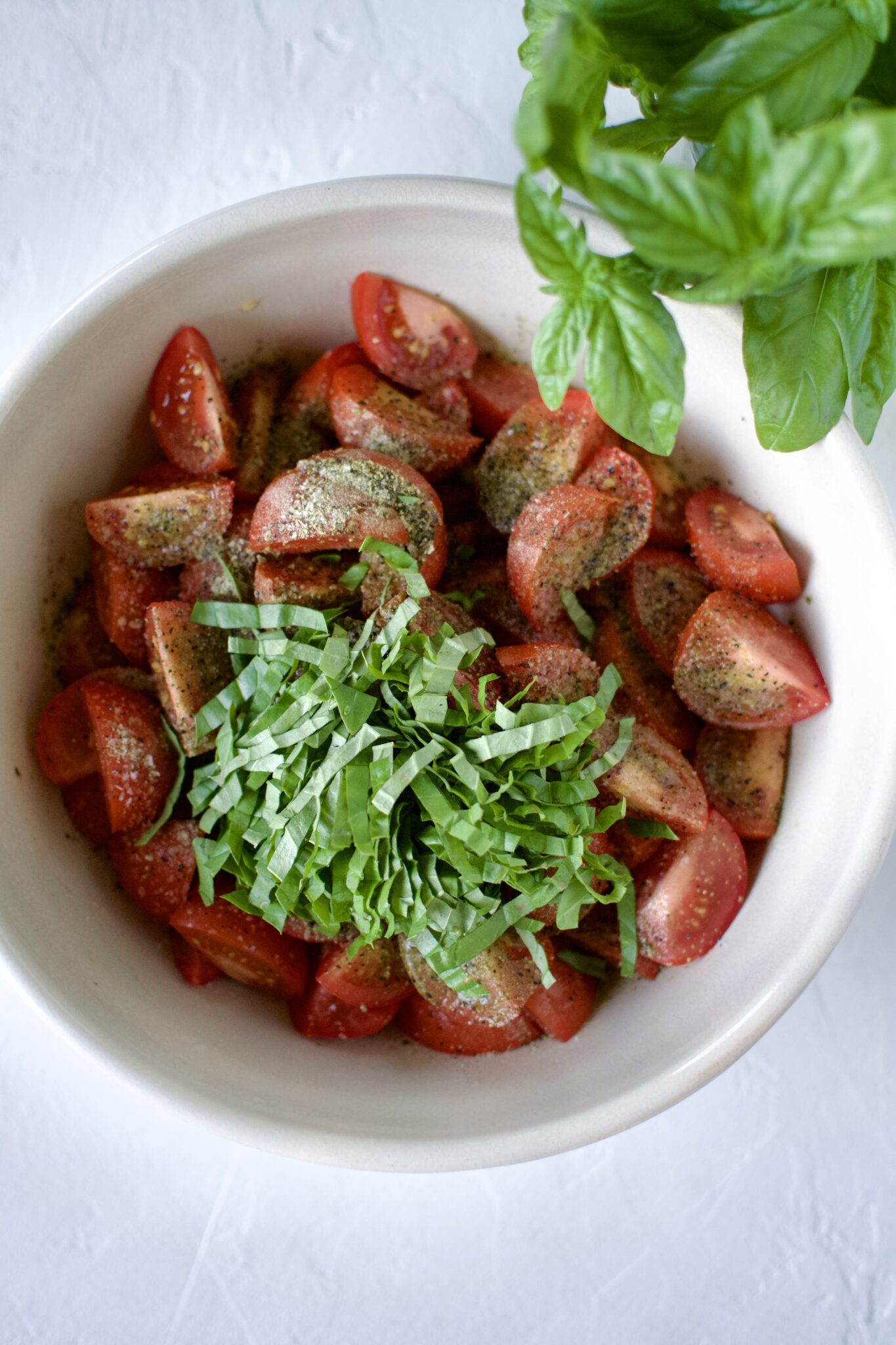 Then lift the tomatoes out of the bowl with a slotted spoon, leaving all the liquid they release behind. Place them on a platter and top with feta cheese and a little more Greek seasoning.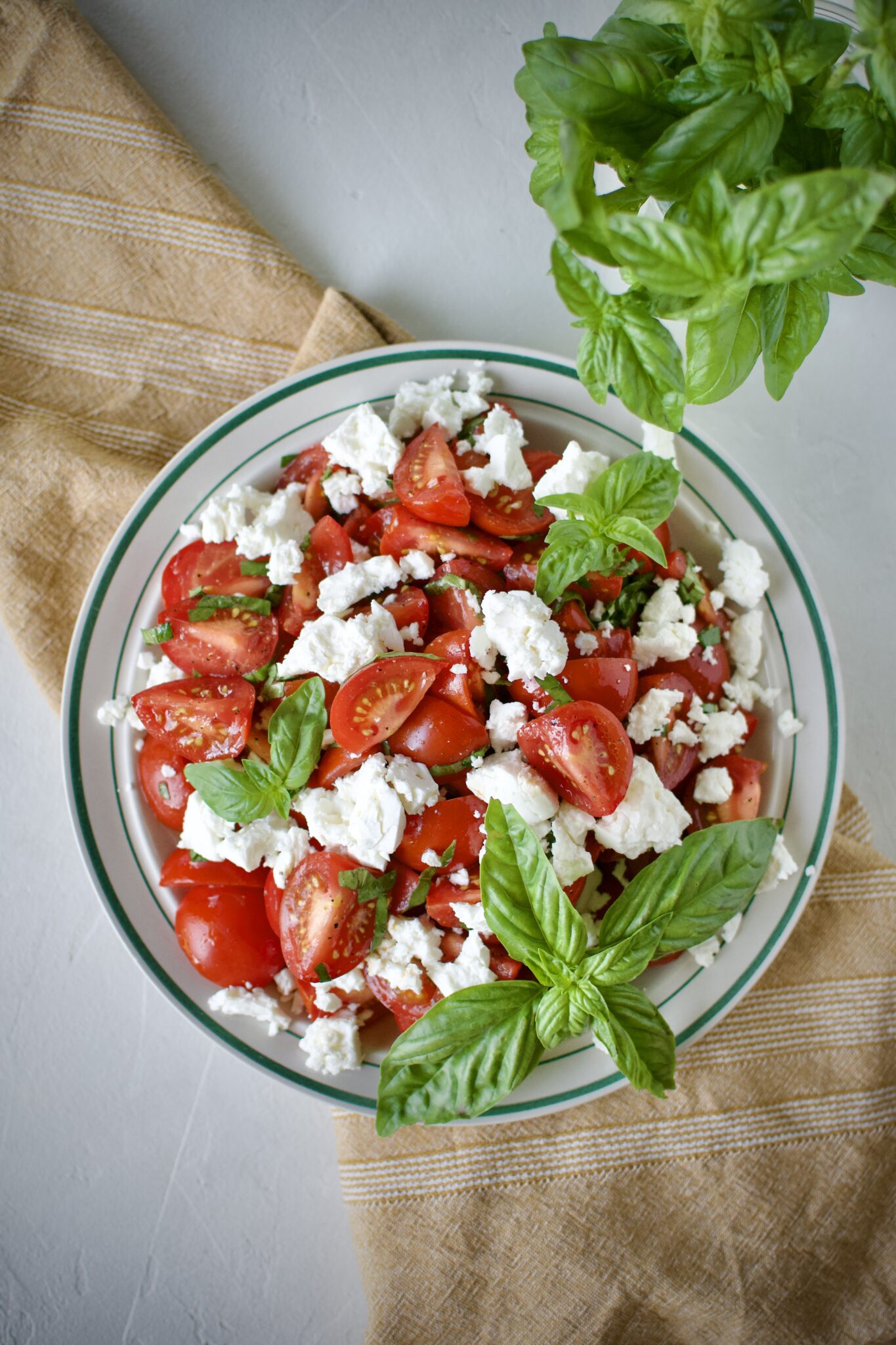 Notes & Tips
Make this salad with tomatoes that are at the peak of perfection. You can really make this with any type of tomato. The ripest tomato you can get your hands on is all that counts. Heirlooms, or as seen here, Campari tomatoes, are my favorite to use. Cherry Tomatoes would be great too!
A good Greek Seasoning is the other important part of making this recipe great. I like to use a salt-free one so I can control the salt level. I also like to use kosher salt for better flavor, most seasonings that have salt in them are iodized salt.
Season the tomatoes and let them marinate, but only for a little bit. Stir them often for 10-15 minutes, but be gentle, you don't want to break them all apart. Let that salt and vinegar seep in and flavor the tomatoes as they release their excess juices.
The tomato juice and everything left in the bottom of the bowl make for a great vinaigrette to use on a green salad. Save it in a jar and put it in the fridge. Zero waste, and tons of flavor!
Substitutions
I like champagne vinegar for the sweet subtle tartness it has, but white wine or white balsamic vinegar could also be used.
A good sheep's milk feta is just about my favorite cheese ever. It's a perfectly salty addition here. But goat's cheese would also be great. Or small mozzarella balls would make it like a tossed tomato Caprese salad.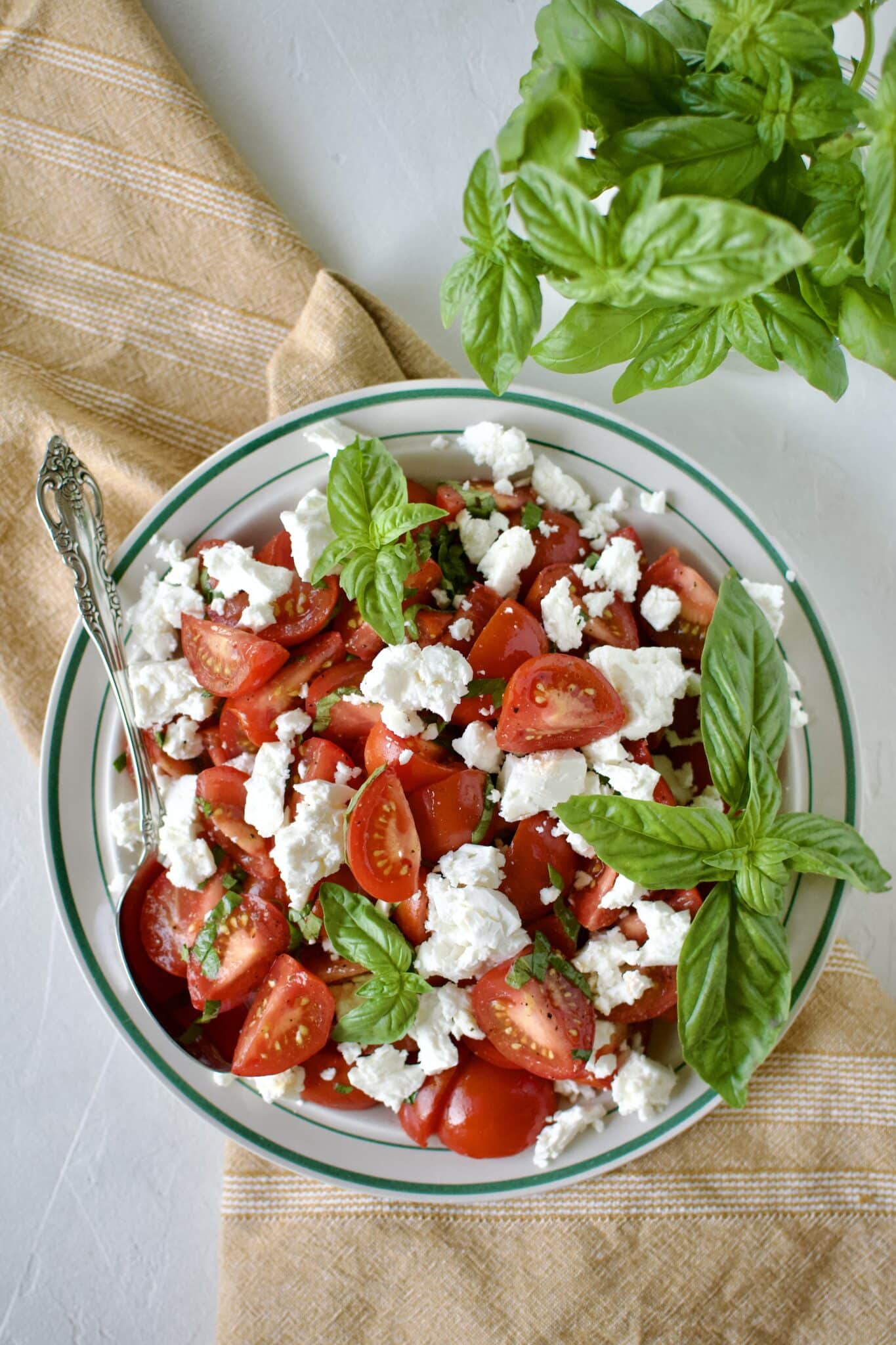 Did you make this recipe? Let me know by leaving a review or comment! And be sure to sign up for my newsletter, and follow along on Instagram, Pinterest, and Facebook!