I absolutely LOVE my Crispy Parmesan Chicken and using it to make this Parmesan Chicken Sandwich is a NO-BRAINER!! It is out of this world delicious and served with some french fries, or a nice salad, it makes for a fantastic dinner any time of year. I typically make this sandwich when I have a few pieces of my "CPC" leftover and either reheat them in the air-fryer or in the oven till crisp again.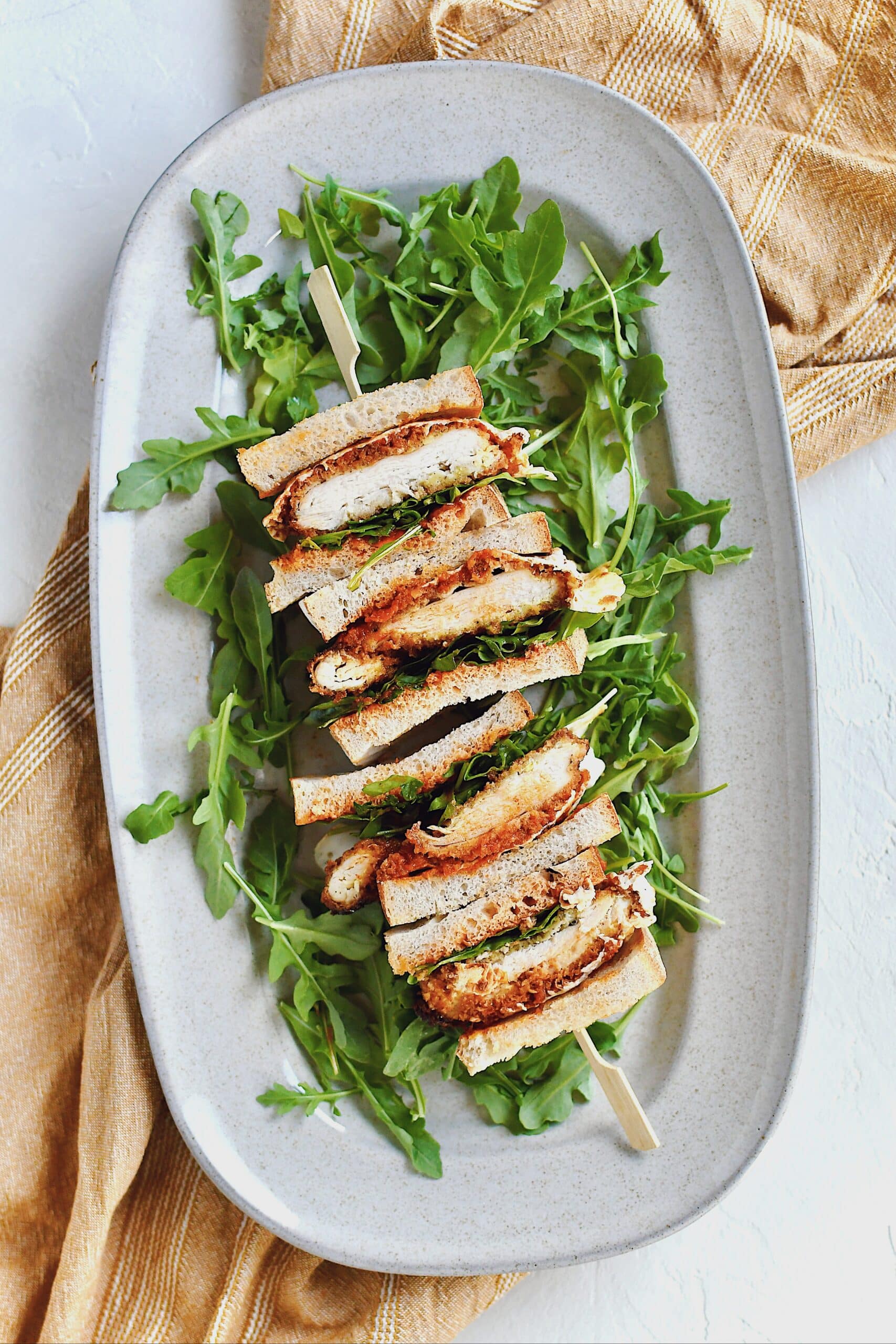 This recipe reminds me of a favorite sandwich I used to get at a restaurant that is no longer with us. But I just love how a piece of chicken, a loaf of bread, some cheese, red sauce, and arugula come together to make a dreamy Parmesan Chicken Sandwich. Yes, that's right, a sandwich you will dream about.
Jump to:
Ingredients
Like I just mentioned, you only need a handful of ingredients that you might already have on hand. You can make this as easy as using a jar of marinara or making your own. Whatever you do, it is still easy.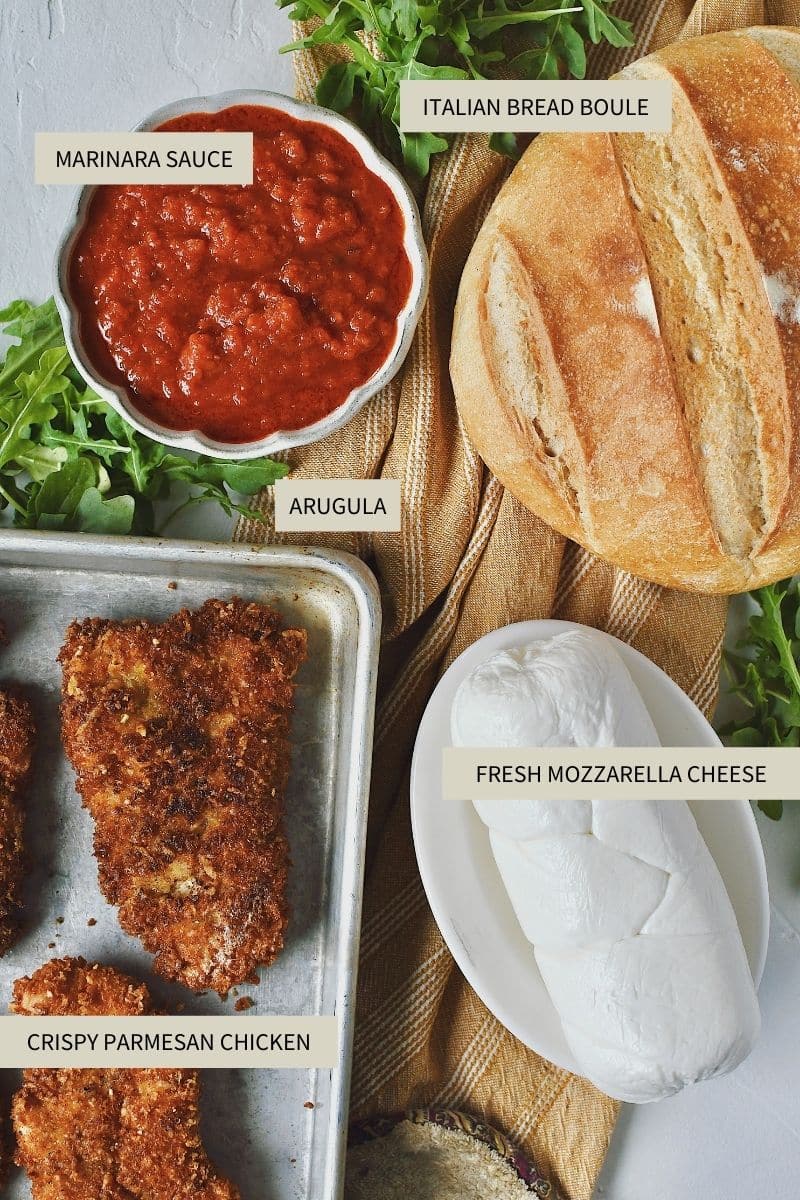 You are just 5 simple ingredients away from a sandwich that you, your family, or your guests will want to eat over and over again. I tell you in my "CPC" post, that my family loves this chicken and would probably eat it every day if I let them!
Use the JUMP TO RECIPE button at the top of the post, or scroll to the bottom of the post to see the full recipe card with ingredient measurements and instructions.
Method
As I mentioned above, I make this when I have some leftover Crispy Parmesan Chicken, but you could make the chicken just for this purpose too.
I start by warming my chicken in a hot oven for just a few minutes, you could also reheat it in an air-fryer if you have one. I then add a smidge of marinara on top of the chicken, a couple of pieces of mozzarella, and toss it back in the oven till brown and bubbly.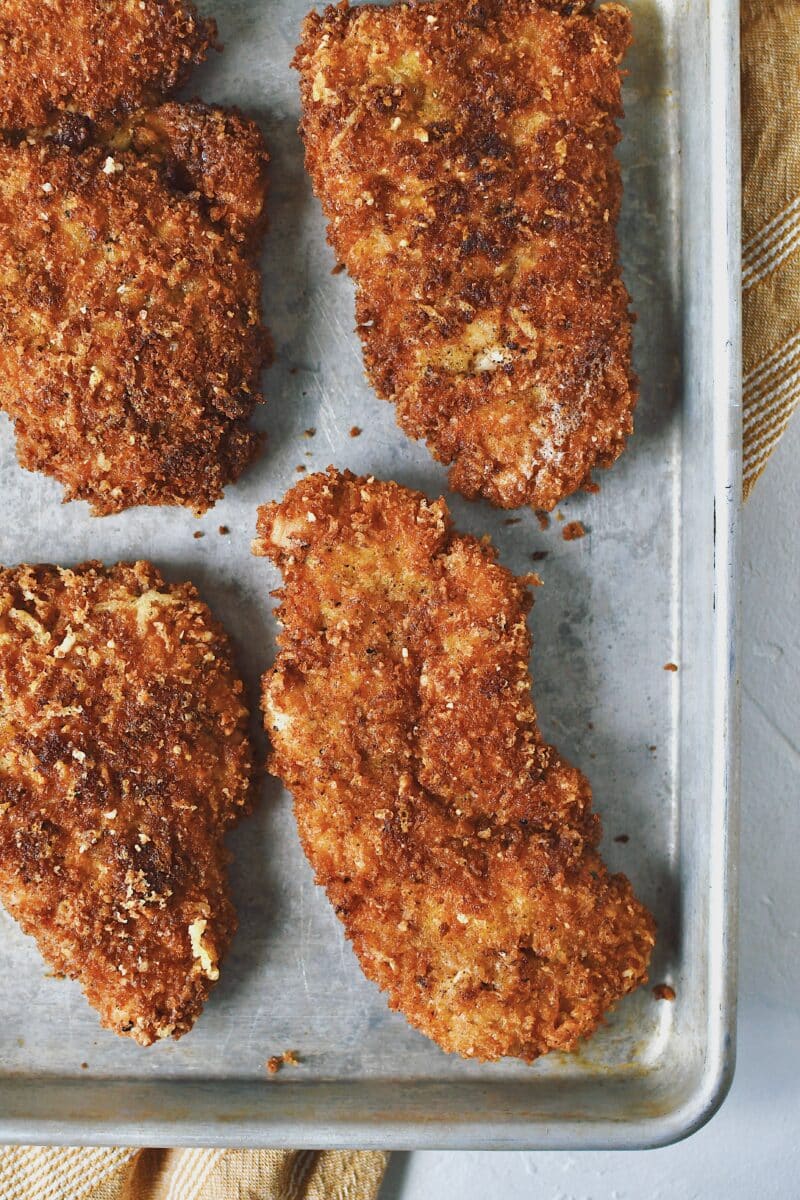 Then build your sandwich, by toasting slices of Italian bread, topping with some more marinara, because why not, a sprinkle of arugula, and finishing with the crispy, cheesy, chicken. It really is that easy. And SOOOO delicious!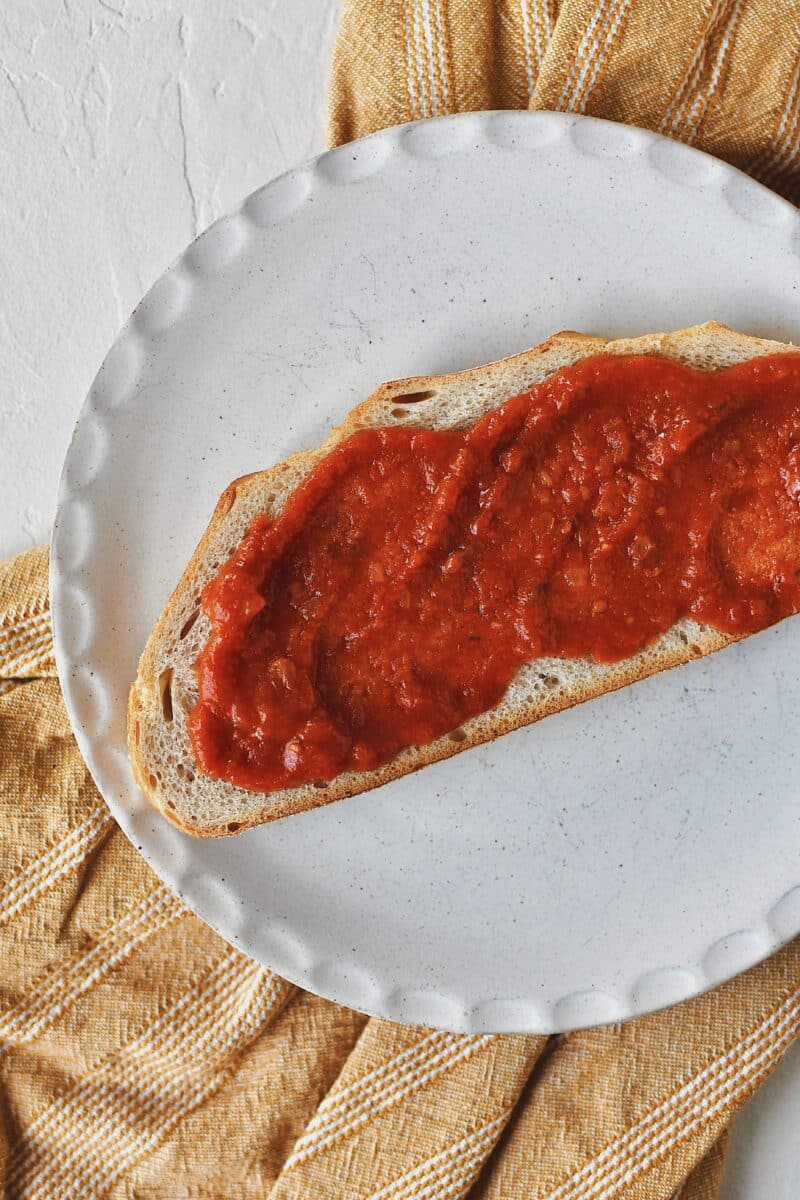 Top it up with another slice of toasted bread and slice in half. Make it extra fancy and stack it up with a skewer in it if you are serving at a party or just to make dinner fun. You could even trim it down and make it sort of Japanese Sando-Style and serve on a bed of arugula for some extra spice and crunch.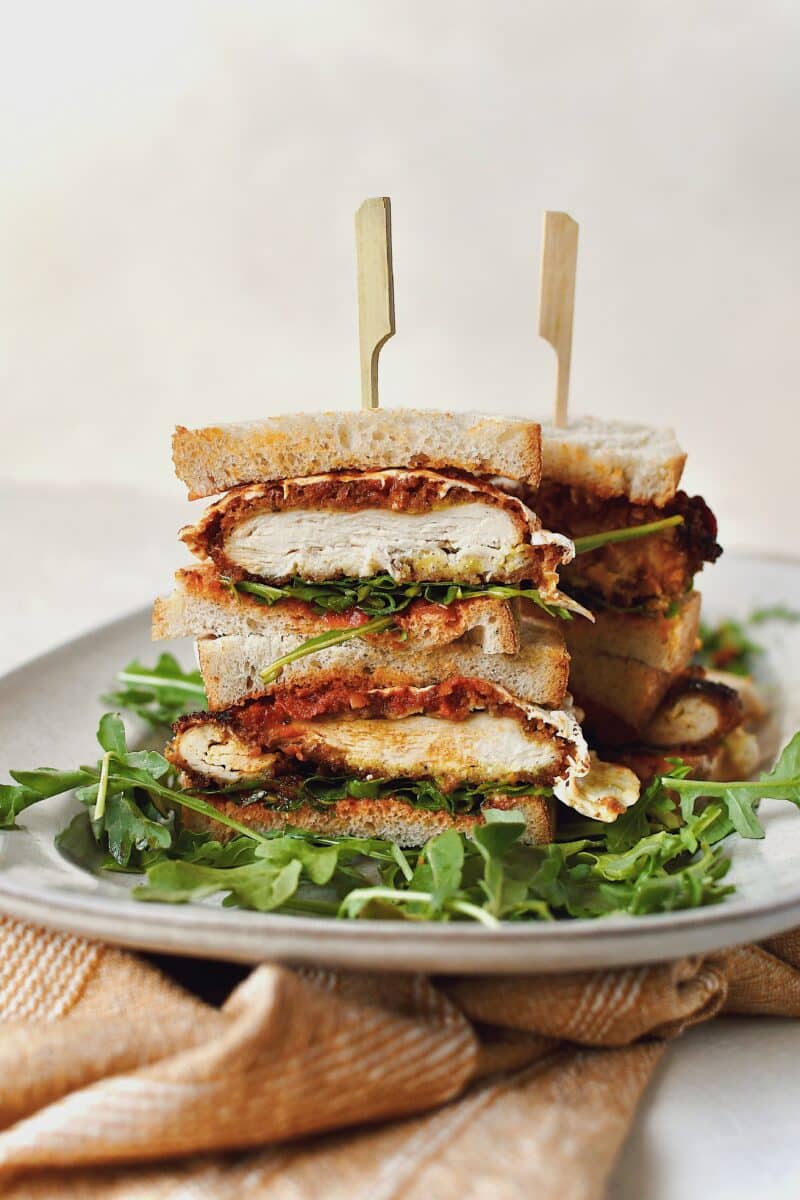 Notes & Tips
If reheating pieces of Crispy Parmesan Chicken, warm them in a 475˚F oven for about 8 minutes, then add the sauce and cheese. Bake until the mozzarella gets brown and bubbly. Use the broiler if needed to brown the cheese.
Alternatively, you can re-crispy the chicken in an air-fryer for about 6 minutes at 350˚F, then add the sauce and cheese and continue cooking till the cheese has browned.
Serve with a healthy layer of arugula. Arugula has a peppery taste that balances this sandwich perfectly. It cuts the sweetness of the tomato, and in my opinion, makes the sandwich GREAT!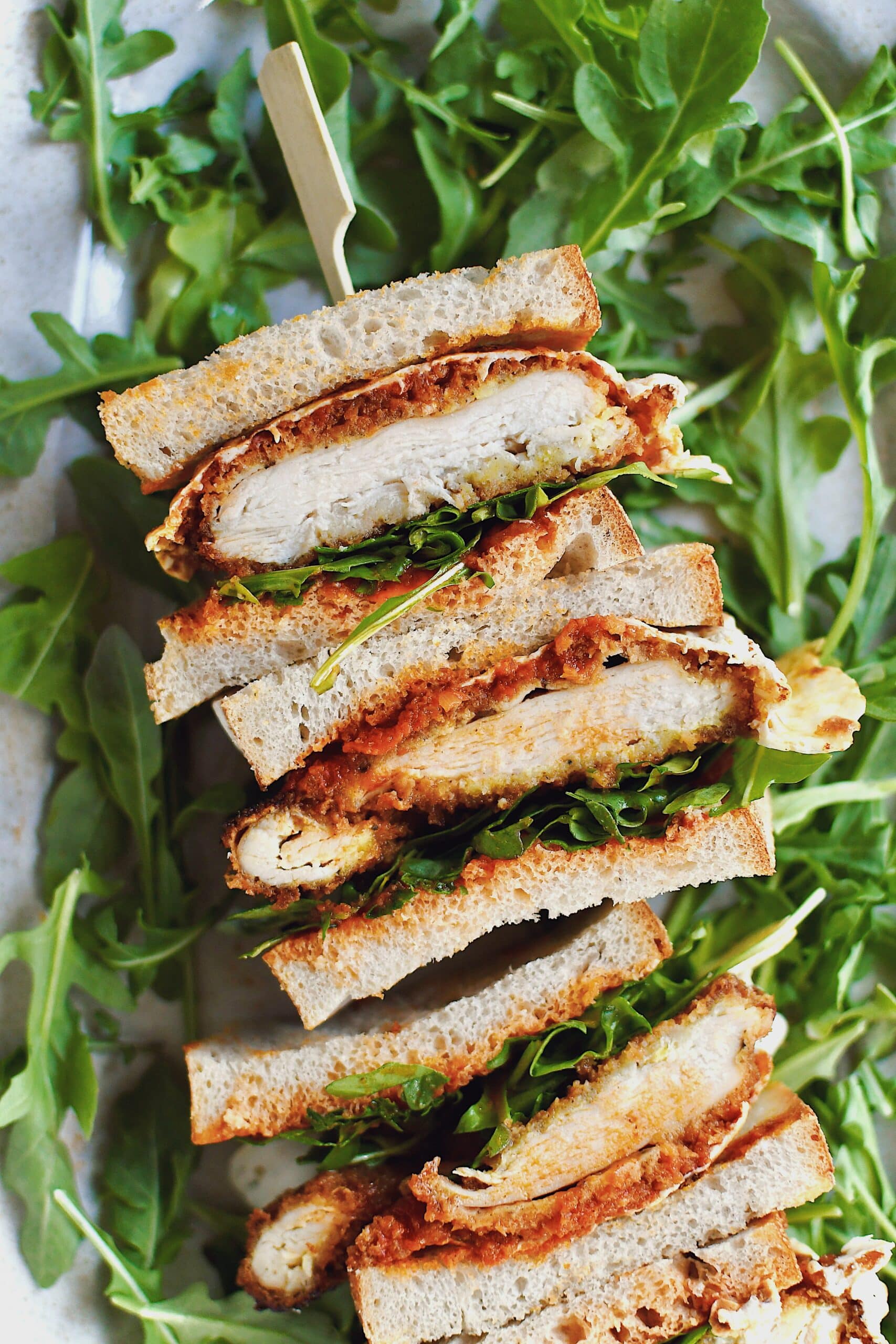 Substitutions
If you wanted to lighten this up a little, you could simply make this sandwich with a piece of grilled chicken.
I like to make my own marinara sauce, but this works fine with store-bought, you could even use pesto if you like a more herb sandwich.
I like the beauty of fresh mozzarella. But you could easily swap that for more parmesan, or shredded mozzarella if needed.
I like to keep this Italian, but you could use a nice french bread too. The sandwich just holds up best on something rustic.
Arugula can be like cilantro, not for everyone. There really isn't a good swap for it, simply leave it off if you so choose. Basil leaves would be the only trade I would make.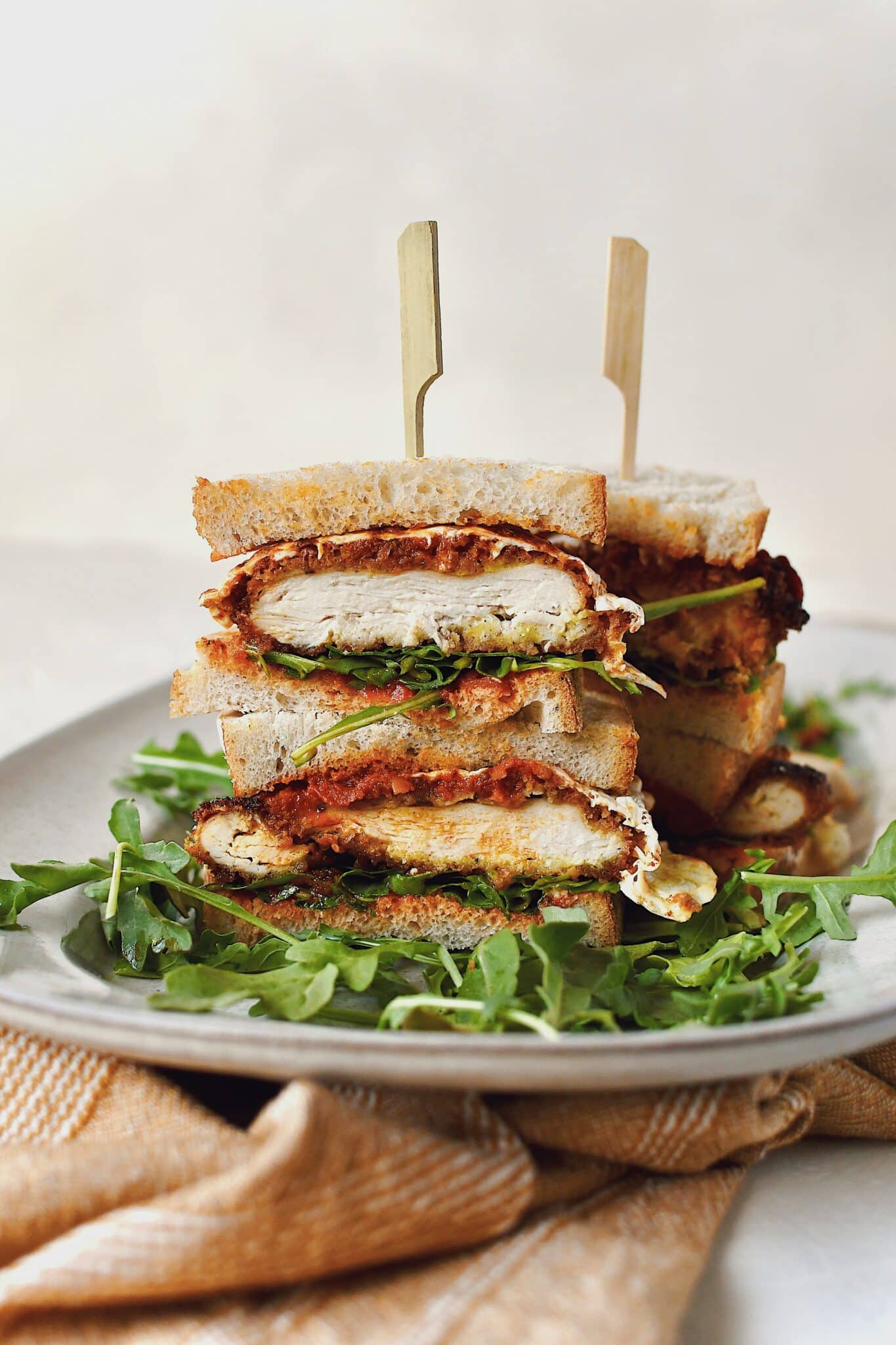 Did you make this recipe? Let me know by leaving a review or comment! And be sure to sign up for my newsletter, and follow along on Instagram, Pinterest, and Facebook!