I'm currently living in my strawberry era and this Strawberry Ice Cream is everything I need to enjoy summer's bounty. It also features my Strawberry Rhubarb Jam that I am obsessed with at the moment, which just makes it that much better!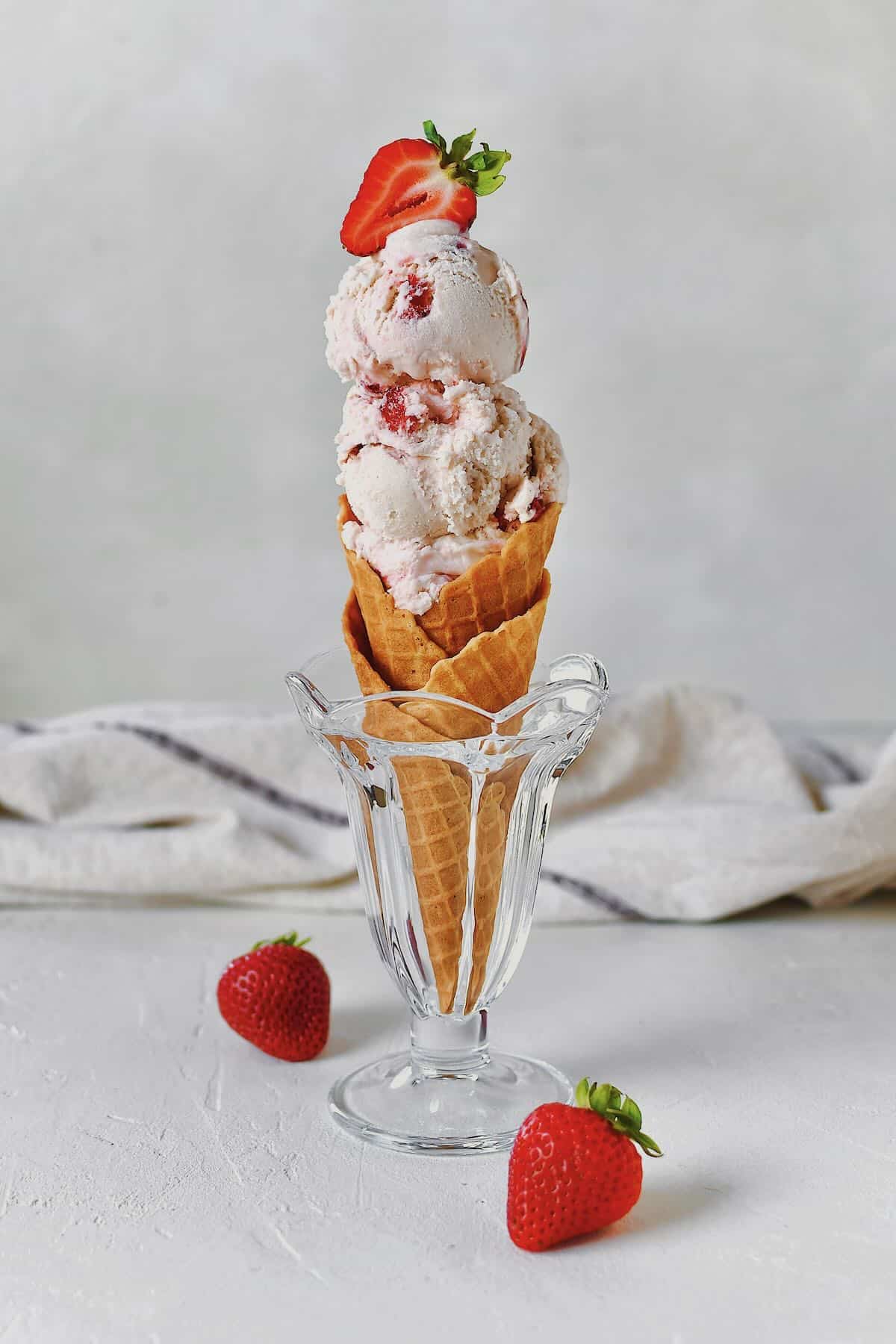 This ice cream is ultra creamy and decadently rich. The extra fat from the cream cheese in the base really pumps up the YUM factor. This is MY best ice cream, and the joy is it can be flavored in so many ways with tiny tweaks.
Also, be sure to serve it in my homemade Waffle Cone Recipe, they are next-level delicious and a must for this ice cream.
Jump to:
Ingredients
Most of what you see here is your typical ice cream culprits. Cream, milk, sugar, salt, you'll find those in most ice cream recipes. The cornstarch allows for the ice cream to get super creamy, stay smooth, and keep it soft in the freezer.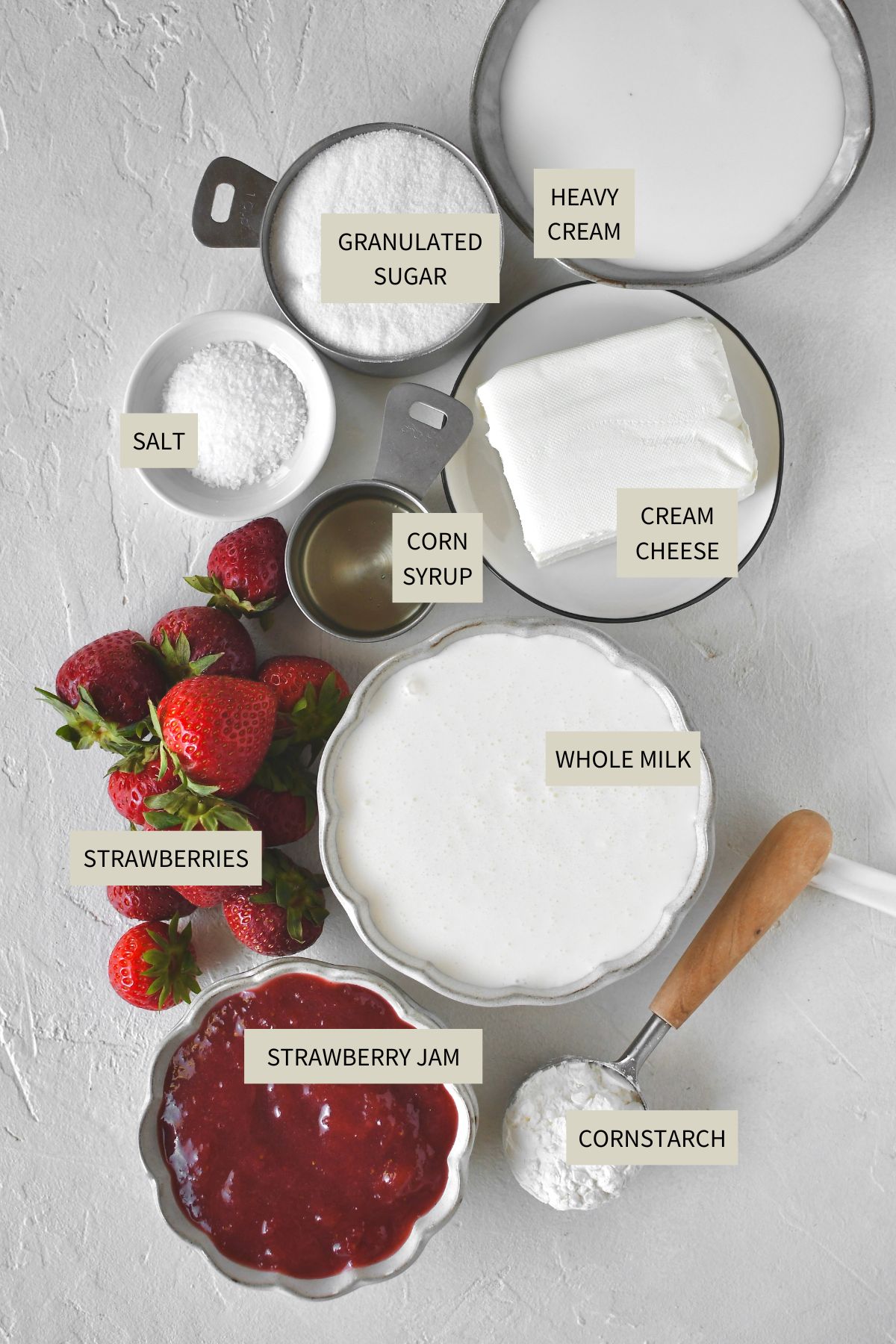 The cream cheese is the real star and what rounds everything out. The extra fat makes the ice cream extra luscious and decadent. You can stop there and add some vanilla bean paste and you have a fantastic vanilla ice cream. You can also flavor it with just about anything you can make into a jam, I add my strawberry rhubarb jam and I like to blend it in to make the ice cream super smooth.
I then cook up some fresh (or frozen) berries in a little sugar and fold them in after churning the ice cream. Which again allows you to do this with just about any fruit.
Use the JUMP TO RECIPE button at the top of the post, or scroll to the bottom of the post to see the full recipe card with ingredient measurements and instructions.
Method
To make the ice cream base first whisk together the cornstarch and a little of the cream to make slurry. Bring the remaining cream, sugar, and corn syrup to a boil, then add the slurry and cook till thick. I then like to place the thick mixture, cream cheese, and salt in a blender and slowly drizzle in the milk till the blender is full.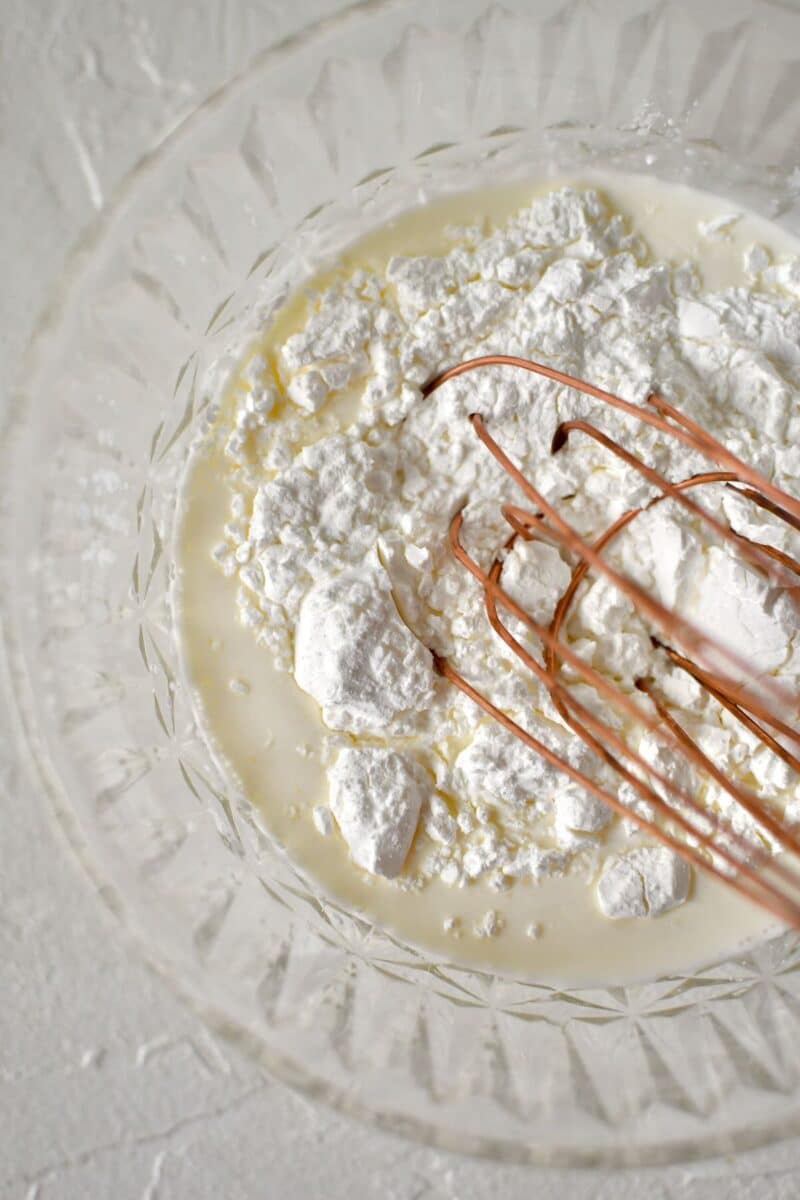 Then blend in the jam too, to make sure it is really well combined. Store the ice cream base in a large bowl or measuring cup, and let it cool on the counter for about 30 minutes, then give it 8 hours in the fridge. Stir before churning, then place in an ice cream maker to freeze it.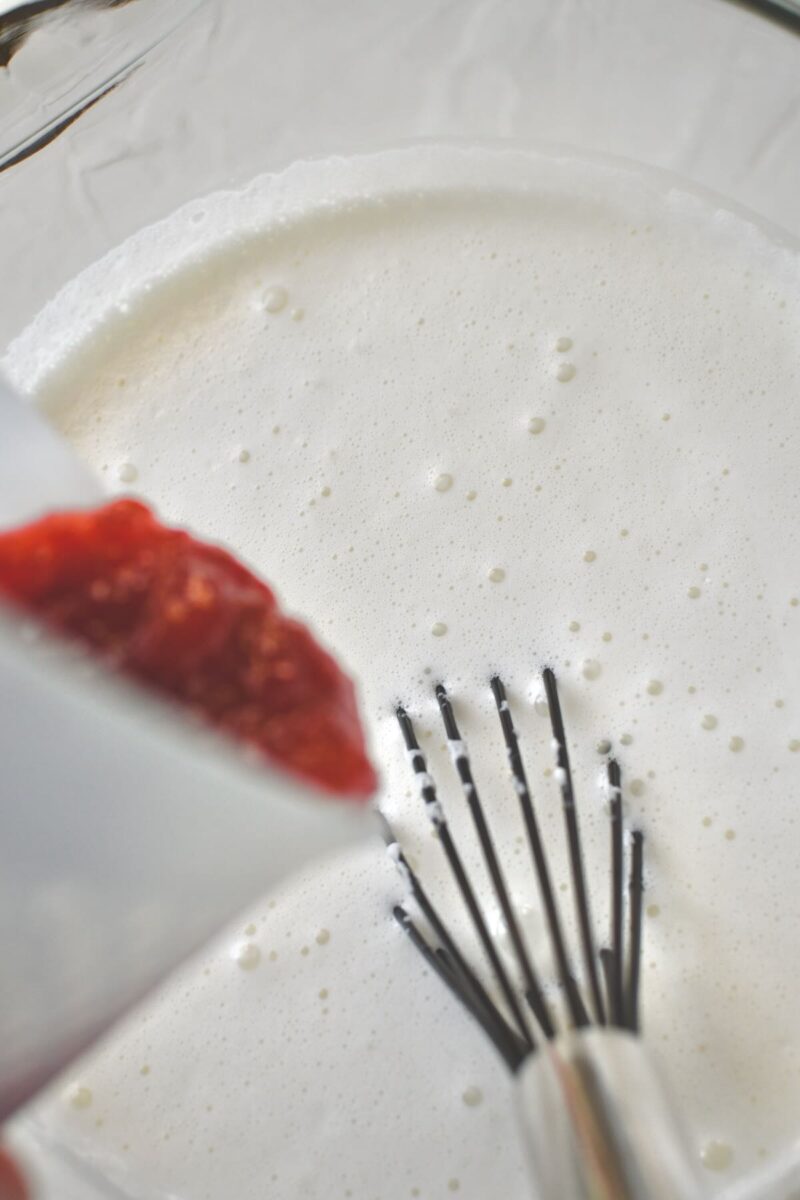 While the ice cream is churning, I toss some strawberries and sugar in a saute pan with a splash of water and just bring it to a boil to dissolve the sugar. Turn off the heat and let it hang out until the ice cream is done churning.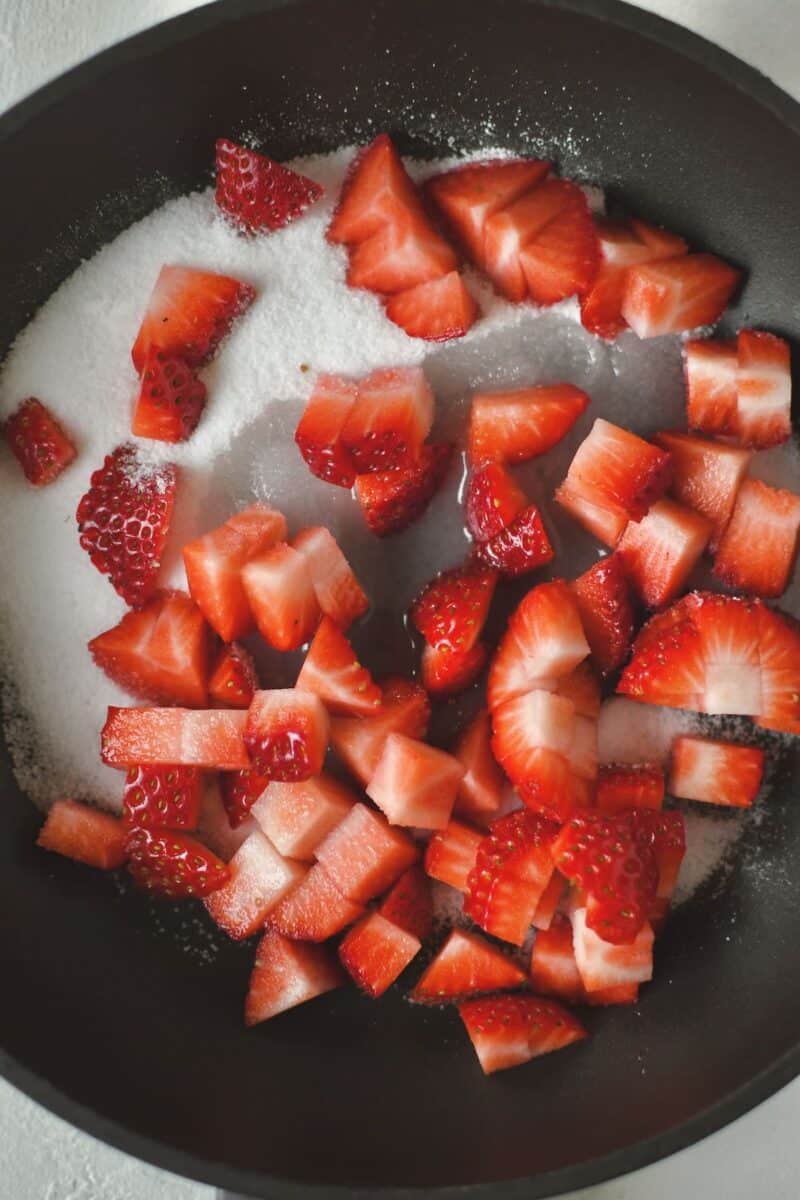 When the ice cream has doubled in size in the machine, turn it out into a storage container and stir in the cooked berries. It is ok if they are still a little warm, I actually almost prefer they are, so they really melt into the ice cream.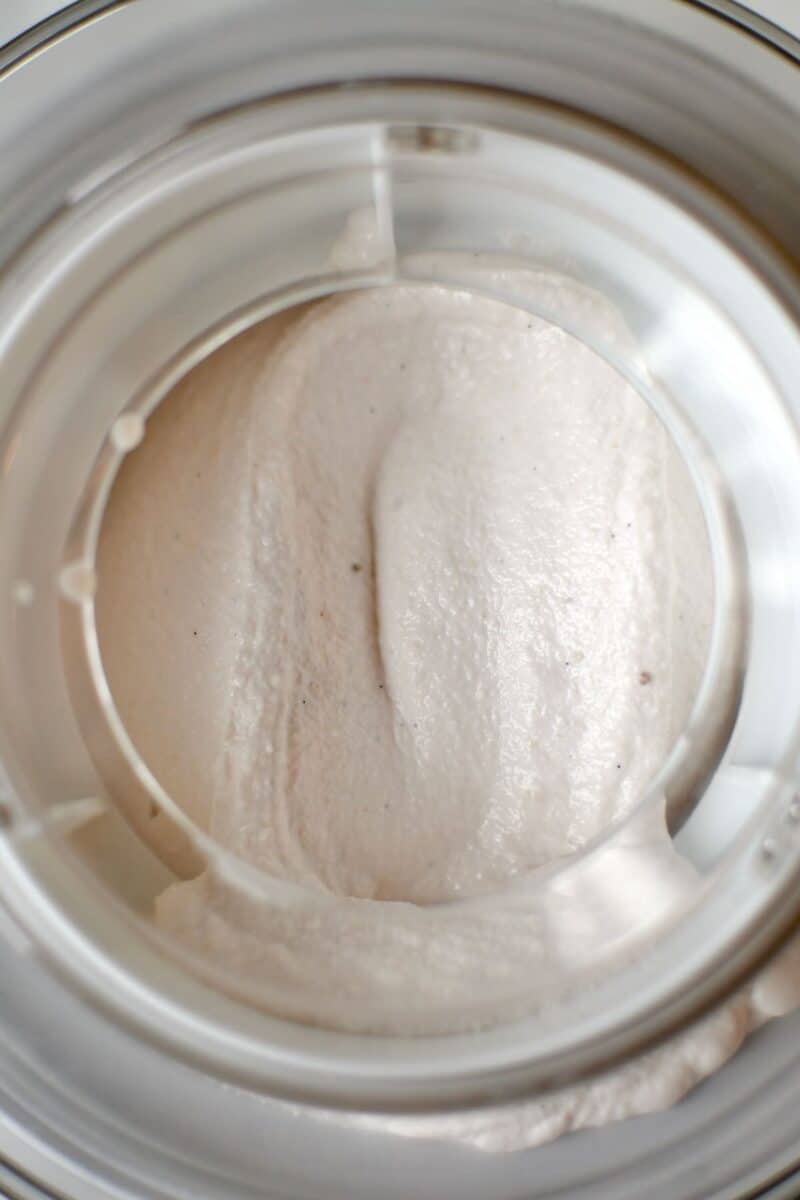 Then give it a few hours in the freezer to really set up and it is ready to scoop into the most luxurious ice cream ever! I mean, just look at those strawberry-studded scoops.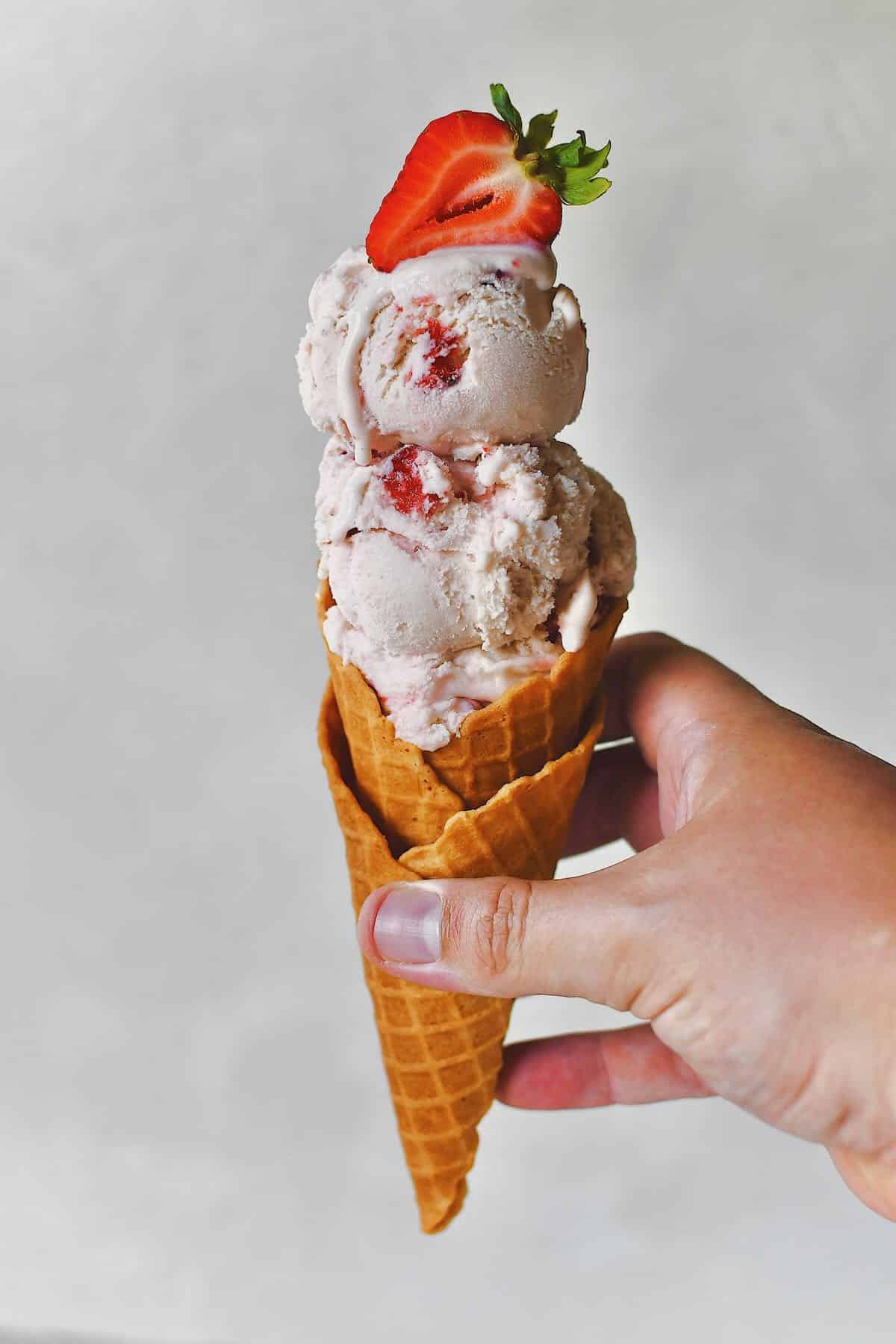 Notes & Tips
This recipe makes a big batch, I have a 2-quart ice cream maker, and I have to churn it in two batches to use all the ice cream base, giving you about a gallon of ice cream once churned. Cut the recipe in half if you don't want that much.
The ice cream base also keeps in the fridge for up to a week, I typically churn the batches on different days while only having to make the base once. I like the big batch because if I am going to make the mess I might as well make enough to enjoy it!
Substitutions
This is one of those recipes that just doesn't work if you don't make it the way it is written. It is like baking, you can't veer too far off or it just doesn't work.
The one thing you can swap is the jam. You can use anything from low to high-quality jam, it will work with any. You can also change the flavor by using a different berry or fruit jam altogether.
Think of the cream, milk, cream cheese mixture as a jumping-off point, and you can go anywhere from there, but that base can't change or it won't work.
Besides the jam, you can also swap the whole strawberries and sugar for any other fruit too. Just about anything goes and can be mixed in at the end.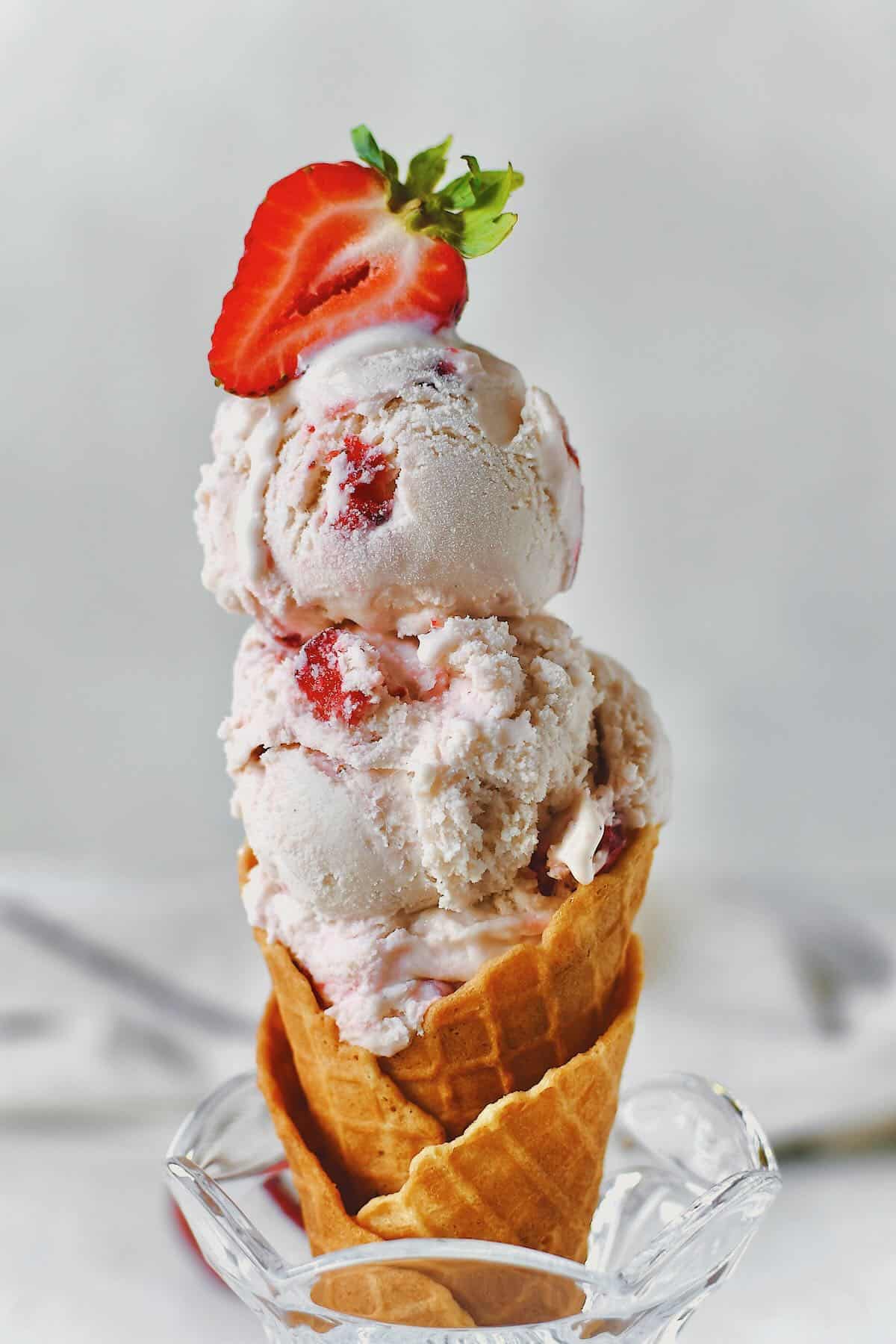 Did you make this recipe? Let me know by leaving a review or comment! And be sure to sign up for my newsletter, and follow along on Instagram, Pinterest, and Facebook!