If you have had the joy of visiting New Orleans, this Shrimp Po' Boy Sandwich recipe will have you transported right back to the big easy. I will share a few tips and tricks with you below to making this a super easy recipe. The most important thing, pack your sandwich full of flavor!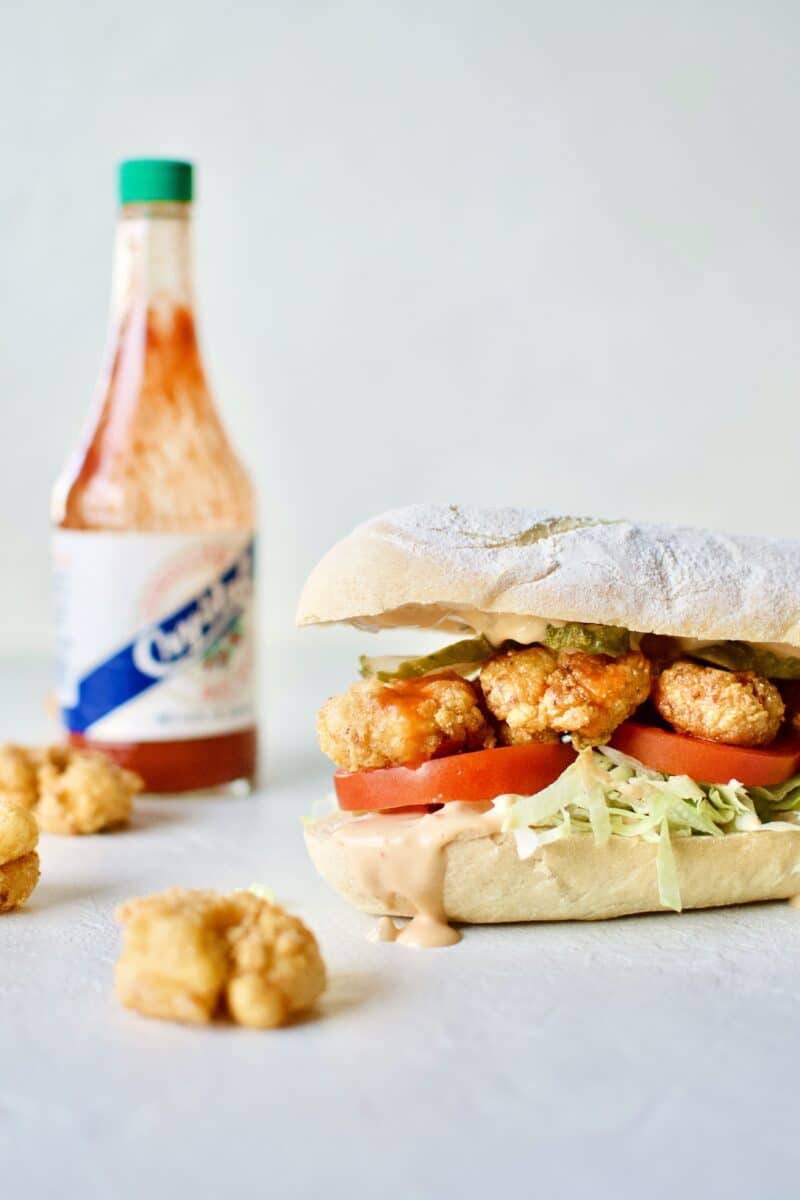 Jump to:
Ingredients
This Shrimp Po' Boy Sandwich recipe starts with very humble ingredients. Simple things you may already have in your pantry, plus these very special Argentinian Red Shrimp that will want to seek out.
They are wild-caught red shrimp from the clean, cold waters off the coast of Argentina. This gives them a very delicate texture and a sweet taste of the sea. When working with them you will notice that they smell like seawater, not fishy, but like the ocean.
They cook up super tender and delicious, and they are the only shrimp I buy these days!
From there, some simple, flour, cornmeal, creole seasoning, buttermilk, and hot sauce are all you need to fry up these beautiful shrimp. Oh, and some vegetable oil to fry in.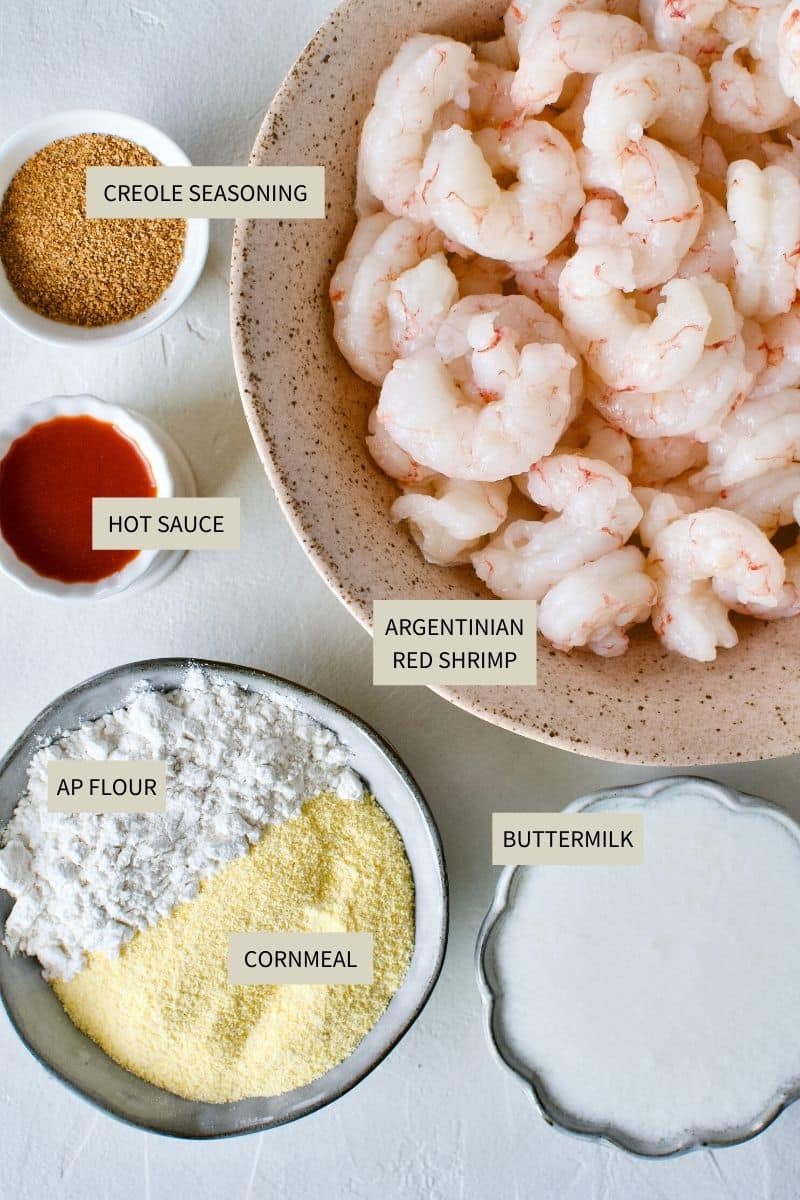 To build your sandwich, I prep everything while my shrimp marinate quickly. Slice some tomatoes, shave some iceberg lettuce, and don't forget the shrimp po' boy sauce. Fresh is always best, and my recipe for Easy Remoulade Sauce is always worth making from scratch.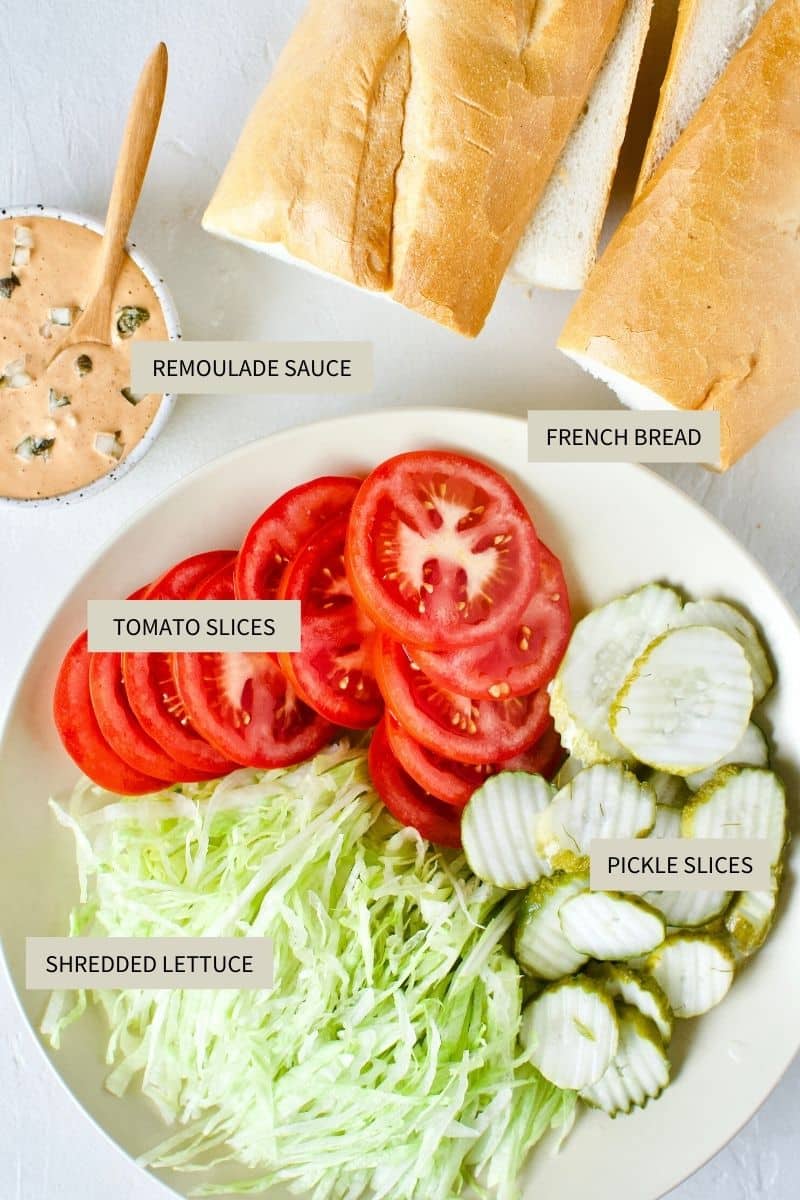 Use the JUMP TO RECIPE button at the top of the post, or scroll to the bottom of the post to see the full recipe card with ingredient measurements and instructions.
Method
To make this shrimp, and pack a little extra flavor into them, I start by marinating them in some buttermilk. The key is seasoning the buttermilk with some creole seasoning and a little hot sauce. Let the shrimp hang out in this marinade for a quick 30 minutes or so, it also helps the breading stick.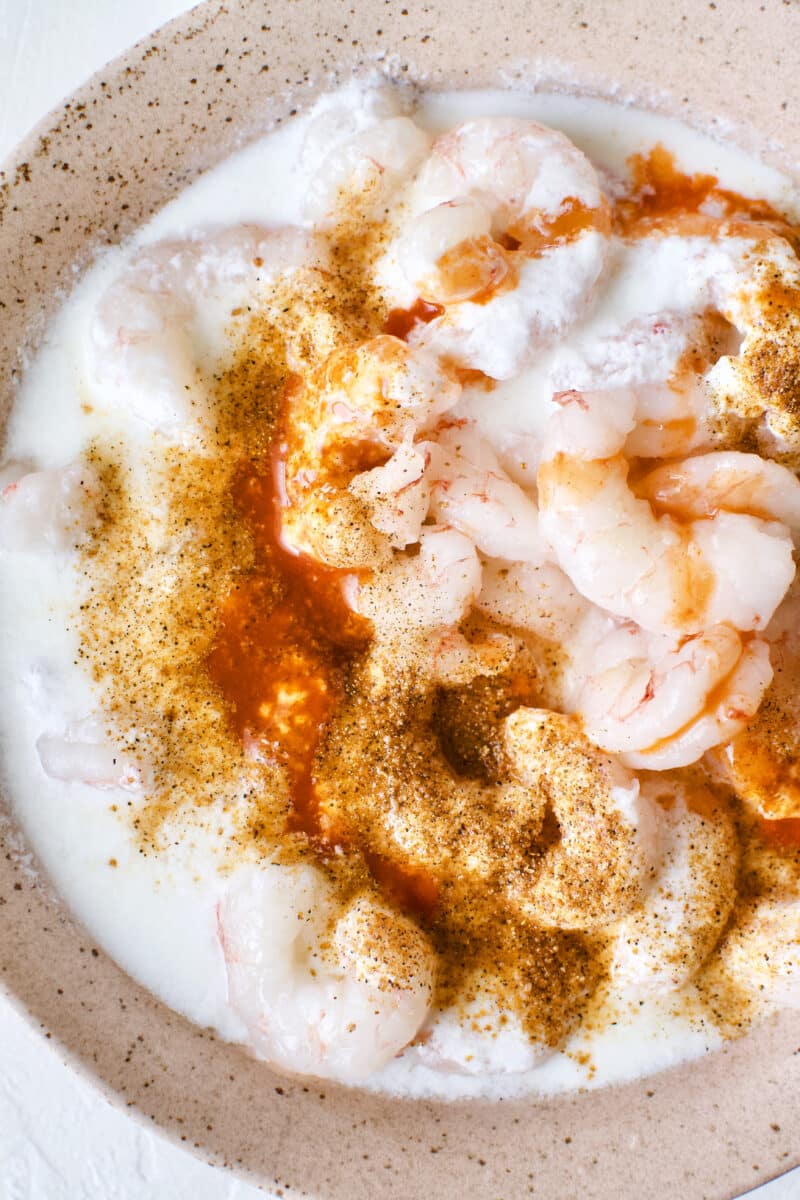 Dredge the marinated shrimp in the flour, cornmeal mixture, and they are ready to hit the hot oil and be fried. 3-4 minutes is all they need, as soon as the breading sets and gets golden brown they are done.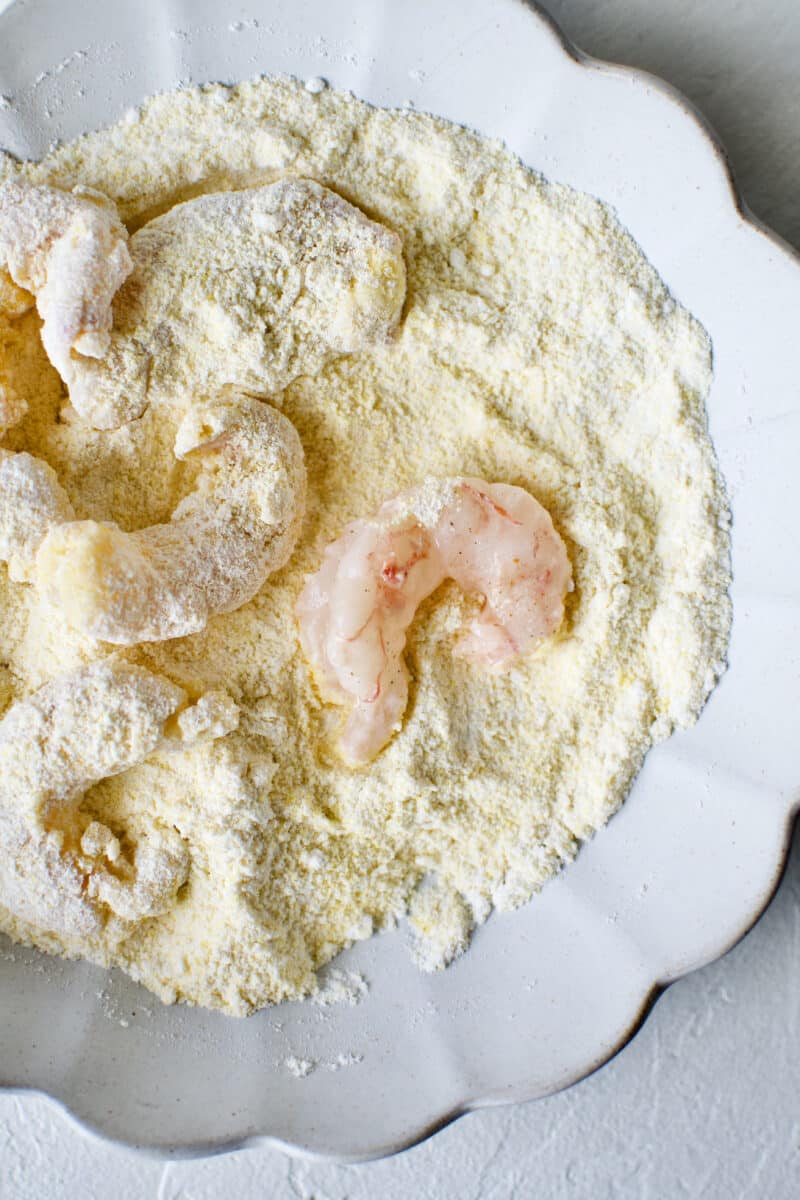 With the prepared sandwich ingredients, it is now time to build the perfect Shrimp Po' Boy Sandwiches. Start with LOTS of remoulade sauce on both sides of the bread. Then add the lettuce, tomato, pickles, and fried shrimp. Top with some crystals hot sauce and it is ready to enjoy!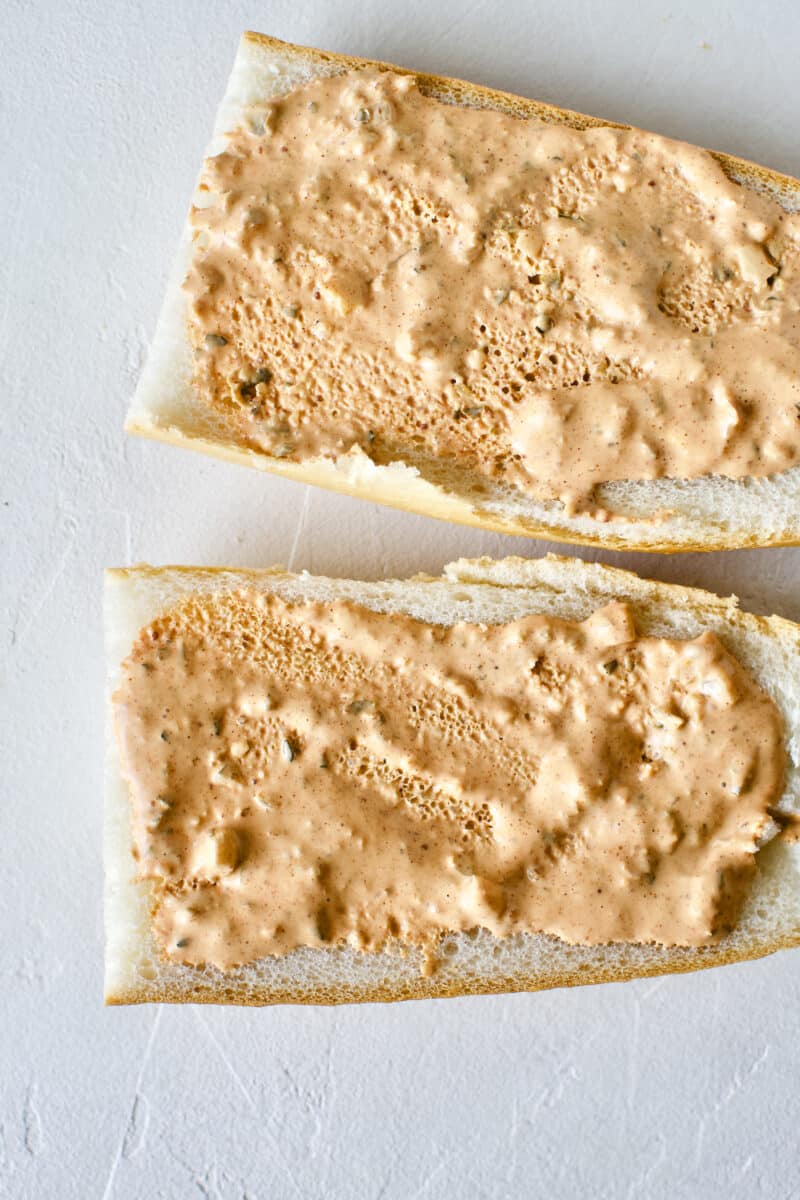 Notes & Tips
The bread is as much the star of this sandwich as the shrimp are. Seek out a great french bread with a crackling crust and soft interior. Or make these rolls, this bread is FANTASTIC!
Po' boy sandwiches are typically either seafood or roast beef, and the best ones use remoulade, a Cajun version of the classic French mayo-mustard sauce. Make this RECIPE!
You can bread your shrimp up to 30 minutes before you want to fry them. Toss them in the flour/cornmeal mixture and let them rest in the fridge until ready to fry.
Substitutions
Shrimp Po' Boys are served all over the place in Louisiana. Then can be made with things like crawfish tails, catfish fillets, or oysters. Most often you will find any of those things fried, but they can also be made with grilled seafood from time to time.
I typically fry my shrimp in vegetable oil, just cause I always keep it on hand. Peanut oil will give you a more authentic flavor, as it is used heavily in Louisiana. Lard is also a great option if you like to use it.
If you would like to make the fried shrimp gluten-free, sub the flour for half corn starch, half rice flour.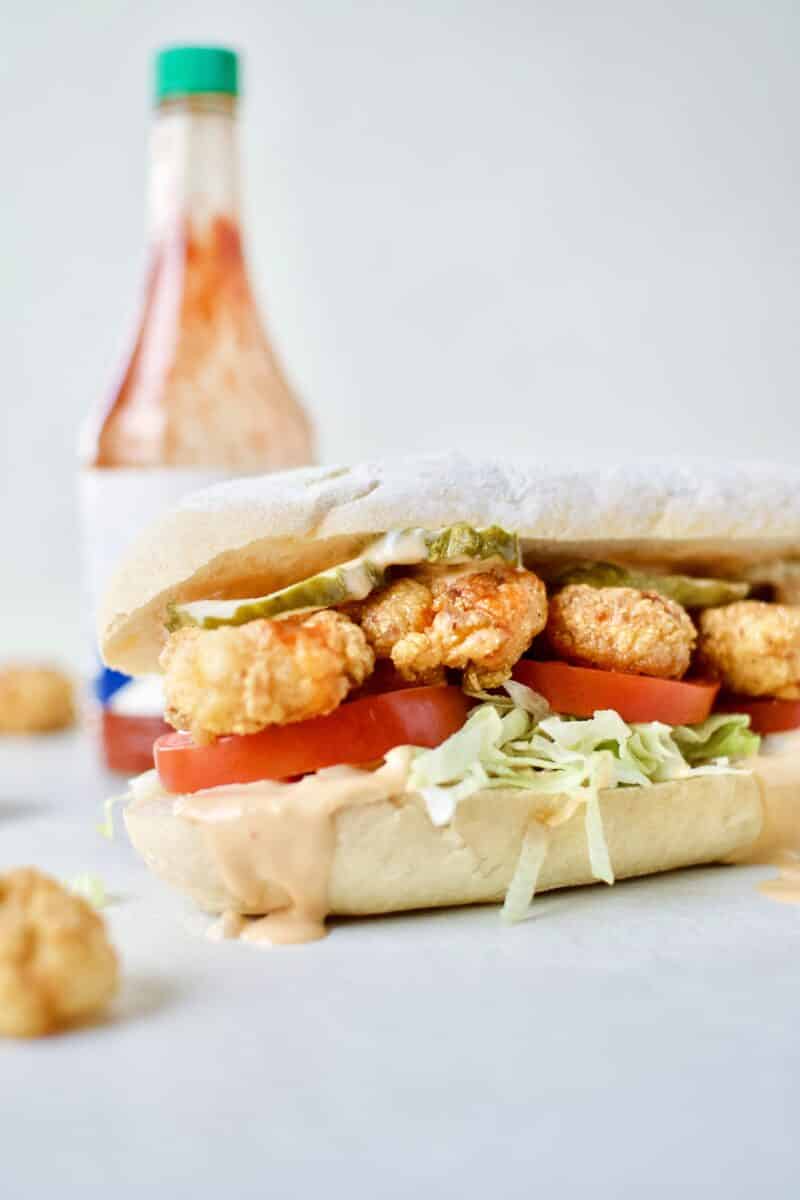 More Fresh Seafood Favorites
Did you make this recipe? Let me know by leaving a review or comment! And be sure to sign up for my newsletter, and follow along on Instagram, Pinterest, and Facebook!