As I dream of going to Greece one day, I will just sit here and continue to explore it through food in my own kitchen. There isn't much I enjoy more than a GREAT greek salad. Make it next level with my Greek Chicken Salad, I'll just be eating this for lunch all summer long! Enjoy this mash-up of some of my very favorite recipes to create a salad worthy of even the fanciest of summer dinners.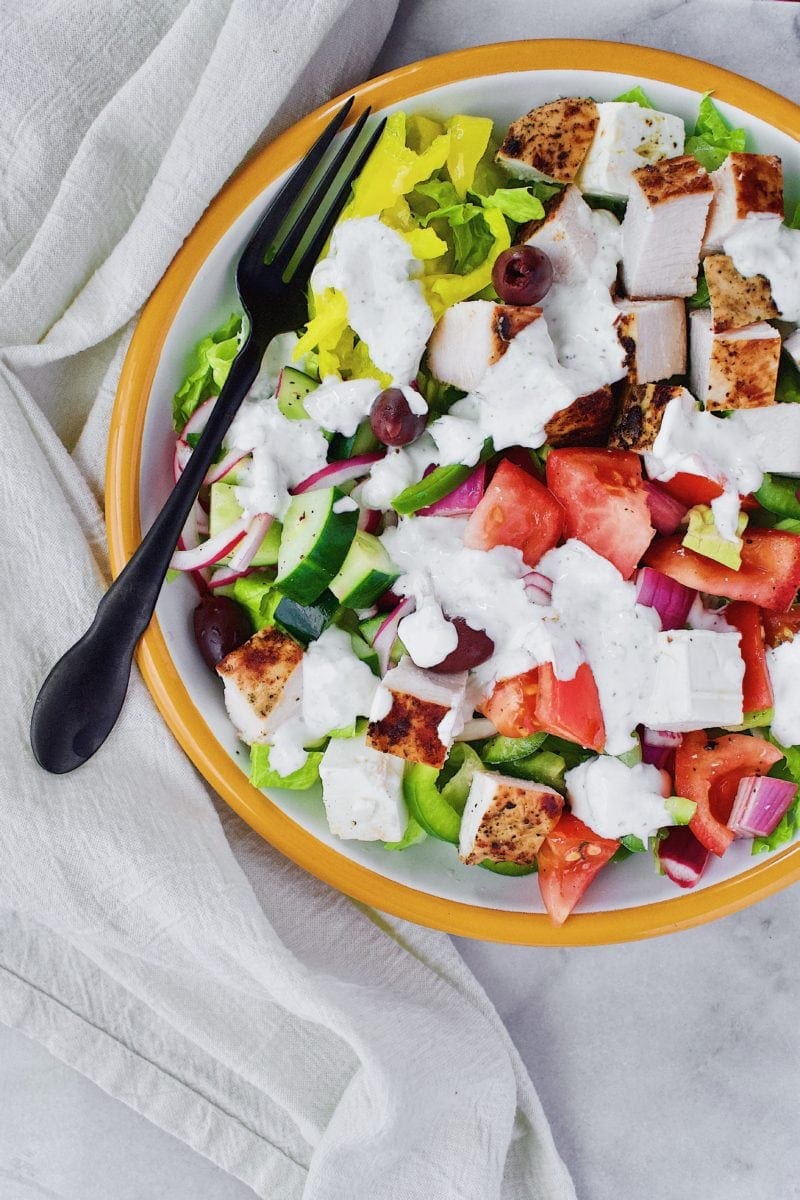 Jump to:
This post was first published July 15, 2019, and was last updated June 11, 2021.
Use the JUMP TO RECIPE button at the top of the post, or scroll to the bottom of the post to see the full recipe card with ingredient measurements and instructions.
Traditional Greek Salad
A great greek salad starts with the sauce. The dressing is where all the flavor comes from. It also has a process, and layering in the vegetables has a real purpose.
The dressing consists of lemon juice, red wine vinegar, olive oil, oregano, thyme, salt, and pepper. I also add in some greek seasoning, just to deepen the flavor. Click here to get my favorite greek seasoning.
The process is also important. I start by adding my red onion to the bottom of the bowl with my dressing ingredients. This takes the rawness off of them and gives them a slight pickle while I cut the rest of my ingredients.
Get my full Traditional Greek Salad recipe HERE!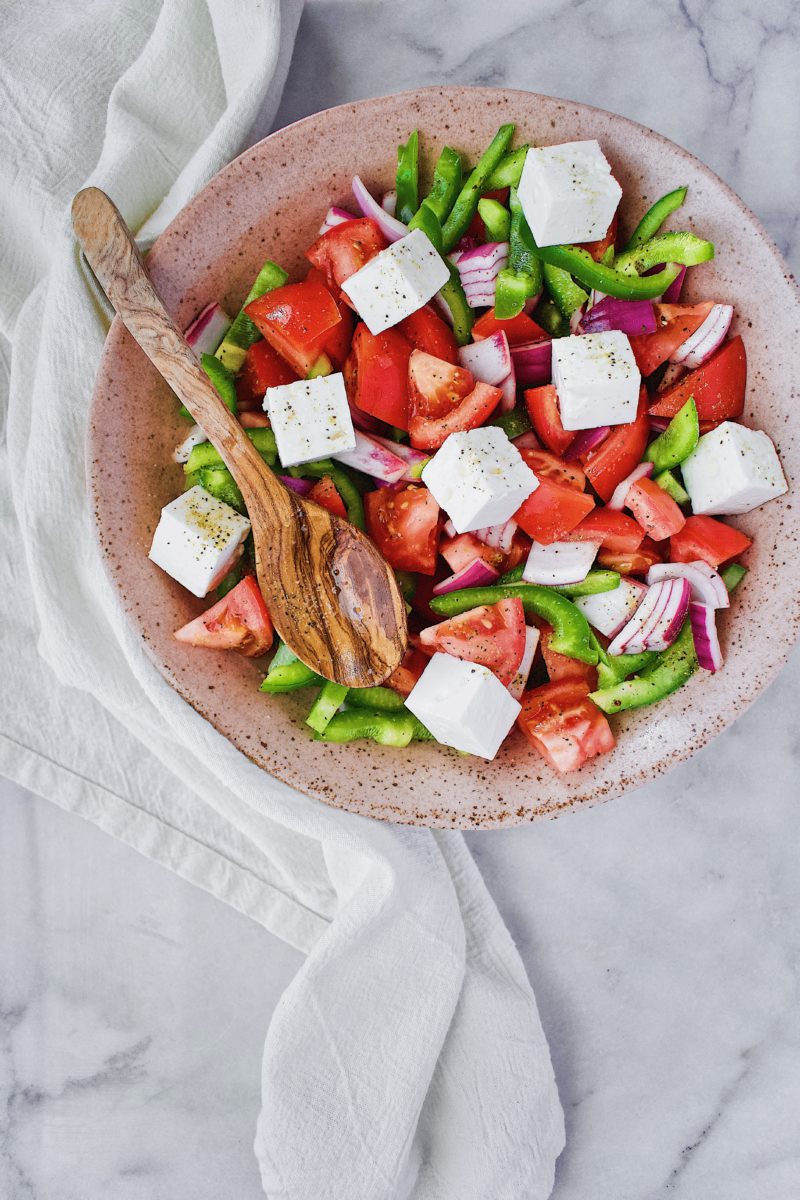 Greek Chicken
You want to season your chicken similarly to the way you season the greek salad. Salt, Pepper, Oregano, Greek Seasoning, Olive Oil, and Lemon Juice. Let it sit for at least 30 minutes, up to overnight for more authentic chicken souvlaki.
Take care that you need to cook the chicken after 30 minutes or let it sit overnight or it will become gummy. This is kind of a hard and fast rule. It is ok to marinate in lemon for a long time or a short time, not medium time, haha!
Get my full Greek Chicken recipe HERE!
It uses my Perfect Grilled Chicken method. Read more on that in the post dedicated to that HERE!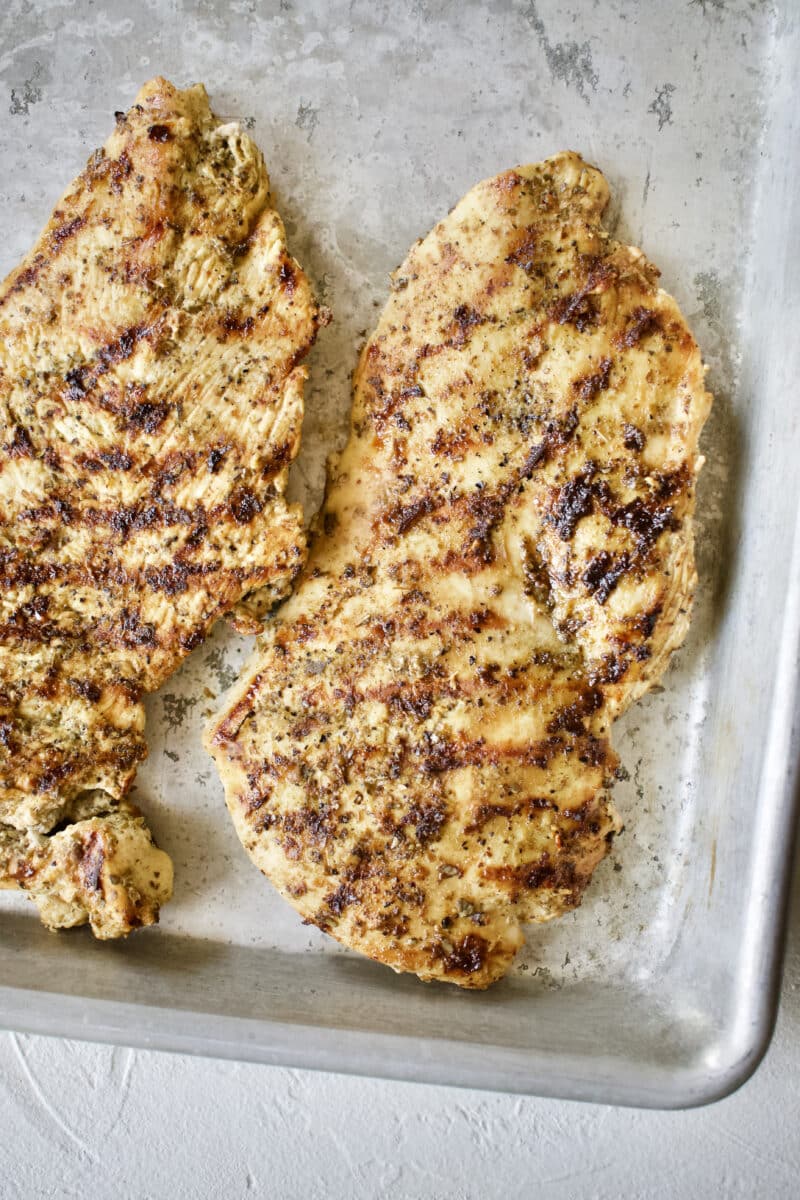 Bring it all together to make Greek Chicken Salad
I mash up a couple of my very favorite Greek recipes here to produce this perfect entree salad. I love a good salad that can become a meal, especially this one!
Traditional Greek Salad is not served with or on a bed of lettuce. I like to add some romaine lettuce to give this a bit of extra crunch. It also bulks everything up and makes this a nice salad that can be a meal, especially topped with chicken.
A dressing forms naturally as you marinate the veggies. I like to be sure to get a nice big scoop of veggies from the bottom with all the juices too. It's everything you need!
To dress it with an extra creamy touch, thin my Garlic Tzatziki with a couple of tablespoons of white balsamic vinegar and a squeeze of lemon juice.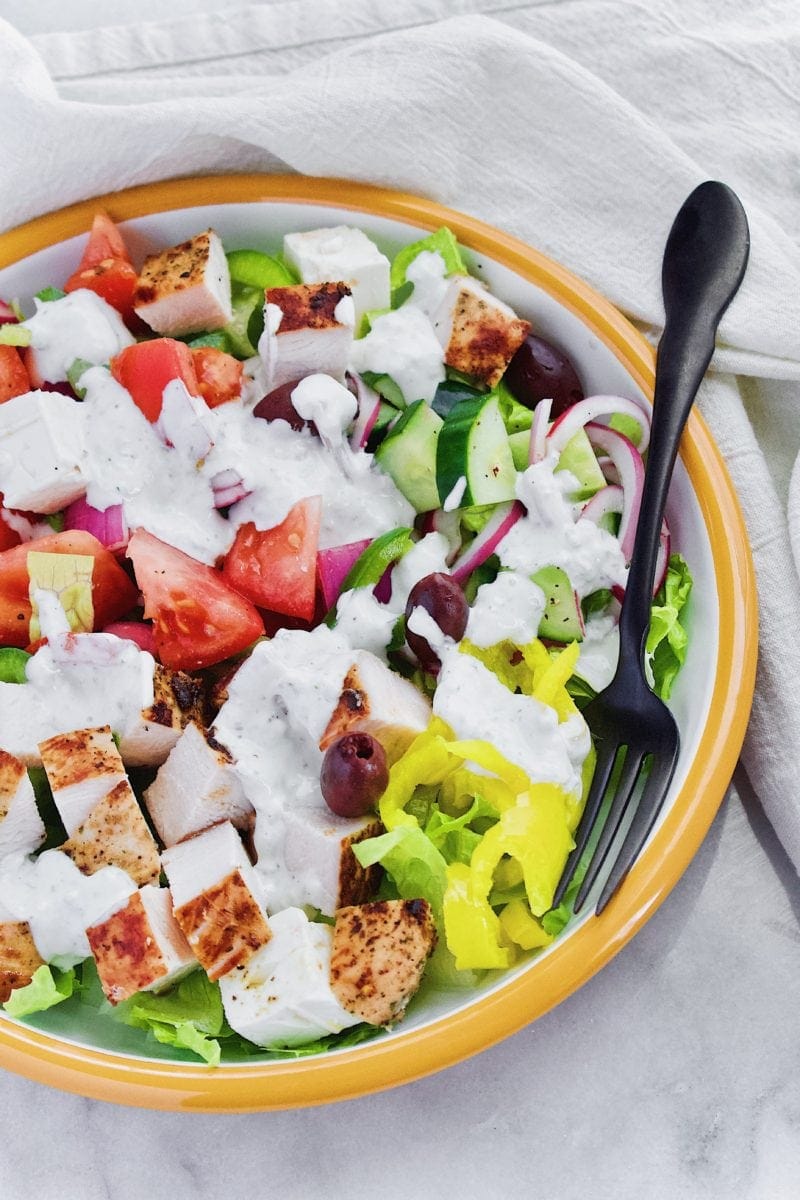 More Greek Goodness
Greek Lemon Rice Soup - Avgolemono
Mediterranean​ ​Saffron Chicken and Mushrooms
Quick Pickled Onions and Cukes
Did you make this recipe? Let me know by leaving a review or comment! And be sure to sign up for my newsletter, and follow along on Instagram, Pinterest, and Facebook!