As I dream of going to Greece one day, I will just sit here and continue to explore the food culture in my own kitchen. There isn't much I enjoy more than a GREAT greek salad. I think I really hit it on the head with this one.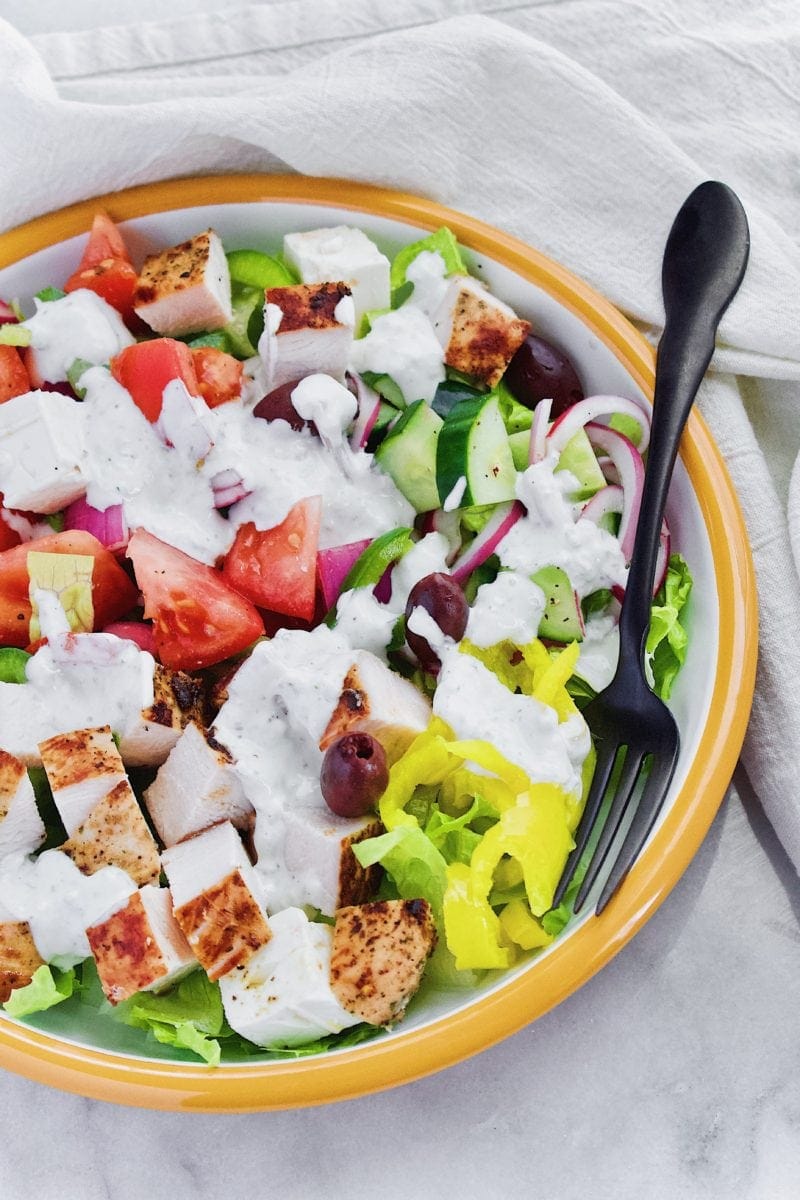 A great greek salad starts with the sauce. The dressing is where all the flavor comes from. It also has a process, and layering in the vegetables has a real purpose.
And to dress it with an extra creamy touch, thin my Garlic Tzatziki with a couple of tablespoons of white balsamic vinegar and a squeeze of lemon juice.
Preparing your Greek Salad
The dressing consists of lemon juice, red wine vinegar, olive oil, oregano, thyme, salt, and pepper. I also add in some greek seasoning, just to deepen the flavor. Click here to get my favorite greek seasoning.
The process is also important. I start by adding my red onion to the bottom of the bowl with my dressing ingredients. This takes the rawness off of them and gives them a slight pickle while I cut the rest of my ingredients.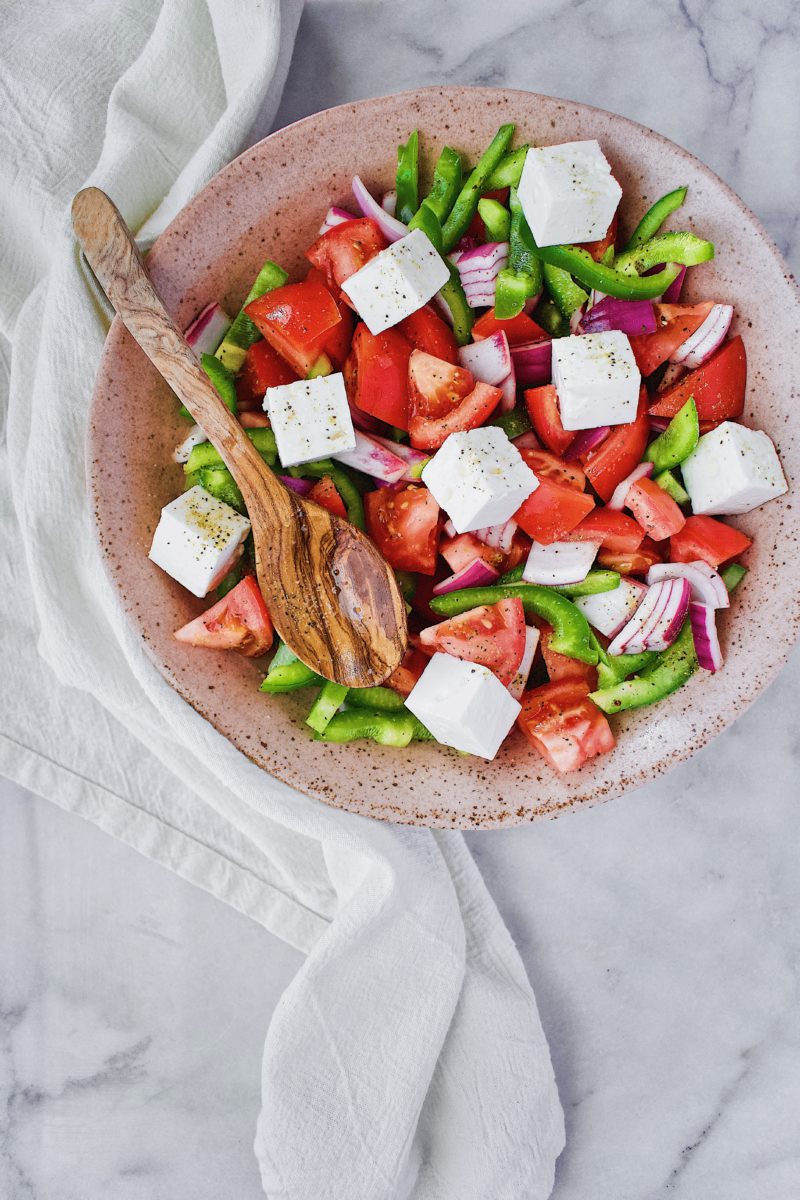 I then add my bell peppers, tomato, and cucumber and then toss. You can stop here if you want a super classic greek salad. In Greece, if you order a greek salad this is what you can expect to get, no lettuce or extras, just fresh pure veggies in vinegar.
I enjoy the addition of feta cheese, Kalamata olives and pepperoncini peppers on a bed of lettuce. Top it with some greek chicken and you have a lunch or dinner salad that I would be happy with any day of the week!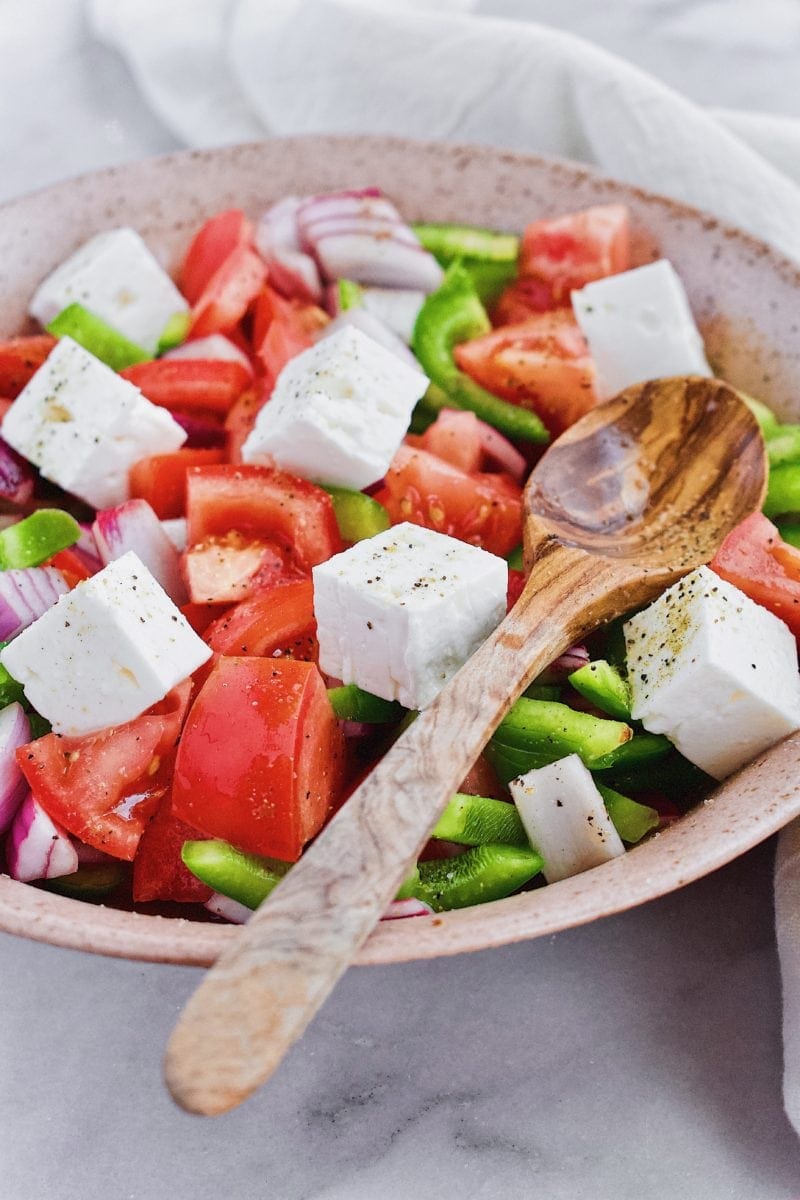 In my recipe below I will share my version of a Greek Chicken Salad. Add the chicken or leave it off, serve it on lettuce or not, but this is one of my favorite things to enjoy on a hot day.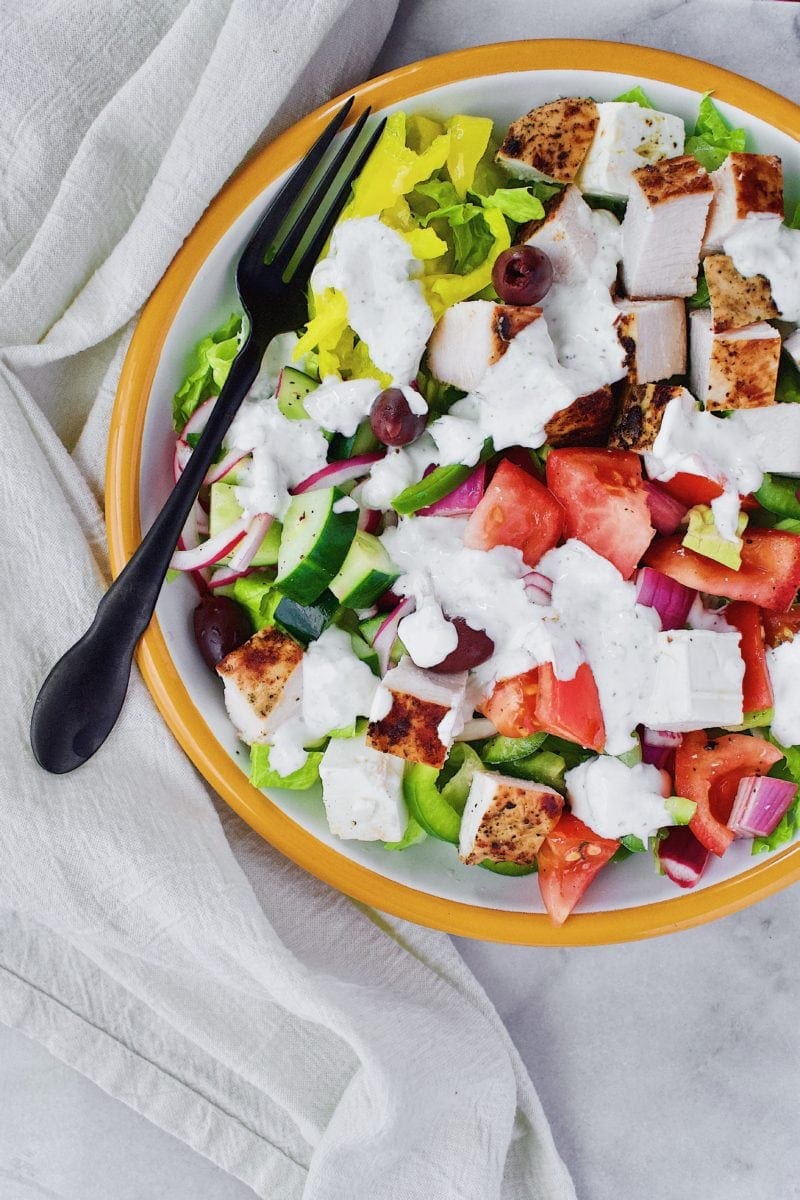 Greek Chicken
You want to season your chicken similarly to the way you season the greek salad. Salt, Pepper, Oregano, Greek Seasoning, Olive Oil, and Lemon Juice. Let it sit at least 30 minutes, up to overnight for a more authentic chicken souvlaki.
Grill the chicken and then it is ready to top your salad with.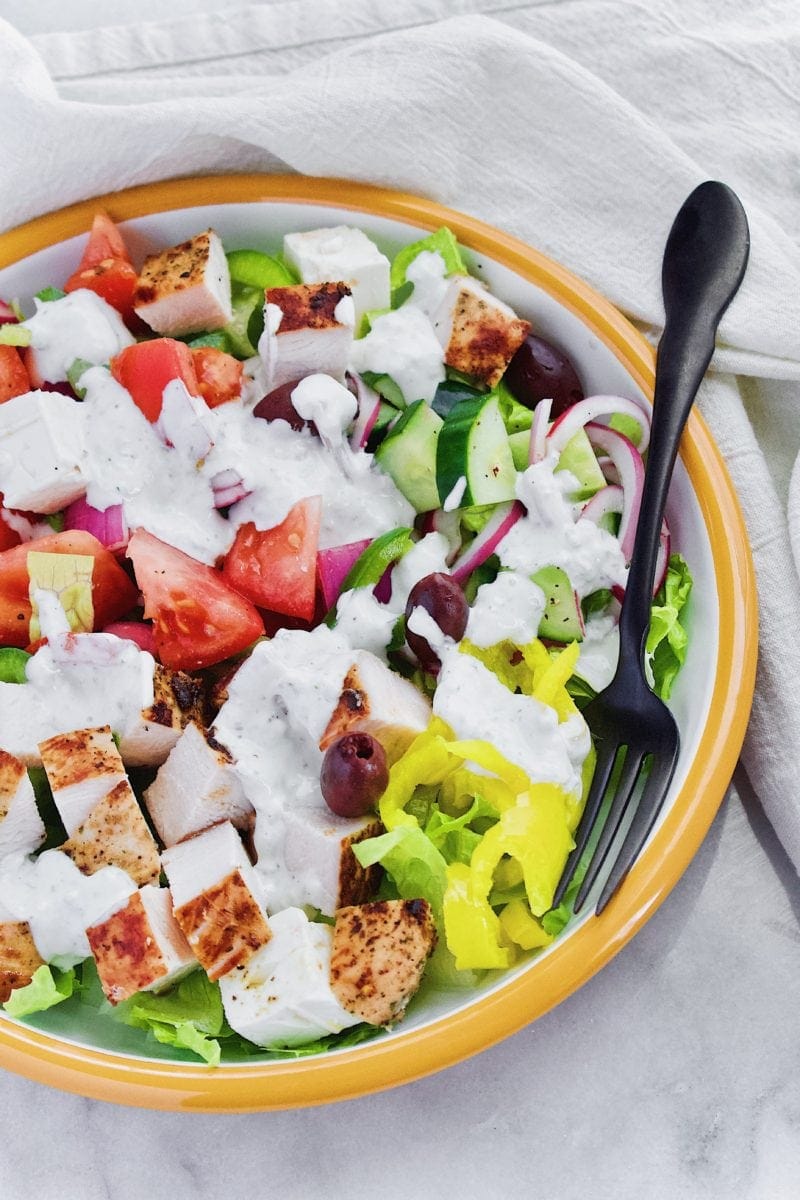 If you are looking for more greek inspiration, check out Sarah's Cheesy Spanakopita Bites over at Salt Jar. Or my friend Lori's Tomato Jam at Josie + Nina.
The dressing forms naturally as you marinate the veggies. Just be sure to get a nice big scoop of veggies from the bottom. It's everything you need!
Did you make this recipe? Let me know by leaving a review or comment! Also, be sure to sign up for my newsletter, and follow along on Instagram, Pinterest, and Facebook!
For MORE of my most POPULAR Magnolia Table Reviews!
If this recipe review was valuable to you, take a look a some of my other reviews that have been super popular!
See all of my reviews of recipes Joanna cooked in Season 1, HERE!
Jo's recipe for 1919 Pimento Cheese is by far my most read review. I have adjusted to the recipe to replace the Velveeta, which I just can't bring myself to bring into my kitchen.
Her Zucchini Bread is my next most popular review, and it is one of my very favorites to pick up when visiting Waco.
And to ready my full ranking of every recipe in the first cookbook check out this post...Magnolia Table Cookbook…my overview!