I have been on the hunt for a tender and juicy recipe for Turkey Burgers. When I nailed my most recent meatball recipe, I applied some of those tactics to these burgers, and I got something amazing!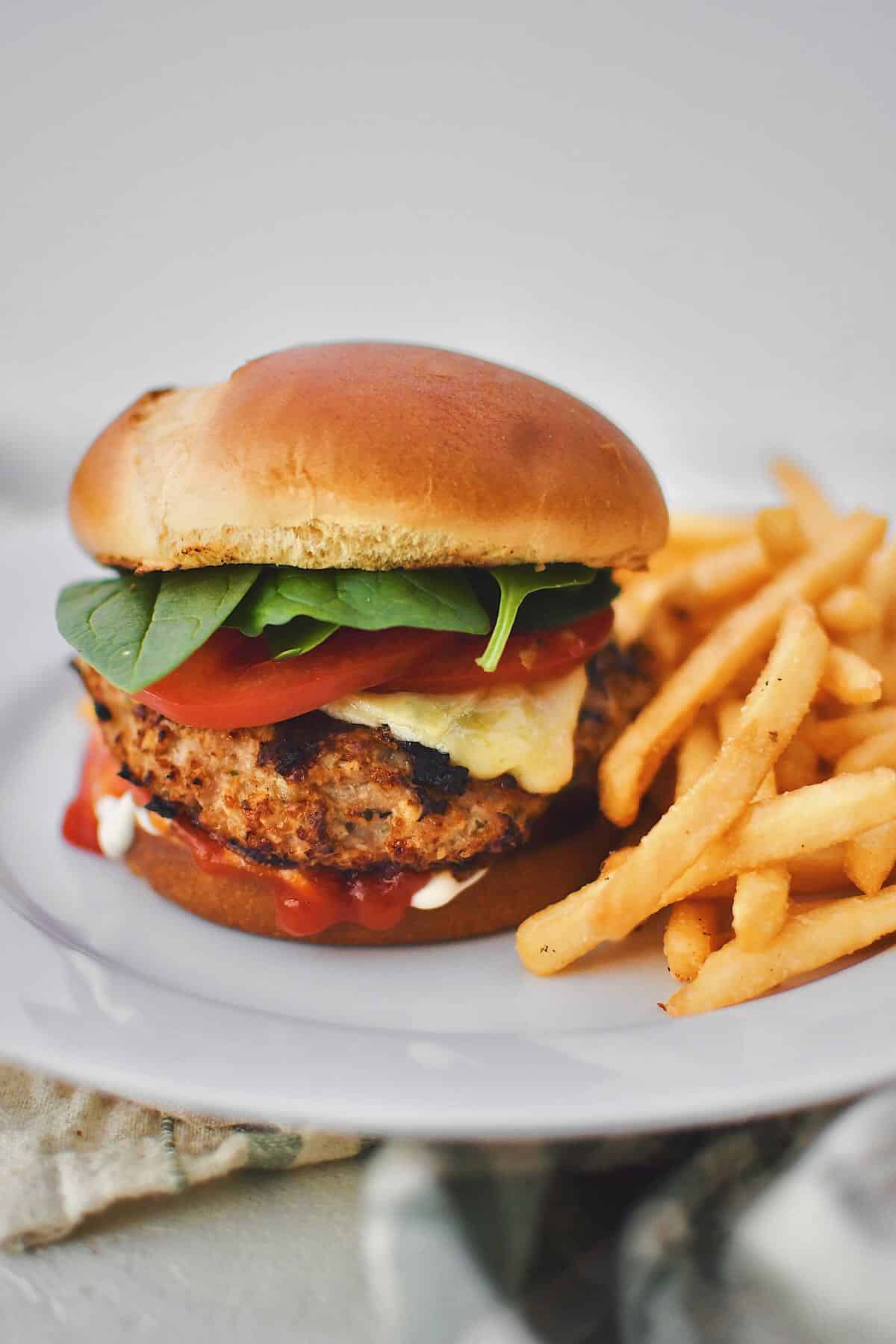 So I guess that makes this recipe doubly great. You can portion the mixture out to make patties for burgers, or make it into meatballs to toss with pasta and sauce.
Jump to:
Ingredients
Cheese on cheese is the name of this game with this recipe. The ricotta tenderizes the meat and helps keep it juicy. The parmesan brings lots of deep flavors. And the white cheddar is for on top for the perfect melt and tang.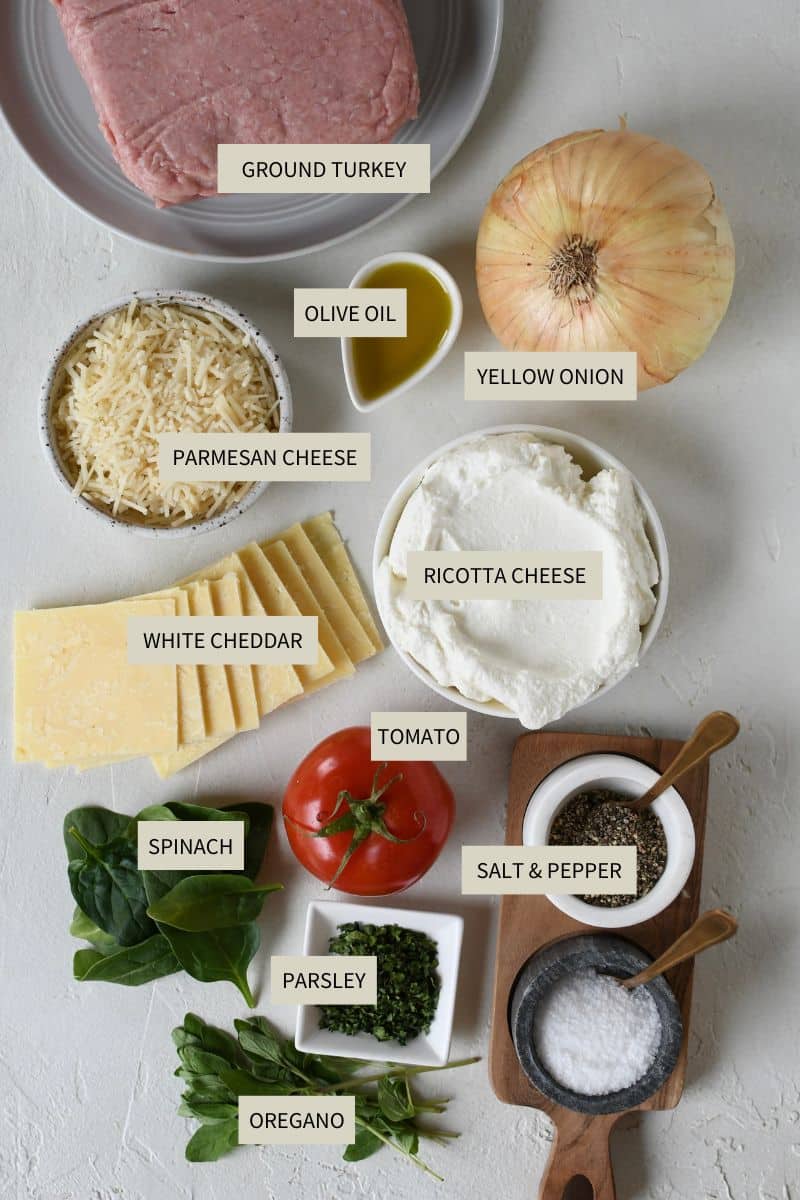 From there you need some seasonings and herbs, and to cook the onion in the olive oil. The spinach and tomato are optional toppings but I think they make it a well-rounded burger. And of course, you can add mustard, ketchup, mayo, and other condiments as desired.
Use the JUMP TO RECIPE button at the top of the post, or scroll to the bottom of the post to see the full recipe card with ingredient measurements and instructions.
Method
First, place the turkey, seasonings, herbs, parmesan, ricotta, and some panko bread crumbs in a large bowl. Then cook the onion in the olive oil in a skillet on the stove just till it becomes tender, then fold it into the meat mixture.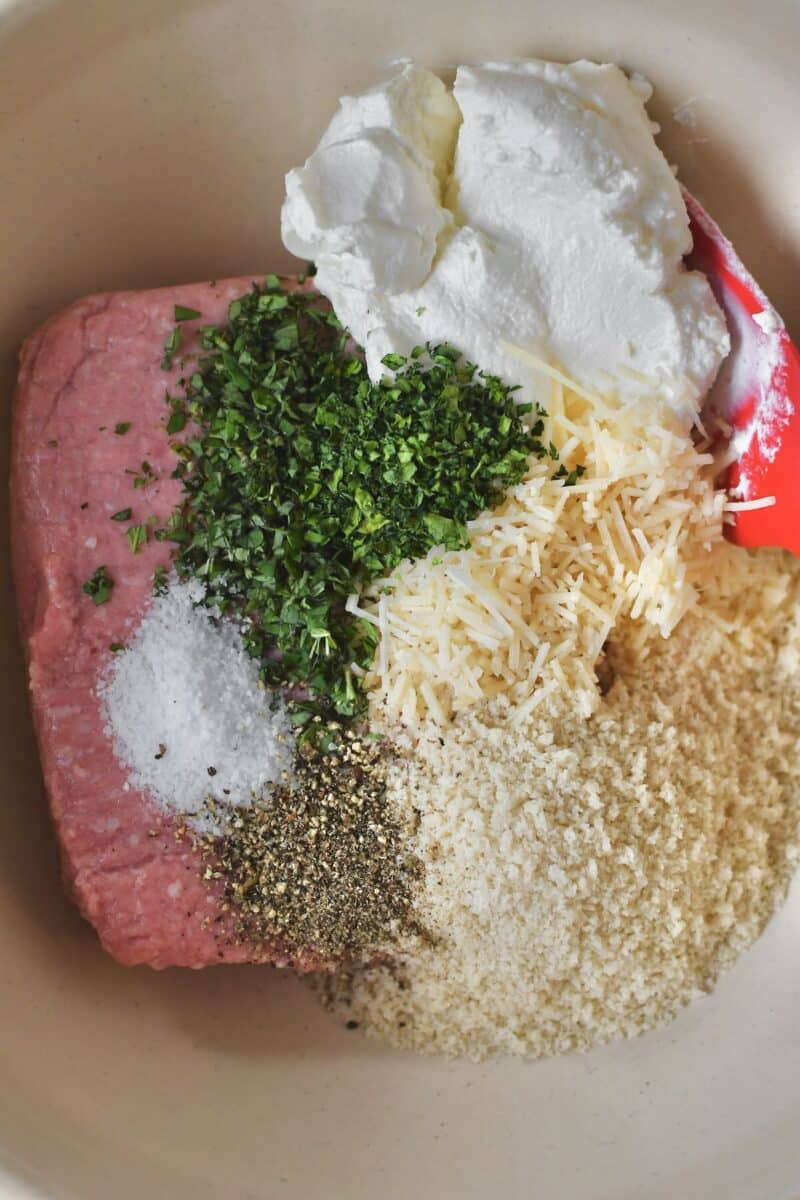 I use a large ice cream scoop to portion out the meat mixture. Two, 2-ounce scoops make the perfect ¼-pound patty. I scoop out all the mixture, then flatten them out between my hands and lay them out on a tray. I then chill them in the freezer for about 15 minutes so I can handle them easily to get them on the grill. The patties are super tender, and getting them cold helps them not fall apart.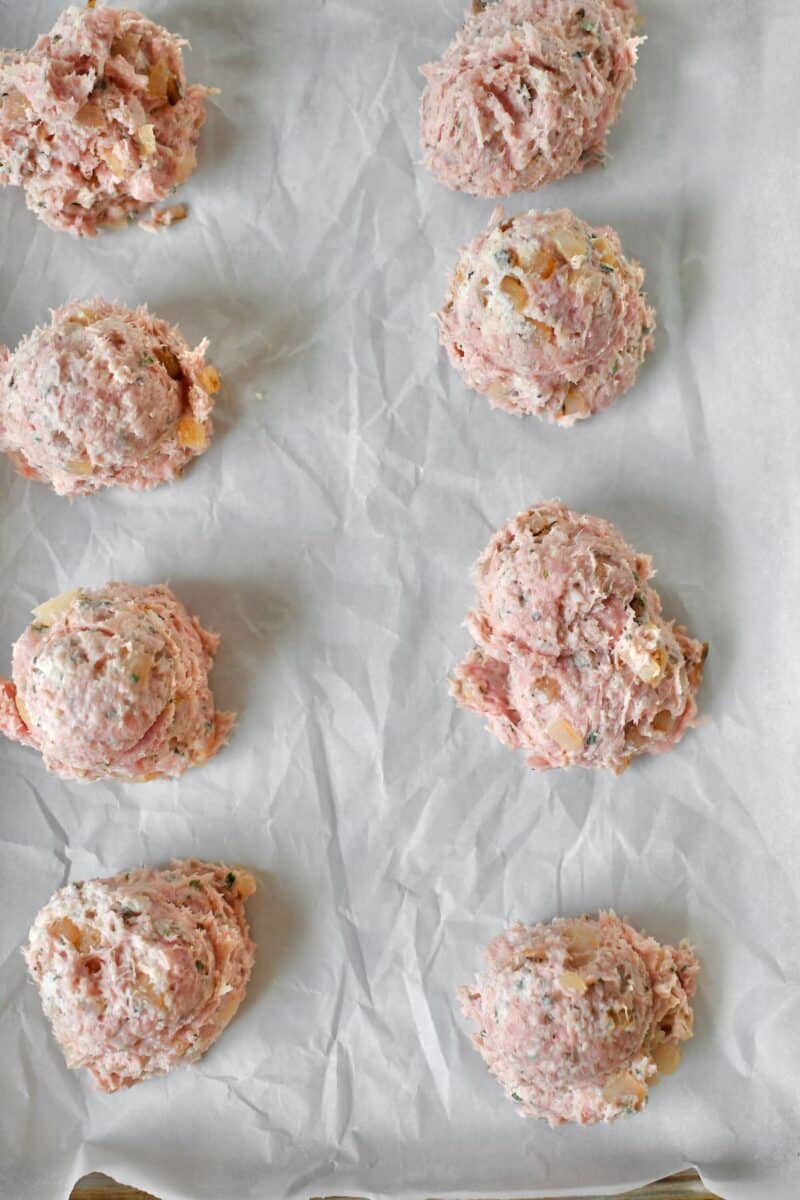 Then all you need to do is fire up the grill, get it really hot then turn it down to low and cook for about 7-8 minutes per side, or golden brown all around. You know they are ready to flip when they release without any effort from the grill grates.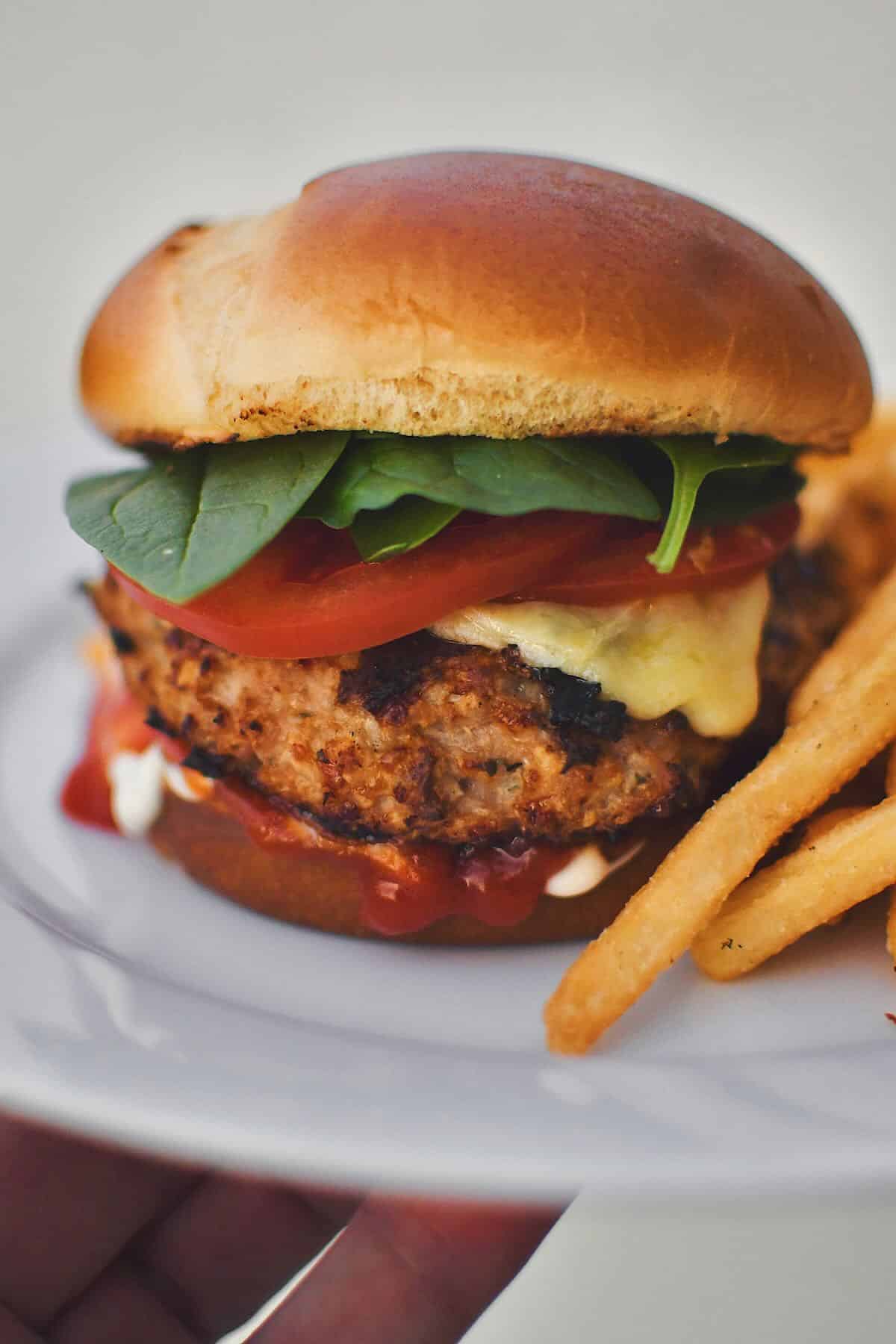 Serve on a bun with all your favorite toppings, and melt the white cheddar on top before taking them off the grill. Chips or french fries make a great side!
Notes & Tips
To make things quick, start by cooking the onions first, then while you gather all the burger ingredients they can cool. You don't have to worry about them being too cool as this recipe is a Turkey Burger without eggs, so the hot onions won't cook them cause they are not there. Plus, if all the other ingredients are cold, they will cool down as soon as you mix them in.
I like to throw the patties in the freezer for 10-15 minutes before I put them on the grill. This helps them to get a little more solid and lets the breadcrumbs soak everything in helping keep the final product nice and juicy.
If you do not want to cook the patties on an outdoor grill, they can also be cooked in an air-fryer for 12-15 minutes or until an internal temperature of 165˚F is reached.
The patties can also be cooked in a skillet on the stove. Heat a large skillet over medium heat with a little oil in the pan. Place the patty in the pan and cook for 4-5 minutes, flip and repeat until a thermometer reads 165˚F.
Substitutions
I used a yellow onion cause that is what I typically have on hand. However, you can use ANY onion you like or have on hand in this recipe.
Now, this is a Turkey Burger, but you can apply this recipe to pretty much ANY ground meat out there. Beef, chicken, pork, and so on. You can also use any of those meats and make meatballs out of the mixture too, not just burgers.
I want to say there is no sub for ricotta. But in a pinch, you could use cottage cheese, just drain off the excess water. But use ricotta as your first option.
If you can't locate panko bread crumbs, dry out some sandwich bread, 1-2 slices, and crumble it into the mixture. It is even ok if it is in semi-larger pieces.
The oregano and parsley are there for some added flavor and color. But feel free to swap them for anything you have on hand or growing in the garden.
I like Irish white cheddar on top, but the cheese on top of your burger is totally subjective. Please, use what you like. The same goes for the tomato and spinach, use lettuce if you like, or leave them off altogether.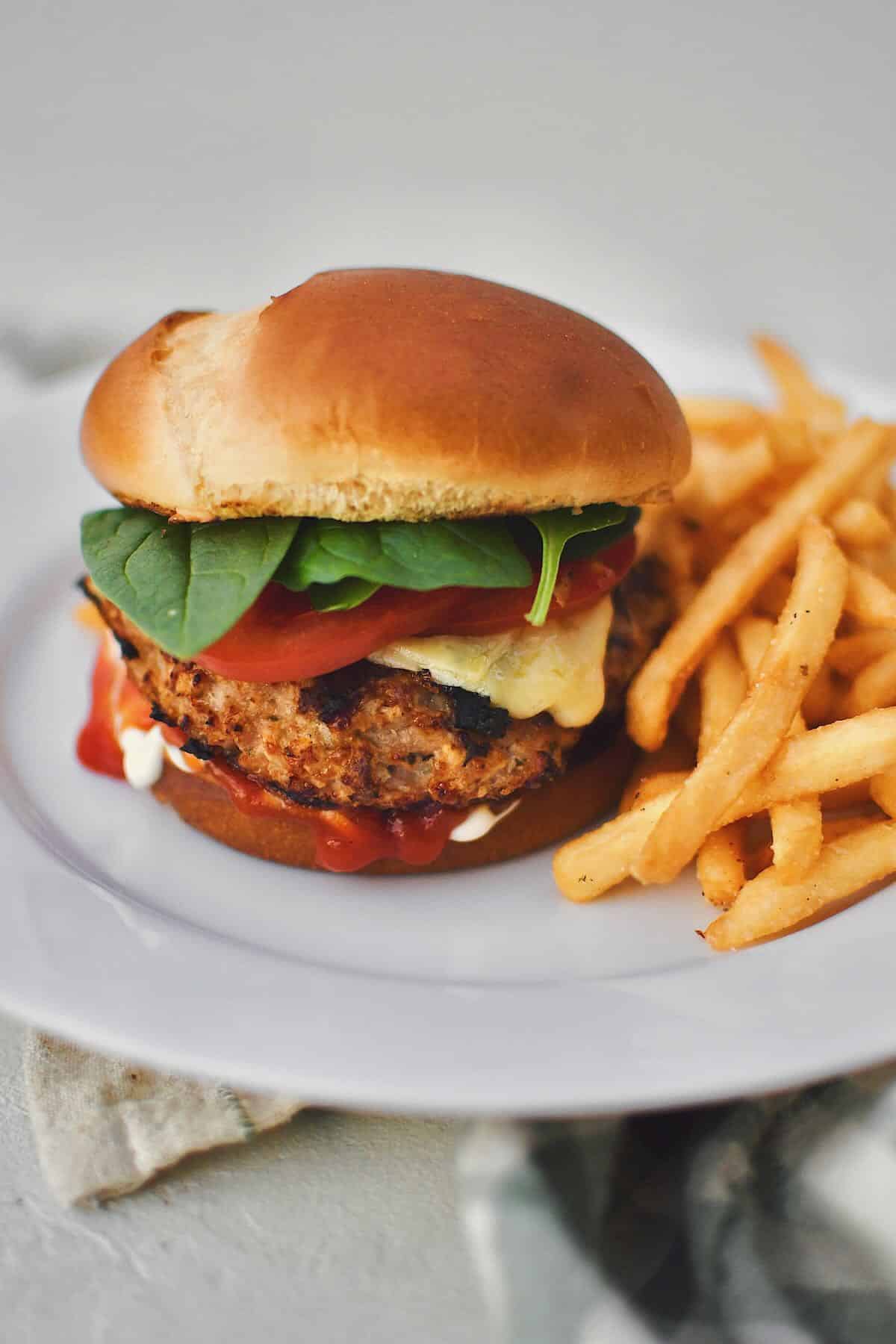 More great Burger Recipes
Did you make this recipe? Let me know by leaving a review or comment! And be sure to sign up for my newsletter, and follow along on Instagram, Pinterest, and Facebook!