Ok y'all, this homemade burger recipe might have just knocked my socks off. It was definitely one of, if not, THE BEST burgers I have ever made and eaten. I don't often take the time to make hamburgers from scratch, but I might have just convinced myself otherwise.
Ok, so don't let the title fool you. This may be the stripped-down version of a hamburger, basic in its parts, but perfection in the eating! And I am going to share some ways to take it from basic to BEYOND if you want to kick it up a notch.
How to make hamburgers at home...
The number one question that was searced when looking up a hamburger recipe online was, How do I make hamburgers at home? Well, we will take the time to answer that question right now.
You want to start with the star ingredient, and today that is beef. We are talking about a beef burger here and for me personally, I choose a lean, but not too lean, ground beef as my base. 88/12 is my favorite combo, this refers to the percentage of fat per pound of beef, and in this case, it means that the ground beef has 12% fat added to the ground meat.
It is important to have a certain amount of fat in your burger, but I like to keep it somewhat low so that I don't have flare-ups on my grill during cooking. The fat keeps the burger from being dry, so it is important to have just the right amount.
The next step is seasoning, and for a burger, you will want a binder as well. As with any meat, I like to pull it out of the fridge, season it, and let it come to room temp before cooking. This allows the salt to penetrate the meat fully and shortens cooking time.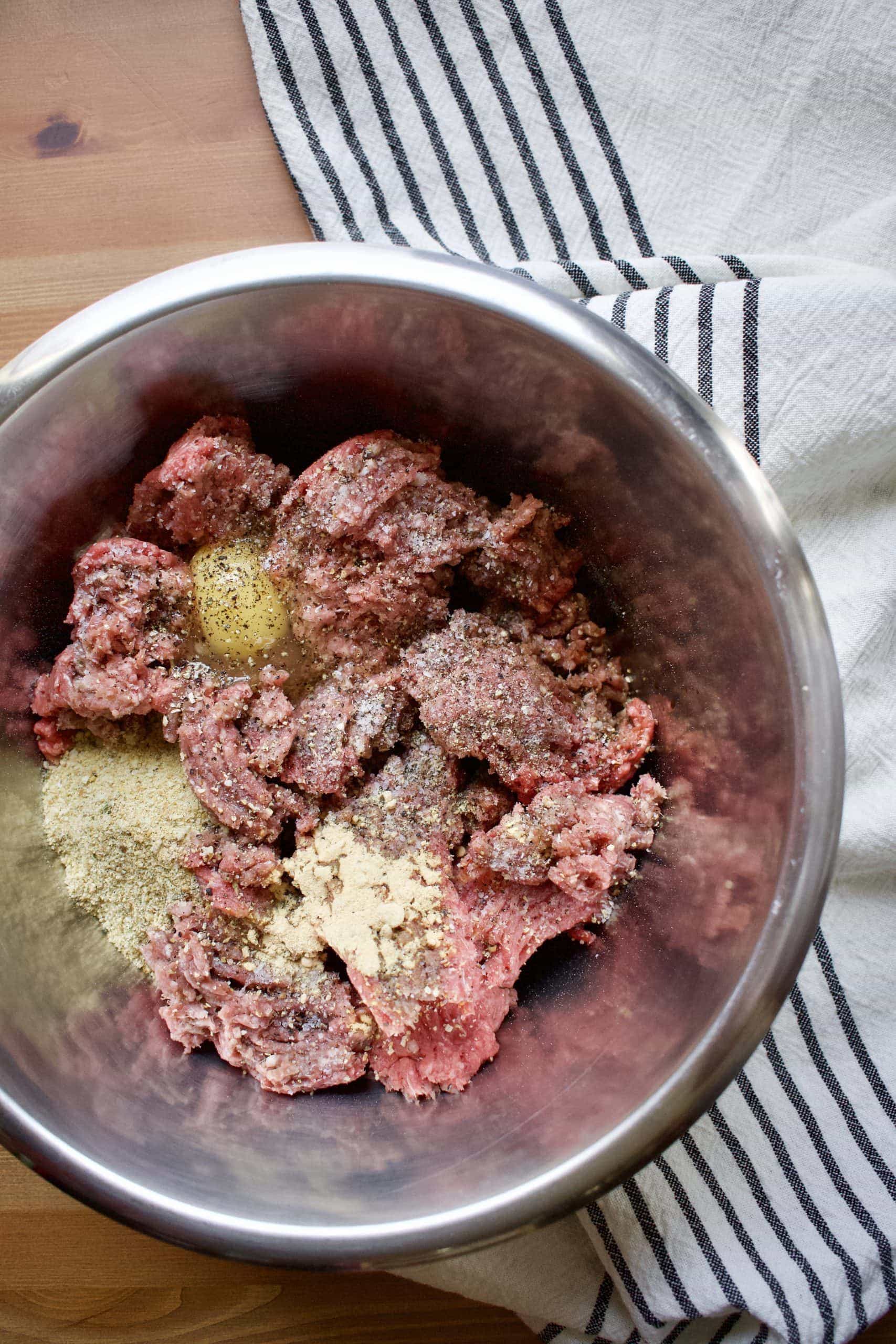 The binding agent you want to use for the best results is an egg and some bread crumbs. The bread crumbs will absorb the excess liquid and fat that the meat releases, keeping the burger moist, and the egg will hold it all together. Together they will help the burger remain tender and juicy.
The next important step is to patty them out and let them rest so that they don't shrink up the moment they hit the grill. This can be done up to 1 day ahead of time. Just remember to bring them to room temp for 15-20 minutes before cooking.
The last tip I can give you is regarding grill temperature. Be sure to heat the grill well in advance. I always light my outdoor grill about 15 minutes before cooking so it can be nice and warm when I am ready to cook. Warm it on high and reduce the heat to low when you place the burgers on.
This will ensure that it is hot enough to sear the outside, while gently cooking it and reducing the chance for flare-ups from the fat that will release. This method works for me every time and ensures no one eats a blackened burger.
From basic to BEYOND!
So the recipe I will share below will focus mainly on the seasoning of the beef and creating an essential and perfect burger. In my eyes anyway! I just can't stress enough, this was the best burger I have ever made, it was delish!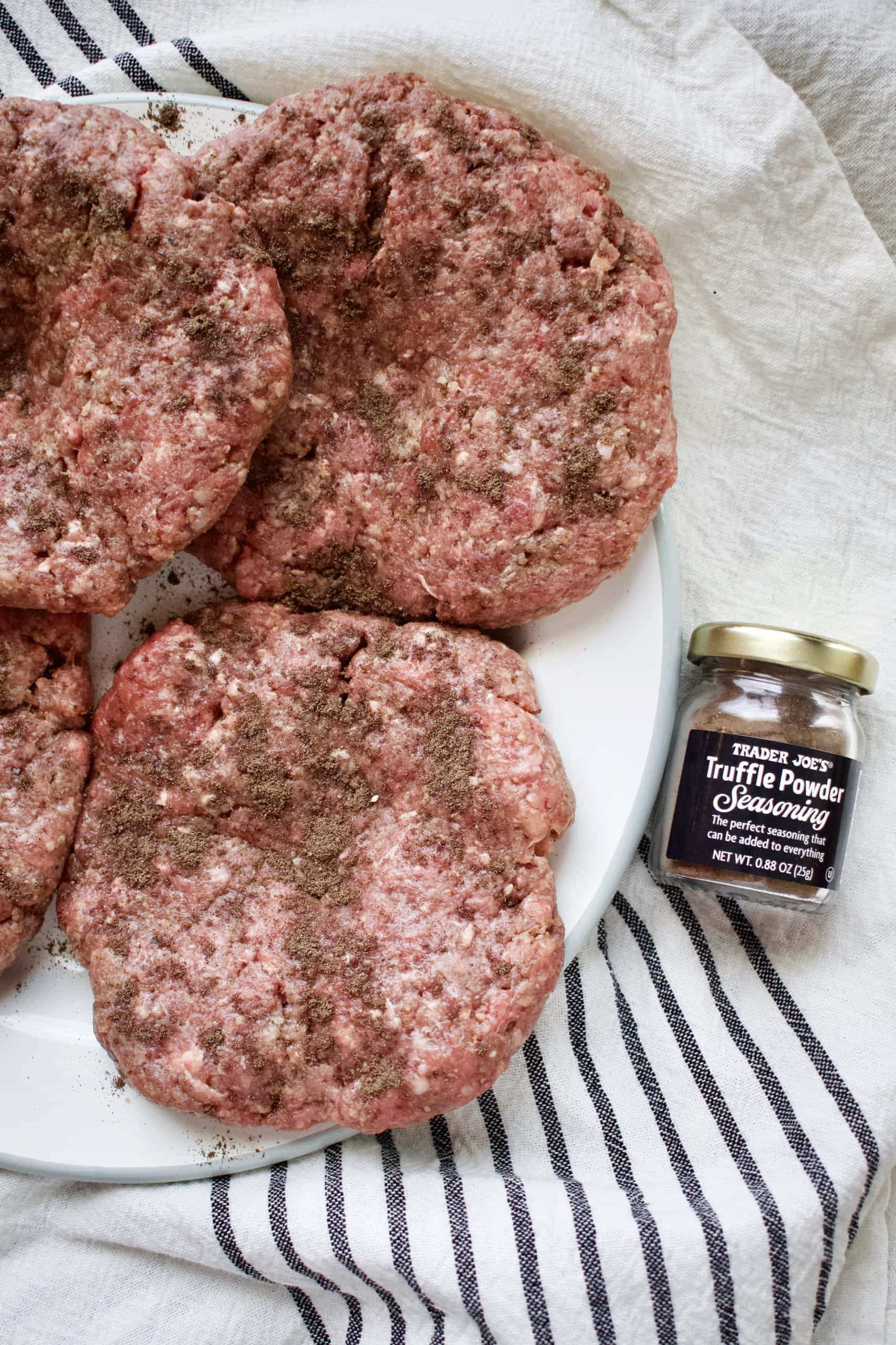 Now if you want to take it to the next level, grab you some of this truffle powder and just dust each burger with it! It will bring a flavor explosion to your mouth, and just might get you dancing right out of your seat! I used the one I found at Trader Joe's, but the one I linked is more readily available and equally as great!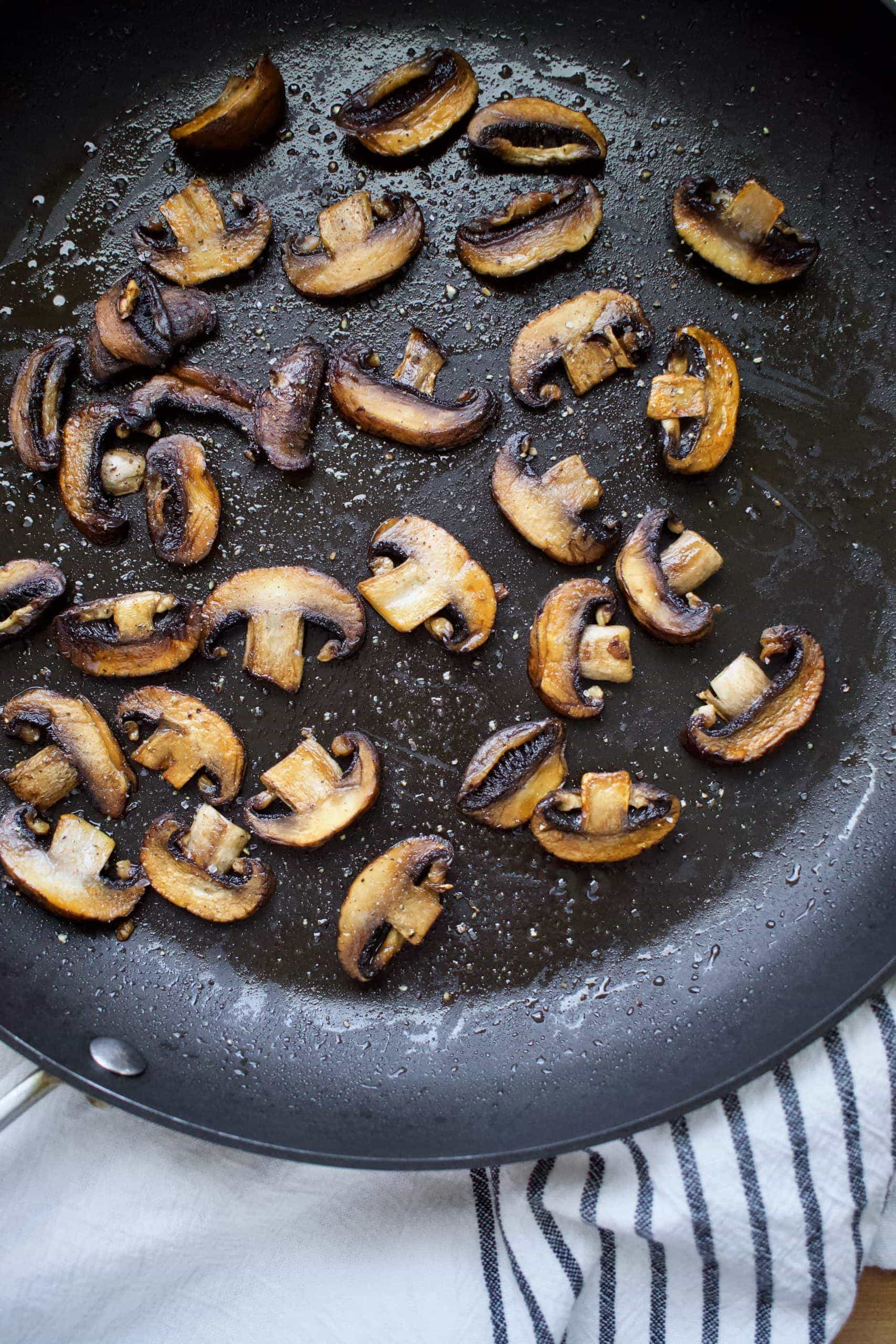 The only other addition I made that makes this burger more than basic was with the addition of some sauteed mushrooms. But they are so easy to make, and paired with the truffle dusted burgers it was a match made in heaven! Slice some crimini mushrooms into thick slices (I did 4 slices per shroom) and cook them in a warm pan in some olive oil until browned, flip and do the same, season with salt and pepper and toss them on your burger.
With grilling season here and ready to rock this recipe is perfect for your next outdoor barbeque, memorial day cookout, or fourth of July bash! Now you have all the knowledge and know-how to make the perfect burger and take it to the next level if you so choose!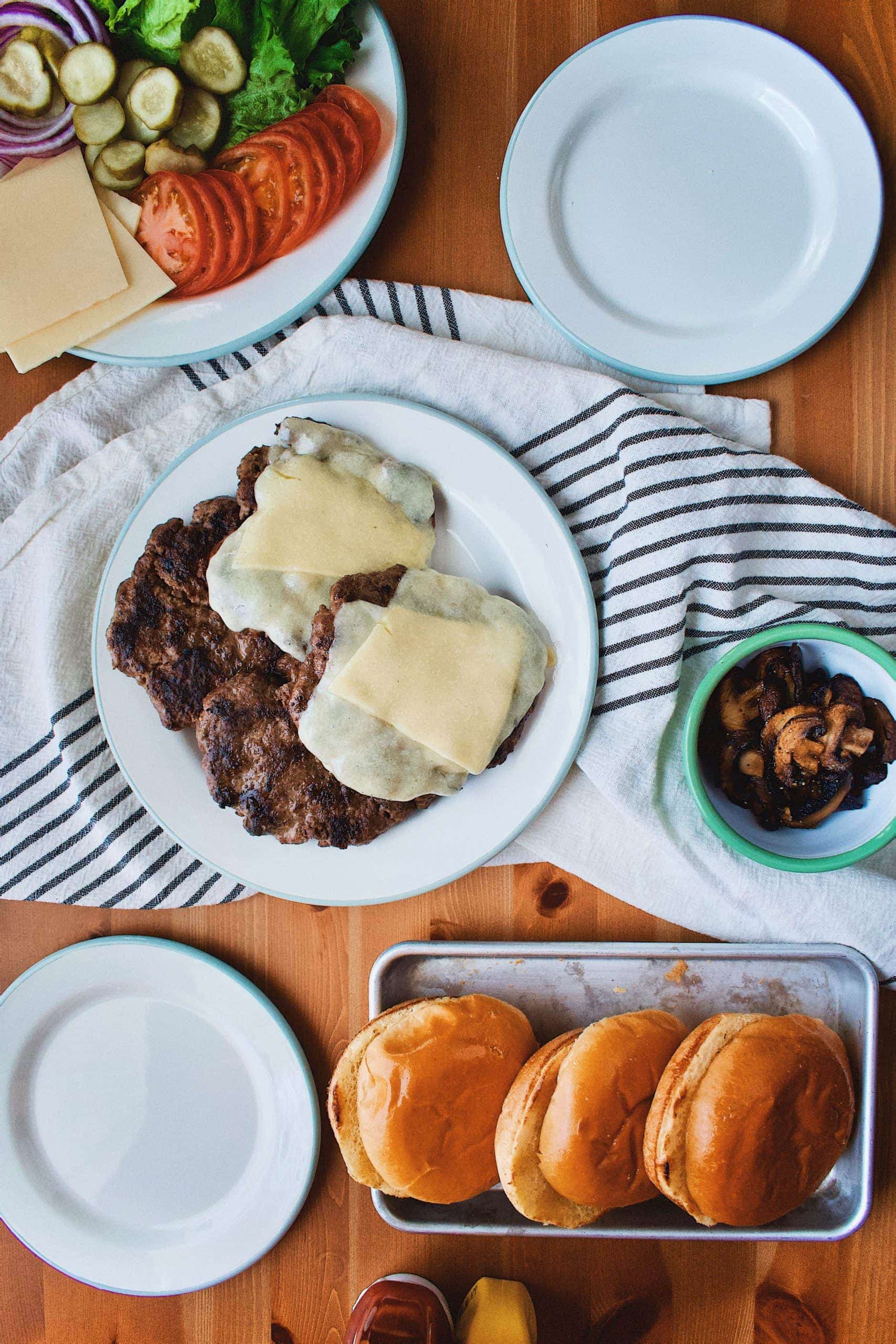 August 2020 Update:
Cost Breakdown Per Burger
$8.77 - 2.5lb Ground Beef - 8 5.5oz burgers
$7.98 - 8 Brioche Buns
$1.19 - Tillamook Cheese
$0.79 - Tomato
$0.40 - Red Onion
$1.99 - Potato Chips
$0.10 - Bread Crumbs
$0.17 - Egg
$0.32 - Lettuce
$1.99 - Mushrooms
Total Cost $23.70
$2.96 per burger
I share this cost breakdown because I used this recipe as part of a series I am doing about only grocery shopping 20-24 times a year. I will update with a link here when I get through the whole cycle and can report back with full costs and recipes. I am passionate about cooking at home because I can ensure that the food is hot, tastes as I want it to, and can save TONS of money.
As Mary Berry says, "With enthusiasm and flair anyone can become a fantastic home cook!" You can do it, I believe in you.
Basic Burger
This basic burger recipe is one that you can use as a base to jump off into the deep end and make your own. I have included my favorite additions that take it from basic to BEYOND, but feel free to make it your own.
Ingredients
2 lb lean Ground Beef
1 lg Egg
¼ cup fine Bread Crumbs
1 tablespoon Worcestershire
½ teaspoon Roasted Garlic Powder
1 teaspoon Kosher Salt
½ teaspoon Fresh Cracked Black Pepper
4 Brioche Hamburger Buns
4 Lettuce Leaves
2 Tomato, thinly sliced
4 slices Red Onion
8 slices White Cheddar Cheese
Pickle Slices
Instructions
In a bowl, mix ground beef, egg, bread crumbs, Worcestershire, garlic powder, salt, and pepper until well blended. Divide mixture into four equal portions and shape each into a patty.
Lay burgers on an oiled barbecue grill over a solid bed of hot coals or high heat on a gas grill (you can hold your hand at grill level only 2 to 3 seconds); close lid on the grill. Cook burgers, turning once, until browned on both sides and no longer pink inside (cut to test), 7 to 8 minutes total. Remove from grill.
Lay buns, cut side down, on grill and cook until lightly toasted, 30 seconds to 1 minute.
Add lettuce, tomato, burger, onion, and salt and pepper to taste. Set bun tops in place.
Notes
To take these burgers to the next level add a dash of Black Truffle Powder to them just before cooking.
The addition of some sauteed crimini mushrooms boosts the greatness of this flavor. Cut them into thick slices, 4 slices per shroom, and cook in a hot skillet in some oil until browned on both sides, season with salt and pepper and add to the top of your burger.
Nutrition Information:
Serving Size:

1 grams
Amount Per Serving:
Unsaturated Fat:

0g
If you make this recipe, please let me know by leaving a review at the bottom of this page!
And make sure to sign up for my newsletter and follow along on Instagram, Pinterest, and Facebook for more KendellKreations!
MY LATEST RECIPES!
Get my NEW e-Cookbook here!! ⬇️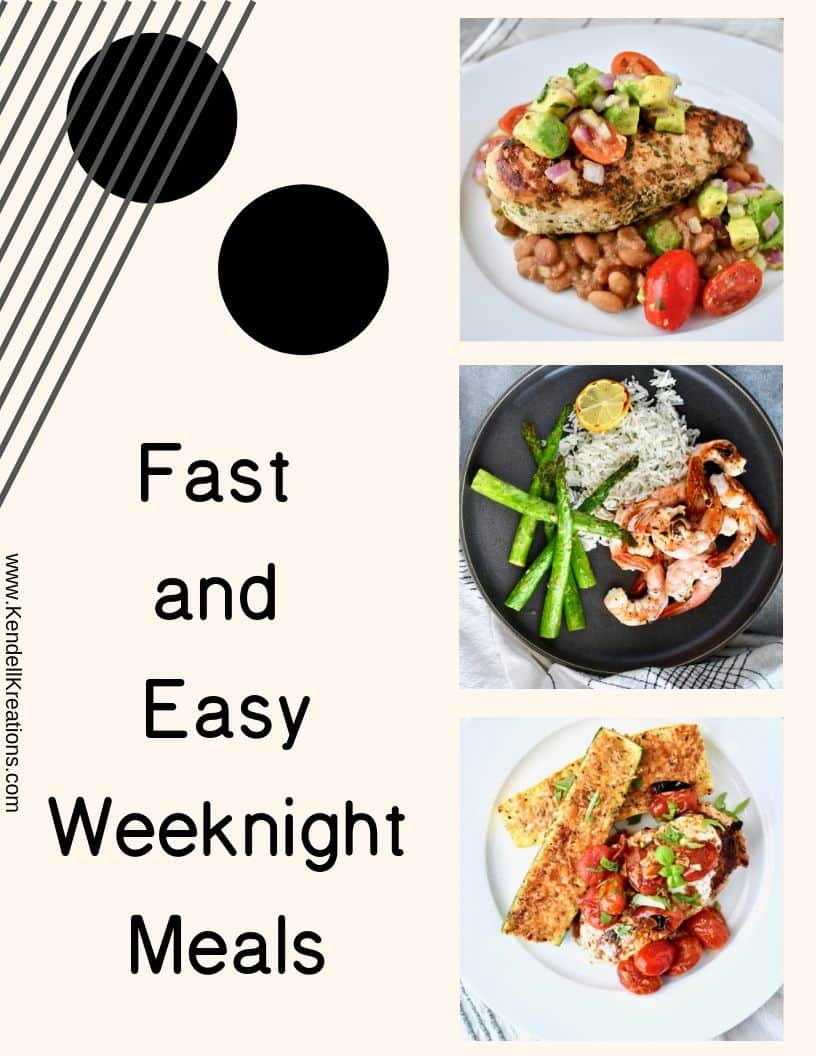 MY FAVORITE KITCHEN TOOLS!
Here are a few links to some of my favorite kitchen tools! You get a car, YOu get a car, YOU ALL GET A CAR…in my best Oprah voice
These Rösle Silicone Tongs are a little pricey but they will last you the rest of your life and are the softest in your hand. This is important for someone like m that cooks so much. It reduces strain, I have 4 sets in my kitchen!
These are my FAVE Nordic Ware Sheet Pans, every kitchen should have at least 2 sets of these! I think I have at least 4 of each of these.
This is my favorite pressure cooker, the Fagor is the same concept as the "Instant Pot" but easier to use in my opinion, if you don't have one you NEED one, it will be your best friend in the kitchen!
A sharp knife is the most important tool in the kitchen, these Japanese steel "Shun" knives are my favorite! And this is a great starter set to build on. Once you try them you will be in love so use this as a foundation you can build on for years to come.
This Scanpan 11″ skillet is just the right size for almost anything you will need to cook and my best friend and a real workhorse in my kitchen, it's also a great deal at $99. Scanpan is the best in the world for healthy cooking. It is coated with a proprietary ceramic-titanium coating that is durable while allowing you to use fewer fats and oils when cooking. It is a coating only they use. I could talk all day about my love for these pans, message me if you want more info. Here are some other sizes that are available if you are looking to outfit your kitchen with some new goodies. 8″ & 10″ Skillet set or 8″ Skillet, I still need this one for my kitchen Also, I don't really know how to cook small so the 12.5″ is my other fave!
This giant vat of olive oil is my favorite, I decant it into a smaller bottle for my counter. Or put this spigot on top of a wine bottle!
My favorite baking dish that is so easy to clean even burnt on cheese slides right off!
This Tovolo jar scraper has to be my single favorite kitchen tool, it is definitely the most used tool in my kitchen. If you are NOT a gadget person, this is the only necessity I say is a MUST beyond the wooden spoon.
A great wood spoon is essential, this Olive Wood one is my favorite, I have more than I can count. But can you really ever have too many?
A food scale can be a very important tool in your kitchen, this one is the one I use every day!
If you love Joanna Gaines as much as I do then the 'Magnolia Table Cookbook' is a must in your kitchen, get a copy HERE!