This Not-So "Basic" Burger recipe just knocked my socks right off. It was definitely one of, if not, THE BEST hamburger I have ever made and eaten. I don't often take the time to make hamburgers from scratch, but I might have just convinced myself otherwise.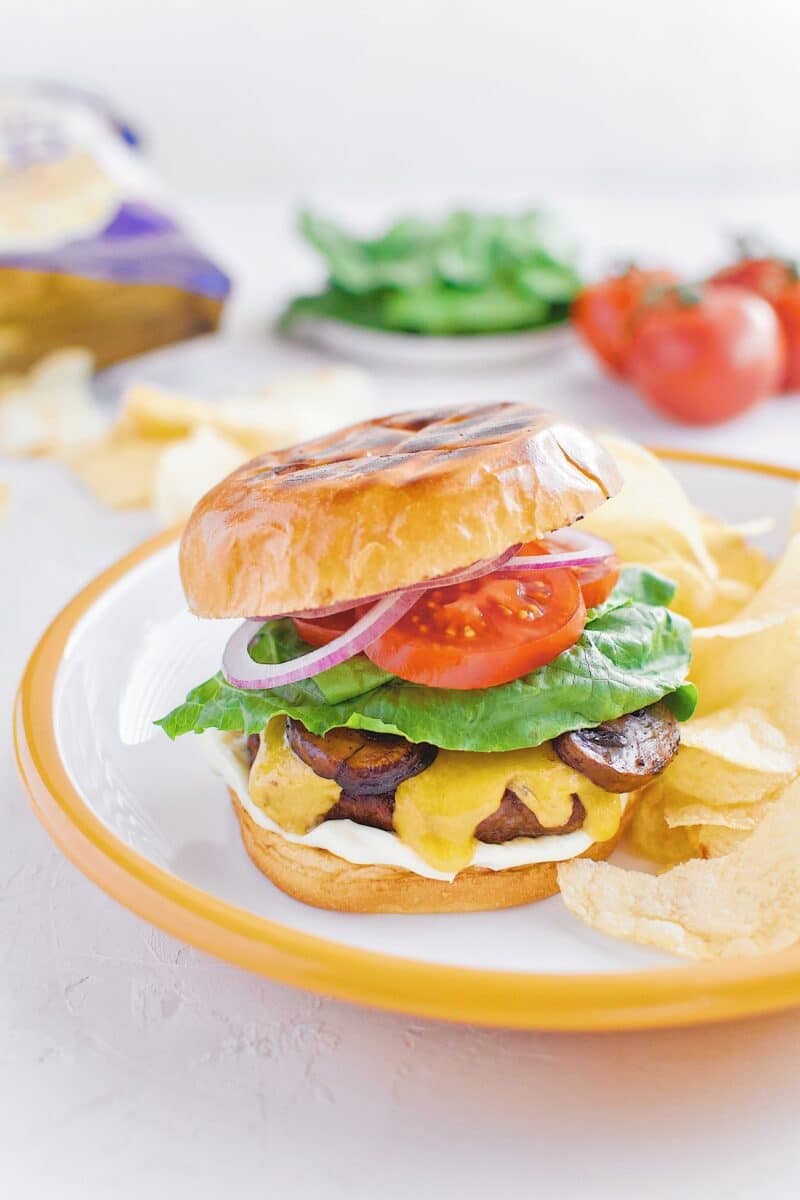 This post was first published May 21, 2020, and was last updated June 2, 2021.
At its core, this may be the stripped-down, basic version of a hamburger, but it is perfection in the eating! And I am going to share some ways to take it from basic to BEYOND if you want to kick it up a notch.
Jump to:
Ingredients
The number one question that was searched when looking up homemade hamburger recipes online was, "How do I make hamburgers at home?" Let's take the time to answer that question right now.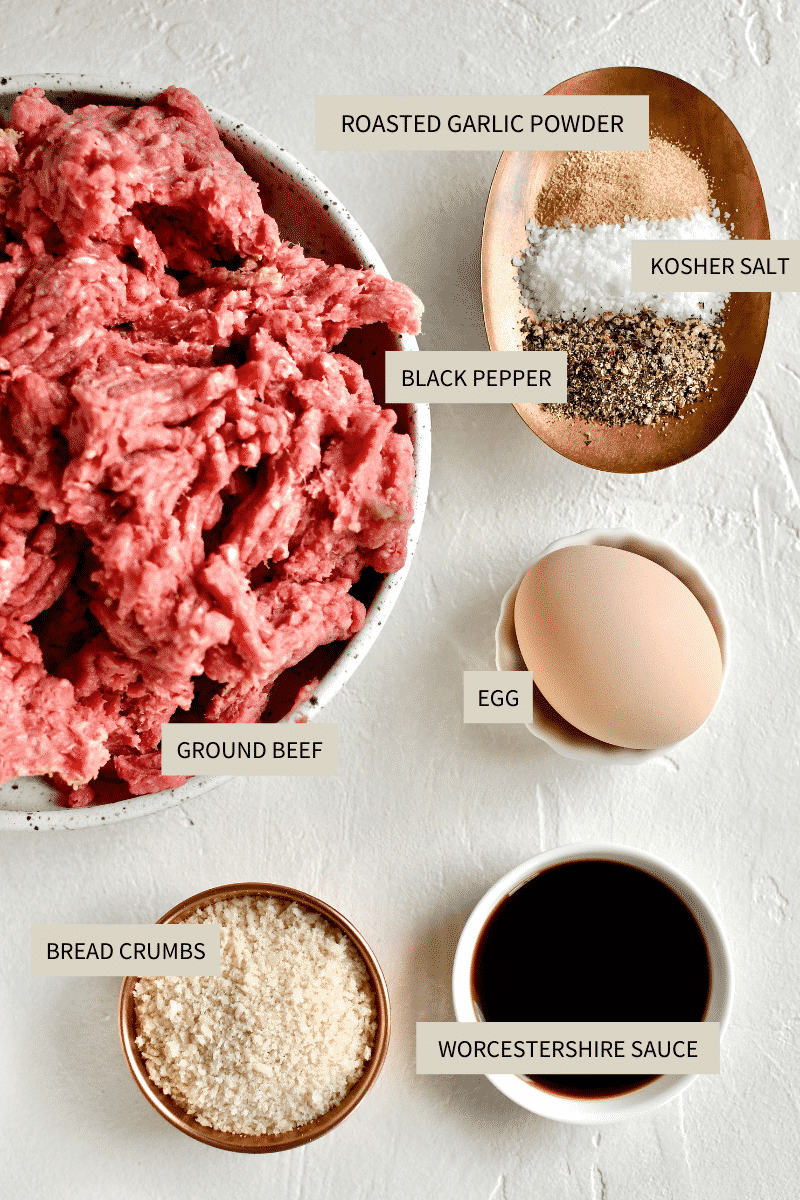 You want to start with the star ingredient, and today that is beef. We are talking about a beef burger here and for me personally, I choose a lean, but not too lean, ground beef as my base. 88/12 is my favorite combo, this refers to the percentage of fat per pound of beef, and in this case, it means that the ground beef has 12% fat added to the ground meat.
It is important to have a certain amount of fat in your burger, but I like to keep it somewhat low so that I don't have flare-ups on my grill during cooking. The fat keeps the burger from being dry, so it is important to have just the right amount.
Use the JUMP TO RECIPE button at the top of the post, or scroll to the bottom of the post to see the full recipe card with ingredient measurements and instructions.
We will also add a little fat in the form of an egg, and just a touch of bread crumbs to soak up all the juices that the beef releases. That will keep the burger super juicy, just the way a perfect burger should be.
Seasoning is the first step in making this DELICIOUS and Not-So Basic Burger. The next thing you want to remember when making burgers is that you kind of want to treat the ground beef like you would bread dough. It is easy to overwork the meat making it tough, and allowing it to rest will only make it better in the end.
Method
In the case of this burger, our seasonings are going to be the egg, bread crumbs, Worcestershire sauce, salt, pepper, and my secret weapon, roasted garlic powder. Each of these ingredients plays a role in making thing burger fantastic in the end.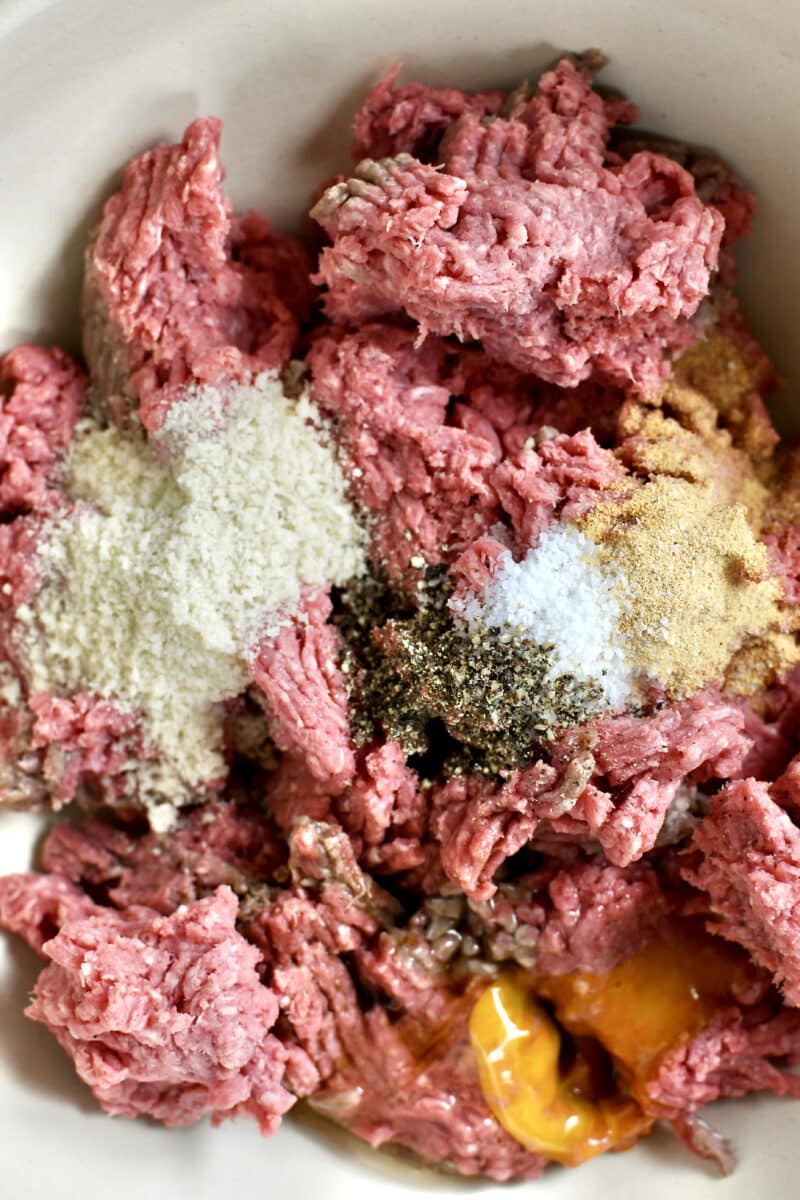 Once all of your ingredients are mixed together, portion your burgers into your desired size. I first roll my burgers into balls, and I weigh them to ensure they are all the same size. 6oz is my perfect burger because once it is cooked I am left with a 4-4.5oz burger. That's a quarter powder, and that suits me perfectly. But feel free to make them any size you like once you mix it all up.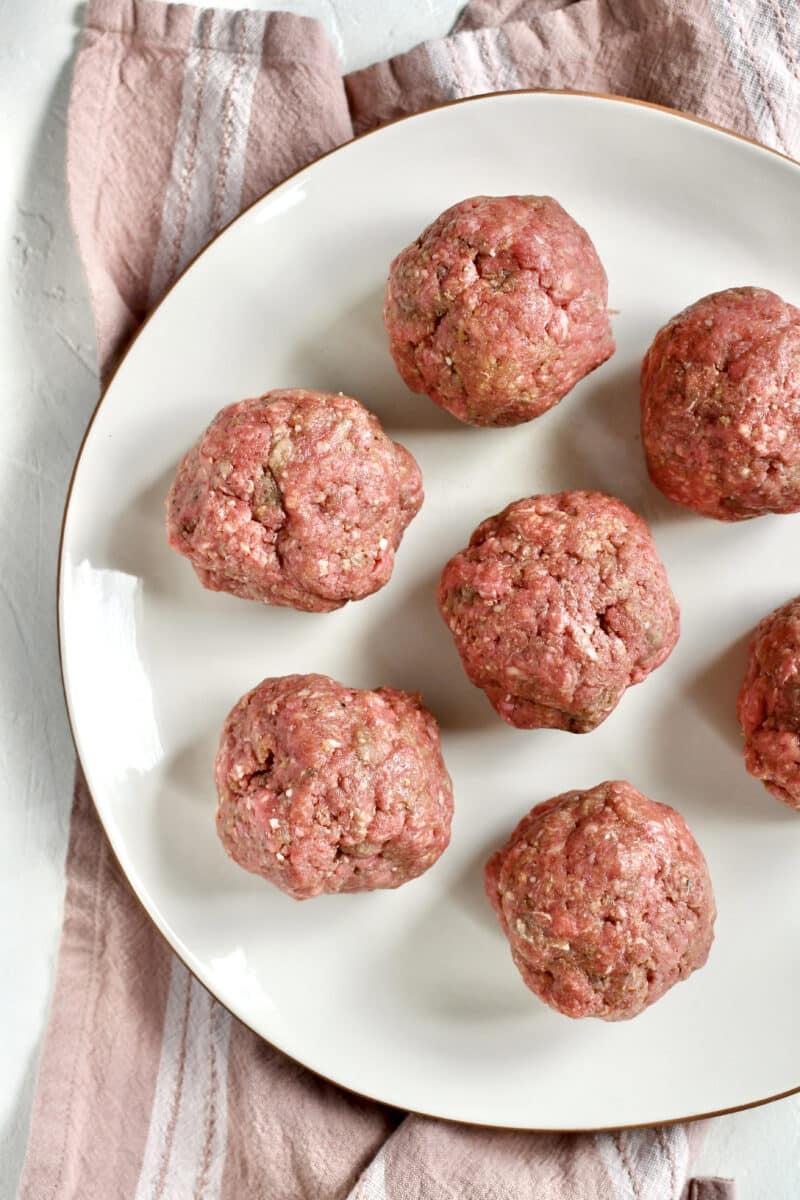 The next important step is to patty them out and let them rest so that they don't shrink up the moment they hit the grill. This can be done up to 1 day ahead of time. Just remember to bring them to room temp for 15-20 minutes before cooking.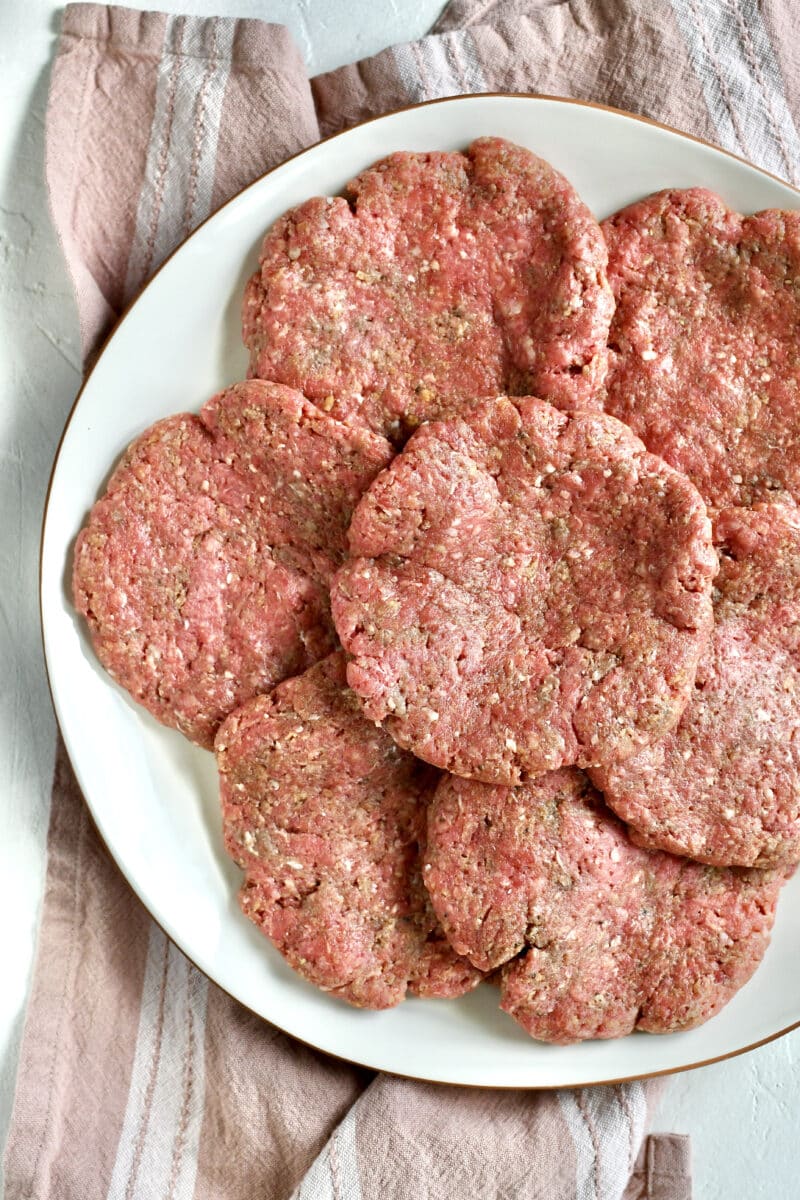 Notes & Tips
When seasoning the burger mixture, gently fold the meat over itself until all the seasonings are worked in. Being careful not to overwork the mixture which can result in a tough burger.
Season early! The longer the seasonings have to rest all mixed together the more flavor your burgers will have.
The burgers can be seasoned and formed into patties up to a day before cooking. Seasoned burgers can also be frozen for up to 3 months in an air-tight container.
Be sure to heat the grill well in advance. I always light my outdoor grill about 15 minutes before cooking so it can be nice and warm when I am ready to cook. Warm it on high and reduce the heat to low when you place the burgers on.
This will ensure that it is hot enough to sear the outside, while gently cooking it and reducing the chance for flare-ups from the fat that will release. This method works for me every time and ensures no one eats a blackened burger.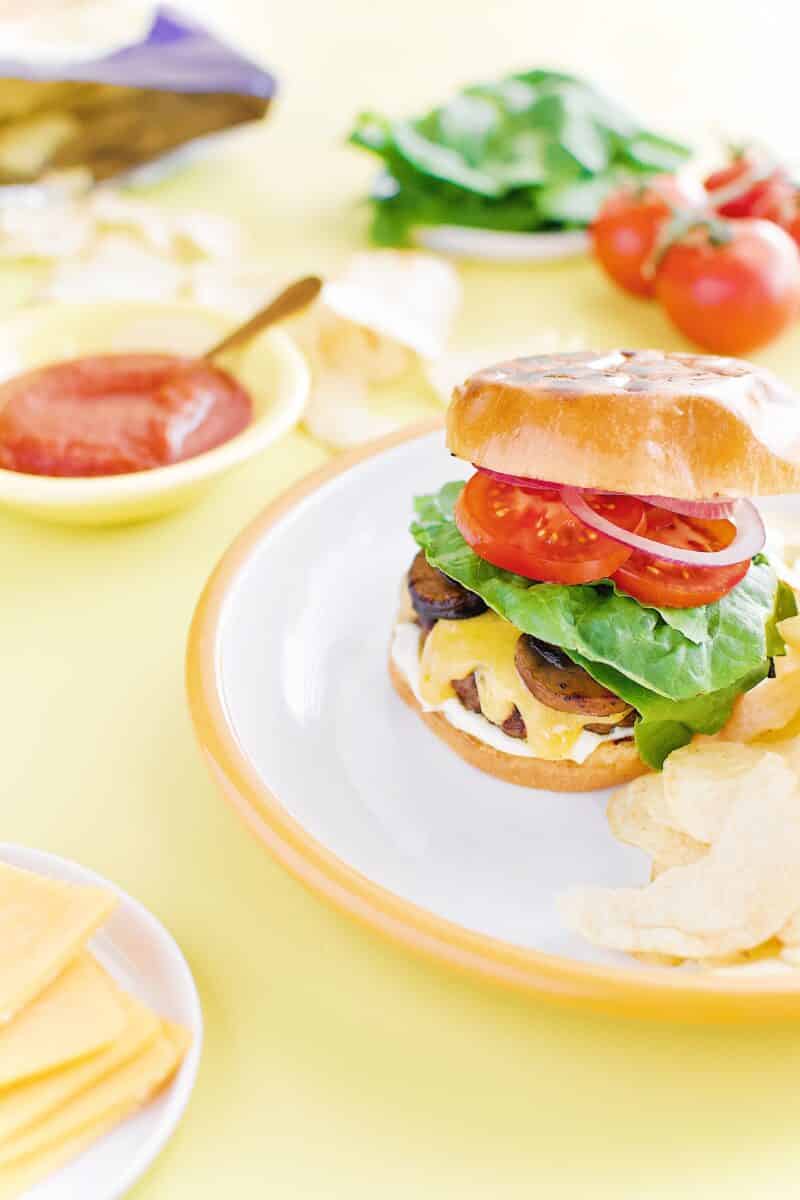 Substitutions
You can swap the beef in this recipe for ground bison, turkey, or chicken and season it exactly the same for a delicious burger of your chosen protein.
The egg is a must for me, but if you need to leave it out due to an allergy or dietary reason, you can do so. They will still hold together very well without it.
When it comes to the bread crumbs, this is another thing that can be left out, but your burger may be drier in the end. To make it gluten-free use THESE great gluten-free bread crumbs.
A great swap for Worcestershire sauce is soy, hoisin, ketchup, or balsamic vinegar. Something with a bit of an umami flavor boosts these burgers up a notch.
I LOVE to use Roasted Garlic Powder, it is actually all I keep in my kitchen. Because why not!? But you can easily swap it for regular garlic powder, onion powder, or garlic salt.
From basic to BEYOND!
So the recipe I will share below will focus mainly on the seasoning of the beef and creating an essential and perfect burger. In my eyes anyway! I just can't stress enough, this was the best burger I have ever made, it was delish!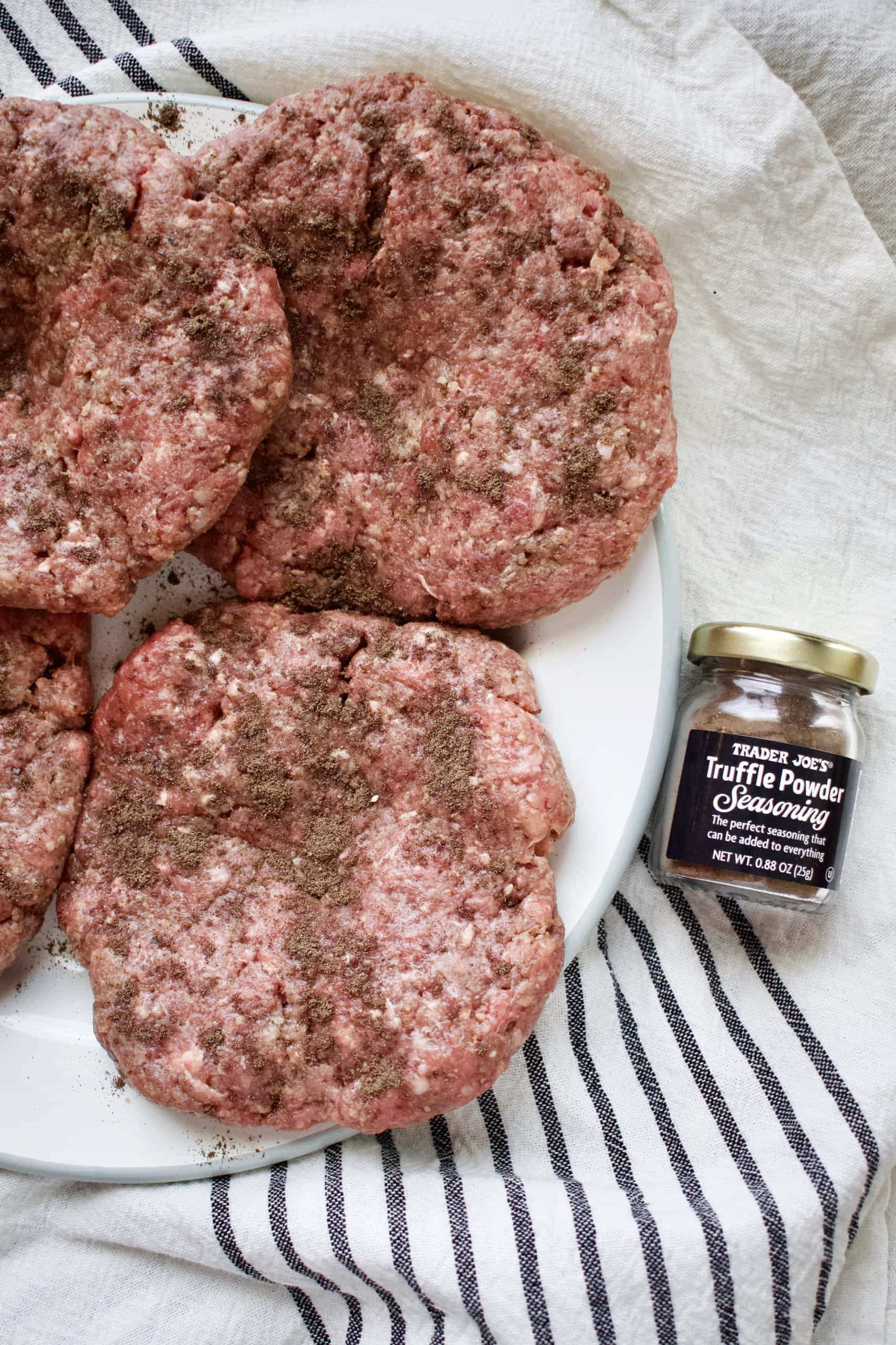 Now if you want to take it to the next level, grab you some of this truffle powder and just dust each burger with it! It will bring a flavor explosion to your mouth, and just might get you dancing right out of your seat! I used the one I found at Trader Joe's, but the one I linked is more readily available and equally as great!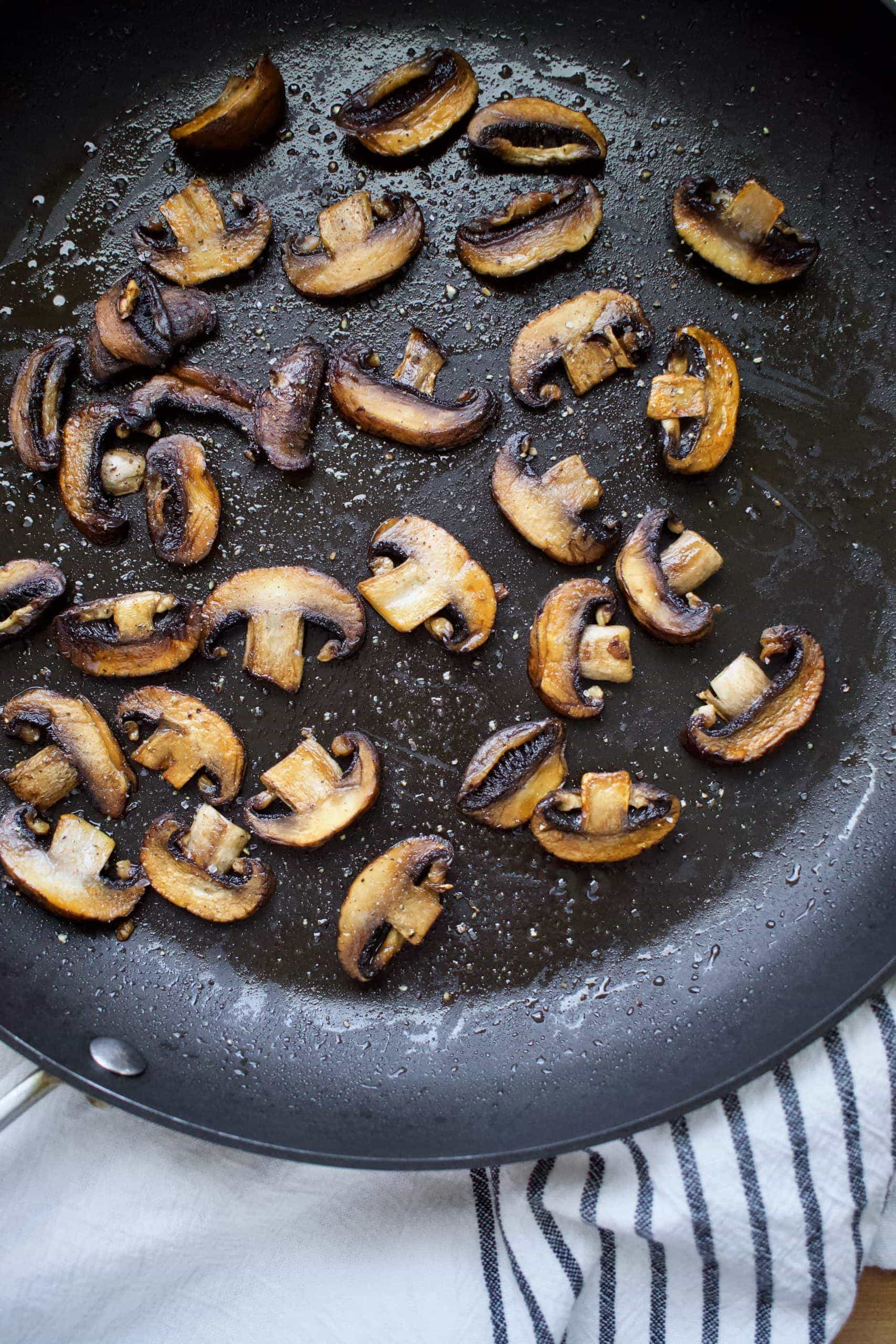 The only other addition I made that makes this burger more than basic was with the addition of some sauteed mushrooms. But they are so easy to make, and paired with the truffle dusted burgers it was a match made in heaven! Slice some crimini mushrooms into thick slices (I did 4 slices per shroom) and cook them in a warm pan in some olive oil until browned, flip and do the same, season with salt and pepper and toss them on your burger.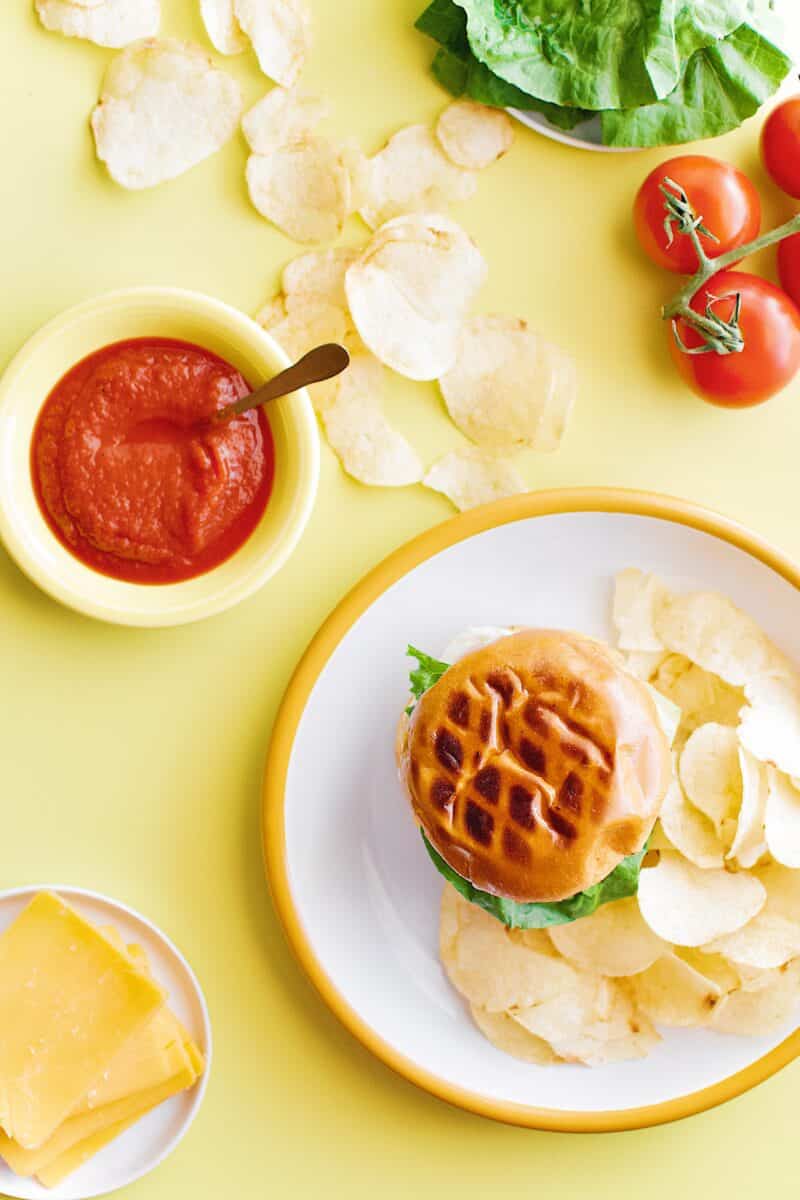 Perfect Pairing for your Burgers!
Copycak Chick-fil-A Superfood Kale Salad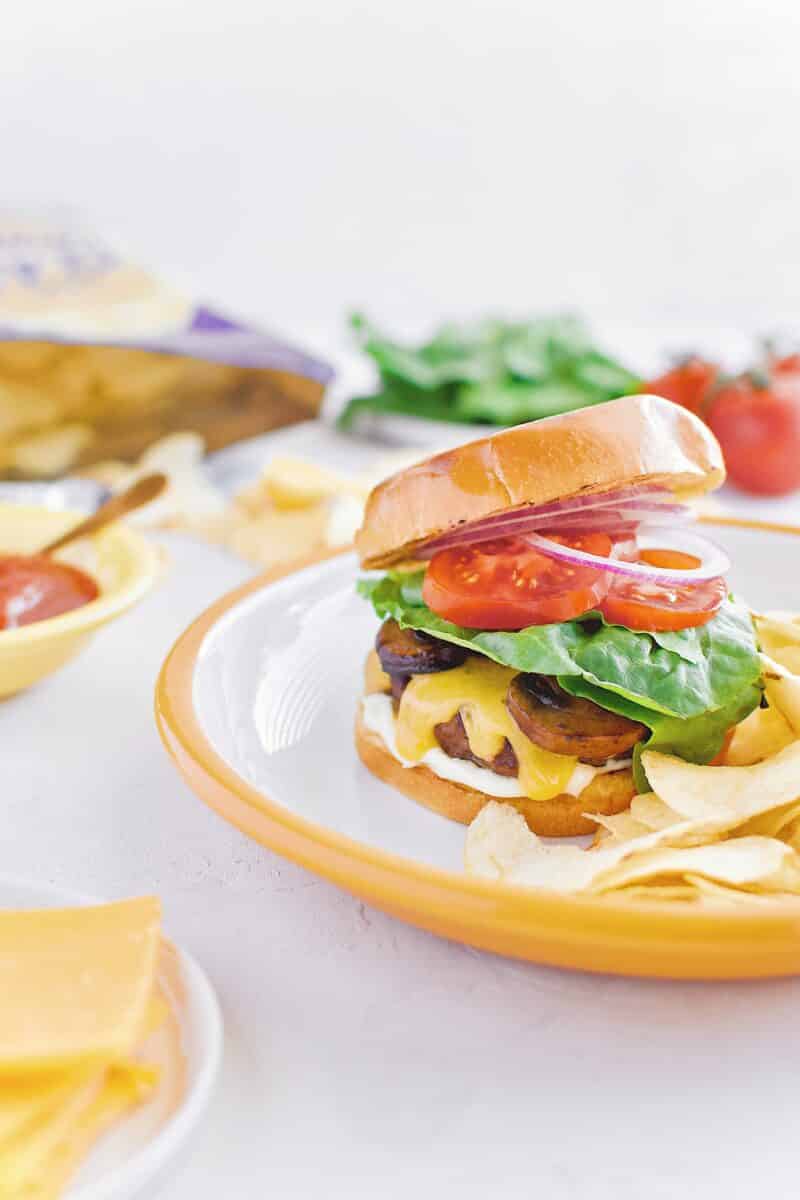 Did you make this recipe? Let me know by leaving a review or comment! And be sure to sign up for my newsletter, and follow along on Instagram, Pinterest, and Facebook!
August 2020 Update:
Cost Breakdown Per Burger
$8.77 - 2.5lb Ground Beef - 8 5.5oz burgers
$7.98 - 8 Brioche Buns
$1.19 - Tillamook Cheese
$0.79 - Tomato
$0.40 - Red Onion
$1.99 - Potato Chips
$0.10 - Bread Crumbs
$0.17 - Egg
$0.32 - Lettuce
$1.99 - Mushrooms
Total Cost $23.70
$2.96 per burger
This cost breakdown because I used this recipe as part of a series I am doing about only grocery shopping 20-24 times a year. I am passionate about cooking at home because I can ensure that the food is hot, tastes as I want it to, and can save TONS of money.
As Mary Berry says, "With enthusiasm and flair anyone can become a fantastic home cook!" You can do it, I believe in you.