I found this old-school Banana Split Cake deep in my grandmother's recipe book. It holds some controversial secrets, but I am going to share an optional adjustment, and also share the original recipe. You can choose your path, red or blue...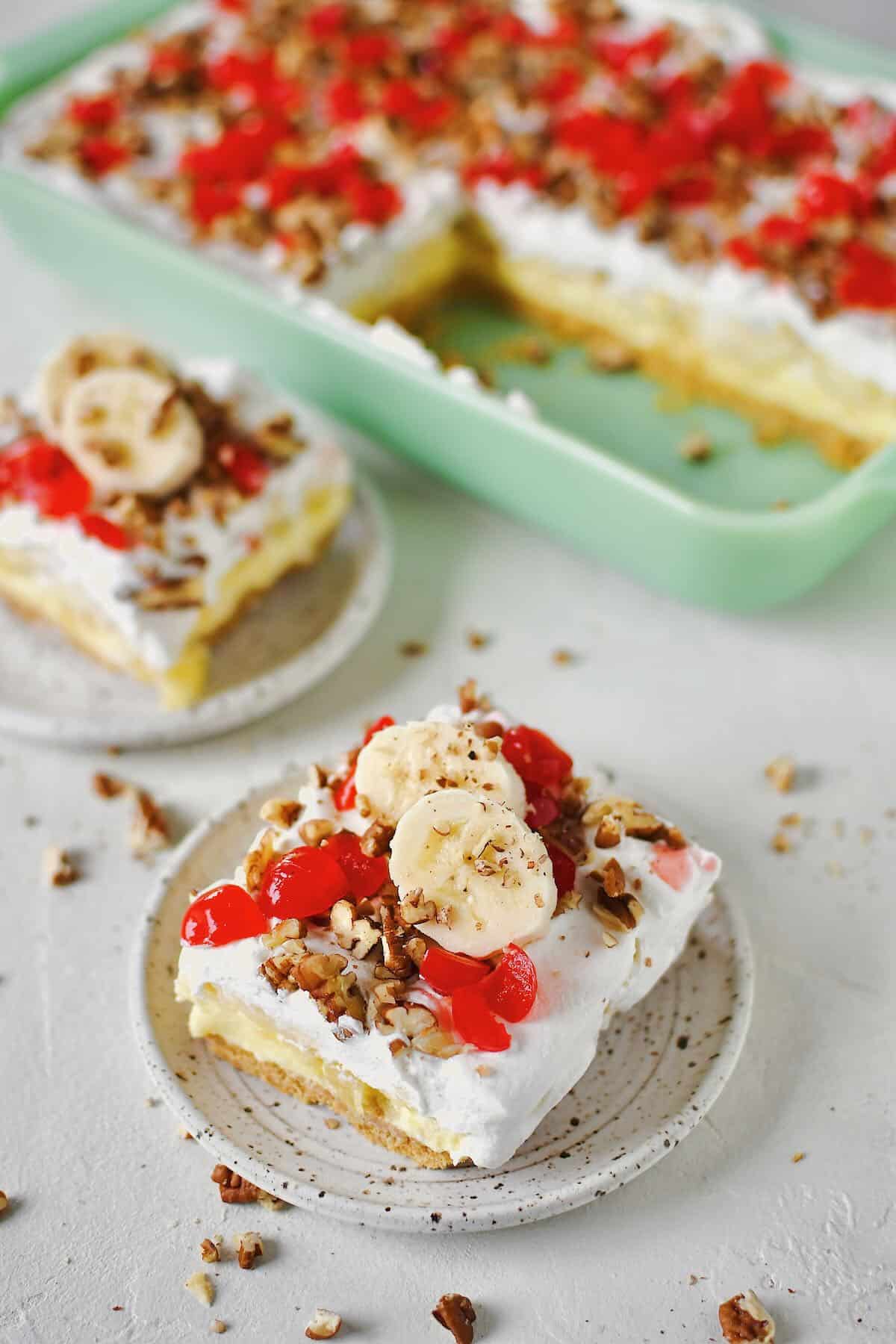 Whether you got my matrix reference or not, the end result of this recipe is super tasty. It evokes all the nostalgia of a classic banana split, but I personally love the graham cracker crust! Spoiler Alert - the controversial ingredient is raw eggs, but we'll get into that deeper later.
Jump to:
Ingredients
You'll notice all the classically traditional banana split flavors in this ingredient list. Minus the ice cream. The pineapple and cherries are a must, but you might change up the nuts to your liking. I prefer toasted pecans for this recipe, but peanuts, walnuts, or hazelnuts would even be great.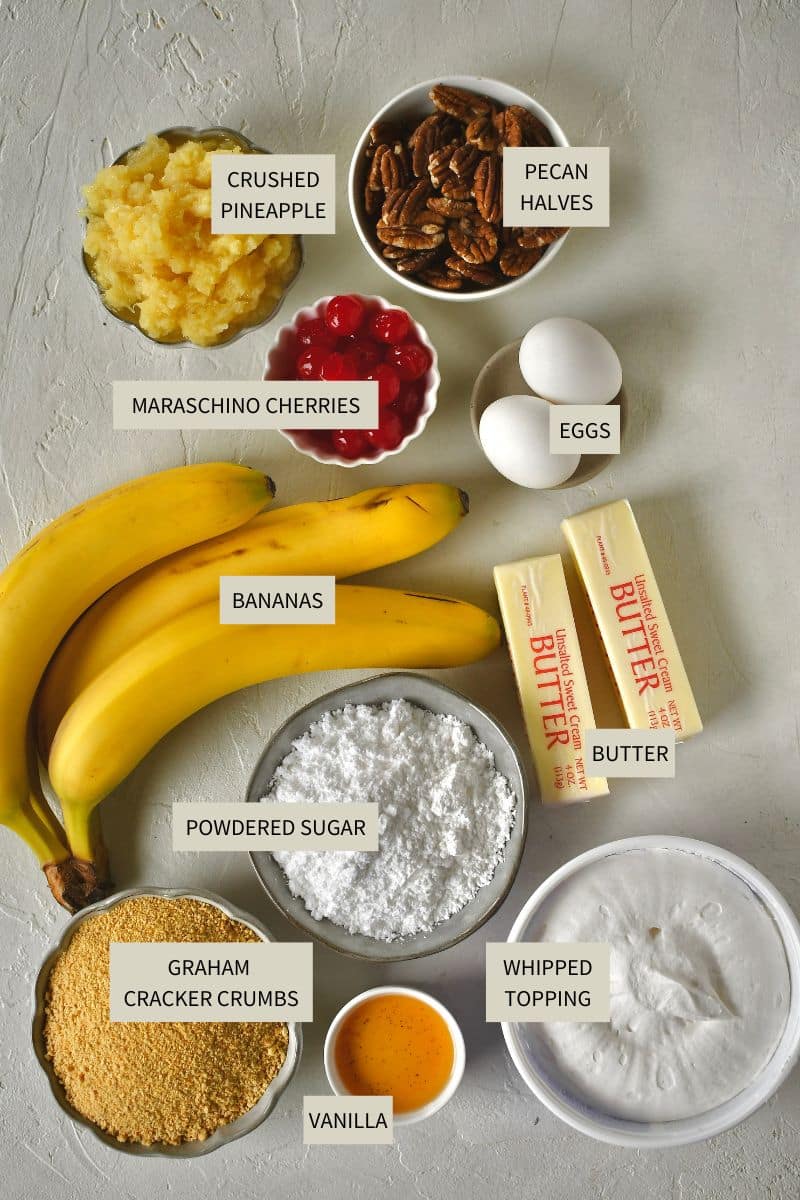 The slightly sweet filling contains the eggs and mimics the ice cream. And the whipped topping finishes things off, just like a real banana split has on it.
Use the JUMP TO RECIPE button at the top of the post, or scroll to the bottom of the post to see the full recipe card with ingredient measurements and instructions.
Method
First, make and bake the crust. This is almost a no-bake dessert and I pretty much still consider it one. It only takes mixing up some boxed crumbs and butter, pressing it into a pan, and baking for 8 minutes to set it in the pan. It not really baking in my book.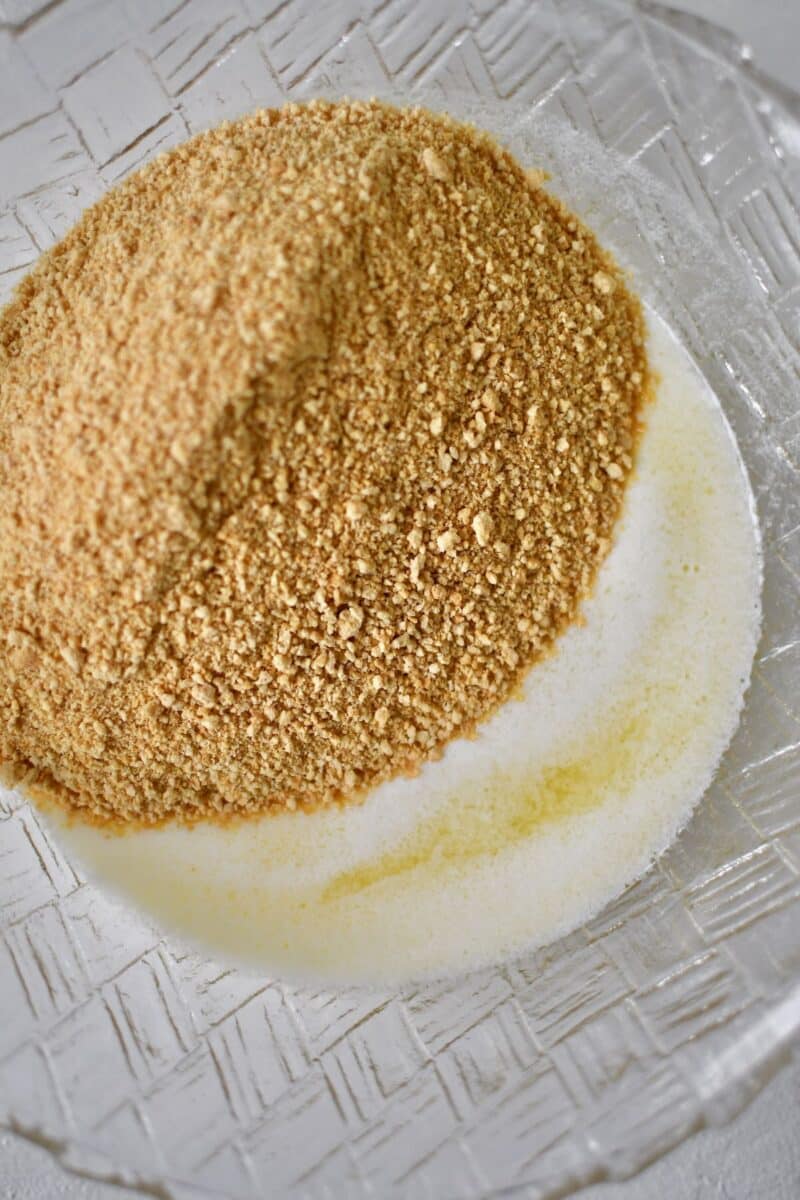 After cooking the crust, let it cool completely, then whip up the filling. Combine the butter, powdered sugar, eggs, and vanilla in a bowl and whip until light and fluffy. And yes, this is correct, the filling is made with raw eggs. It is ok to make with very fresh eggs or farm-fresh eggs.
If you can't stomach the raw eggs, replace the butter and eggs with an 8-ounce block of cream cheese and follow the remaining instructions.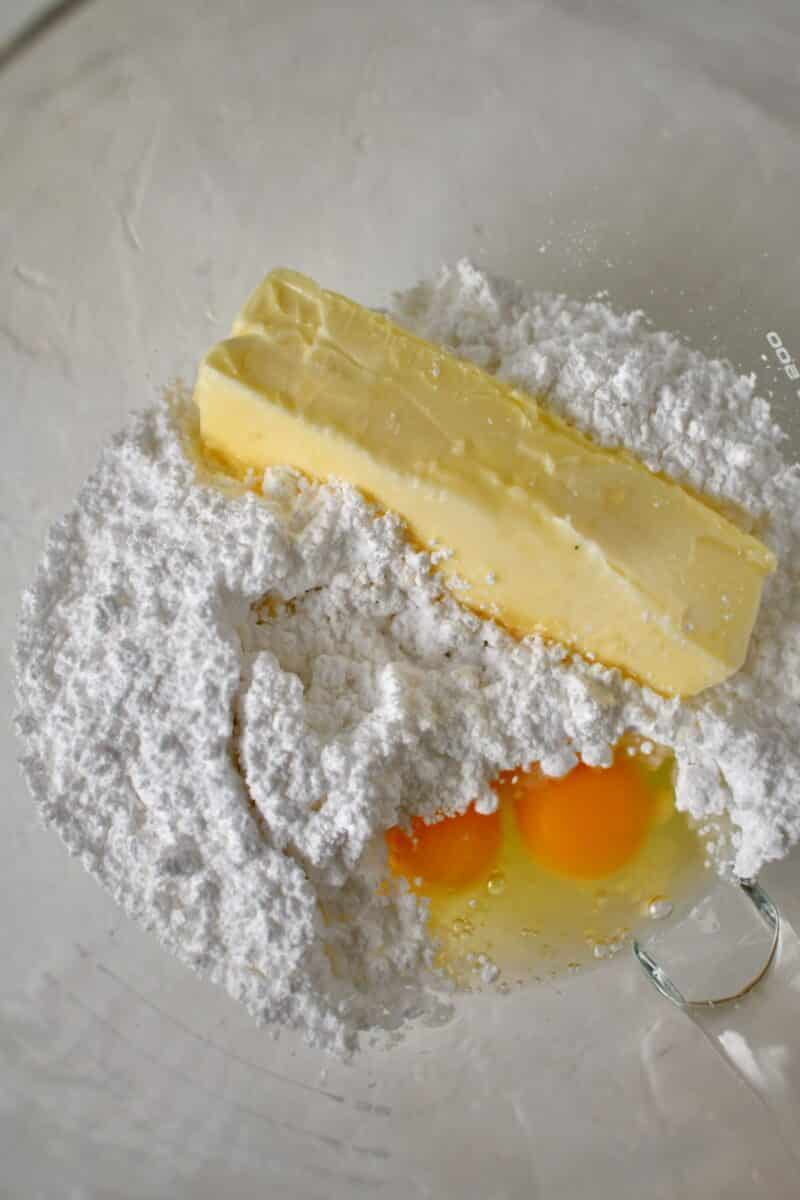 Spread the filling over the cooled crust, then top it with the crushed pineapple a layer of bananas, and finish with the whipped topping. You can make it fresh, but Grandma always used storebought.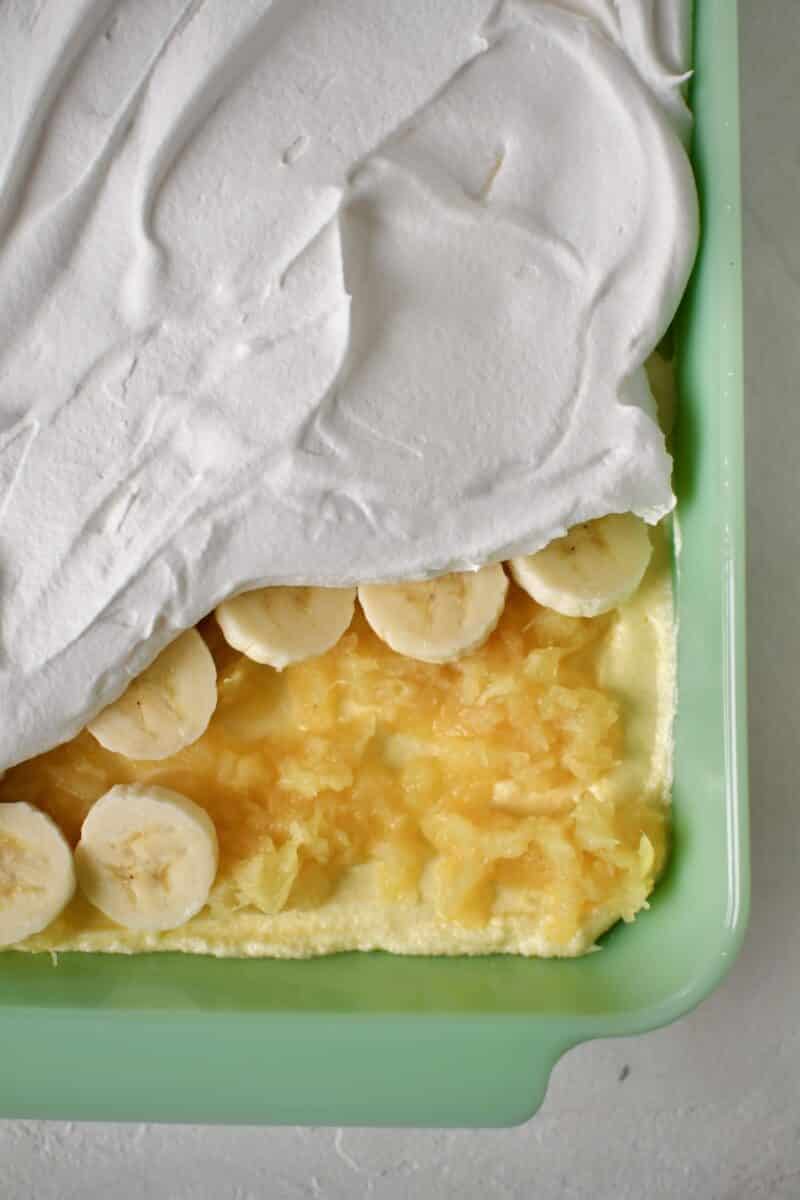 I like to top it with the cherries and pecans after the cake chills for a bit. The cherries tend the lose a little liquid as they sit, so in an effort to make everything look nice, I add them last. If you arent fussy just top everything and then chill. I then top each piece with a couple of fresh banana slices when I serve it and an additional dusting of pecans.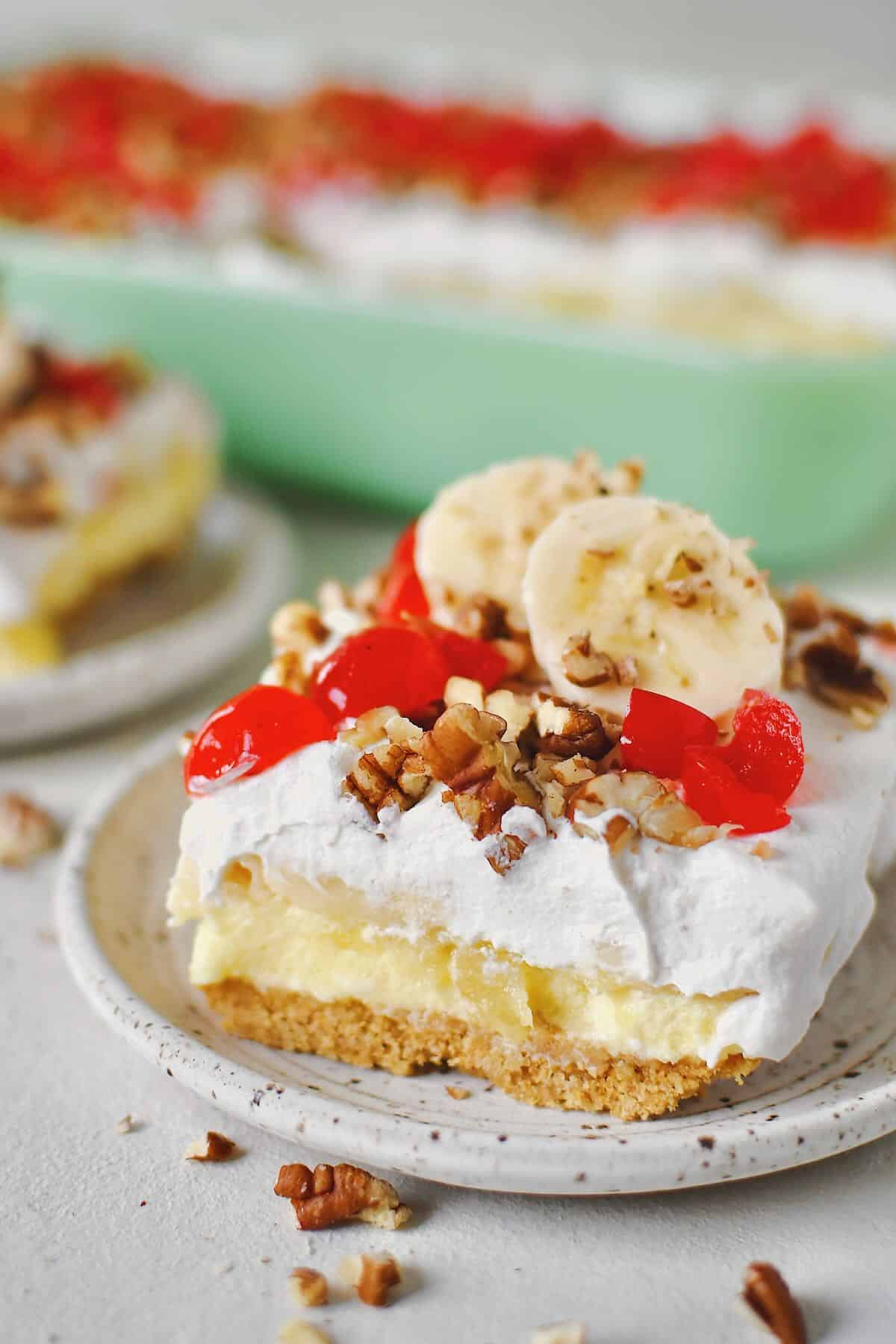 Notes & Tips
Yes, you are reading the recipe right. The filling includes raw eggs. Just be sure to use super-fresh eggs that have no cracks in them.
If you prefer not to use raw eggs, replace the butter and eggs in the filling step with an 8-ounce block of room-temperature cream cheese. Follow the remaining instructions.
The cake can be made up to a day before you plan to eat it and finished with the nuts, cherries, and more bananas just before serving.
I suggest consuming the cake within 3 days of making it if you use the raw eggs. This is a suggestion for food safety and to keep anyone from getting sick.
Substitutions
I usually use store-bought graham cracker crumbs for this recipe. This allows you to also make it gluten-free if you need to. If you can not locate gluten-free crumbs, purchase gluten-free crackers and crush them in a food processor or in a zip-top bag and crush them with a rolling pin or skillet.
As mentioned above, replace the raw eggs and 1 stick of butter with an 8-ounce block of cream cheese if you can't bring yourself to eat raw eggs.
Grandma sometimes replaced the crushed pineapple with strawberry pie filling. This works equally well and still keeps that banana-split feel.
Frozen whipped topping is what this classic recipe was always made with. You could also whip up a couple of cups of heavy cream with some powdered sugar sweetened to your liking to replace it.
Toasted pecans are what I always remember Grandma putting on this cake. But peanuts, walnuts, or hazelnuts would even be great.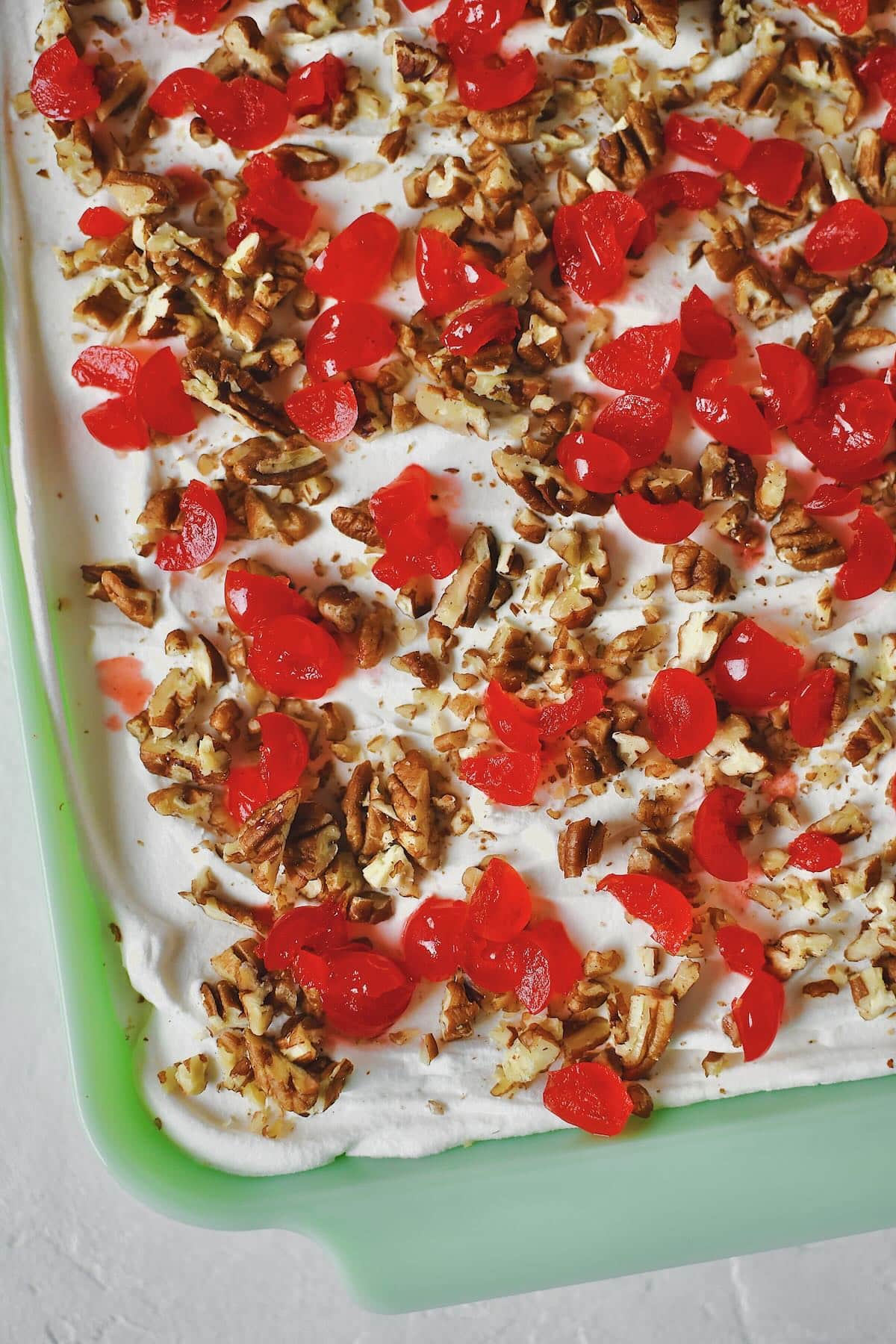 Did you make this recipe? Let me know by leaving a review or comment! And be sure to sign up for my newsletter, and follow along on Instagram, Pinterest, and Facebook!