When you want a quick and classic dinner reach for this Pork Schnitzel recipe. It takes no time to whip up and it's delicious comfort food! I change up my breading medium for an extra crunchy exterior, can you guess what it is just by looking at it?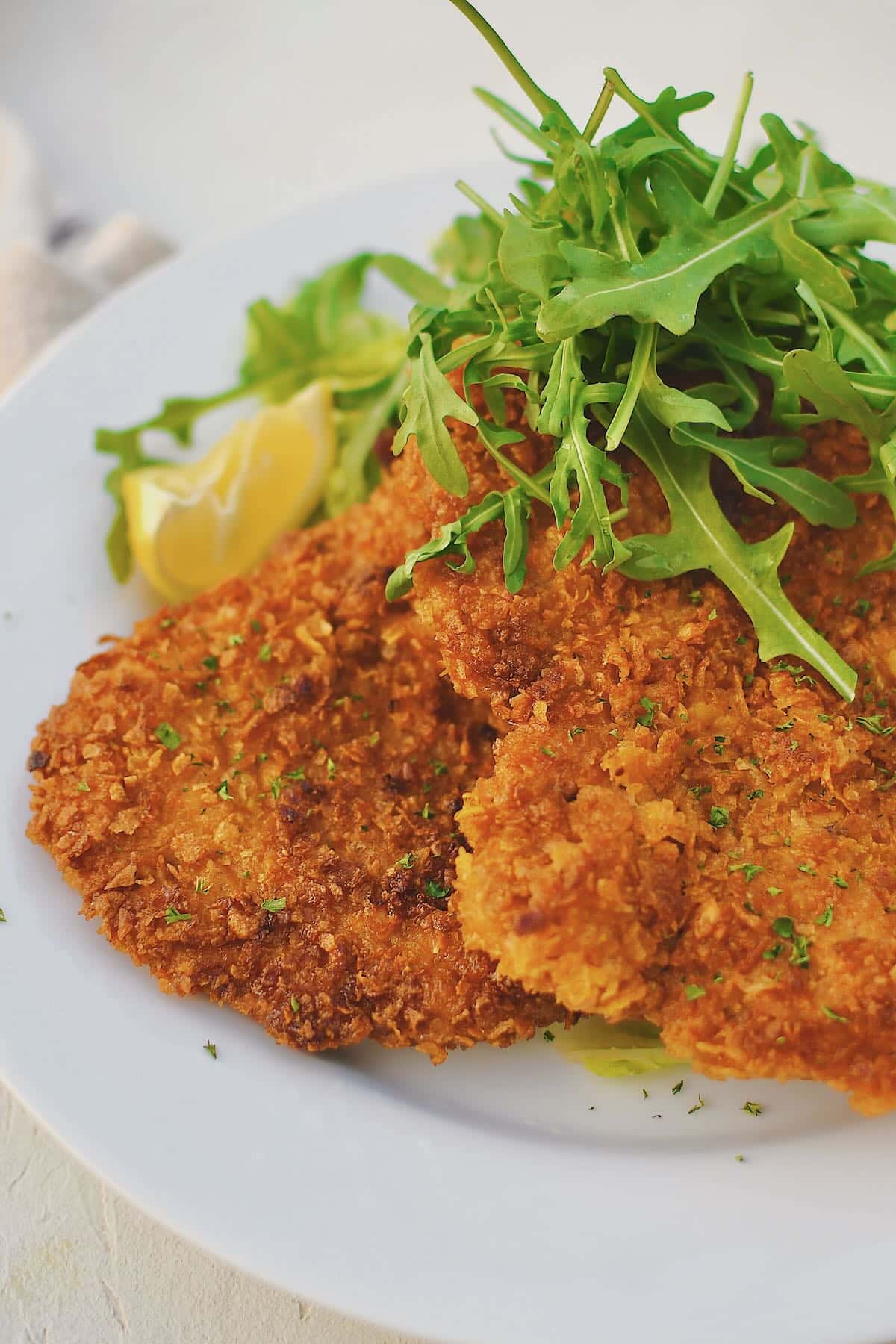 You could say this is akin to my Potato Chip Chicken which technically could be called a schnitzel too. Schnitzel is just any protein pounded out super thin, breaded, and fried. My recipe for Crispy Parmesan Chicken could also be considered a schnitzel.
all that said, its origins are from Germany and Austria, with many versions and it is still popularly served all around Europe today.
Jump to:
Ingredients
If you didn't already guess, my secret ingredient is cornflakes. I also use pork tenderloins which are much more...well, tender and perfect for schnitzel. Those two things together are my secret weapons to making the best schnitzel you've ever had!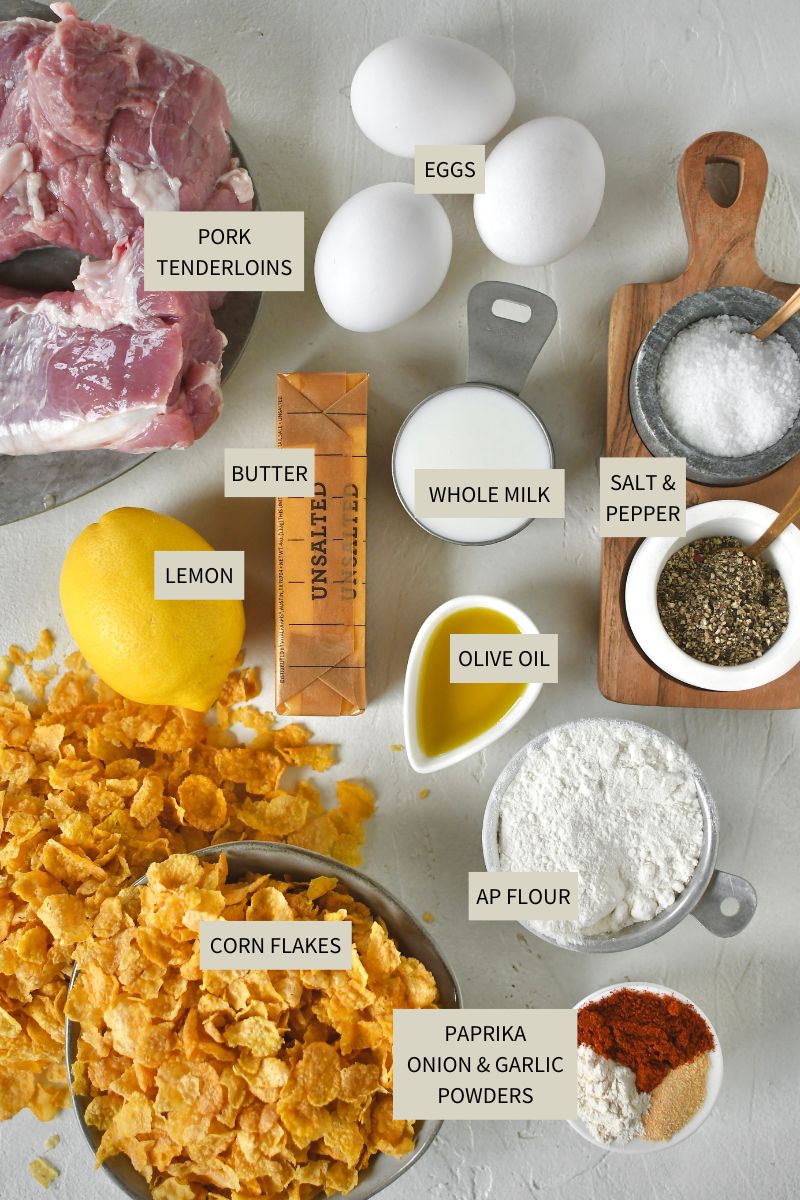 I also like to fry in a skillet in a mixture of butter and oil. This makes the end result super rich and delicious. I mean, butter makes everything better, right?
Oh, and don't skimp on the lemon, squeezing it over the fried cutlets is super traditional and helps cut all the fattiness of the fried meat.
Use the JUMP TO RECIPE button at the top of the post, or scroll to the bottom of the post to see the full recipe card with ingredient measurements and instructions.
Method
I start by slicing up the tenderloins on a harsh diagonal so I start with a fairly thin piece of meat. Then pound it out with a meat mallet until it is very thin. Next prepare a breading station with seasoned flour, scrambled eggs and milk, and the cornflakes.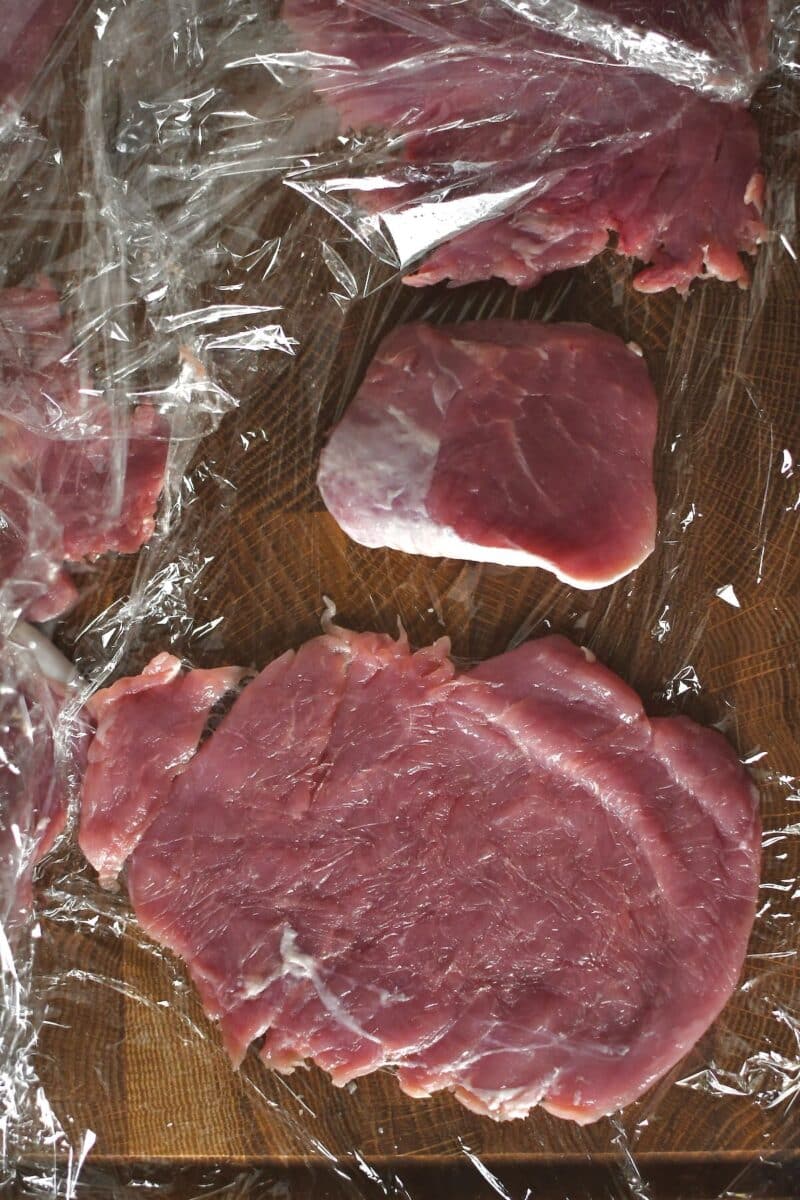 I like to bread as I go, but you can also bread all of the cutlets and then begin frying them. Heat the oil and butter together in a skillet and fry for 2-3 minutes on each side till golden brown and crisp. Remove to a try lined with a cooling rack and keep the cutlets in the oven on low till they are all done so they can stay warm while you cook.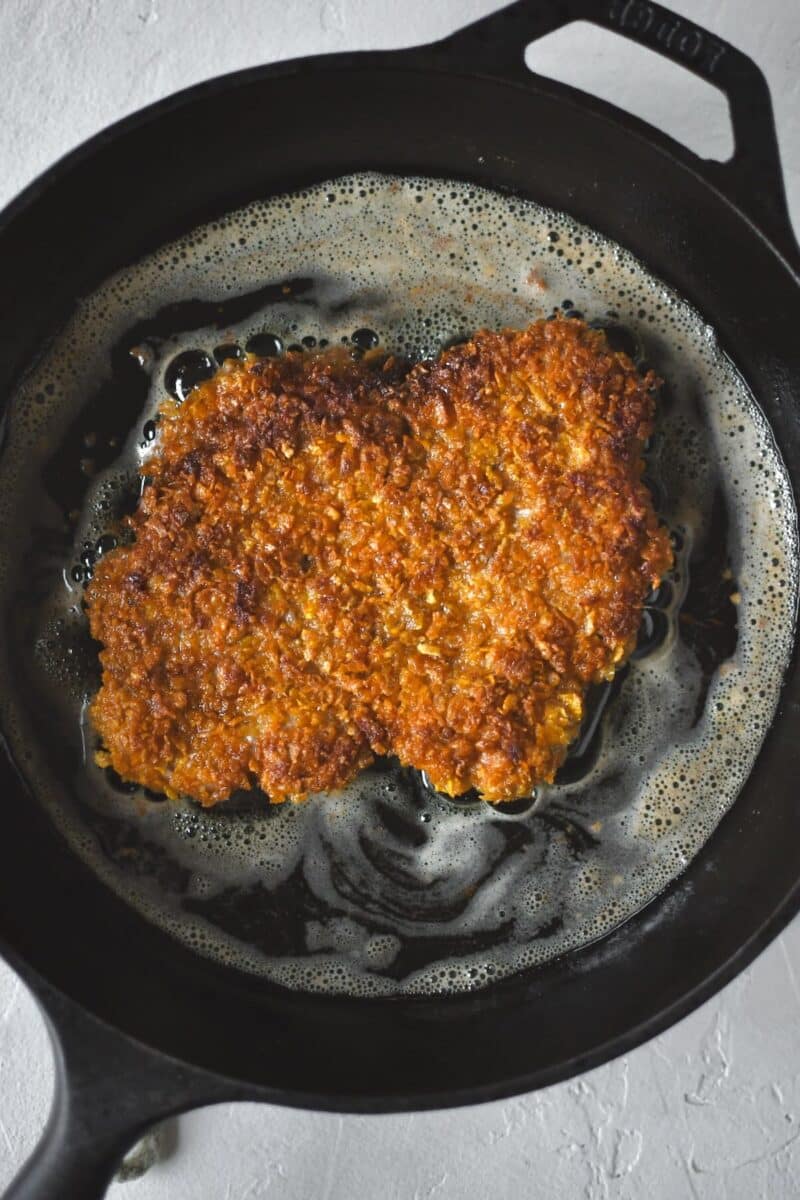 As I mentioned earlier, lots of lemon squeezed over the cutlets is very traditional, I also like to serve the schnitzel over a big salad. This is my favorite way to enjoy it, something heavy with something light. It is also great with mashed potatoes and green beans too!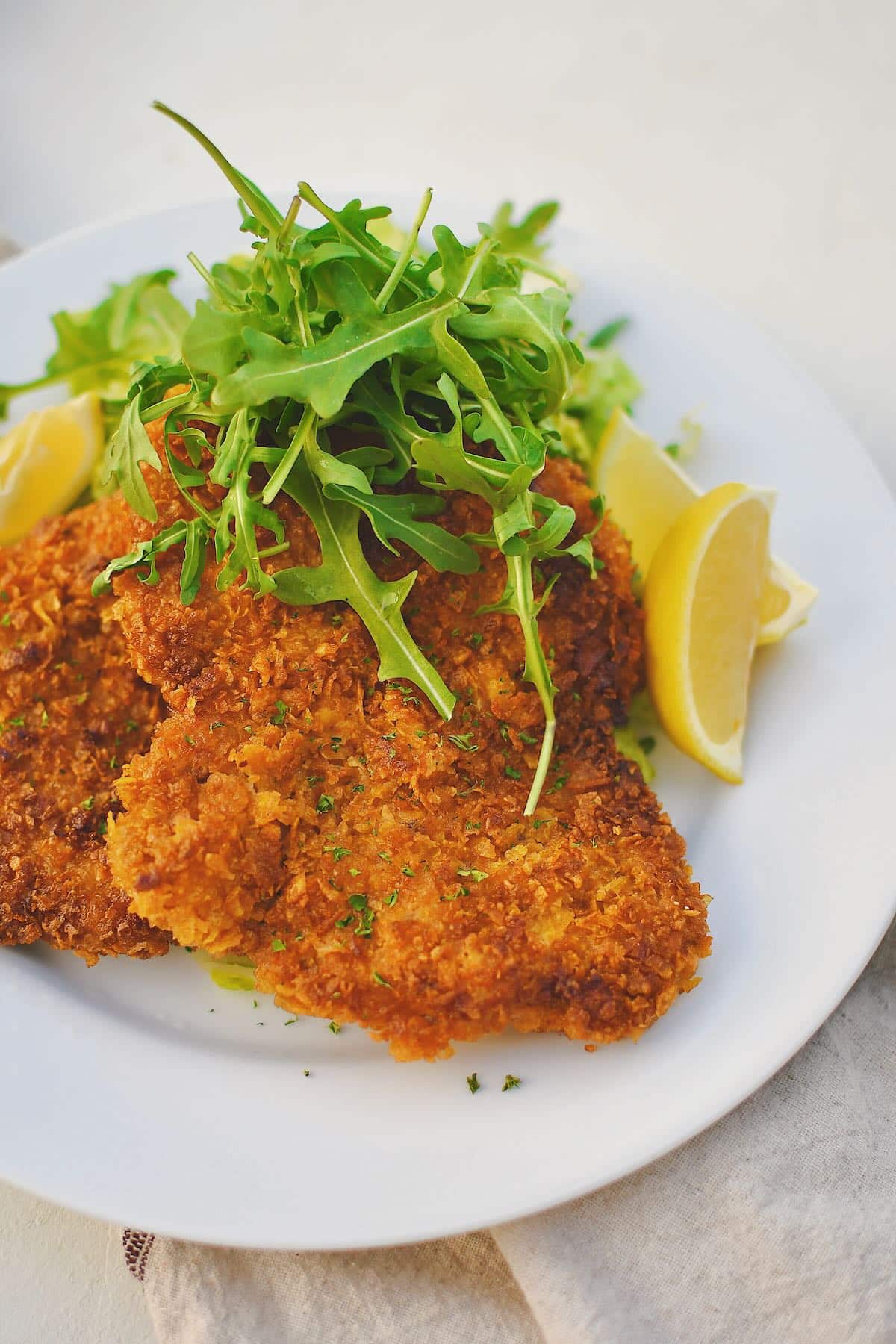 Notes & Tips
Schnitzel depends on a very thin piece of meat. That is what ensures it cooks so quickly. Be sure to pound the meat as thin as you can, without breaking through it or making holes.
The cornflakes are all you need to bread this schnitzel. You can cut it half and half with panko if you like. And be sure to measure your cornflakes after crushing them. I use about 5 cups of crushed cornflakes, about 8 cups pre-crushing.
I personally don't need a sauce for my schnitzel, but if you are looking for one, check out this page for a whole slew of options. You could also treat it like a chicken fried steak, it is essentially a schnitzel too.
Substitutions
I like to use pork tenderloin for this recipe. You could also use pork loin. The main thing is to just ensure that it gets super thin. Veal is also very traditional and would make it a Wienerschnitzel.
If you would like to make this recipe gluten-free, swap the flour for a cup-for-cup alternative. Also seek out gluten-free cornflakes Nestle and Nature's Path both make them.
Roasted Garlic Powder is my secret weapon in my kitchen. I use it anywhere I would use regular garlic powder. But if you can not locate it, go ahead and use garlic powder.
If you need to make this recipe dairy-free, leave the milk out of the eggs and add a splash of water. Also, fry the cutlets in vegetable oil and forget the butter and olive oil.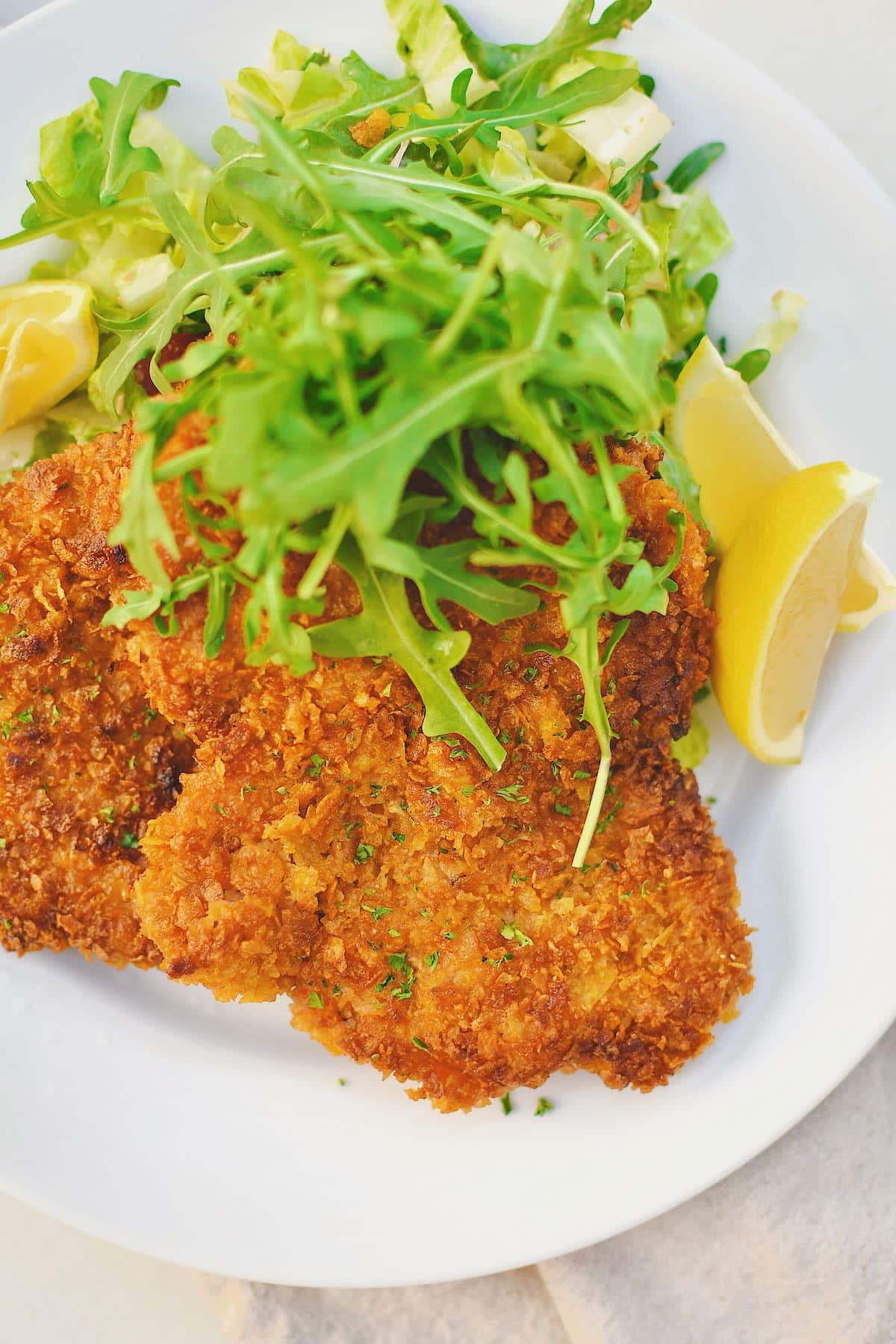 Did you make this recipe? Let me know by leaving a review or comment! And be sure to sign up for my newsletter, and follow along on Instagram, Pinterest, and Facebook!