The sweet treat that is these no-bake Haystack Cookies are as fun to eat as they are to make. And great for little hands to help with too! I had my 1 ½-year-old nephew over to help, it was a mess but made for great memories.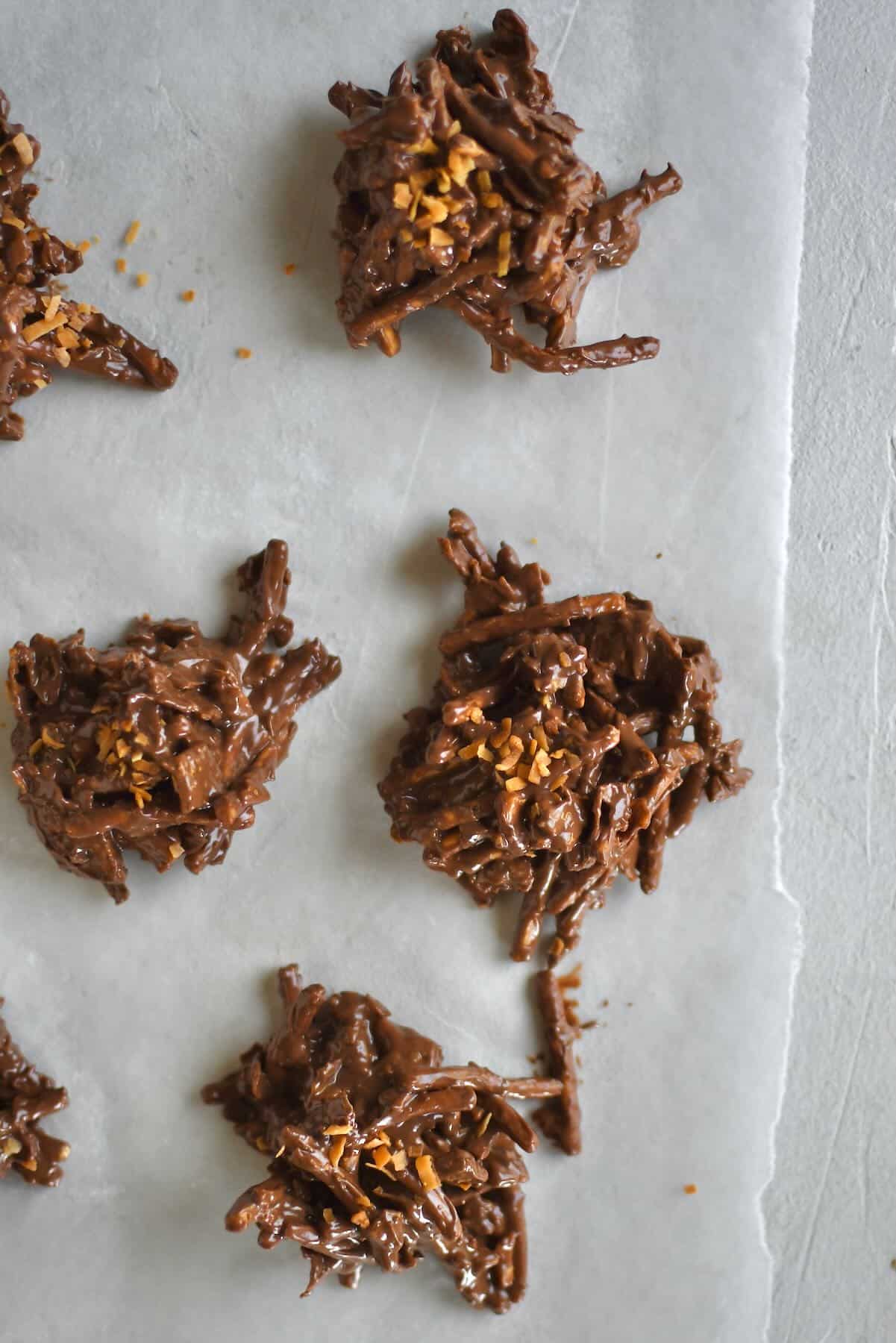 You might notice my recipe is a bit different than many others. It is especially great for the peanut butter lovers. And I like to bulk it up with the addition of some other cereals too.
Jump to:
Ingredients
My version of Haystack Cookies takes a few turns from tradition. I would call this a peanut butter lovers version. And what goes better with peanut butter than chocolate? Nothing! Many other recipes also use white chocolate, I like to swap it for some good semi-sweet.
I also like to add in some cereals for a little extra crunch. Golden Grahams for some extra flavor, and cornflakes for extra crunch.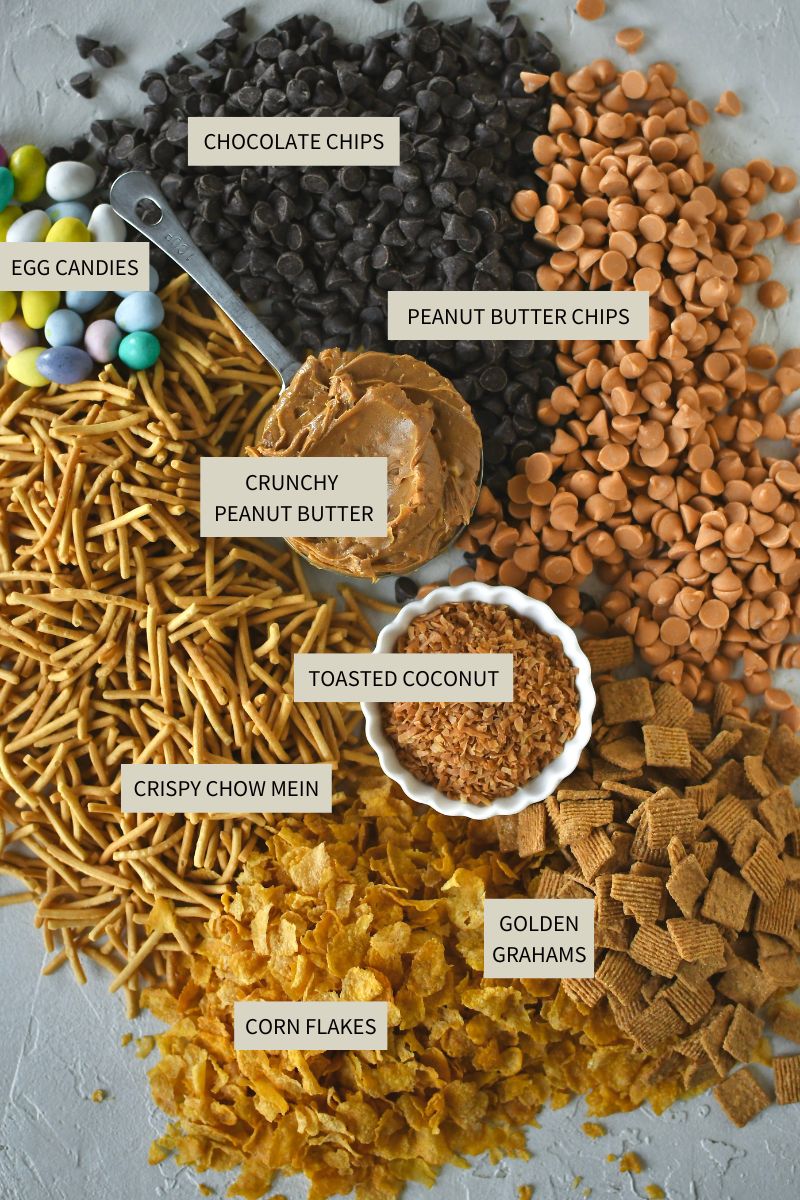 I especially like to make these for easter, so if you are making them around that time, you can use the egg candies. If not just leave them off and add a little extra coconut on top if you like.
Use the JUMP TO RECIPE button at the top of the post, or scroll to the bottom of the post to see the full recipe card with ingredient measurements and instructions.
Method
To make these no-bake cookies, first, melt the chocolate and peanut butter chips together in a large bowl, this can be done in the microwave or over a simmering pot of water on the stove. When the chips have melted, stir in the peanut butter too. You'll notice I use my favorite, Crunchy Peanut Butter.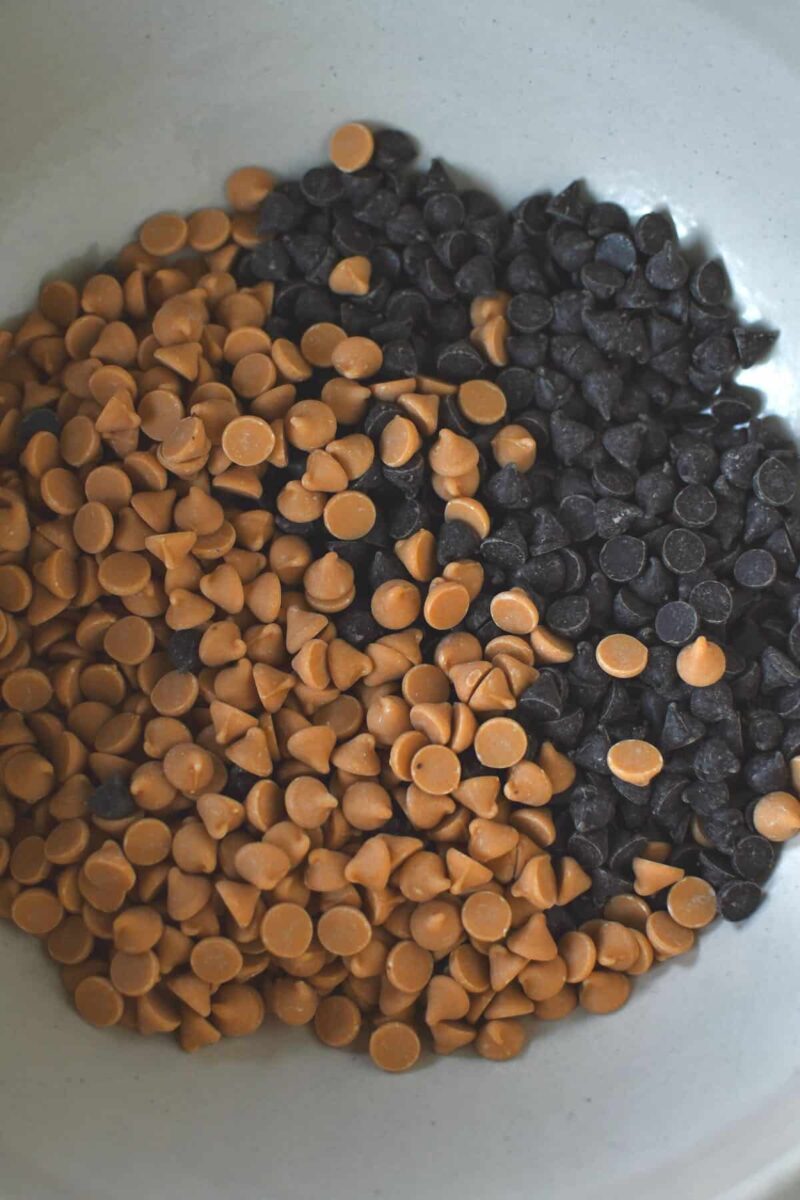 Then crush in the golden grahams, I like to crush them a bit so they are other for some extra flavor, but not too chunky. Then add the cornflakes and chow mein noodles.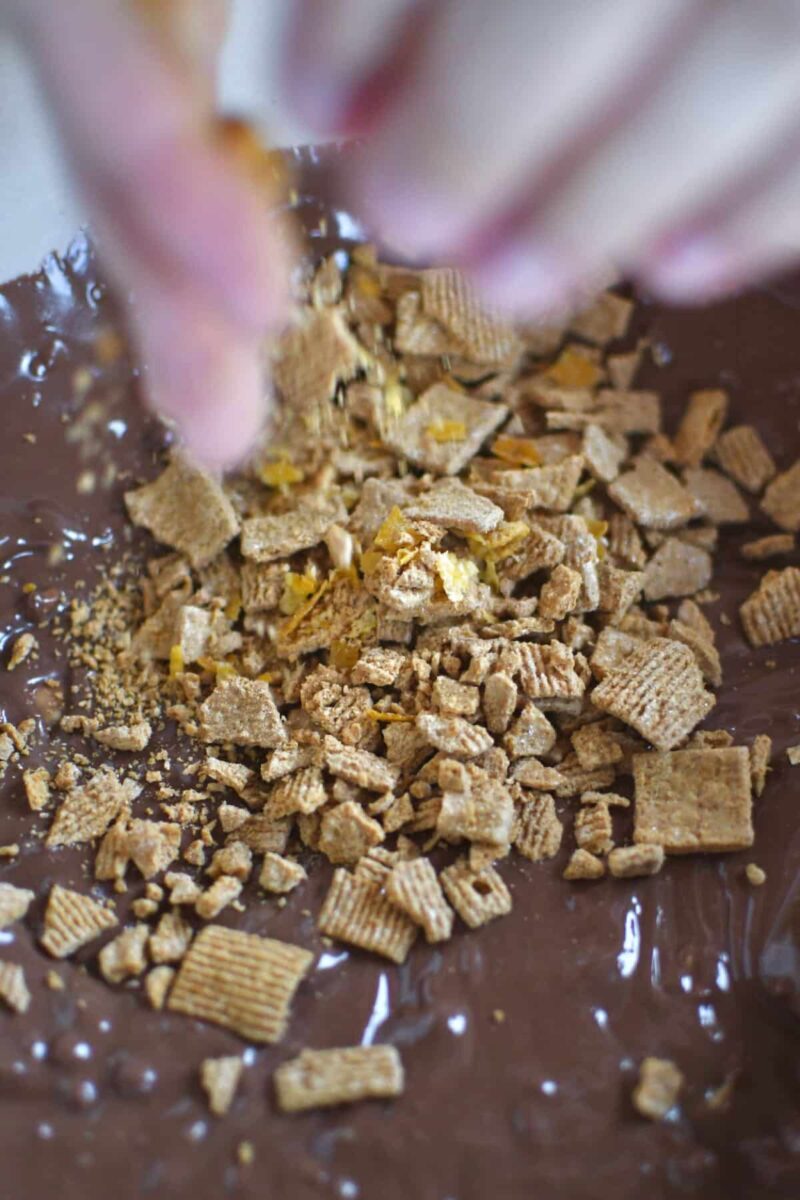 Fold everything together then drop dollops of the mixture onto wax paper and top with some of the toasted coconut. If you are making these easter-y add the egg-shaped chocolate candies.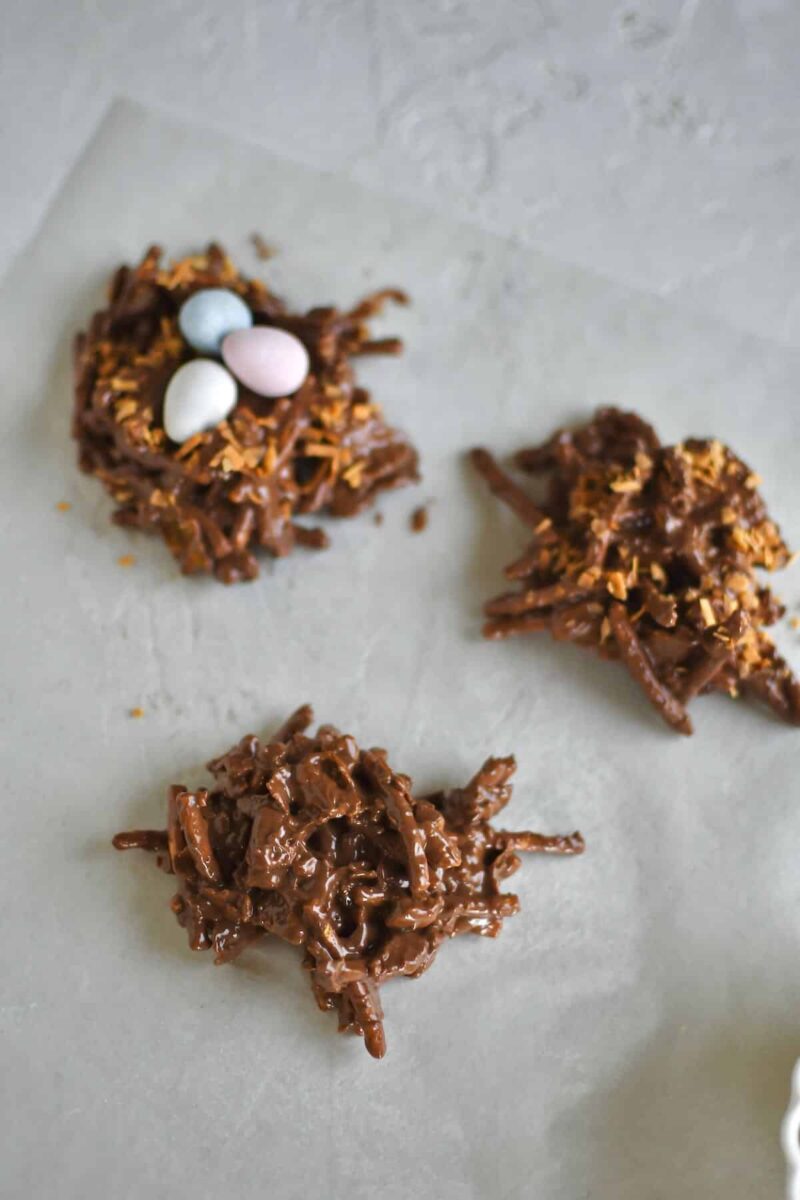 These are a super fun recipe to make around Easter because they look like little nests. I also love making them with my little nephew, it can get a little messy working with kids, but it is fun to include them.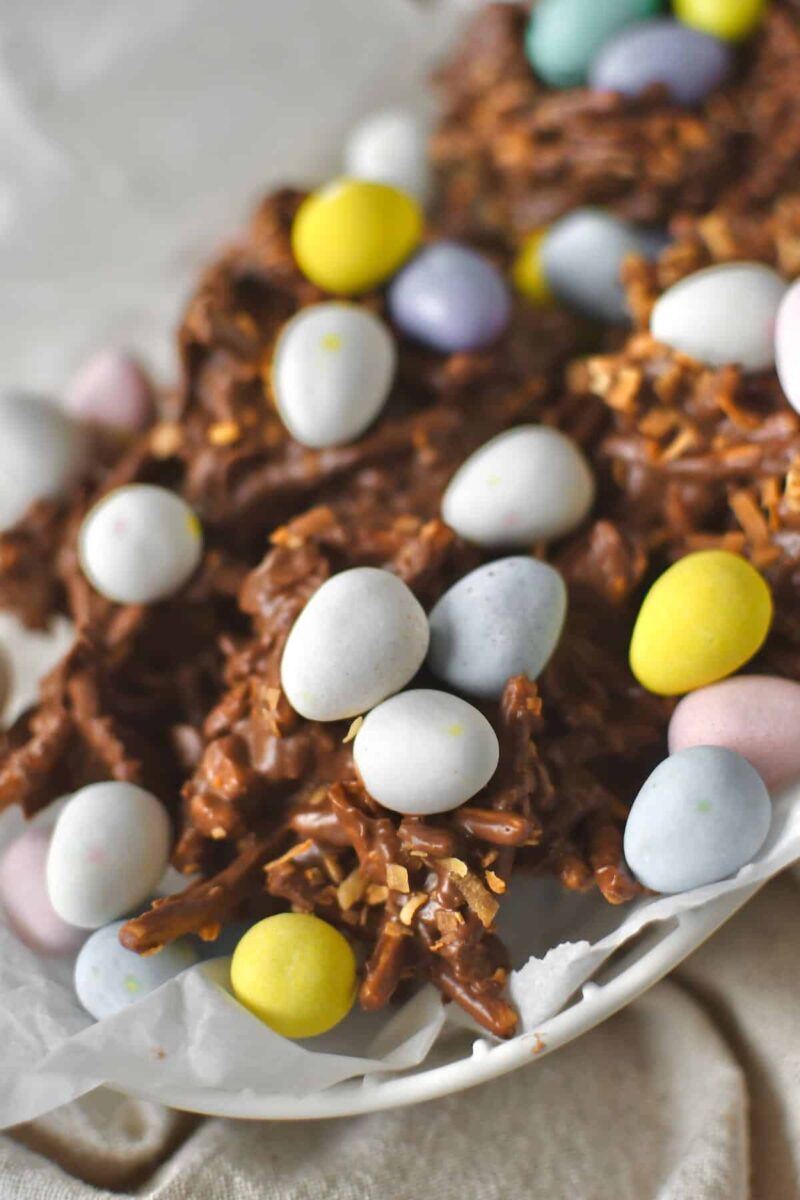 Notes & Tips
If you microwave the chocolate, do this in short bursts of heat, only 30 seconds at a time. You don't want the chocolate to get too hot too fast or it can seize and get clumpy. If you burn the chocolate in this way there is no turning back. You will need new chocolate, so low and slow is the name of the game.
I prefer to use wax paper for dropping the cookies on. The chocolate doesn't stick to the paper, they just peel right off. You can use parchment paper, but they might stick just a little.
The cookies should be set after an hour or two at room temperature. That is if it isn't too warm in the house. If you would like to speed up the setting process you can pop the cookies in the fridge or freezer till firm.
If your home runs warm store them in the fridge in an air-tight container. You can also place set cookies in a freezer-safe bag and freeze them for up to 3 months, or keep them in the fridge or at room temp up to 2 weeks.
Substitutions
I like to make my Haystack Cookies with semi-sweet chocolate chips, you can basically make these with any chocolate chip you prefer. Using white chocolate is also a favorite way to make them.
I make these what I call peanut butter lovers, but butterscotch chips or any of the array of seasonal chips that show up on the market these days would also be festive.
I am a crunchy peanut butter fanatic, you could also use smooth peanut butter. Just be sure not to use any natural or separating peanut butter for this recipe.
I use an array of mixins for my recipe, but if you want to go traditional just use the chow mein noodles. I love the added crunch of the cereals but you can leave them out if you prefer.
My last personal addition is the toasted coconut on top. I think it makes them look even more like stacks of hay. Other fun things to add are - mini marshmallows, pretzel sticks, mini m&m's, and toffee bits. Go wild!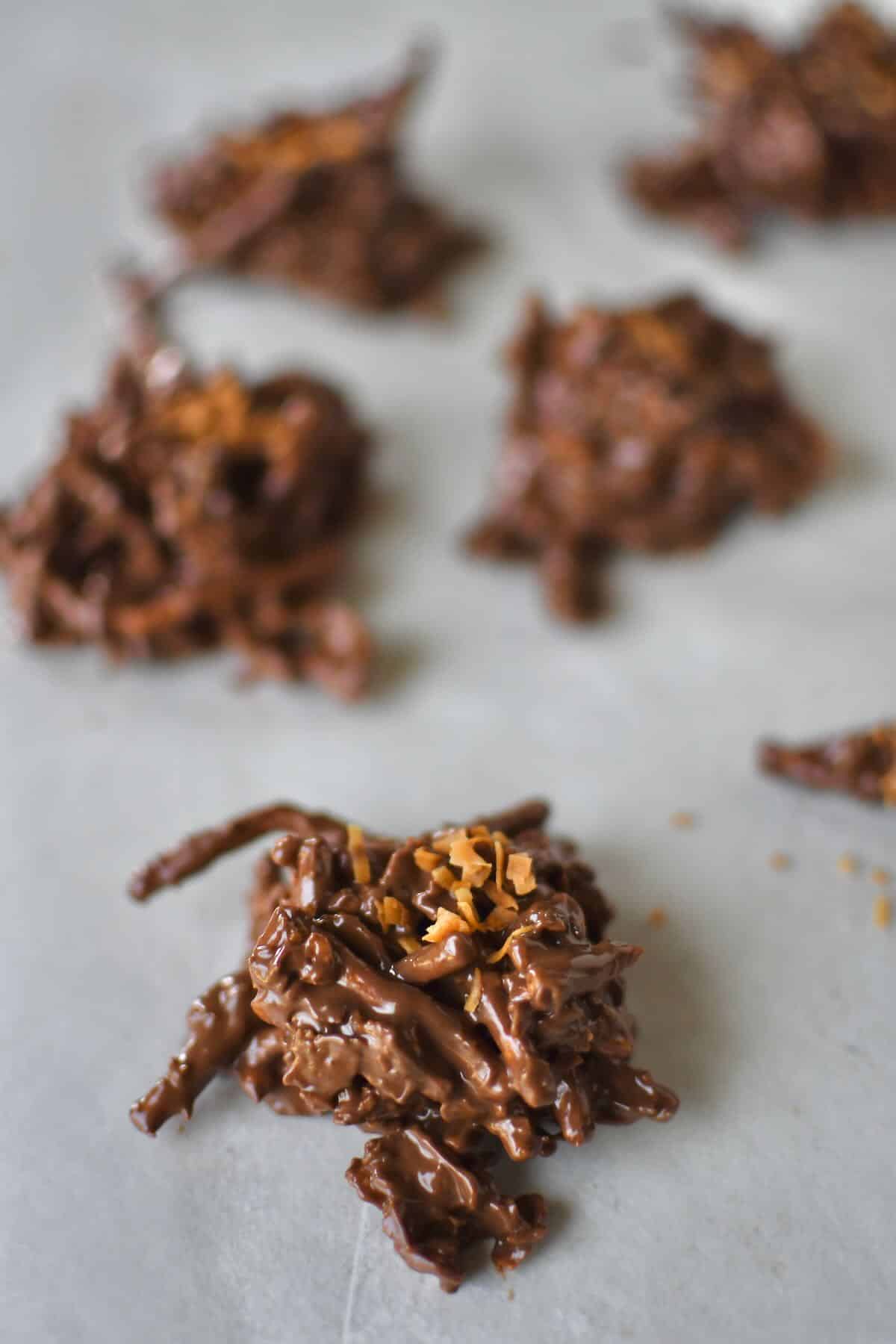 Did you make this recipe? Let me know by leaving a review or comment! And be sure to sign up for my newsletter, and follow along on Instagram, Pinterest, and Facebook!