It's time to try something new and exciting in the kitchen - Deep-Fried Deviled Eggs! It may sound unusual, but trust me, it's absolutely delicious. The crispy outer layer perfectly complements the creamy egg yolk filling.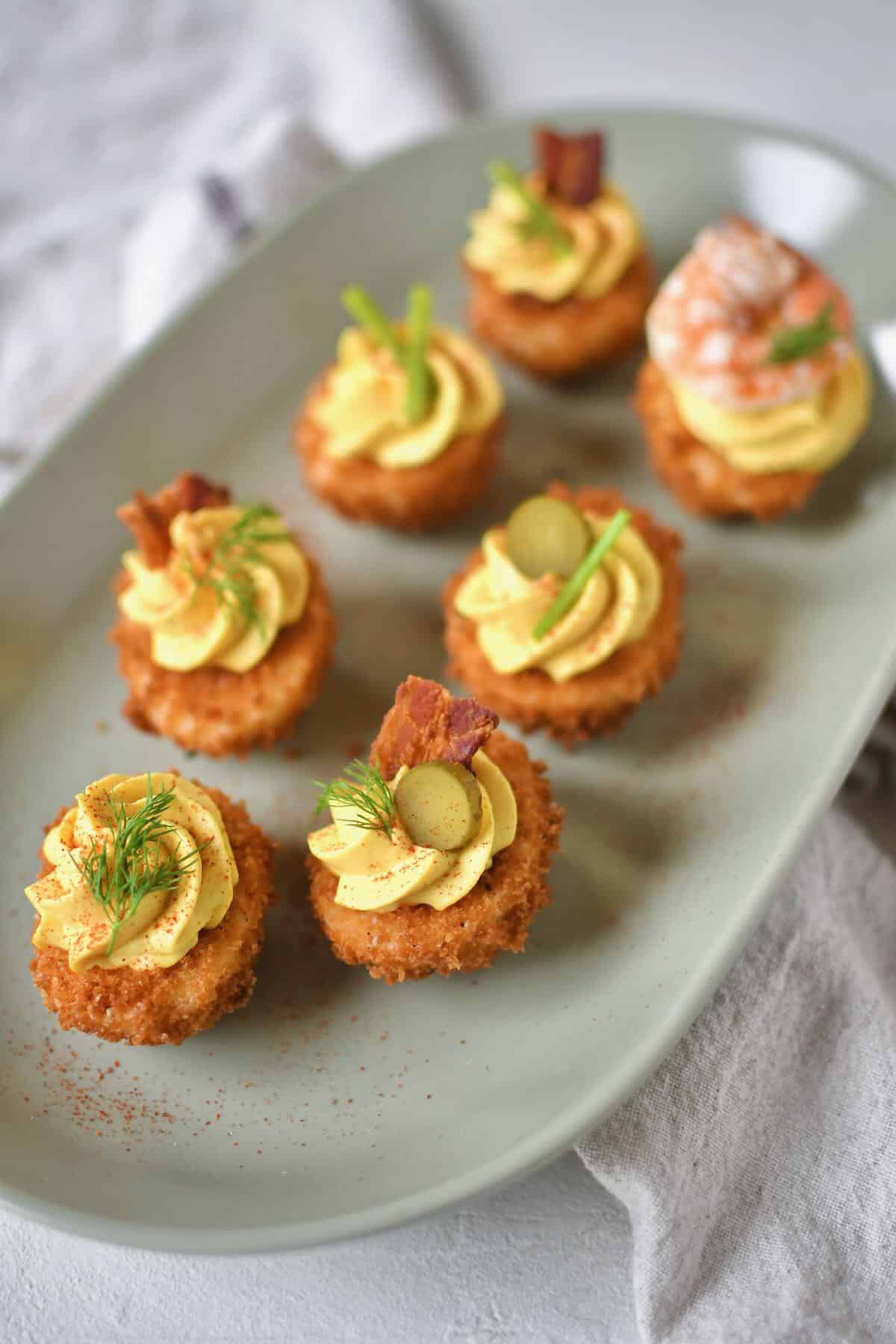 I know this seems like a bit of extra work for something that this one bite. But it is super fun and really only takes a few seconds to dredge each egg white and fry it. I love the extra crisp of the breading, and who doesn't want to be a little extra some times!?
Jump to:
Ingredients
I am a bit of a traditionalist when it comes to my deviled egg filling. I simply mix up the egg yolks with mayo, mustard, salt, and pepper. We are going the extra mile, deep frying the whites, and then letting loose with the toppings. Pickles, bacon, shrimp, and herbs, let your imagination run wild with the fancy topping you can add to the top of your deep-fried deviled eggs.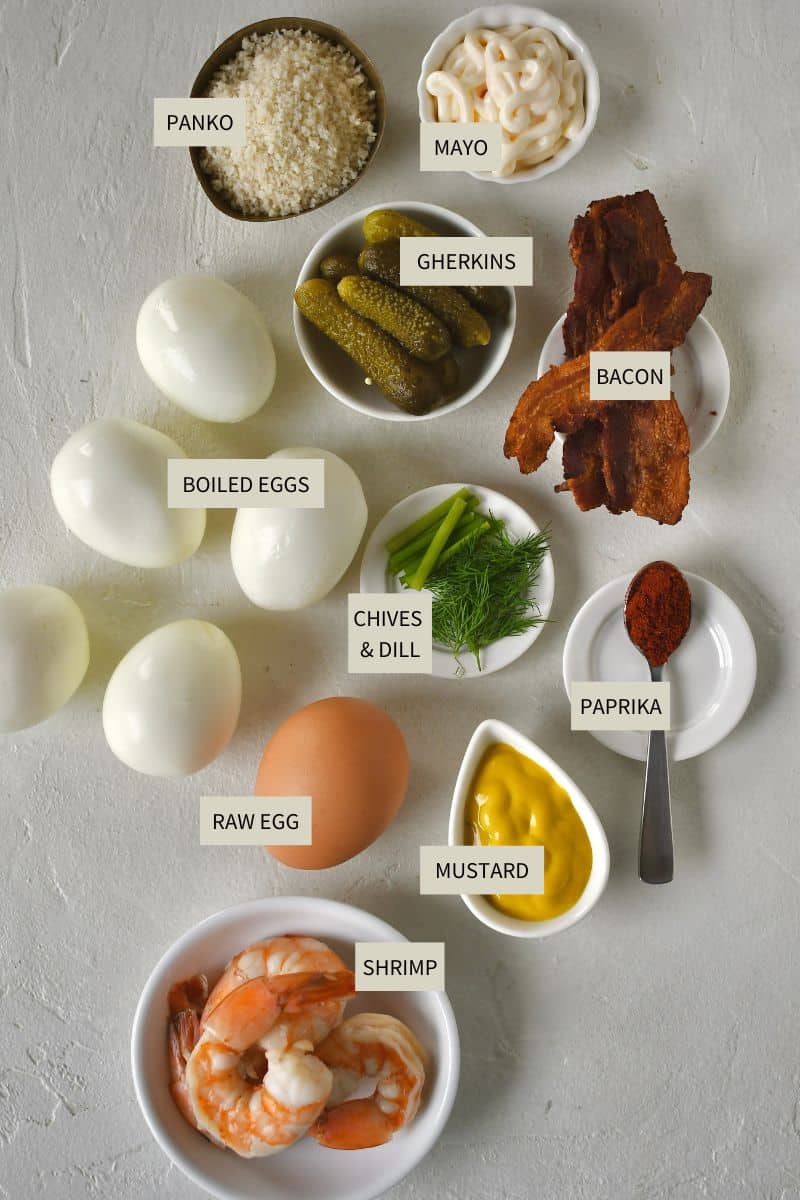 Oh and don't forget the paprika. You can use sweet or hot for some extra spice, but I think every deviled egg, regardless of the fancy toppings still needs a dusting of paprika.
Use the JUMP TO RECIPE button at the top of the post, or scroll to the bottom of the post to see the full recipe card with ingredient measurements and instructions.
Method
First, boil and peel your eggs. I am not going to go into the cooking method here, use your preferred or tried and true method, or buy the already boiled ones at the store for a super easy shortcut. Slice the eggs in half and scoop out the yolks then mix them up till nice and smooth with some mayo, mustard, salt, and pepper.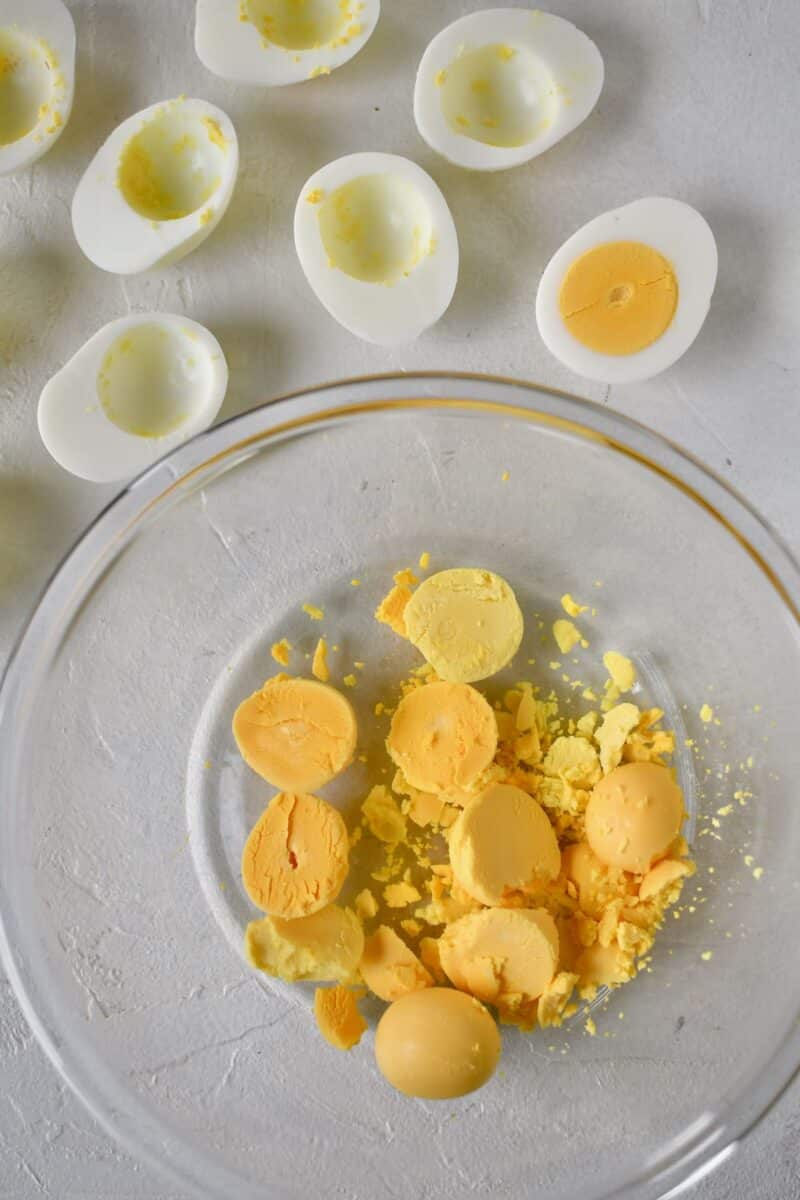 If your eggs are a little wet, dust them in flour, then dip them in eggs, then dredge them in panko bread crumbs. If they are very dry to start start with the egg, then go to the flour, back to the egg, and then to the panko.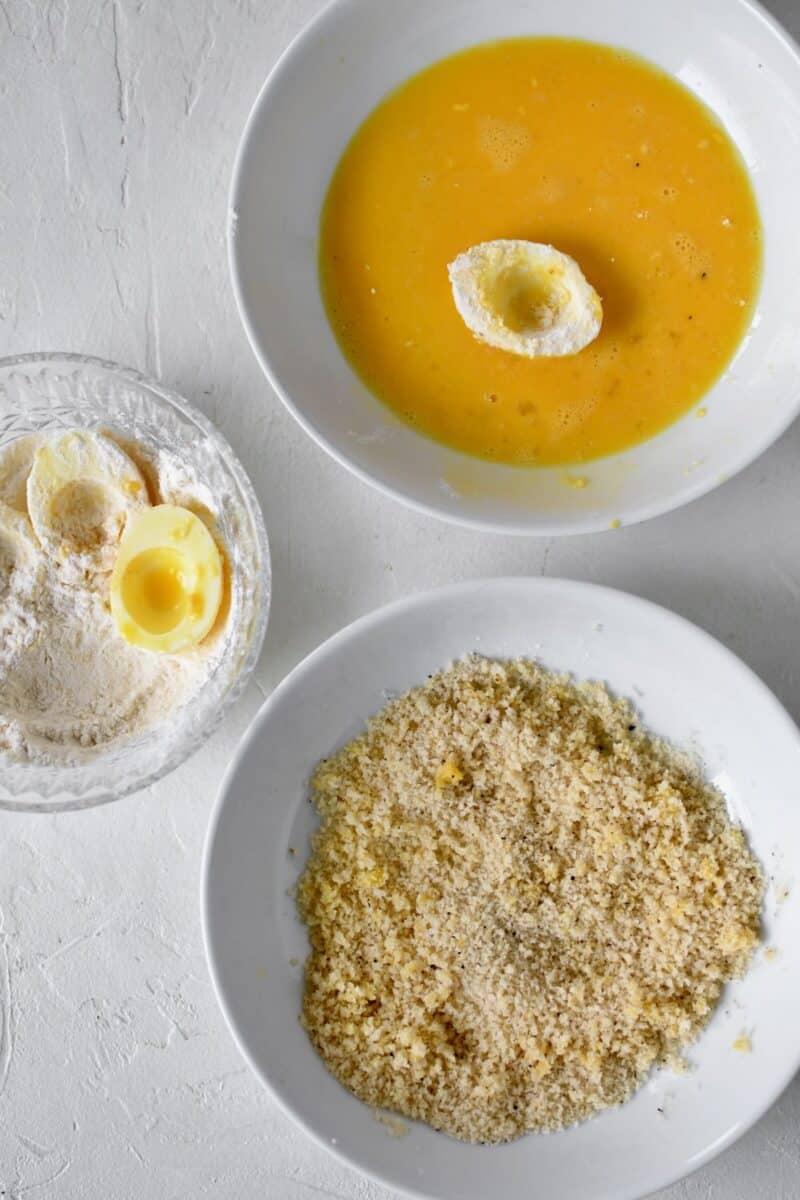 Then drop the eggs in the deep fryer or in some hot oil in a skillet. I like a deep fryer so they can fully submerge in the oil, they only need like 20 seconds to cook, just till the panko turns golden. You don't want to cook them too long or the whites get really tough.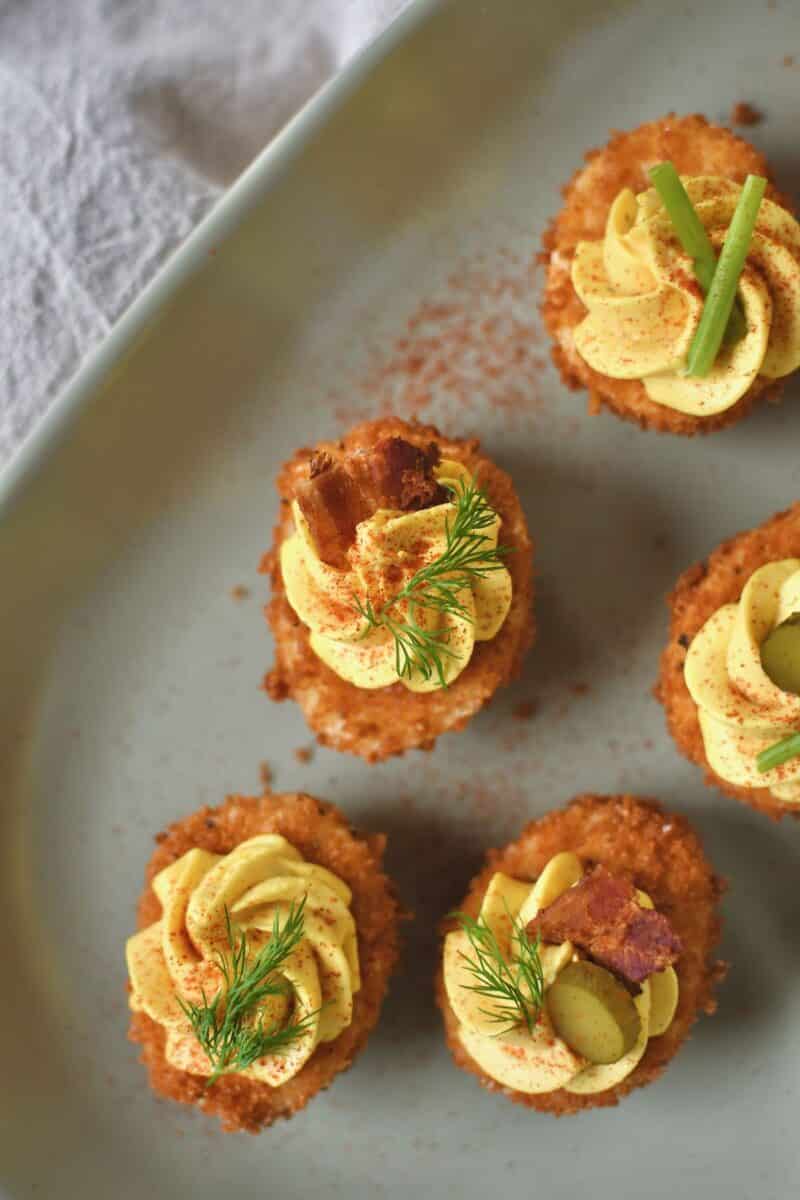 Use a piping bag if you feel fancy, or just dollop the filling in with a spoon and top with your favorite toppings. I think my personal favorite is the bacon and the pickle slices.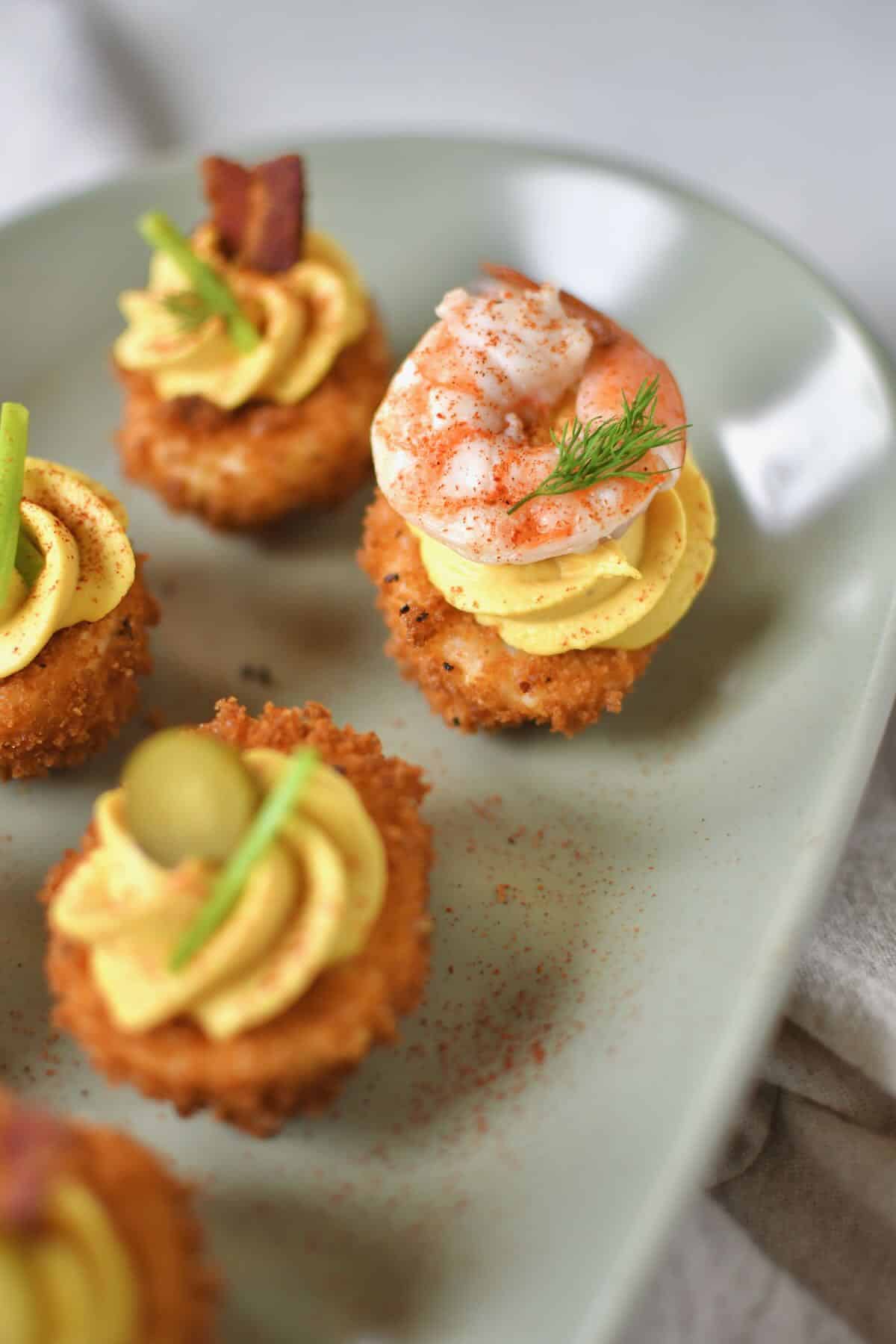 Notes & Tips
If taking the extra step of frying is enough cooking for you, buy already-boiled eggs at the store. I do this when I want to be extra quick with this recipe. Otherwise, simply use your favorite tried and true method for hard-boiling eggs, there are too many to count.
I advise using a deep fryer for this recipe. The bread crumbs really rely on a dip in hot oil to get crisp. If you use a pan on the stove, use a small saucepan so you have the depth for the egg to be fully surrounded by hot oil. You don't want to have to flip them over in shallow grease. Air-Frying is not recommended, and I did not test them using that method.
Dusting the eggs with flour before dipping them in the egg and then in the panko helps the bread crumbs to stick. Not doing this will result in the crumbs falling off in the fryer, don't skimp on this step.
If you want a SUPER smooth filling that you can pipe, I toss mine in a mini food processor and pulse it together quickly for an extra smooth filling. Just be sure not to over-process it or it can get runny if it gets warm from overworking.
Substitutions
A neutral oil is all that is needed for this recipe. I use vegetable oil cause that is what I usually have in my kitchen. However, grapeseed or even coconut would be great options.
You can boil your eggs yourself or purchase already boiled and peeled eggs from the grocery store for this recipe.
If you would like to keep your eggs gluten-free, substitute the flour for cornstarch or cup for cup flour.
You can also find great gluten-free bread crumbs out there. Panko Style is my favorite for the extra crispiness they give.
This is an indulgent bite, so full-fat mayo and regular ol' yellow mustard are all you really need. But feel free to make the swaps that are right for you.
The shrimp, bacon, pickles, and herbs are all starting points for making these deviled eggs extra fancy. Feel free to use any, all, or a combination of them to dress up your eggs any way you like.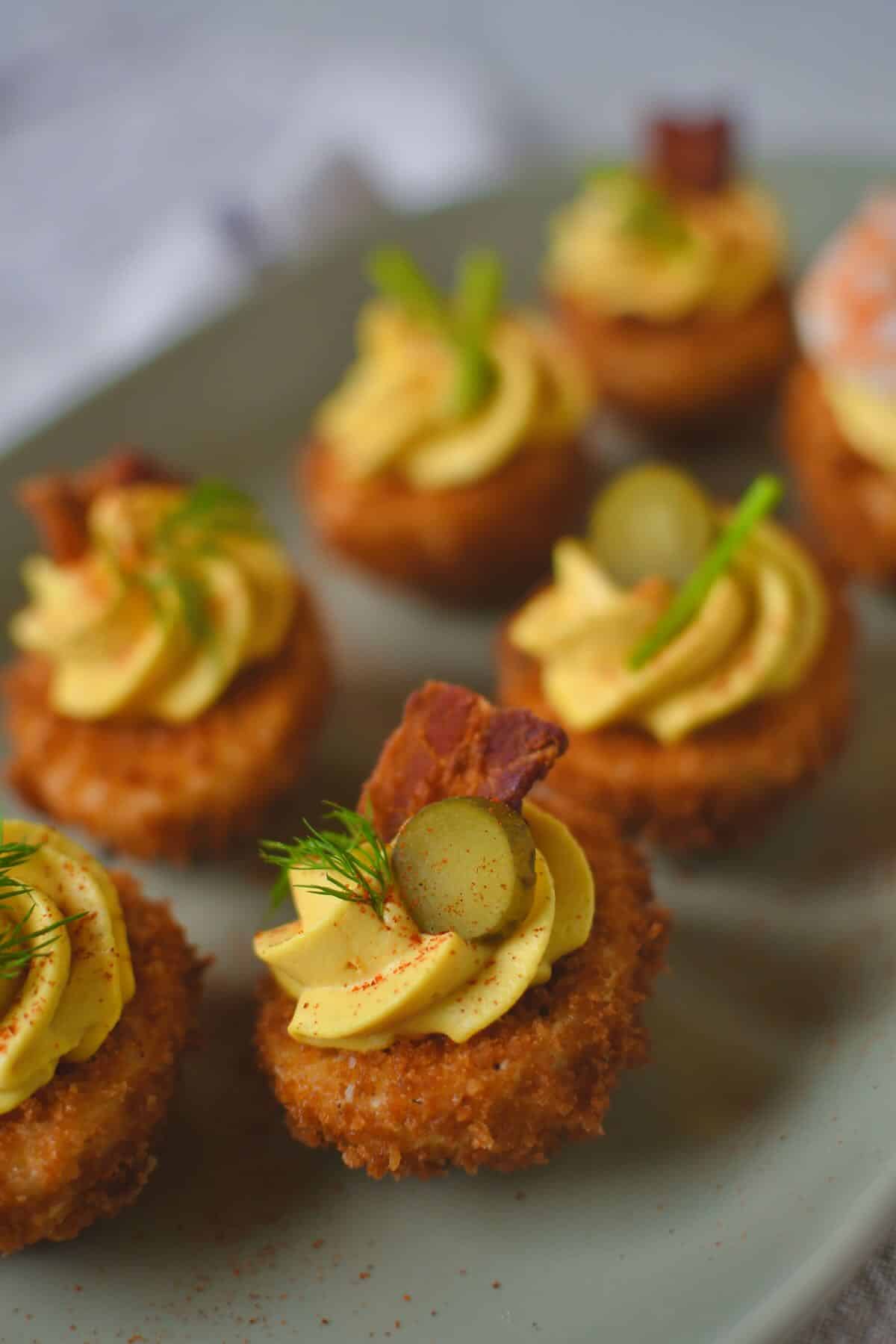 What to eat with Deep-Fried Deviled Eggs
Did you make this recipe? Let me know by leaving a review or comment! And be sure to sign up for my newsletter, and follow along on Instagram, Pinterest, and Facebook!