If you've ever clicked around this site you might notice I have a love for Greek Foods. This Greek Salmon can get right in line and become your new favorite showstopping dinner. It can feed the family or a crowd and even makes celebrations feel extra special!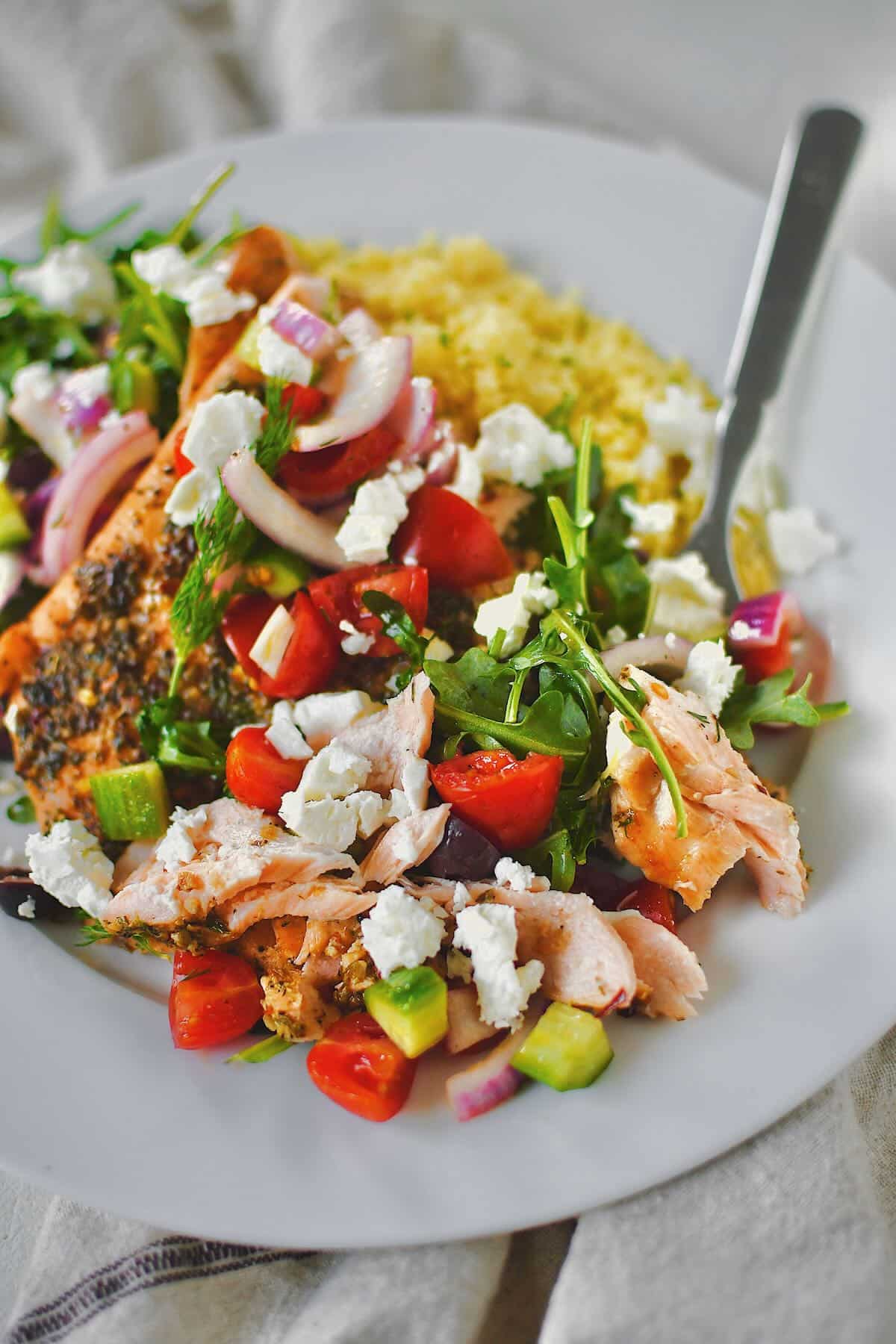 I think this recipe would make the perfect show-stopper for Easter dinner this year, or even a casual backyard Mother's Day Dinner. It feel special enough for those occasions, as well as a weeknight dinner.
Jump to:
Ingredients
I love making this recipe with a whole side of salmon, it feels a little extra special and it just looks so pretty served up on a big platter. This first set of ingredients creates a little salmon marinade that bakes right into it.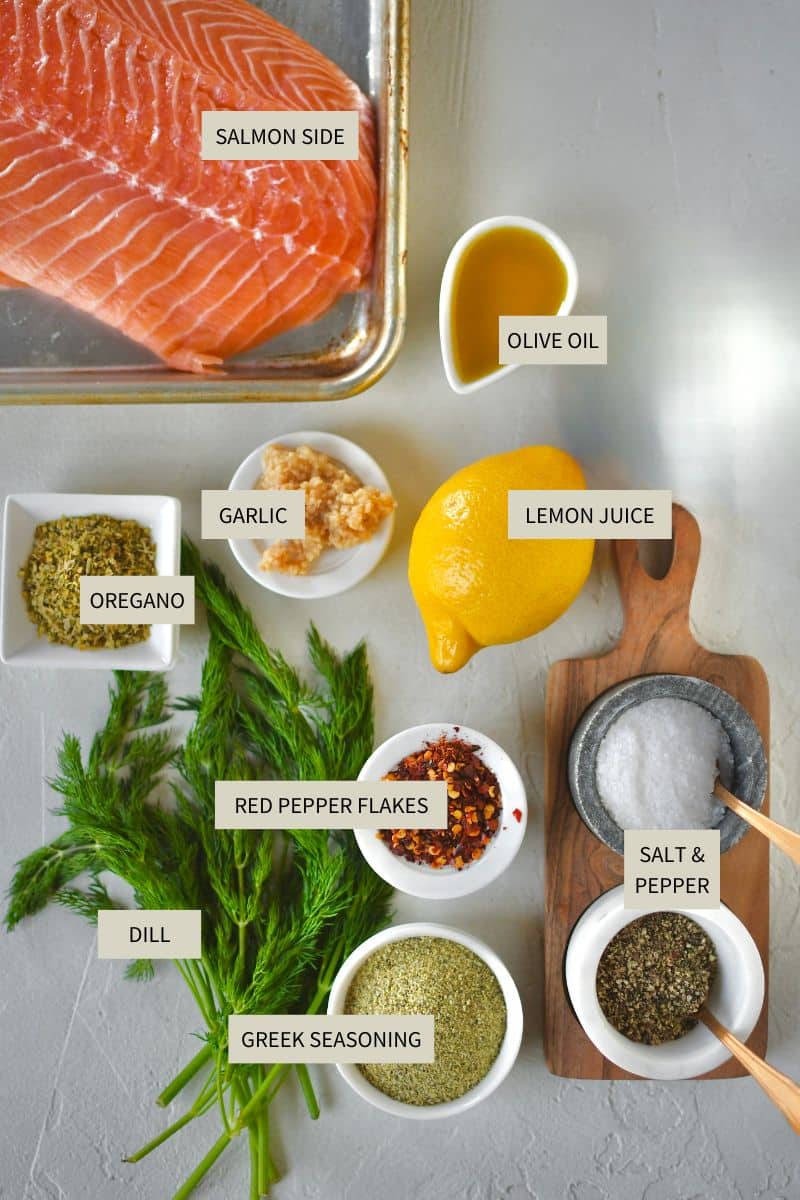 This second set of ingredients is for the Greek salad topper I like to serve with this salmon. I am breaking them up because you can make and serve the salmon as a stand-alone, or really blow it out of the water with the topping.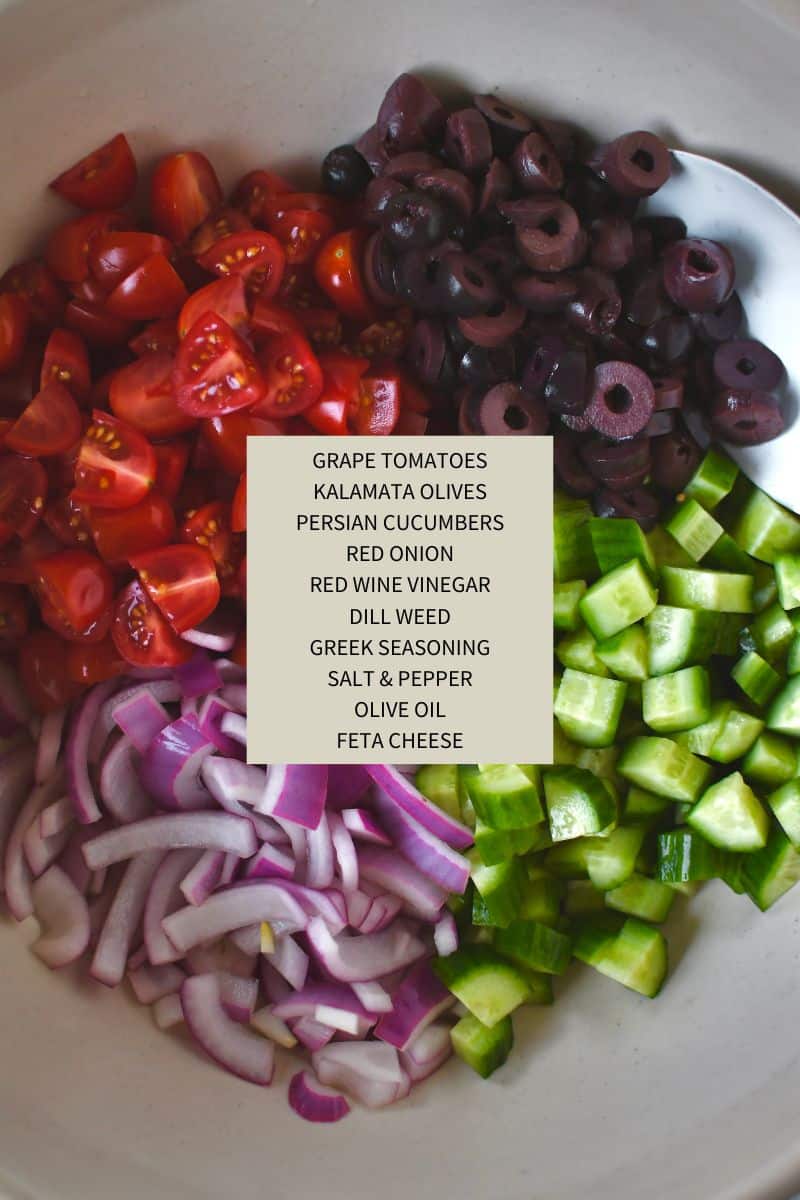 There really is no wrong way to enjoy this recipe. The salmon is so great on its own, but it just makes a beautifully rounded meal with all the veggies on top.
Use the JUMP TO RECIPE button at the top of the post, or scroll to the bottom of the post to see the full recipe card with ingredient measurements and instructions.
Method
I start by laying the salmon out on an olive oil-greased tray and seasoning it with some Greek seasoning, salt, and pepper. Then stir up the little "marinade" and spread it over the salmon, rub it in a little, and let it rest for a few minutes while you prepare the salad and the oven heats up. I like to turn the oven on after I add the marinade so it has a few minutes to soak into the salmon while the oven warms.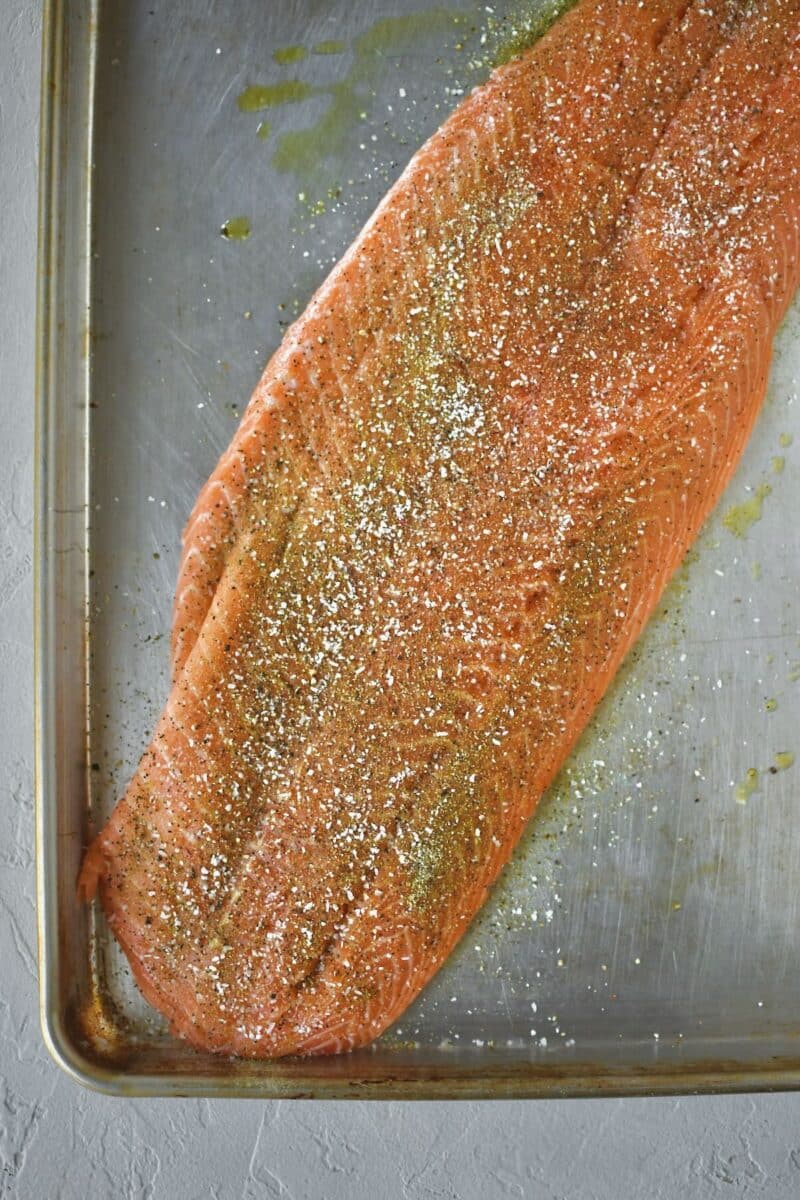 While the oven is getting hot and the salmon is marinating, make the salad. I start by slicing the onion and tossing it with red wine vinegar. If you look closely, the vinegar starts to pickle the red onions and they begin to pink on the edges. This takes about 5-10 minutes, let them sit in the vinegar while you chop the other vegetables.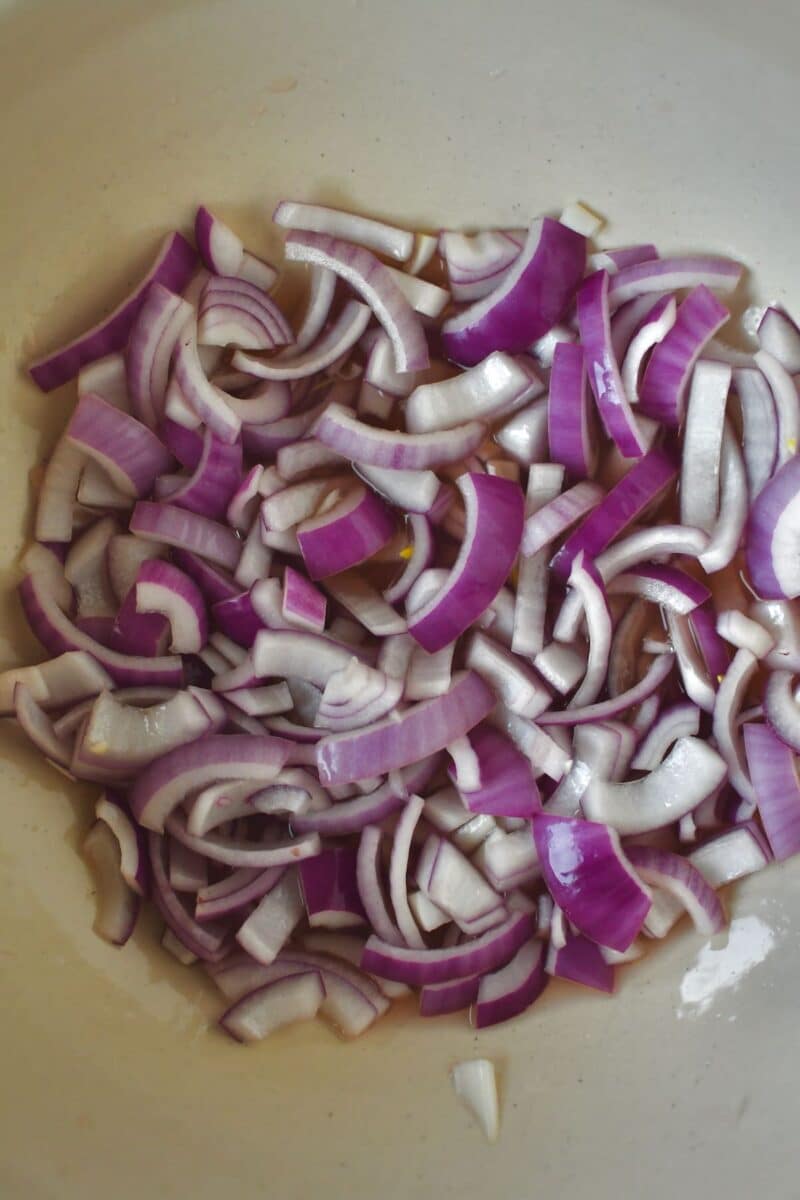 Add the remaining veggies to the bowl after the onions turn pink along with the seasonings. Toss it all together with a little olive oil and let it hang out while the salmon cooks.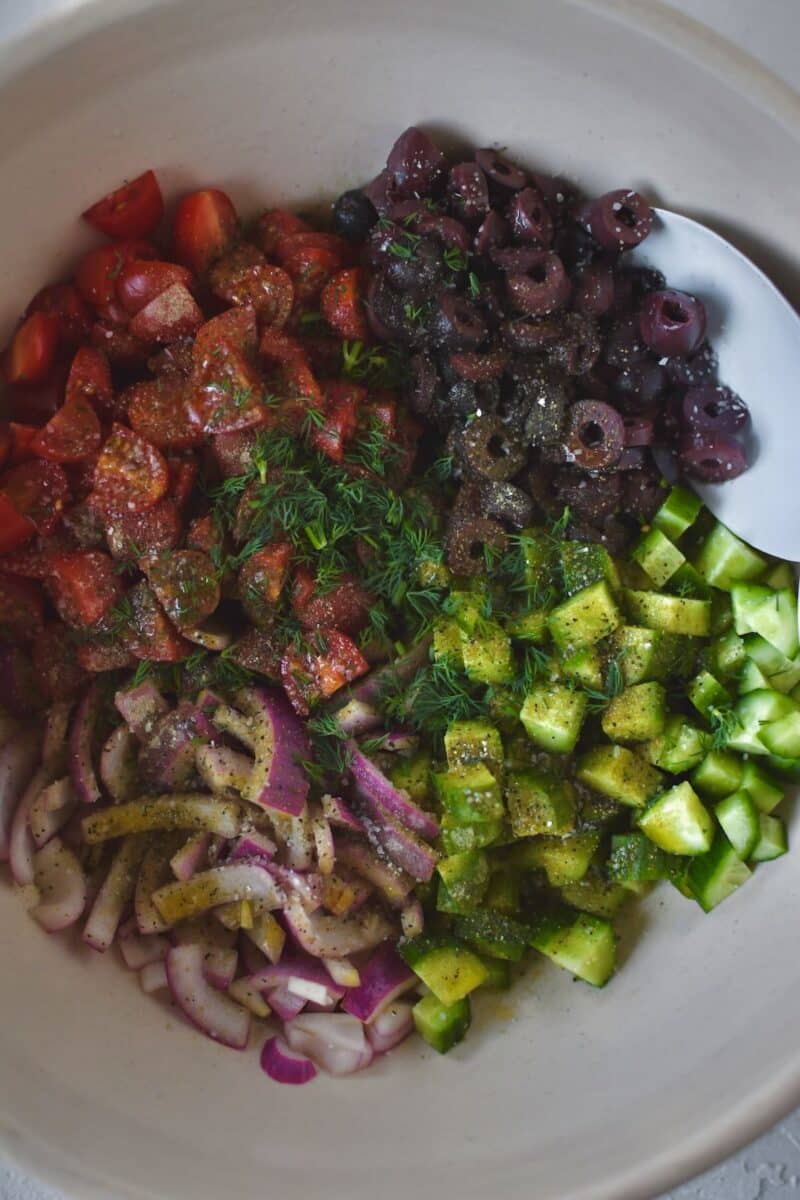 Place the salmon in the hot oven and bake for 15-20 minutes until it reaches your desired doneness. I typically go for a nice even medium to please the whole family. If you are feeling fancy, transfer the salmon to a platter lined with arugula, flake up one corner to get it started, and top with the veggie salad and some feta cheese.
A few pieces of dill scattered on top complete the "FANCY" look of the platter. And weather you want to be fancy, or this is a quick weeknight dinner, this recipe is ALWAYS delicious!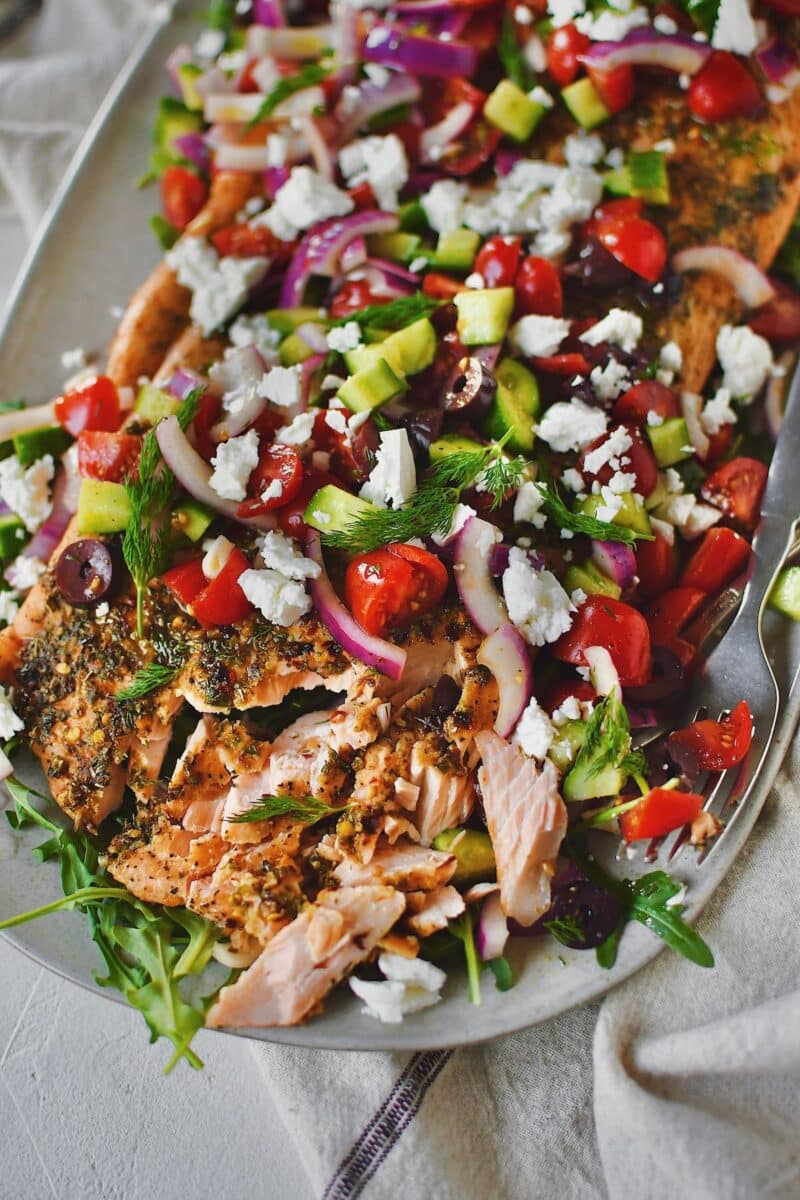 I like to round the whole thing out with a very simple couscous on the side. I share a recipe HERE that takes literal seconds to make and pairs perfectly with this flavor-packed salmon.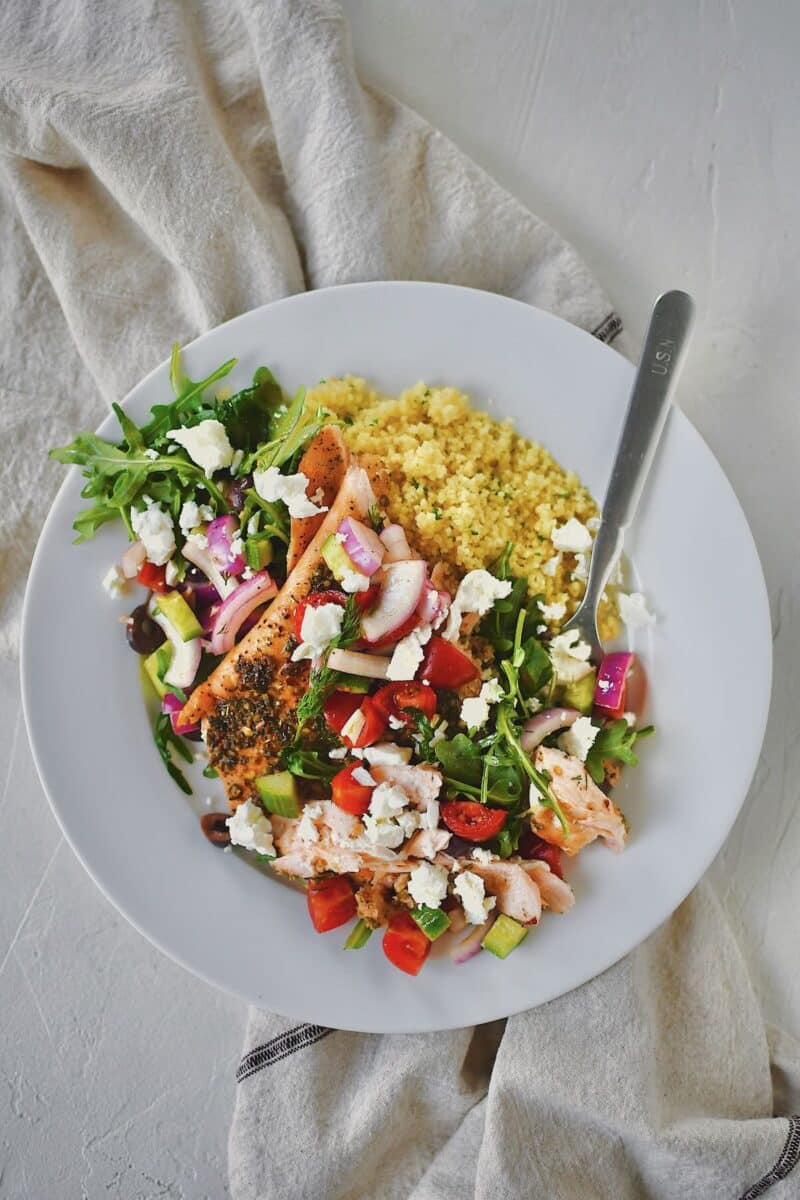 Notes & Tips
I love this recipe with a whole side of salmon, it is a real show-stopper. You can totally scale it down if you like and make 1-2 fillets and cut the salad by half or a quarter for just a couple of people. It also makes excellent meal prep/leftovers that can be eaten hot or cold if you do make the whole side.
Be sure to grease the pan with a little olive oil to make cleanup super easy. You can also bake the fish on an aluminum foil line baking sheet to make cleanup super easy.
I like to turn the oven on after I have added the "marinade" to the salmon. This kind of builds in a rest time for the flavors to all seep into the fish. Whip up the salad while the oven is getting hot.
When making the salad, start with the onions and let them rest in the vinegar for as long as you can. This helps to sort of pickle them a little and takes the harsh bite off the raw onions. I have made onion haters love these onions!
Fancy everything up a little and lift the whole side of salmon off the baking tray (I use two spatulas to get it off) and serve it over a bed of arugula. This can turn the salmon dinner into a salad or just offer a nice peppery balance to the recipe.
Also, I know many people say fish and cheese don't go together, but the feta with all the fresh veggies mixed with the salmon and arugula, it's all a match made in heaven!
Substitutions
I personally prefer Atlantic salmon, don't bother coming at me for liking farm-raised salmon, also I love all things Norwegians do, so there! But if you prefer another type of salmon, or you live in the PNW where you can get the best, by all means, use that!
I prefer to use the No-Salt Greek Seasoning so that I can control the salt. You can just use salt and pepper, but I like the extra flavor it brings.
This is a great place to use your really good olive oil. Even though you will be cooking the fish in it you want something with a really savory flavor. Break out the EVOO!
The red pepper flakes don't add a lot of heat, even my 1 ½-year-old nephew at this salmon and LOVED it with no problems. But if you HATE heat, leave it out.
Greek food is very herb-forward, load up those herbs and don't skimp on them. They can be fresh or dried, either will work.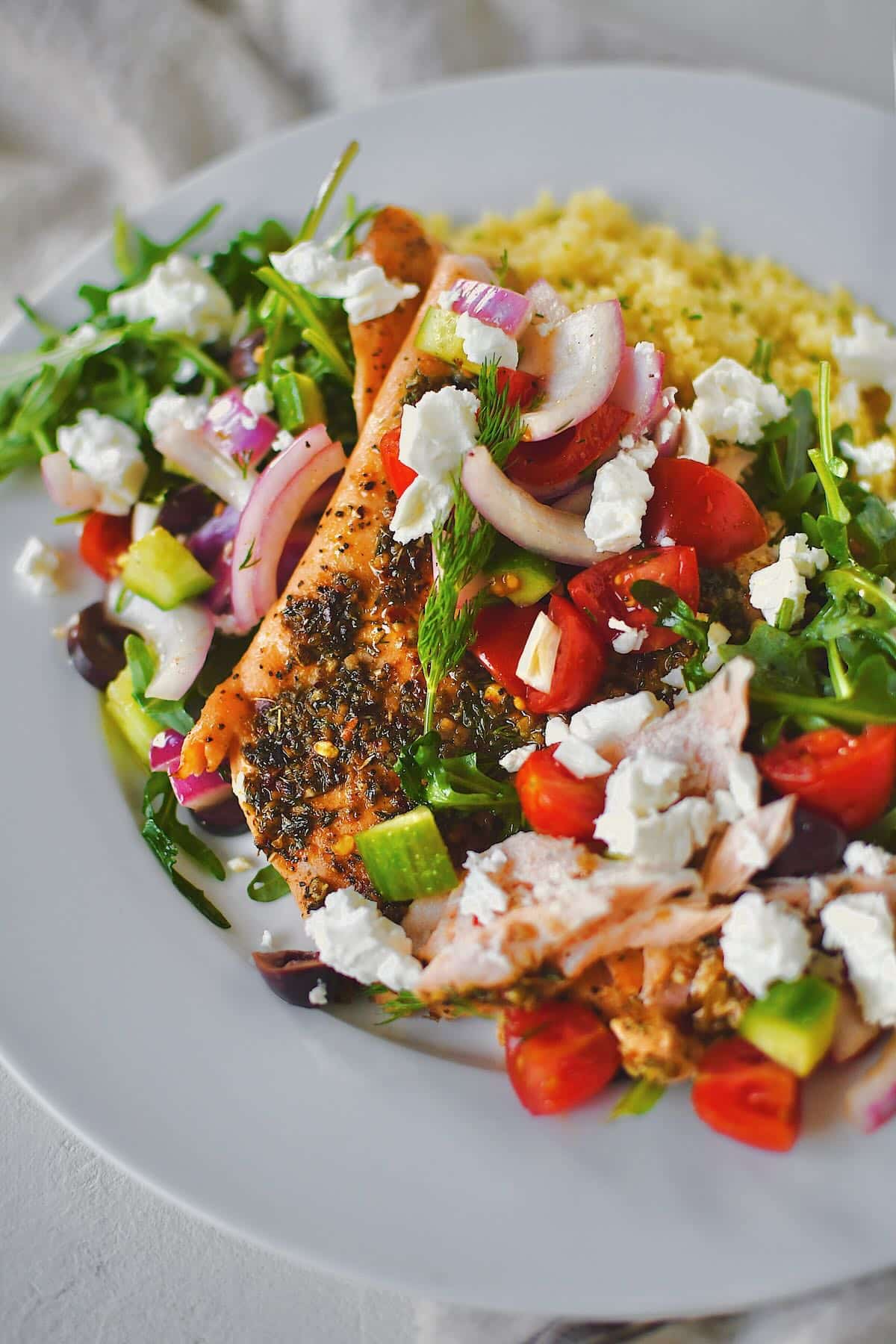 Did you make this recipe? Let me know by leaving a review or comment! And be sure to sign up for my newsletter, and follow along on Instagram, Pinterest, and Facebook!