This is the way to MY Perfect Bloody Mary Recipe. It makes a slightly tangy and perfectly spicy drink you'll want to grace every brunch table you encounter!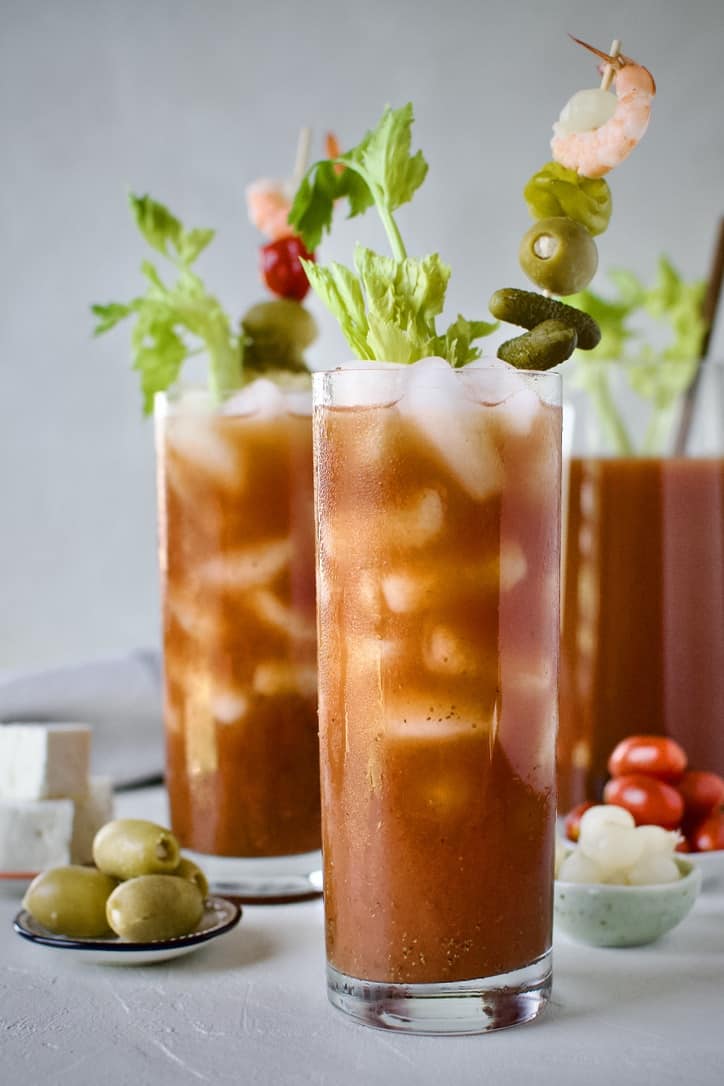 I LOVE a good brunch spread. It is the perfect excuse to enjoy sweet and savory foods all at the same time. Filling the table with my Caramelized Custard French Toast or Breakfast Pie are great features for a fantastic brunch.
Jump to:
Ingredients
It's just not brunch unless Bloody Marys are present. I like mine to pack a nice punch, so the addition of juices from the pickle and pepper jars is a must. It really kicks up the savory and zesty flavors.
And don't forget to pack on the toppings, so flimsy lone stalk of celery, give me all the baby pickles, stuffed olives, and peppers. The options really are limitless, I usually end up setting up a Bloody Mary Bar and letting everyone make their own skewer to top their glass with.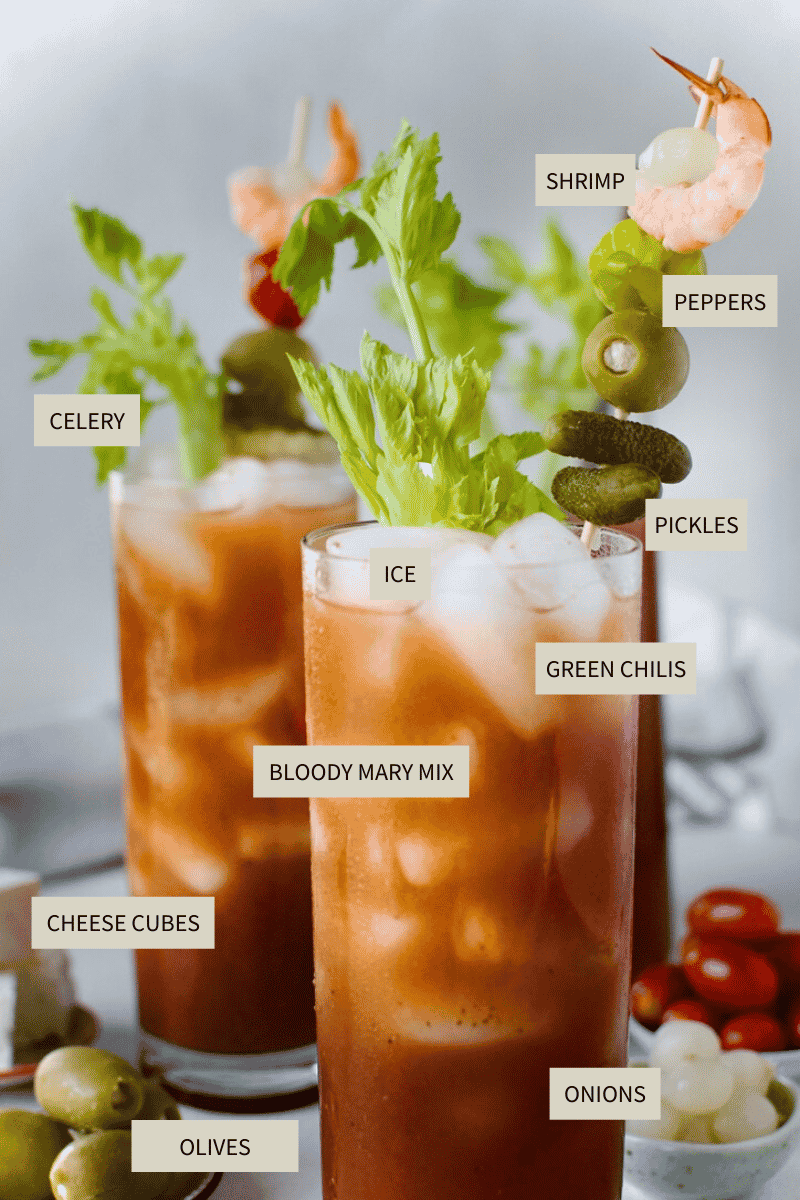 The more the toppings make your cocktail look like a salad, the better! Load that baby up, cause snacking on all the extras is half the fun of a Perfect Bloody Mary Recipe. Plus, just think of all the vitamins you are soaking up with each powerhouse sip!
Use the JUMP TO RECIPE button at the top of the post, or scroll to the bottom of the post to see the full recipe card with ingredient measurements and instructions.
Method
Now there is a bit of controversy in my family as to how to mix a Bloody Mary properly. I like to make a pitcher, making serving easy, but my sister who helped me develop this recipe says they MUST be shaken before serving. Either way works in my opinion, but you could always make a big batch, then shake a couple of servings with ice just before serving.
Here's what you'll need:
ZingZang Bloody Mary Mix - I like to start with this as a base and add to it. You could also start with simple V8 Tomato Juice or Clamato Juice if you prefer.
Pickle Juice
Spanish Olive Juice
Banana Pepper Juice
Fresh Cracked Black Pepper
Vodka - You can use any of those crazy flavored vodkas out there if you like, pickle or bacon vodka. I personally like a quality mid to low-level vodka, just good enough to not give me a headache tomorrow, ha!
Every person has their own blend and texture they prefer for their Bloody Mary Mix, but starting with a super flavorful base is the number one rule! So spice it up nice then let each person add in their own fresh flavorful toppings at the end.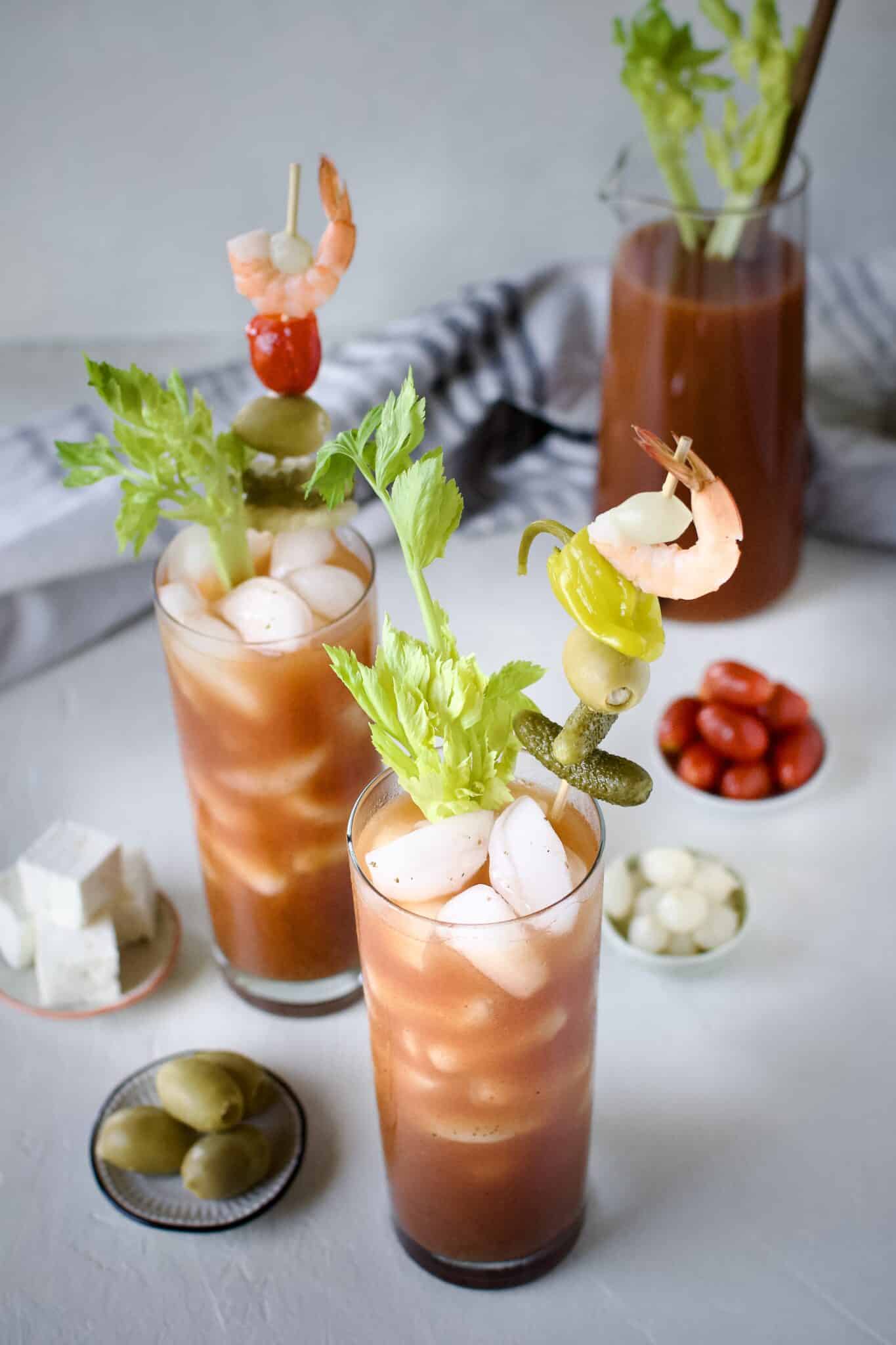 Notes & Tips
Bloody Marys are traditionally garnished with celery. Click here for the long story, but legend states that in 1970 a bartender from Chicago's famous Pump Room couldn't find a straw for the drink and added a celery stick instead. The now-required garnish for this drink help cut the astringent properties and the thickness of the tomato juice.
Bloody Mary Mix is easy to make ahead of time. You can mix everything together, up to a week ahead of time. Simply add the vodka just before serving, or when you shake them up in a cocktail shaker as my sister requires!
Be sure to have lots of ice on hand if you are setting up a Bloody Mary Bar. Ensuring the drinks are ICE, ice-cold is 100% necessary. Glasses should be filled to the top with ice and be sure to chill the mix before serving.
If it's your thing, have some rimming salts prepared to dip the top of your glasses in. A little salt mixed with some celery salt, smoked paprika, or lemon pepper are fun additions. Simply mix them together on a small plate, and have a second small plate with some water on it to dip the glass in then dip in the salt to adhere to the rim.
Substitutions
When it comes to garnishing your Bloody Mary, the options can be endless. Here are a few of my favorite things to top my cocktail with:
Crispy Bacon
Grilled Shrimp
Feta Stuffed Olives
Gherkin Pickles or Pickle Spears
Banana Peppers
Celery Stalks
Feta Cheese Squares or Your favorite Cheese Cubed
Picked Vegetables like - Asparagus, Okra, Pearl Onions, etc.
A squeeze each of a slice of lime and lemon
Your favorite hot sauce, like - Tabasco, Cholula, Frank's, Tapatio, or Louisiana.
If you prefer a Bloody Maria over a Bloody Mary swap the vodka for tequila. Tequila is the only difference between them.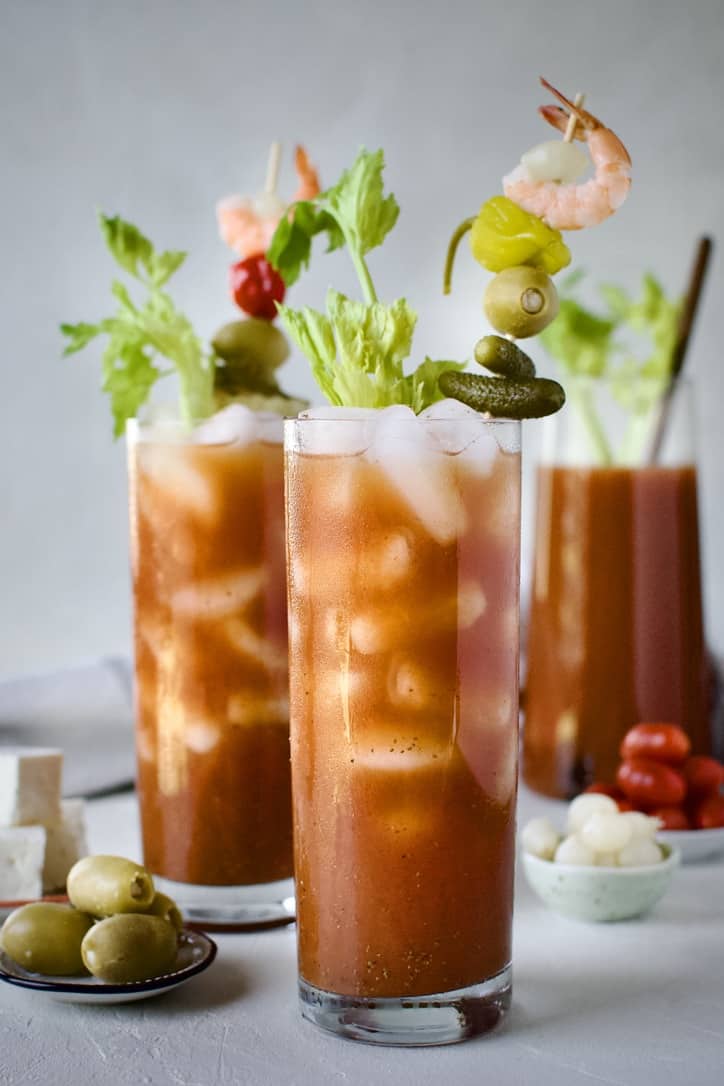 More delicious cocktail recipes!
Did you make this recipe? Let me know by leaving a review or comment! And be sure to sign up for my newsletter, and follow along on Instagram, Pinterest, and Facebook!