I had only just discovered true pimento cheese just before the Magnolia Table Cookbook was released in April of 2018. Before then I only knew it as an almond covered cheeseball that I really didn't care for at all.
In December 2017 at the fantastic Merchants Restaurant in Nashville, Tennessee I had my first real and true version of Pimento Cheese. It was served on the side of their Fried Green Tomatoes and I think I fell in love with it right then and there!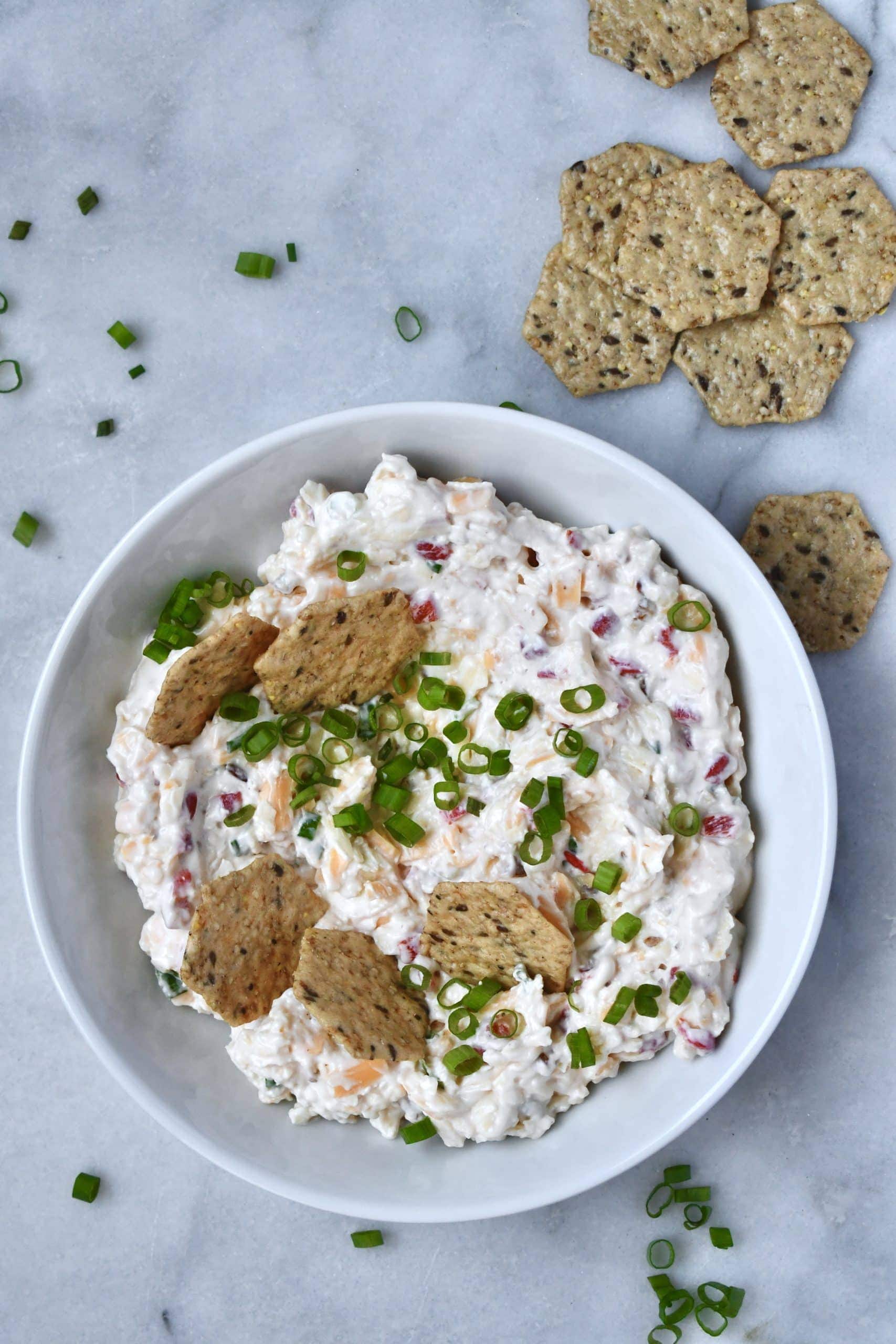 If you are new to KendellKreations, I spent an entire year cooking through Joanna Gaines Magnolia Table Cookbook and reviewed every recipe. Just search the recipe name on my homepage, or read my cookbook overview HERE!
My review of Joanna Gaines' 1919 Pimento Cheese recipe.
The Pimento Cheese recipe that Joanna Gaines shares in the Magnolia Table Cookbook is the original recipe from the Elite Cafe that dates back to 1919. The Elite Cafe was a staple restaurant in Waco, Texas for many years, it's said that Elvis loved to eat there whenever he passed through. The Gaines' purchased the property after it closed and it is now the current location of their restaurant Magnolia Table.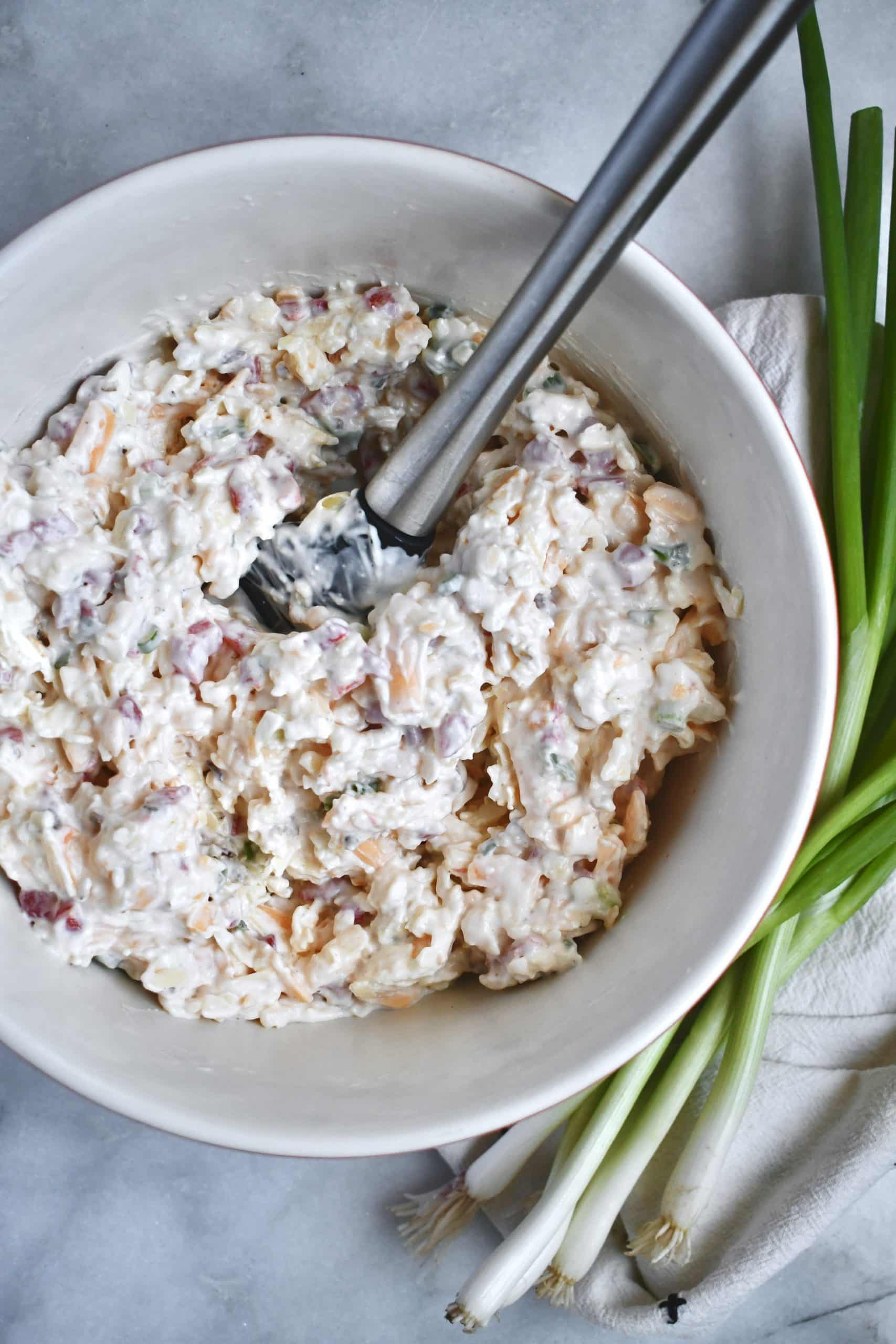 The only thing I changed about this recipe is the call for Velveeta. I just can't bring myself to buy it. I have worked hard to remove overly processed foods from my house and this is just something I don't cook with, I don't even know what to do with it.
The best substitute you can use if you feel the same way is Cream Cheese. And I have to say, with all the other cheese in the recipe I really didn't miss the Velveeta at all, and I think it just might have made it better leaving it out.
I really loved the addition of the pecans as well, there is a great product that I used to get at Costco and loved until I made this one. It adds a great extra level of flavor and I really loved making pimento cheese sandwiches with it. Sometimes alone on white bread, sometimes with some roasted turkey lunch meat, either way, it was great.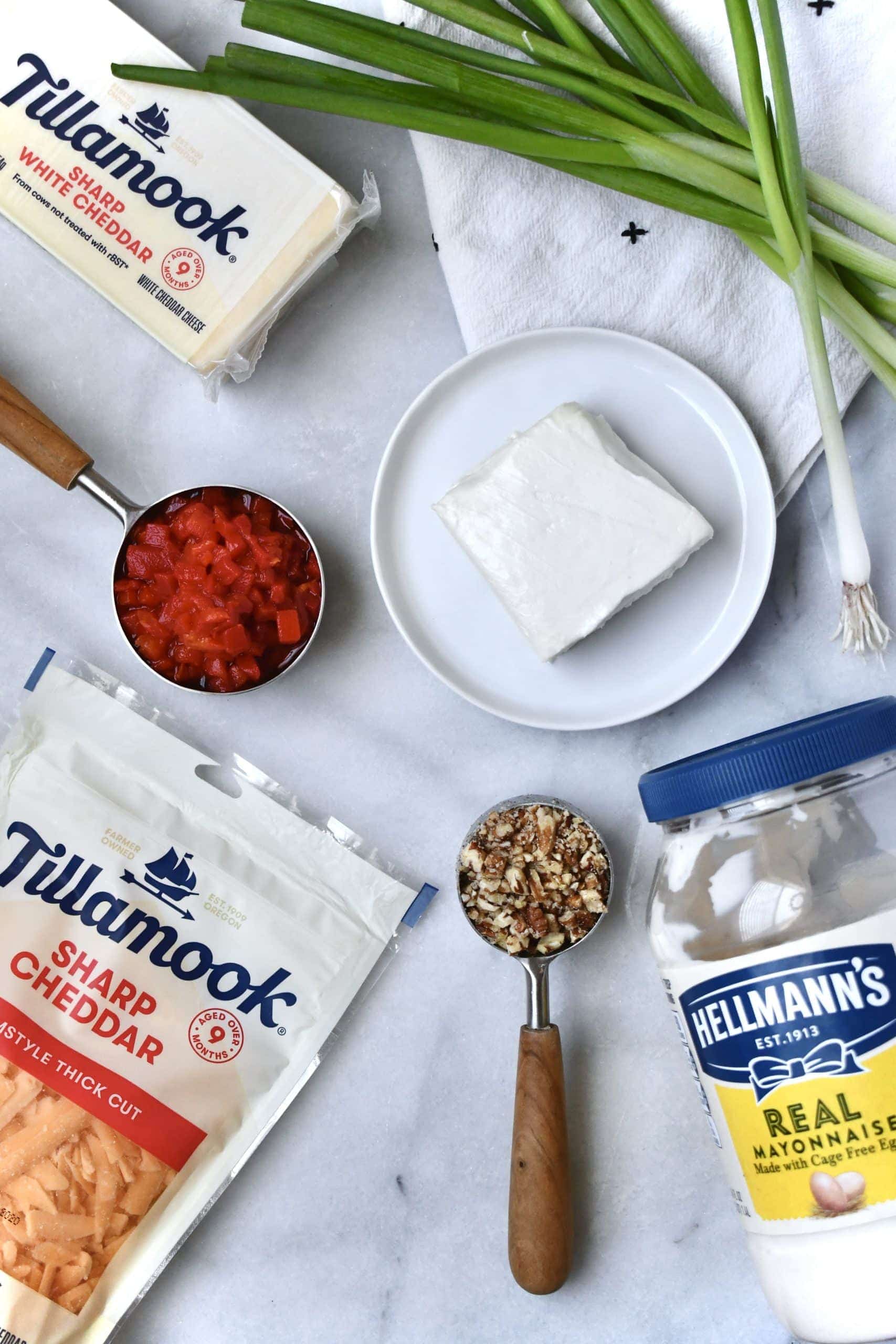 Overall I think this recipe is a winner, leave me a comment below and let me know what you thought of it, I'd love some feedback on if this is traditional to what Southerners grew up with or not.
Until next time, happy cooking!
Kendell
---
21st Century Pimento Cheese Update
Update: Hey yall, I have had lots of requests for my updated version of Joanna's "1919 Pimento Cheese" that is in the Magnolia Table Cookbook. I am happy to report that I have added the recipe below for your full 21st-century enjoyment! Velveeta was all the rage back in 1919, but I just can't bring myself to use it in 2020!
I have included it with my favorite high-quality ingredients. Ever since I lived in the PNW I have loved Tillamook, and thank GOD their products are now becoming more and more available nation wide! Feel free to use your favorite cheese, but Tillamook is my #1.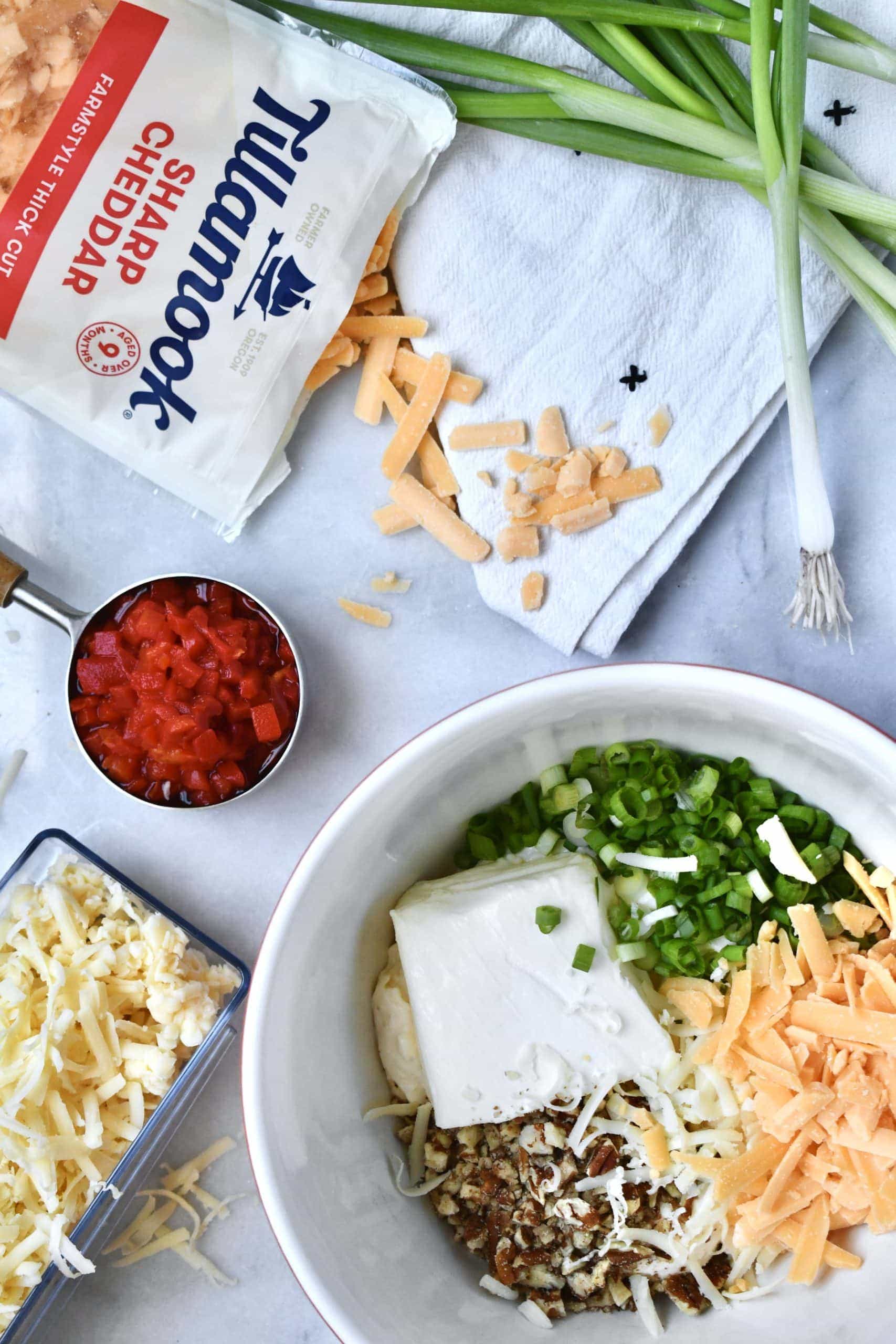 While I have yet to answer the question of whether or not I will cook and review the second cookbook, the journey through the first was a grounding experience. It really brought me back to the roots of why I love food and cooking and what pushes me to share my love with others. It was a huge task...but we will see what happens!
If nothing else, I am SURE I will have something to say about Vol. 2 as soon as it gets here! You can read my final thoughts on Magnolia Table Cookbook Vol. 1 HERE, as well as get my TOP 10 favorites out of the 150 in the book.
That said, I do have to say that my family and I are fully in love with this recipe now and it is something I am encouraged to keep around for snacking. I hope you enjoy my updated version, if you are a Velveeta hater like me then this is the recipe version for you!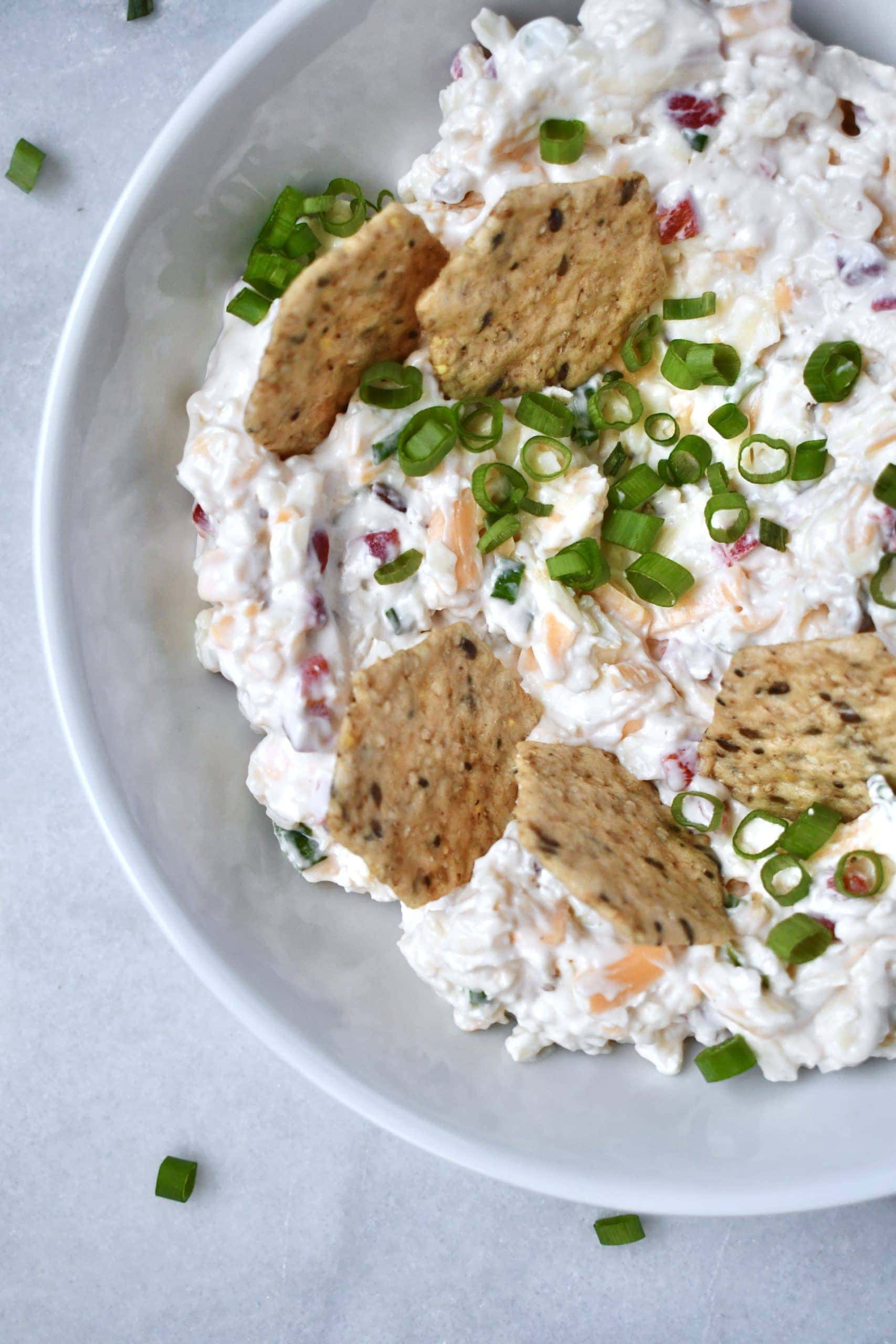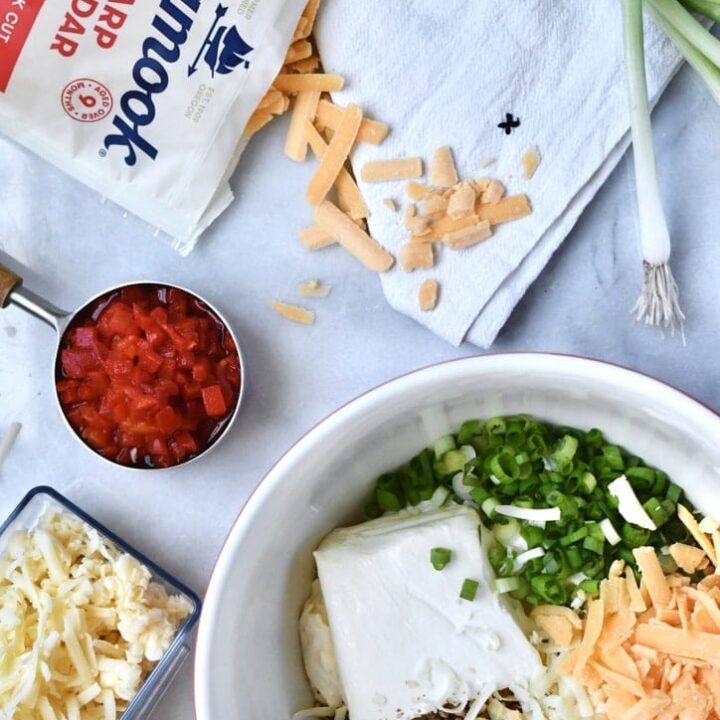 Pimento Cheese
This is my take on Joanna Gaines' recipe for Pimento Cheese. Her recipe for the 1919 Pimento Cheese from the Magnolia Table Cookbook calls for Velveeta and I just can't bring myself to use it. I am replacing it with Cream Cheese and the only thing you loose is the color, it retains its creaminess and texture while using a less processed product.
Ingredients
3 cups White Cheddar Cheese, shredded
1 cup Sharp Cheddar Cheese, shredded
4 oz Cream Cheese, softened
2 cups Mayonaise, Hellmann's
½ cup Diced Pimentos, drained
¼ cup Green Onions, minced, light and dark parts
¼ cup Pecans, toasted and chopped
Instructions
In a large bowl combine the cheddars, cream cheese, mayo, pimentos, green onions, and pecans. Stir gently until well combined. Cover and chill for 1 hour before serving.
Store in a covered container in the refrigerator for up to 4 days.
Nutrition Information:
Serving Size:

1 grams
Amount Per Serving:
Unsaturated Fat:

0g
If you make this recipe, please let me know by leaving a review at the bottom of this page!
And make sure to sign up for my newsletter and follow along on Instagram, Pinterest, and Facebook for more KendellKreations!
MY LATEST RECIPES!
Get my NEW e-Cookbook here!! ⬇️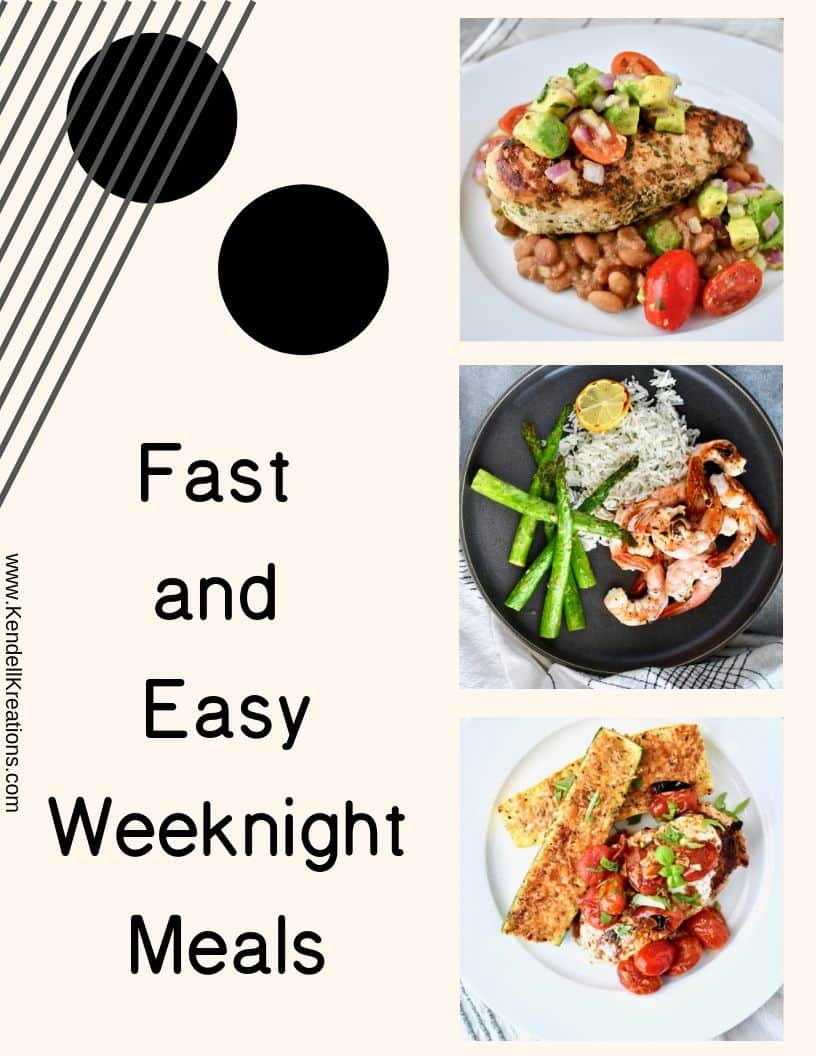 MY FAVORITE KITCHEN TOOLS!
Here are a few links to some of my favorite kitchen tools! You get a car, YOu get a car, YOU ALL GET A CAR…in my best Oprah voice
These Rösle Silicone Tongs are a little pricey but they will last you the rest of your life and are the softest in your hand. This is important for someone like m that cooks so much. It reduces strain, I have 4 sets in my kitchen!
These are my FAVE Nordic Ware Sheet Pans, every kitchen should have at least 2 sets of these! I think I have at least 4 of each of these.
This is my favorite pressure cooker, the Fagor is the same concept as the "Instant Pot" but easier to use in my opinion, if you don't have one you NEED one, it will be your best friend in the kitchen!
A sharp knife is the most important tool in the kitchen, these Japanese steel "Shun" knives are my favorite! And this is a great starter set to build on. Once you try them you will be in love so use this as a foundation you can build on for years to come.
This Scanpan 11″ skillet is just the right size for almost anything you will need to cook and my best friend and a real workhorse in my kitchen, it's also a great deal at $99. Scanpan is the best in the world for healthy cooking. It is coated with a proprietary ceramic-titanium coating that is durable while allowing you to use fewer fats and oils when cooking. It is a coating only they use. I could talk all day about my love for these pans, message me if you want more info. Here are some other sizes that are available if you are looking to outfit your kitchen with some new goodies. 8″ & 10″ Skillet set or 8″ Skillet, I still need this one for my kitchen Also, I don't really know how to cook small so the 12.5″ is my other fave!
This giant vat of olive oil is my favorite, I decant it into a smaller bottle for my counter. Or put this spigot on top of a wine bottle!
My favorite baking dish that is so easy to clean even burnt on cheese slides right off!
This Tovolo jar scraper has to be my single favorite kitchen tool, it is definitely the most used tool in my kitchen. If you are NOT a gadget person, this is the only necessity I say is a MUST beyond the wooden spoon.
A great wood spoon is essential, this Olive Wood one is my favorite, I have more than I can count. But can you really ever have too many?
A food scale can be a very important tool in your kitchen, this one is the one I use every day!
If you love Joanna Gaines as much as I do then the 'Magnolia Table Cookbook' is a must in your kitchen, get a copy HERE!