Vegetables don't have to be boring, and this Green Bean Salad is definitely NOT boring, I promise! This super simple salad is one that can be eaten warm or at room temperature. It is equally good as leftovers cold too!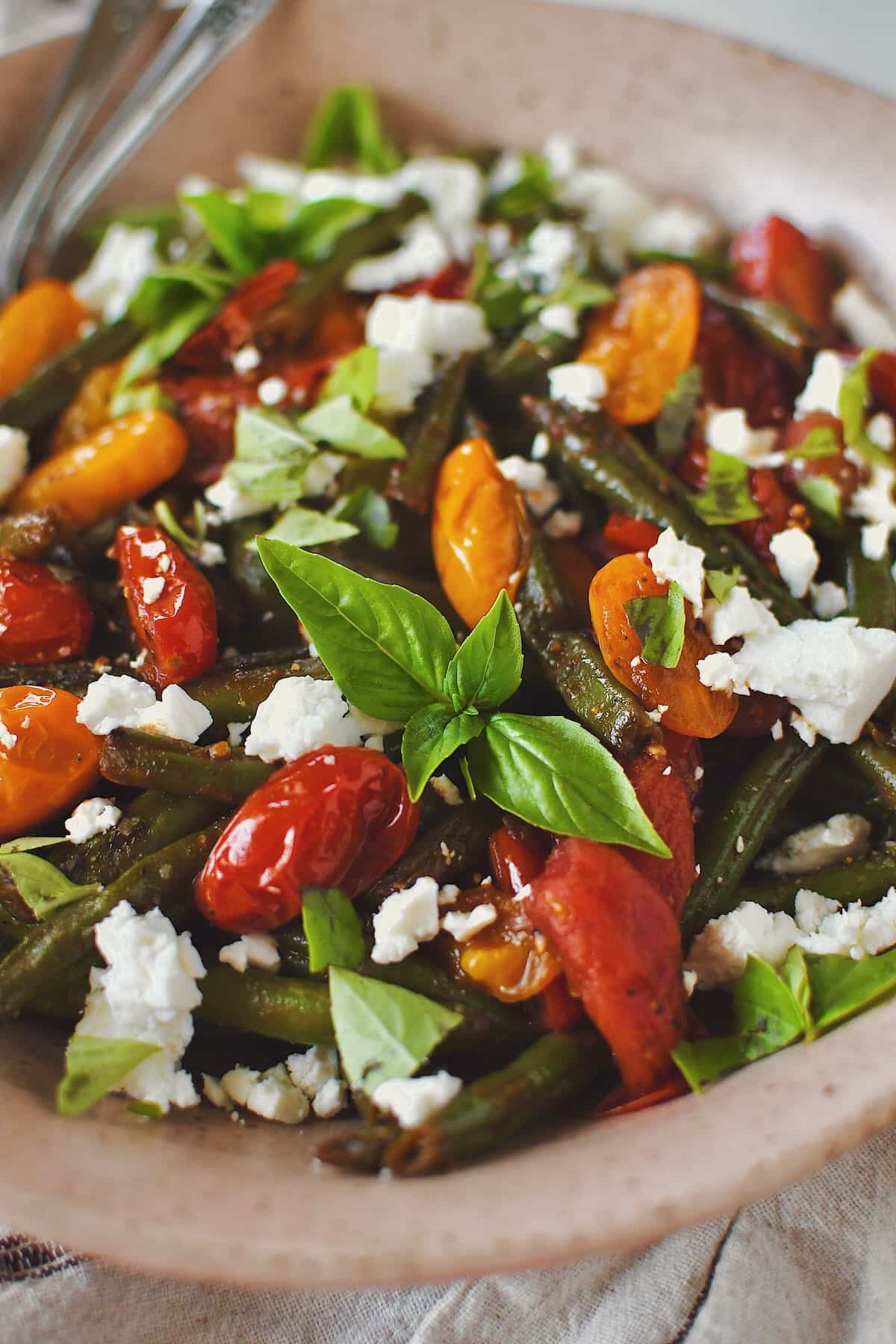 This post was first published August 16, 2020, and was last updated July 22, 2023.
This green bean salad is my new favorite way to enjoy these delicious beans. I think this would also be a great recipe for Thanksgiving, especially if you are serving a smaller crowd. It is a super quick side dish that can be enjoyed hot, cold, or room temp and it really shines in the summer when produce is at its peak!
Jump to:
Ingredients
I LOVE a recipe that has a big impact with minimal ingredients, and this one fits that bill to a "T". The main ingredient, the beans, can be fresh or frozen, and I will share how to use both versions. But let's make the first note here if you use frozen, they do not need to be blanched in hot water and shocked in ice water, they allow you to skip that step.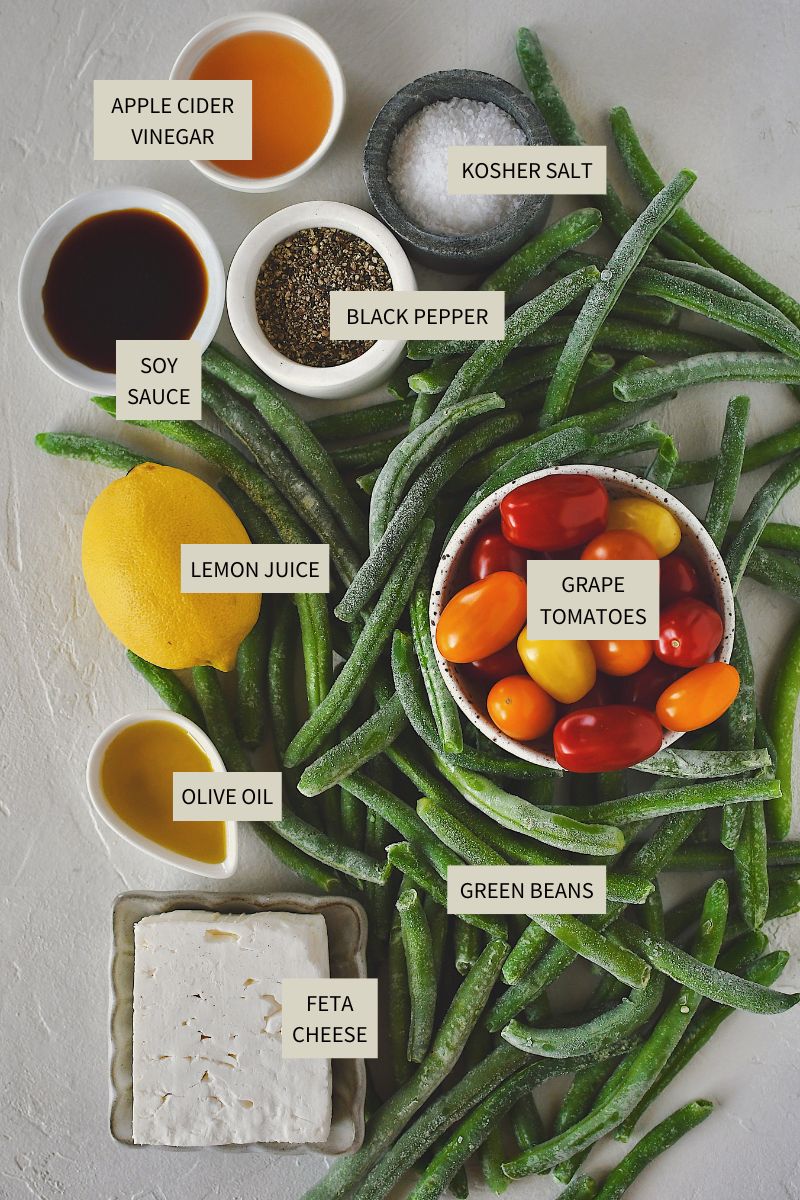 From there, the tomatoes bring brightness and acid, while the soy sauce, vinegar, and lemon juice bring so much balance and flavor. A little salt and pepper bring everything together, and the rich, creamy feta on top just brings me joy!
Use the JUMP TO RECIPE button at the top of the post, or scroll to the bottom of the post to see the full recipe card with ingredient measurements and instructions.
Method
This recipe is so simple to make it will become your new go-to green bean recipe. The hardest part of it is bringing a pot of water to a boil to blanch and shock your green beans. This step starts the cooking process but helps retain all that great green color in the beans.
If using fresh green beans, I first cook the beans in boiling water for just about 60 seconds so they retain a good crunch to them. Then remove them and place them in a bowl of ice water. They can rest there until you are ready to use them.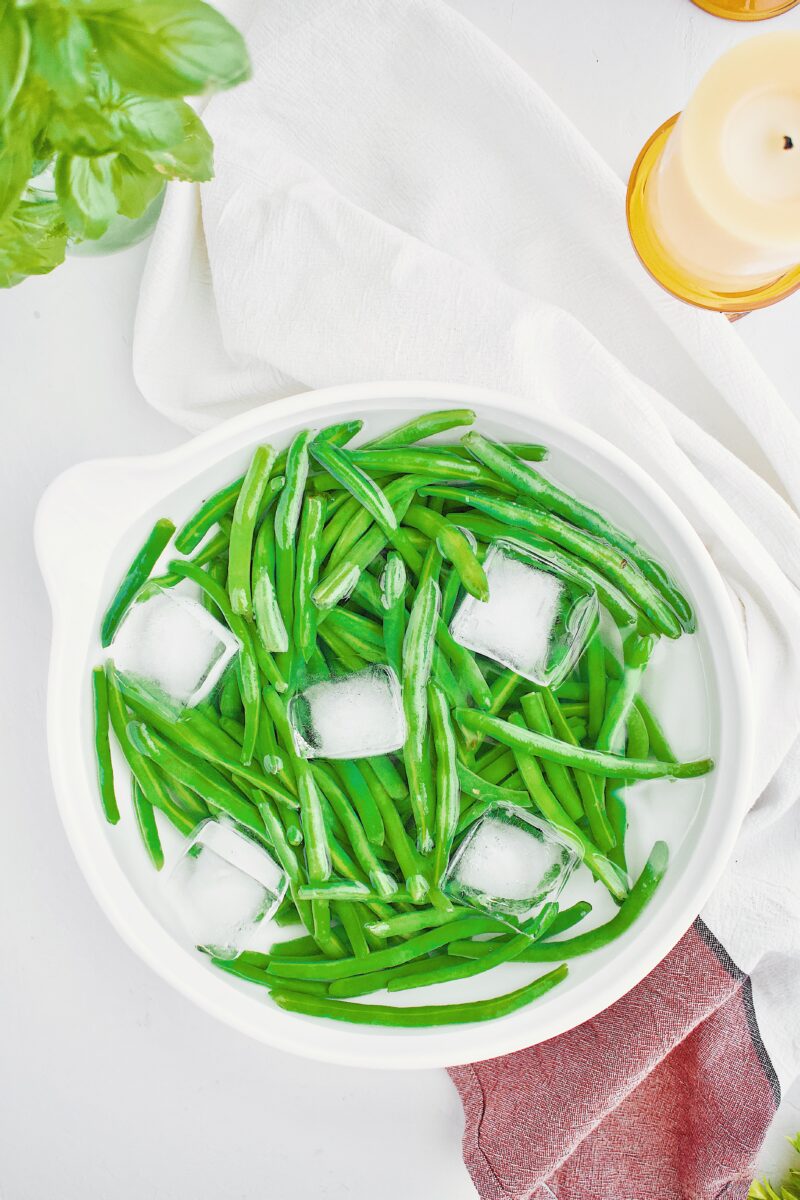 Then heat a large skillet, the bigger the better, over medium high heat. Cook from frozen or use the blanched beans, in the hot pain with olive oil till they begin to take on some browning and color. Then toss in the tomatoes and cook till they begin to soften, then season the pan with salt and pepper, and deglaze with the liquids.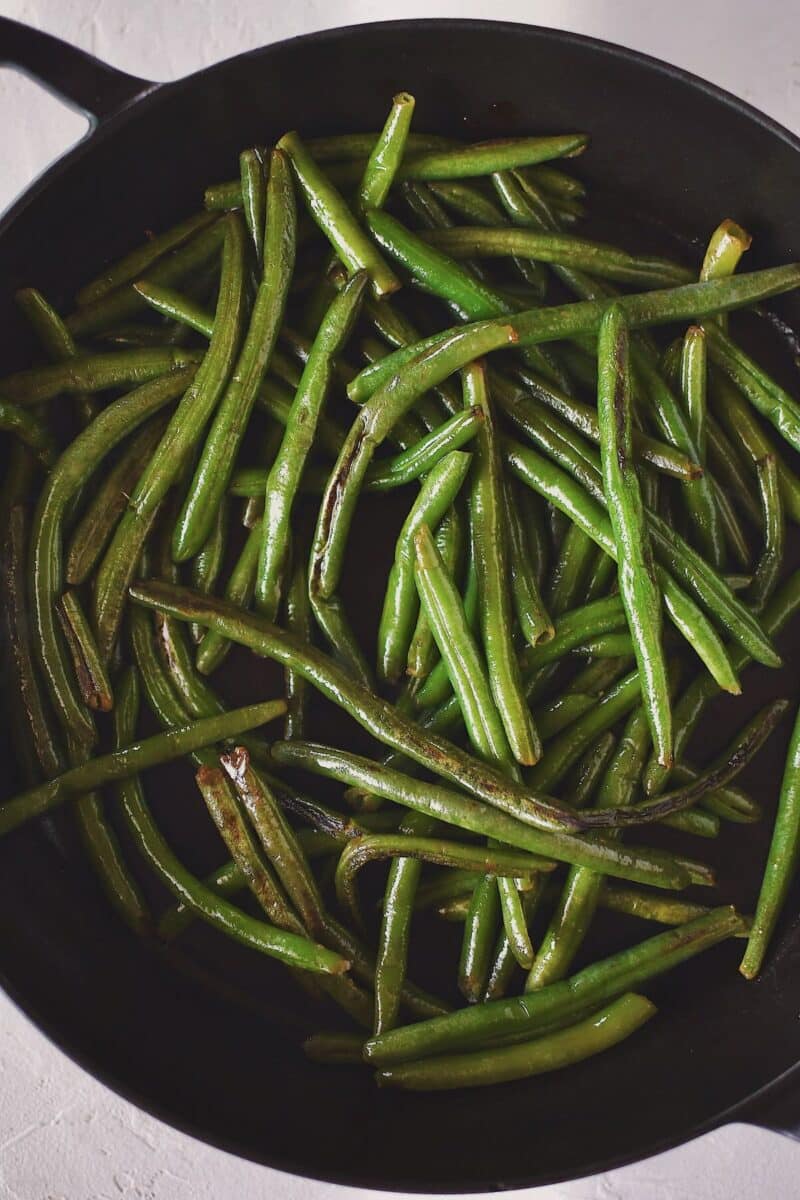 Cook till the pan is almost dry again, then immediately remove the beans to a serving bowl and sprinkle with feta cheese, and some fresh, torn, basil leaves if you have them. It is so simple to make this delicious Green Bean Salad, it only takes about 15 minutes and is a great side dish, especially in the summer.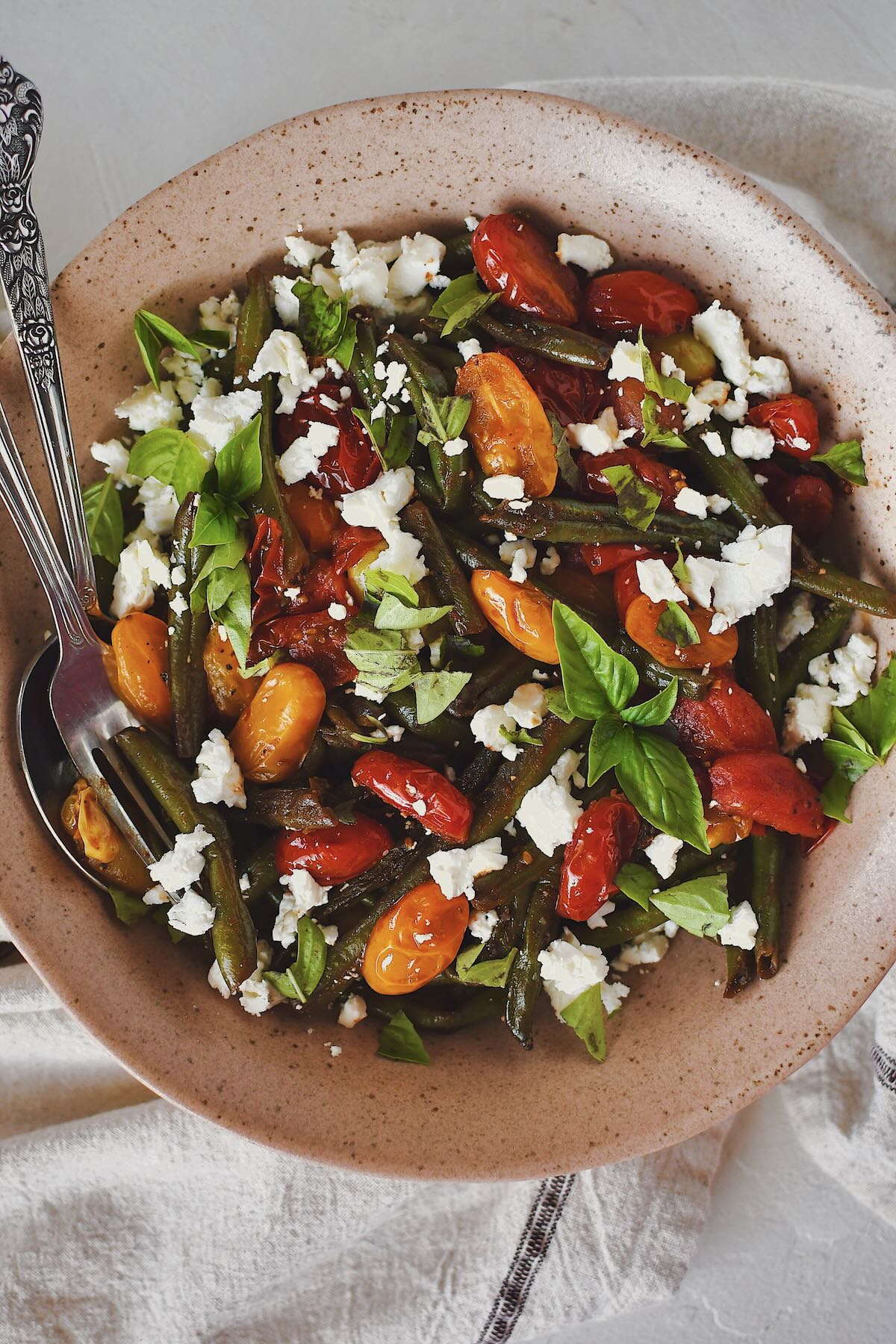 Notes & Tips
If you use fresh beans, be sure to wash and trim off any of the growth ends that may be on your beans still. The fresh beans also need to be blanched and shocked in boiling water first, then in ice water to stop the cooking.
This does not need to be done for frozen beans. You can toss then right from the freezer into the hot pan. By the time the fully defrost in the pan it will be just like they were blanched and shocked.
The finished recipe can be enjoyed hot, room temp, or cold. I prefer it at room temp, just a little bit after cooking. It is a great side dish to get done and out of the way as dinner finishes up.
Substitutions
You can use fresh or frozen green beans for this recipe. If you use fresh they need to be blanched and shocked. If you use frozen green beans you can start with them in the olive oil in the pan and just cook till they are defrosted, then continue.
You can really use just about any tomato, I like to grapes becaue I usually have some laying around, this is also a great way to up some that are starting to go bad. But larger ones work too, just dice them up into large, bite sized pieces.
The apple cider vinegar gives great sharp flavor, you can also use champagne or white balsamic for a little bit of a lighter, sweeter, flavor.
Soy or tamari can be used in this recipe, tamari gives you the opportunity to keep this reicpe gluten-free. But the sharp saltiness balances the tart vinegar and helps to create a nice glaze on the beans.
The lemon juice gives a great brightness to the dish, but if you don't have it replace it with a splash more of whichever vinegar you use.
Feta or Goat cheese can be used for this recipe, I prefer a goat milk feta. But cows milk feta works too. Just be sure to use a nice soft feta that crumbles easily.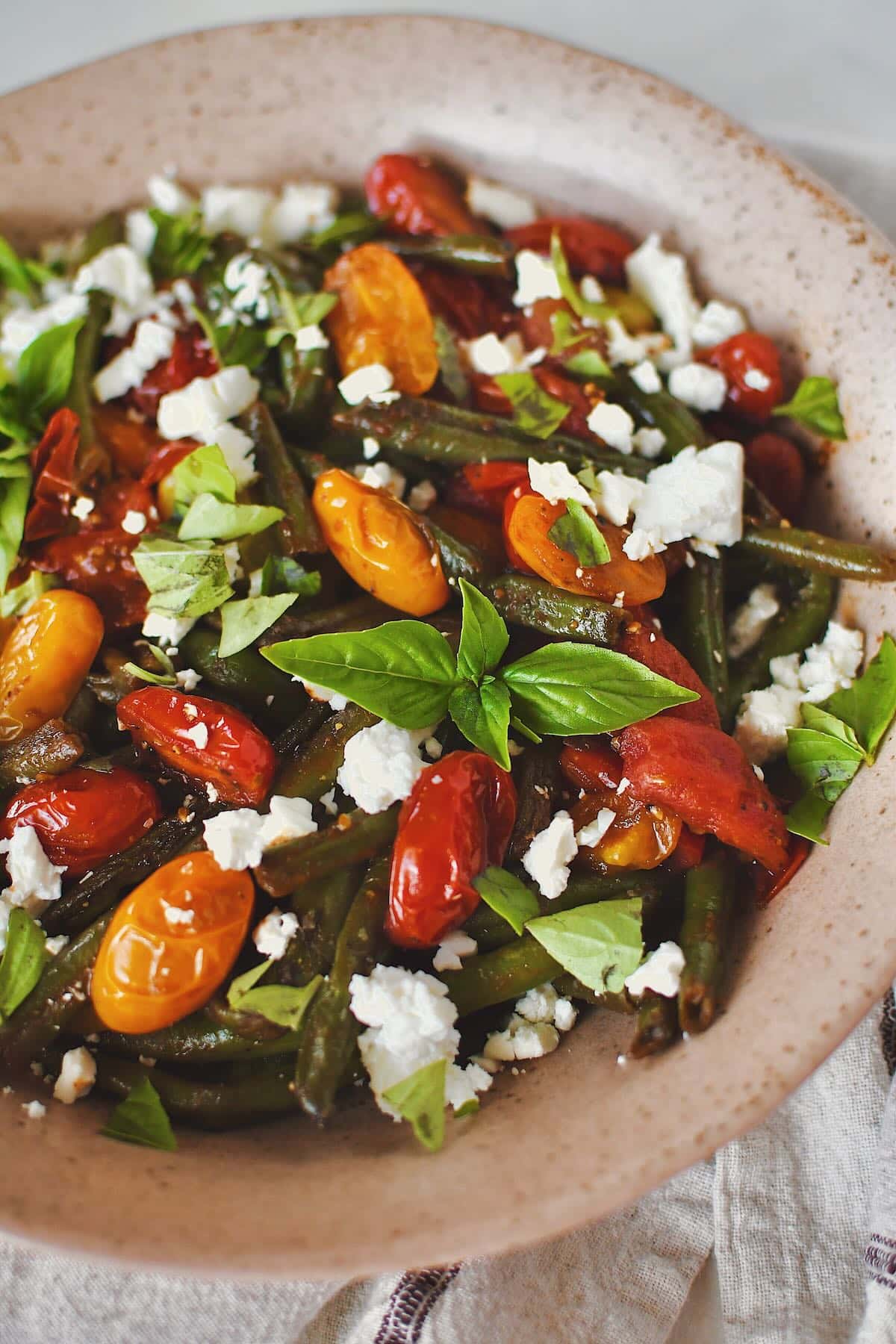 More great Green Bean recipes
Did you make this recipe? Let me know by leaving a review or comment! And be sure to sign up for my newsletter, and follow along on Instagram, Pinterest, and Facebook!