When you need an inspired side dish that can be ready in about 15 minutes, reach for this Creamed Green Beans Recipe. I love this because it just elevates the bean enough to make them special, but really requires no extra effort.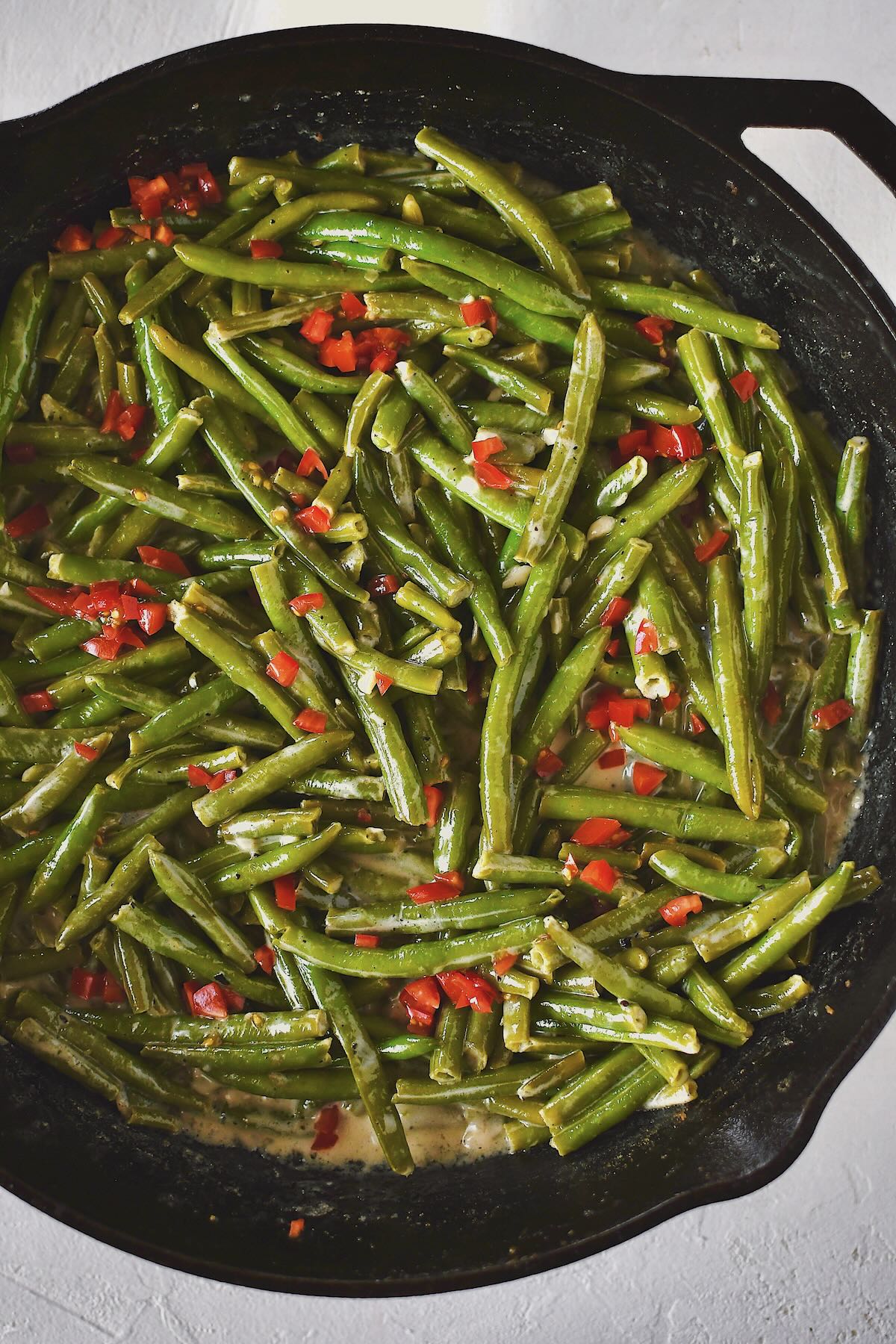 This is basically green beans in a white wine cream sauce, and it absolutely delicious. The cream helps all the flavor cling to the beans. I love a basic Sauteed Green Bean, but this recipe just takes them up a notch.
Jump to:
Ingredients
The one ingredient that I say is a must for this recipe is acquiring the proper green beans. You want to use the more petite, French Green Beans, I have found them called fine green beans in the freezer at the grocery store too if you can not find them fresh.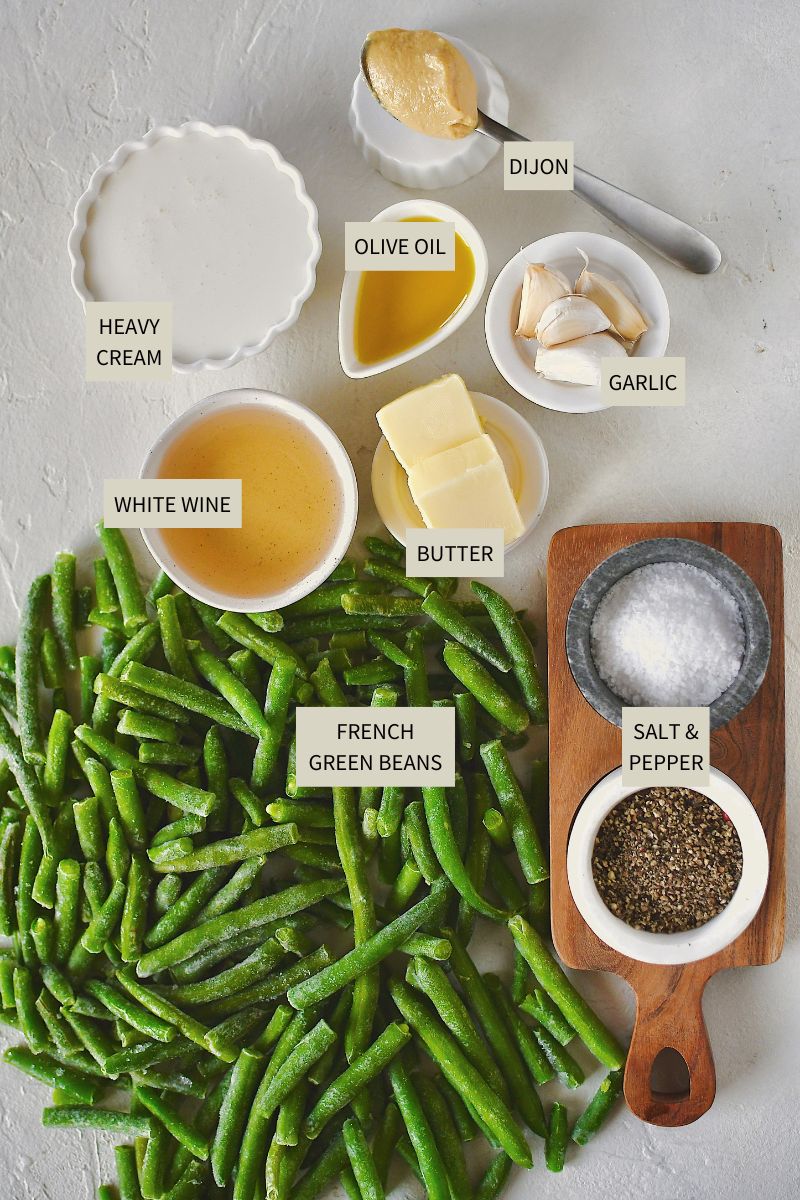 The other must is the heavy cream, nothing else thickens like it. It creates a natural sauce when it boils. The wine should be something you would drink but doesn't have to be expensive, I use a chardonnay or Pinot Grigio when I cook.
Use the JUMP TO RECIPE button at the top of the post, or scroll to the bottom of the post to see the full recipe card with ingredient measurements and instructions.
Method
First, melt the butter and garlic together in a large skillet. Then add the beans, you can use fresh or frozen, it really doesn't change the recipe much. I used frozen here, but I also make this with fresh beans when I find them.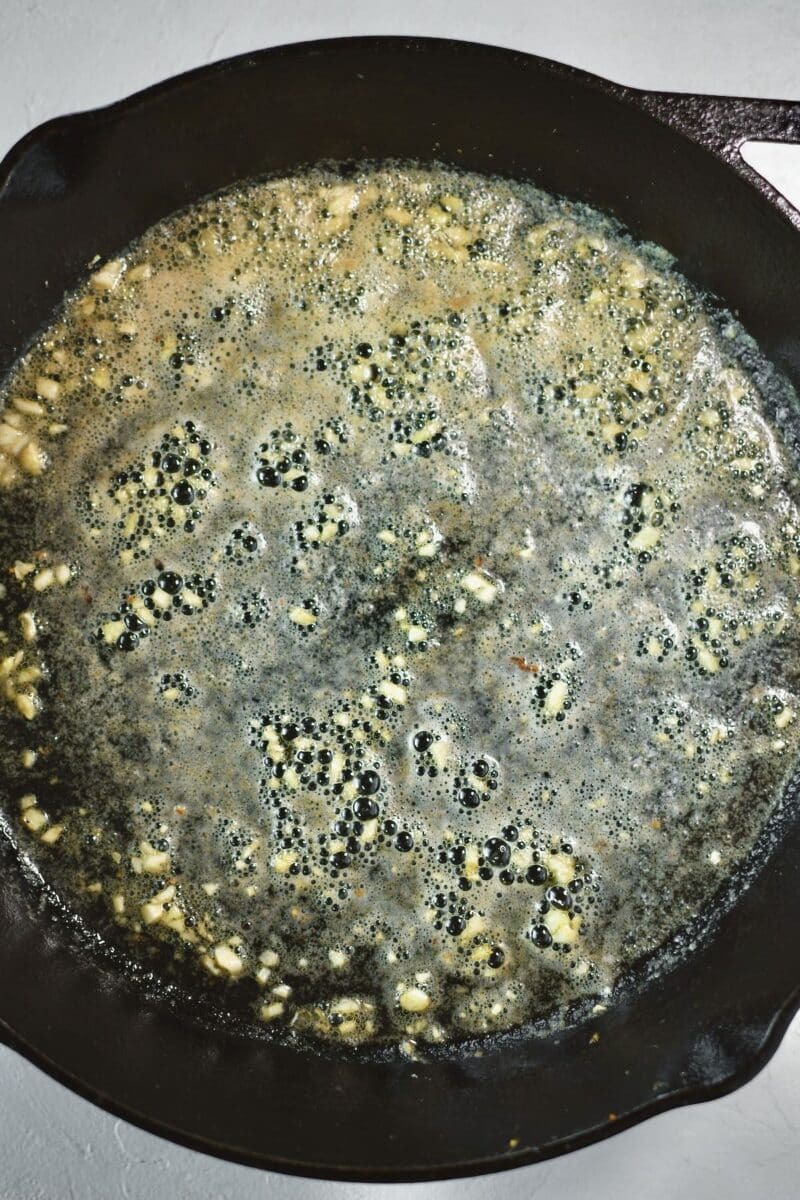 When the beans have gotten tender in the butter and garlic, deglaze the pan with the wine, and when it has almost completely evaporated add the dijon and the cream to the pan.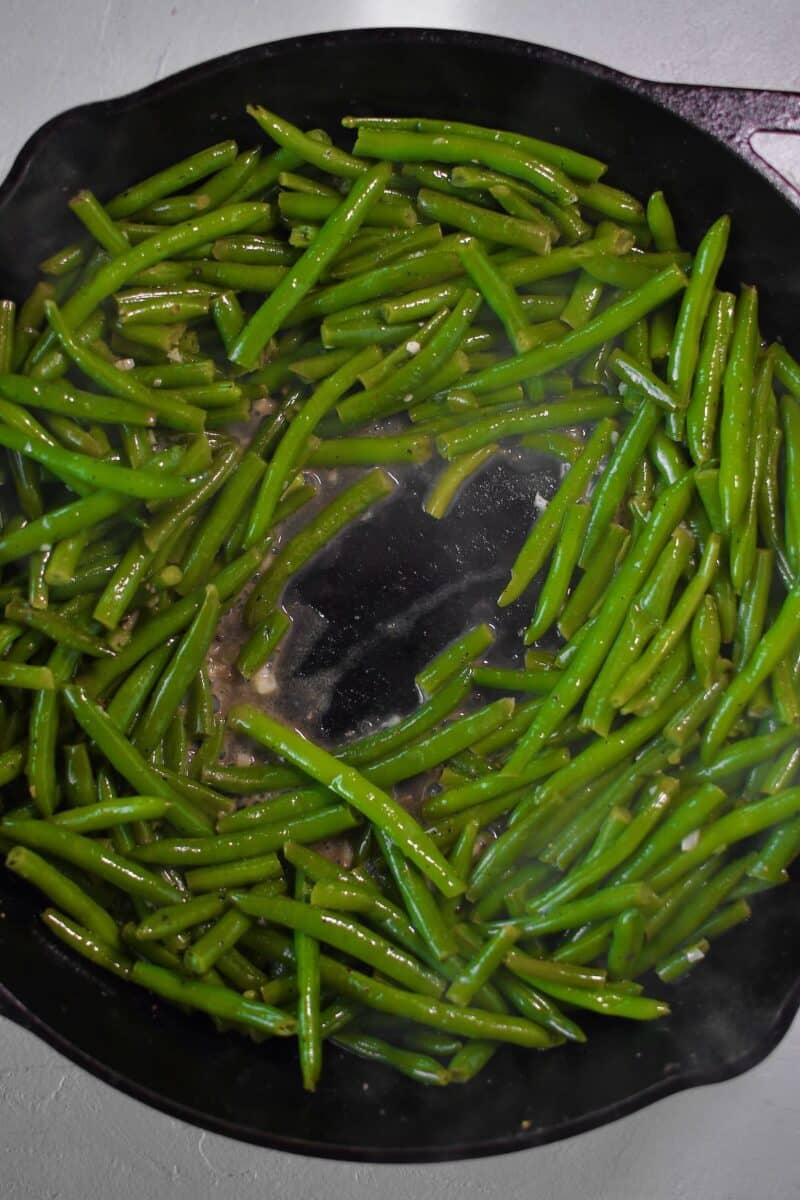 Let the cream come to a boil and simmer it in the beans until it begins to reduce and thicken. When it starts to cling to the bean you are done. I finished the beans with a little diced tomato for some color, but it isn't needed if you don't have them. I had some laying around so I threw them on.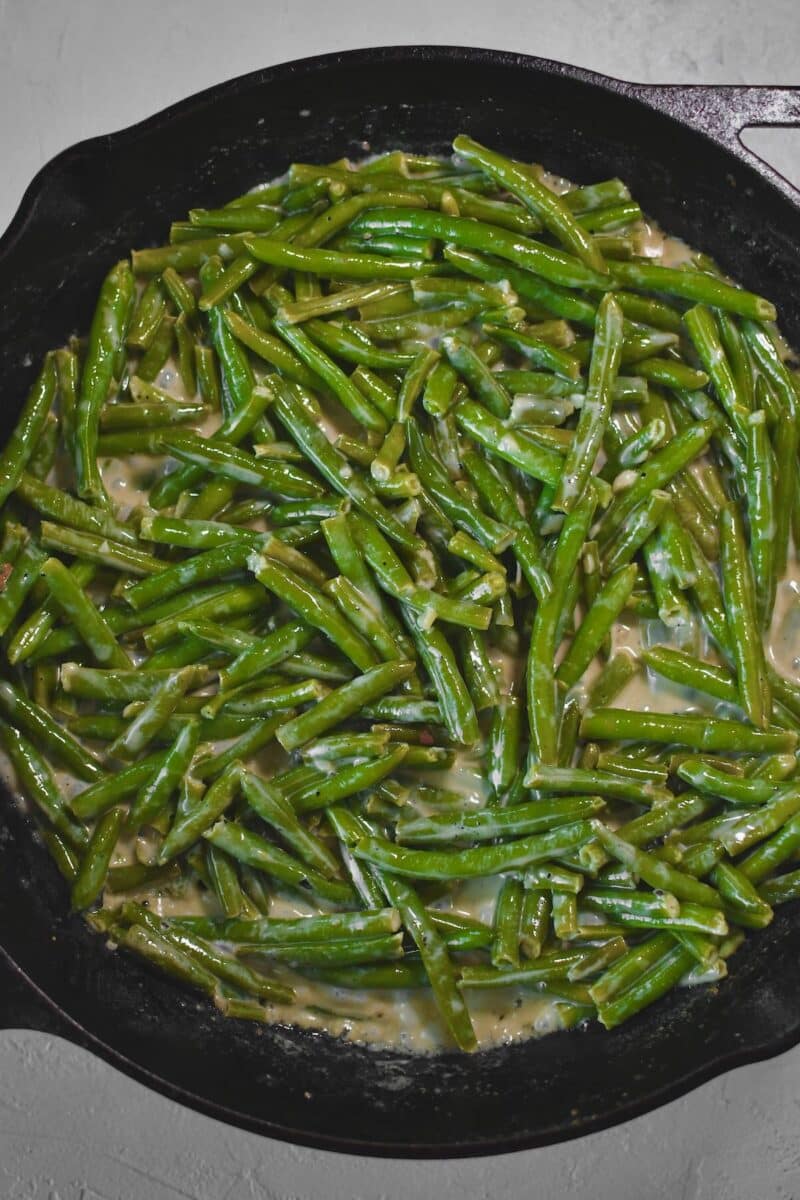 I love to serve these beans with my Pan Seared Salmon. It only takes a few minutes to make and I make the beans in the pan after I sear the salmon. It doesn't make them fishy, but the cream sauce goes great with the fish. Steam up a little rice and you have a dinner that feels fancy in about 30 minutes.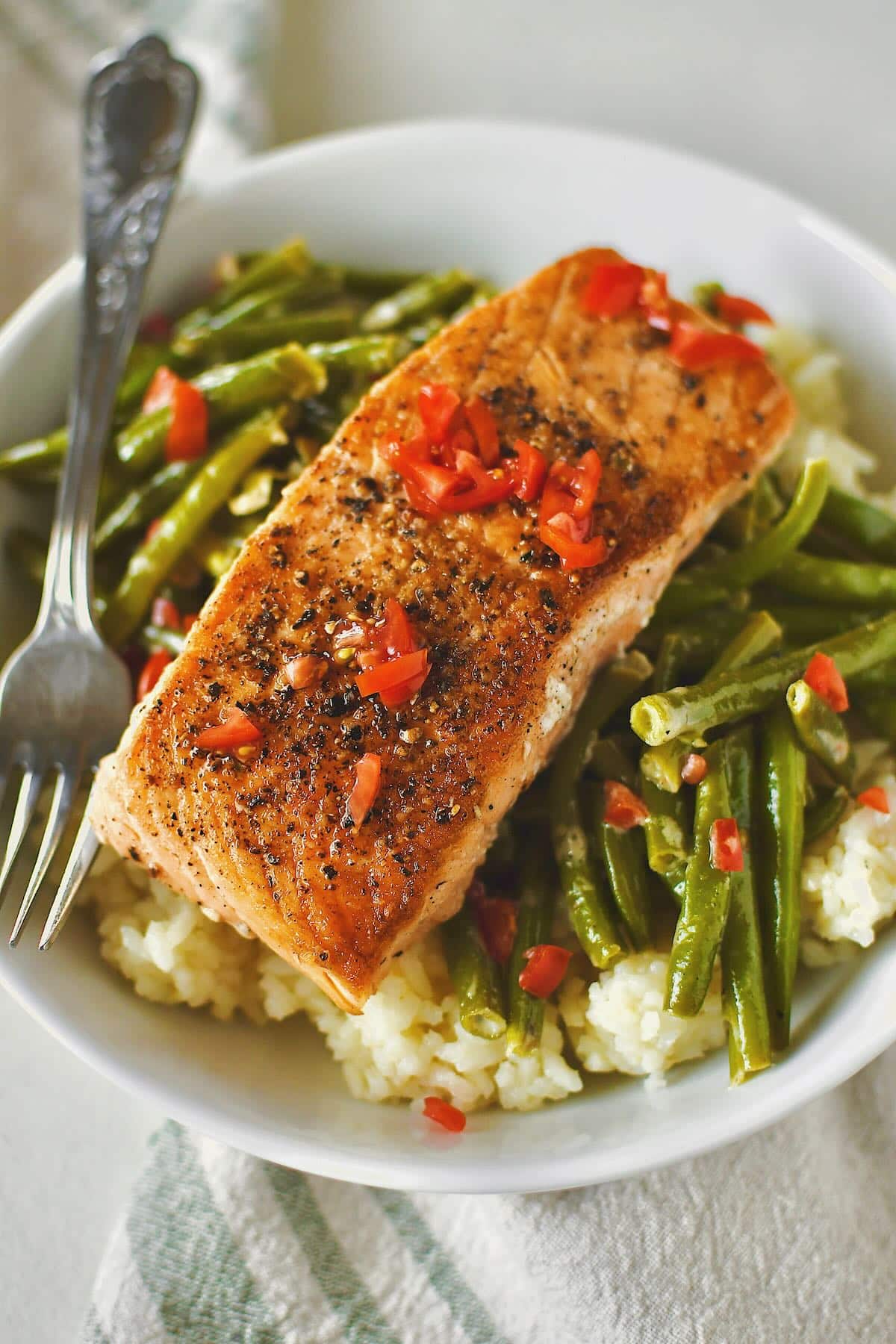 Notes & Tips
It is ok to use fresh or frozen green beans here. The most important thing is to use the more petite French Green Beans. They are smaller and thinner and cook up and become tender very quickly.
Cook on medium to medium-high heat for this recipe. Everything should be sizzling pretty much the whole time. Also, use a big pan, 12 inches or more so the cream doesn't boil over and everything cooks super quick.
Substitutions
If you need a dairy-free green bean recipe, I suggest my sauteed green bean recipe. You can make them with only oil for a dairy-free green bean side dish.
You can use garlic in any shape or form. From a squeeze tube, fresh, or frozen here. If you don't want to use garlic, use shallot.
You can really use any white wine for this recipe. It is there more for the reaction more than flavor. It helps thicken and hold the sauce together, so don't be too picky about it.
I can't suggest a good cream swap for this one that doesn't alter the flavor or final product too much. I would keep it as is.
The mustard helps to bring the sauce together and adds a little flavor. The same way it would in a vinegarette. You could also use a grainy mustard too.
I threw some tomatoes on top for a pop of color, but you can leave them off if you like.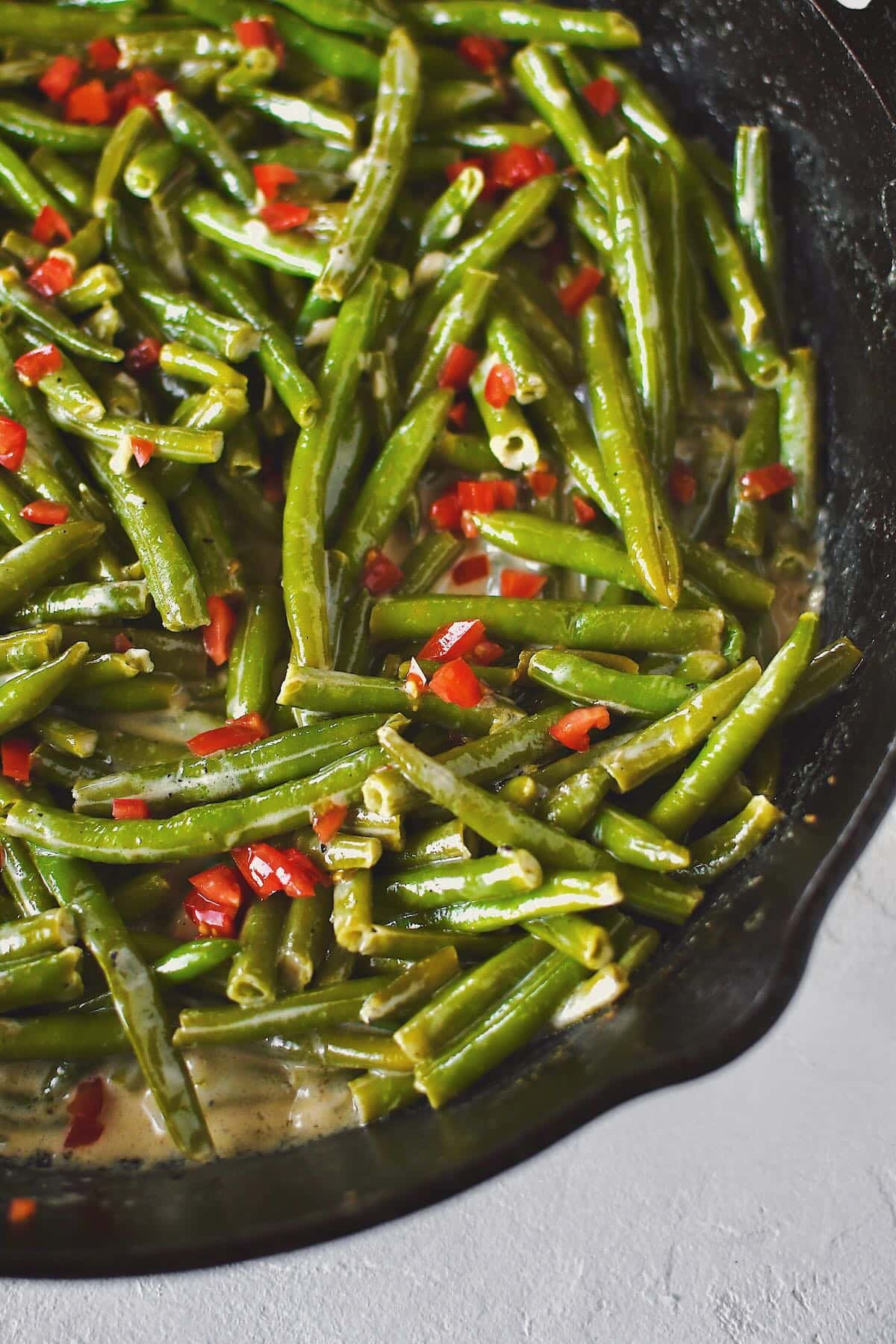 More of my favorite "GREEN" recipes!
Did you make this recipe? Let me know by leaving a review or comment! And be sure to sign up for my newsletter, and follow along on Instagram, Pinterest, and Facebook!