I love this Peach Sangria recipe because it is sweetened with my Peach Sweet Tea. The sweet tea gives it a very distinct flavor, reminding me a little of a "Long Island Ice Tea" cocktail. Light and refreshing and full of flavor, I know this will be on repeat during all the warm months. Which is a lot in Texas!!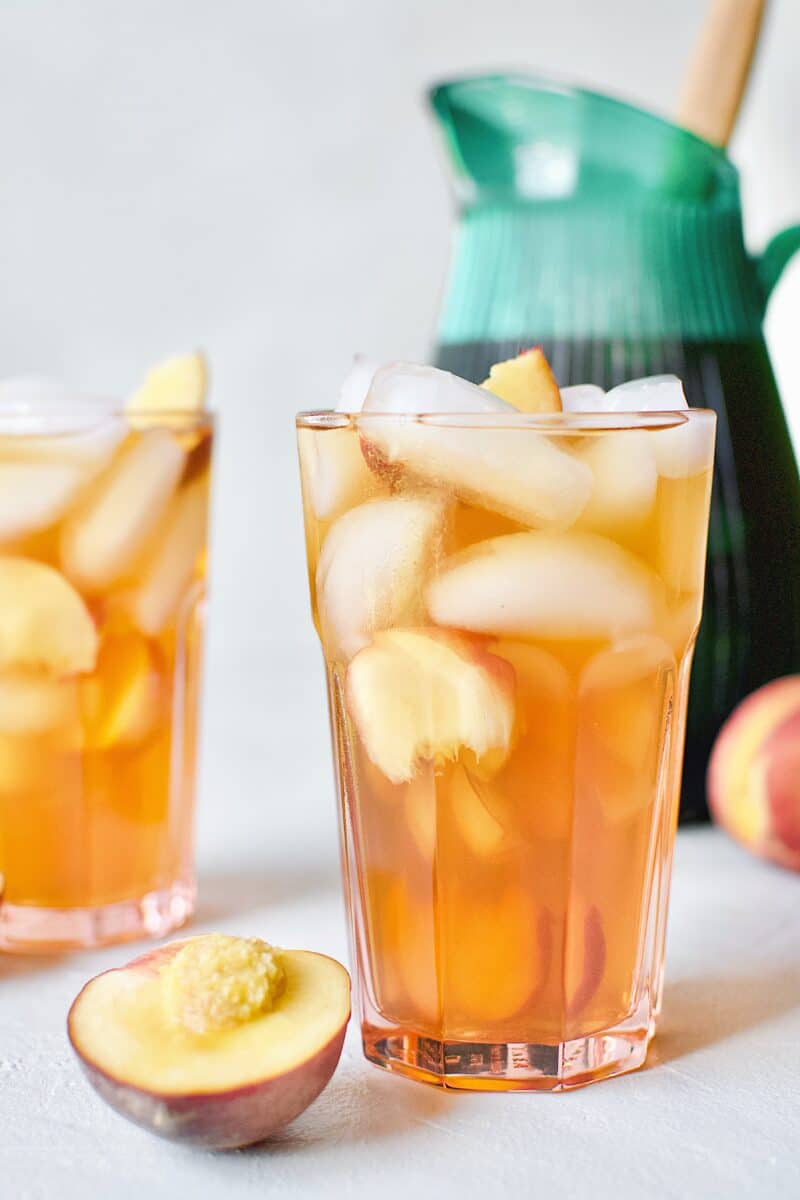 If you love a good sangria, give me Watermelon Sweet Tea Sangria a try too. It is just as refreshing as this Peach Sangria, but with a totally different flavor. It makes for a great summery drink, and I love watermelon tea, this just takes it to the next level.
Jump to:
Ingredients
The first ingredient I want to talk about here is the tea. You want to start with a great quality tea, and you want to brew it strong! Click that link back there and order "The Southern", it will change your life! It is a perfectly balanced tea blend that you are going to love.
Next, you want a nice sweet wine, for this one anyway. Sangria doesn't always have to be sweet, but for this Peach Sangria, good sweetness is what you want. I stumbled across the peach wine you see in the photo below while shopping for this recipe, and I figured it was super fitting to use it!
I then add some peach schnapps to boost the flavor and add a little more kick. Adding the fruit and the tea will water the wine down a bit, so look at it as balancing the proof. It's not enough to knock you on your butt or anything, it is still enjoyable, and I don't know if it's a good thing or not, but you don't even taste the alcohol.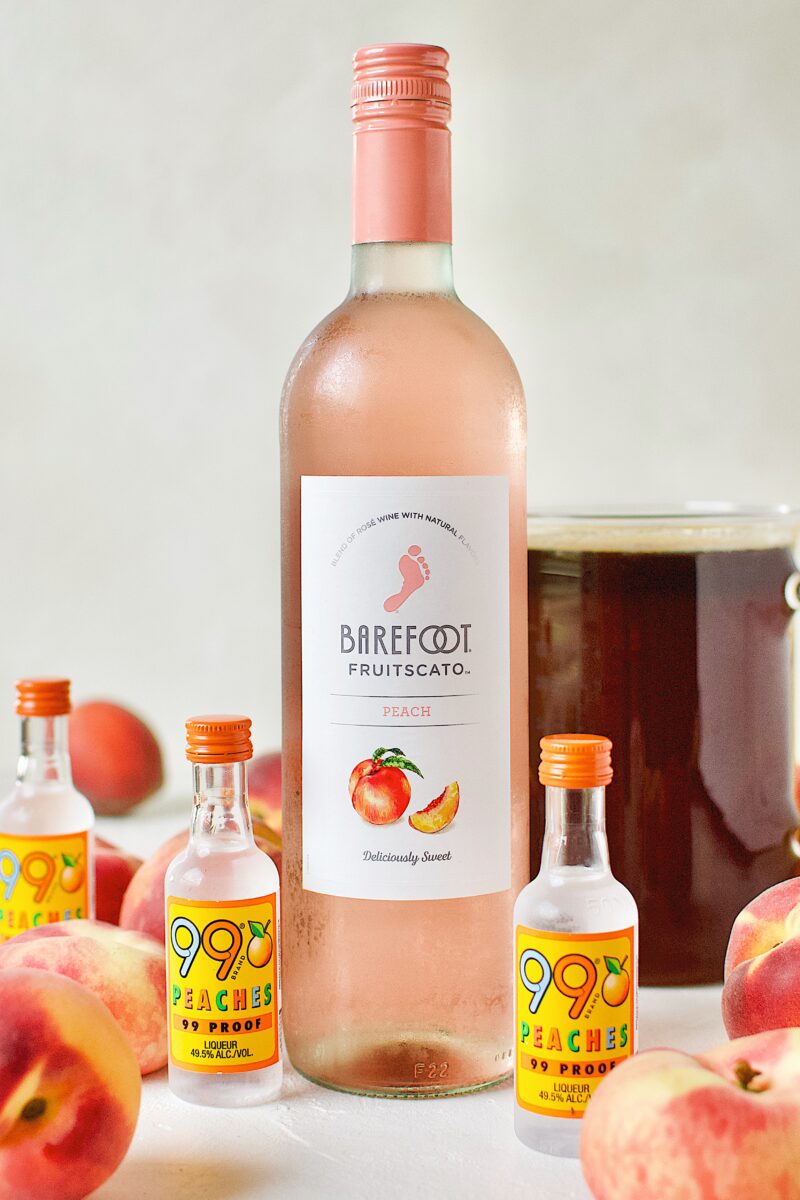 Finally, you need some fresh peach slices to add to the pitcher. They will release all kinds of amazing flavors that will turn this into your new favorite summer patio drink! I also like to cut a few thin slices to garnish each glass with.
If you plan ahead, let the sangria steep in the fridge overnight. It will even last 2-3 days in the fridge. The longer the fruit sits, the more and more flavor it will develop.
Method
Sangria has been made and enjoyed for hundreds of years. It has quite the tumultuous past in Europe. You can read more on that HERE, it's a quick read on the history of the now world-famous drink.
Sangria was originally created and drunk because the water was unsafe to drink. The alcohol made it drinkable and the fruit gave it a bit of flavor. In its inception, sangria was simply made with whatever fruit was on hand or nearby at the time. No two are the same. So rest assured that this is a drink you can customize any way you like.
Sangria was made popular in the united states after its introduction at the 1964 worlds fair. It has been a staple here ever since and now has endless varieties.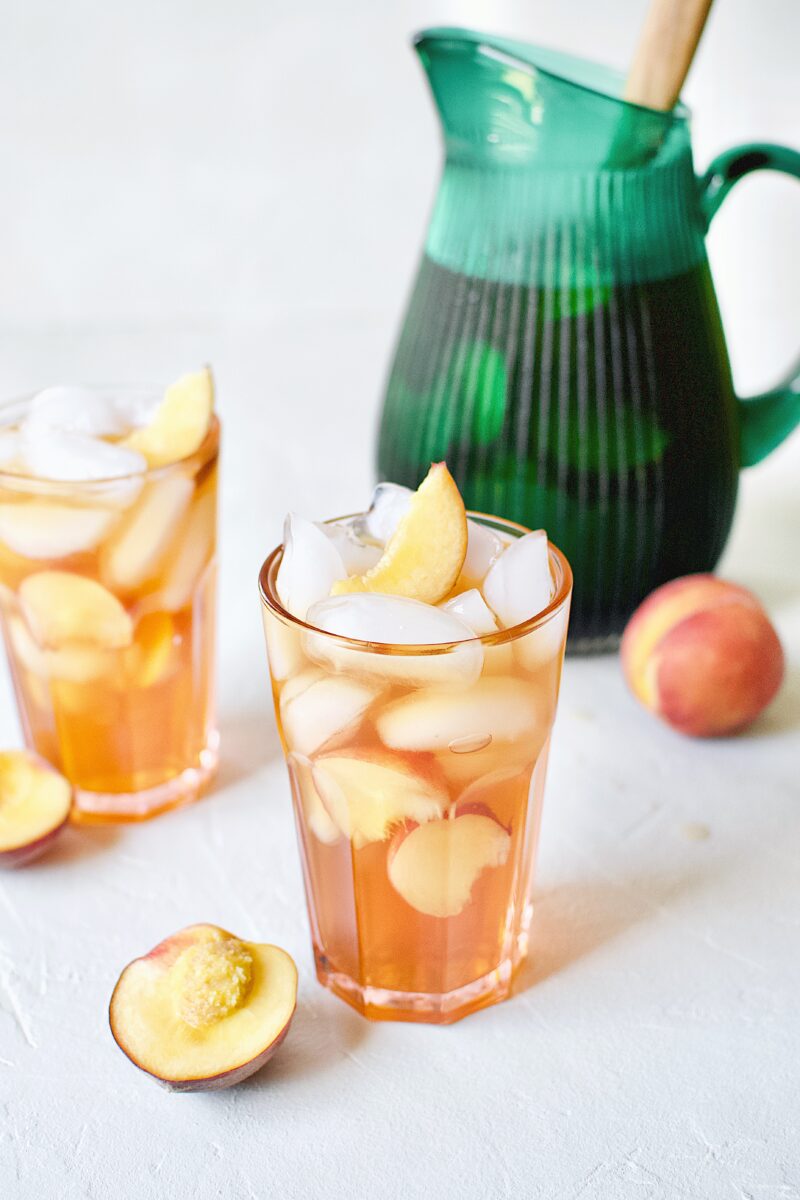 Making sangria is simple! Add fruit and wine to a large pitcher and let it hang out for a while. I have added the step of brewing some tea and adding a little extra alcohol, but it still remains a sangria at its core.
I prefer to let my sangria rest overnight, so I usually combine everything in the pitcher before bed and let it hang out in the fridge for as long as I can stand to not tap into it.
Notes & Tips
Use fresh peaches that have fully ripened on the counter for the best flavor. In a pinch or out of season frozen peaches will do in a pinch.
Allow your sangria to rest overnight if possible. It is ok to let it hang in the fridge for about 4 hours. But as with most things, the more time the flavors have to meld the better.
If your pitcher lasts 3 days, mine never does, it can be held in the fridge that long. And lemme tell ya, it was DANG good on day 3.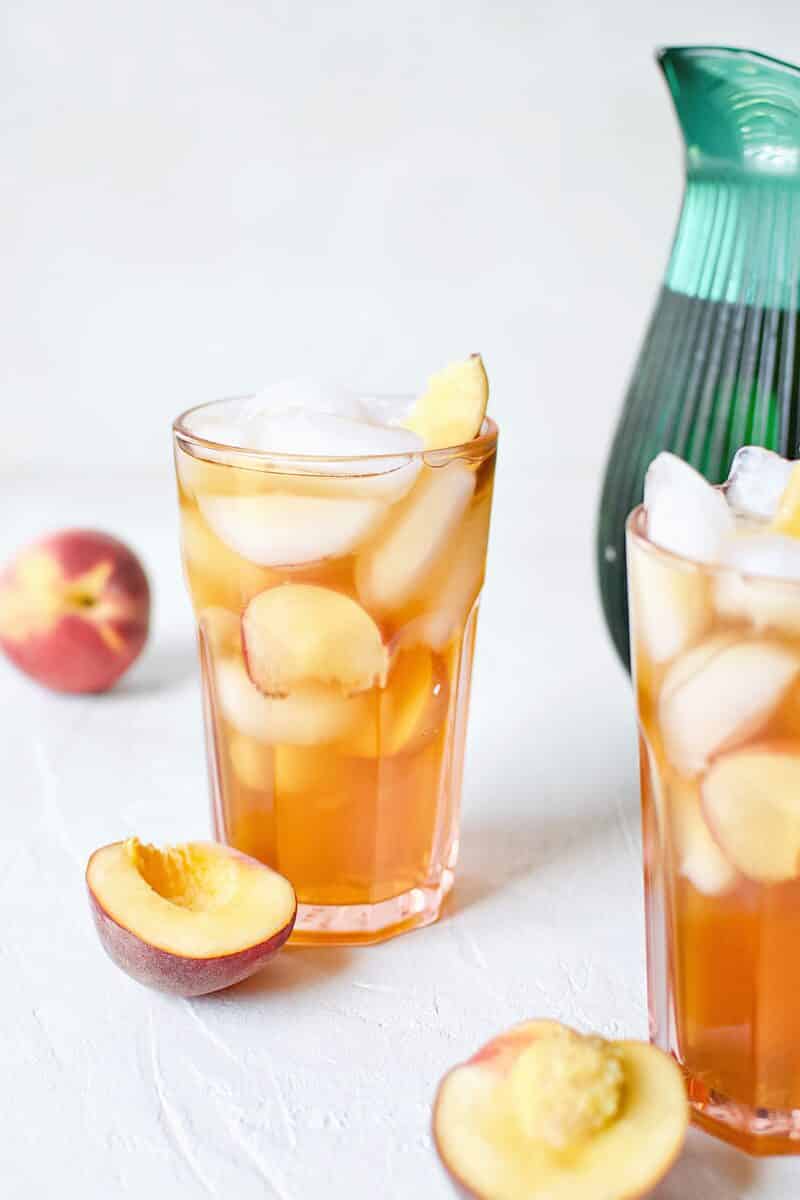 Substitutions
If you don't want to brew your own tea, purchasing your favorite premade tea for a quick and easy swap is totally ok! Be sure to buy unsweet so you can add the peach syrup to it for all that great flavor.
A bottle of sweet white wine or rosé is what is best for this recipe. Anything you know you enjoy, and it doesn't have to be expensive. A Moscato is what is most used today.
I like to add the peach schnapps, if you can't get your hands on that, plain vodka will work. You can also eliminate it if you want to lower the alcohol content. Sangria is low alcohol anyway, so it can be enjoyed all day.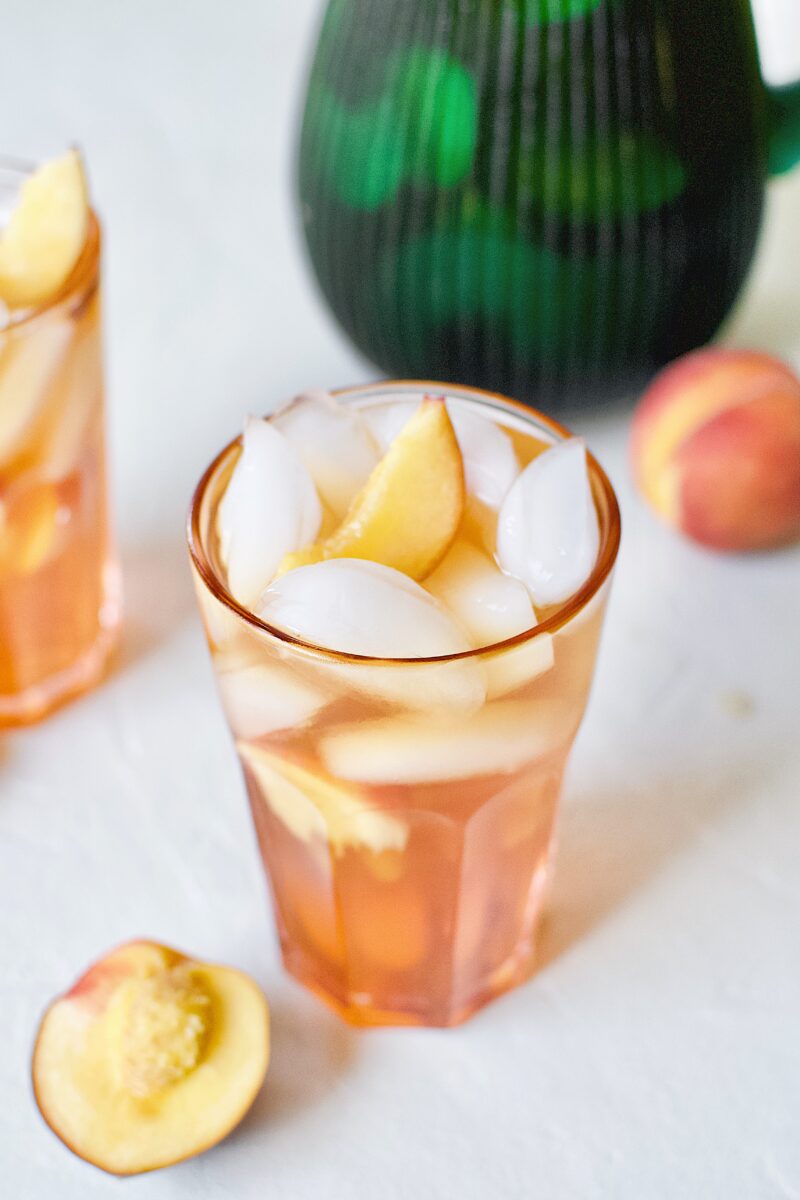 More favorite warm weather cocktails
Sparkling Pear and Elderflower Lemonade
Did you make this recipe? Let me know by leaving a review or comment! And be sure to sign up for my newsletter, and follow along on Instagram, Pinterest, and Facebook!