My family absolutely adores this Philly Cheesesteak Stuffed Peppers recipe. There is excitement in the air when I say they are for dinner!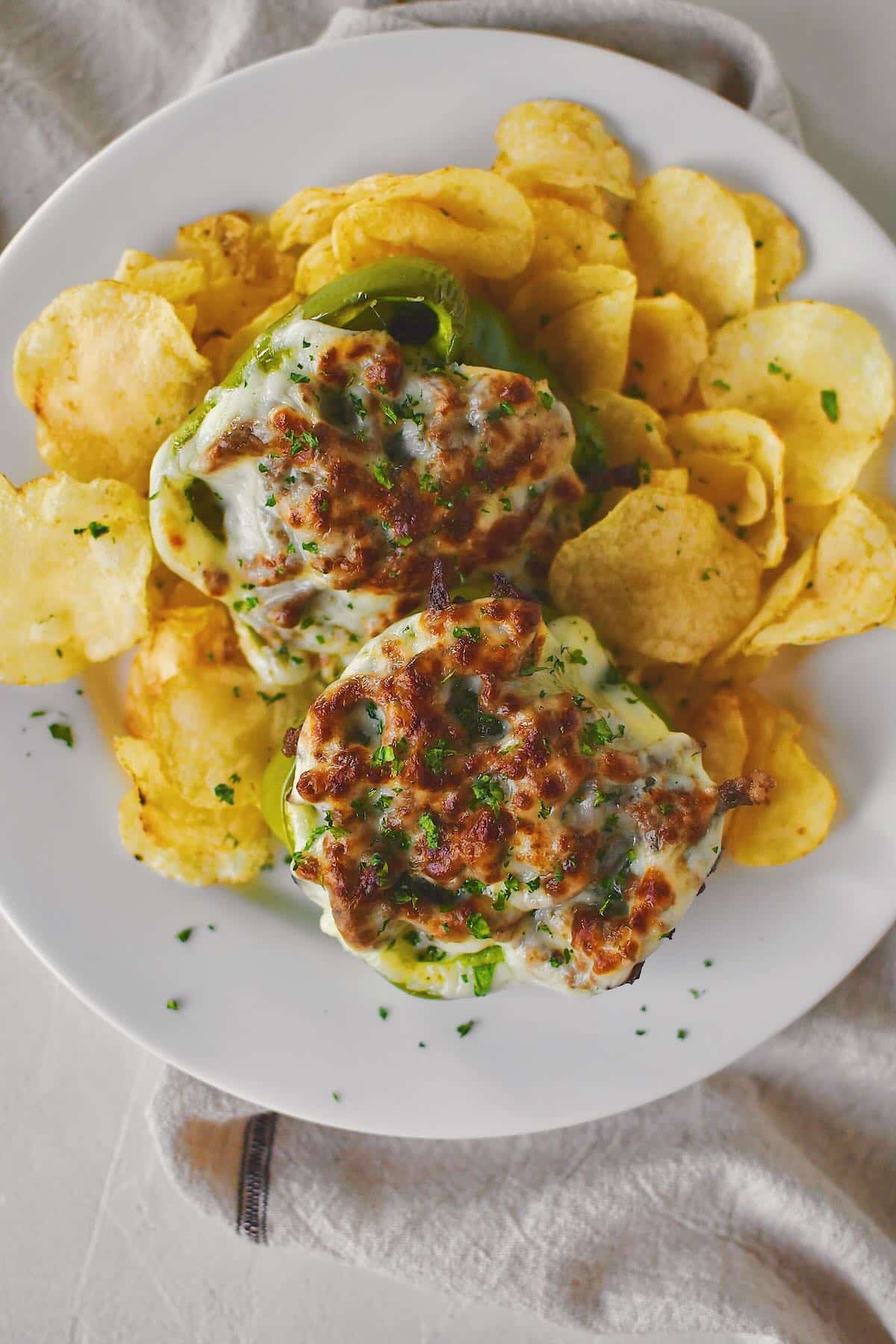 I try to lighten things up from time to time, or just leave room for the cake after dinner. That is where this recipe fits in. Lose the bread and leave room for dessert!
Jump to:
Ingredients
The best shortcut for this recipe is using deli roast beef. Have it cut a little thick, or make your own then cut it into strips and you get a really nice tender steak for the inside of these peppers.
Beyond that, you need the typical ingredients you'd find in a Philly Cheesesteak Sandwich, just make it keto and leave out the bread.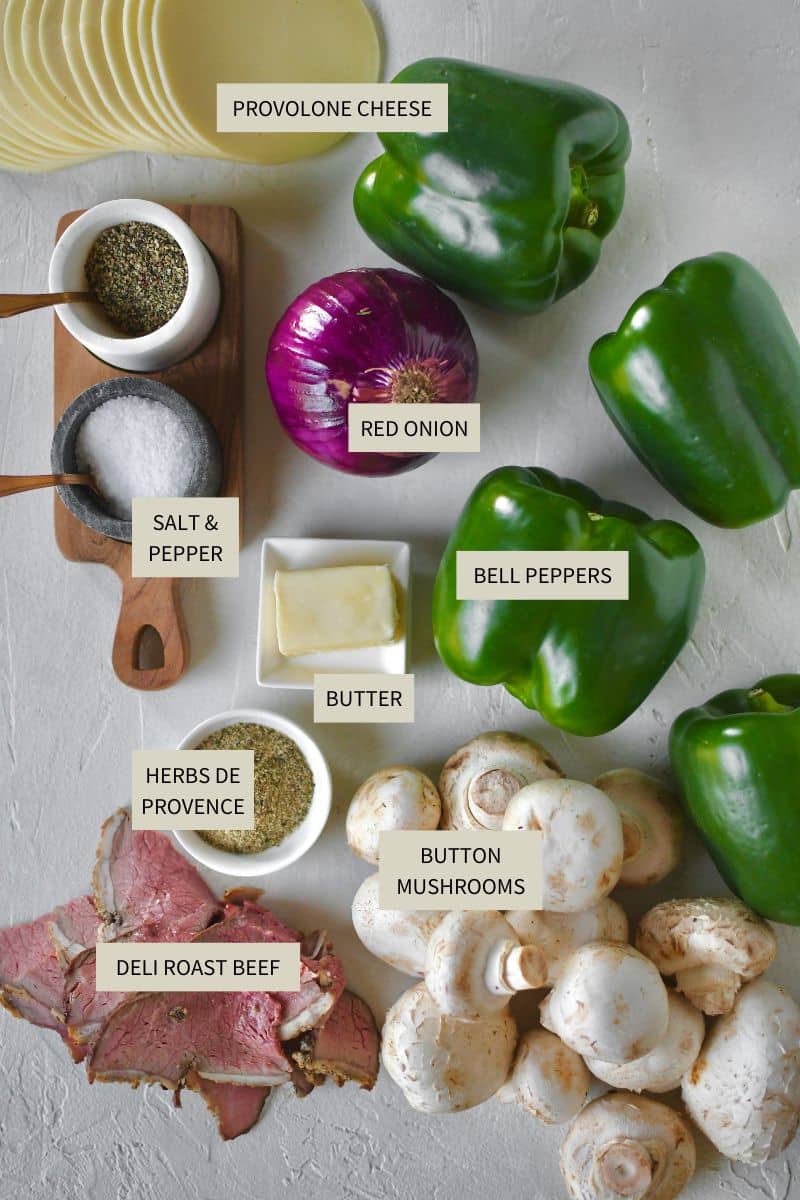 And I like the addition of mushrooms, I know there can be some controversy on whether they belong in a Philly or not, but I like them so I add them.
Use the JUMP TO RECIPE button at the top of the post, or scroll to the bottom of the post to see the full recipe card with ingredient measurements and instructions.
Method
First, cut the peppers in half and remove the seeds and ribs. Toss them in the oven for 15-20 minutes while you make the filling. Cook the mushrooms, onions, and garlic in the butter till browned and caramelized.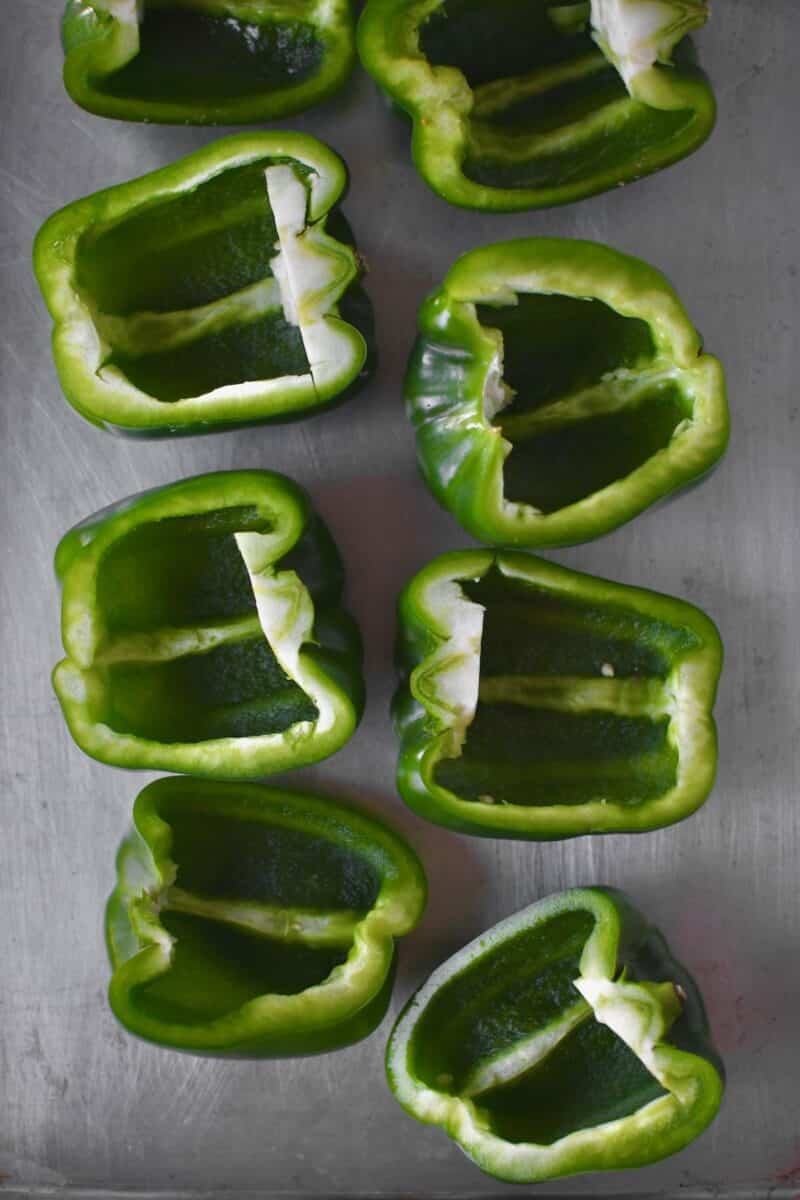 Then add the sliced and shaved beef and cook till warmed through and well combined with the mushrooms and onions.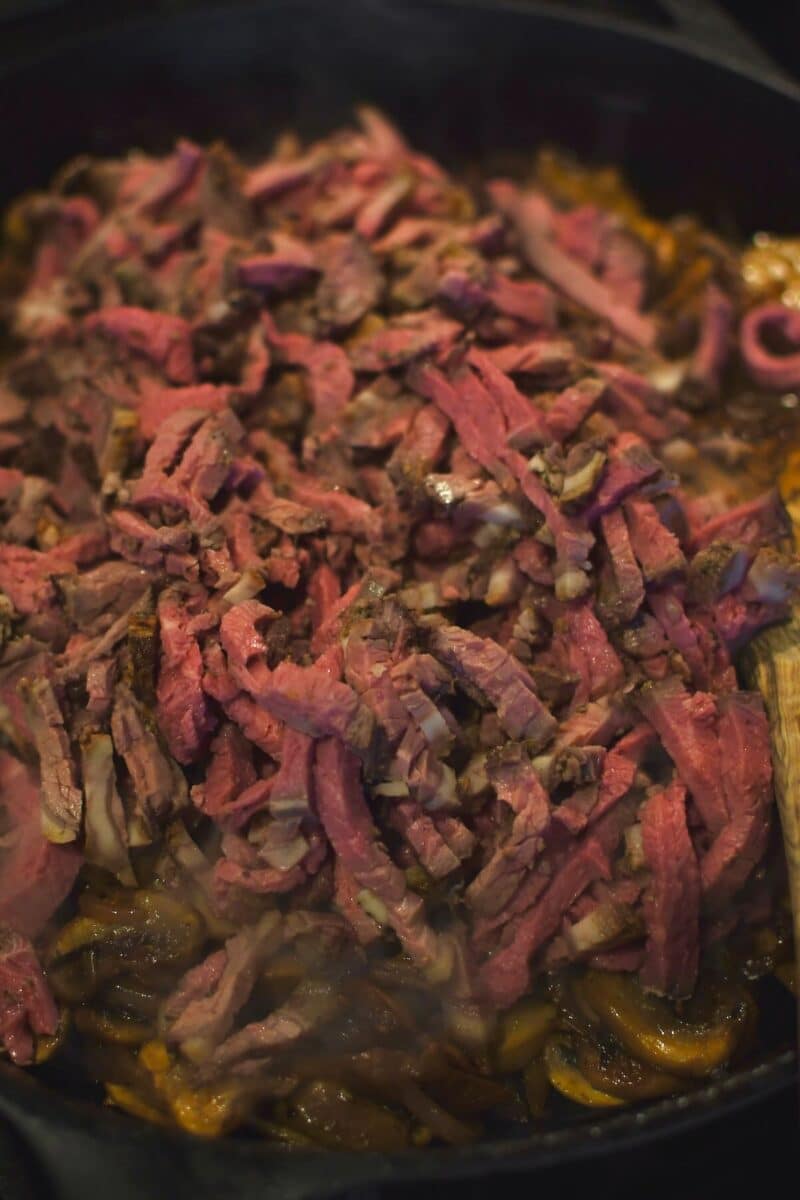 To build the peppers, place a slice of provolone into the cooked peppers, fill with the beef and mushroom mixture, then top with another piece of cheese. Place the now stuffed peppers back in the oven and turn it to broil. Cook for 3-5 more minutes till the cheese is melted and beginning to brown.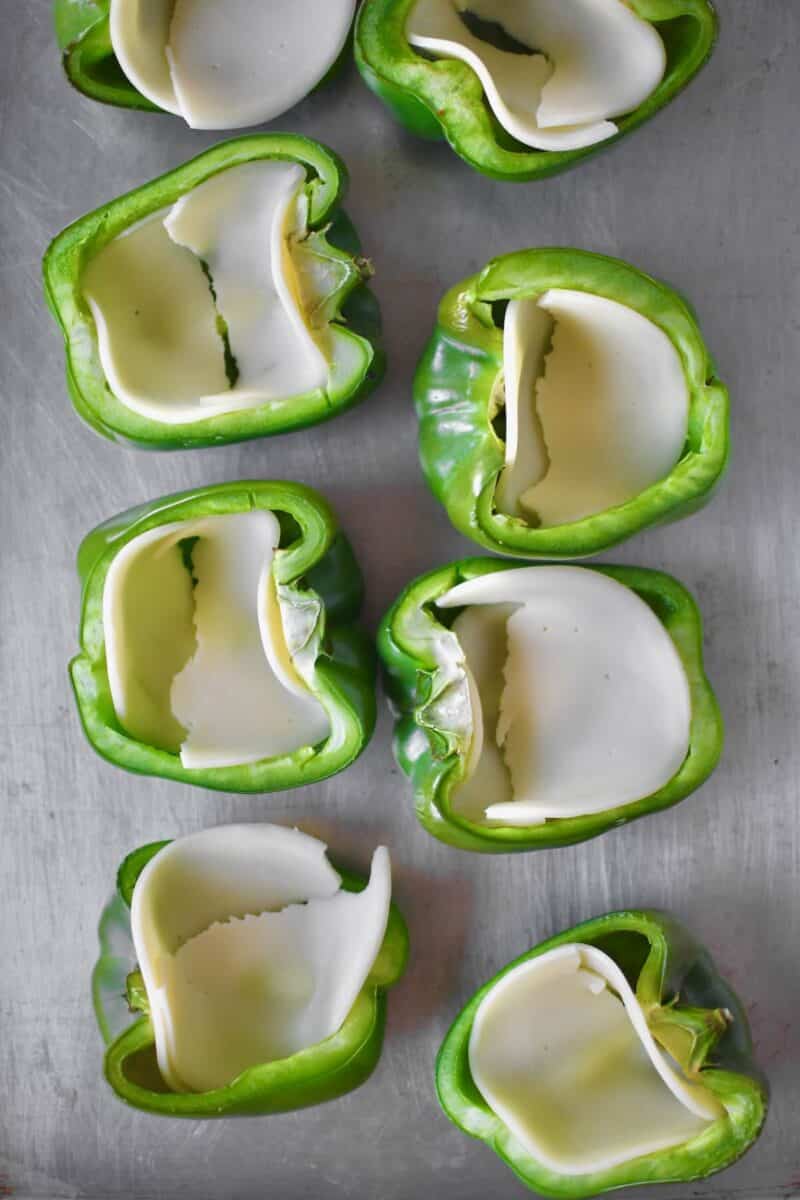 And while you can serve them with a side of rice or potatoes, I like them with some chips because it feels like you are still enjoying a sandwich.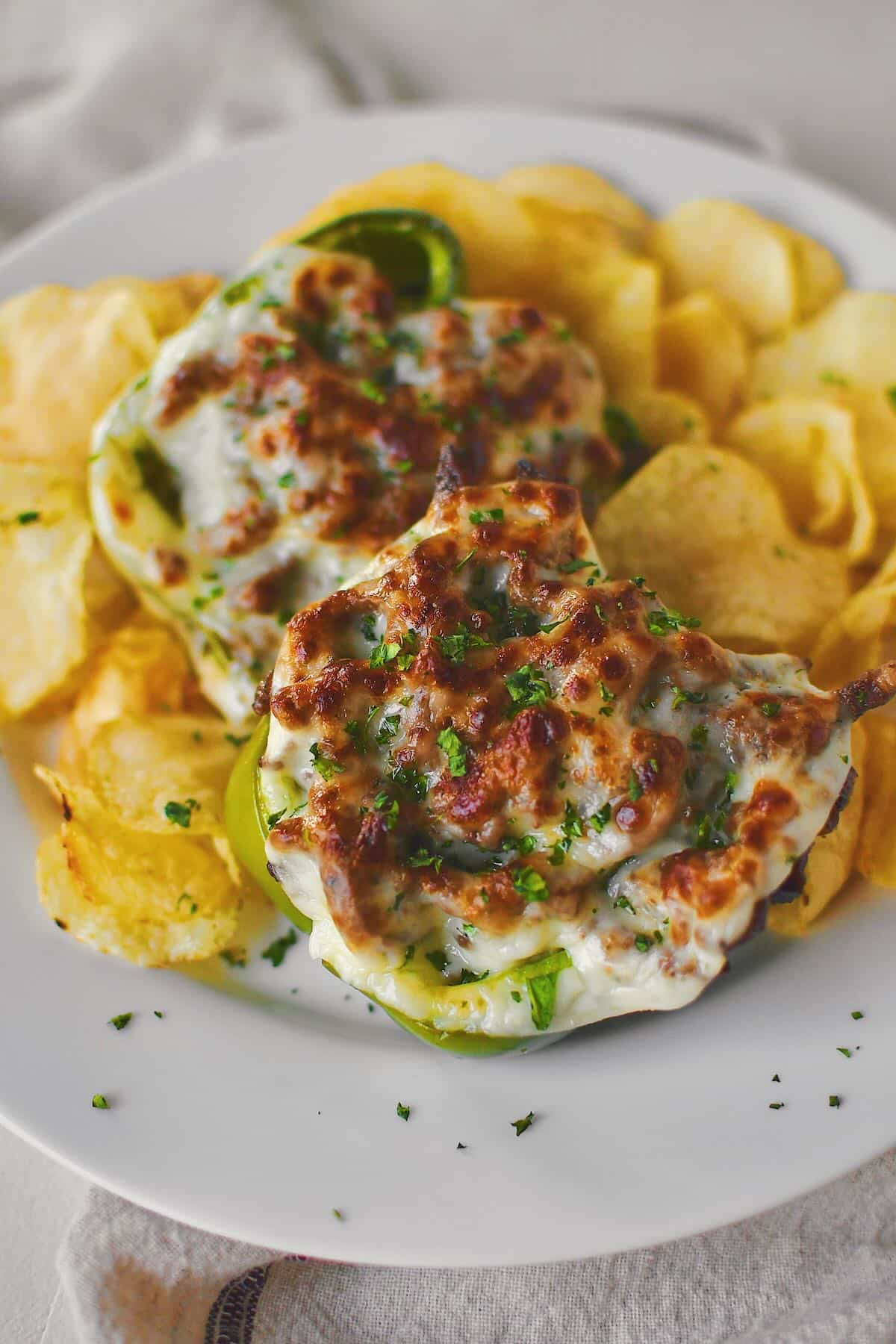 Notes & Tips
I like to leave my peppers with a little bite to them so I only roast them for as long as it takes me to make the filling. If you like a softer pepper, up the initial cook time to 30 minutes.
I have a great recipe for making your own deli roast beef for sandwiches on my website, I suggest using that or purchasing deli roast beef from the store. Then slice the large pieces into strips and use that to make this recipe. It mimics "steak'ums" that are traditionally used in Philly cheesesteak sandwiches but WAY BETTER!
When using herbs de Provence in a recipe like this, I like to grind it in a spice grinder. This helps the flavor spread more and doesn't leave you with large pieces of herbs that aren't that enjoyable to eat.
Substitutions
I choose to use green bell peppers because they are typically more budget-friendly, but you can use any color of bell pepper you prefer.
I like a red onion for this recipe because they tend to be a little sweeter. But you could use a white or yellow onion, or a sweet yellow onion would be best.
Button mushrooms are my preference here, I like their mild flavor. But crimini or portobello could also be used if you like.
Herbs de Provence brings a really rich flavor to the beef and mushrooms for this recipe, but a good steak seasoning could also be used if needed.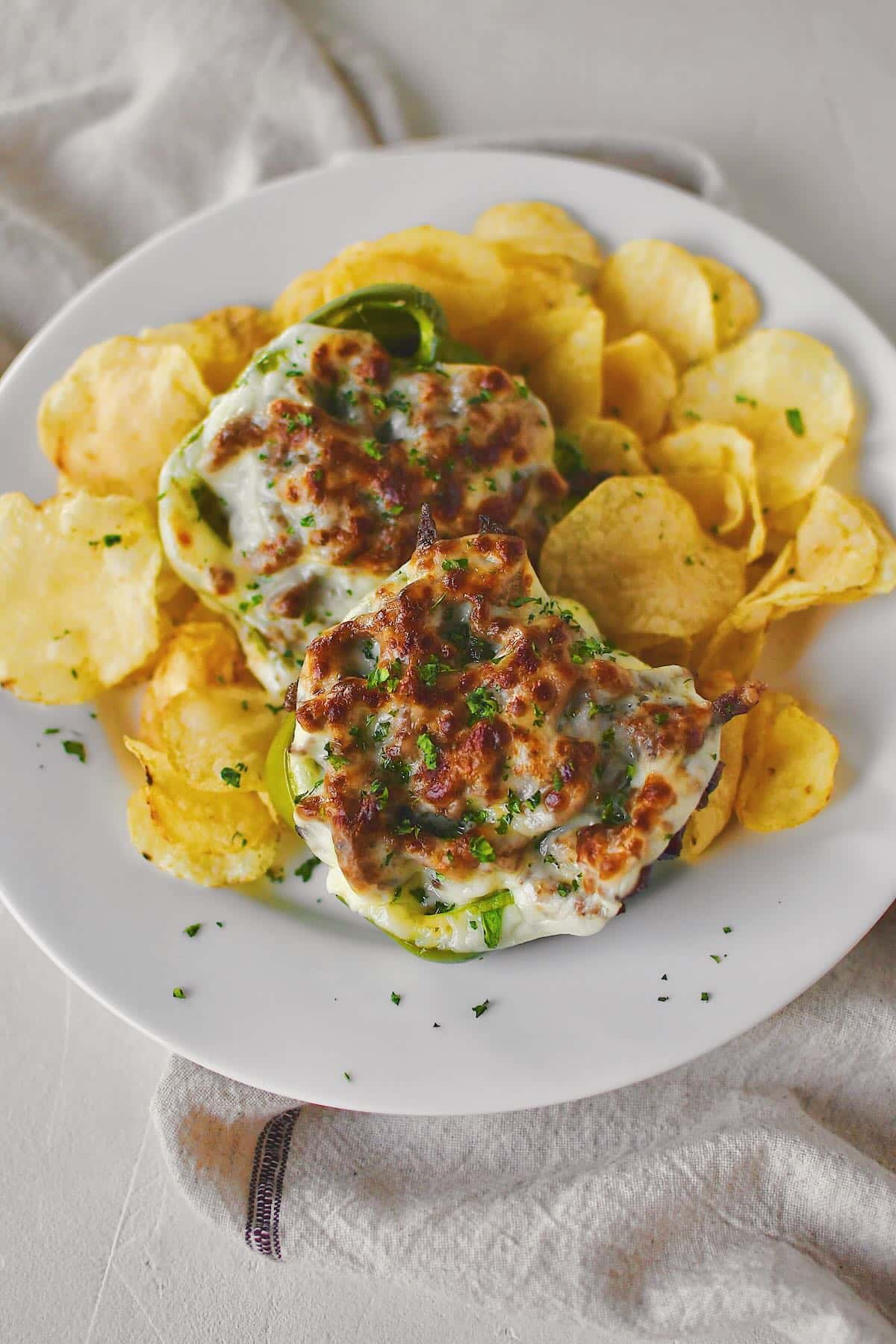 Did you make this recipe? Let me know by leaving a review or comment! And be sure to sign up for my newsletter, and follow along on Instagram, Pinterest, and Facebook!