This ultra-tasty Pistachio Crusted Salmon is baked to perfection in the oven and is bursting with flavor. The sweetness from the pistachios, and zest and tang from the lemony, mustardy, glaze. * Chef's Kiss * It's delish!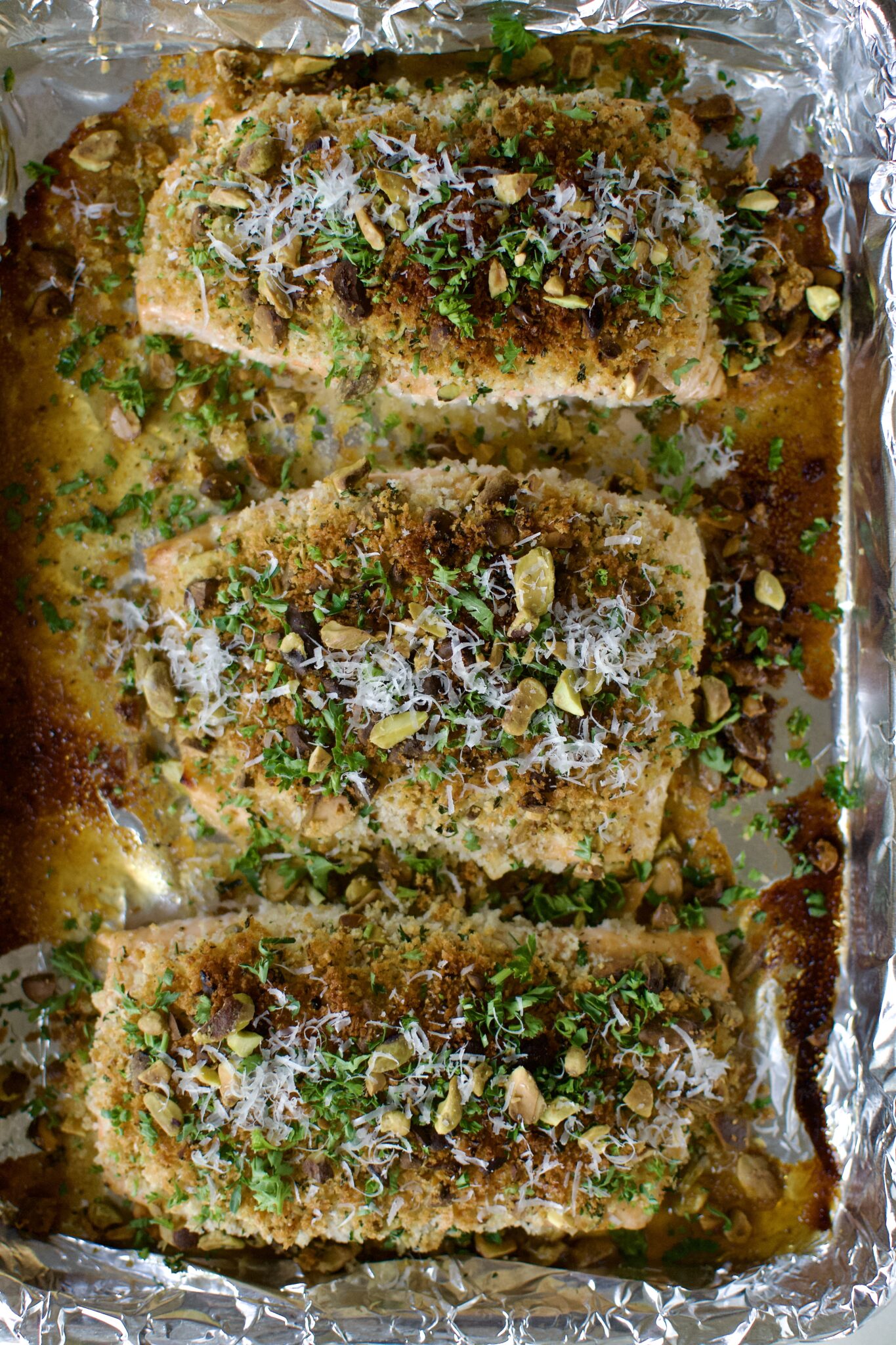 Jump to:
Ingredients
Aside from picking up some salmon and a few fresh lemons, everything I needed to make this recipe was already in my pantry. I consider this a staple recipe that I can whip up any night of the week. Especially if I have some of my favorite Atlantic Salmon Fillets in the freezer from Costco.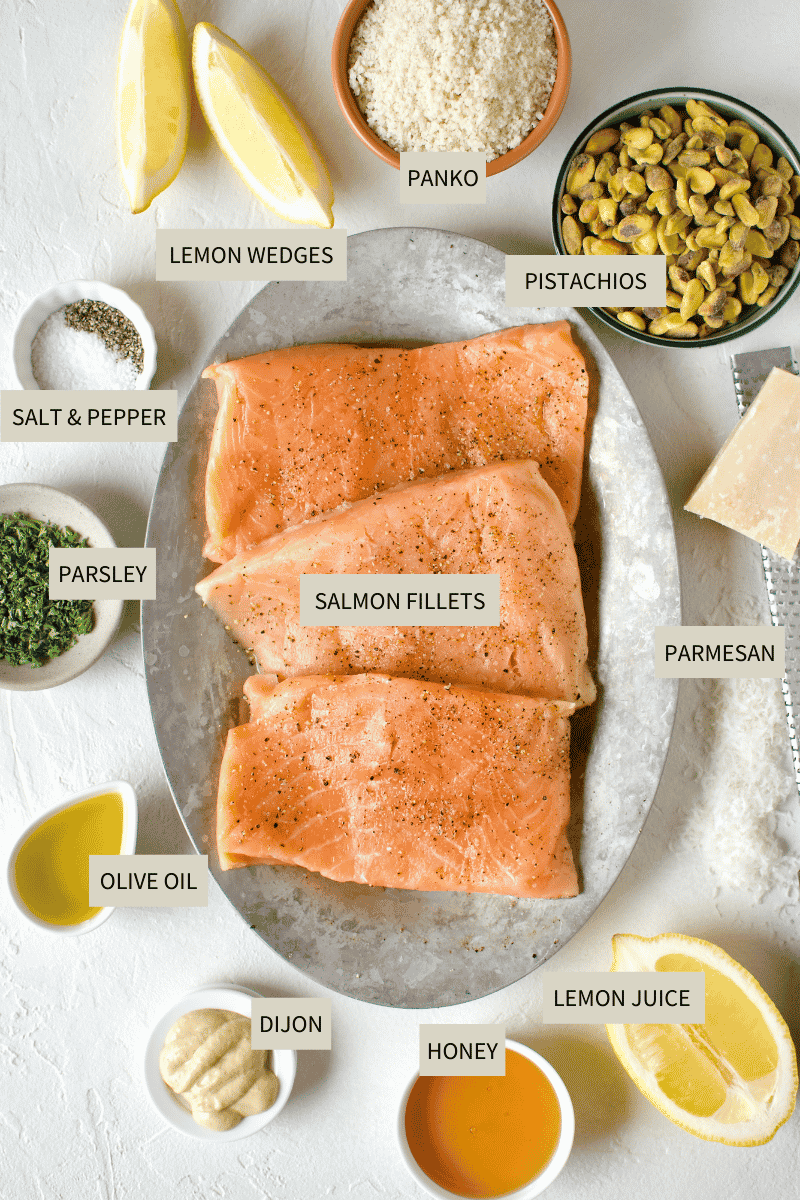 I prefer Norwegian or Atlantic Salmon personally. Yes, all my Seattle friends, I said it. But it has a lighter, less fishy flavor, and I can get everyone in the family to eat it without complaint. But you can make this recipe with your favorite salmon, or really any fish if you like, it would compliment almost any type.
Use the JUMP TO RECIPE button at the top of the post, or scroll to the bottom of the post to see the full recipe card with ingredient measurements and instructions.
Method
First, season your salmon lightly on both sides with salt and pepper. Then mix up the glaze in a small bowl and spoon it over the fish. In another bowl, mix the crusting ingredients and combine them with your hands to work the olive oil evenly throughout the panko.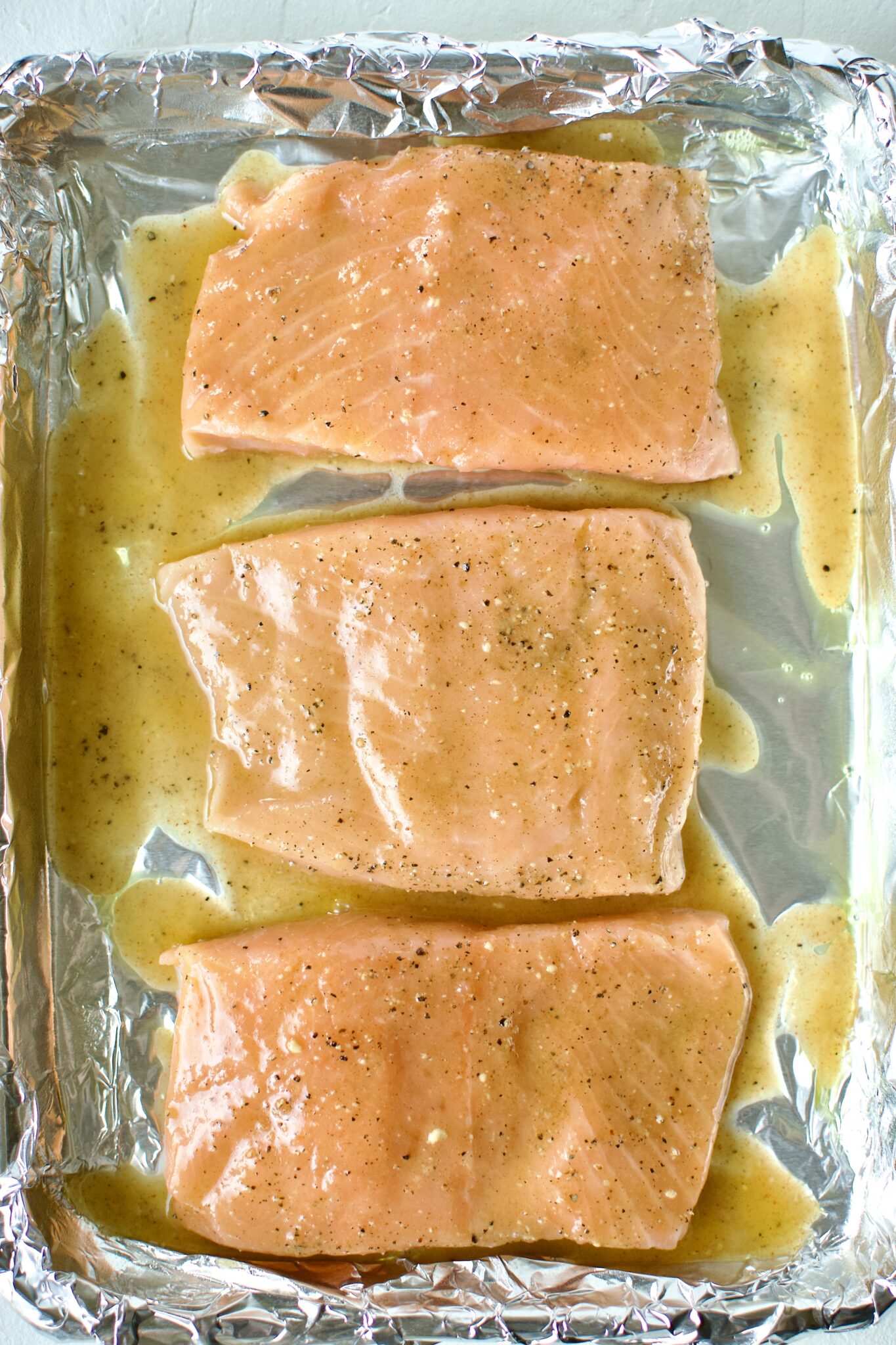 Then top the fish with the crust and it is ready to bake. I bake mine for about 12 minutes then turn on the broiler for another 2-3 minutes, keeping a super close eye on it, just to really darken the top of that crust.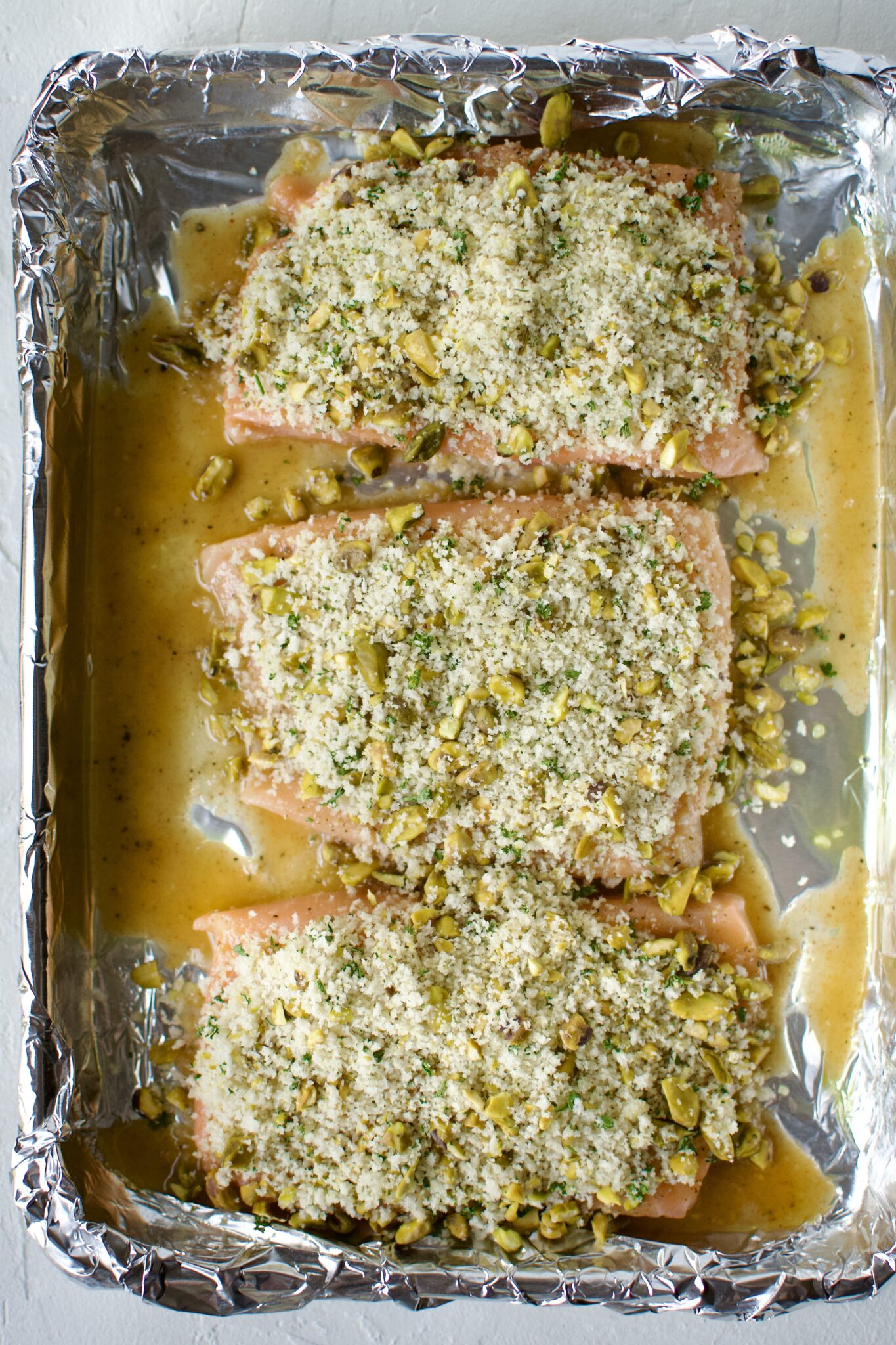 This dish really only takes only about 10 minutes to throw together and get in the oven. I usually have it ready before the oven is even hot. I typically serve it with some asparagus that I season simply with olive oil, salt, and pepper, and toss that in the oven 5 minutes before the fish. It is cooked perfectly when the fish is ready.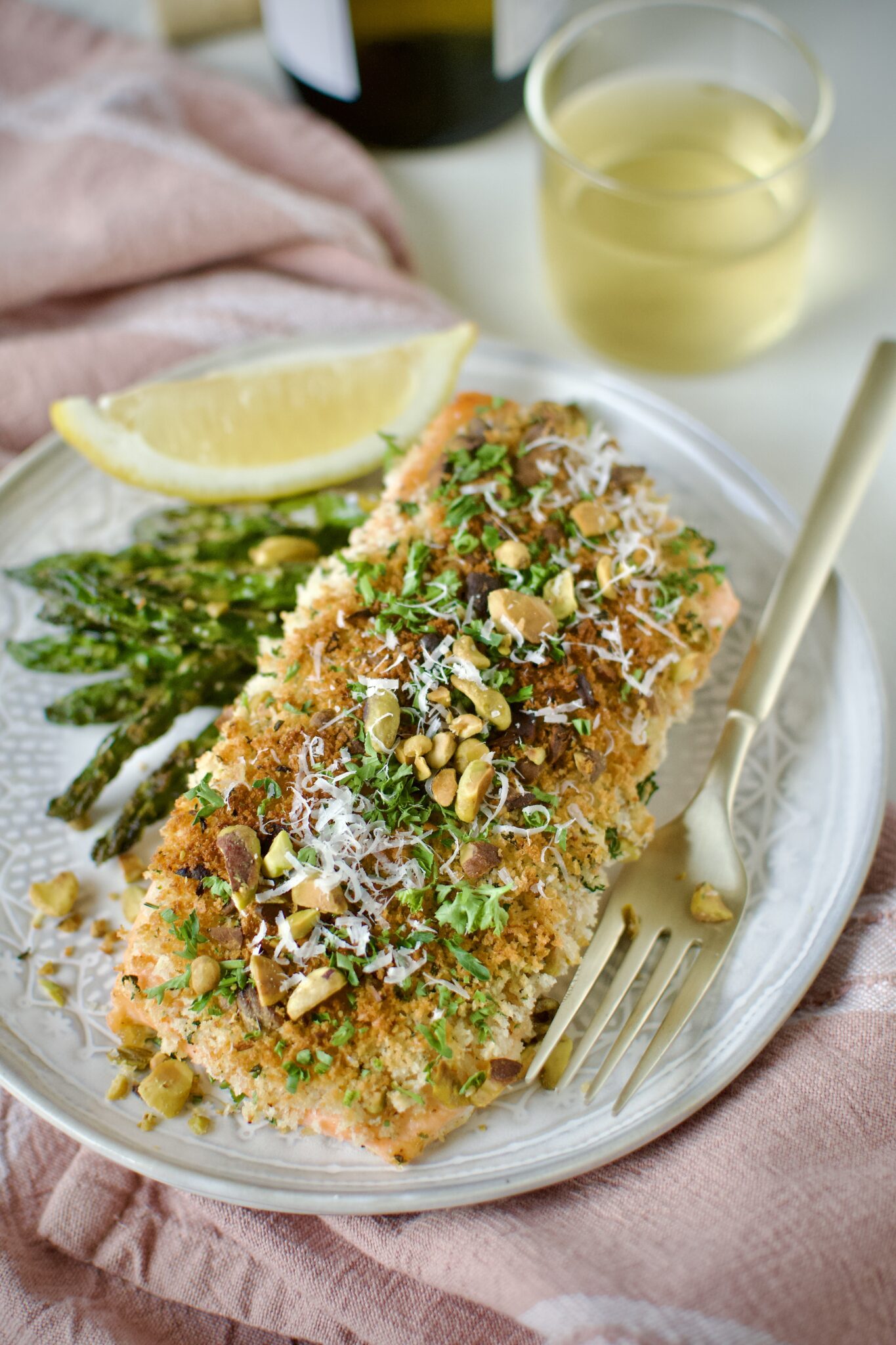 Notes & Tips
You will notice that there are only three fillets of salmon in my photos, but the recipe calls for four. The crust recipe makes enough for 4, but I only needed 3 when I photographed this, you can cut the recipe down if you are making less.
It is best to use freshly grated parmesan cheese. It is just there to perfume the finished dish and add just a touch of sour, salty flavor. I wouldn't douse the fish in it either, just a fine dusting is all it needs.
Line your baking sheet with foil, you will appreciate this note later. Some of the glaze runs off and will burn to your pan, foil makes for NO cleanup!
Substitutions
I LOVE this recipe, and if you don't prefer salmon, it really works great with almost any fish. Also great on Halibut, Tilapia, or Roughy.
You could always swap the honey for agave, or maple if you prefer or don't have honey on hand.
A great swap for the pistachio would be macadamia nuts. You could also use almonds or pecans to bring different flavors out of the fish.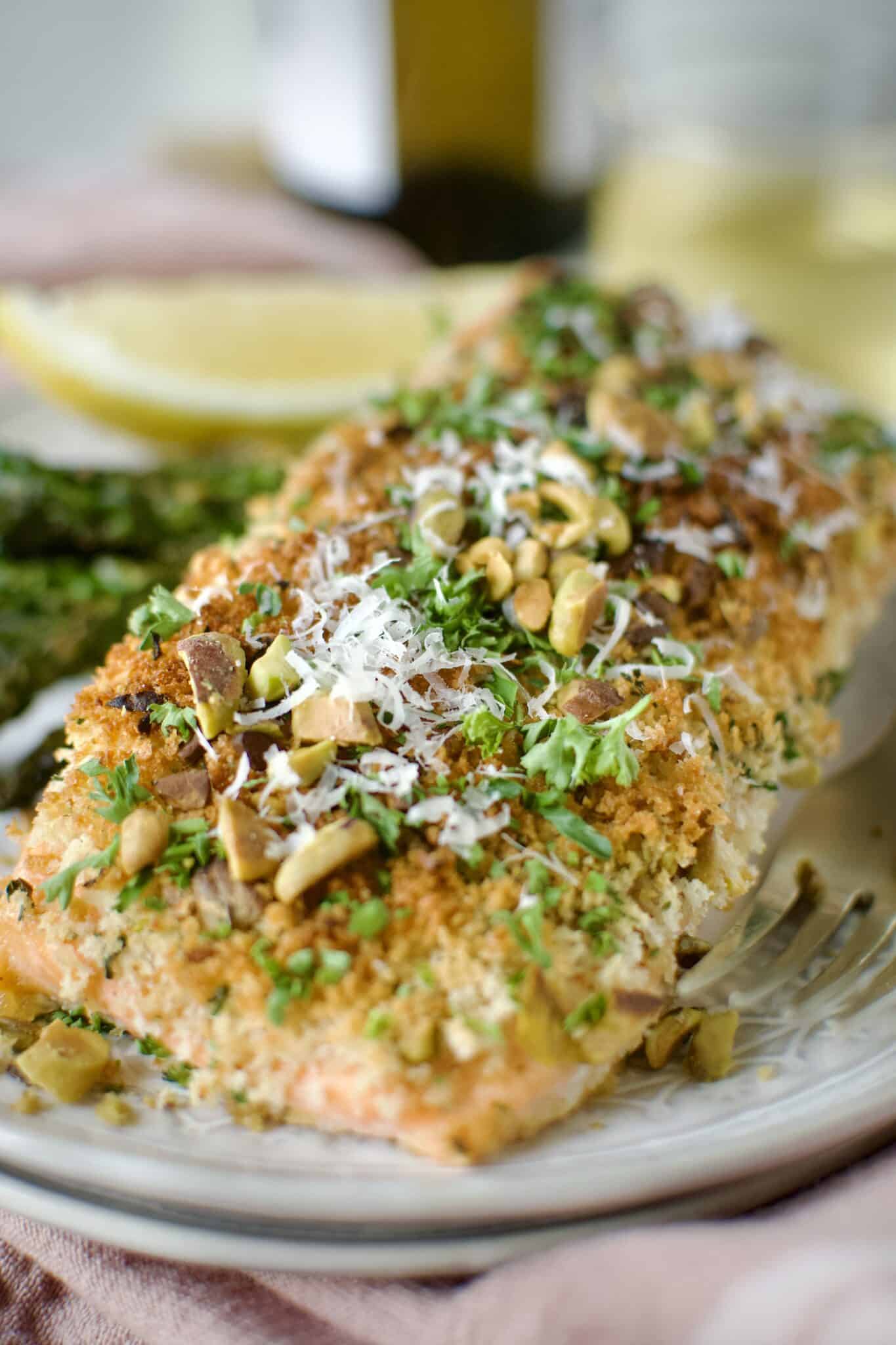 Did you make this recipe? Let me know by leaving a review or comment! And be sure to sign up for my newsletter, and follow along on Instagram, Pinterest, and Facebook!