I love making homemade versions of expensive grocery store items, and this Roast Beef for Sandwiches Recipe might just be better than anything you can get at a store! Partly because there is more pride in the end product, and partly because you get to control the seasonings and flavors to your liking.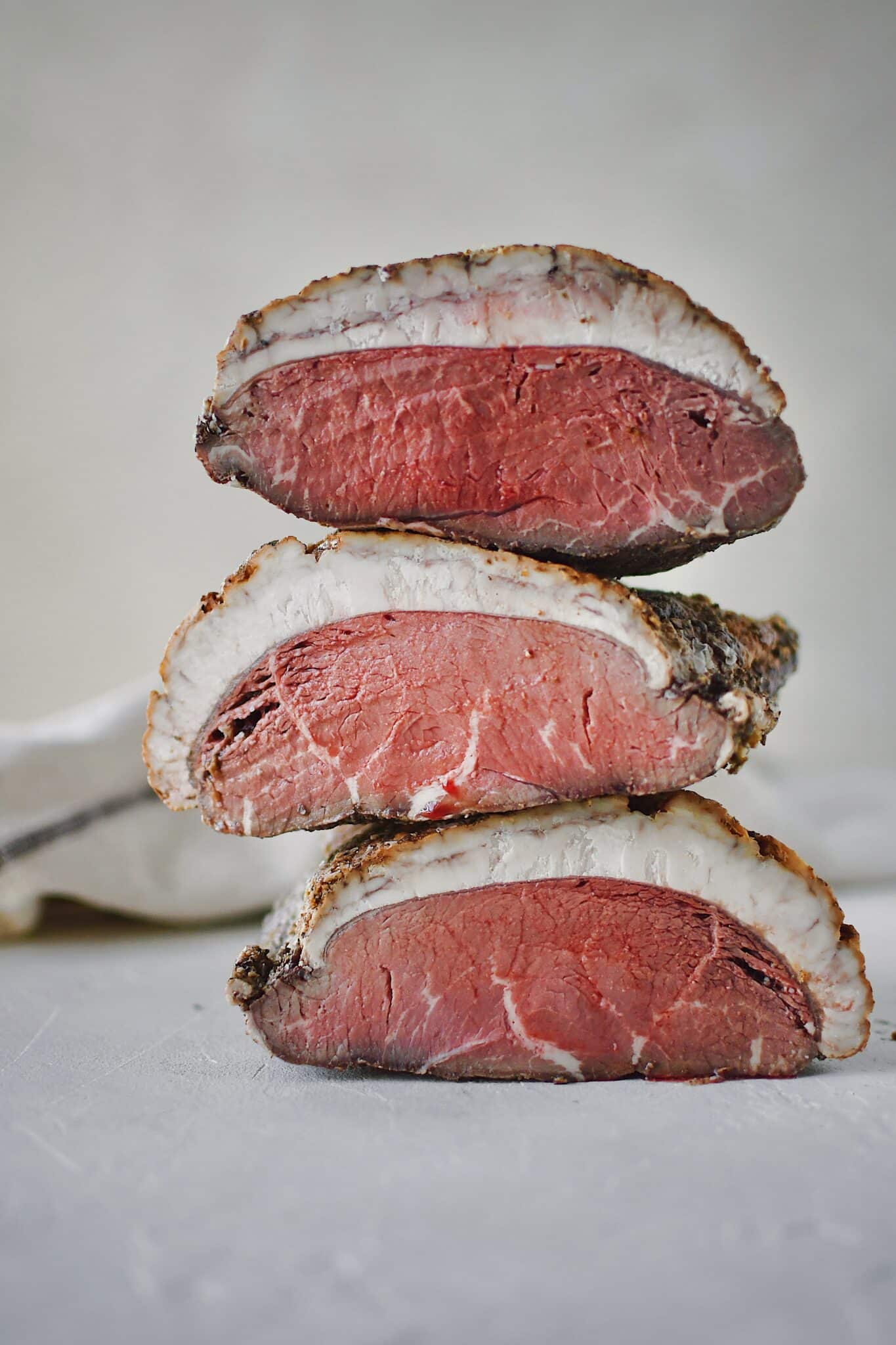 I love to use this recipe to make my favorite Roast Beef Sandwich Recipe. While you can really use it any way you, please. That is just my favorite and it really highlights this fantastic roast beef in just the most perfect way. Also, be sure to whip up some Horseradish Cream Sauce to put on them too!
Jump to:
Ingredients
While there are a few different cuts of beef that you can use to make this Roast Beef for Sandwiches Recipe, I use Beef Loin Top Sirloin Cap because that is what I have easy access to. I can count on finding it at Costco often, so that is what I use.
Other great cuts that can also be used:
Top Round Roast
Bottom Round Roast
Sirloin Tip Roast
Eye of Round Roast
These are all great budget-friendly cuts of beef to use for this recipe. Some people may argue that you need to use brisket, but I like to reserve that for corned beef or pastrami. Strip loin would also be yummy, and very tender, but it costs significantly more than the above-mentioned which tends to be more cost conscience.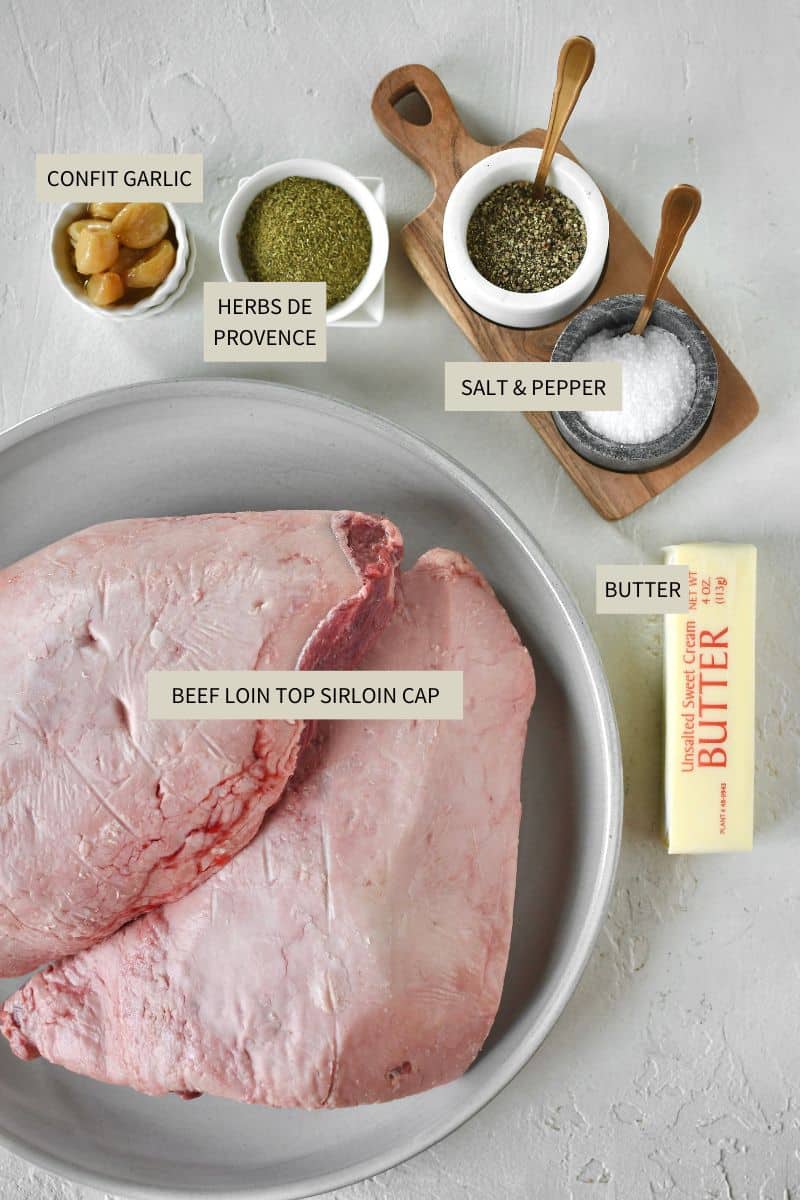 This recipe is also a great excuse to use some of my Confit Garlic. I love mixing it with the butter for tons of flavor! The one other thing I do is to grind my herb de Provence to more of a powder before using it, doing so helps carry the flavor further.
Use the JUMP TO RECIPE button at the top of the post, or scroll to the bottom of the post to see the full recipe card with ingredient measurements and instructions.
Method
The first thing I do is to remove the beef from its package, pat it dry, and season it all over with salt and pepper. Then let it rest at room temperature for about 1 hour to take the chill off of it.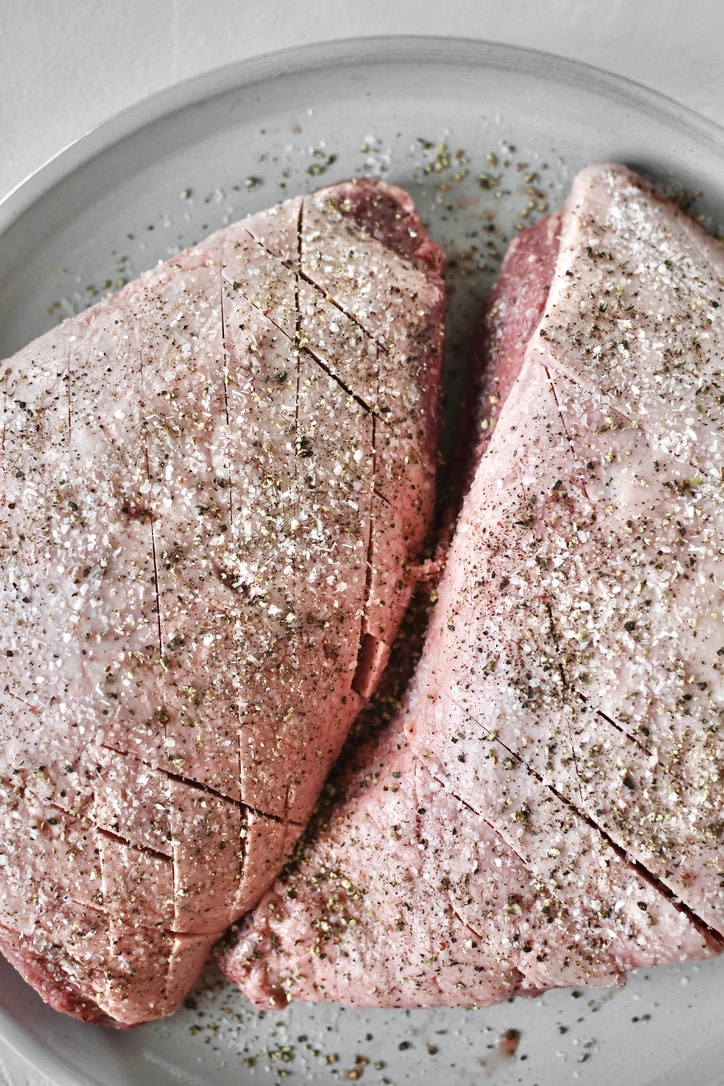 Then mix up the butter, herbs, and garlic cloves until they form a paste. Cover the seasoned beef with the butter mixture, on ALL sides, essentially painting on.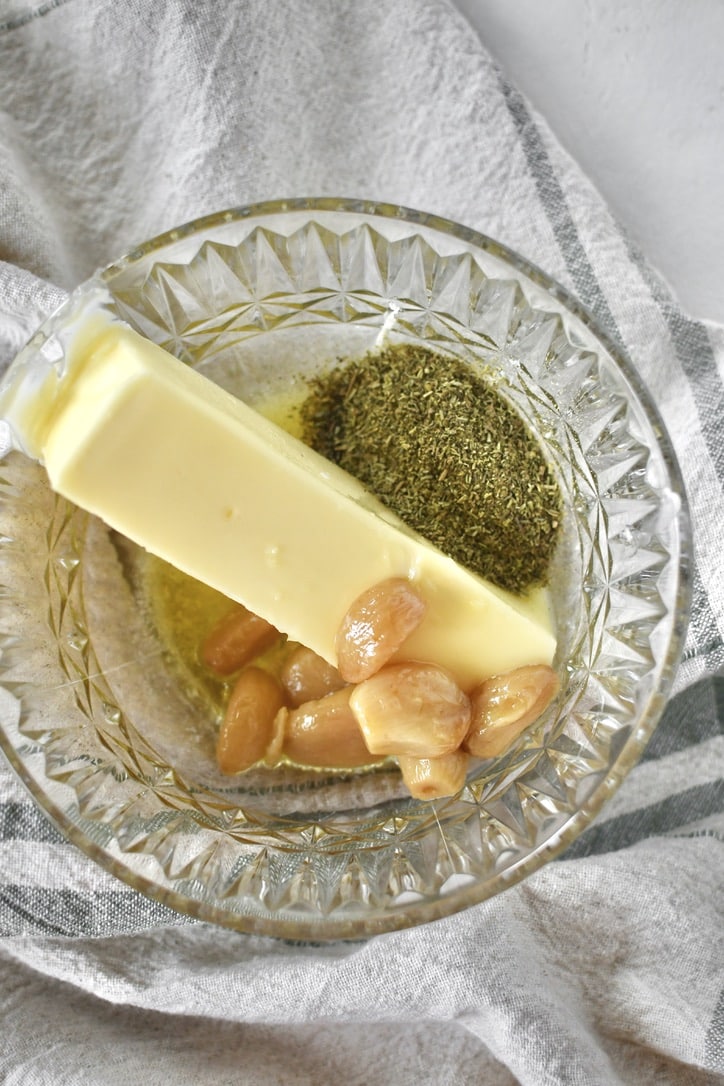 Then start the roast in a hot oven for about 15 minutes, then lower the temp and continue cooking until it reaches an internal temperature of 130˚F. Remove the roast from the oven and let it rest until cool to room temp, about 2 hours. Of course, this is if you want to completely cool the roast for making deli sandwiches, you could eat it right away if you like.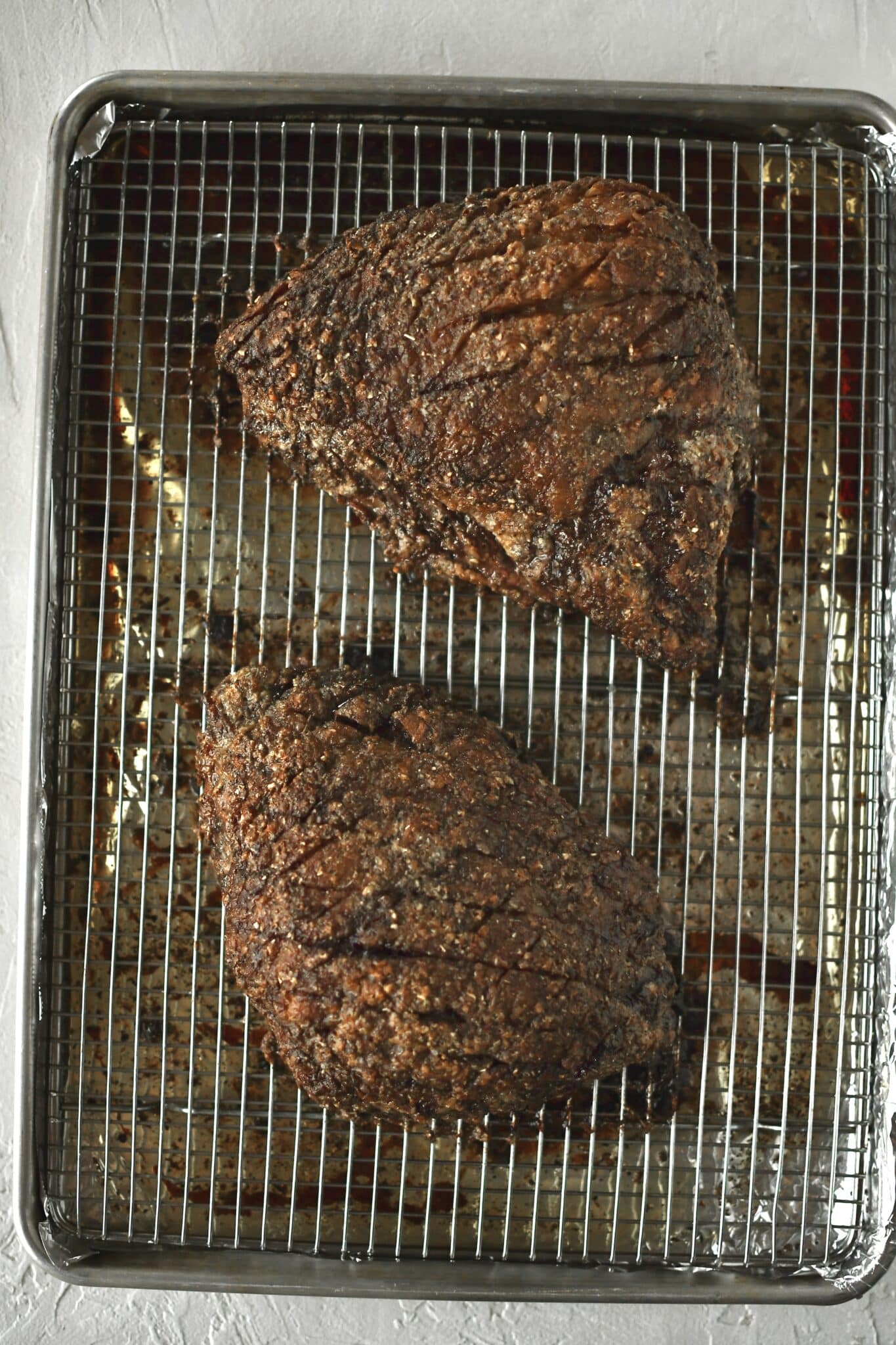 This will yield a beautifully rare or medium-rare roast beef. You could cook it a bit longer if you like more of a medium or medium-well roast beef, but I like to stop here in case I want to make a hot sandwich with the sliced beef later.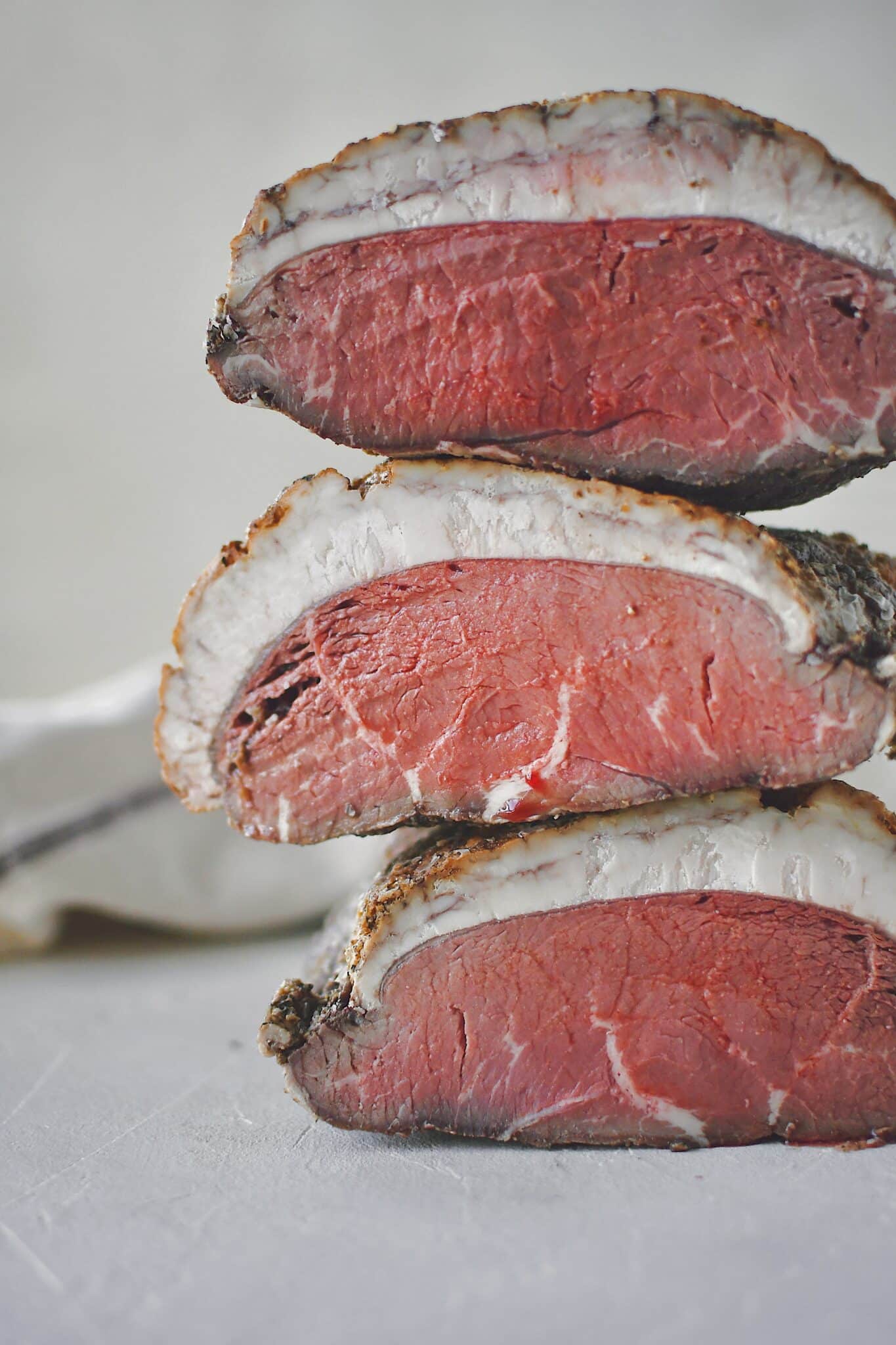 Notes & Tips
It is important to let the beef come to room temperature before roasting. This will allow the fat cap to melt better, and cook a little faster too. Let it rest at room temp for at least an hour before roasting.
Generously season the beef on all sides with salt and pepper. A roast is a large cut of beef and you want to flavor to carry all the way to the middle as best as possible. Season the beef the moment you take it out of the fridge so it can flavor it deeply while it comes to room temp.
Starting at a high temp, then reducing the heat and NOT opening the oven till the first check, helps to create a nice brown crust on the outside of the beef.
When you purchase herbs de Provence in the store, it comes as a super chunky, whole-dried spice blend. I like to toss it in a spice grinder and make it a little more of a powder. You don't have to completely pulverize it, but I like to make it a bit finer than the way it comes out of the bottle, it helps spread the flavor better and makes the final eating experience better. You don't get a big dry piece of rosemary in your mouth.
The only thing I might do differently in the future is trim a little more of the fat cap off the beef. But lemme tell you, it tasted amazing and melted like butter in my mouth. But it could have been a tiny bit less. However, you want to leave SOME on, because is self bastes the beef while cooking.
Substitutions
Other great cuts of beef that can be used to make this recipe are - Top Round Roast, Bottom Round Roast, Sirloin Tip Roast, and Eye of Round Roast.
If you would like to keep this recipe dairy-free, use a vegan butter alternative or olive oil in place of the butter.
If you do not have confit garlic to use you have 2 options. Make some, I share a great recipe for it on my site, or use some finely minced fresh garlic.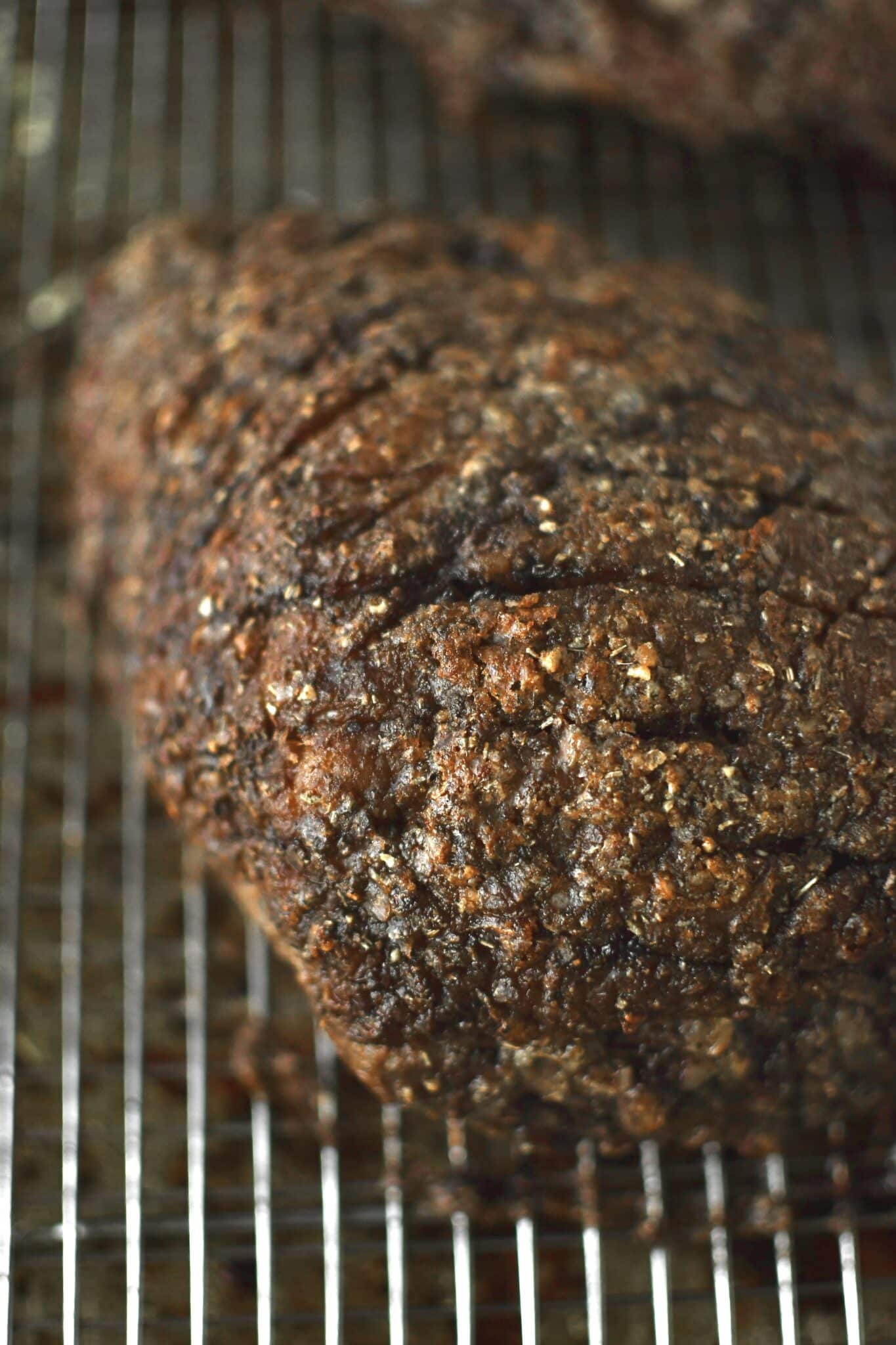 Did you make this recipe? Let me know by leaving a review or comment! And be sure to sign up for my newsletter, and follow along on Instagram, Pinterest, and Facebook!