Here we will go over How to make Pastrami at home, using a corned beef brisket. It is easy to do with a little patience and little active work. It starts with a homemade pastrami rub and ends with delicious!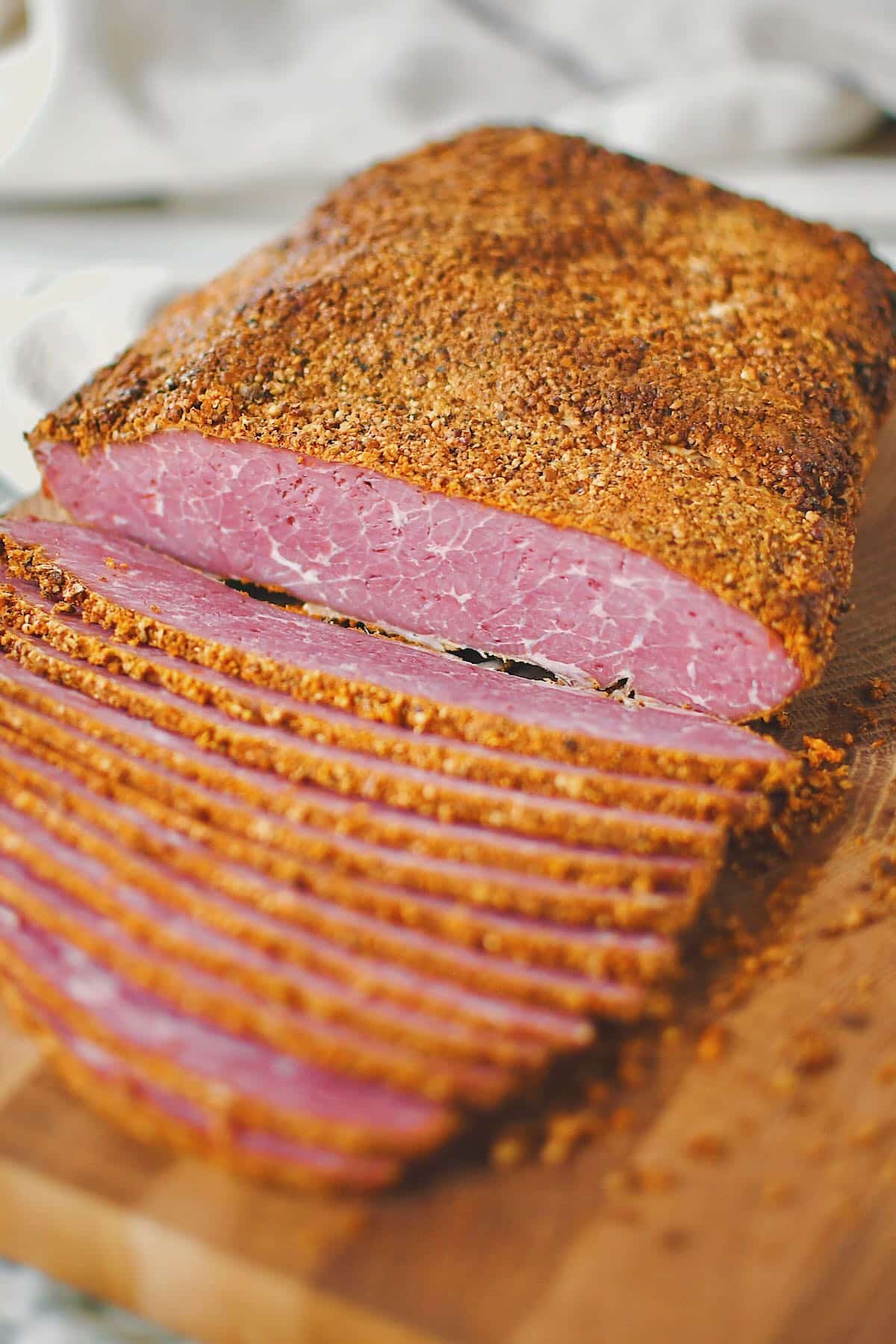 I was extremely satisfied with I started to develop this recipe. And while it takes time to cook, it only takes 5-10 minutes to prepare and the rest is totally inactive cooking time.
And before you dig in, I know pastrami is typically smoked, but when you taste this, you'll have no clue it wasn't, all it is, is 100% delicious. That said, some may also call this "Red Pastrami" because of its cooking method.
Jump to:
Ingredients
This is an easy version of homemade pastrami that you can make in your oven with no need for a smoker. The corned beef brisket has all the same values as the cut of meat that would traditionally be used to make pastrami, it just needs its own homemade pastrami spice rub on it.
Whole peppercorns, coriander, and mustard seeds offer tons of flavor and spice to the cured brisket that will have you second guessing if it was smoked or not.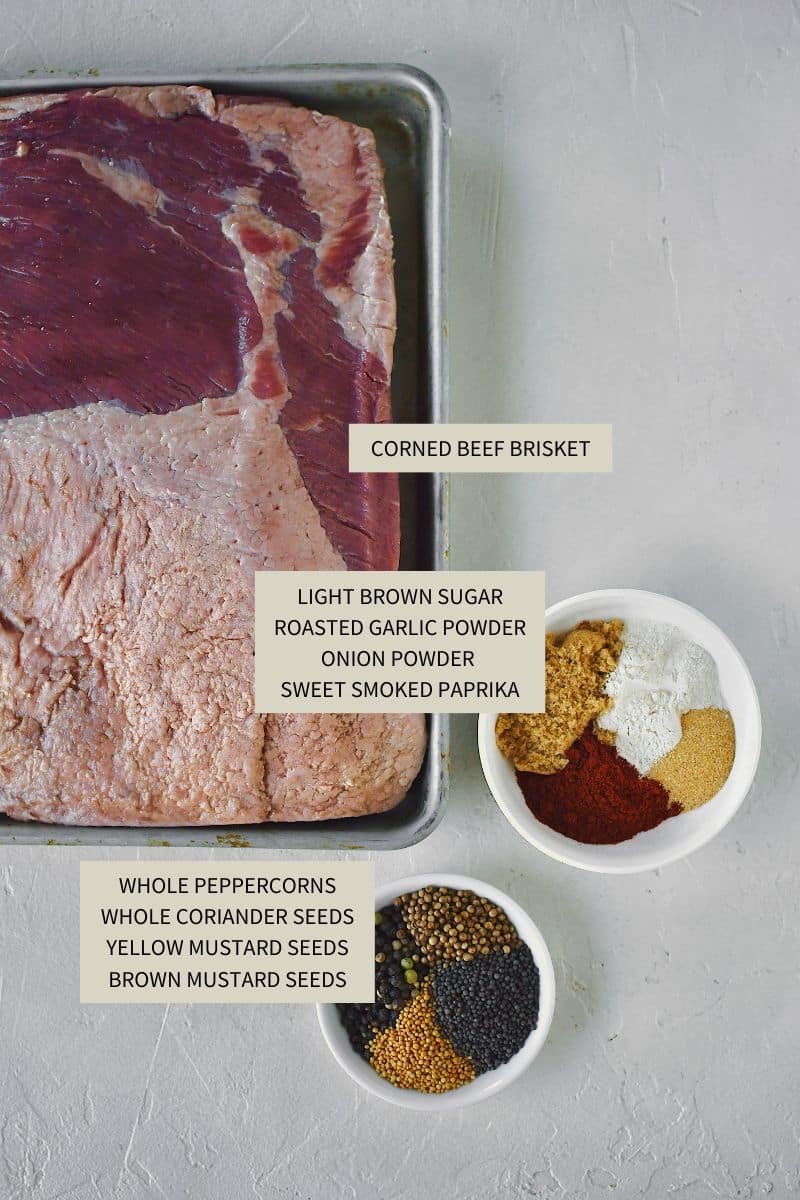 And seek out the sweet smoked paprika and roasted garlic powder, they are my secret ingredients to making this pastrami taste like it was smoked even though it isn't.
Use the JUMP TO RECIPE button at the top of the post, or scroll to the bottom of the post to see the full recipe card with ingredient measurements and instructions.
Method
First, make the pastrami dry spice rub. I start by quickly pulsing the whole peppercorns and seeds in a spice grinder, being sure they stay very course. Then mix them together in a bowl with the other spices and sugar.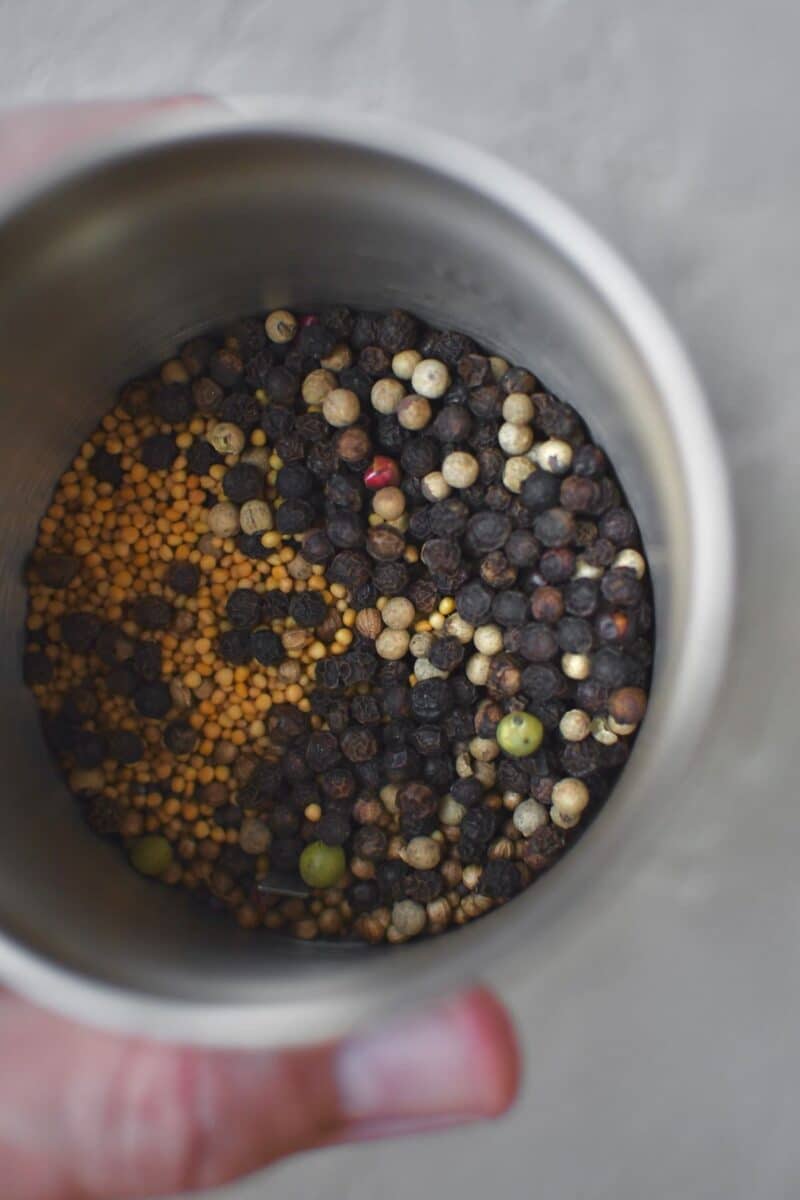 Coat the brisket ALL OVER and really rub in the spice blend. Then wrap it in foil, twice. Poke a few holes in the bottom of the brisket to any fat and juice can be released. Place the seasoned and wrapped brisket on a foil-lined sheet pan lined with a wrack or in a roasting pan.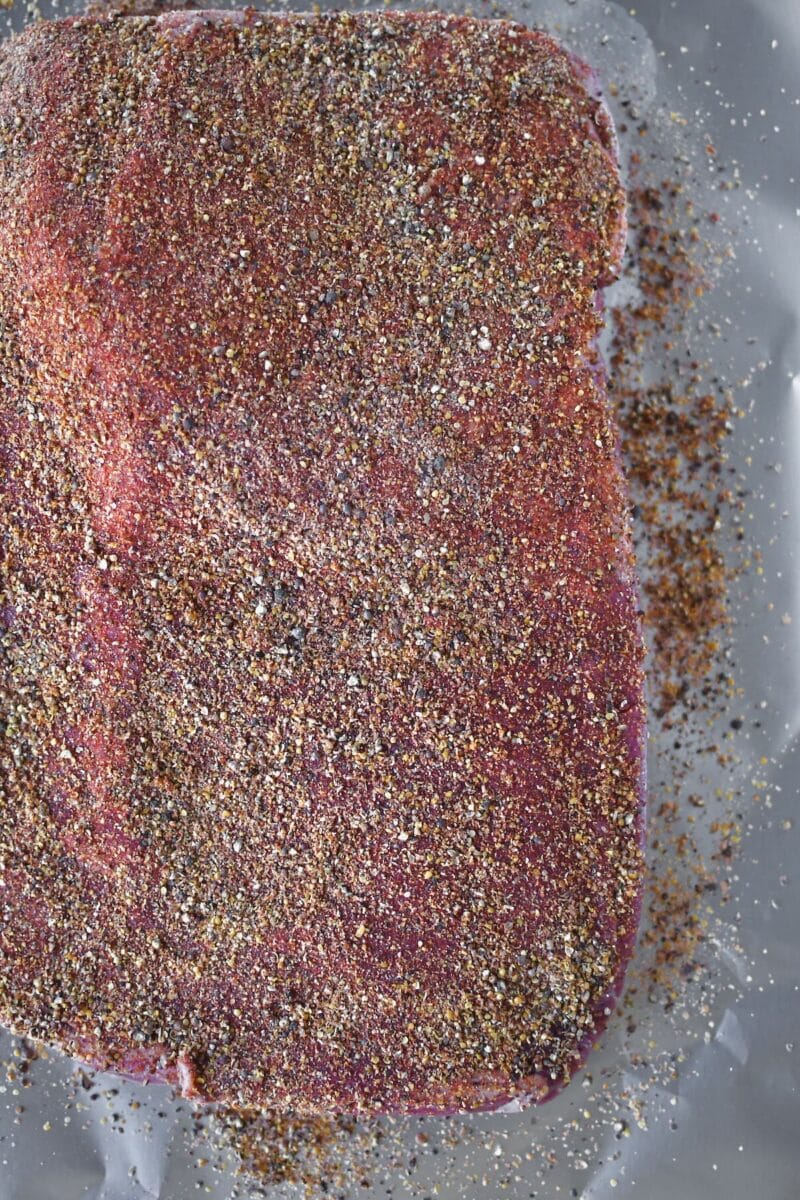 Cook the seasoned brisket in the oven at 225˚F for 6 hours, then turn off the oven and let it cool for a few hours before transferring it to the fridge to cool completely overnight. Then unwrap the brisket, now pastrami, and place it back on a pan with a rack and bake to set the crust. The crust will darken in color and turn almost black during this second cookie time.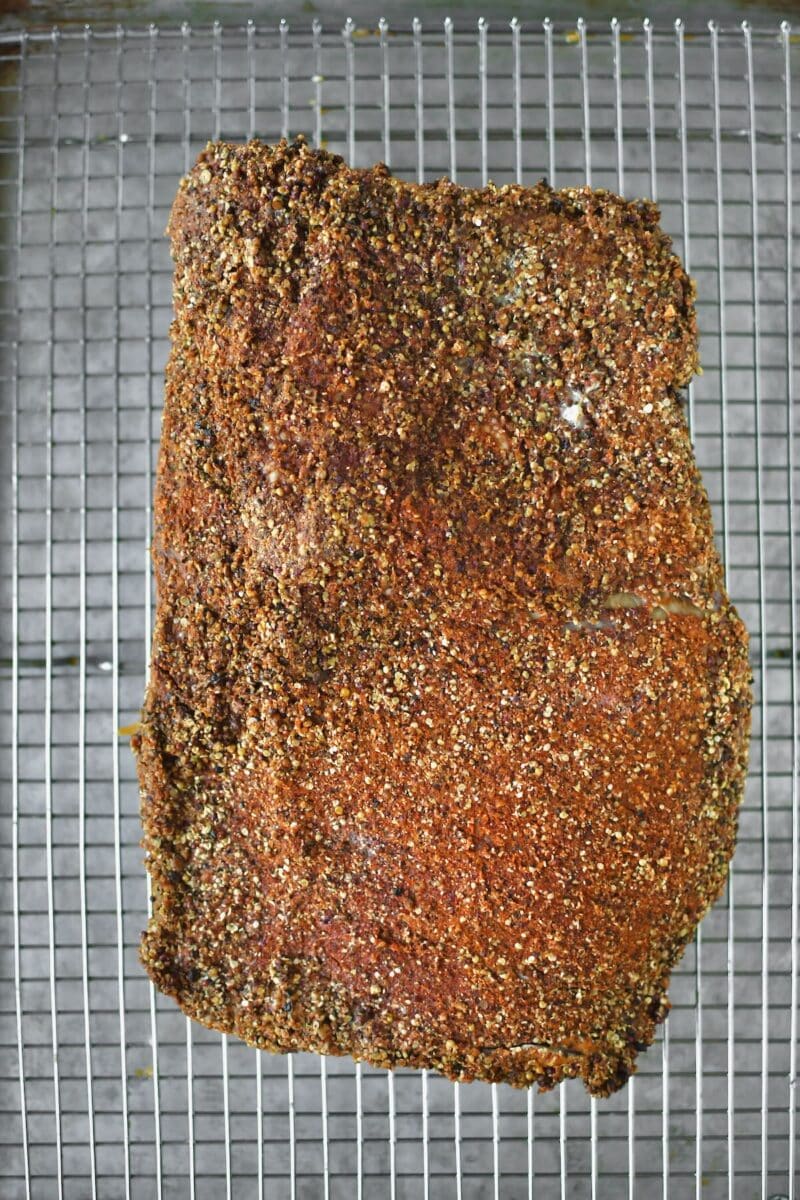 The pastrami is now ready to slice and eat. I like to cool mine and refrigerate again after the second cooking just to get really clean slices out of it, but you can slice and reheat immediately after the second cook if you like.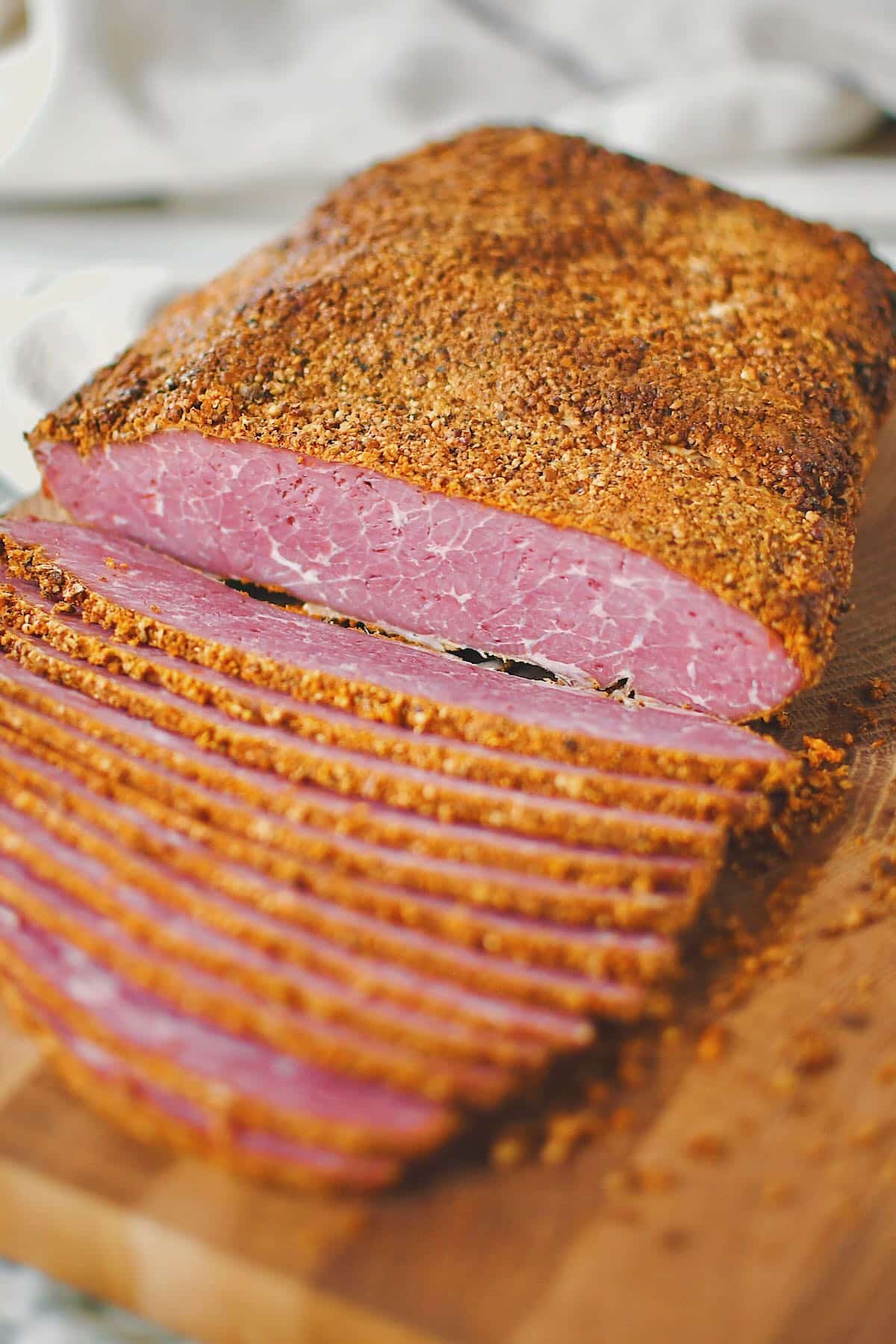 To fully reheat the pastrami, after slicing, place your desired amount in a skillet that has a lid, with some of the reserved liquid that you saved from roasting. Simmer on low heat till warmed through.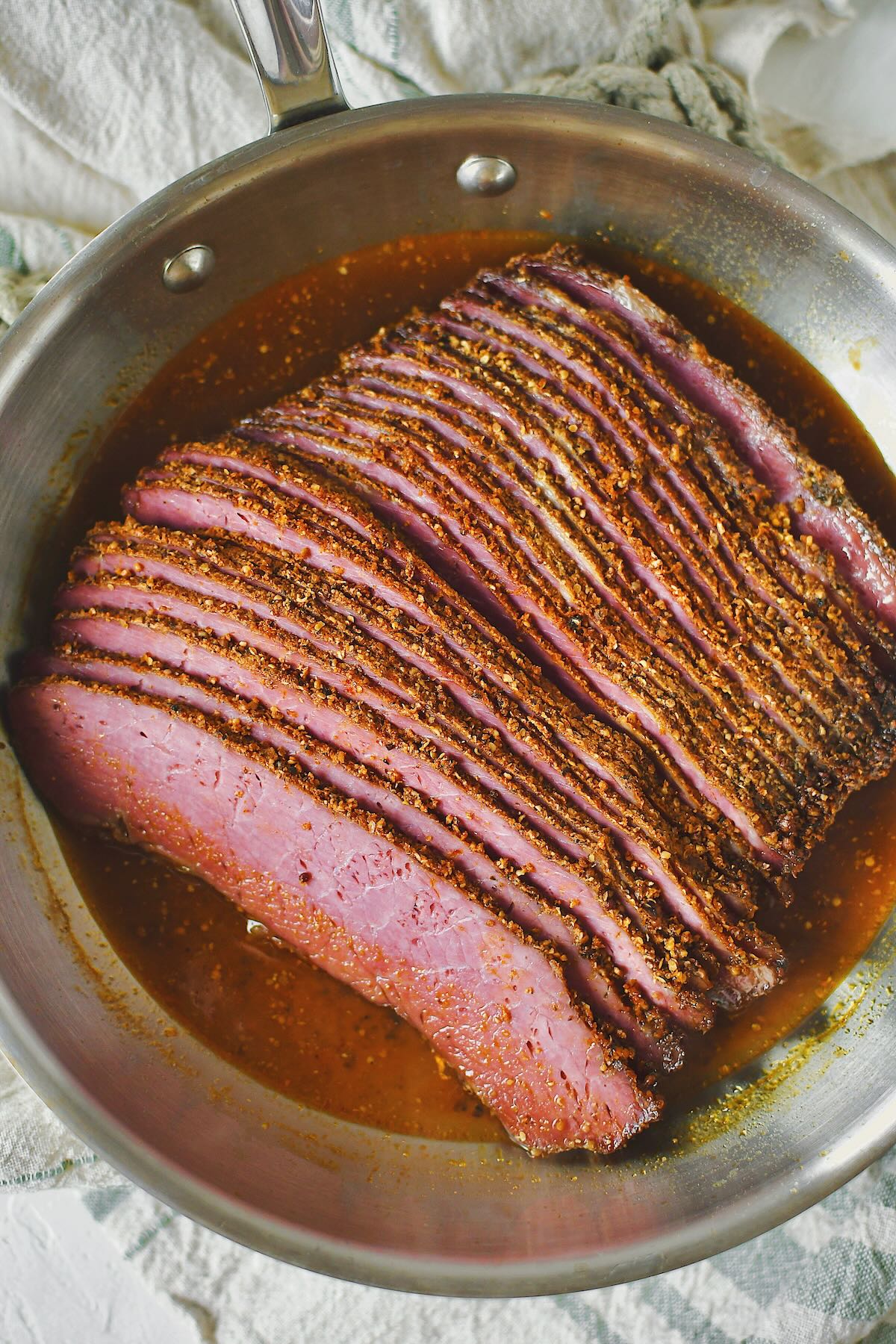 You can then use the meat any way you like, but I like to make Pastrami Reuben Sandwiches with it. It makes a killer sandwich you will want to eat EVERY DAY!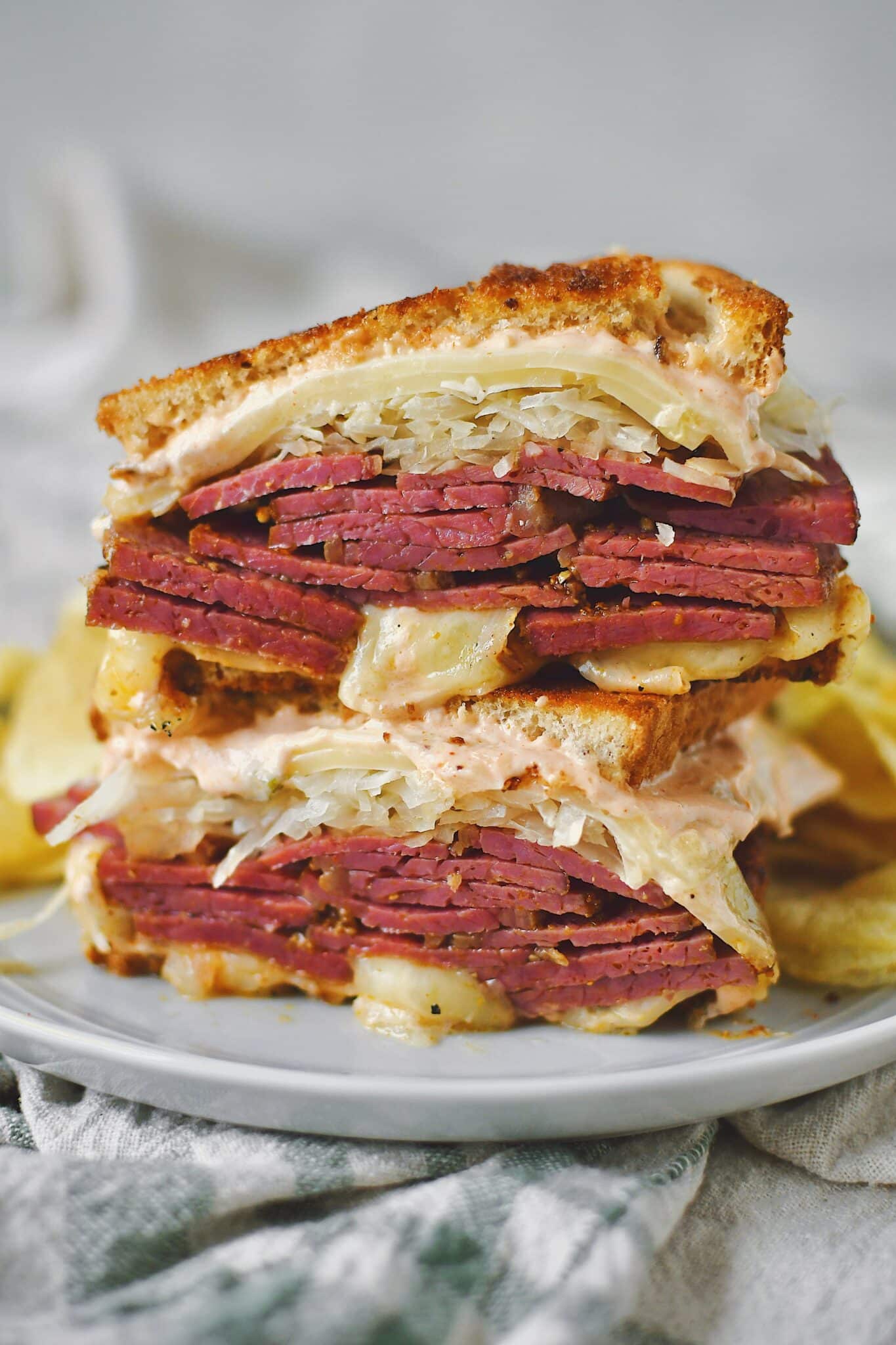 Notes & Tips
You may be wondering what is the difference between corned beef and pastrami. Typically corned beef is boiled or simmered slowly for a long time and pastrami is usually smoked. Pastrami can also be made with a different cut of meat, beef deckle, or navel, but is often made with brisket in the U.S. today.
That said, corned beef and pastrami are typically cured the same way before their final cooking. This makes using corned beef to make pastrami at home a great, easy option.
I do keep the tradition of steaming the pastrami before cooking, this would be done with smoked pastrami as well, with the method I am offering most of the smoked flavor comes from the seasoning instead of using an actual smoker. But the flavor is so close I don't miss the smoker for a second!
Be gentle to only pulse the peppercorns and seeds together a few times. They should be left fairly coarse and not be a very fine powder.
Really press and rub in the spice blend. It should be thick and evenly coat every surface of the corned beef.
When you open the corned beef brisket. Discard the packet it comes with and rinse it off with water in the sink. Then pat it dry so the rub will adhere well.
After roasting in the oven for 6 hours, I typically turn the oven off and leave the brisket in there till cool, 2-3 hours. This lets it cook a little longer and cool down slowly. When cool enough to touch and it is not hot, transfer directly to the fridge overnight.
Substitutions
I keep a melange peppercorn mix in my pantry and that is what I used for this recipe, you can use straight black if that is what you have.
If needed you can use ground coriander. Replace the whole seeds with only two teaspoons of ground.
If you can not get your hands on both kinds of mustard seeds, you can use all of one color if needed.
Light brown sugar is what I call for in the recipe, if need you can also use dark brown sugar.
Seek out the sweet smoked paprika for this recipe. It is what brings the flavor of a smoker since we are not using one. Hot smoked paprika can also be used for a spicy flavor if desired.
Roasted Garlic Powder is my secret weapon in my kitchen. Use it anywhere a recipe calls for garlic powder and everyone who eats your food will ask why it's so good! If you can not locate it, use regular garlic powder, but roasted is better!
Pastrami can also be made with a different cut of meat, beef deckle, or navel, but is often made with brisket in the U.S. today. But you will need to cure those cuts, the same way a corned beef brisket is. Using a storebought one makes the process much easier.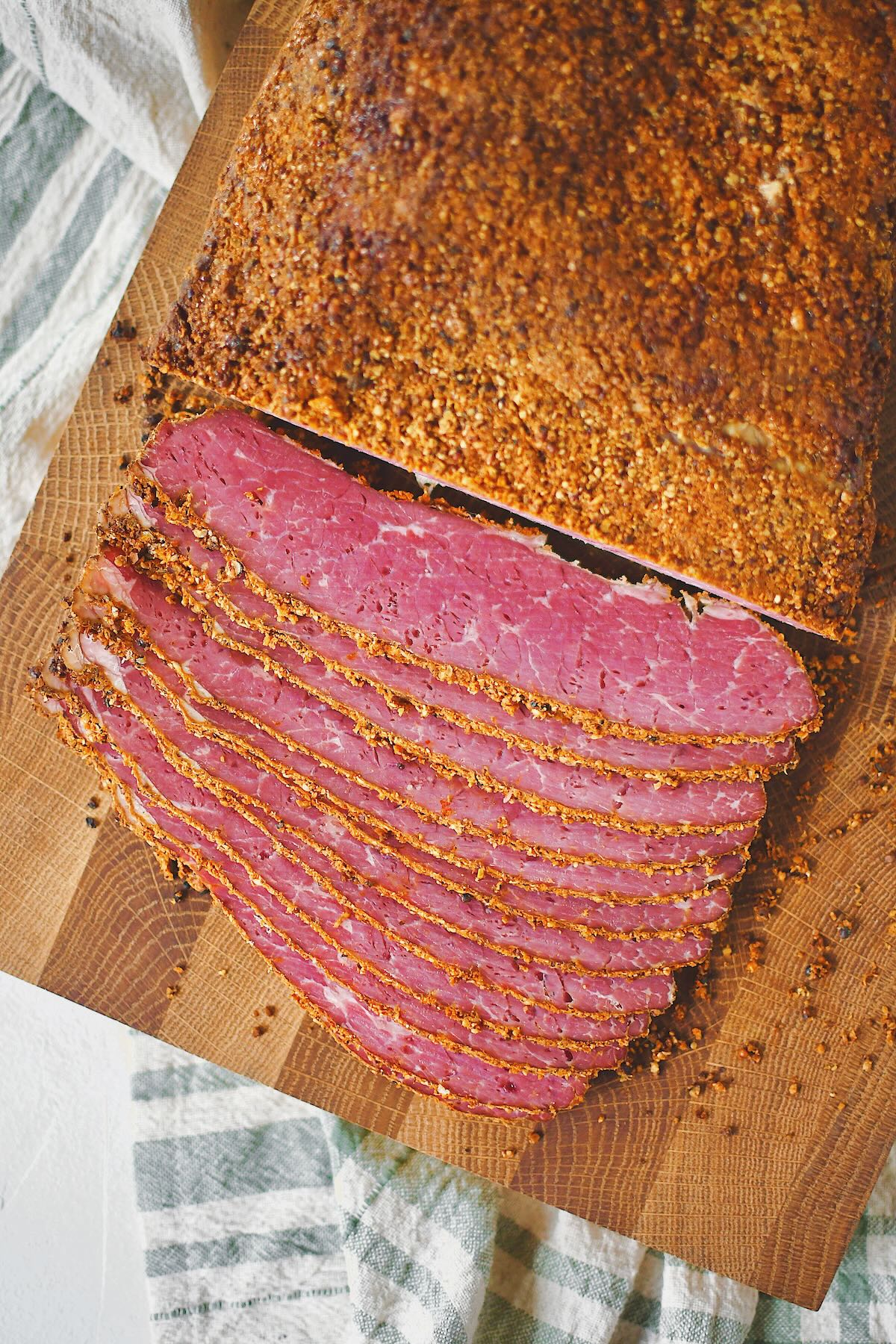 Did you make this recipe? Let me know by leaving a review or comment! And be sure to sign up for my newsletter, and follow along on Instagram, Pinterest, and Facebook!