Whether you think of this Russian Dressing Recipe as a dip, sauce, or spread, I don't think you'll ever catch me putting it on a salad. The debate remains on whether there is a difference between Thousand Island and Russian Dressing, but I believe there is a distinct difference in that thousand Island is sweeter with less accouterment.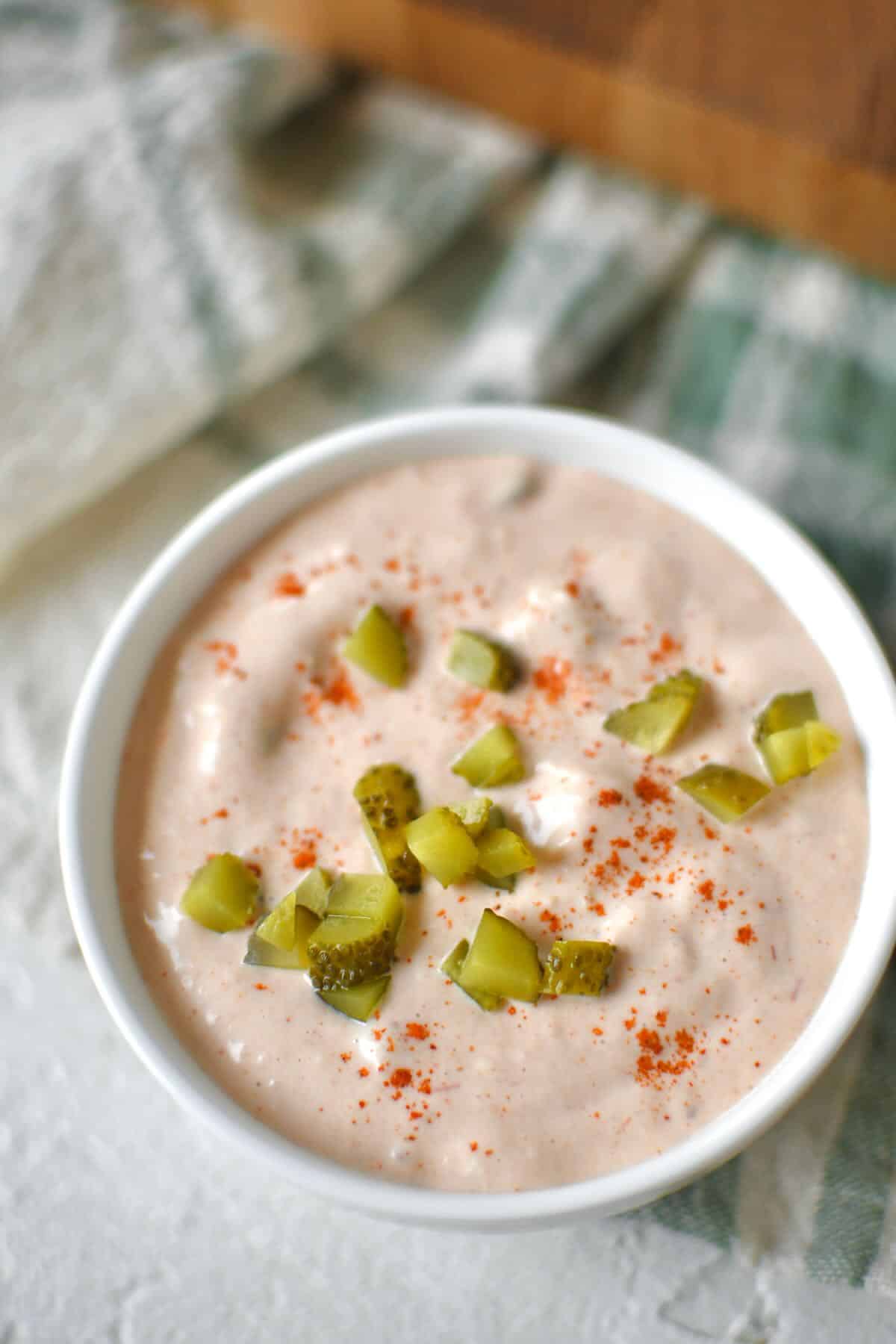 Also, despite its name, Russian Dressing doesn't hail from its namesake country. It was created by grocer James E. Colburn in New Hampshire in 1924. It is thought that his original recipe may have contained caviar as part of the additions, which is where it may have gotten its name.
Jump to:
Ingredients
The ingredient list is fairly short but intentional. Use a really good full-fat mayo and find the chili sauce, don't just use ketchup. I mean you can use ketchup, but chili sauce is just different enough to make a difference.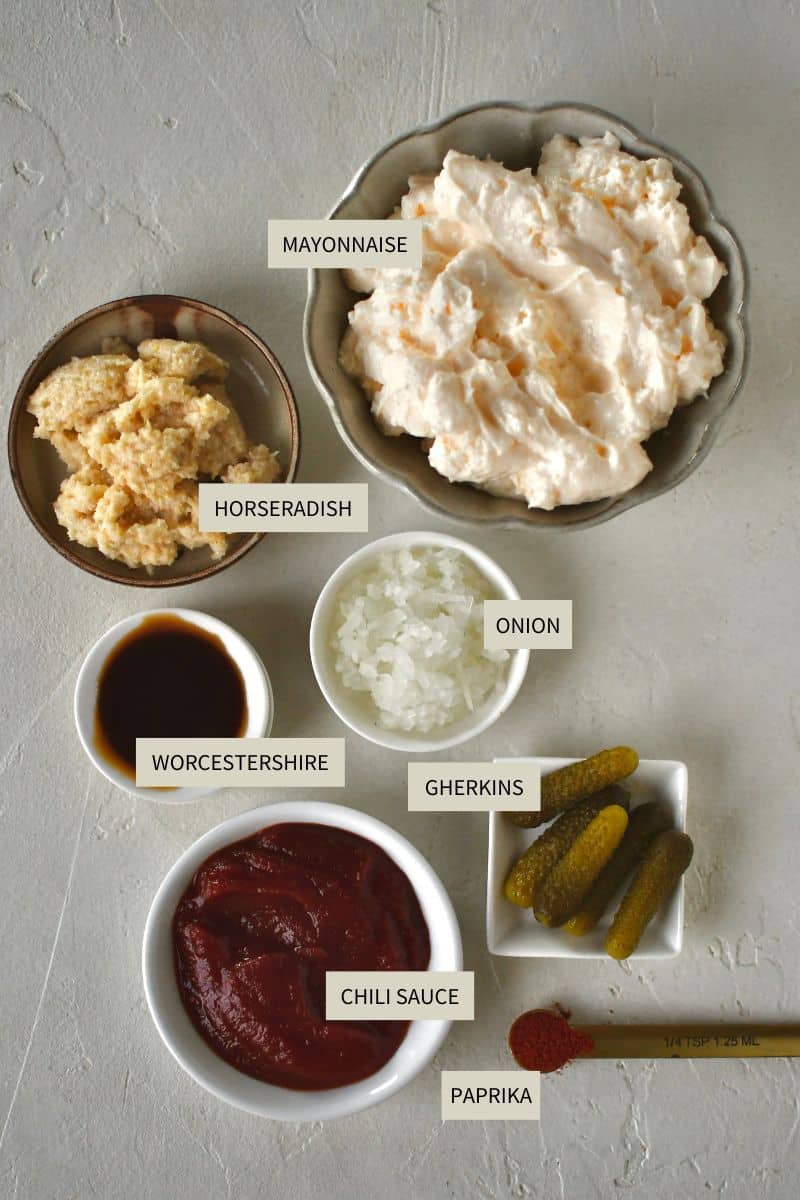 When it comes to the onion, getting is super fine is what you want. Chop it till it is almost a paste, or toss it and the pickles in a food chopper or processor until they are very fine, almost pasty, but still, have some chunk to them. I know, all the things!
Use the JUMP TO RECIPE button at the top of the post, or scroll to the bottom of the post to see the full recipe card with ingredient measurements and instructions.
Method
Making the actual dressing could not be easier. It is a dump-and-go recipe as I like to refer to it. Toss all the things in a bowl and stir them all together. With this recipe, it is preferred to make it the day/night before you want to use it so the flavor can deepen. But it should literally take you about 5 minutes from gathering the ingredients to placing the finished product in the fridge to rest.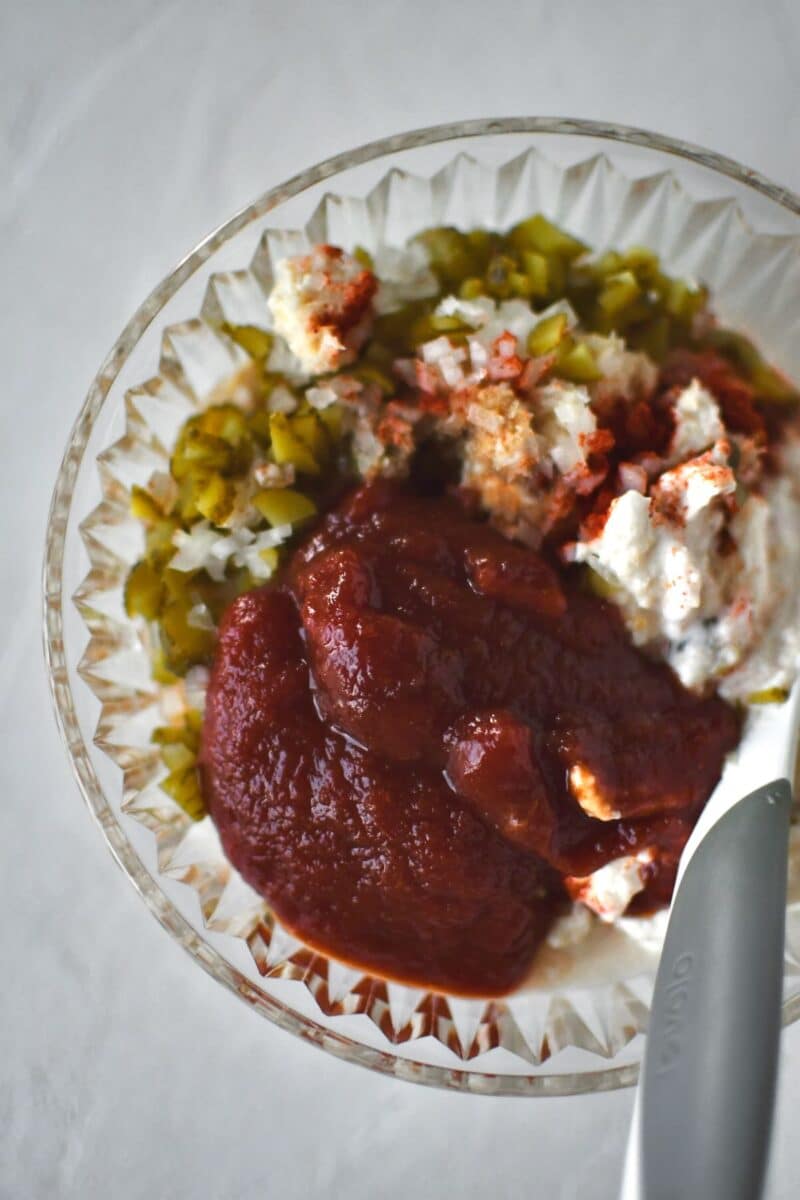 I like to serve this Russsian Dressing with my Homemade Pastrami on a Reuben Sandwich or with my Reuben Egg Rolls.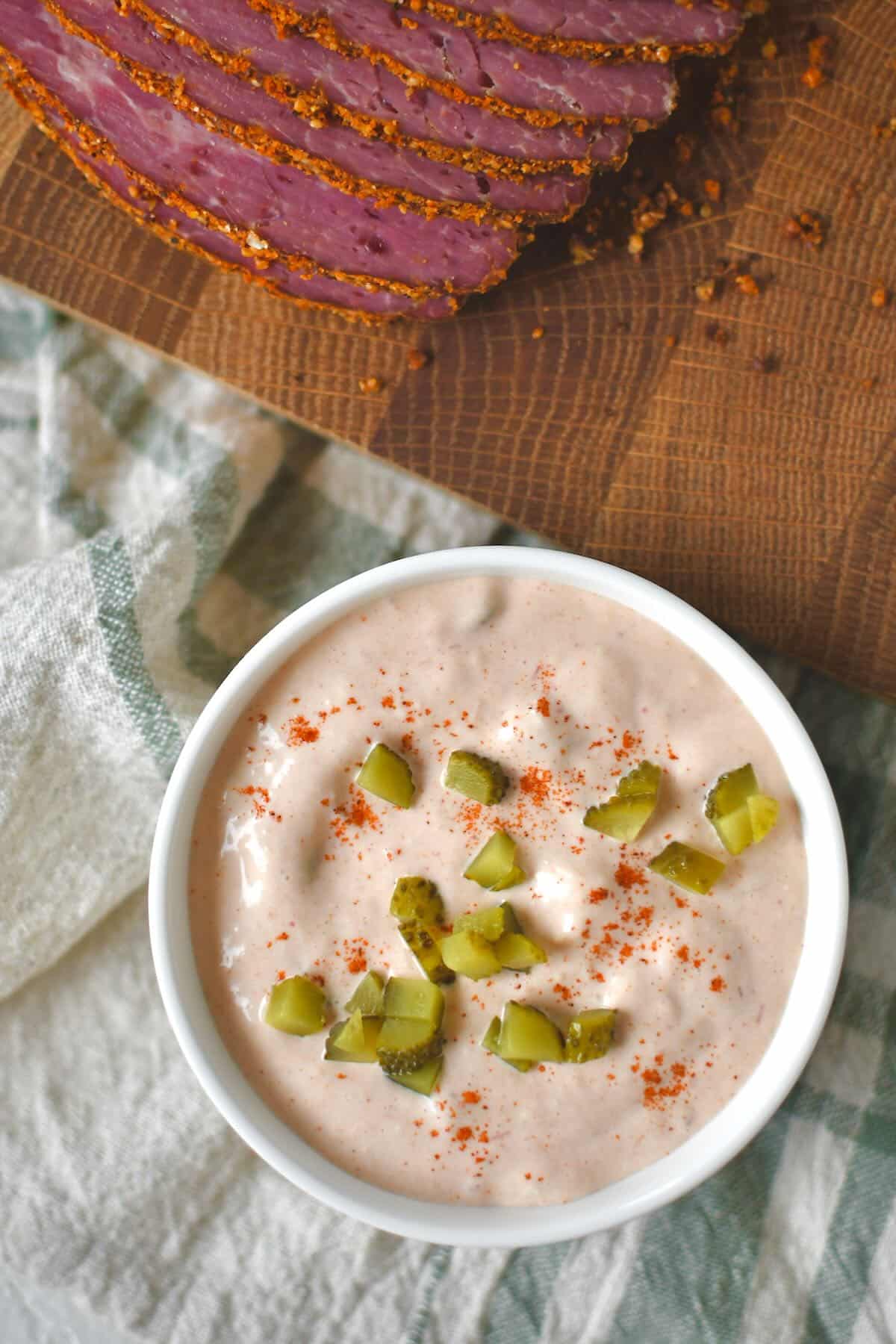 Notes & Tips
This recipe is no place to skimp or use low-fat ingredients. Full-Fat mayo, real chili sauce, and find the sweet smoked paprika, they all make a difference. Plus when you are putting a small spread on a sandwich, you want ALL the flavor you can get!
The dressing is best when it sits in the fridge overnight. The flavors have a chance to meld and deepen. You can use the dressing right away, but if you have the time, make it ahead for better flavor.
What makes Russian dressing different than Thousand Island is the horseradish, chili sauce, and paprika. It is also less sweet than thousand island which has pickle relish and ketchup which makes it much sweeter than Russian dressing.
Substitutions
White Onion is classic, you can use yellow or red onion too in a pinch. What's more important is chopping it till it is nearly a paste.
The tiny gherkin pickles have a sweet and sour flavor. You really want to use them, as opposed to dill or relish. You could use a polish dill if you can't locate gherkins or cornichon pickles.
Heinz Chili Sauce, there really is no substitute for it. It is just one of those things that were prevalent at the creation of this recipe, and it is less sweet than ketchup. As a purist, I want to tell you it is THE ONLY THING you can use. But in a pinch you can use ketchup, just know your dressing will be a little sweeter and lean towards more of a thousand island vs. a Russian dressing if you do.
If you can find fresh horseradish, use it! It will give you the most authentic flavor, but it is hit or miss, so using fresh prepared horseradish from a jar is just fine.
I like to use Crystals Hot sauce, it is my favorite. But feel free to try others or use your favorite to make the recipe your own.
Sweet smoked paprika brings added color and a deeper flavor to this recipe. If you are a fan of more spice, you can also use hot smoked paprika.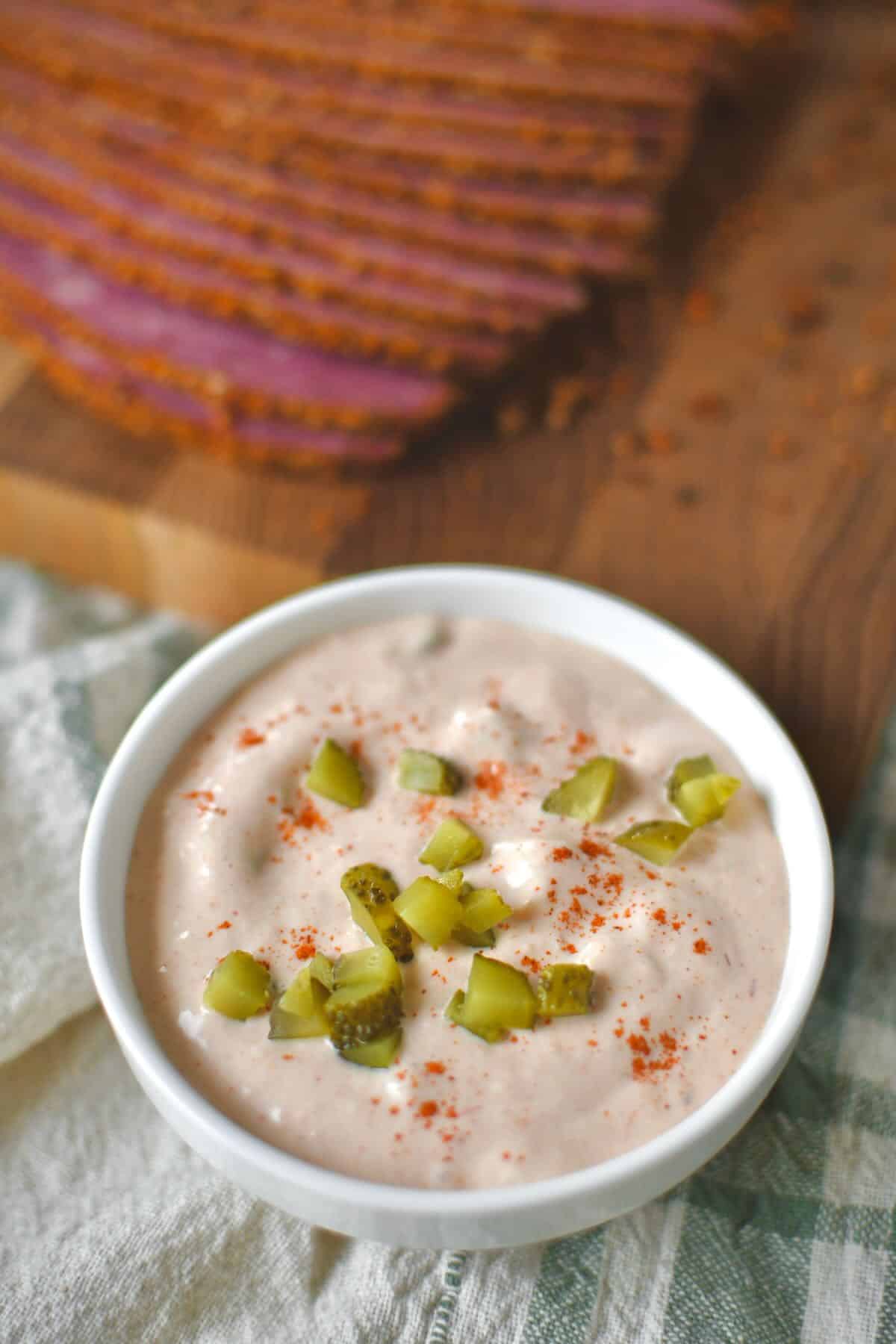 Did you make this recipe? Let me know by leaving a review or comment! And be sure to sign up for my newsletter, and follow along on Instagram, Pinterest, and Facebook!