This recipe for Mexican Flautas comes out just as good if not BETTER than anything you can get at a restaurant. My family can DEVOUR some flautas, so I like to make them at home and make any day feel a little special.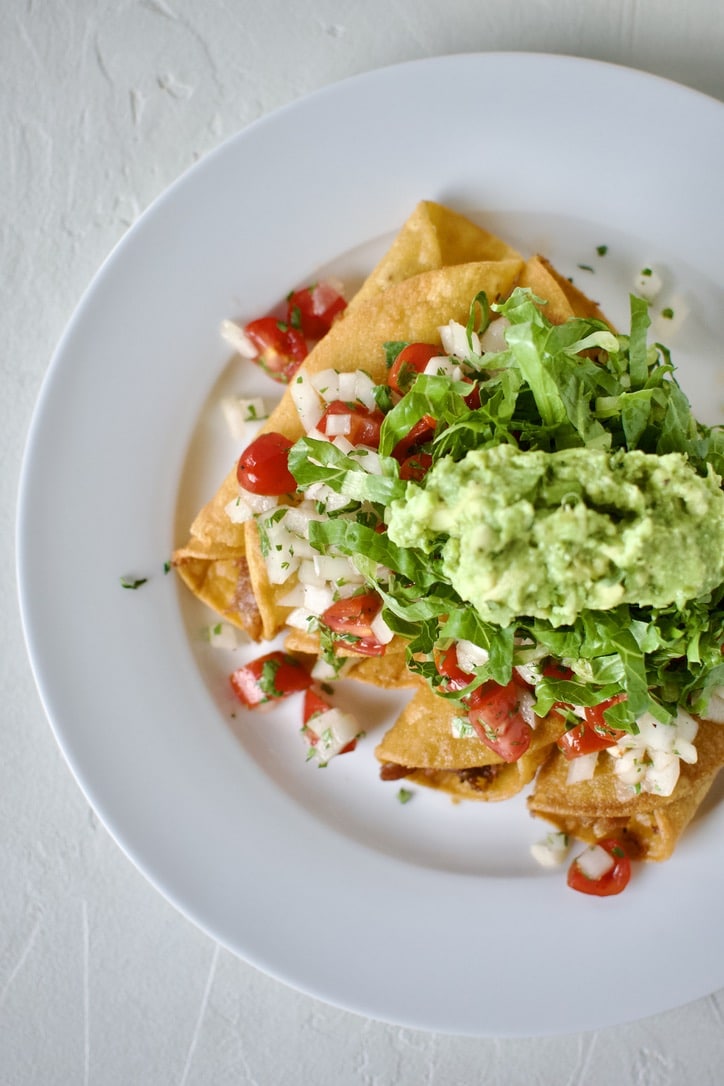 Pair them with my homemade Guacamole and Pico de Gallo recipes for the perfect toppings and to make them a meal.
Jump to:
Ingredients
This ingredient list is simple and quintessential for Tex-Mex cuisine. I make my own pico and guac if I have time, but just a smashed avocado and some storebought white queso can do the trick for toppings too.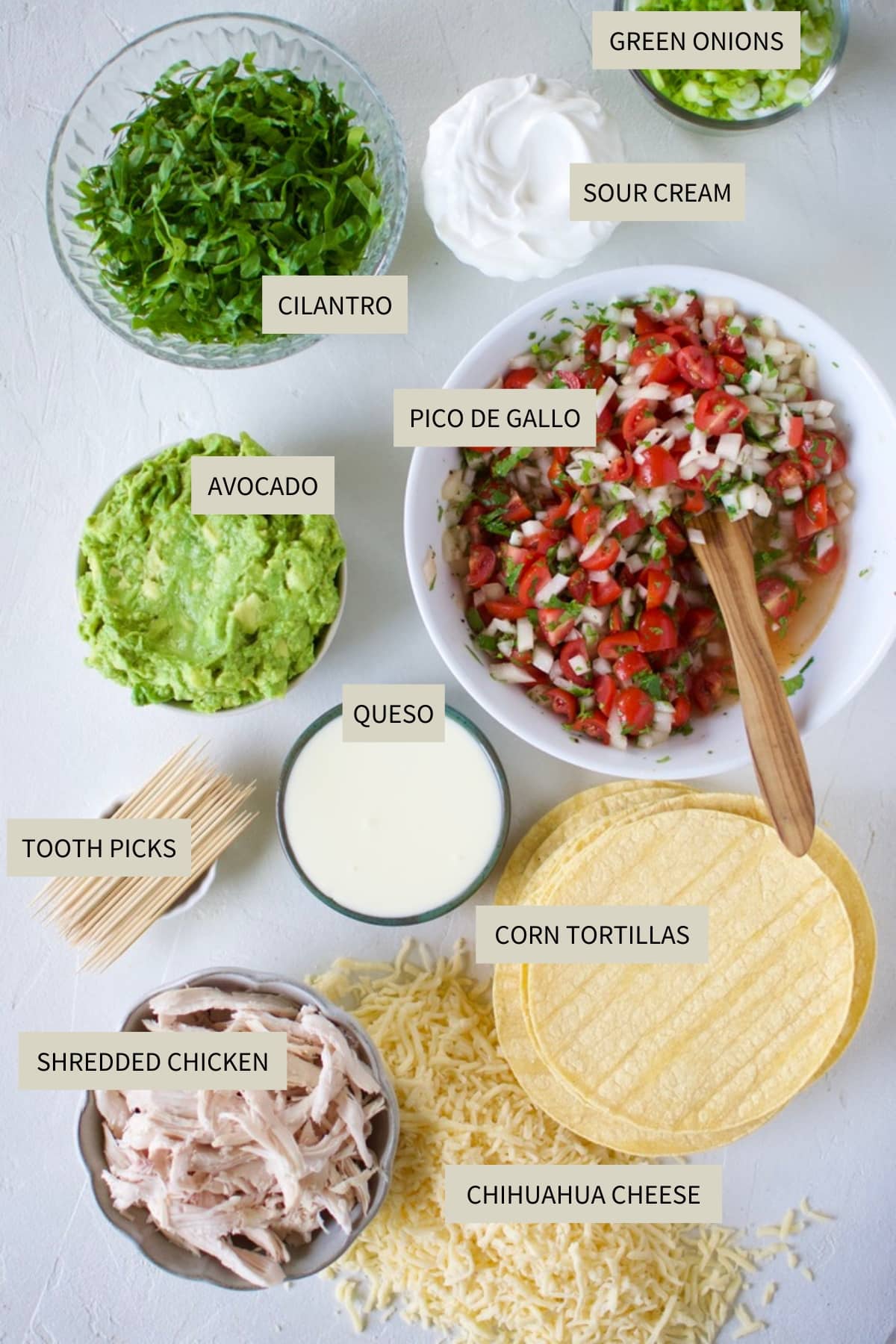 Oh, and make it easy on yourself and just buy a rotisserie chicken and shred the meat off the bones for this recipe. It makes, making them, super quick and easy.
Use the JUMP TO RECIPE button at the top of the post, or scroll to the bottom of the post to see the full recipe card with ingredient measurements and instructions.
Method
First, mix the shredded chicken, cheese, green onions, and some salt and pepper together in a bowl. Stir it all around until everything is evenly mixed together.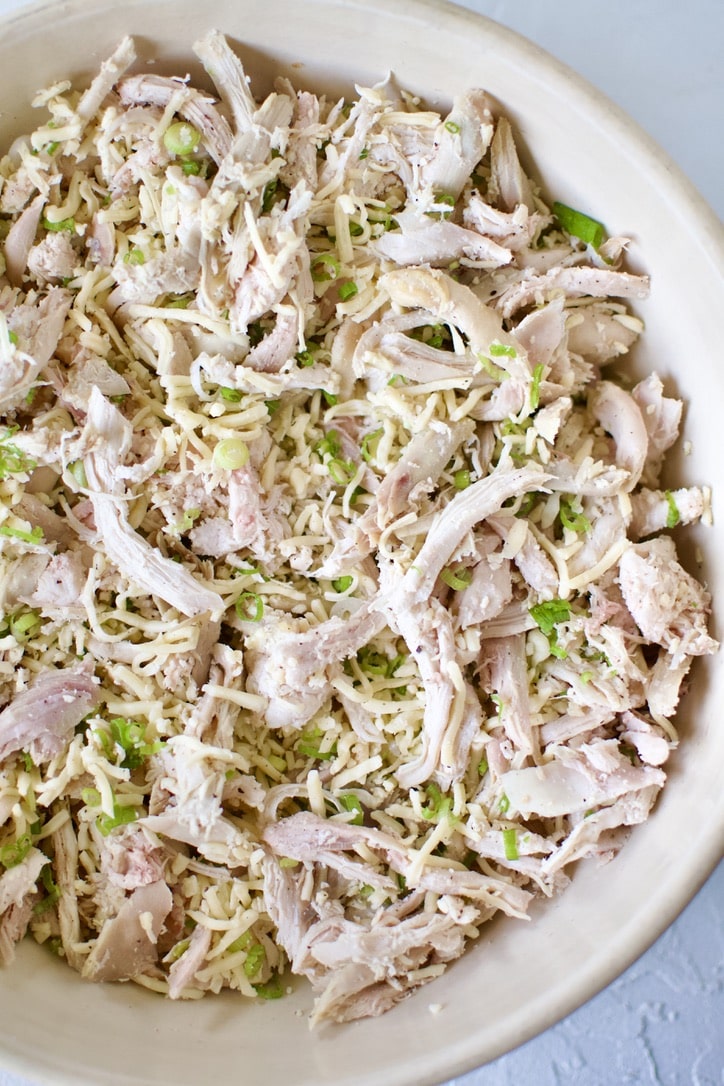 Then warm your tortillas in the microwave, inside their bag with the twist tie removed, to steam them and make them soft. I like to use a soft yellow corn tortilla so this method works really well for me. You may have some cracking, if you have a lot, warm some oil in a separate small skillet and drag the tortillas through it till they are soft. Then fill them with the chicken mixture, roll them up, place a toothpick in them if needed, and fry until crispy and golden brown.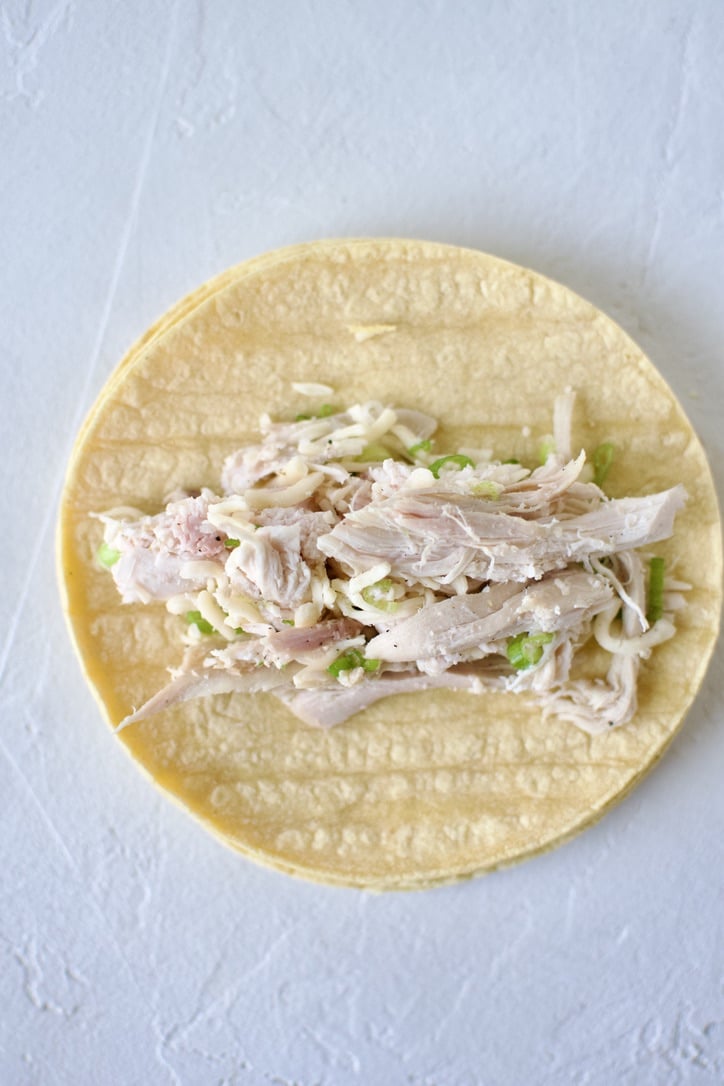 Now, this can take some time if you are making a big batch of these, and the tortillas can give you a little bit of a run for your money. The best thing I can tell you is to put some music on, have a shot of tequila, and get in a rhythm and you'll be good to go. Take your time and just enjoy the process.
When they are done frying and they are super crispy, remove them from the oil and let them cool on a plate. Repeat until you have used all of the chicken mixture.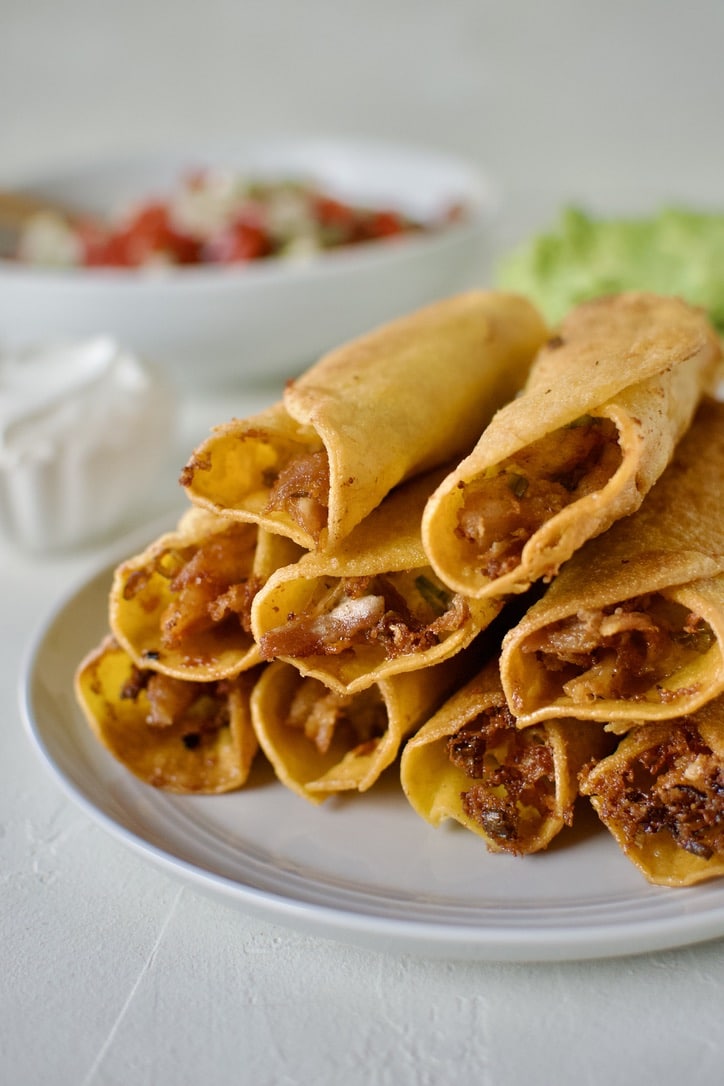 I like to serve my Mexican Flautas with an array of toppings, from queso, pico, guac, sour cream, and shredded lettuce at a minimum. Then let everyone come along and put whichever toppings they like on theirs. It makes it fun and interactive and everyone can get just what they want.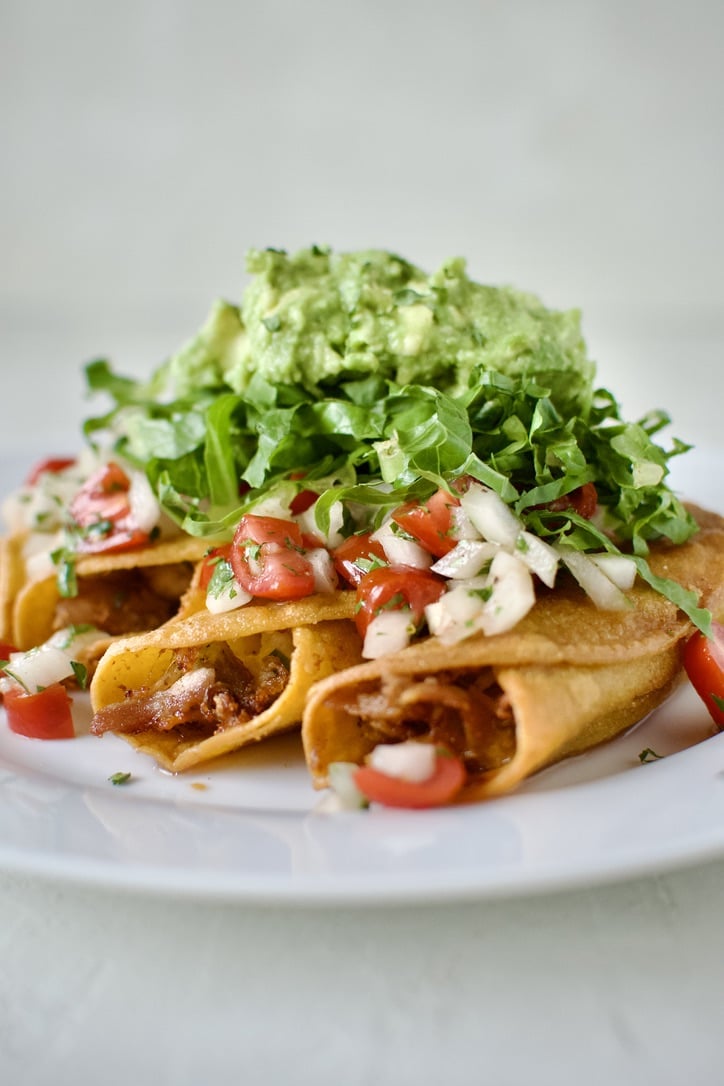 Notes & Tips
Making flautas can be a little tricky. Choosing the right tortilla is key, I like to use ones marked "soft". I then warm them in the microwave in their bag until soft and pliable.
If this method does not work for you, warm some oil in a separate small skillet and dip the tortillas into it for about 10 seconds till soft. Place the oiled tortilla on a plate, fill and roll it, and fry till crisp.
I prefer to use rotisserie chicken for this recipe. It makes it quick and easy and I can even prep the chicken ahead of time, then roll and fry when ready to eat.
Dips, lots of dips. Whichever you choose, have lots of things to dip your flautas in, it makes them fun, and who doesn't love some dips!?
Substitutions
While I make this recipe mostly with shredded chicken, you can also make them with shredded beef, or even stewed chicken if you like.
If you can't find shredded Chihuahua Cheese, you can easily swap it for shredded mozzarella.
Corn tortillas are traditional, but you COULD also make these with flour tortillas, coat them in a little oil, and cook in the oven, or fry them till crisp, turning 2-3 times. Either method works and flour tortillas are much more pliable and easy to work with.
I call for canola oil in the recipe, but any neutral oil for frying works great.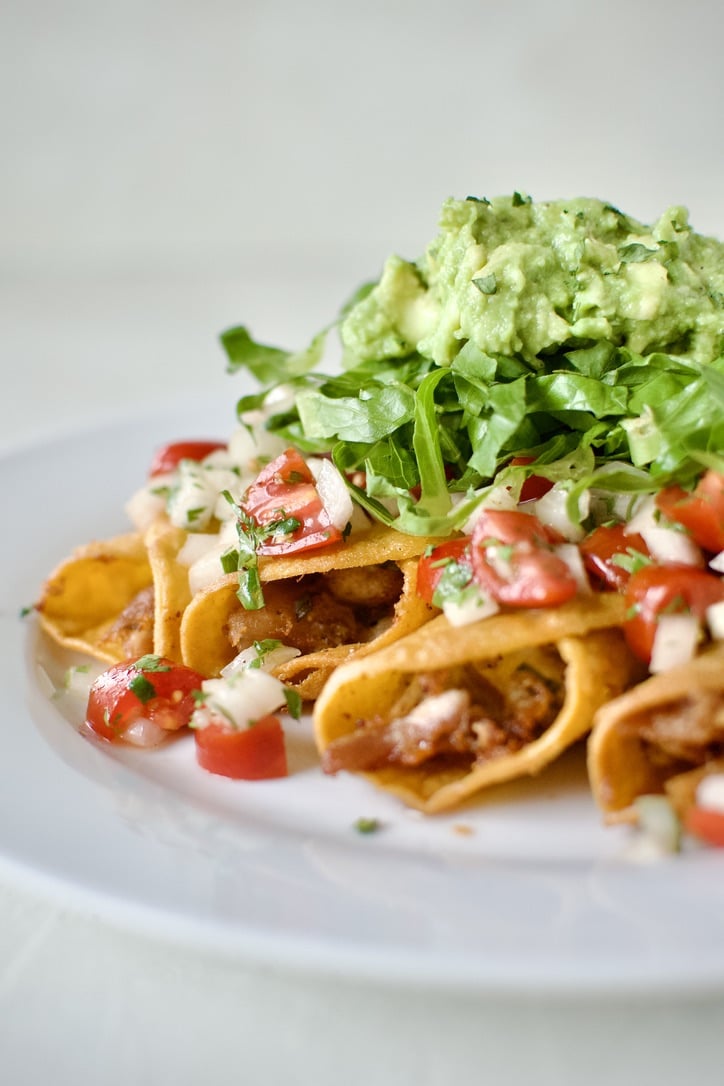 Did you make this recipe? Let me know by leaving a review or comment! And be sure to sign up for my newsletter, and follow along on Instagram, Pinterest, and Facebook!