I make this Roasted Tomato Vinaigrette when I have some grape tomatoes lingering around that are starting to shrivel. They are still good for this dressing, and their flavor has concentrated greatly, making for an even more rich flavor.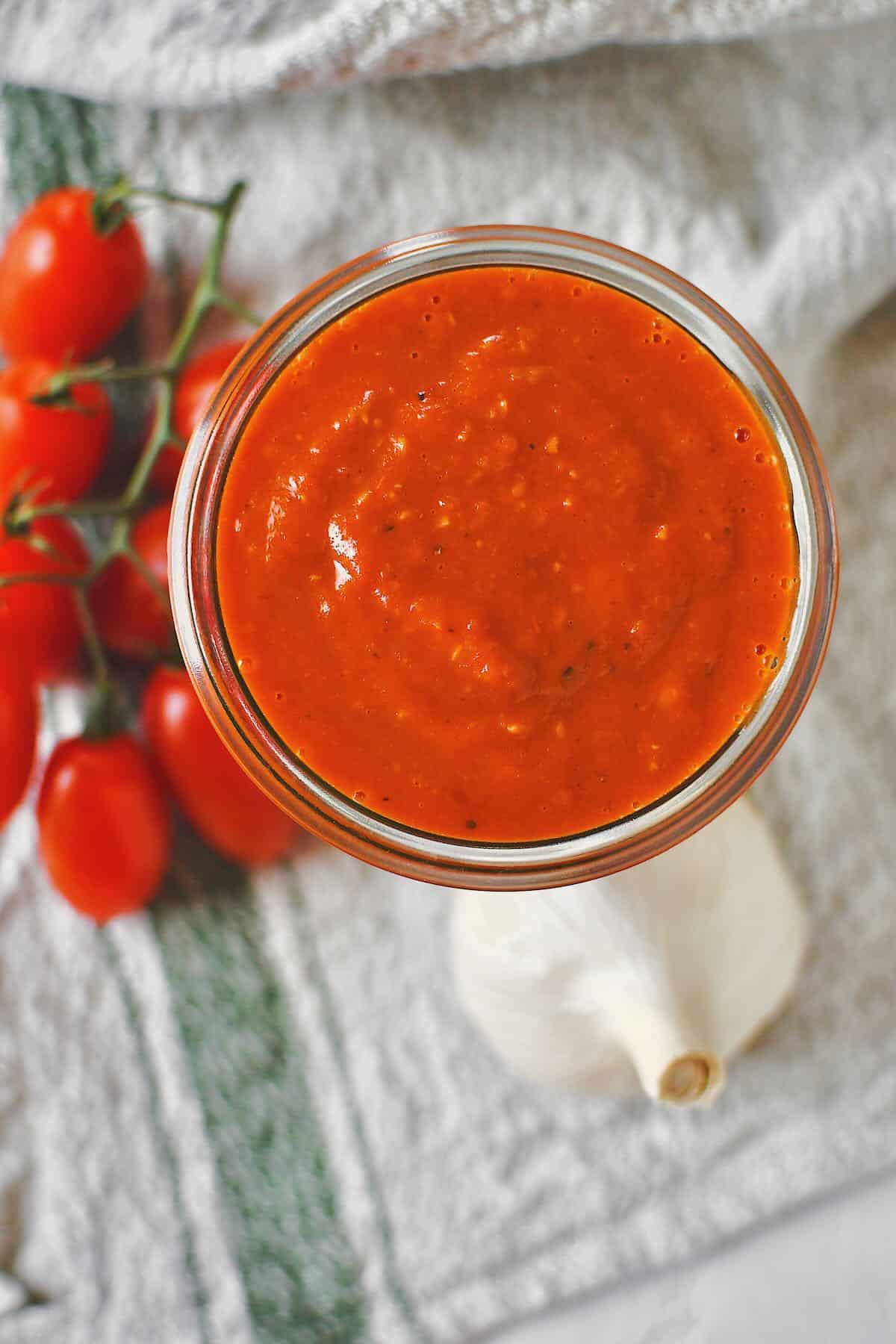 I love this sweet and tart dressing on a big salad but it also makes a great dip or spread on charcuterie boards. Some of this on a crostini with some feta on top, yum!
Jump to:
Ingredients
I like to use grape tomatoes that I have neglected a little for this recipe. Their flavor has intensified because they have been hanging around a while, and even though they might not be great for eating anymore, there is no need to throw them away.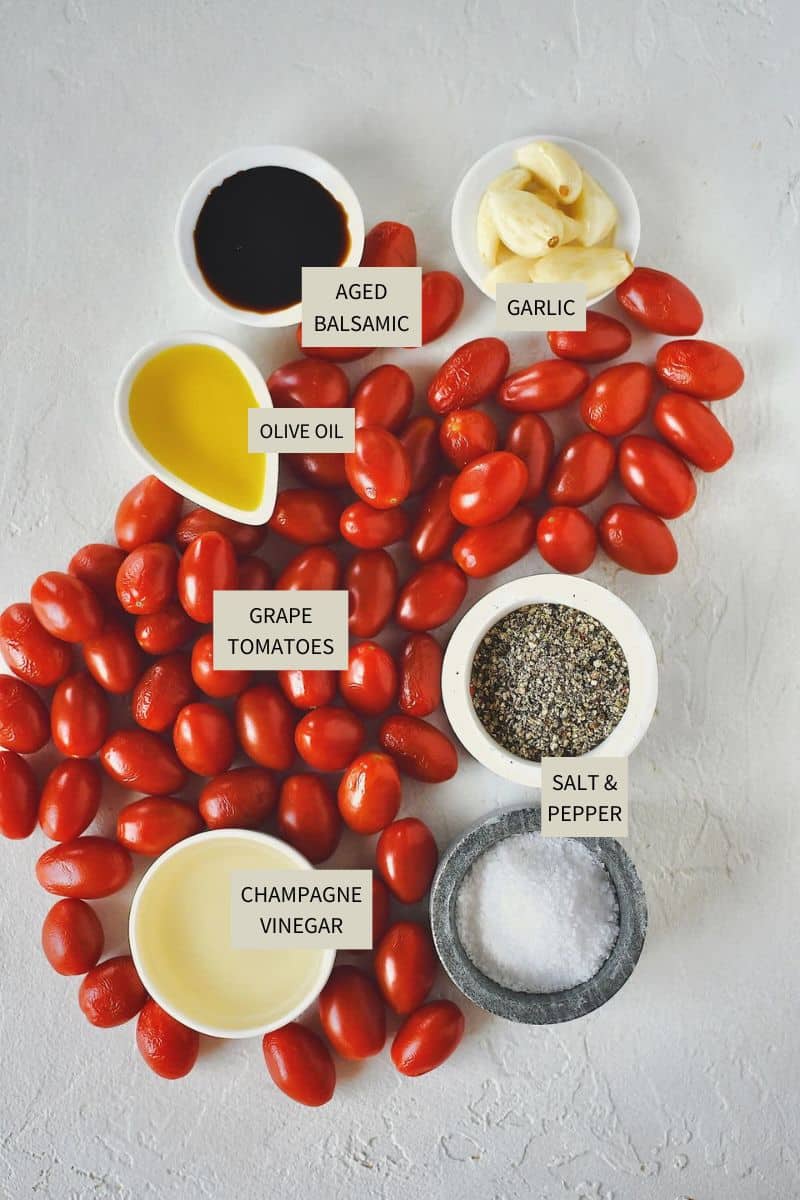 The garlic, oil, vinegar, salt, and pepper all offer balance to the sweet and tart tomatoes. I love to use the aged balsamic for great flavor depth too.
Use the JUMP TO RECIPE button at the top of the post, or scroll to the bottom of the post to see the full recipe card with ingredient measurements and instructions.
Method
First toss the tomatoes and garlic with the olive oil, salt, pepper, and aged balsamic just to coat. Scoop everything out onto a rimmed baking sheet with a rubber spatula and roast in a HOT oven till the tomatoes burst and being to turn golden or even char a little.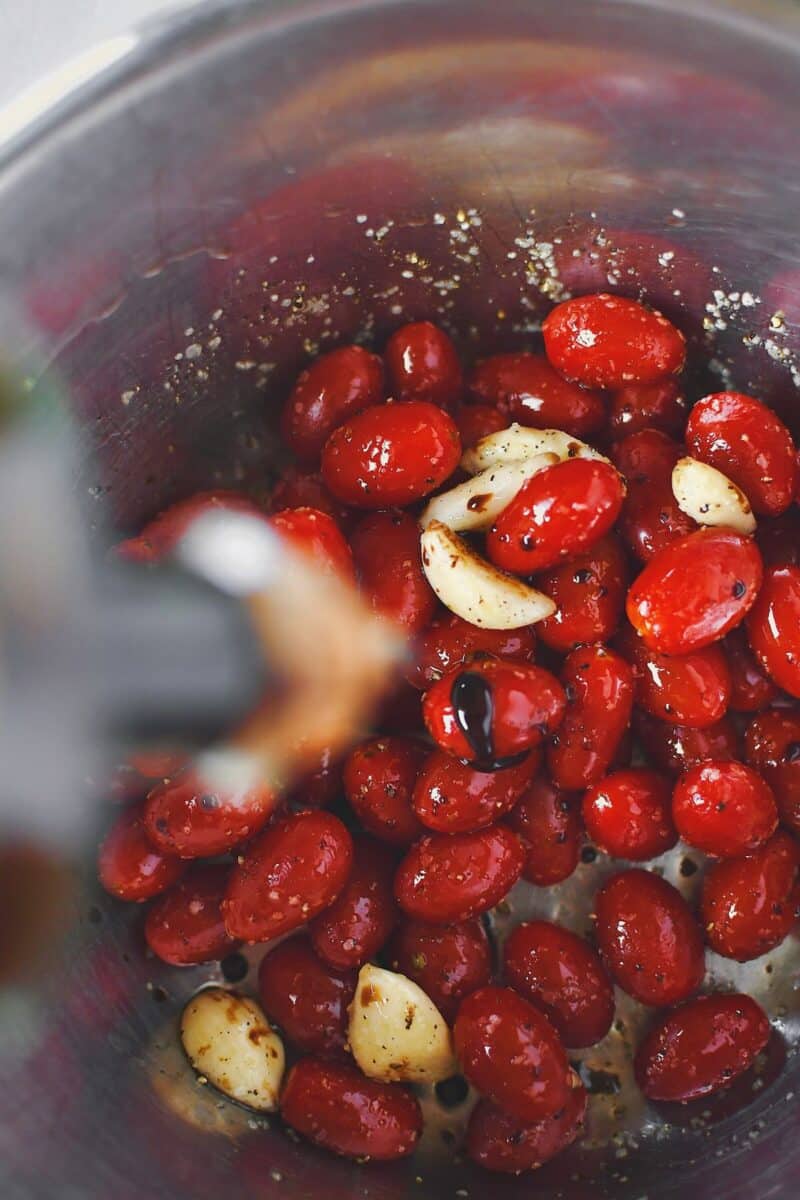 Scoop everything off the tray, all the oil and juices into a mini food processor, and blend just till smooth. Add in more olive oil and a splash or two of vinegar till it becomes smooth. You can add as much or as little as you like to thin the dressing. I like mine a little bit thick so I tend to only add a little. Taste it and add more salt and pepper as needed too.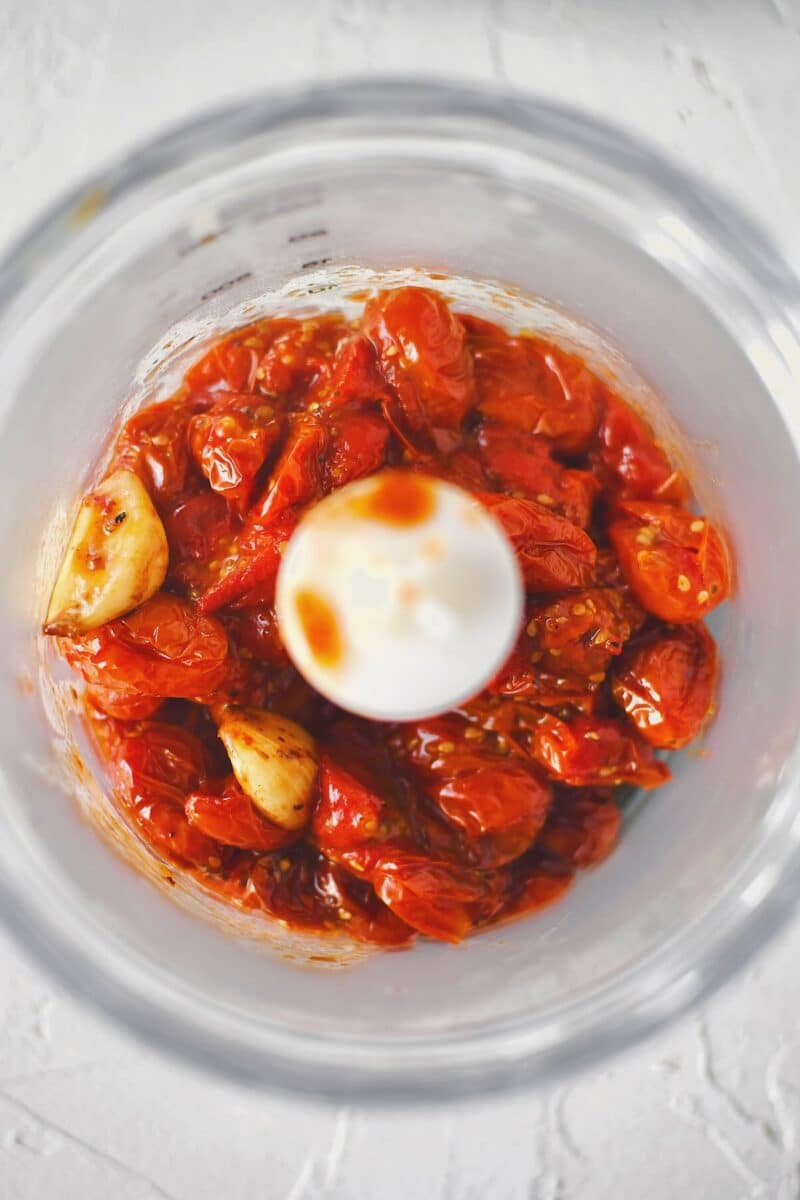 I enjoy this as a general salad dressing on a garden salad with some chicken, but as I said earlier, it is also great as a dip or spread too!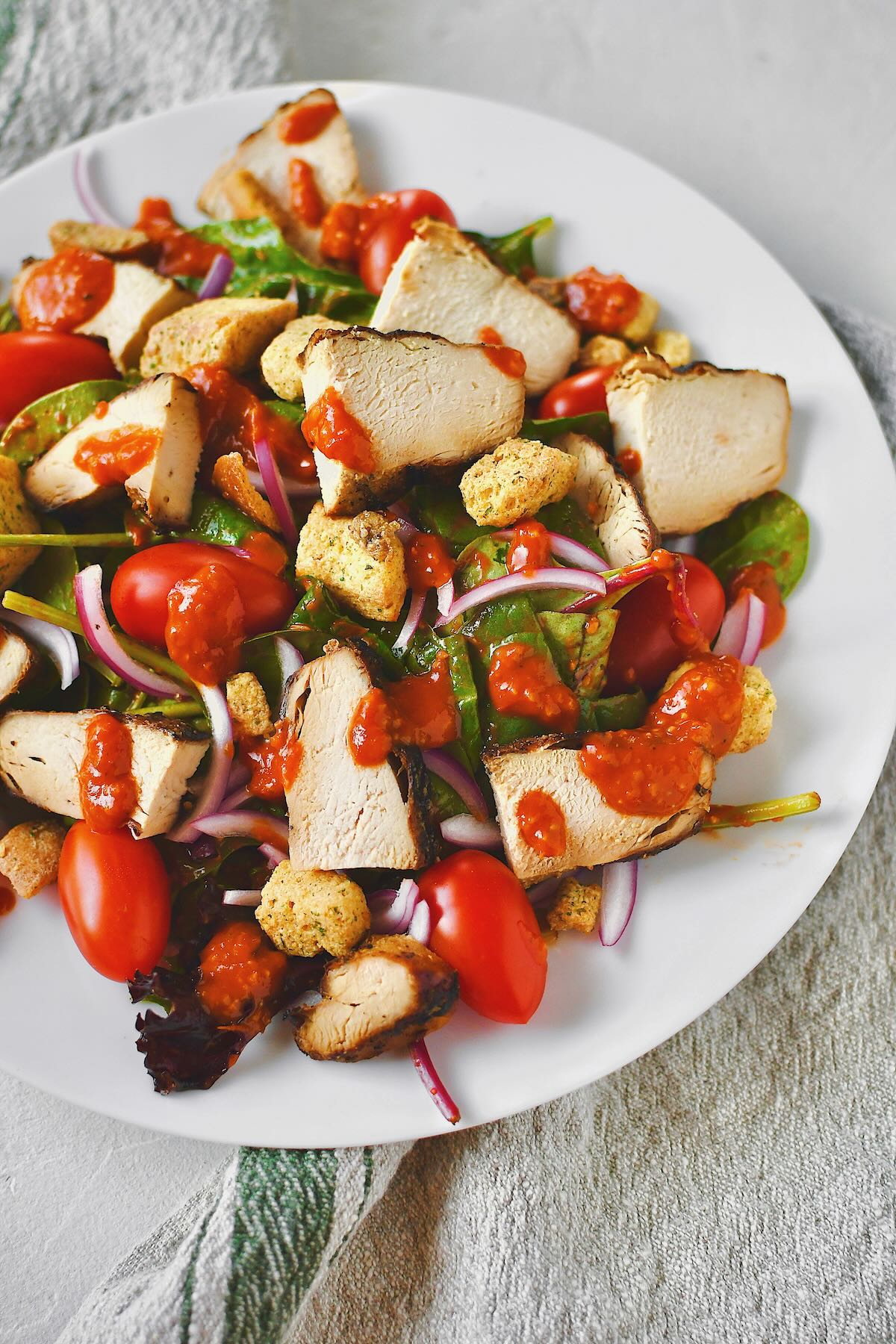 Notes & Tips
After you season the tomatoes, use a rubber spatula to scoop all the oil and seasoning out onto the pan, you want all of it. Do the same and scoop all the residual oil, and juices from the pan into the food processor or blender too after roasting.
If you like, you can broil the tomatoes after they roast to get a little more color or char on them. This gives a little smokey flavor to the finished dressing. Do this to your liking if the tomatoes didn't get much deep color on them during roasting.
The dressing will keep for 7-10 days in the fridge. Store it in a bottle or jar, sealed air-tight for best results.
Substitutions
I use grape tomatoes because that is what I usually have around that start to get a little shriveled after sitting on the counter for a while. Campari tomatoes are another favorite to use, any small tomatoes are great, so the flavors get concentrated when roasted.
A great swap for garlic is shallot or red onion. Any of those more richly flavored alliums will complement the tomatoes really well.
This is a great time to use your salad olive oil. A rich fruity olive oil is welcome and helps bring down the tartness of the vinegar and tomatoes. You want to taste it, so use the good stuff when blending.
Aged balsamic is an older version that has thickened over time. You could also use balsamic glaze, you want something that is already rich in flavor and that will stick to the tomatoes when they roast. A splash of regular balsamic could be used in a pinch.
You could swap the champagne vinegar for white balsamic or white wine. The champagne just has a light, fruity flavor that I love with the tomatoes.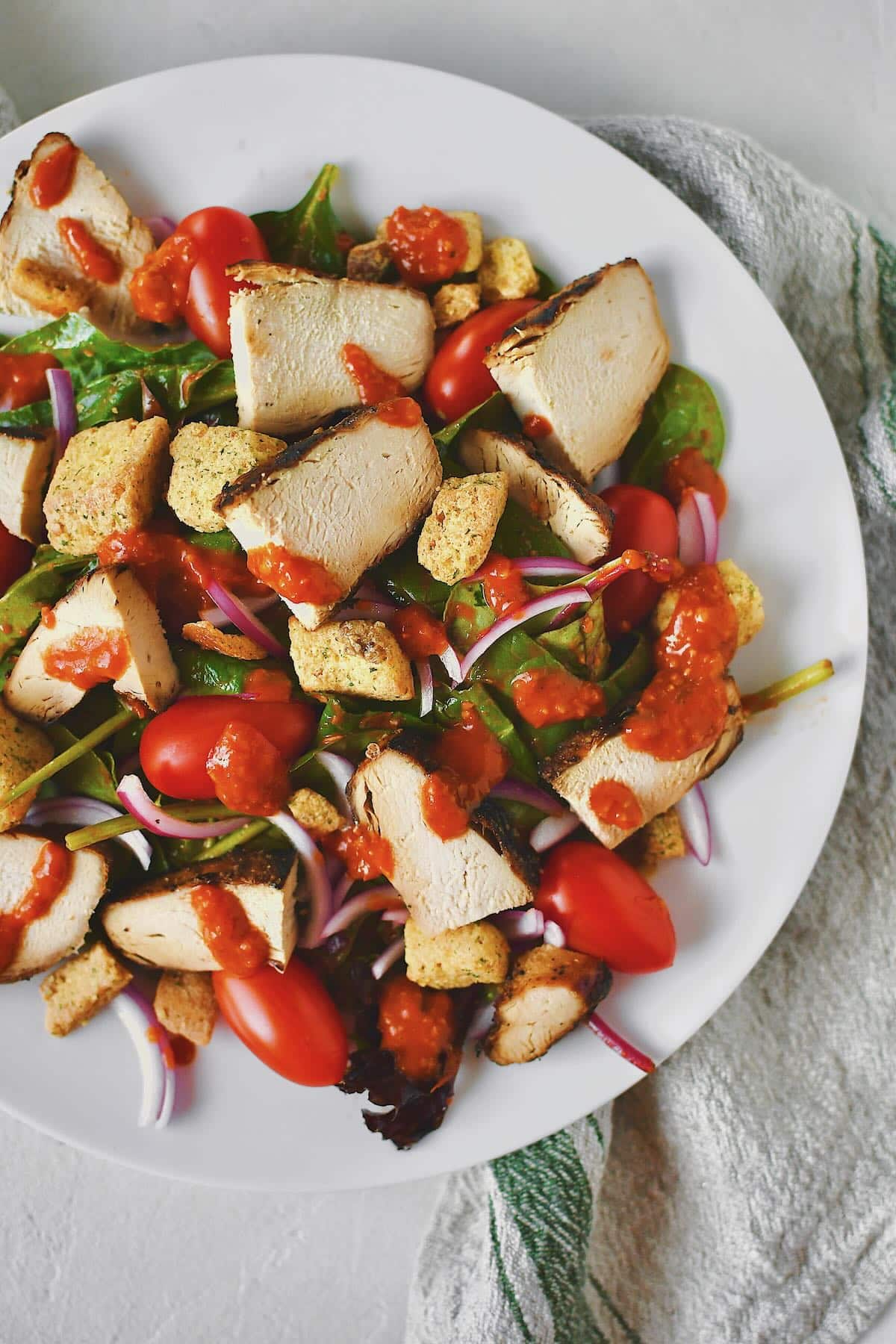 Did you make this recipe? Let me know by leaving a review or comment! And be sure to sign up for my newsletter, and follow along on Instagram, Pinterest, and Facebook!