This extremely easy Tomato Confit recipe is packed with so much delicious flavor you'll want to just hover over the pan to eat it. While there are countless ways you can use these tomatoes, as they are is sometimes just how I like them.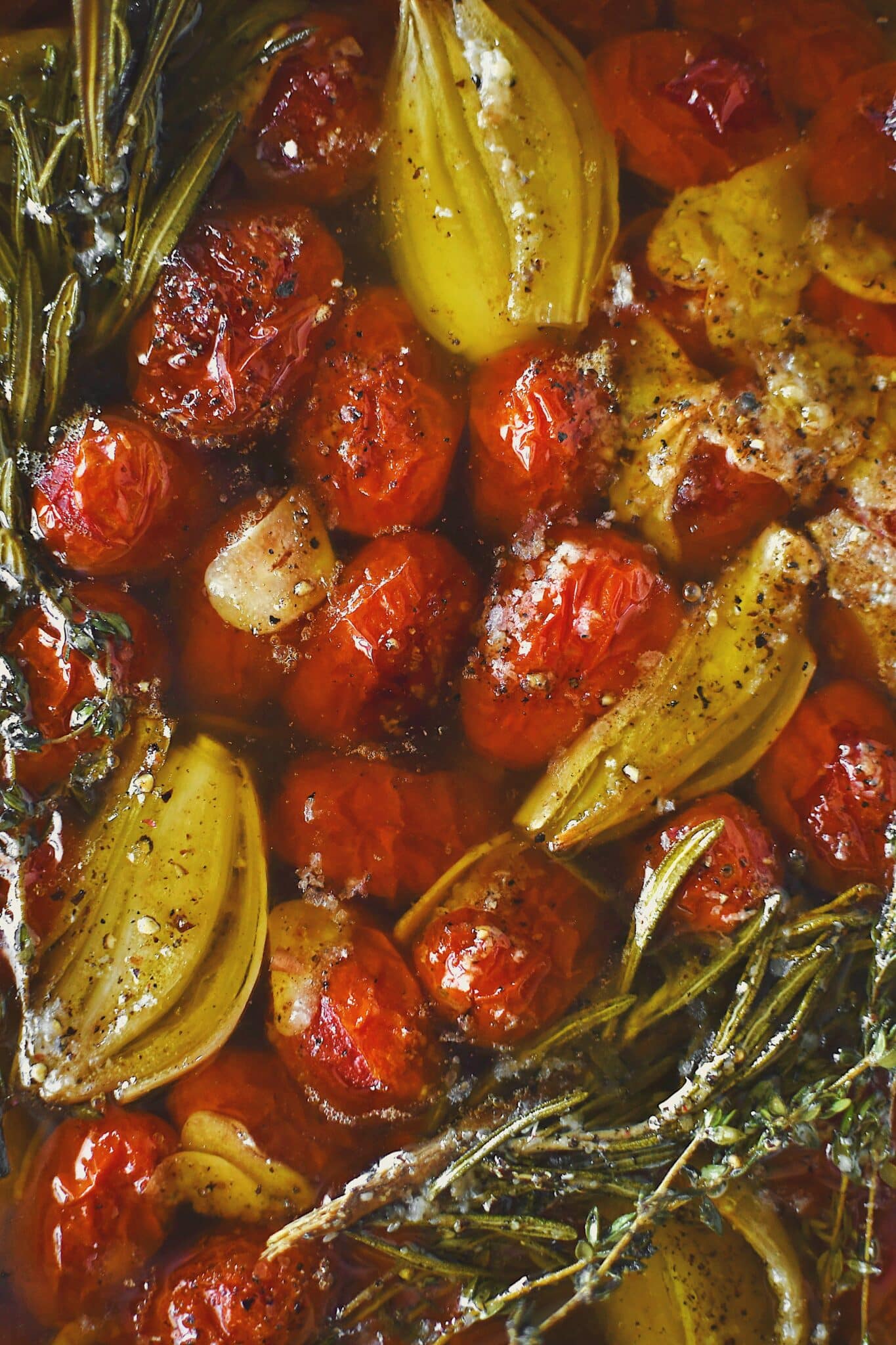 From serving on toast or crackers, or stirring into pasta or salads, there are so many ways to enjoy these delicious tomatoes. They are slow-roasted and burst in the olive oil which creates an intensely sweet flavor. It's a great appetizer you'll want to make with every perfectly ripe summer tomato you can get your hands on.
Jump to:
Ingredients
Confit refers to something cooked and preserved in fat. Something like duck confit is cooked in its own duck fat, but here, since tomatoes don't produce enough of their own fat olive oil is used. The oil will become infused with the sweet and tart flavor of the tomatoes, the herbaceousness of the thyme and rosemary, pungent aroma of the shallot and garlic.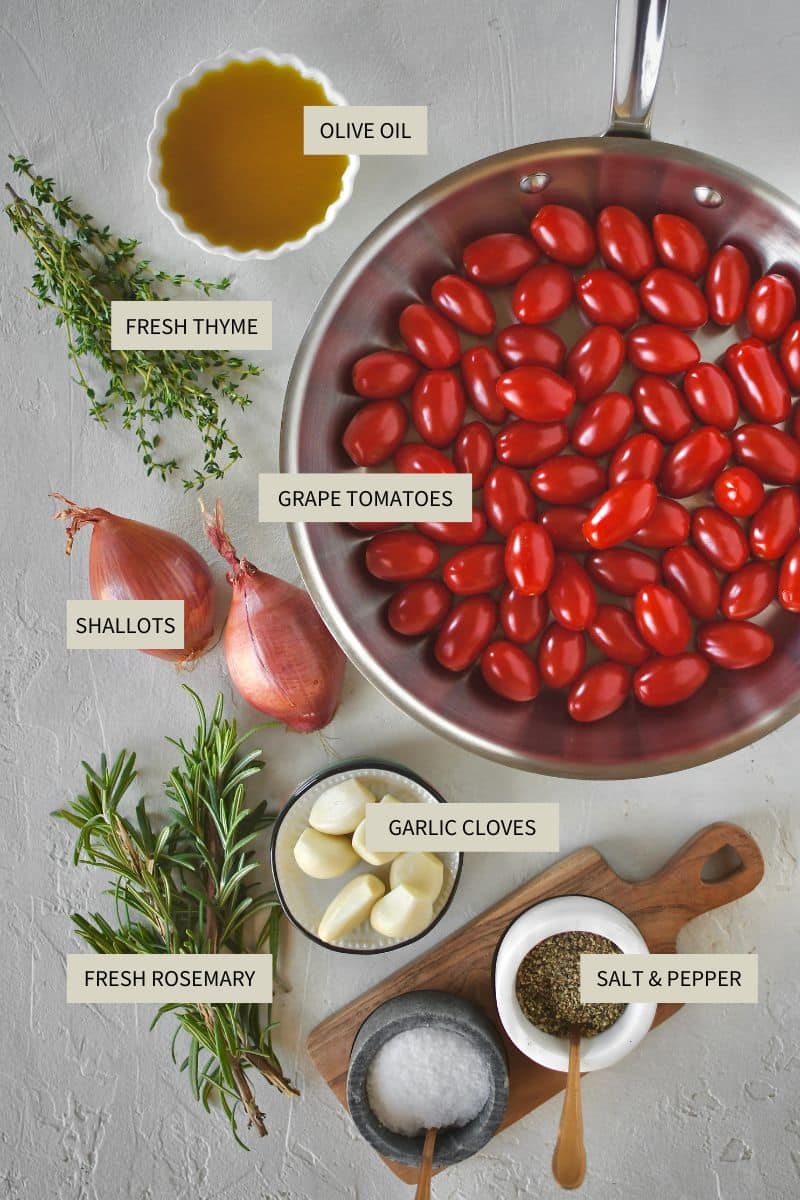 The outcome is something truly delicious that you will want to make over and over again. When tomatoes are at their peak I make this at least twice a week. From tossing them in some pasta, on salad, with avocado toast, there is no wrong place to add them.
Use the JUMP TO RECIPE button at the top of the post, or scroll to the bottom of the post to see the full recipe card with ingredient measurements and instructions.
Method
While you could use whole cloves of garlic here, I like to slice mine, so start with that, then add all the other ingredients to an oven-proof dish or pan and place it in the oven.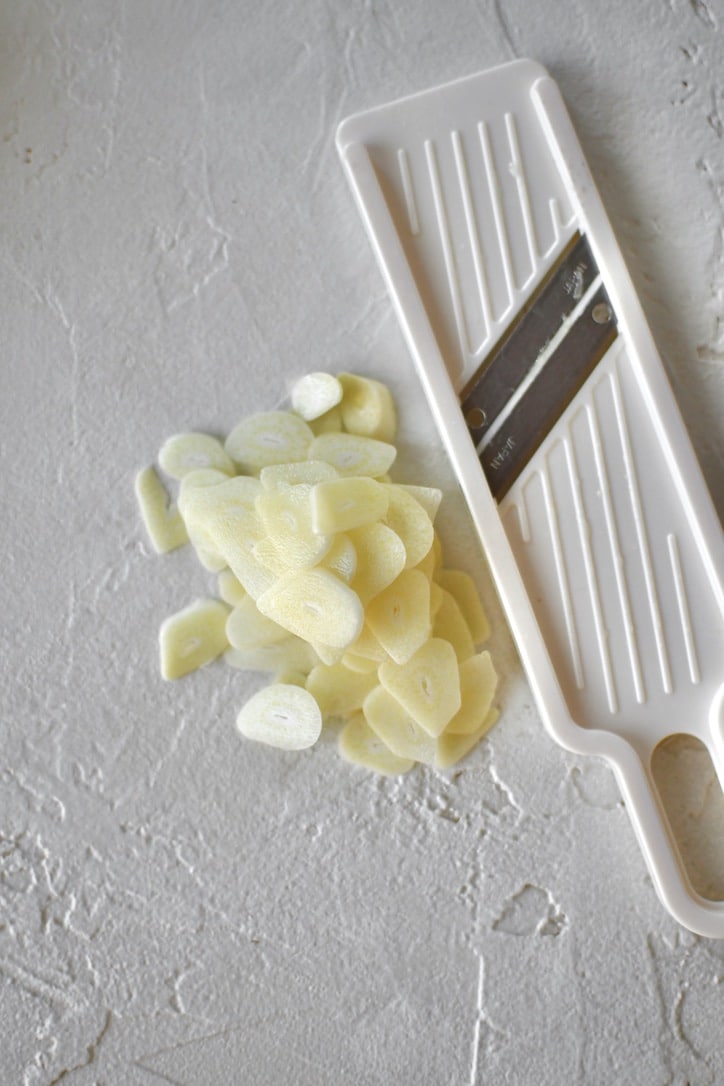 Let the mixture slow roast for about an hour, till the tomatoes have shriveled or popped. The garlic will also become soft and golden brown, and the shallots basically turn to butter.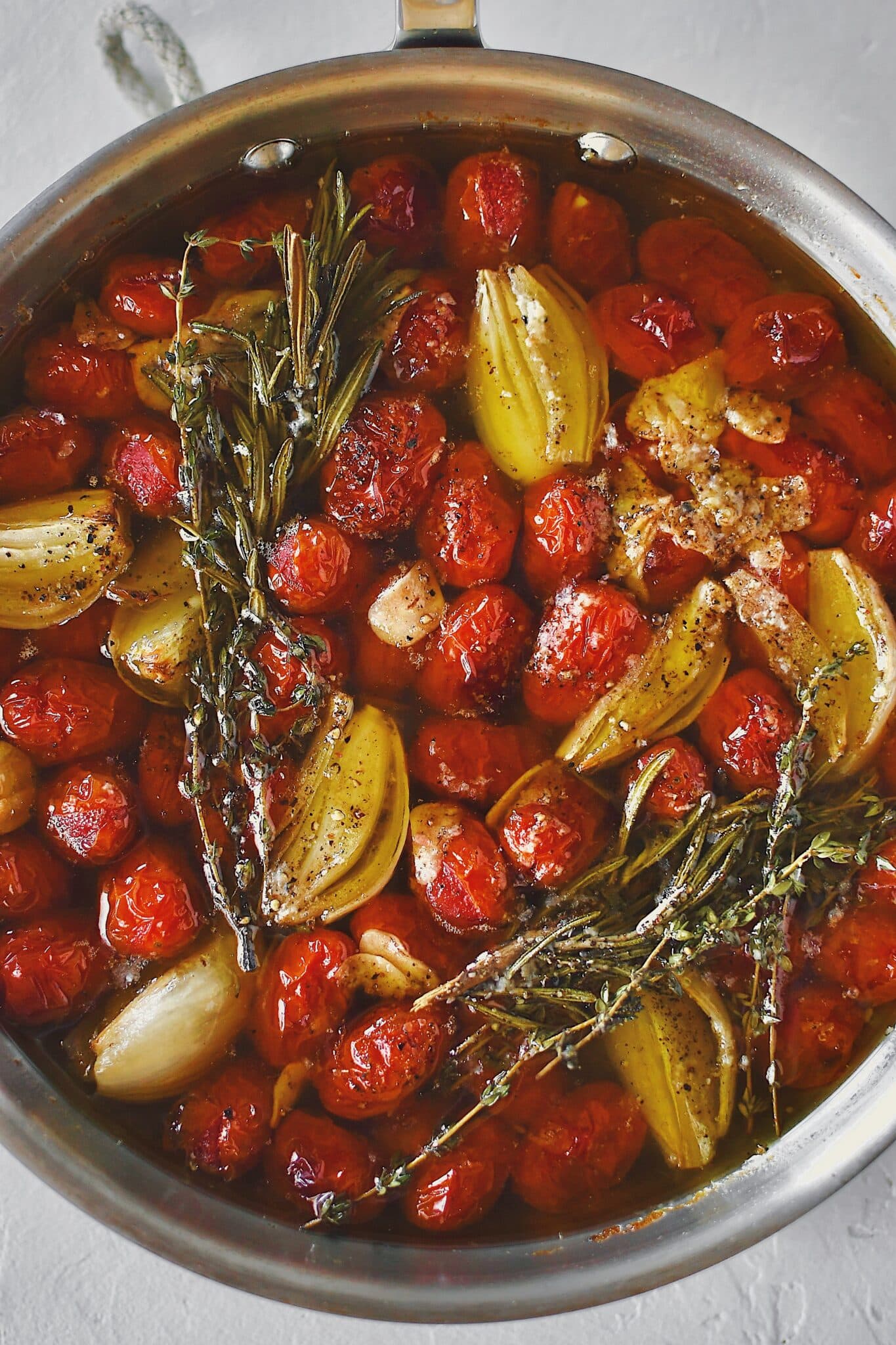 Let the cooked mixture cool to room temp, then place it in a clean jar, covering the tomatoes completely in the oil. You can also choose to leave the herbs in the jar, or remove them. Whatever your heart desires. Depending on what I plan to use it for I go either way.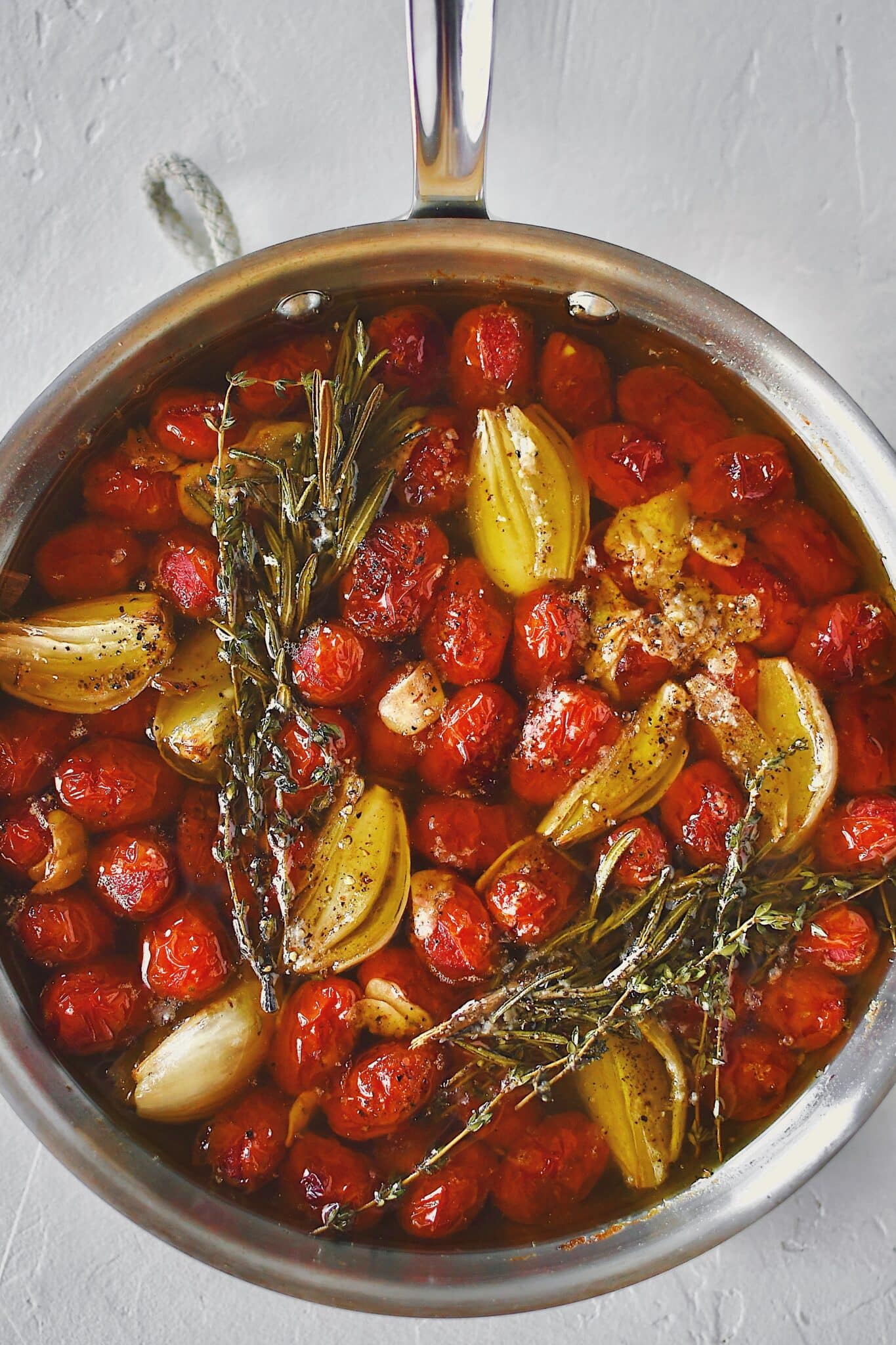 Notes & Tips
Use a dish or pan that allows your tomatoes to be in a single layer in it. This will allow them to cook evenly and in the time allotted. If you over-pack the pan, you may end up with tomatoes in the middle or under a layer that doesn't get cooked.
Keeping one layer is also important because you want to nearly submerge the tomatoes in olive oil. But in an effort to not have to use too much oil, shallow layers are preferred.
To store the final product, place it in a glass container or jar with an air-tight lid. It will keep in the fridge for 2-3 weeks, but mine never lasts that long.
You could also freeze it in ice cube trays, then place them in a zip-top bag for you to 3 months. Then use them to toss in pasta or sauces, it's best used in a cooked product as it won't taste as fresh after freezing.
Substitutions
I call for grape tomatoes in this recipe, however, you could also use cherry tomatoes. And while any tomato could be used, I would just recommend using something on the smaller side or cutting anything larger into pieces so they cook quicker and more evenly.
Garlic and Shallots offer such great complimentary flavor to this recipe. A good sub for the shallot would be a red onion.
Thyme and Rosemary are classic herbs to pair with tomatoes and garlic, but feel free to experiment with your favorite herb as a swap.
If you'd like to add a little kick, you can sprinkle over ¼ teaspoon of crushed red pepper flakes when you add the salt and pepper.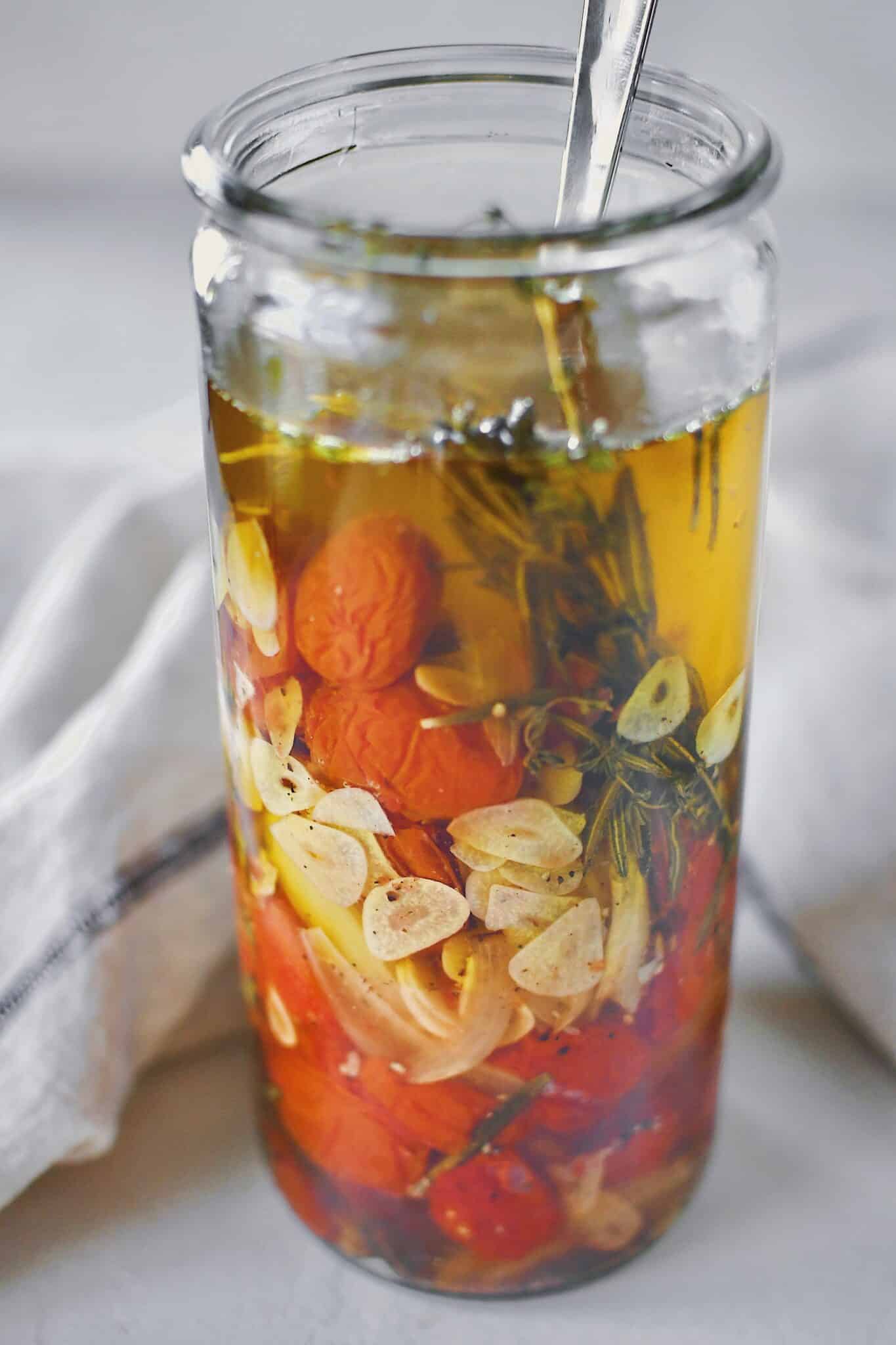 Did you make this recipe? Let me know by leaving a review or comment! And be sure to sign up for my newsletter, and follow along on Instagram, Pinterest, and Facebook!