While scrolling IG one day, someone mentioned having Scallion Cream Cheese, but the scallions had been roasted first. They mentioned that it was such a delicious game-changer and they only wanted to eat it made this way forever. So I had to give it a try, and I have to say, the little extra flavor it has is completely delightful!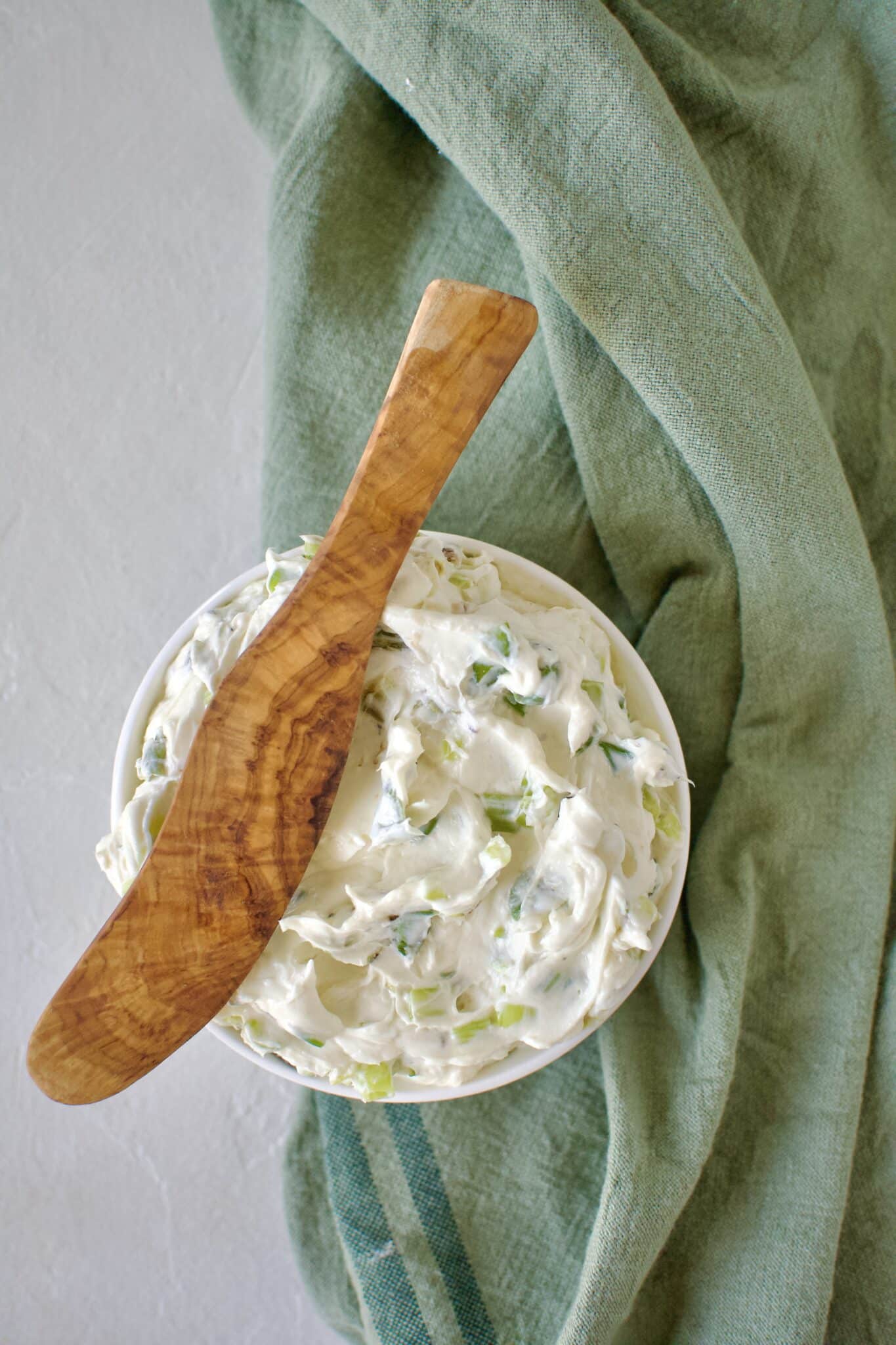 Roasting or grilling the scallions adds a little bitter, smokey flavor to the cream cheese, which makes it just a little different than plain scallion cream cheese, and it's so delicious!
Jump to:
Ingredients
This recipe has one of the shortest, if not THE shortest ingredient lists on my whole website. I will say, if you are gonna do it, but the really good, full fat cream cheese. It just tastes better, and I mean, if you're going to put it on a bagel, just make it the best!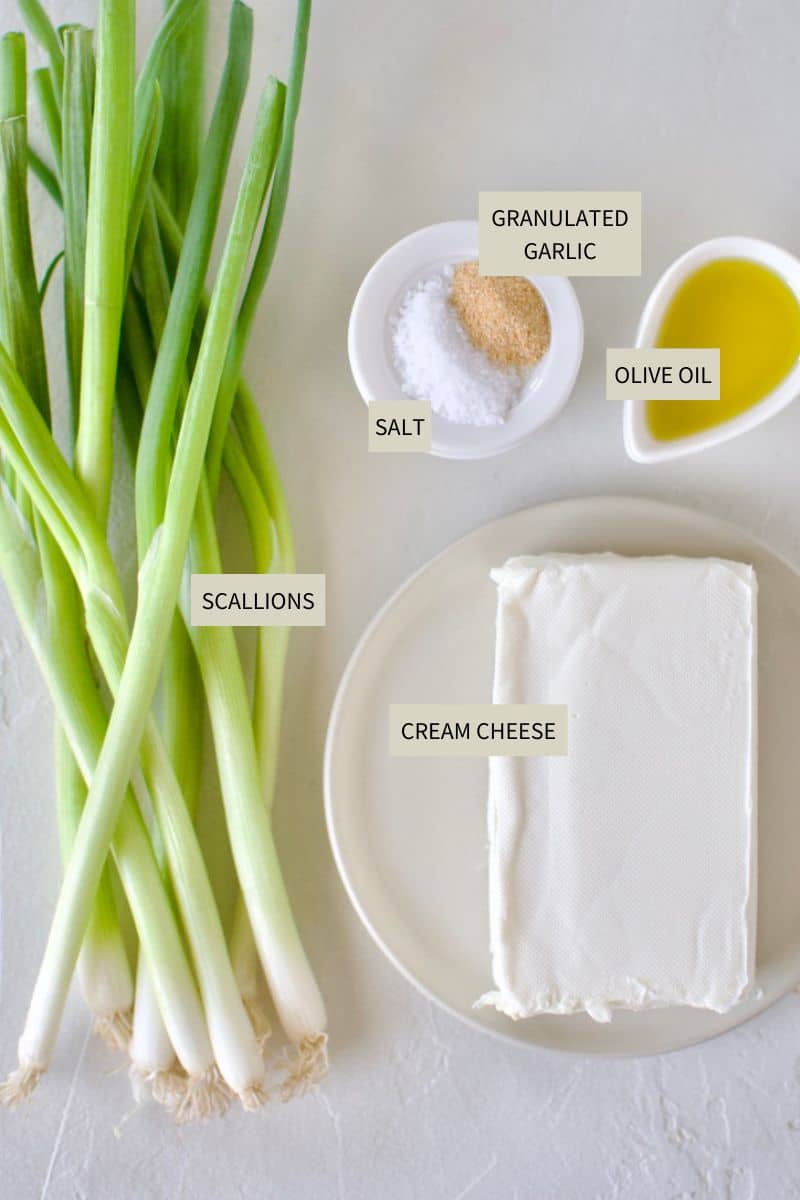 Also, if you can find roasted garlic powder, it is my preference to use. It is just what I keep on hand. It has a deeper flavor and just adds a little richness to anything you add it to.
Use the JUMP TO RECIPE button at the top of the post, or scroll to the bottom of the post to see the full recipe card with ingredient measurements and instructions.
Method
The first thing I do is to season the scallions with the olive oil, salt, and garlic powder. Toss them around to coat them in everything then either grill or roast the scallions under the broiler just until they get a little char on them.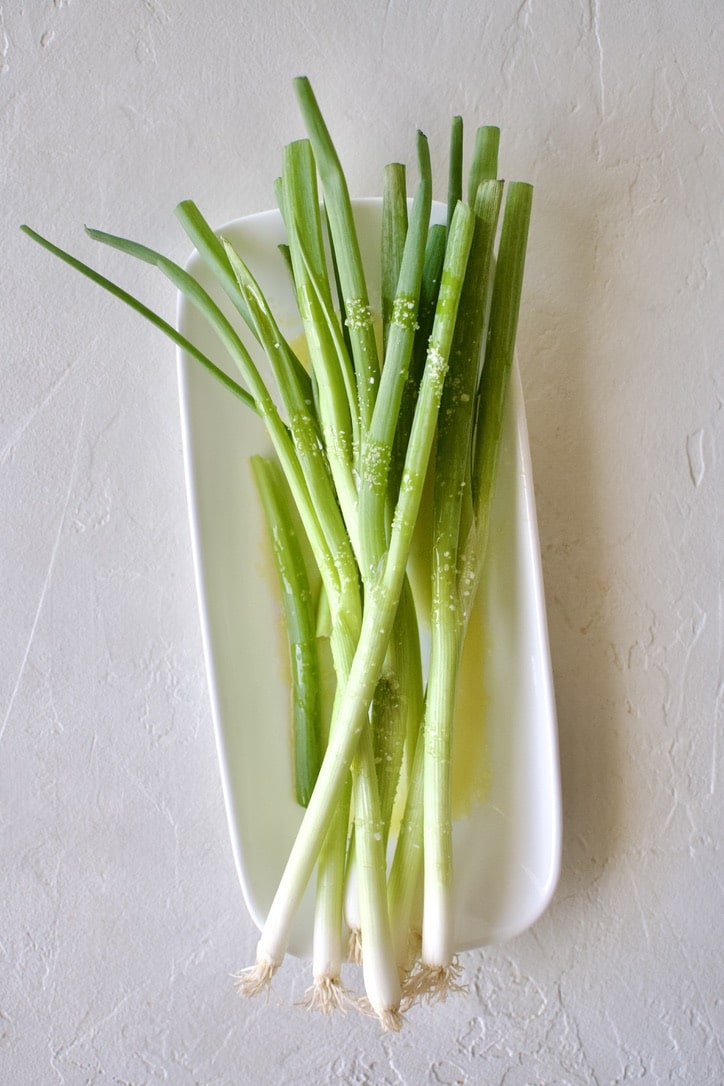 Then in the bowl of a stand mixer fitted with the whip attachment, whip the cream cheese until it is light and fluffy. When the scallions have been charred, let them cool, then chop them up and whip them into the cream cheese.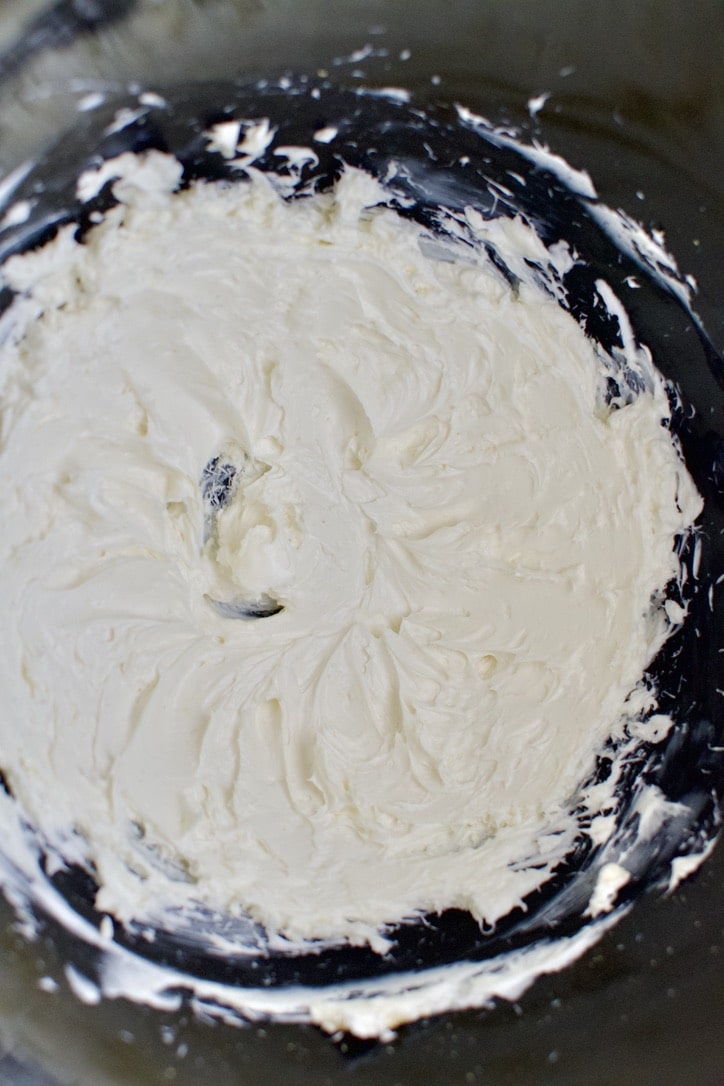 The cream cheese is then ready to use immediately or can be stored in the fridge for a couple of days in an airtight container.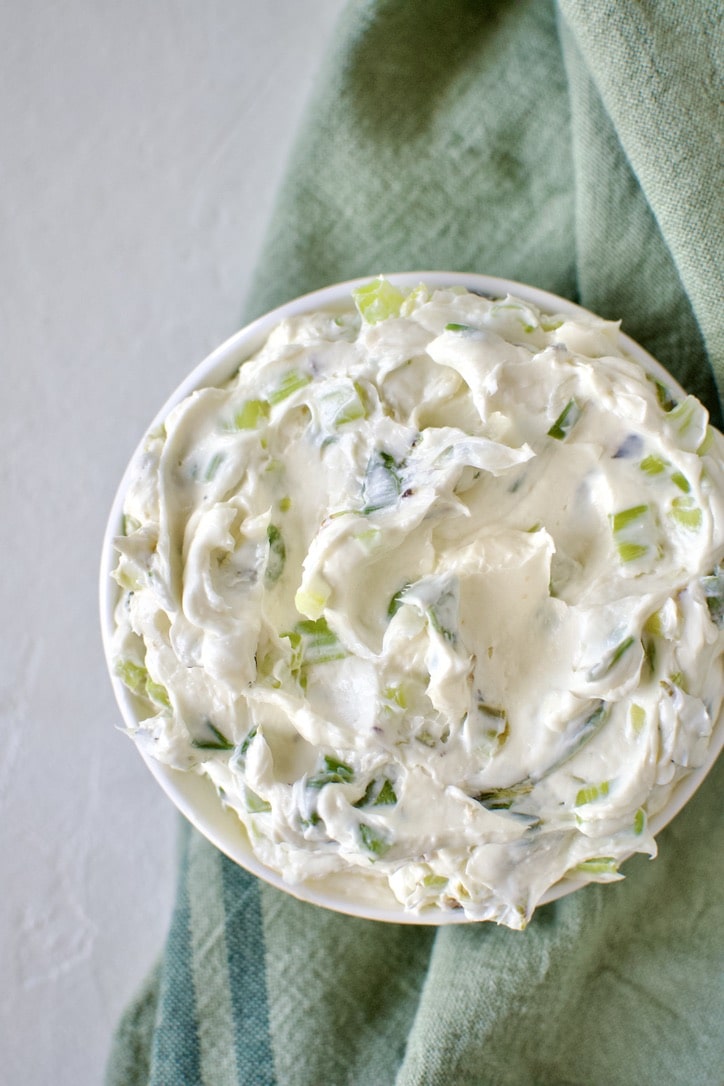 Notes & Tips
Of course, if you do not want to roast the scallions, you can just whip them into the cream cheese raw. Just be sure to add the seasonings directly in because you still want that flavor in the end product.
If I think far enough ahead, I like to make this recipe at least the night before I want to use it. It allows the flavors to meld really well.
Substitutions
If you would like to make this recipe dairy-free, there are some great vegan and plant-based cream cheese alternatives out there. And this recipe works really well with them too.
I like to use roasted garlic powder. It is just all I keep in my kitchen, if you can not find it or don't have it, you can use regular garlic powder or granulated garlic.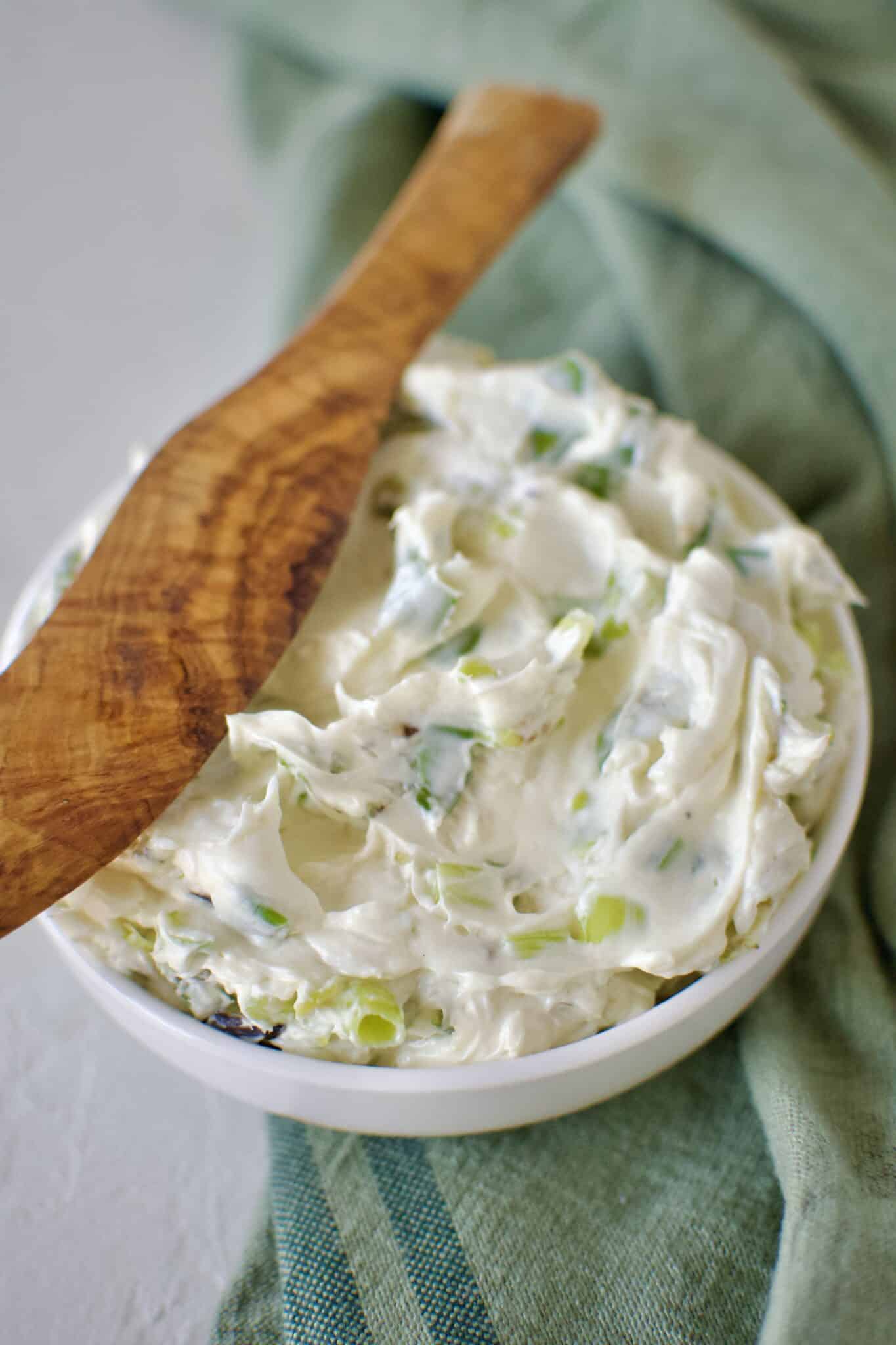 More great Dips, Sauces, & Spreads
Baba Ghanoush with Toasted Garlic
Did you make this recipe? Let me know by leaving a review or comment! And be sure to sign up for my newsletter, and follow along on Instagram, Pinterest, and Facebook!