I was doing some research on how to roast picture-perfect magazine quality turkey. Then the thought came to me, salt, fat, and sugar help the skin caramelize and brown, and that's what we are trying to achieve here. The soy and maple add color and help to caramelize the skin of the turkey as it cooks. Plus the leftovers, which I will get too soon, from this Soy-Maple Glazed Roast Turkey are to die for!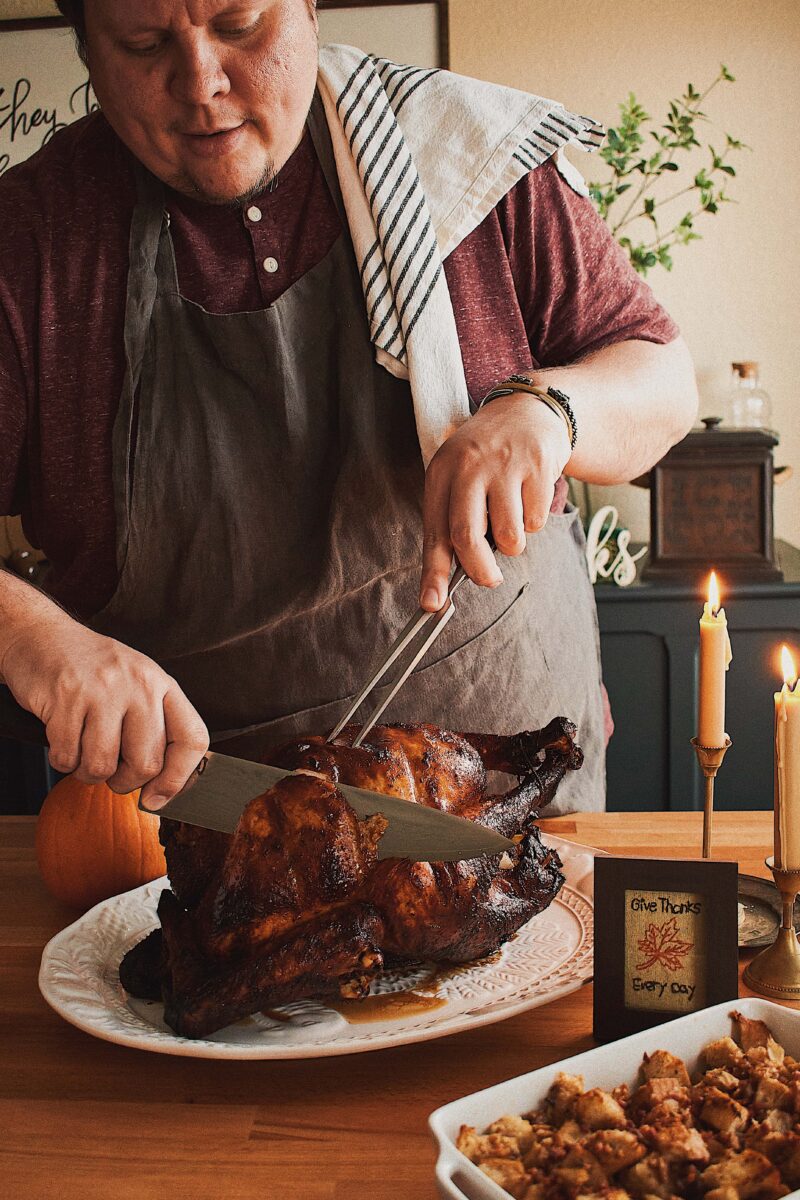 Now I love this recipe because it mixes form and function. It yields the most beautiful bird, aesthetically, as well as tastes AMAZING! My family and I were so in love with it, my dad who is the lover of fried turkeys even asked if we could have this instead for actual Thanksgiving Day this year!? WHAT!? Yes it is that good!
With this being only the 3rd or 4th turkey I had actually ever roasted, I will say that I am no expert. But I can tell you, I am not a fan of all the work brining takes, and I feel like this mixes the best of brining and just straight roasting all in one!
Tips for a Perfect Roast Turkey!
This bird starts with a short soak in the maple-soy sauce mixture, which in a way is a brine of sorts, just a quick one that will help lock in some moisture. The turkey is then roasted for the majority of its time breast side down which will also help keep it from drying out. All the fat and runoff will settle in the breast meat and keep it juicy.
The basting is also a very important process. I suggest doing it every 30 minutes for the best color, and then every 15 minutes in the last hour after you flip the bird over to really caramelize the top of the bird. The soy sauce will help with the color, crisping, and flavor. Any way you choose to season or roast turkey, basting is always key to the perfect color!
The aromatics that I stuff inside the bird and the heavy seasoning on the outside as well as under the breast skin also play a big role in providing lots of flavor, and make the leftovers out of this world! Onions, garlic, and ginger stuffed inside will add an intoxicating aroma to your house as it cooks, and makes for the most delicious ramen the day after.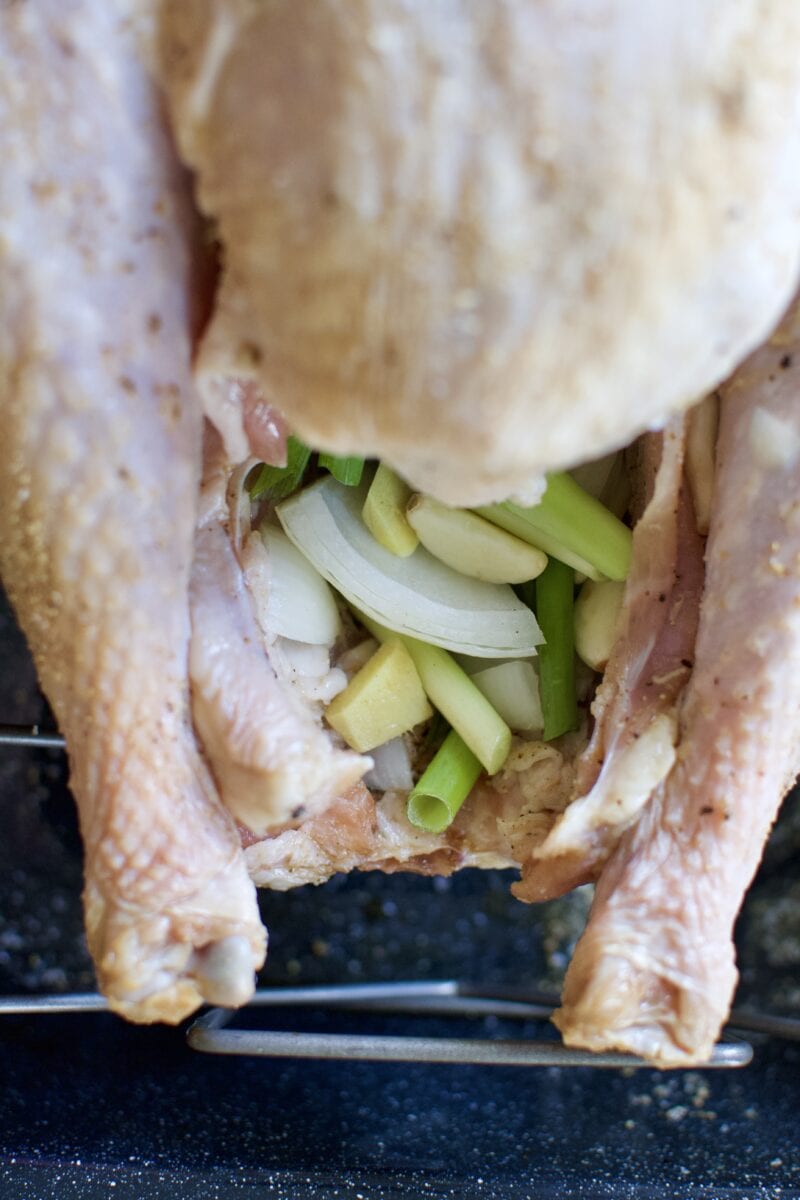 If you're not the biggest fan of the asian flair of this recipe, simpy season the turkey with salt and pepper and follow the same directions for roasting. In a small bowl blend together 2 Tablespoons of Kosher Salt, and 1 Tablespoon of freshly cracked black pepper and sprinkle it all over the bird and under the breast skin.
Time and Temperature of a Perfect Roast Turkey
Low and slow is the name of the game here. You don't want to cook with high heat so the bird doesn't dry out, because no one like a dry turkey, and that just takes time. 350˚F is the temp, and any bird you cook is going to take about 4 hours. The turkey is done when an instant-read thermometer inserted in the thigh registers 165°.
You then want to rest the turkey for AT LEAST 30 minutes before carving. This just might be THE MOST IMPORTANT part. You want to let all the juices redistribute and stay INSIDE the meat when you carve it. Again, it just takes some time, and you really want to just wait it out. If you have used my Perfect Grilled Chicken recipe, it is much like the built-in rest time there.
Also, if you don't have a roasting pan, you need one. It doesn't have to be expensive or fancy, although I'd love a copper one just because it is beautiful, just get you one that works and has a rack! I don't use mine nearly enough to have a fancy one, but it is essential when you need it.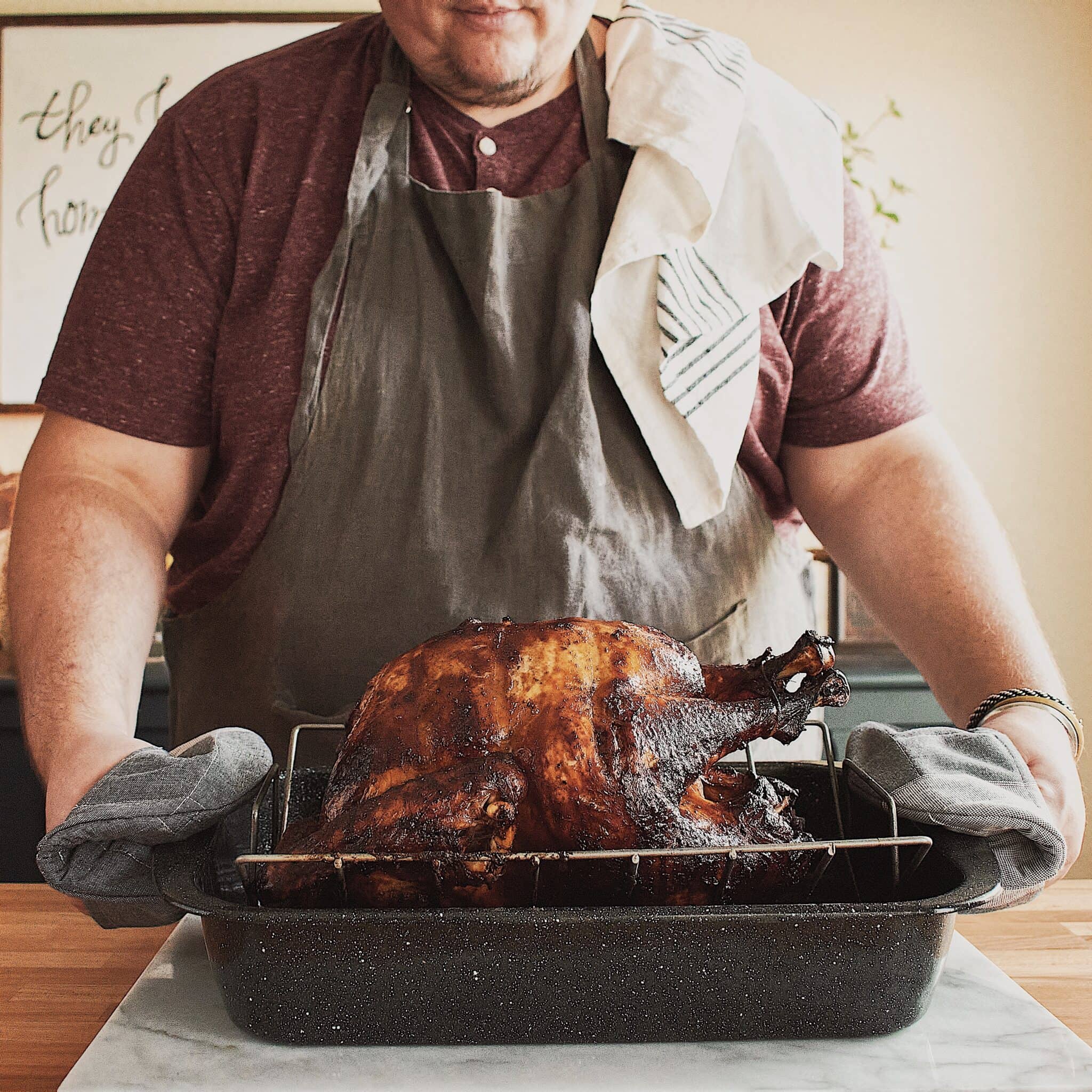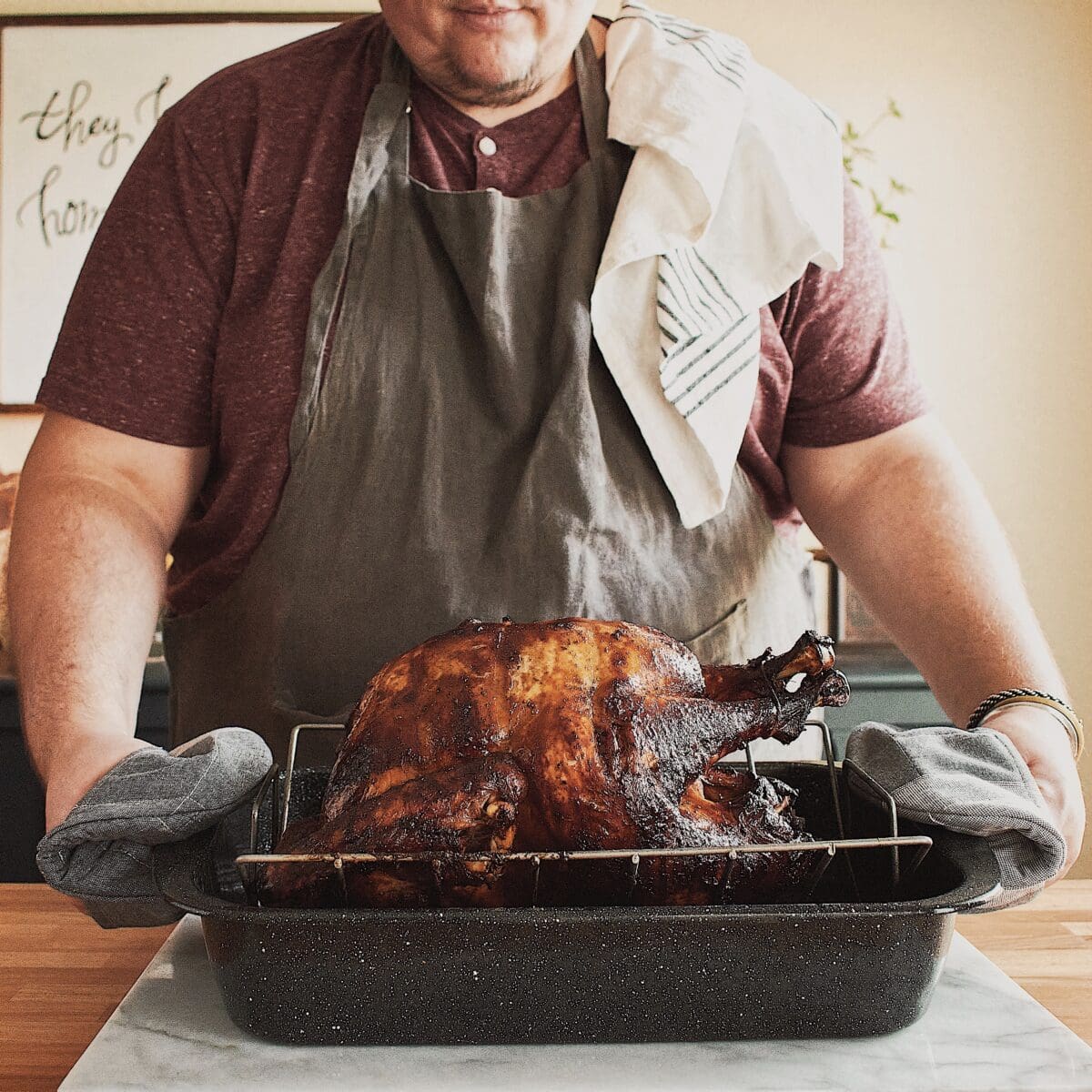 Be sure to leave a little meat on the bones, and reserve all the liquid left in the bottom of the roasting pan to make my Leftover Roast Turkey Ramen, you won't regret it! More on that coming soon.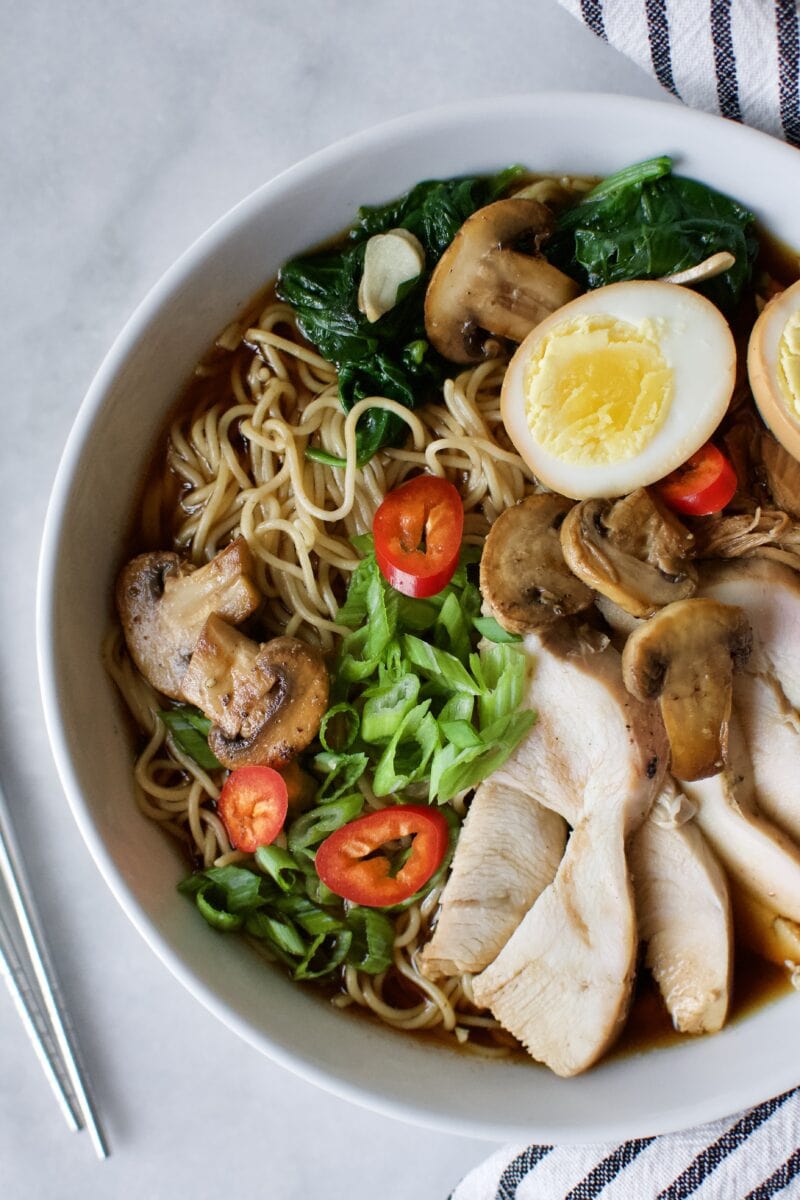 The-Best Pairings for a Perfect Holiday at Home
Need some side dish inspo that only makes enough for a few, take a look at my Cheesy Brioche and Chorizo Stuffing, my world-famous Whipped Potatoes, and for a little different take, my Green Bean Salad for a world tour Thanksgiving or Christmas dinner this year.
I also have a couple of other potato alternatives, my Smashed Potatoes that have a bacon, tomato, and corn salad on them are out of this world, or the Loaded Baked Potato Mashers for some straight-up comfort food!
Kick things up a notch with my Habanero Cream Corn, my dad LOVES spicy, and this is just right for the whole family. And if you just wanna live in that comfort food zone, try my Cheez-It Mac n' Cheese, the cheddar syrup is EVERYTHING!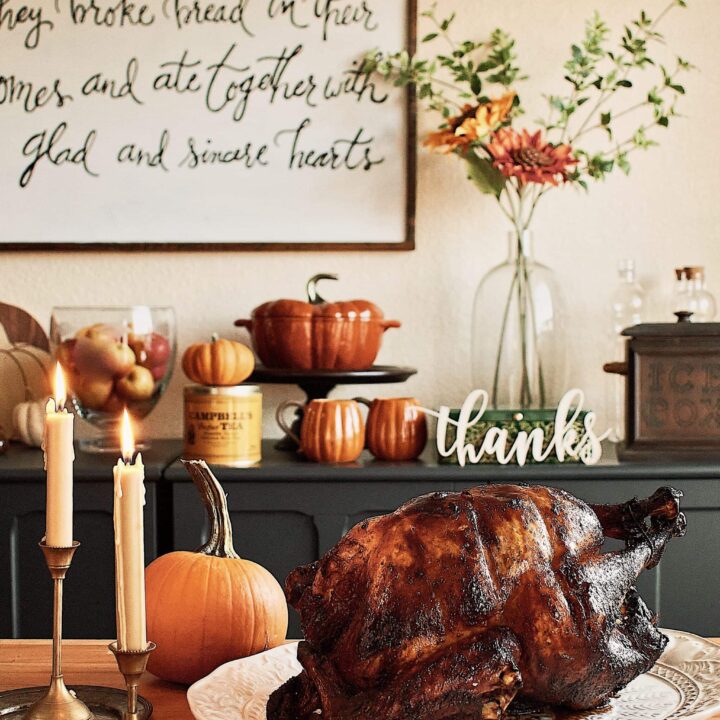 Soy-Maple Glazed Roast Turkey
I have only roasted a handful of turkeys in my life, my dad usually deep-fries them, but this one is so dang delicious and my dad even asked if we could have this instead of the fried turkey we have been having for the last 20 years this year. That's a pretty big compliment!
Ingredients
2 cups Tamari Soy Sauce
1 cup Maple Syrup
1 tablespoon Toasted Sesame Oil
4 inch Ginger, fresh, sliced, divided
1 tablespoon Kosher Salt
1 teaspoon Fresh Cracked Black Pepper
1 teaspoon White Pepper
1 teaspoon Ginger, ground
1, 12-14 lb Turkey
6-8 Garlic Cloves
1 bunch Scallions, trimmed and cut in half
1 med Yellow Onions, quartered
Instructions
In a large bowl combine the soy sauce, maple syrup, sesame oil, and half the sliced ginger and place the turkey, breast side down in the mixture for 45 minutes before cooking. Turn it over and let the other side rest in the marinade for 15 more minutes.
Preheat the oven to 350˚F.
In a small bowl, combine the salt, pepper, white pepper, and ground ginger together.
After the turkey soaks, place it in the roasting pan and season with the salt and spice mixture. Be sure to get under the skin especially on the breasts and use all the seasonings to heavily coat and season the bird. Stuff the inside of the bird with the garlic cloves, scallions, onions, and the remaining ginger slices.
Place the turkey, breast side down in the roasting pan and add 3 cups of water to the bottom of the roasting pan. Cover the turkey loosely with a piece of tin foil and place in the preheated oven. Do not open the oven for the first hour, then begin basting using the marinade every 30 minutes for the next 2 hours. I used about 6-8 pipes of a turkey baster, which used all the marinade by the end of roasting. After 3 hours, turn the turkey over, breast side up and baste every 15 minutes for the last hour and remove the tin foil, but reserve it for resting the bird after it comes out of the oven.
The turkey is done when an instant-read thermometer inserted in the thigh registers 165°.
Remove the bird from the oven, and tent with the tin foil. Let it rest for 30 minutes before carving. Slice and enjoy.
Notes
If you want to use the leftover bones to make my Leftover Roast Turkey Ramen, leave a little meat on the bones for boiling and picking off later. Also, reserve all of the liquid left in the bottom of the roasting pan. Place it in a measuring cup and chill it in the fridge. When cold, remove all the fat that settles at the top of the cup and use the liquid to make the ramen broth. More on that HERE!
Nutrition Information:
Serving Size:

1 grams
Amount Per Serving:
Unsaturated Fat:

0g
If you make this recipe, please let me know by leaving a review at the bottom of this page!
And make sure to sign up for my newsletter and follow along on Instagram, Pinterest, and Facebook for more KendellKreations!
MY LATEST RECIPES!
Get my NEW e-Cookbook here!! ⬇️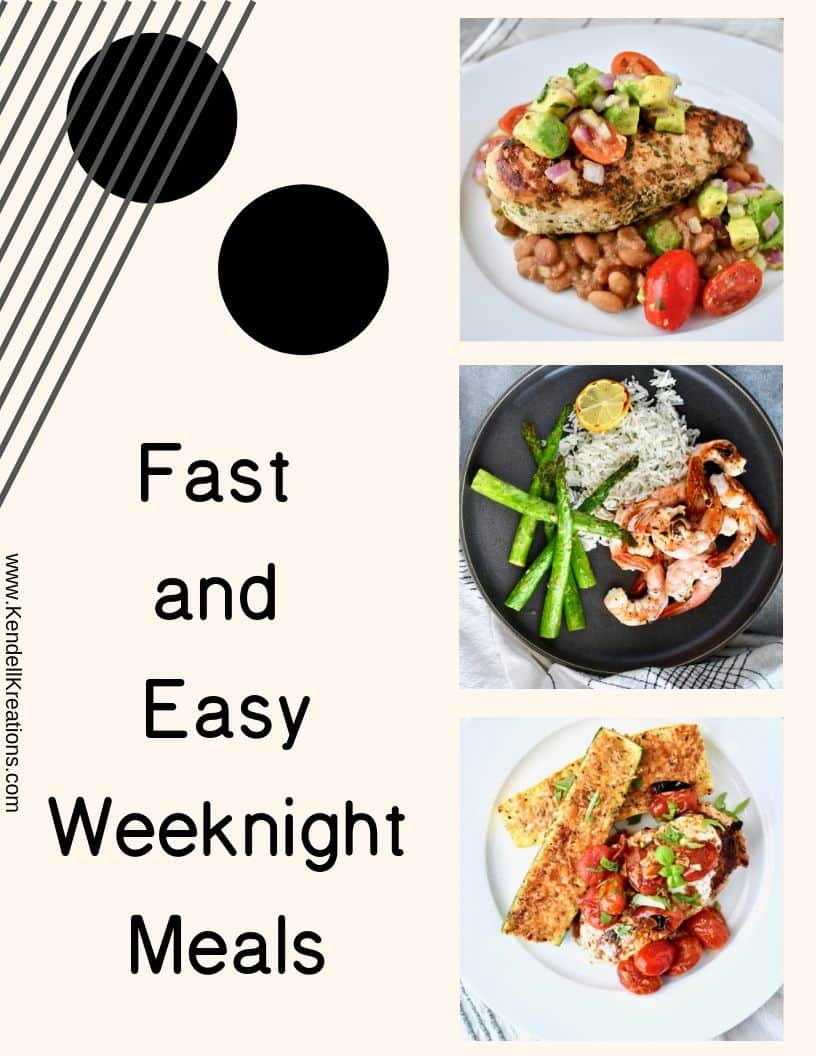 MY FAVORITE KITCHEN TOOLS!
Here are a few links to some of my favorite kitchen tools! You get a car, YOu get a car, YOU ALL GET A CAR…in my best Oprah voice
These Rösle Silicone Tongs are a little pricey but they will last you the rest of your life and are the softest in your hand. This is important for someone like m that cooks so much. It reduces strain, I have 4 sets in my kitchen!
These are my FAVE Nordic Ware Sheet Pans, every kitchen should have at least 2 sets of these! I think I have at least 4 of each of these.
This is my favorite pressure cooker, the Fagor is the same concept as the "Instant Pot" but easier to use in my opinion, if you don't have one you NEED one, it will be your best friend in the kitchen!
A sharp knife is the most important tool in the kitchen, these Japanese steel "Shun" knives are my favorite! And this is a great starter set to build on. Once you try them you will be in love so use this as a foundation you can build on for years to come.
This Scanpan 11″ skillet is just the right size for almost anything you will need to cook and my best friend and a real workhorse in my kitchen, it's also a great deal at $99. Scanpan is the best in the world for healthy cooking. It is coated with a proprietary ceramic-titanium coating that is durable while allowing you to use fewer fats and oils when cooking. It is a coating only they use. I could talk all day about my love for these pans, message me if you want more info. Here are some other sizes that are available if you are looking to outfit your kitchen with some new goodies. 8″ & 10″ Skillet set or 8″ Skillet, I still need this one for my kitchen Also, I don't really know how to cook small so the 12.5″ is my other fave!
This giant vat of olive oil is my favorite, I decant it into a smaller bottle for my counter. Or put this spigot on top of a wine bottle!
My favorite baking dish that is so easy to clean even burnt on cheese slides right off!
This Tovolo jar scraper has to be my single favorite kitchen tool, it is definitely the most used tool in my kitchen. If you are NOT a gadget person, this is the only necessity I say is a MUST beyond the wooden spoon.
A great wood spoon is essential, this Olive Wood one is my favorite, I have more than I can count. But can you really ever have too many?
A food scale can be a very important tool in your kitchen, this one is the one I use every day!
If you love Joanna Gaines as much as I do then the 'Magnolia Table Cookbook' is a must in your kitchen, get a copy HERE!