I was doing some research on how to roast picture-perfect magazine quality turkey. Then the thought came to me, salt, fat, and sugar help the skin caramelize and brown, and that's what we are trying to achieve here. The soy and maple add color and help to caramelize the skin of the turkey as it cooks. Plus the leftovers, which I will get too soon, from this Soy-Maple Glazed Roast Turkey are to die for!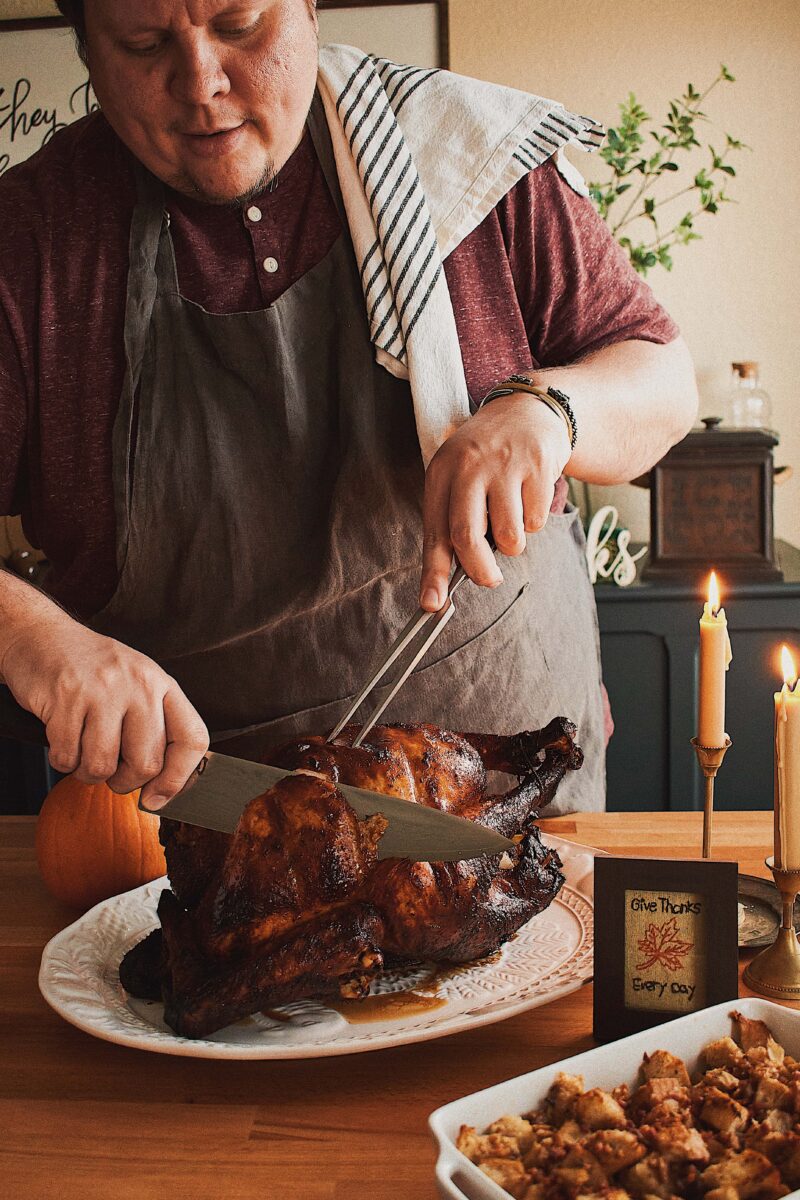 Now I love this recipe because it mixes form and function. It yields the most beautiful bird, aesthetically, as well as tastes AMAZING! My family and I were so in love with it, my dad who is the lover of fried turkeys even asked if we could have this instead for actual Thanksgiving Day this year!? WHAT!? Yes it is that good!
With this being only the 3rd or 4th turkey I had actually ever roasted, I will say that I am no expert. But I can tell you, I am not a fan of all the work brining takes, and I feel like this mixes the best of brining and just straight roasting all in one!
Tips for a Perfect Roast Turkey!
This bird starts with a short soak in the maple-soy sauce mixture, which in a way is a brine of sorts, just a quick one that will help lock in some moisture. The turkey is then roasted for the majority of its time breast side down which will also help keep it from drying out. All the fat and runoff will settle in the breast meat and keep it juicy.
The basting is also a very important process. I suggest doing it every 30 minutes for the best color, and then every 15 minutes in the last hour after you flip the bird over to really caramelize the top of the bird. The soy sauce will help with the color, crisping, and flavor. Any way you choose to season or roast turkey, basting is always key to the perfect color!
The aromatics that I stuff inside the bird and the heavy seasoning on the outside as well as under the breast skin also play a big role in providing lots of flavor, and make the leftovers out of this world! Onions, garlic, and ginger stuffed inside will add an intoxicating aroma to your house as it cooks, and makes for the most delicious ramen the day after.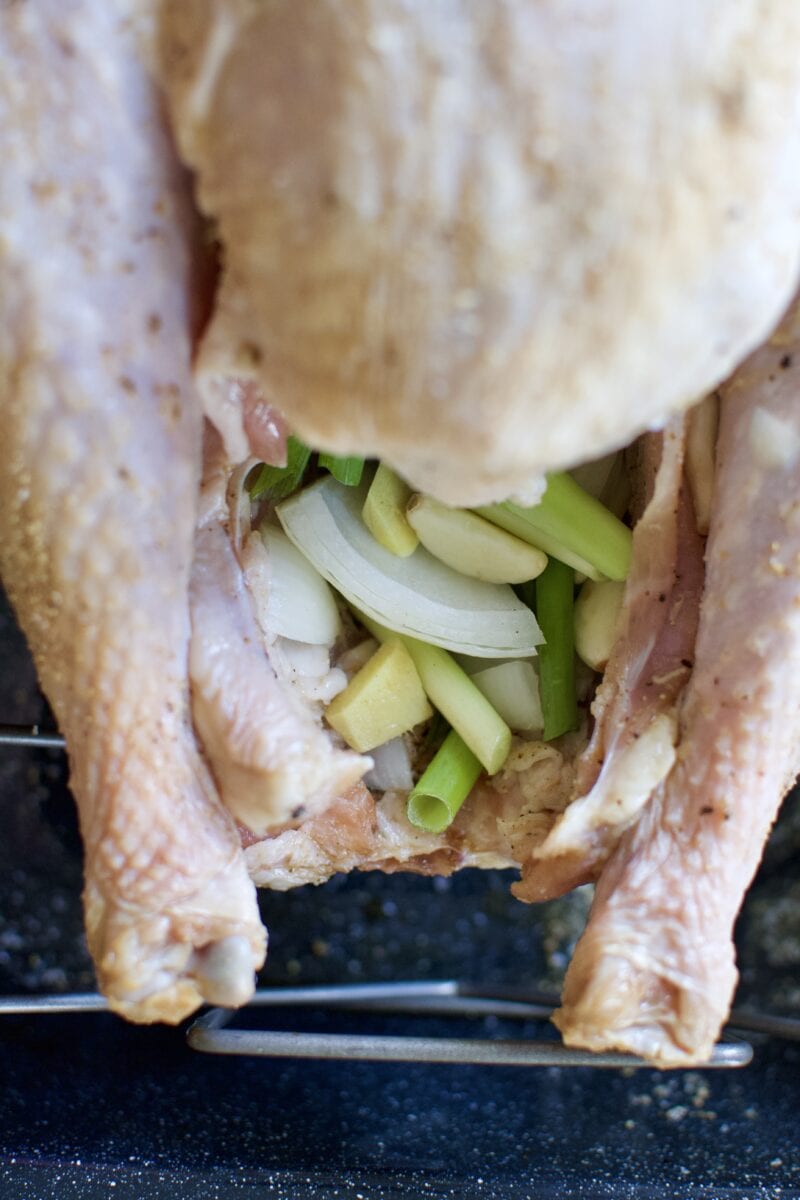 If you're not the biggest fan of the asian flair of this recipe, simpy season the turkey with salt and pepper and follow the same directions for roasting. In a small bowl blend together 2 Tablespoons of Kosher Salt, and 1 Tablespoon of freshly cracked black pepper and sprinkle it all over the bird and under the breast skin.
Time and Temperature of a Perfect Roast Turkey
Low and slow is the name of the game here. You don't want to cook with high heat so the bird doesn't dry out, because no one like a dry turkey, and that just takes time. 350˚F is the temp, and any bird you cook is going to take about 4 hours. The turkey is done when an instant-read thermometer inserted in the thigh registers 165°.
You then want to rest the turkey for AT LEAST 30 minutes before carving. This just might be THE MOST IMPORTANT part. You want to let all the juices redistribute and stay INSIDE the meat when you carve it. Again, it just takes some time, and you really want to just wait it out. If you have used my Perfect Grilled Chicken recipe, it is much like the built-in rest time there.
Also, if you don't have a roasting pan, you need one. It doesn't have to be expensive or fancy, although I'd love a copper one just because it is beautiful, just get you one that works and has a rack! I don't use mine nearly enough to have a fancy one, but it is essential when you need it.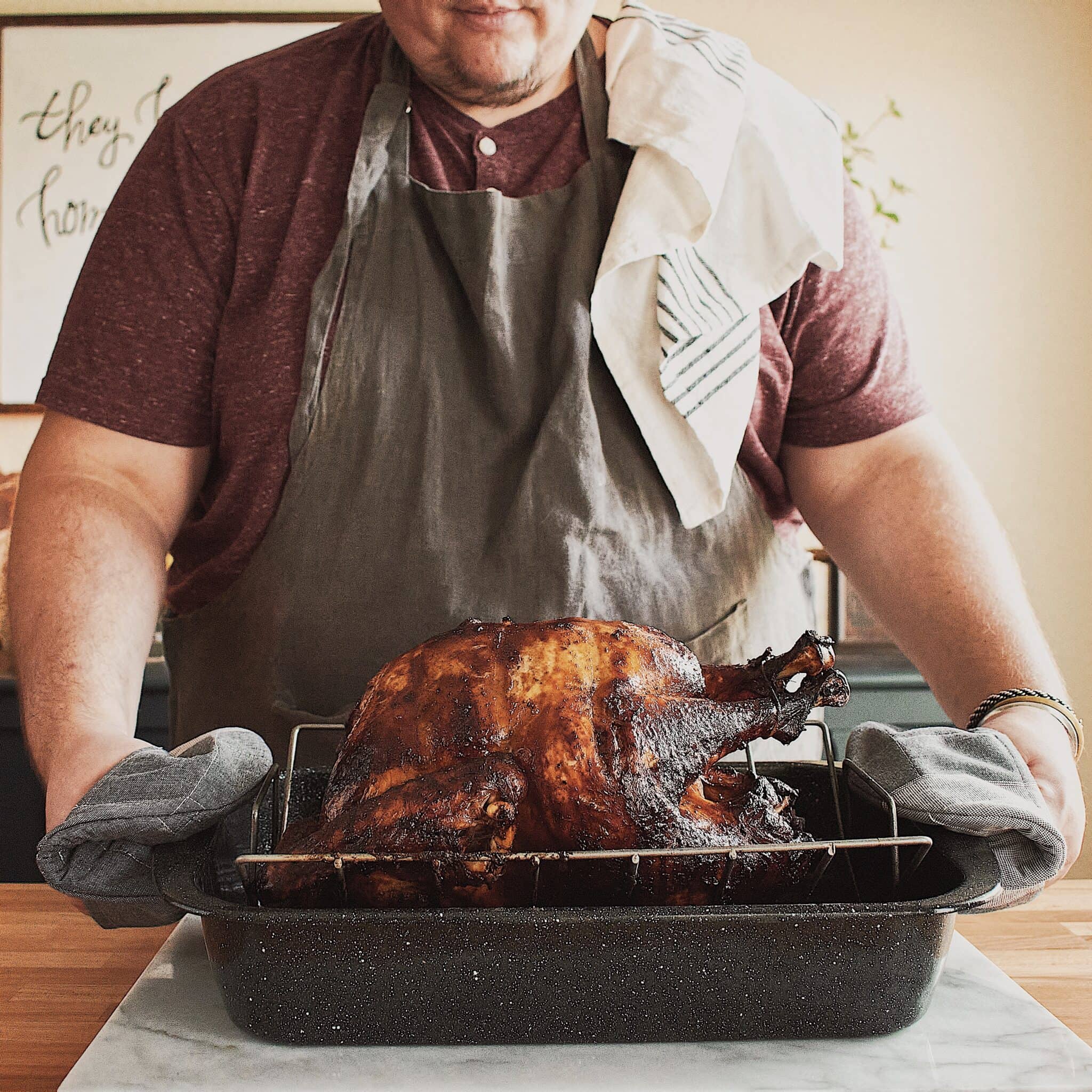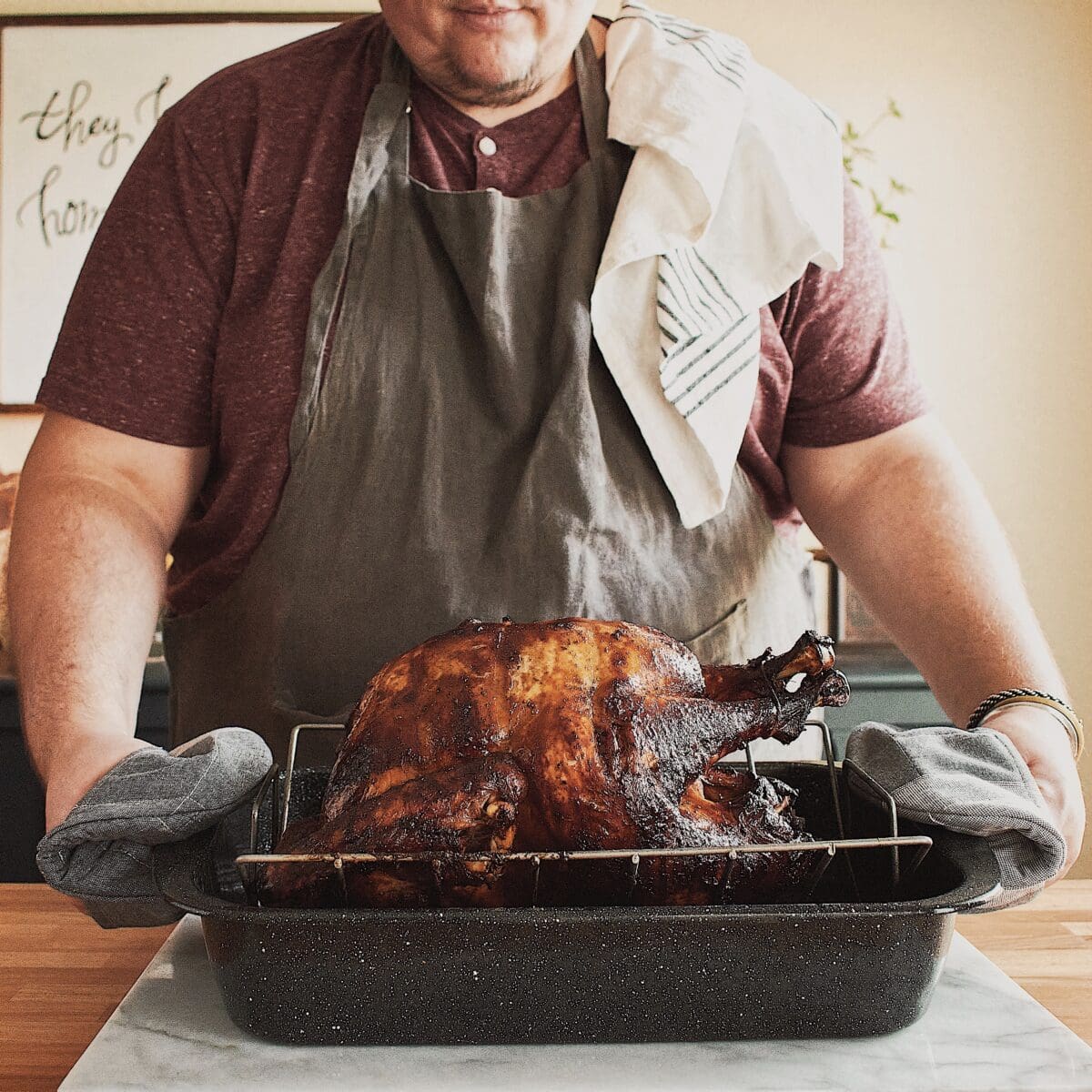 Be sure to leave a little meat on the bones, and reserve all the liquid left in the bottom of the roasting pan to make my Leftover Roast Turkey Ramen, you won't regret it! More on that coming soon.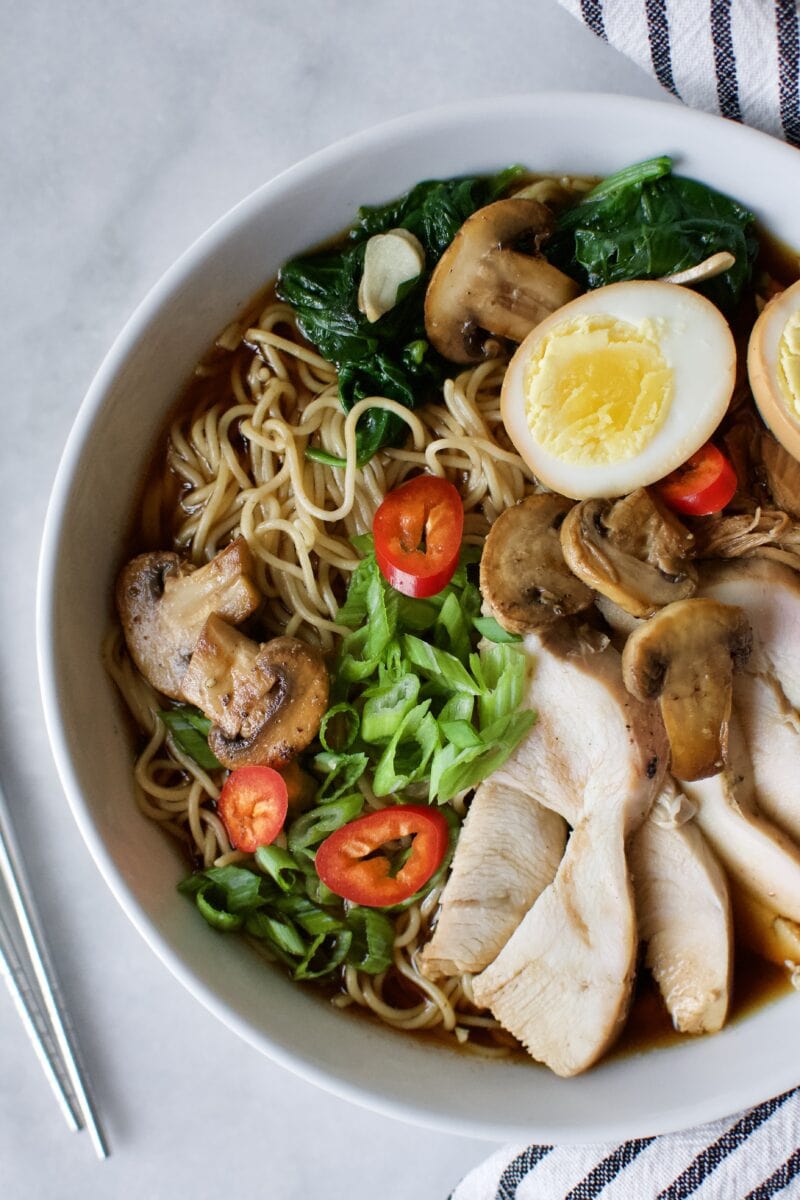 The-Best Pairings for a Perfect Holiday at Home
Need some side dish inspo that only makes enough for a few, take a look at my Cheesy Brioche and Chorizo Stuffing, my world-famous Whipped Potatoes, and for a little different take, my Green Bean Salad for a world tour Thanksgiving or Christmas dinner this year.
I also have a couple of other potato alternatives, my Smashed Potatoes that have a bacon, tomato, and corn salad on them are out of this world, or the Loaded Baked Potato Mashers for some straight-up comfort food!
Kick things up a notch with my Habanero Cream Corn, my dad LOVES spicy, and this is just right for the whole family. And if you just wanna live in that comfort food zone, try my Cheez-It Mac n' Cheese, the cheddar syrup is EVERYTHING!
Did you make this recipe? Let me know by leaving a review or comment! And be sure to sign up for my newsletter, and follow along on Instagram, Pinterest, and Facebook!
Did you make this recipe? Let me know by leaving a review or comment! And be sure to sign up for my newsletter, and follow along on Instagram, Pinterest, and Facebook!