This is my version of the Starbucks Pumpkin Spice Sauce, but turned into a Sugar-Free Pumpkin Spice Syrup! For all those of you who want or NEED a less sugary option, this makes your Pumpkin Spice Latte, Keto-Friendly, Diabetic-Friendly, and I even share tips to make this syrup Dairy-Free if you need that too. Now everyone can enjoy this favorite fall treat. Guilt or allergen-free.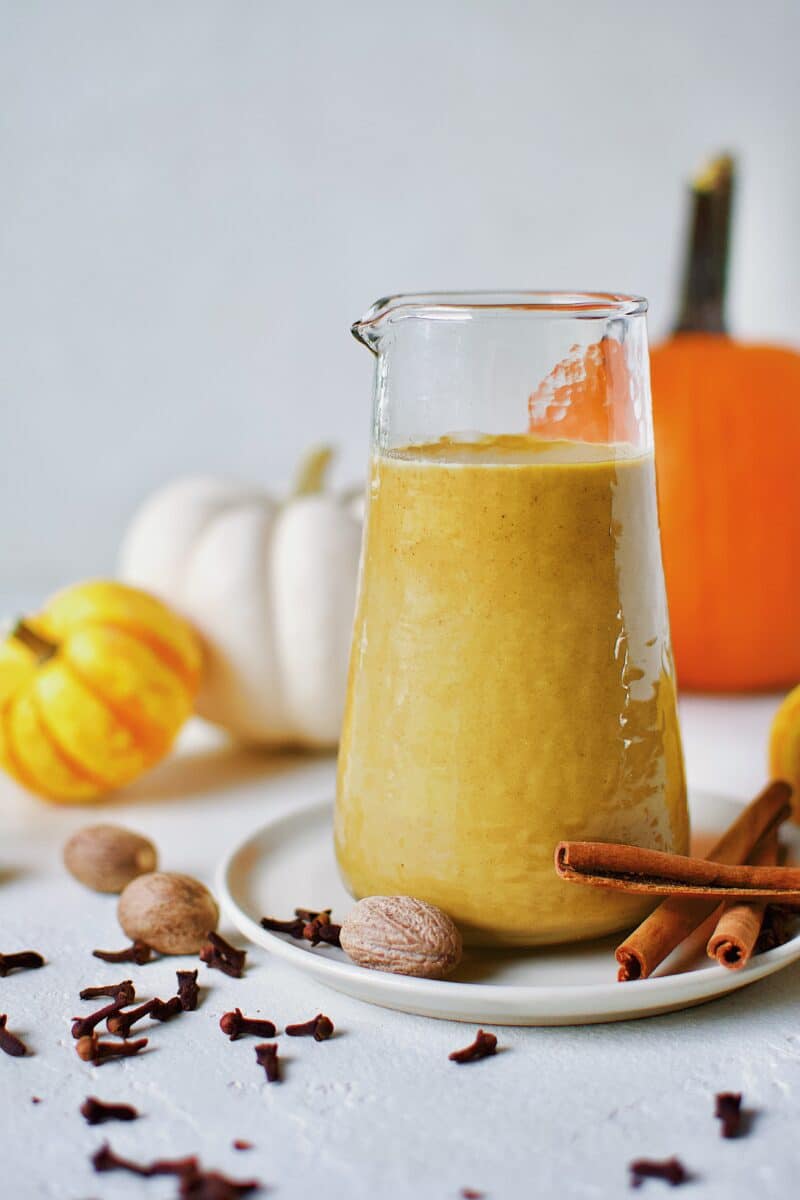 Or if you are like me, regardless of guilt or allergens, I sometimes whip a batch of this up in March or July when I need the hug that is a Pumpkin Spice Latte at home!
Jump to:
Ingredients
One specific ingredient makes this THE BEST sugar-free Pumpkin Spice Sauce. In my opinion, you need to use this Torani Zero Sugar Syrup. Get the plain "Sweetener" one if you can find it, but the vanilla works great too! I like to use this one because it is made with Stevia, which I prefer to sucralose. This is just a personal choice, but one that matters to me.
Heavy Cream, Pumpkin Pie Spice, and Pumpkin Puree are the other ingredients that make this recipe what it is. I like to be sure my Pumpkin Spice Syrup is extra spicy, so I use a heavy amount of spice mix. I even add a little more freshly grated nutmeg on top of my pumpkin spice latte when I make it.
Use the JUMP TO RECIPE button at the top of the post, or scroll to the bottom of the post to see the full recipe card with ingredient measurements and instructions.
Method
Making this Pumpkin Spice Sauce is quick and easy. I start by combining the heavy cream and zero-sugar sweetener in a saucepot and getting it warm.
While I am waiting for it to come to a simmer, I add in the pumpkin pie spice and salt, so the cream can absorb all those flavors.
Be sure to keep an eye on the cream while you wait for it to boil. Heavy cream will boil to the top of the pot and boil out and all over your stove. Never turn your back on heavy cream that is cooking on the stove, the moment you do it will boil over.
Then add in the pumpkin puree and simmer the sauce a few minutes longer to infuse the pumpkin flavor into the syrup. Be sure to stir often during this time so the pumpkin doesn't stick to the bottom of the pot.
Then let the mixture cool most of the way on the counter, then transfer it to a covered jar and refrigerate it until needed.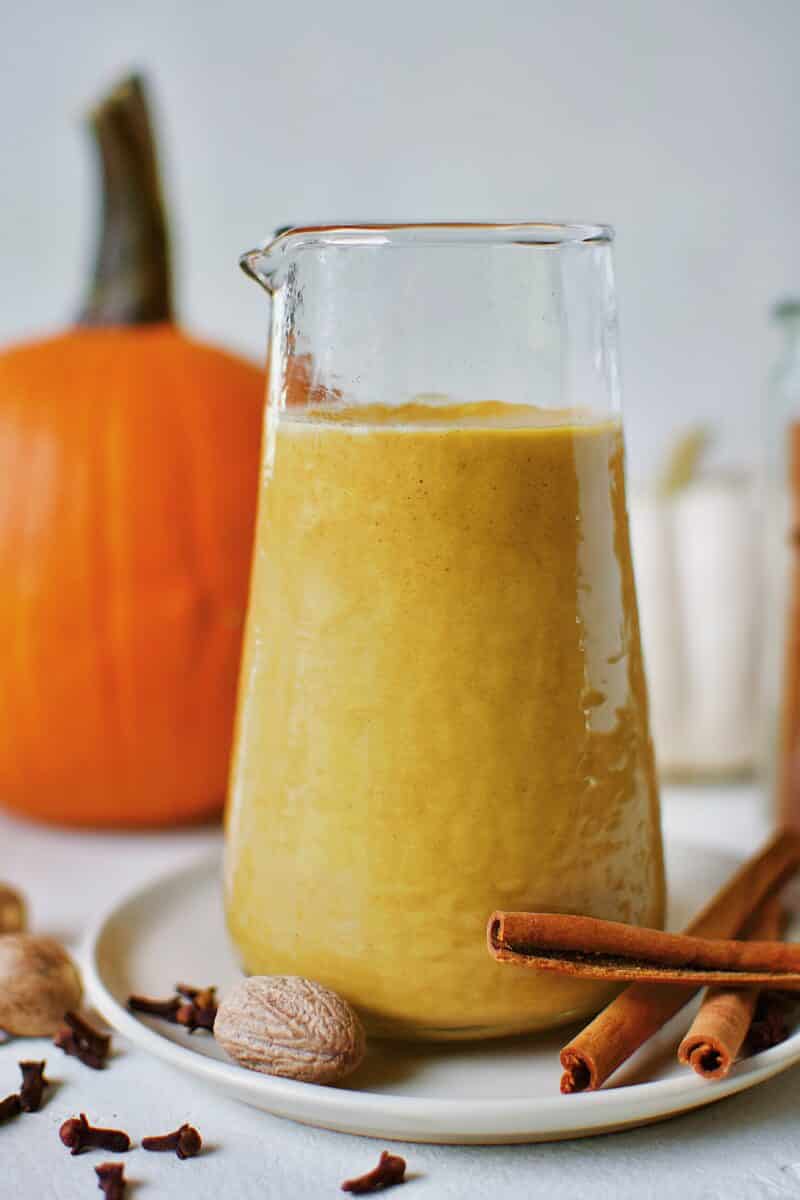 Notes & Tips
To make your own at-home pumpkin spice lattes add this decadent syrup to your favorite coffee or tea, and top it with whipped cream and pumpkin pie spice or freshly grated nutmeg.
Use a good quality pumpkin puree you love. Or if you are really ambitious like me, make your own using my recipe for Homemade Pumpkin Pureé.
Substitutions
To make this recipe dairy-free, swap the heavy for Heavy Coconut Cream. I don't find that brand lends a heavy coconut flavor after adding the pumpkin and spices, and it gives you a great dairy-free option. Oatmilk would be another great swap.
If you don't need to make this Sugar-Free, swap the heavy cream for 1, 14oz can of Sweetened Condensed Milk. And swap the Zero Sugar Sweetener for ½ cup granulated sugar and ½ cup water. Combine the milk, sugar, and water, in a saucepan, bring to a simmer and follow the directions from step 3 on.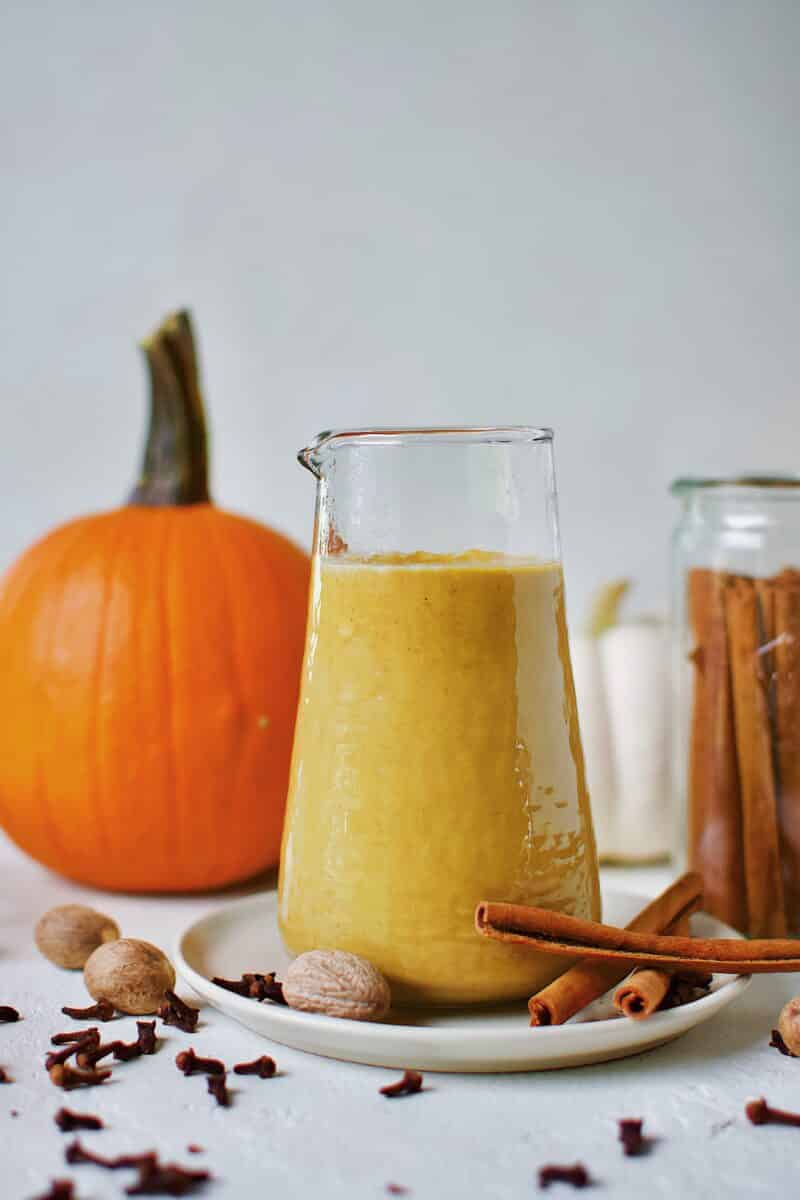 More pumpkin GREATNESS!
Pumpkin Chocolate Chunk Oatmeal Cookies
Did you make this recipe? Let me know by leaving a review or comment! And be sure to sign up for my newsletter, and follow along on Instagram, Pinterest, and Facebook!