This recipe for Cheddar Biscuits can be enjoyed with your spaghetti and meatballs or at Sunday brunch covered in gravy. The point is, there really is not a wrong way to enjoy them. I even enjoy leftovers with a simple breakfast sausage in the middle for a quick breakfast!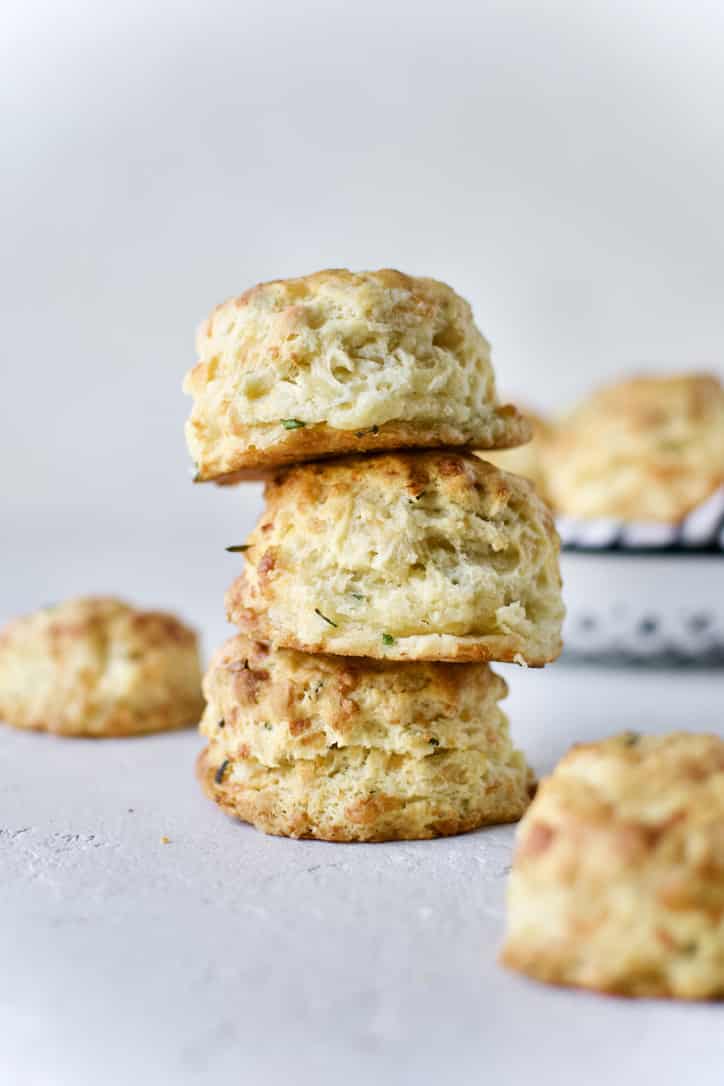 These Cheddar Biscuits are super easy to make, and with my method of whipping them up in the stand mixer, they really take no time at all! Making biscuits at home is always better than buying them. And since they are so easy, do yourself a favor and make a double batch. You can freeze the extra, and thank yourself later when you are eating fresh biscuits!
Jump to:
Ingredients
This recipe starts with the usual suspects when it comes to making biscuits. Flour, butter, buttermilk, eggs, and some leavener. It gets extra special when you add the white cheddar and chives. The cheddar adds a little bit of tang and sharpness, and chive balances with a light herby flavor.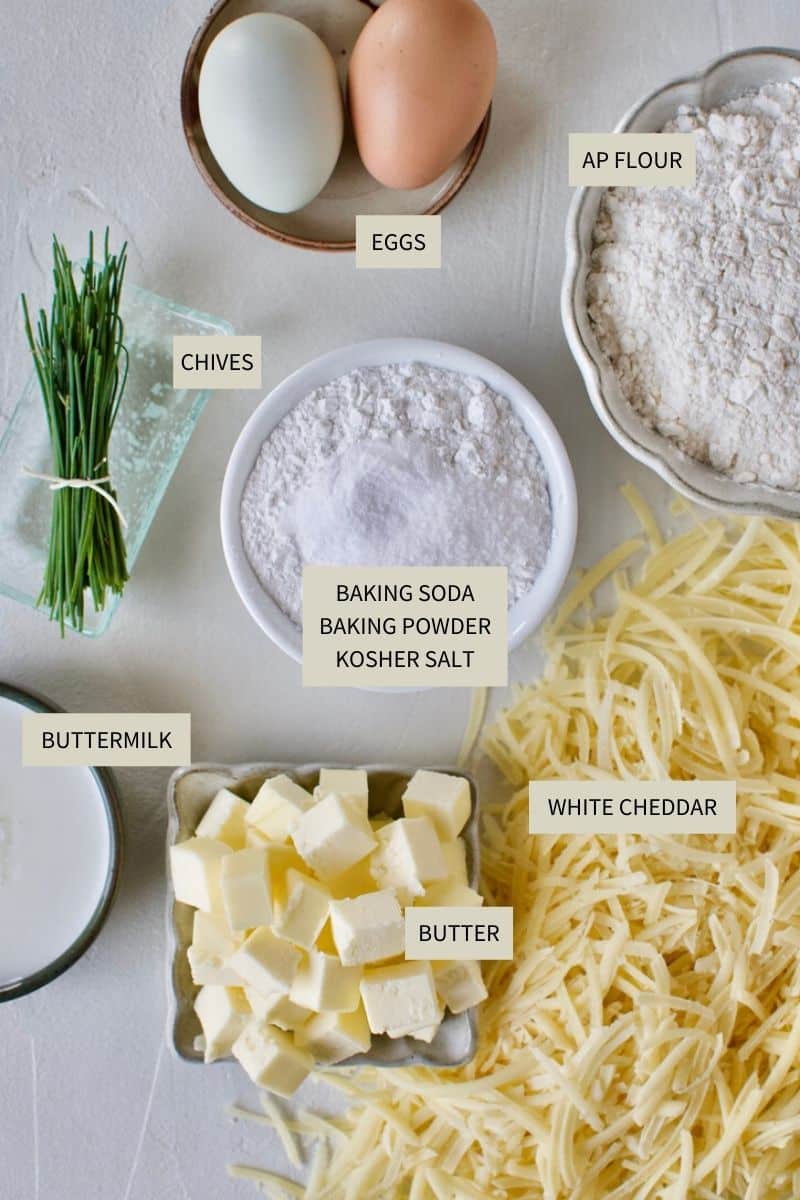 THIS is my favorite cheddar to use when making biscuits. It has a nice strong flavor that doesn't get masked by anything, and it holds up to being baked well. It is also fairly dry, so it doesn't add much moisture to the biscuits, causing them to rise irregularly.
Use the JUMP TO RECIPE button at the top of the post, or scroll to the bottom of the post to see the full recipe card with ingredient measurements and instructions.
Method
I use a stand mixer to make my biscuits. When fitted with the paddle attachment, you can let it do all the work for you, and you are left with very uniform butter incorporation.
Start by placing the butter, flour, and other dry ingredients into the bowl, and allowing it to mix on low until the butter lumps are about the size of peas. You also know the butter has been worked perfectly when you clump the mixture in your hand and it holds together a little bit.
Next, work in the cheese and chives. Let the mixer run for about 30 seconds so it can be worked into the flour/butter mixture. Once the cheese and chives have been evenly dispersed, add the wet ingredients and mix just until incorporated.
Turn the dough out onto a lightly floured surface to bring it together, until there are no crumbly bits left out and the dough has formed a uniform mixture. Next, pat the dough out until it is fairly thin, then perform a letter fold on it, do this twice to create flaky layers in your biscuits. Then chill the dough for 30 minutes.
After the dough has rested and chilled, remove it from the fridge and pat it out again, on a lightly flowered surface. You can pat the dough to any thickness you desire at this point. I like substantial biscuits so I typically pat my dough no thinner than an inch. Then cut your biscuits, I usually use my 3-inch cutter, but you could also cut them in squares or any shape you like. Place the cut biscuits on a parchment-lined baking sheet and brush with buttermilk and they are ready to bake.
Bake until golden brown. Enjoy them on their own, with gravy, a pat of butter on them, or use the biscuits to top my Breakfast Pie. It is TO-DIE-FOR!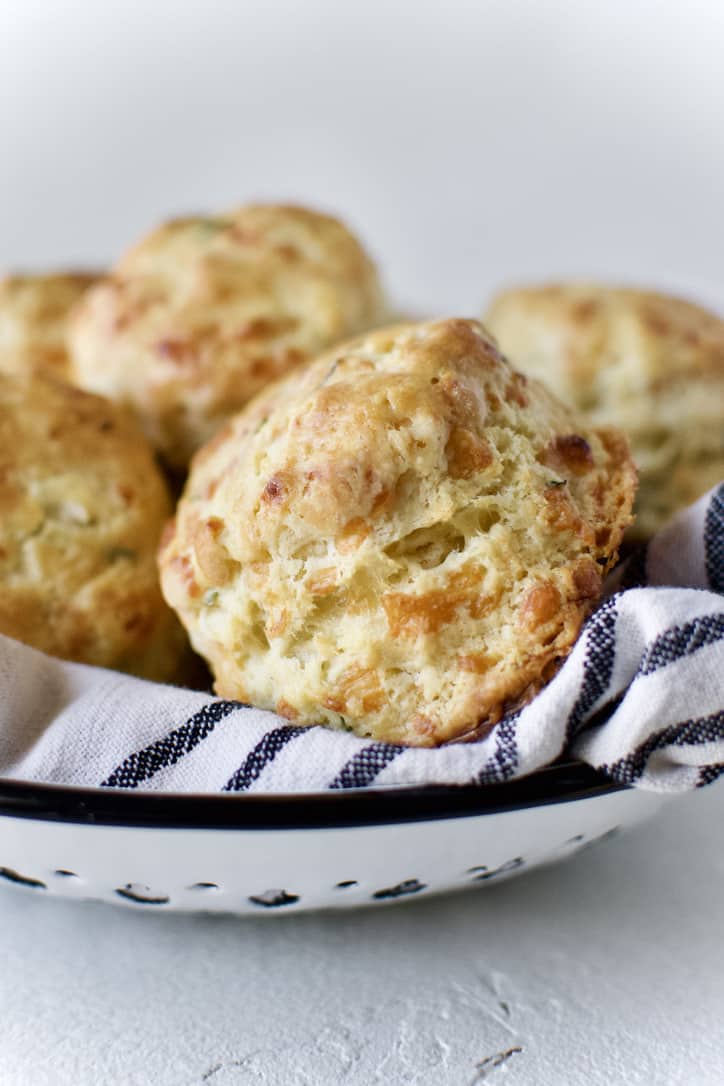 Notes & Tips
You can make your own buttermilk for this recipe by combining 1 tablespoon of white vinegar per cup of whole milk. Stir it together and let it sit at room temperature for 15 minutes. You can also use lemon juice in place of vinegar.
Don't skip using the buttermilk, or making your own. It is important to have acidic milk. It reacts with the baking soda and makes the biscuits rise and keeps them tender.
I like to whisk my eggs into the buttermilk before adding it to my dry mix for even absorption. Also, be sure to save a little in the bottom of the bowl or measuring cup for brushing the tops of the biscuits with before baking.
Substitutions
If you do not have white cheddar, any cheddar can be used. I like to use it for its extra sharp flavor, but feel free to use your favorite cheddar.
White cheddar and chives are my favorite combo, but you can customize these biscuits to your liking by adding your favorite herbs or spices. I sometimes add a good amount of freshly ground black pepper for a little spice.
More great breakfast recipes
Did you make this recipe? Let me know by leaving a review or comment! And be sure to sign up for my newsletter, and follow along on Instagram, Pinterest, and Facebook!