With just a few minor tweaks, I have taken a basic recipe and made this Strawberry Rhubarb Jam extremely delicious! I mean, you COULD make the recipe the basic way, but why would you want to do that?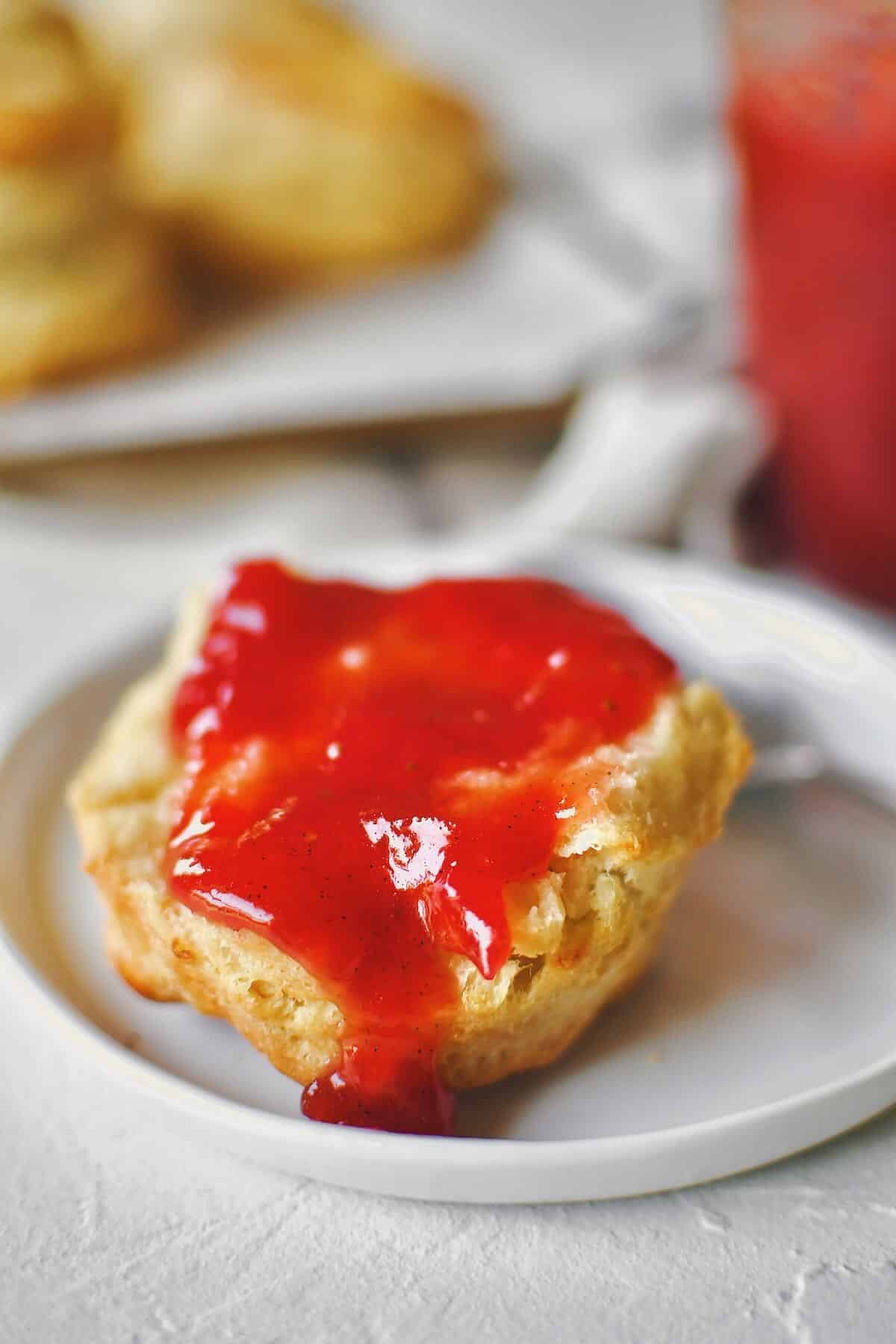 This recipe came out absolutely stunning! Both the strawberry and rhubarb shine and are accentuated by the fragrant vanilla. I am absolutely in love with this new version of this jam and I can't wait to make it every year!
Jump to:
Ingredients
The ingredient list is SIMPLE, just the way I like it. You need the namesake ingredients, a little sugar, some vanilla beans, a lemon, and some salt for balance. The strawberries and rhubarb both have thickening pectin in them too, so additional is not needed for this jam. Also note, this is just a fridge jam, it will keep for a few weeks in the fridge but is not intended for long-term, shelf-stable storage.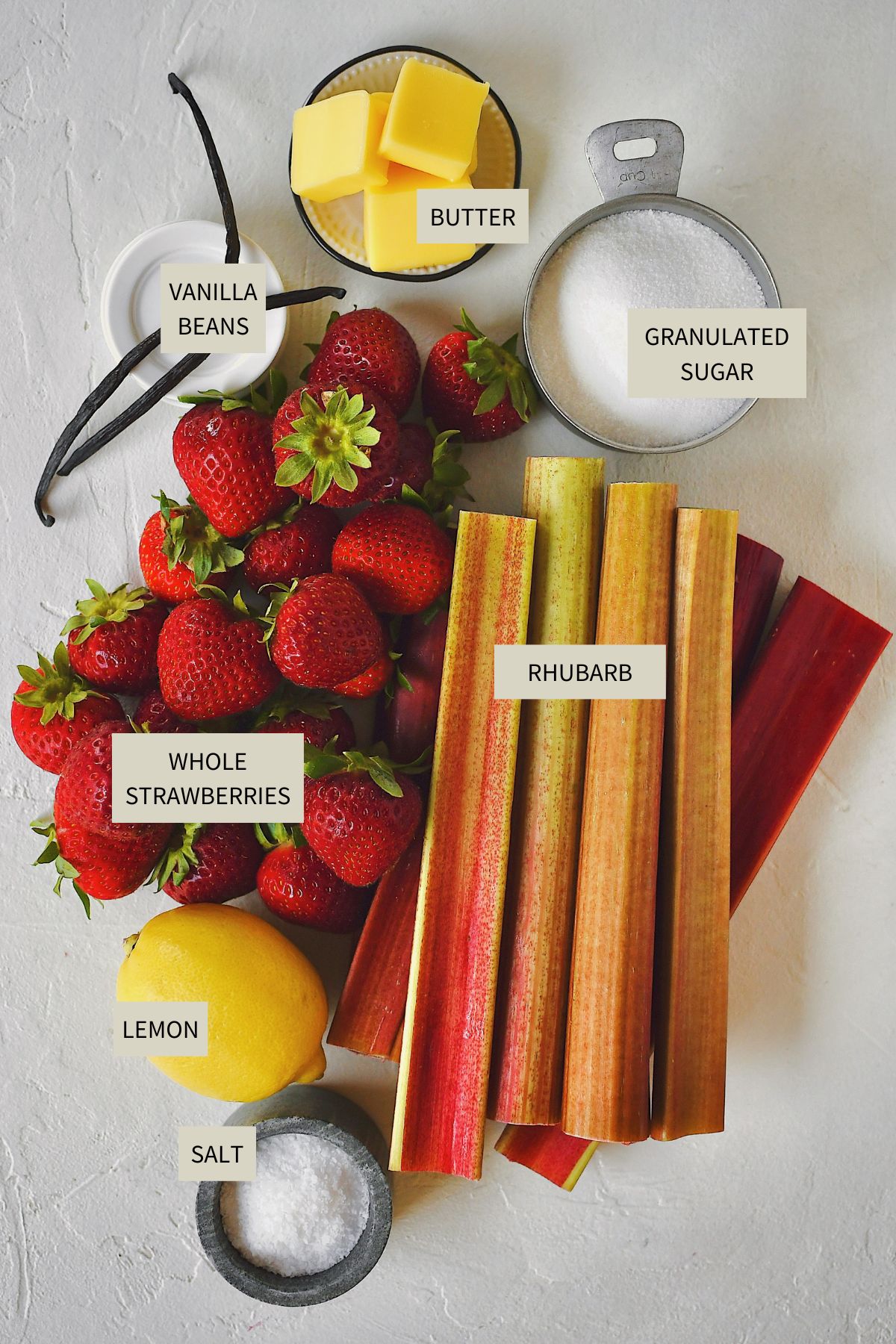 I also include butter in this Strawberry Rhubarb Jam recipe. It helps to reduce the foam from the fruit while it cooks and also keeps the jam smooth and fresh longer in the fridge. The butter also solidifies the jam just a little when completely cool while giving it a really rich mouthfeel.
Use the JUMP TO RECIPE button at the top of the post, or scroll to the bottom of the post to see the full recipe card with ingredient measurements and instructions.
Method
Start by preparing your ingredients. Dice both the strawberries and rhubarb and squeeze the lemon for it's juice.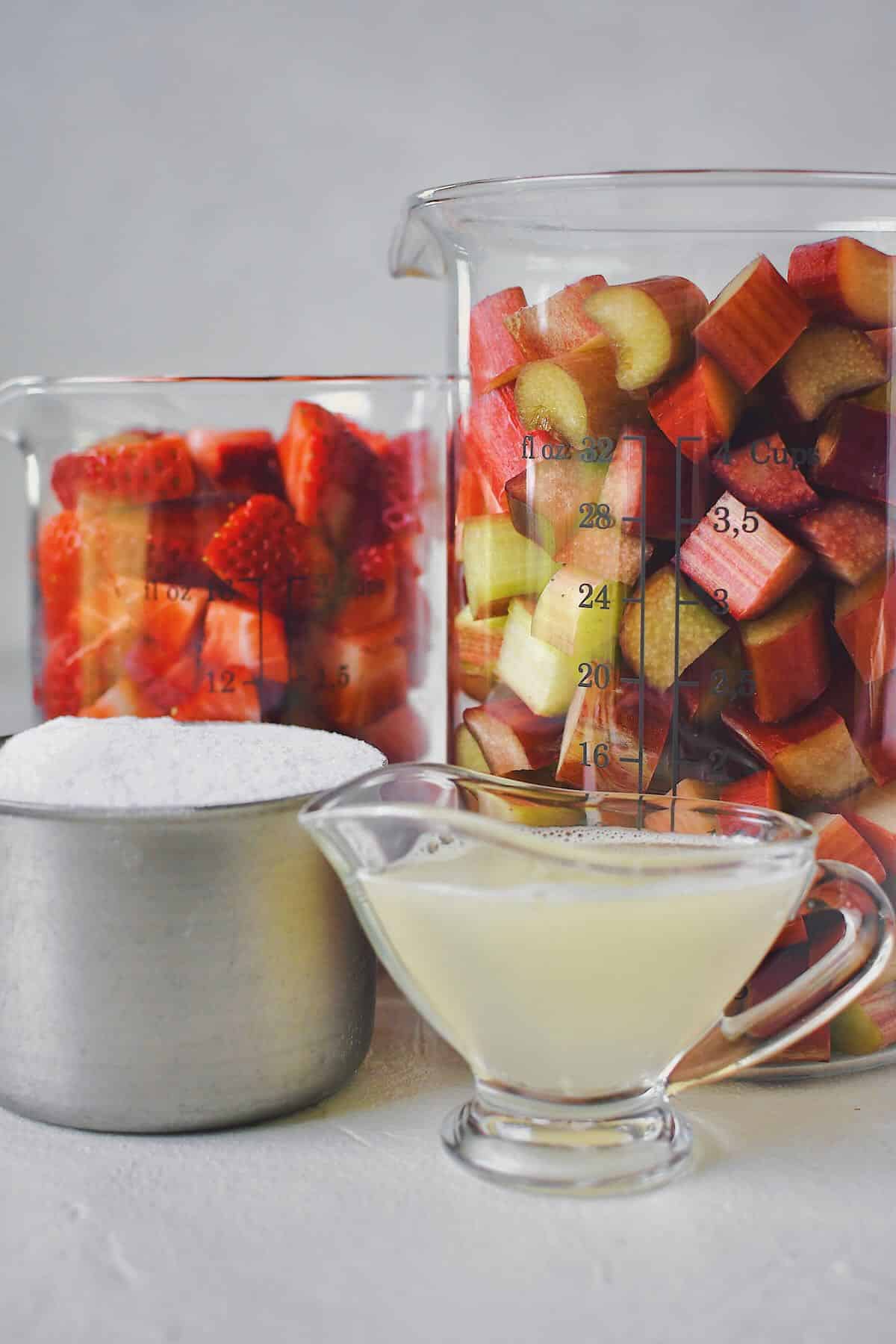 Place the strawberries, rhubarb, and sugar in a large, wide pan and stir it all together. Pour over the lemon juice and place the vanilla beans in the pan too, that have been split open, no need to scrape.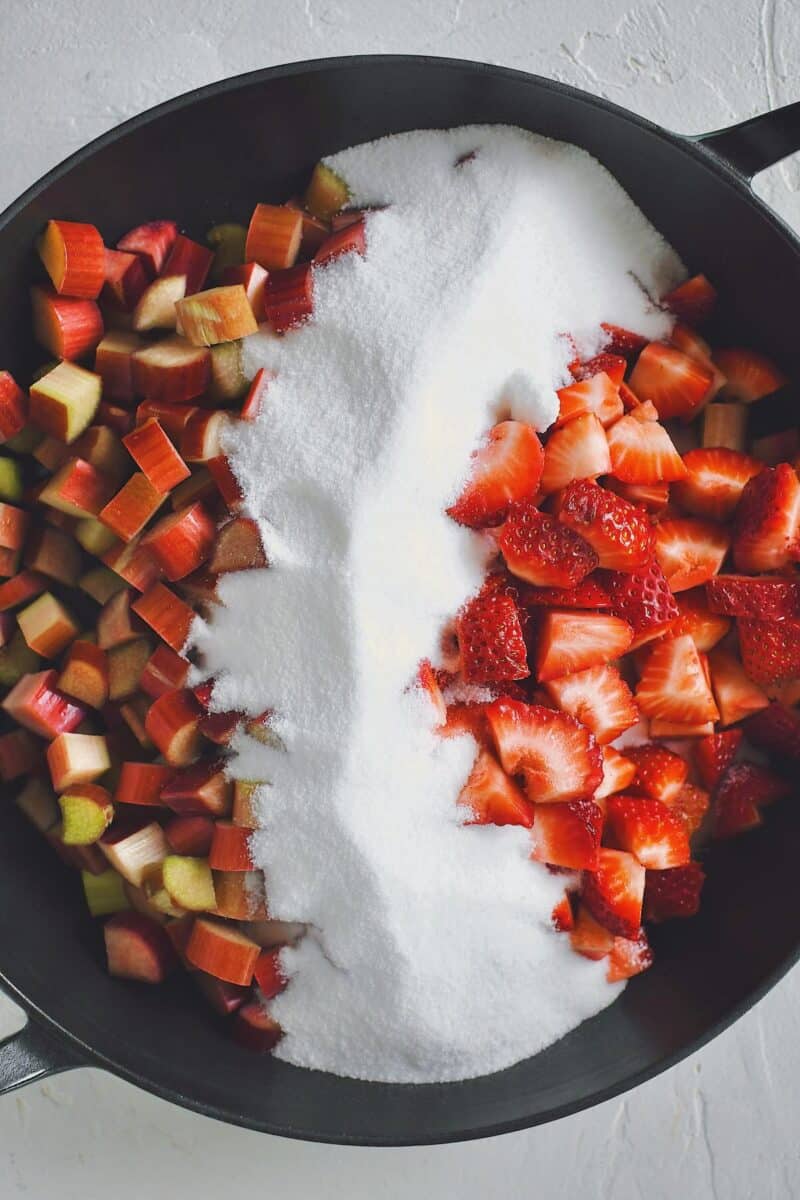 Heat the mixture over medium heat until it comes to a boil. Cook for a 25-30 minutes then stir in the butter.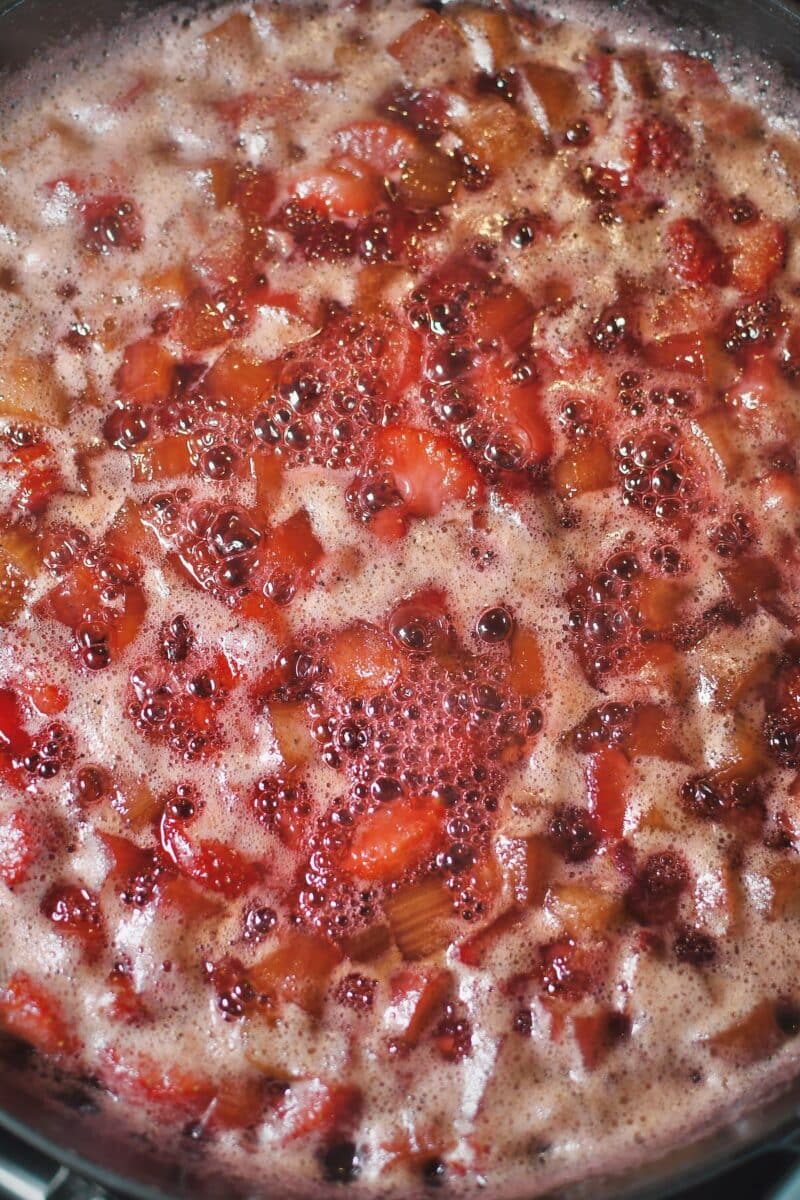 Cook the mixture until the foam completely subsites from the butter addition and it is very thick. You know it is done when you dip the back of a spoon in the mixture and it leaves a line, but clings to the spoon, when you run you finger though it.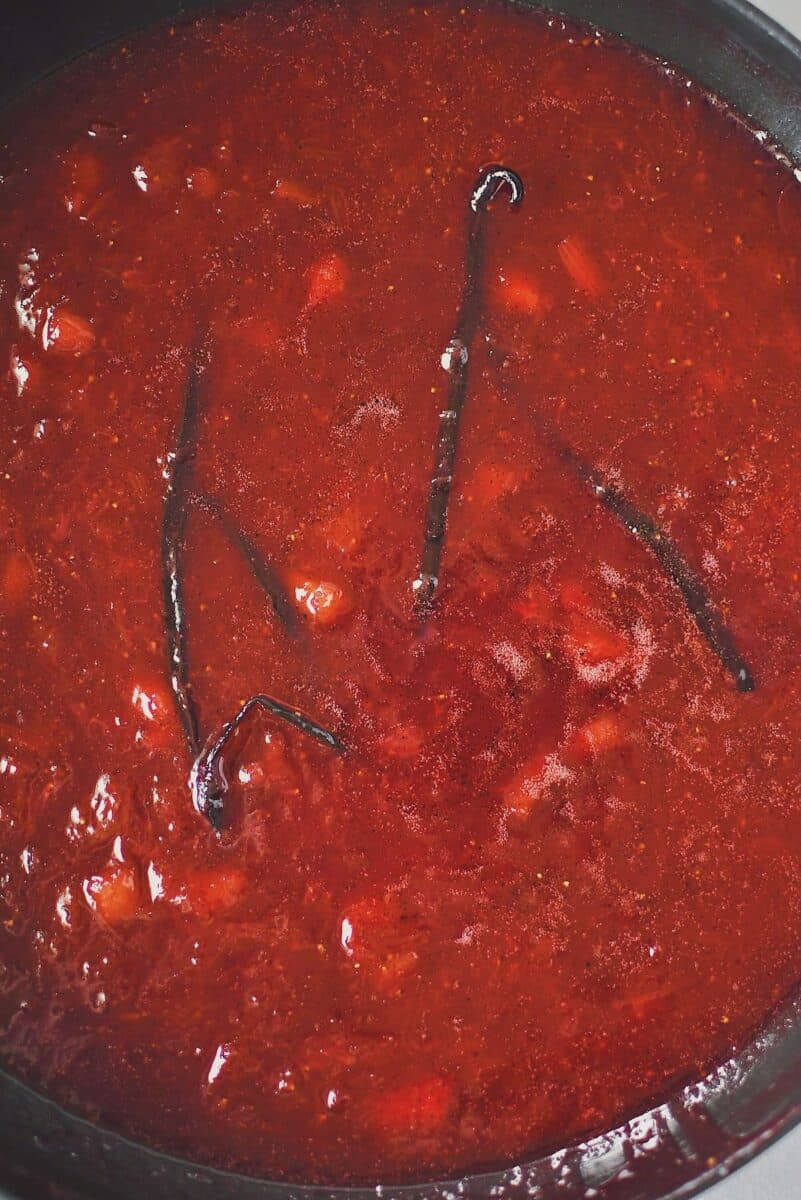 Place the jam in sterilized jars, even though we aren't canning for shelf-stable use the jars should still be very clean. This ensures no bacteria will grow and it will last longer, even in the fridge. Let it cool completely on the counter then store in the fridge for up to 3 weeks.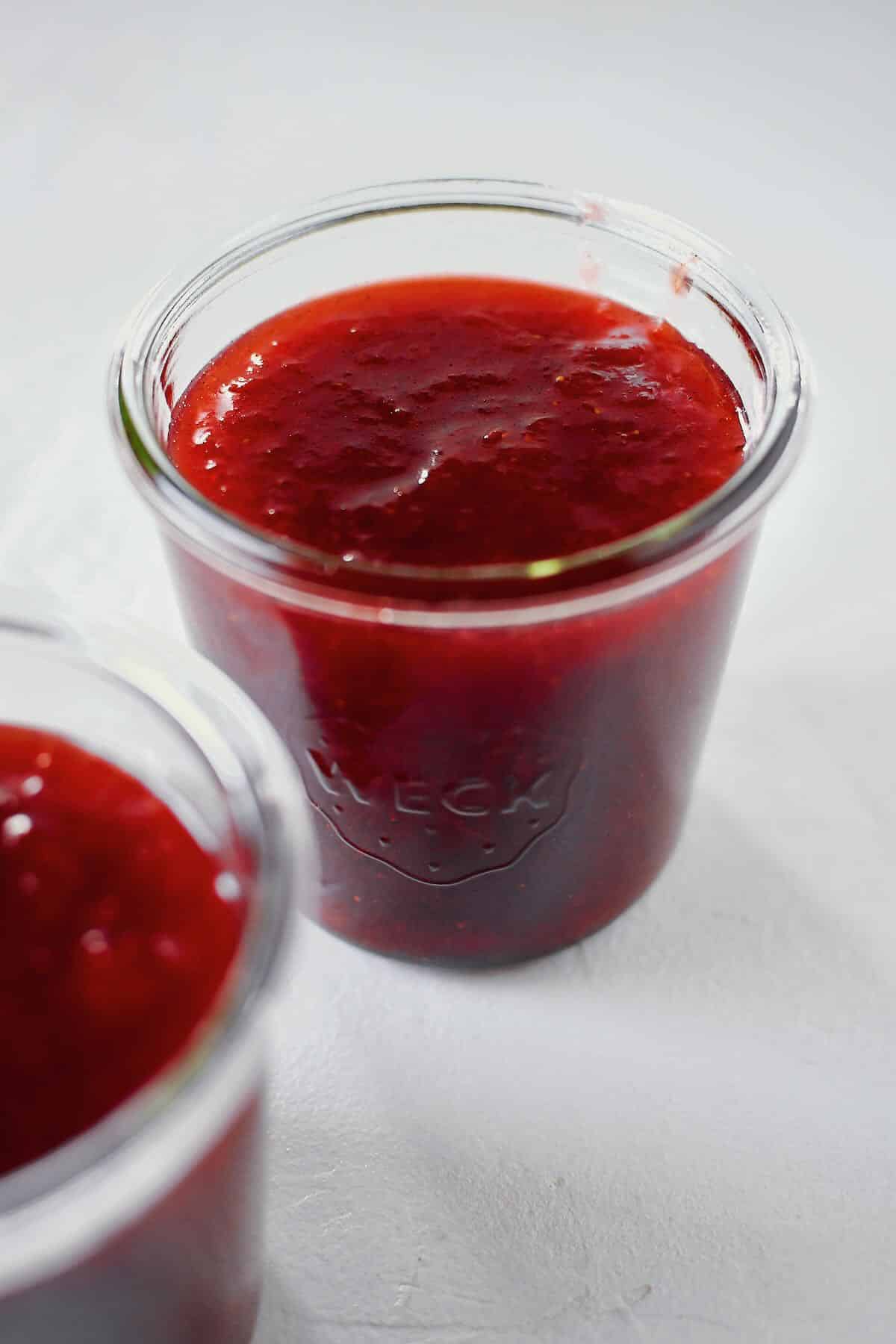 Notes & Tips
This is not a preservation jam recipe. If you are experienced at canning, this recipe can be preserved. But I am not going into these details on this recipe. I make this recipe 2-3 times a summer and just enjoy it while storing it in the fridge. I find if I put it in the pantry I never revisit it. But that is what works for me.
I have read a lot of jam and jelly recipes that say to add butter at the beginning. This helps the jam from boiling over in the pot. I like to use THIS shallow pan that I don't seem to have that issue with, but you could just toss it in at the beginning if you like.
Of course, you could treat this like any freezer jam and store it there too.
Substitutions
While I don't have any suggestions for the fruit, you could make it wholly with one or the other strawberries or rhubarb. But they just go together like peanut butter and jelly, they balance each other while letting the other shine. That said, I do want to try a blueberry version.
I have not experimented with using a sugar substitute, but I find no reason why they should not work for a fridge jam. It may not thicken as much, but it will still work.
The lemon juice helps to bring brightness and balance to the finished jam, but you could leave it out if you like. The rhubarb is very tart anyway, if you like a sweeter jam, leave it out.
The vanilla beans are kind of my twist on the jam. They bring a beautiful fragrance to the jam and a light flavor that pairs beautifully with the strawberries and rhubarb. If you do not have them or don't want to include them, you could add a tablespoon of extract or paste in their place also.
Most jam recipes don't call for salt, but I think it is a welcome addition here. I even sometimes crack in some pink peppercorn for a subtle heat. Don't leave the salt out.
The butter is the one ingredient that is the most optional. Some people don't like to add it, and it isn't completely necessary, but it does help to reduce the foam and keep your jam ultra smooth. Leave it out if you need to for dietary needs.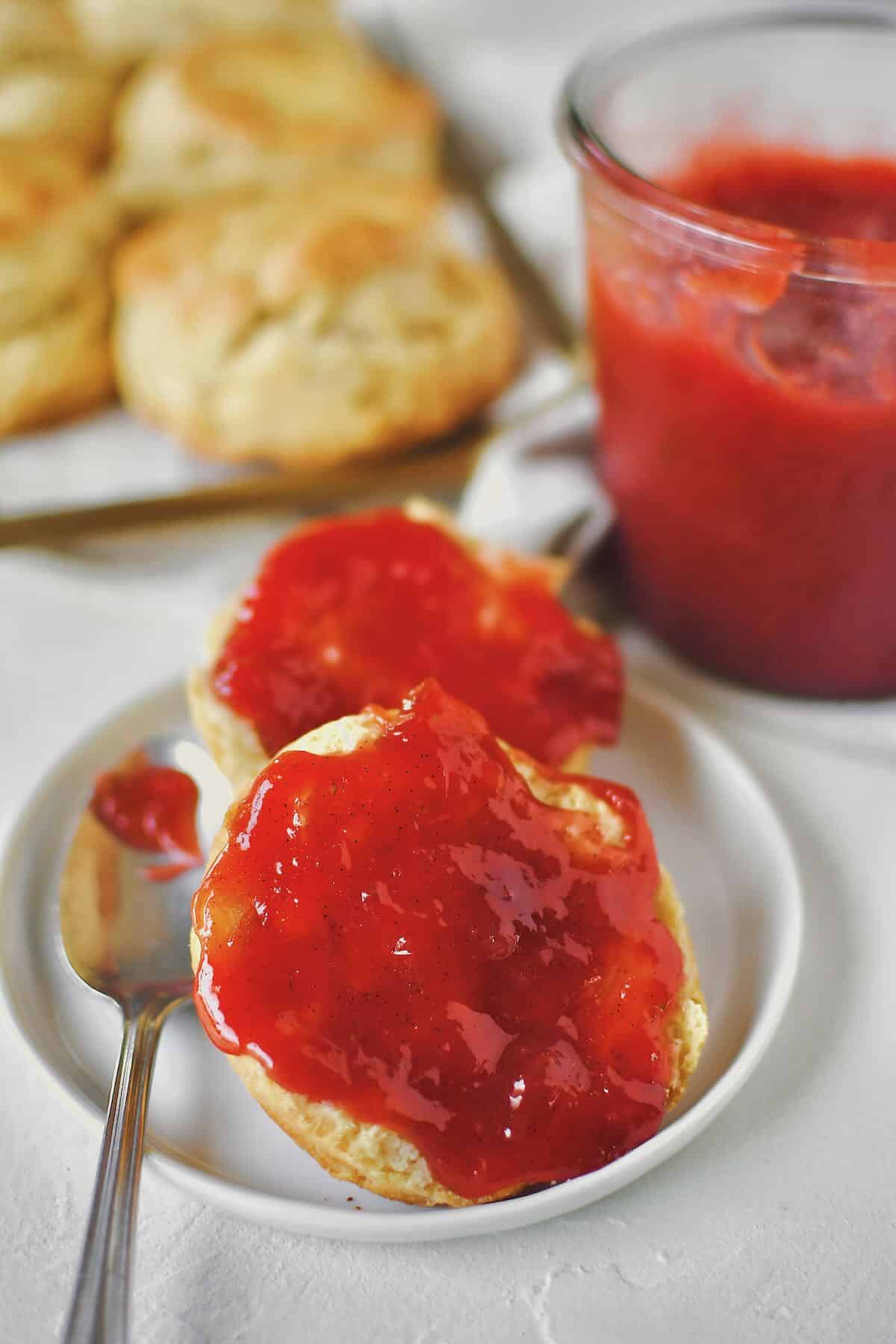 Did you make this recipe? Let me know by leaving a review or comment! And be sure to sign up for my newsletter, and follow along on Instagram, Pinterest, and Facebook!